We use affiliate links. If you buy something through the links on this page, we may earn a commission at no cost to you. Learn more.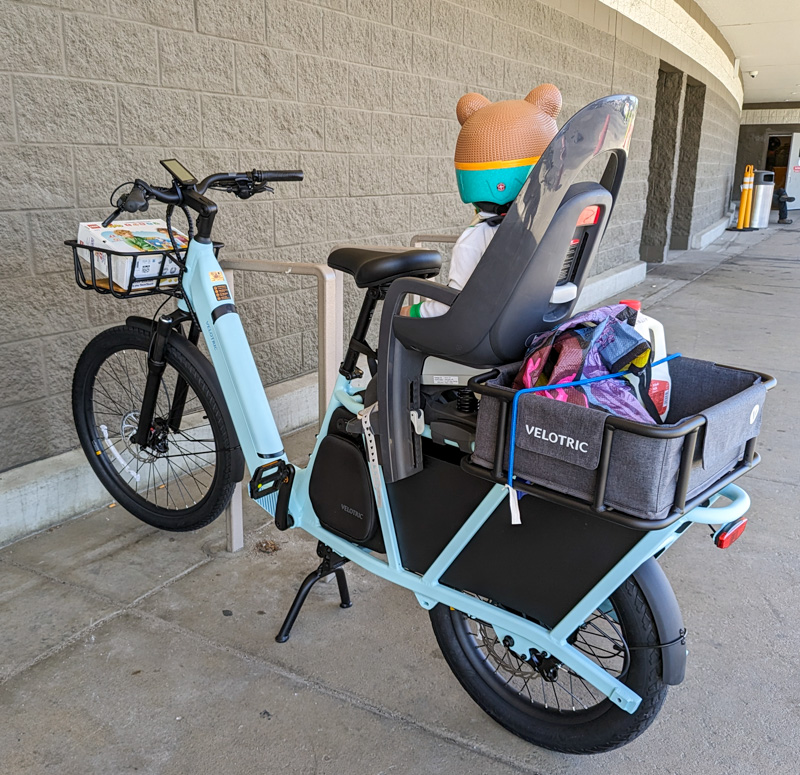 REVIEW – Every once in a while here at the Gadgeteer, we get a product sent to us to review that isn't just great, but so great it becomes a part of our everyday life. Velotric's new Packer 1 cargo ebike came to me just as we were outgrowing our previous ebikes with our new little one: some errands could be run with the baby in the baby seat on back, but cargo space especially was limited which prevented us from taking the bike to many of our regular stores (like Costco, I couldn't imagine how I'd get a pallet of Coke Zero home on a regular ebike).
What is it?
The Velotric Packer 1 ebike is an electric bike that has been built to transport cargo (be it human or other) and does so with style and grace. It has a variety of accessories, allowing you to add one or two child seats, large/medium/front racks, foot boards, guard rails, and more. Range is about 40 miles on pure throttle and flat roads, less with heavy loads and/or hills and more if you're willing to put some pedal power in yourself. Top speed is 20 MPH (Class 2) out of the box, but is easily unlocked to 25 MPH if desired.
What's in the box?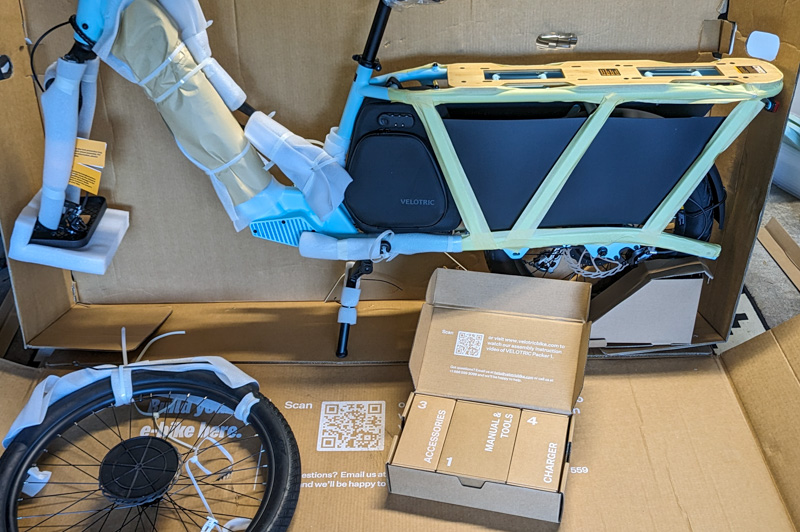 The contents of the box are well protected and organized and while I usually don't like to show the unboxing stuff, I thought it was well designed in this case (see above). Here are the contents removed from the interior box: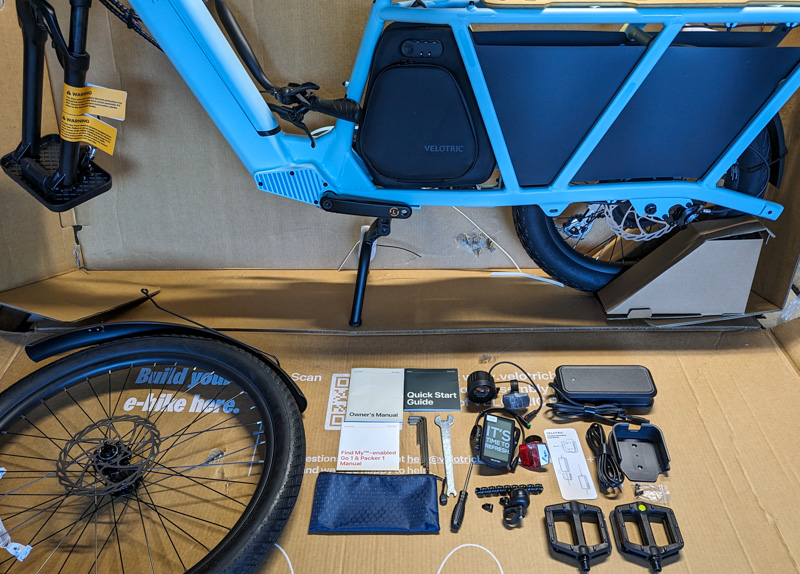 Velotric Packer 1 cargo ebike
Pair of pedals
Front/rear reflector
Bell
Display
Manual
Cable binder
Front light
Charger
Charger mount (for wall mounting)
Hardware specs
Frame: Aluminum alloy, fully integrated & lockable down tube battery, internal cable routing, front and rear fenders
Fork: Hydraulic suspension with 80mm travel, 15x110mm thru-axle, with Lock-out
Motor: 750W, Peak 1200W, 75Nm
Battery: 48V, 14.4Ah, 691.2Wh, LG 21700 cells
Charger: 48V, 3A
Charge time: 0-80% 4 Hours, 0-100% 6 Hours
Sensor: Cadence Sensor
Display: 3.5″ Backlit LCD display with speed, trip, battery, assist Level and more
Security: Apple Find My™ integration built in, TSA 3-digit combination lock on in-frame bag
USB-A output port: 5V 500mA
Throttle type: Thumb control, removable
Headlight: 12V/5W/130 Lux high-output integrated LED, 130lux, Adjustable angle
Tail light: Integrated with rear rack, brake highlight
Pedal assist: 5 levels
Walk mode: yes, 2.9 MPH
Weather resistance: IPX6
Speed: 20 MPH Class 2 (can unlock 25 MPH class 3)
Throttle range: up to 45 miles
Pedal Assist range: 52+ miles
Hill grade: Throttle only: 10° (18%), Pedal Assist: 12° (21%)
Bike weight: 75 lbs (34.2 kg)
Rear rack load capacity: 176 lbs (80 kg)
Max total load: 440 lbs
Drivetrain: 46T chainring, 170mm aluminum alloy crankset, 8 speed cassette
Rear derailleur: Shimano M310-8 (8 speed)
Shift lever: Shimano M315-8
Brakes: Hydraulic disc brakes, 4-piston
Brake rotors: 180mm front and rear
Wheels/tires: 26×2.4″ front, 20×3.0″ rear, eBike puncture resist
Kickstand: Center mount, spring loaded, dual leg
Design and features
The Velotric Packer 1 cargo ebike is available in "sky blue" and "indigo gray". It's a longtail cargo bike, which feels much more like riding a regular bike as opposed to "bucket" cargo bikes that have a big cargo area ahead of the driver. I've added notes under many of the pictures below, but overall the Velotric Packer 1 cargo ebike is solidly built with quality components. The combination of the smaller-but-fatter rear tire and larger skinnier front tire makes for a bike that is highly controllable while lowering the cargo area in the back.
I was impressed top to bottom with the build quality, components, and cable management. Nothing feels cheap or slapped on, and the resulting package is easily ridable for anyone familiar with bikes while being specialized to carry cargo as well.
The optional front and rear bike racks that Velotric sent over are very nice, allowing for a bit of extra storage up front (or our small chihuahua in a front basket carrier) and a hefty amount of storage in the rear. The rear rack area is capable of carrying 176 pounds, and you can get a large rack that covers the whole area or a whole variety of mix and match seats/racks/guardrails/footrests/etc. Controls are simple enough to be easy: there are 5 levels of pedal assist, which will add varying amounts of motor assistance as you pedal. Alternately (or in addition to) you can push the thumb throttle to go forward, unless you have the PAS level at 0 which will disable both throttle and pedal assist. The 8 gears were adjusted from the factory and worked perfectly, and when you're carrying a lot of weight you'll appreciate the gear range Velotric picked.
Finally, I love that there's the Apple Find My integration built in, you don't have to try to hide a tracker on the bike – it's part of the bike. Also, I think it's great that there's no required app for the bike to operate (given some recent tech companies going bankrupt and leaving their users high and dry).
Setup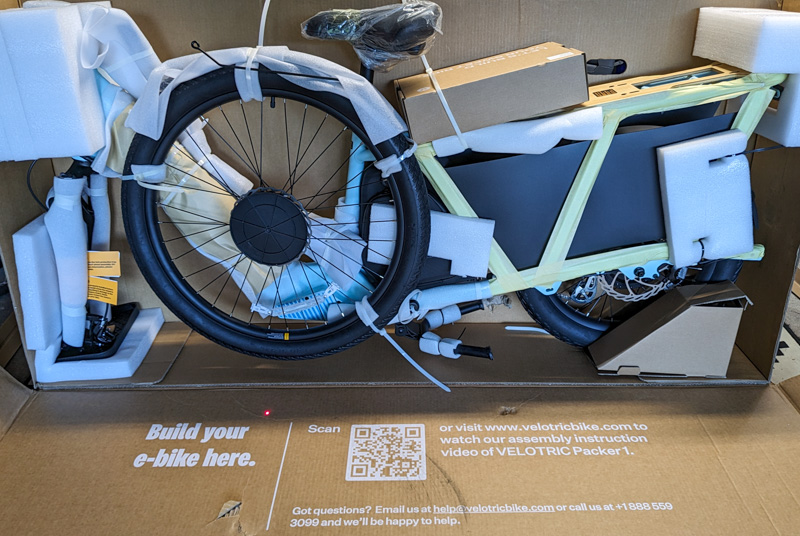 Setup is identical to the other ebikes I've reviewed: the Velotric Packer 1 cargo ebike come mostly assembled with the front wheel, handlebars, and pedals not installed (as well as the front light and display with this bike). First you'll need to carefully snip all the zip ties and remove the shipping materials. Velotric has a nice guide in the manual and a video you can watch by scanning the QR code on the box. You install the front wheel, handlebars, light, display, and pedals (all the tools needed are included in the box, except for scissors or knife to snip the zip ties).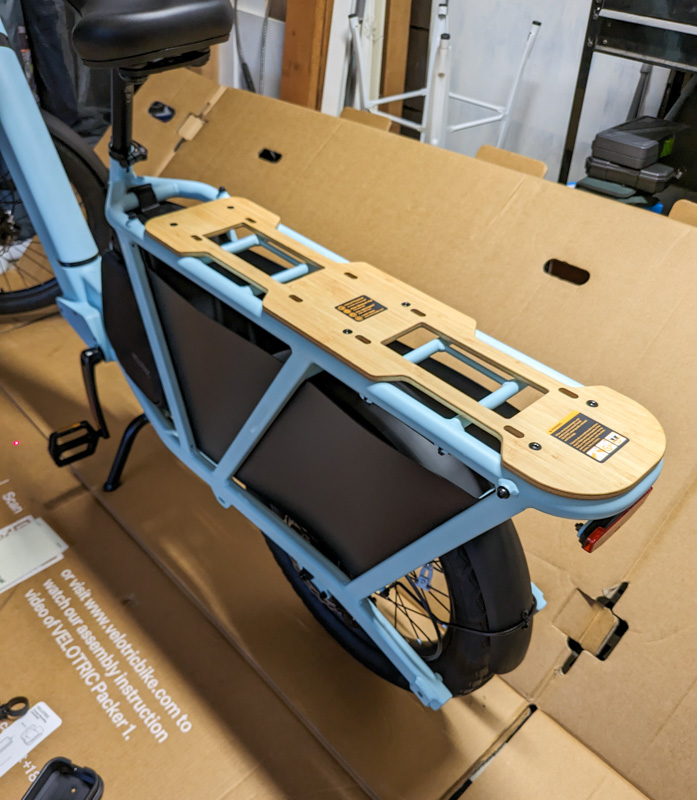 Next, if you're installing any bike racks or seats there are mounting holes and points on the wooden rear rack (I installed a child seat that I already had which clamped right onto the rear rails, and the medium rear rack that Velotric sent over).
Finally, you'll charge up the bike and you're good to go! The charger includes an optional wall mount (in the box), for a sweet wall-mounted charging solution. This didn't work for our garage setup (brick walls and other bikes between the wall and where I want to store the cargo bike) so I didn't use the wall mount. It's a standard brick charger with an LED to indicate charging/charged status.
Performance
The Velotric Packer 1 cargo ebike is the perfect city-errands-with-kids ebike that I've been looking for. I had to really think hard about things to add to the "what I'd change" list below, it ticks all my boxes for a cargo ebike and rides great. Decent (but not jumpy) acceleration combined with more than enough power for around town riding makes for a fun and smooth ride, especially for the kid(s) in back. Small bumps or tree branches were no problem to just roll over with the front suspension and thick rear tire. The step through design makes hopping on and off the bike super easy, especially if you need to maneuver it in tighter spaces.
Most of the time it felt very similar to any other well-built ebike I've owned or reviewed in the past, but when fully loaded (kid plus 50+ pounds of cargo) it feels a little squirrely until you get going. I think this is going to be true of any bike: adding a large load changes how it balances and your natural course-corrections in the handlebars don't result in the same response from the bike so you can get a bit twitchy trying to keep steady. I never felt like I was going to crash or fall off, but if I didn't think about it I would be caught off guard when starting from a stop with a heavy load.
Range is great, I like to pedal when riding a bike like this (usually at pedal assist levels 2-3 unless on a wide road with good bike lanes or a trail), and I was getting 30+ miles before the battery was down to 1 or 2 bars (out of 5) and I would recharge. This was mostly flat riding, but not without any hills. We have some decent ones around that I did tackle while testing and the Packer 1 did great on all but the steepest hills (and on the really steep one I tried I just had to pedal a bit to get it up the worst part – much better than the sweating out-of-breath mess I would be on a non-electric bike).
What I like
Smooth acceleration and good top speed
Ability to haul lots of cargo/kids
Well built and nice components, feels premium
What I'd change
Torque sensor instead of cadence sensor – though the cadence sensor is better than most I've tested and only jerks forward on the highest pedal assist setting. I just love a good torque sensor, I can ride without feeling like I need to use any manual throttle
Even when the seat post mount is torqued to suggested levels, the seat likes to tilt backwards over time, putting more pressure on my perineum. Since that's not the most pleasant feeling, I'll probably replace the seat post in the future as adding any more torque feels like it'll break something. The seat is nice and comfy though!
Final thoughts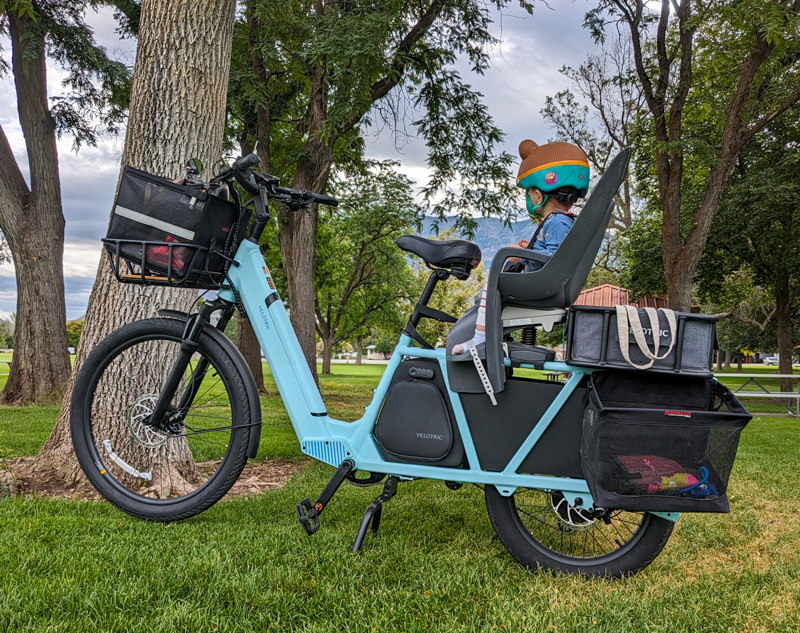 As you can see above, we're really getting good use out of the Velotric Packer 1 cargo ebike. For the past few weeks we've been taking it out almost daily and I've added a front cargo box (that doubles as a chihuahua carrier) and two rear panniers to increase the cargo capacity in back even more. Costco Coke Zero runs are a breeze, as well as any other store or outing we tackle.  The bike has been the perfect 2nd vehicle for our household and will get many miles added to it over the coming months and years.
Price: $1999 ($1899 sale at time of review)
Where to buy: Velotric
Source: The sample of this product was provided by Velotric.