We use affiliate links. If you buy something through the links on this page, we may earn a commission at no cost to you. Learn more.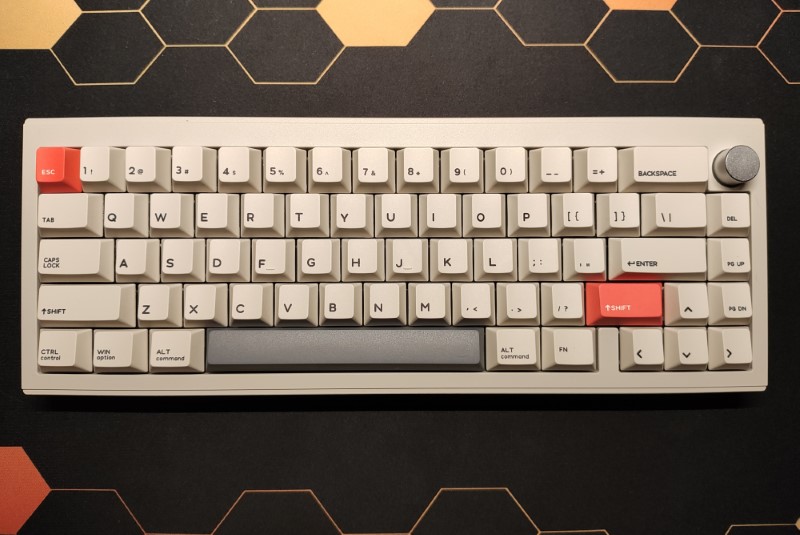 REVIEW – Mechanical keyboards are a joy to type on, and we are spoiled by choice with how many options are out there.  The CIDOO V65 Pro is a budget friendly, feature rich mechanical keyboard that delivers a premium typing experience, though with a few caveats.
What is it?
The CIDOO V65 Pro is a wireless 65% mechanical keyboard with hot swappable switches.  Available in a kit or fully assembled, the V65 Pro runs on VIA programmable firmware for customization and works across MacOS and Windows.  The V65 Pro stands out in the sea of mechanical keyboards thanks to it's wireless capability, and feature set at the sub $150 price point.
CIDOO has been in the keyboard biz since 2010 with their roots in gaming keyboards, and currently has several lines of keyboard kits (incl. fully assembled), switches and accessories.
What's in the box?
CIDOO V65 Keyboard
USB Cable
Keycap/switch Puller
Instruction Manual
Light Diffusers
Hex Screwdriver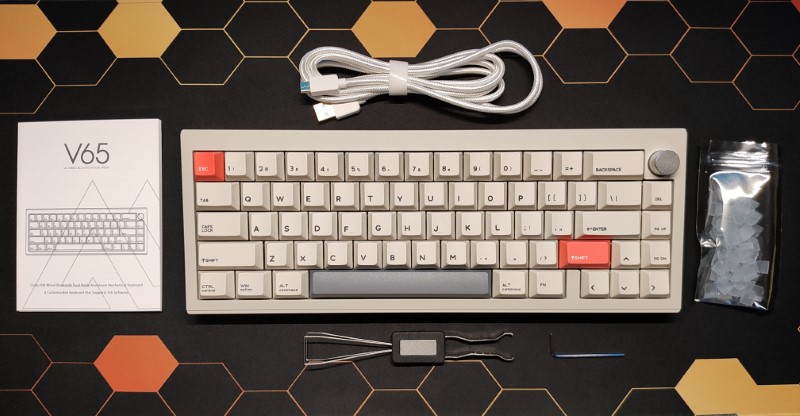 Hardware specs
| | |
| --- | --- |
| Layout | 65% (66 + knob) |
| Keycaps | PBT dye-sub, double shot |
| Switch | Quark Matte Linear |
| Hot Swappable | Yes, 3 and 5 pin switches |
| Case | Aluminum |
| Mount | Gasket |
| Gasket material | PORON |
| Foam material | PORON |
| Stabilizers | Plate mounted |
| Battery | 3000mAh |
| Dimensions | 12.5″ x 4.7″ x 1.7″ |
| Weight | 3lb |
Design and features
The CIDOO v65 Pro is a typical 65% format, with the inclusion of the clickable/rotatable knob.  Our review unit is of the retro gray color way, and CIDOO nailed it – the case color immediately brought to mind the late 80's and early 90's IBM keyboards I had growing up.  The aesthetic choice of having the accent keys be the ESC and RSHIFT keys stood out, as we typically see keycap sets use the ENTER key as the accent in place of the RSHIFT.  This appears to be a typical design choice for CIDOO, and keycaps are always replaceable if it doesn't suit you.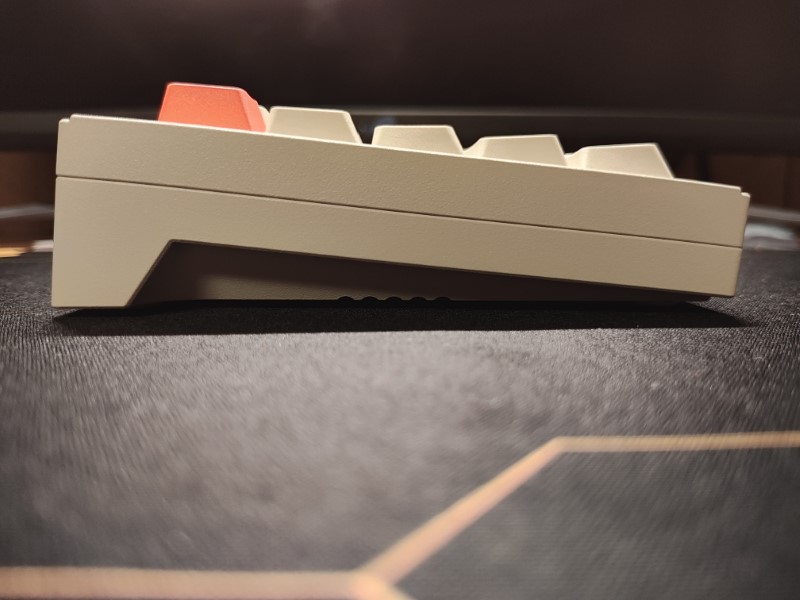 From an ergonomics perspective, the keyboard is average.  The V65 Pro is a fixed height keyboard, and while I didn't find myself looking for a way to adjust the angle further – options are always really important to meet the ergonomic needs of the user.  The cherry profile keycaps are quite nice and easy to type on.
CIDOO's history in gaming keyboards comes through with the inclusion of programmable, south facing RGB's, and the switches accommodate a diffuser should you be running transparent keycaps.  The legends on the included keycaps are not shine through, so the back lighting here is more in the vein of accent lighting.
Lastly of note if the ability to store up to three Bluetooth profiles, making it easy to switch between your work and gaming setup.
Setup
Hardware wise, there isn't much to do out of the box for the CIDOO V65 Pro – the keyboard is ready to go, assuming you're happy with the default QWERTY layout.  The manual helpfully identifies the pre-defined keyboard control keys, so toggling between Windows and Mac mode is as easy as FN+A and FN+S, respectively.  The keycap legends are also helpfully labeled for both Mac and Windows.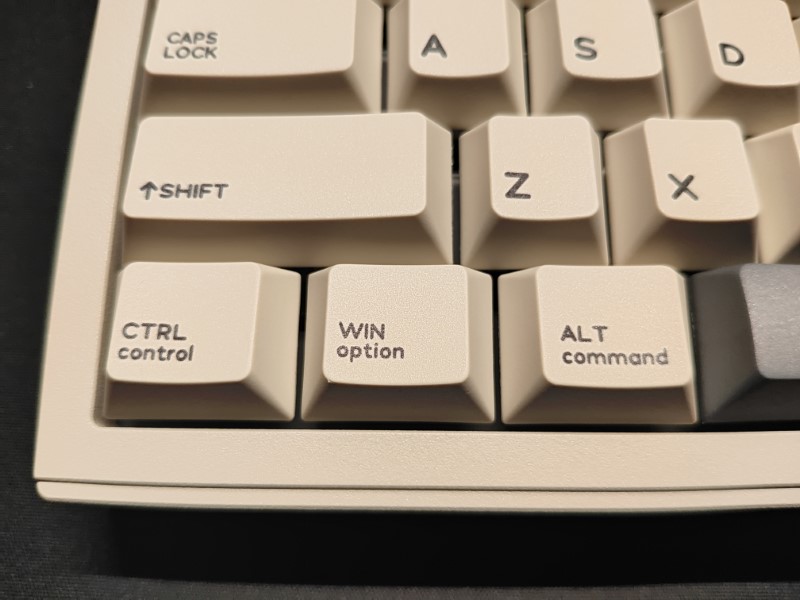 For those diving into VIA, it's a bit cumbersome to get rolling, though generally on par with most implementations of VIA.  Here is where the cracks surface a bit with the included documentation, as the way it's written makes this process even more complicated than it has to be.  Here's what I found worked:
Make sure the keyboard is in USB mode and plugged in (this is mentioned as part of the Bluetooth instructions but is not called out as a requirement in the VIA steps) – FN+SPACE (default)
Download VIA
Download the .json file from cidooo.com
Enable design mode from VIA settings
Upload the design file and be sure that V2 definitions are enabled
You should now be able to edit as desired from the Configure tab
I did find on the Jun 19 2023 json file that every lighting mode selection would throw an erroneous error in VIA, though some just flat out didn't work.  I'm assuming some of these lighting modes were setup for other keyboards which may explain that behavior, though it would be nice to have them cleaned out of the V65 specific configuration file.
Performance
Typing on the CIDOO V65 Pro mechanical keyboard is an enjoyable experience, and the 65% is a great size for general typing and gaming needs.  I was pleasantly surprised by the Quark Matte switches – as linear switches they are very comparable to Cherry Reds, and I didn't run into any issues with bottoming them out.
With Bluetooth being the only supported wireless connection mode, gaming would be best done while plugged in to avoid input lag.
Acoustically the keyboard is mostly consistent across the keys, the only issue I came across is the right half of the spacebar has a bit of a 'tick' to it.  I can't see any obvious reason for this, best guess is the stabilizer on that side is loose.  Stabilizers aren't screw in so that's always a possibility.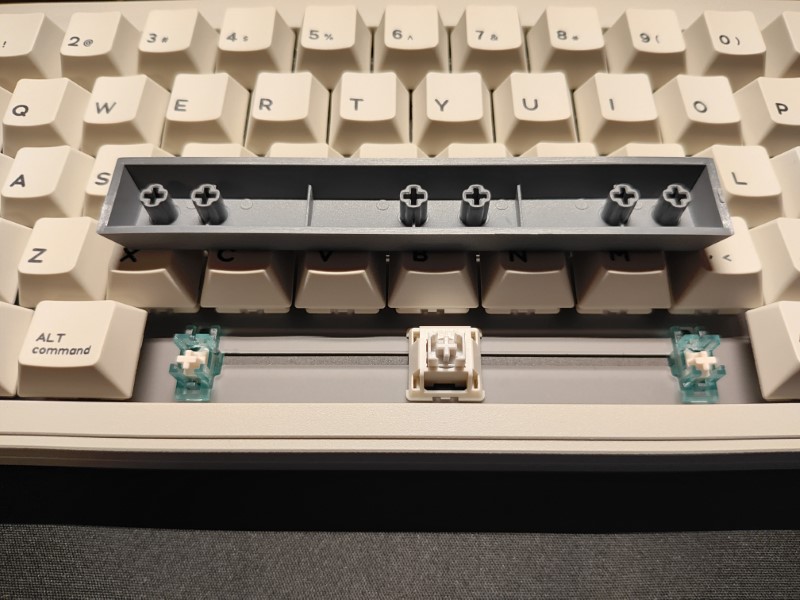 Thanks to the size, the CIDOO V65 Pro is easy to fit in a backpack to take on the go, however the weight pushing 3lbs makes it a bit too heavy to recommend as a true travel keyboard.  The three connection profiles made the V65 Pro easy to move between systems in my house, and I found myself grabbing this whenever I wanted to bring my work setup into a different room of the house.
On the battery front, having the RGB off will get you plenty of wireless typing time – after a few weeks I'm sitting at around 50%.  RGB will drain the battery very fast though in a wireless configuration.
What I like
65% layout with wireless capability
VIA support for customization
Price point
What I'd change
Spacebar acoustics
Lack of a 2.4ghz wireless connection
Neutral tilt by default with adjustable feet for ergonomics
Final thoughts
While not without its quirks, the CIDOO V65 Pro is an excellent mechanical keyboard option.  The wireless connectivity options, paired with it's size and general build quality make this worth a look.  I'd love to see screw in stabilizers in a future iteration, and some UX improvements are needed in their VIA config.  At this price point, there's a lot to like – and this is a keyboard I'll be hanging on to.
Price: $129
Where to buy: CIDOO
Source: The sample of this product was provided by CIDOO