We use affiliate links. If you buy something through the links on this page, we may earn a commission at no cost to you. Learn more.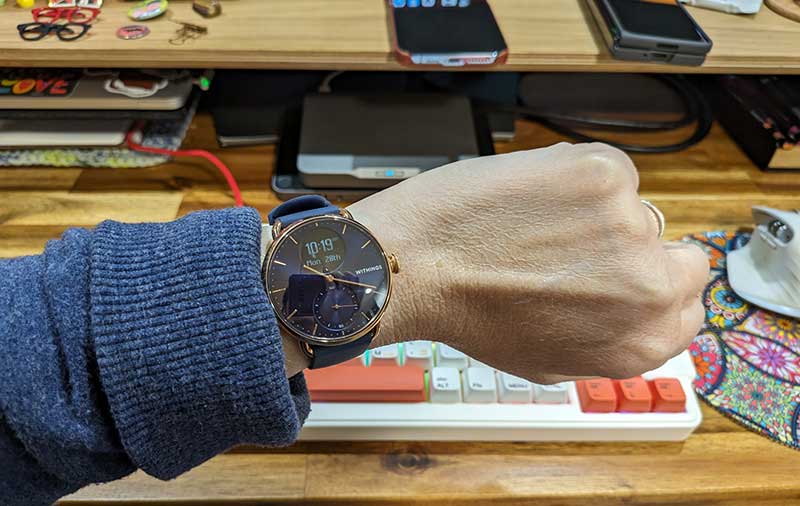 REVIEW – I've been rocking an Apple Watch for 3 years now and it was the watch that got me back to wearing watches again after years of having nothing strapped around my wrist. I love the display and functionality of the Apple Watch, but I don't like that I have to charge it every night so I thought I'd try the Withings ScanWatch which has smart features but runs for weeks on a charge. Let's take a look.
What is it?
The Withings ScanWatch is a smartwatch that can be used with iPhones and Android phones to track fitness and show phone notifications.
What's in the box?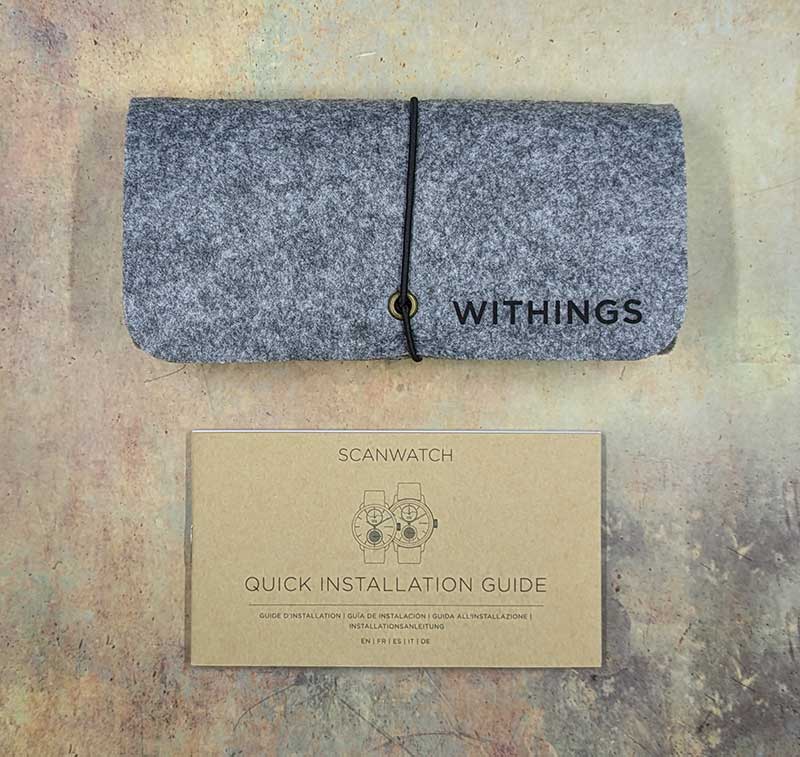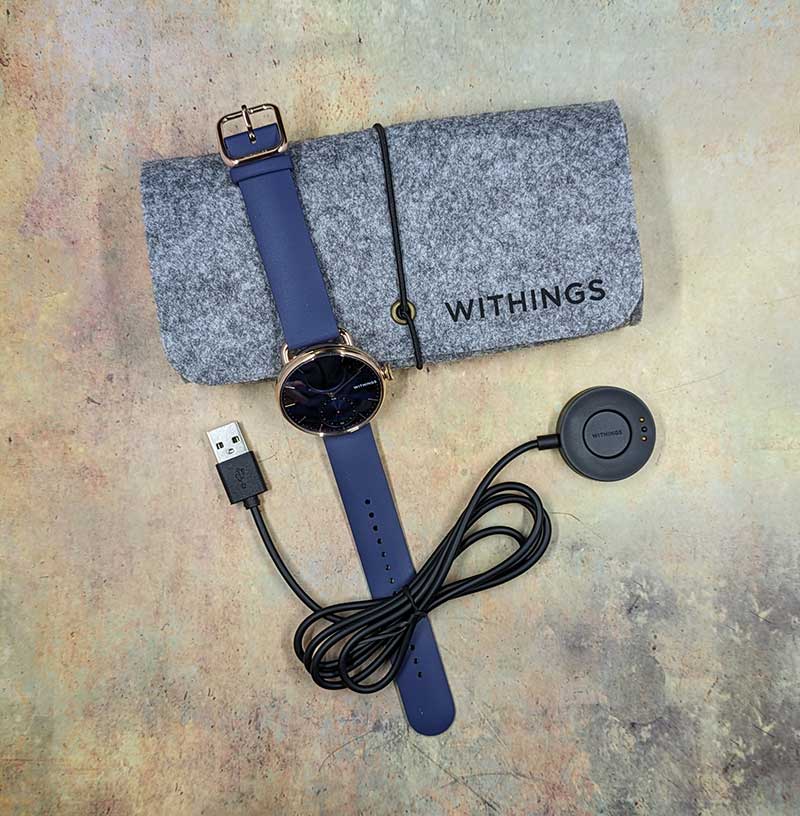 Withings ScanWatch
Watch charger
Design and features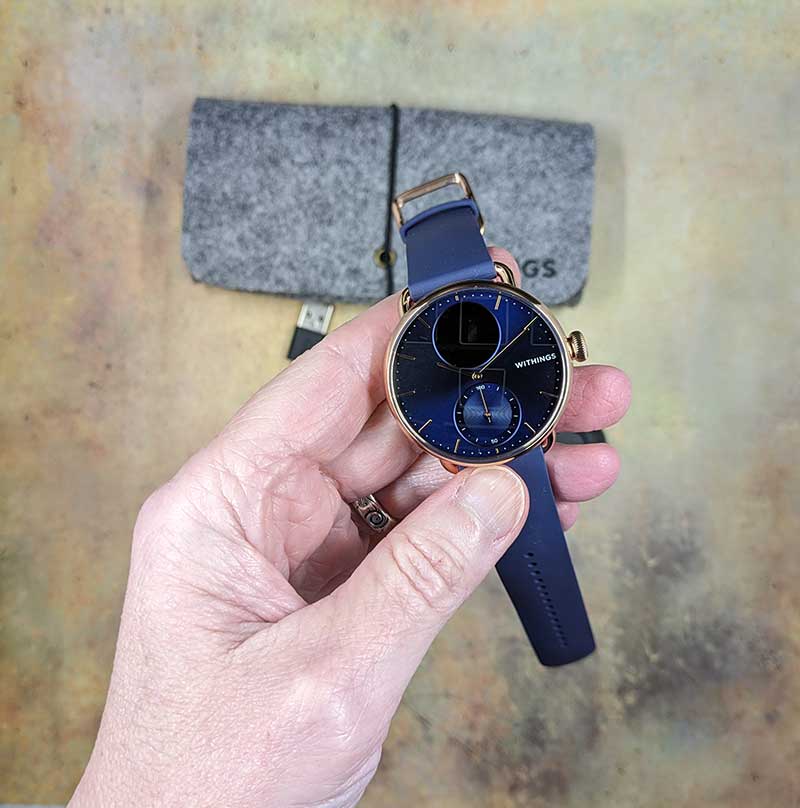 The Withings ScanWatch is available in the 38mm Blue / Rose gold version that you see here, as well as a White / Rose gold, White / Silver, and Black / Silver versions. The 42mm version comes in White / Silver and Black / Silver. As you can see from the images here, I was sent the Blue with rose gold version. I'm not a fan of gold, but to me, it looks more like copper than gold so I'm ok with that.
The face of this version of the watch is dark blue with rose gold hour and minute markers as well as gold hands. The bottom center of the face has an activity tracker that goes from 0 to 100% to track your daily activity goal which you can set inside the Withings app.
Then in the top center is a circular white-on-black PMOLED screen that will show the time and date in digital format when you lift your wrist. This display will also scroll any notifications from your phone and is used to start and stop fitness activities. More about that in a bit.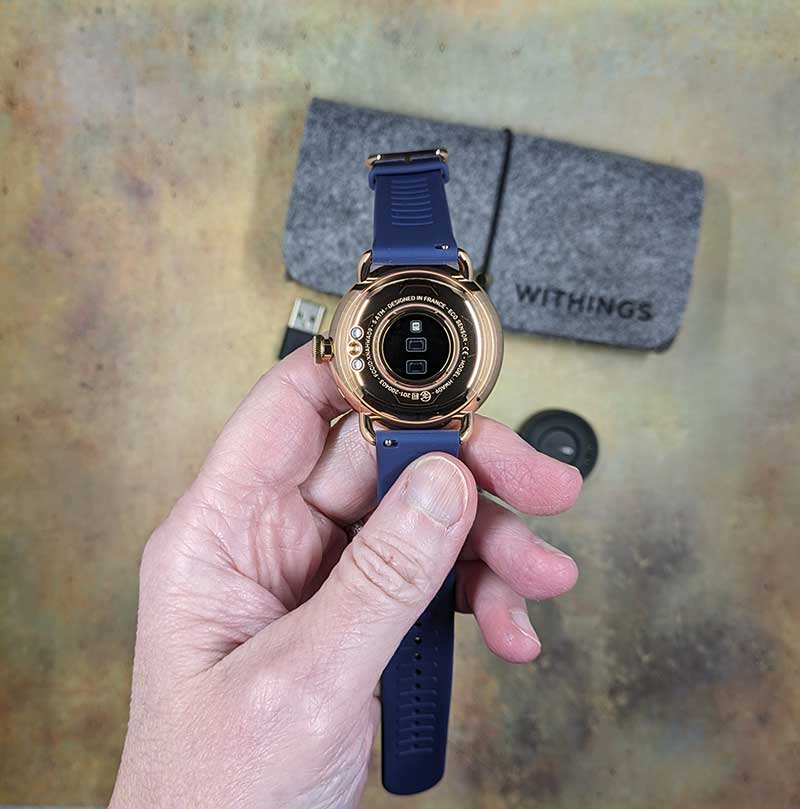 The back side of the Withings ScanWatch has a built-in heart rate sensor and a scan monitor for ECG for Atrial Fibrillation and Pulse Oximetry for Oxygen Saturation (SpO2). There are also electrical contacts for the proprietary charger which is included with the watch.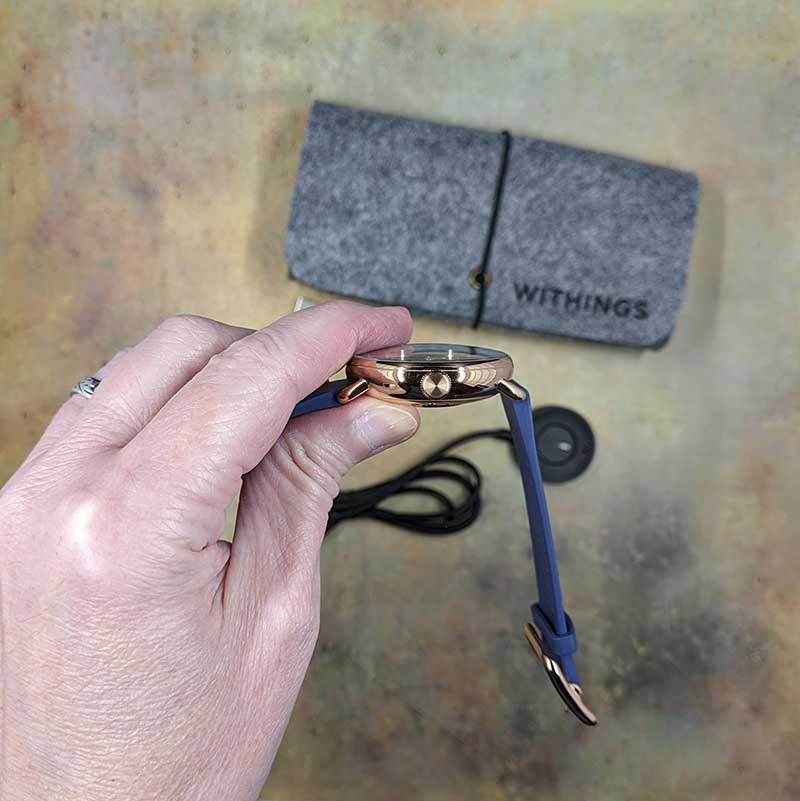 After wearing a square Apple Watch for the past 3 years, it's a nice change to be able to wear a more traditional shaped watch like the Withings ScanWatch.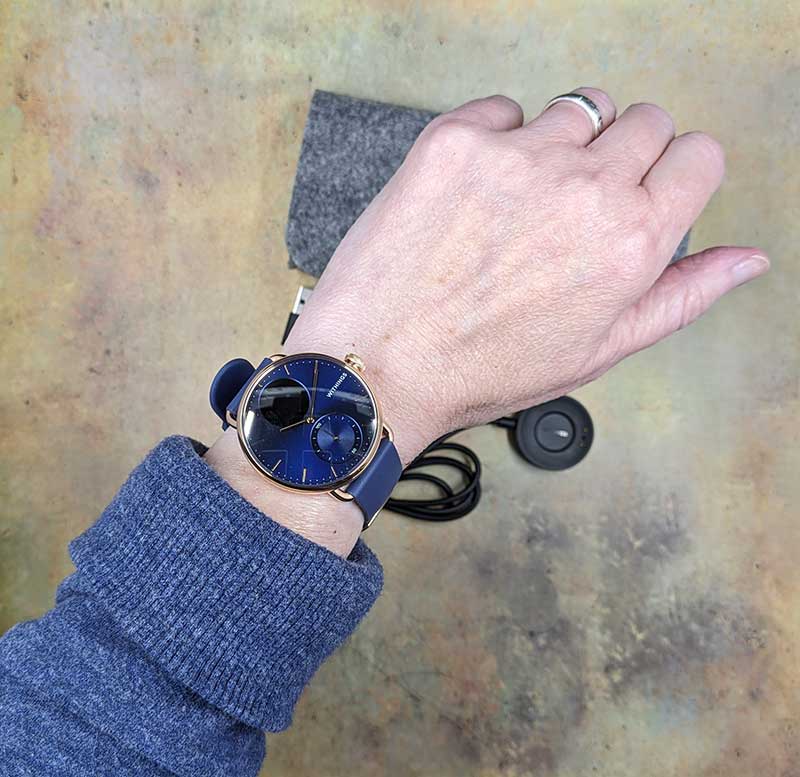 I'm also happy to report that this watch is very comfortable to wear. I was a little worried about the buckle-style band because I have been wearing a Velcro sports band for so long, but it's actually really comfortable and I have had no issues with it.
It is also nice to know that you can use pretty much any 18mm (20mm for the large ScanWatch) watch band with this watch because it doesn't use a special style connector like an Apple Watch or Google Pixel Watch.
Withings ScanWatch features
Other than telling the time, the Withings ScanWatch has these other features:
Fitness tracking (Automatically tracks walking, biking, running, swimming, sleep, distance, elevation (floor climbed) & calories burned)
Track stairs
Pulse
ECG – Electrocardiogram which is a graphical representation of the electrical activity of the heart and it can detect a condition called Atrial Fibrillation (AFib)
SpO2 – Blood oxygen level measurement
Sleep tracking
The Withings app
I've used the Withings app for years and can honestly say that it's easy to navigate and provides a lot of great info that you can reference right from your phone. I like that the info can be viewed daily, by the week, month, and even some of the information can be viewed by the year. For example, I have my weight data from using Withings scales going all the way back to 2010!
The Withings ScanWatch collects your physical activity data for easy viewing of your daily steps, floors climbed (stairs), heart rate, calories burned, and other workout data.
The ScanWatch will also analyze your sleep and provide a sleep score based on your sleep levels throughout the night.
Using the Withings ScanWatch, you can check your SpO2 levels, heart rate data, and you can do an ECG test.
Using the Withings ScanWatch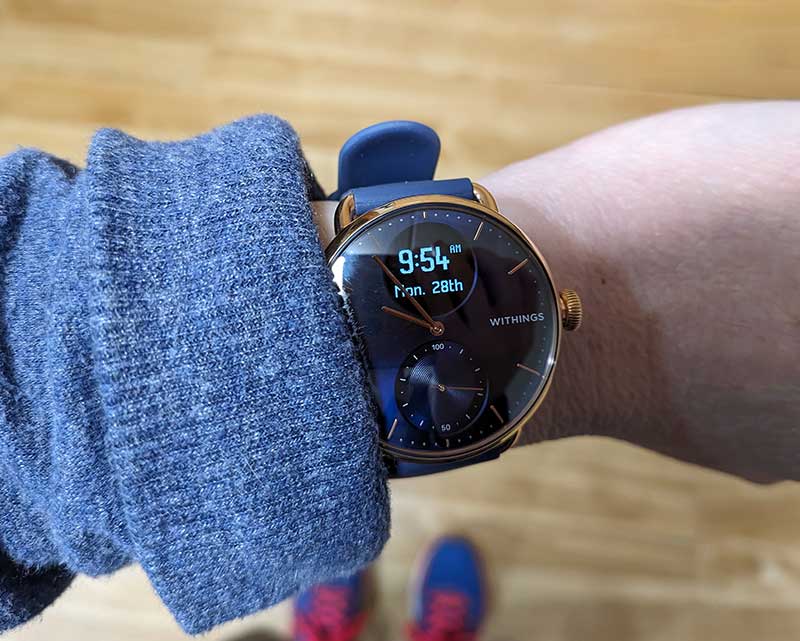 When a notification comes in, the watch will vibrate and the display shows a scrolling preview of incoming calls, text messages, calendar events, and other notifications from more than 100 different apps. The notification display is obviously tiny, but that can be a good thing because it won't let you get too distracted with your watch. That said, this watch can't do a lot of really cool things like show your next exit while driving, or letting you answer texts and calls straight from your wrist. As with all things, there are trade-offs. If you want to be able to do "all the things" straight from your wrist, then this watch is not for you, but if you're looking for a minimalist smartwatch, the ScanWatch is one that delivers.
Battery life
My favorite feature of the Withings ScanWatch is that you can charge it once using the included charger and not have to charge it again for weeks. Yes, one charge will power this smartwatch for up to 30 days (note that the number of vibrating notifications that you receive will drastically impact battery life) but being able to use the ScanWatch for weeks instead of 1 day is something that Apple, Google, and Samsung can't claim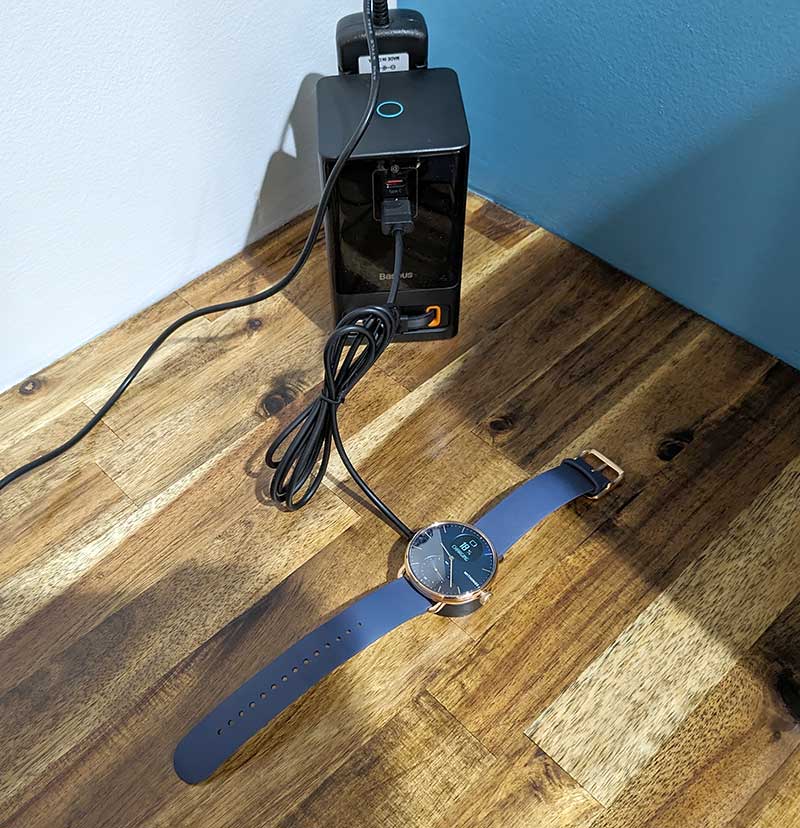 The fact that the Withings ScanWatch has such amazing battery life means that you can go on short or extended trips and not have to pack a special cable to charge it.
See it in action
What I like
Classic look and feel
Watch first, smartwatch second design
Long battery life (up to 30 days)
Withings is well established and this watch fits in great with their existing fitness ecosystem
Can use any regular 18mm (or 20mm for the larger cased ScanWatch) watch bands
What I'd change
More case/face colors
More watch band options
Final thoughts
Sometimes less is more and in the case of the Withings ScanWatch, less is a LOT more. This watch won't become a distraction with bright colors and complications (on screen widgets) because it's a traditional watch with smart features. The small notification display is just large enough to read the important notifications without sucking you into playing with your watch. It's a well-made and attractive watch with seriously impressive battery life that lasts for weeks instead of just 1 day. I also like that it has a lot of activity tracking tech backed in and it integrates with all my other Withings products so that I can easily see trends in my fitness levels.  I can't promise that the ScanWatch will become my only watch from now on, but it's definitely going into my rotation and until now, I didn't even have a rotation, so that's saying a lot!
Price: $299.95
Where to buy: Withings and Amazon
Source: The sample for this review was provided by Withings.