We use affiliate links. If you buy something through the links on this page, we may earn a commission at no cost to you. Learn more.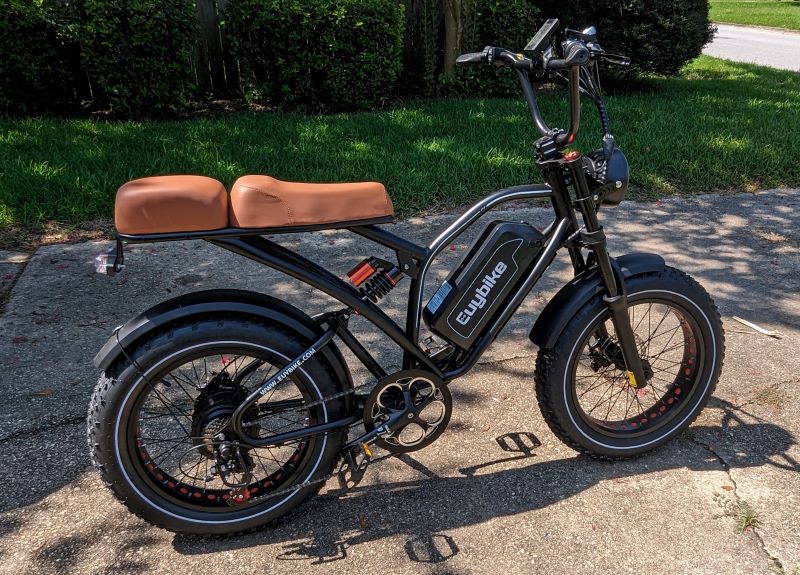 REVIEW – We tend to get a slew of electric bikes to review here at The Gadgeteer. There are so many manufacturers and models these days. Some look like traditional bikes while others look like they belong in a utopian sci-fi movie. The Euybike S4 long-range moped-style electric bike comes along, does something a little different, and strikes a chord of nostalgia with me. When I was a kid, my best friend in middle school had a mini-bike that looked a lot like the Euybike S4 Long Range Moped-Style electric bike, but of course, on a smaller scale.  Could this bike really take me back to my childhood?  Could it put that smile on my face like the one I had the first time I rode my buddy's mini-bike? I didn't know but I knew I wanted to find out.
What is it?
The Euybike S4 Long Range Moped-Style electric bike combines the speed and looks of a moped with the convenience and eco-friendliness of an electric bike.
What's in the box?
Euybike S4 electric bike
Combination wrench
16 in 1 repair multitool
Air pump
Seat extension
Battery charger
User manual
Warranty card
Hardware specs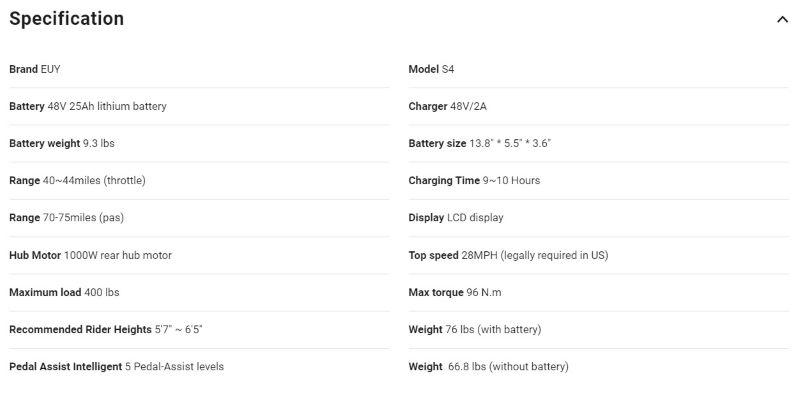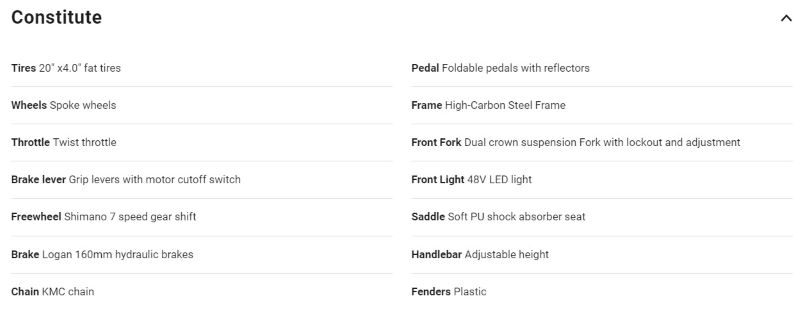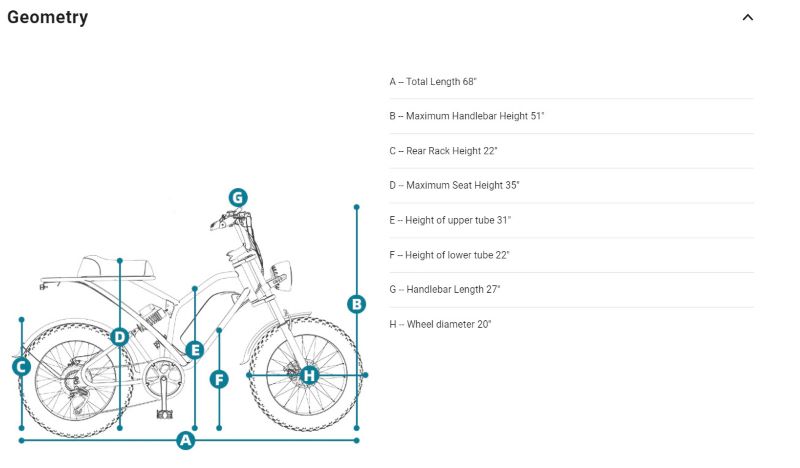 Design and features
Obviously, the first design feature I want to talk about is the look of the Euybike S4 moped-style electric bike. As I said, it reminds me of the little mini-bike of my childhood friend. It also gives off a little brother to the Honda Monkey motorcycle little brother and I love it.
Unboxing
The Euybike S4 arrived in one large box, but mine had some damage on the side of it. Uh-oh! This isn't starting off well. Maybe there's nothing to worry about. Let's carry on.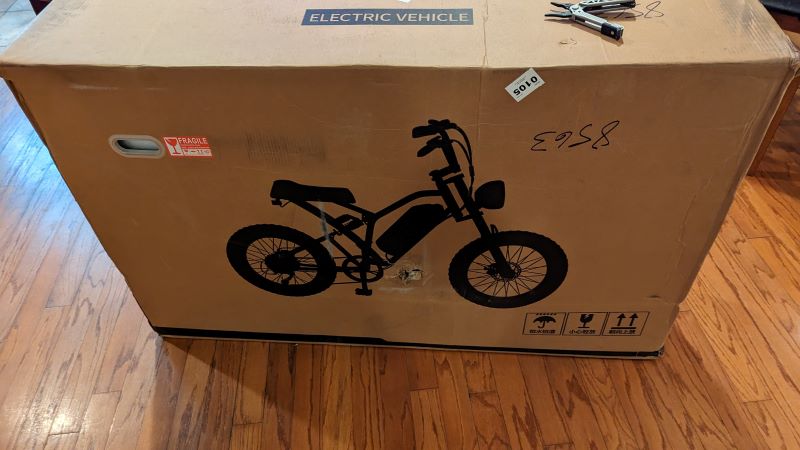 After opening the box, everything seemed to be packaged well with plenty of protective foam and chipboard for rigidity.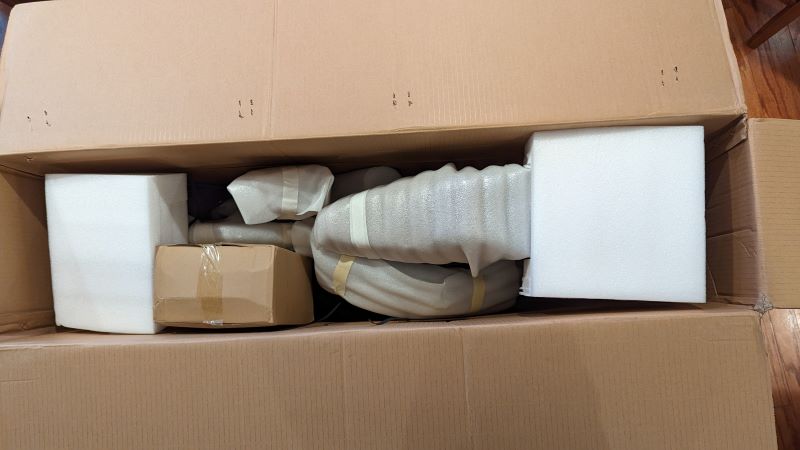 Inside there was a smaller box that contained all the usual hardware; nuts, bolts, tools, manual, and the "free" accessories which consisted of the seat extension, the bike multitool, and the manual air pump.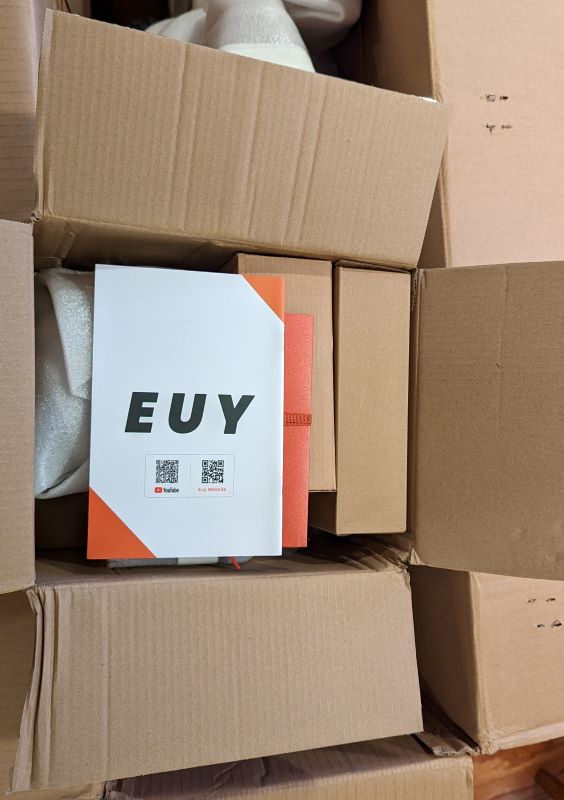 I was a little surprised to find this lovely red envelope with the golden welcome tag. It just contained the warranty card, but it was a nice little touch. I haven't seen that before.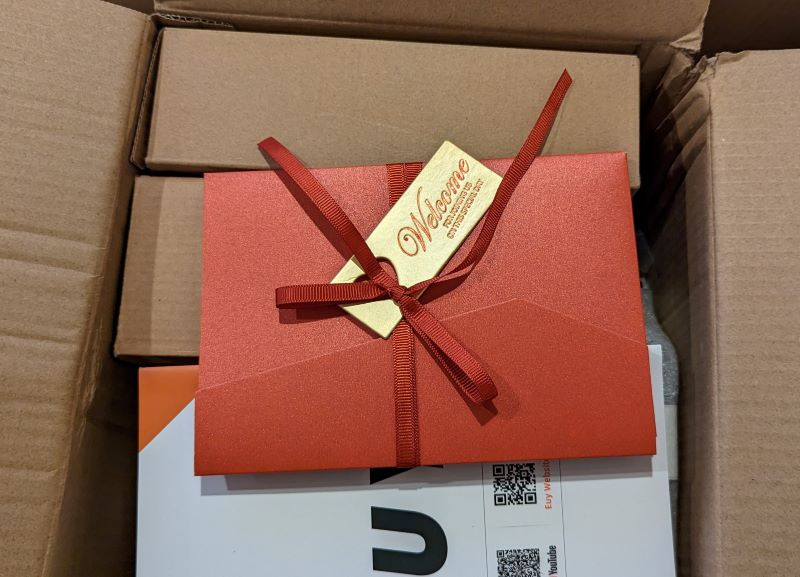 Getting deeper into the box, I saw what had poked through the side of the box. It was the axle bolt of the front tire, but everything looked fine.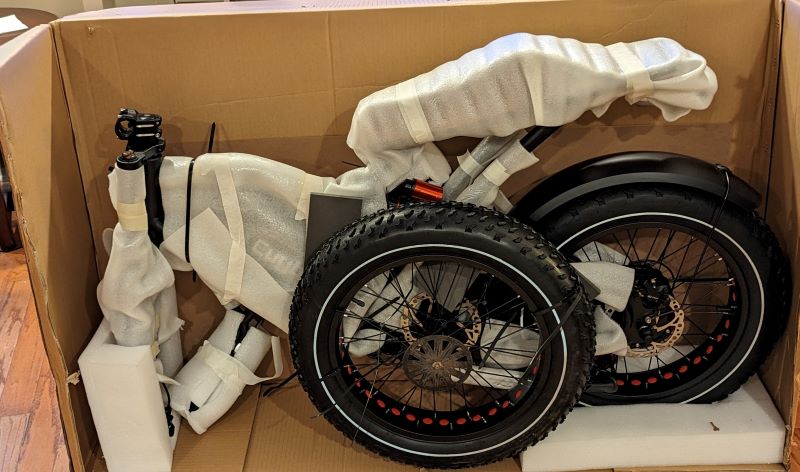 The last electric bike had a really fancy multifunctional display that had all kinds of options and features.  The funny thing about it was it was almost impossible to read in direct sunlight.  The Euybike S4 display is much simpler. It has fewer functions and buttons but you can read it while you're riding it. I mean, that's kind of important right? Personally, I prefer simpler. It gives you what I feel is the right amount of information. There's a speedometer, odometer, battery display, and power assist level. A lot of other bikes also have apps to download so you can do things like track your trips, program the display via Bluetooth, and locate the bike should it get stolen, which is great if you want all that. I myself don't want another app on my phone, especially if the app becomes unusable due to some software change.  The Euybike S4 does not have an app and I'm thankful for it. Can I just get on my bike and ride? With the Euybike S4, I can.
Euybike has installed Logan hydraulic brakes on the S4. Now I'm not really a bike guy, I don't know all the ins and outs of what's best on a bike and what's not. I do however know that hydraulics are better than the standard cable brakes. Cables can stretch or slip and need more adjusting to keep your braking power. According to the Euybike website, the average stopping distance of the S4 is 18 feet 11 inches. Sounds like a lot to me, but Euybike states the average for electric bikes is 19 feet, so take that for what it's worth.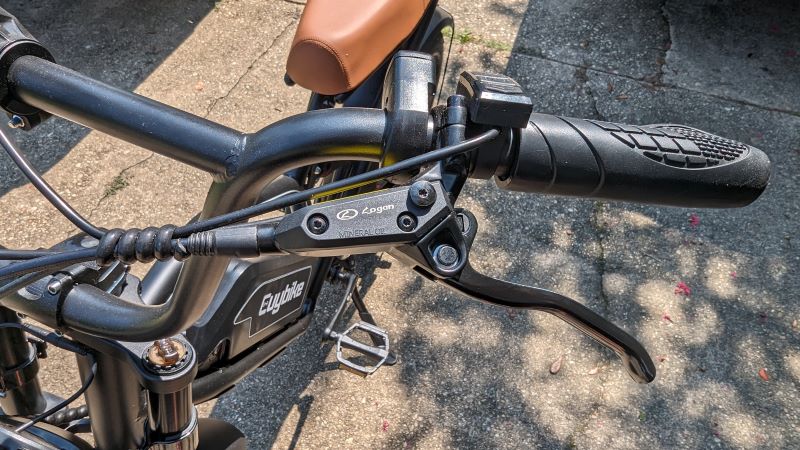 Let's talk about the Euybike S4 Long Range Moped-Style electric bike's frame. It's not aircraft aluminum or magnesium. It's high-carbon steel, so it's heavy. Euybike says this allows the rider to take tougher terrain like dirt roads or trails. I'm not sure I buy into that but I do believe it helps to keep the price lower, and the S4 is less expensive than a lot of other electric bikes I've seen.
Another feature the Euybike S4 has that's different from the other bikes I've reviewed is the motor.  The S4 comes with a 1000W motor whereas the other two I've reviewed had 750W. And where all three boast top speeds of 28 mph, the Euybike S4 is the only one that got me to that speed. I'm a big guy. I'm 6 feet 6 inches, 270 lbs and yes I was able to get 28mph and change out of it. I also got a big smile out of that, so nostalgia was achieved.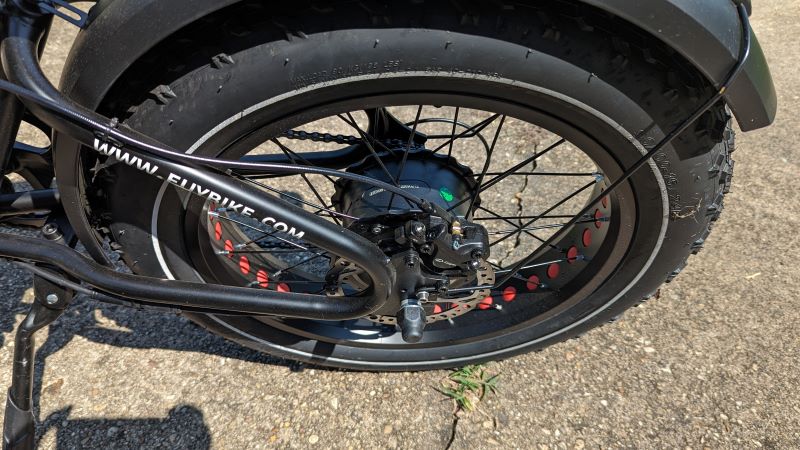 Straight out of the box, my first ride on the Euybike S4 Long Range Moped-Style electric bike was rough. The suspension bottomed out on bumps so I suggest adjusting that BEFORE you start. It's easy to do with the controls on the front fork. With that, I could dial in a comfortable ride.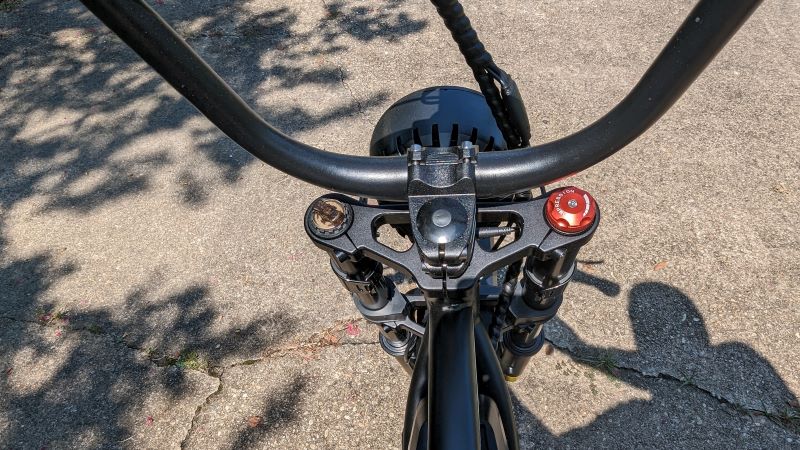 There's also a non-adjustable rear shock to aid in that. Euybike, my tush thanks you.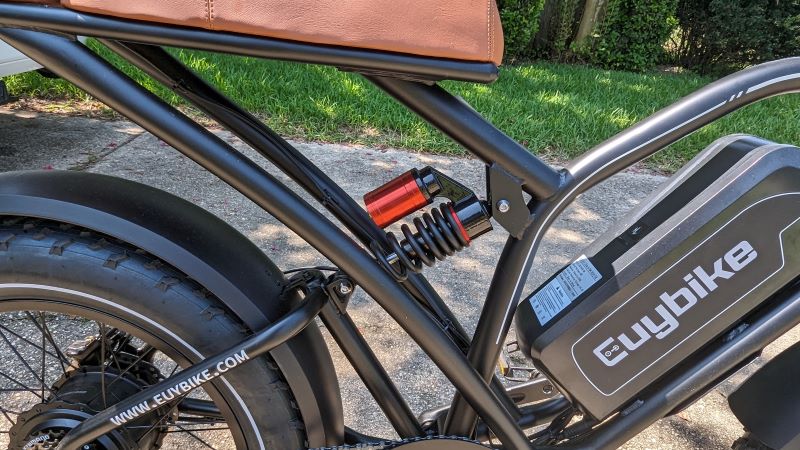 Speaking of comfort, the included seat has memory foam so it's very comfy but I found it a little too short for my size. Luckily, they included the seat extension which allowed me to scooch back a bit and ride more comfortably.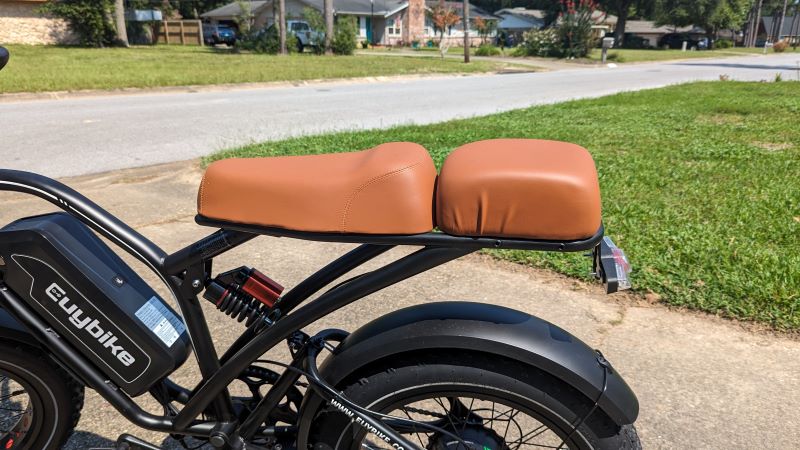 I did have an issue with the seat extension though. The seat has four holes for mounting to the frame but only came with three bolts. Ok, so a mistake was made. No big deal. I reached out to support to let them know I needed another bolt.  Their response was only three are needed to secure the seat so I should be fine. Ok, if you say so. I take my three bolts and try to install the seat. Turns out the holes in the seat didn't align with those in the frame so I currently have TWO bolts securing it. It works fine but definitely wanted to share that with you.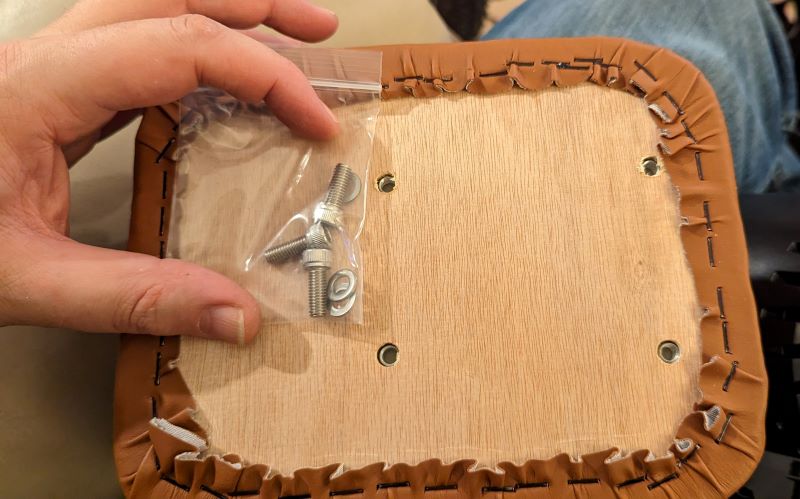 The bike's transmission isn't anything out of the ordinary. Euybike uses the same Shimano 7-speed system that a lot of other manufacturers use.
What I do like though is the protective frame they put around the business end of it. My first electric bike didn't have that and when I took a spill, I kind of knocked it out of whack. I haven't dumped the Euybike S4 Long Range Moped-Style electric bike yet but I feel pretty confident that'll be protected.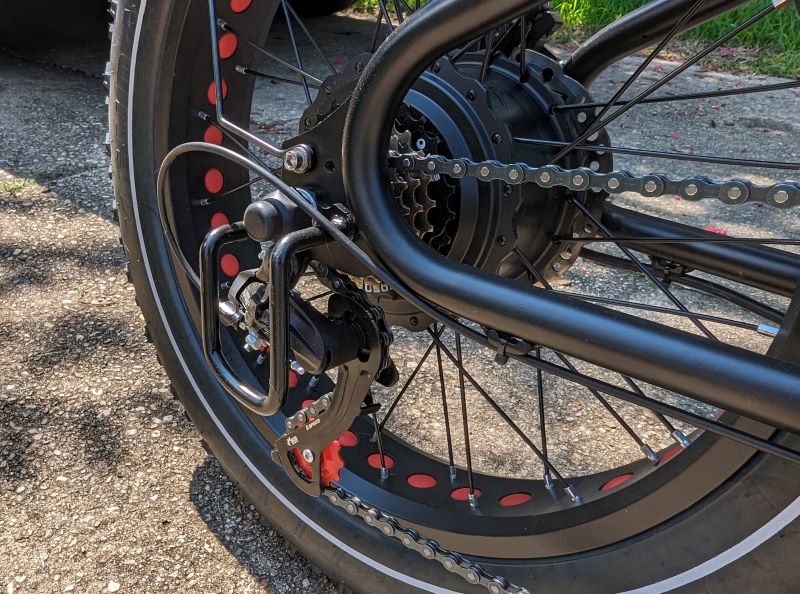 I want to give Euybike a shout-out for their cable management. They did a great job with the bundling, dressing, and running all the cabling on the S4.  It keeps everything nice, neat, protected, and out of your way.
I'm guessing all the manufacturers use basically the same batteries for their bikes. Most of the less expensive bikes come in the same form factor as the S4 with pretty much the same specs and functions.
The Euybike S4 uses a 48V 25Ah lithium battery which Euybike says can get you 44 miles using only the throttle and up to 75 with pedal assist. I don't think I'm going to ever get that due to my weight but I'm pretty sure someone smaller than me could get close.  The problem I have with the pedal assist claim is once I got up to PAS level 3 and higher, I reached a speed where pedaling was pretty much useless. I think the S4 could benefit from higher gears. When got into 7th gear at higher speeds, I was pedaling like a madman with no resistance. I didn't feel like I was contributing anything.
A few other features to mention are things like the headlight and tail lights. The headlight is much larger than the ones on my previous bikes. Not only does it play into that moped look, but it's much brighter than what I was used to.  The tail light is nice to have since it allows others to see you better and is also a brake light. No blinkers on the S4 though, just so you know.
The pedals aren't much to speak of. They look pretty generic to me.  Euybike describes them as foldable. Unless foldable means something else in this context, I think a mistake was made. Nothing folds on the pedals that I received.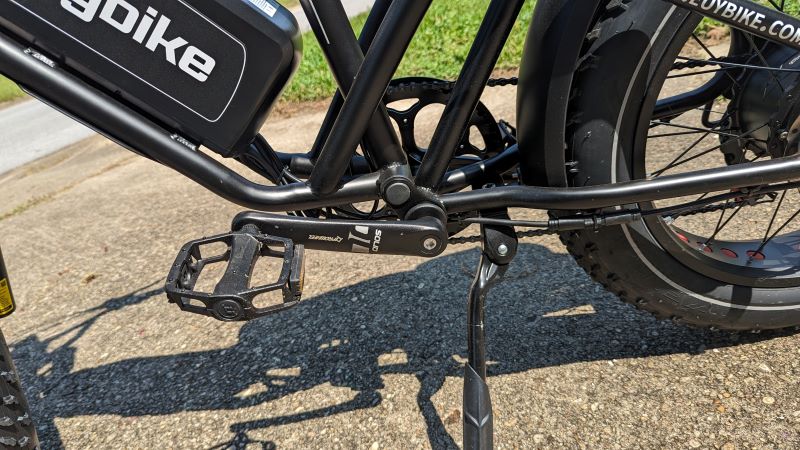 Setup
Putting the Euybike S4 Long Range Moped-Style electric bike together was simple. You don't really need the manual if you've ever had to put any kind of bike together, but the steps are well-documented should you need them. I typically use my own tools, knowing they're of much better quality than what will be included, but I decided to try out the multitool. Who knows? Maybe I'll be surprised and it'll be worth it. Let's just say I wouldn't want to rely on it were I to break down away from home on the Euybike S4.  I think I got about 3 bolts tightened down when the head of the hex wrench rounded off. So back to my own tools.  This multitool is available for purchase separately on the Euybike website, but I wouldn't recommend it, obviously.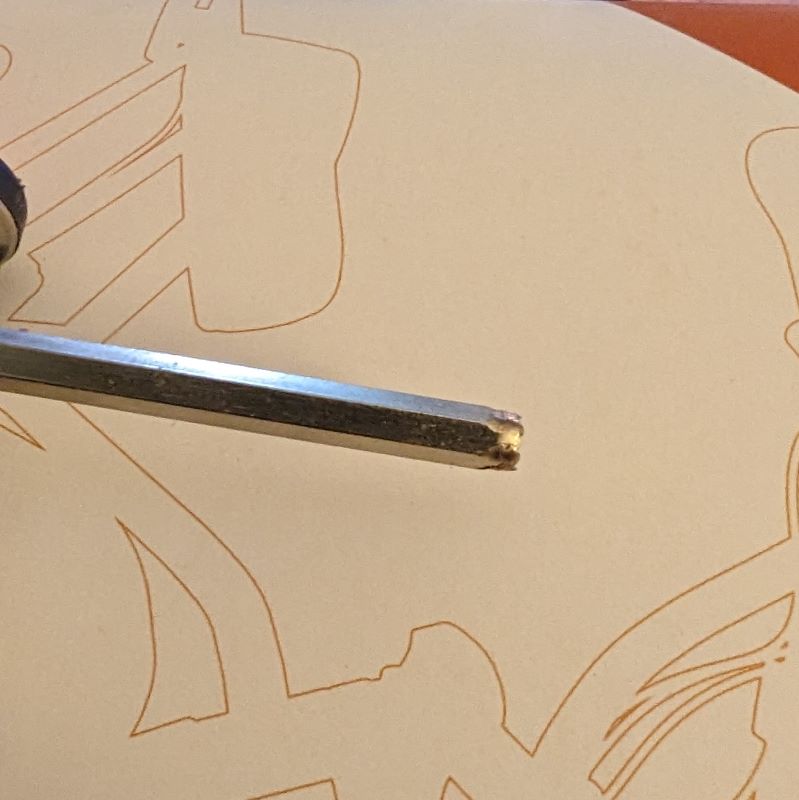 You will need to air up the tires before your first ride. Having received a very similar air pump with another electric bike I reviewed in the past, I didn't even try it. It might be ok to top off with once or twice but seeing as there's no way to mount it to the bike, I think it's pretty much useless.
Performance
The performance of the Euybike S4 is good. Battery life is good enough for me and figure I could get about 50 ish miles out of it. I do a combination of pedaling and throttling when riding, not strictly one or the other.  Suspension once I got it dialed in along with the seat make for a very comfortable ride. It's not perfect since technically I'm taller than what Euybike has listed for sizing, but the set extension helped me to stretch out a bit more.  The 1000w motor actually let me get up to the advertised top speed and allowed me to break the speed limit in my neighborhood. Sorry, not sorry. Shifting is fine. All three of the bikes I've reviewed have had the same Shimano set up so I haven't anything else to compare it to.
What I like
The looks
It actually can get to the advertised top speed
The bike has a solid build
Less expensive than a lot of other bikes
What I'd change
The included accessories' quality could be improved
Final thoughts
The Euybike S4 moped-style electric bike, like the others I've ridden, is a lot of fun. It definitely puts a smile on my face. It doesn't have some of the high-end features like a configurable app or space-age materials for the frame, but the price reflects that. Of the three bikes I've reviewed, this one is my favorite. It's the least expensive, looks cool, and reminds me of a good time in my childhood.  Time will tell on its longevity but that's true on all of these bikes from a lot of companies. If you're looking for a less expensive bike, don't care about installing yet another app, and like the style the S4 exudes, I suggest checking it out.
Price: $1399
Where to buy: Euybike
Source: The sample of this product was provided by Euybike.