We use affiliate links. If you buy something through the links on this page, we may earn a commission at no cost to you. Learn more.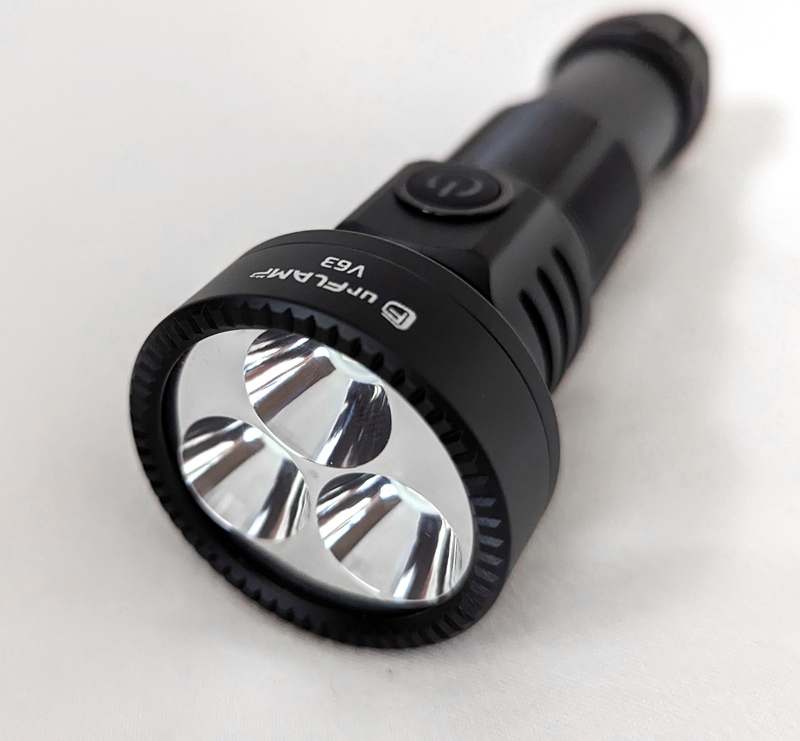 CROWDFUNDING REVIEW – Do me a favor and walk around your house and garage to count the number of flashlights you have.  Now count how many of them need batteries or no longer work.  I did this exercise and I counted 23.  23 flashlights of different shapes and sizes that required 4A, 3A, 2A, 9-volt, button (multiple sizes), C, or D sized batteries.  And only 4 of them actually worked. And the ones that worked are pitifully weak. I gathered these over time from Walmart, hardware stores, conference goody bags, and who knows where else. I am so tired of this because it never fails that when you need one it doesn't work. It was time for me to graduate to something serious and quit playing around with these plastic toy flashlights. And the Kickstarter campaign for the urFlamp V63 Floodlight seemed like a great place to start!
What is it?
The urFlamp V63 retractable flashlight is a super bright, retractable, waterproof, compact flashlight.
What's in the box?
* I received a review unit so when you purchase yours on the Kickstarter page you may only receive some of these items, depending on what you buy.
The urFlamp V63 flashlight
2 lithium batteries, small (1,100 mAh) and large (3,800 mAh)
USB-C charging cable
OTG (on-the-go) adapter
Magnetic base that attaches to the bottom
2 spare O-rings
Lanyard
User manual
Zippered carrying case
NOTE: there are also RGB filters available but they did not come with my review unit
Product specifications
Size: adjustable length from 3.3 in to 4.5 in
Circumference of the flashlight head:  1.6 in
Weight:  3.3 oz (w/o battery)
IP68 waterproof rating
Charge other devices at 5V/2A output
Temperature range for use:  14 degrees to 140 degrees
5 year warranty
Features and performance
The body of the urFlamp V63 retractable flashlight is black metal and the top screws off to reveal the inside where the battery goes.  On one side you'll find the power button and on the other side, you'll find the sealed flap that reveals the charging port. On the bottom is a built-in connection for attaching it to a tripod if you want.  There's also a hole on the bottom to attach the lanyard and small slots to insert tritium tubes if you so desire.  If you twist the bottom you'll see probably the most unique feature of this flashlight as the body of the flashlight expands to take the length from 3.3 inches to 4.5 inches. The 3.3 inch length is incredibly small, as you can see from the pic below, but even if you expand the body to its full length of 4.5 inches it's still remarkably small.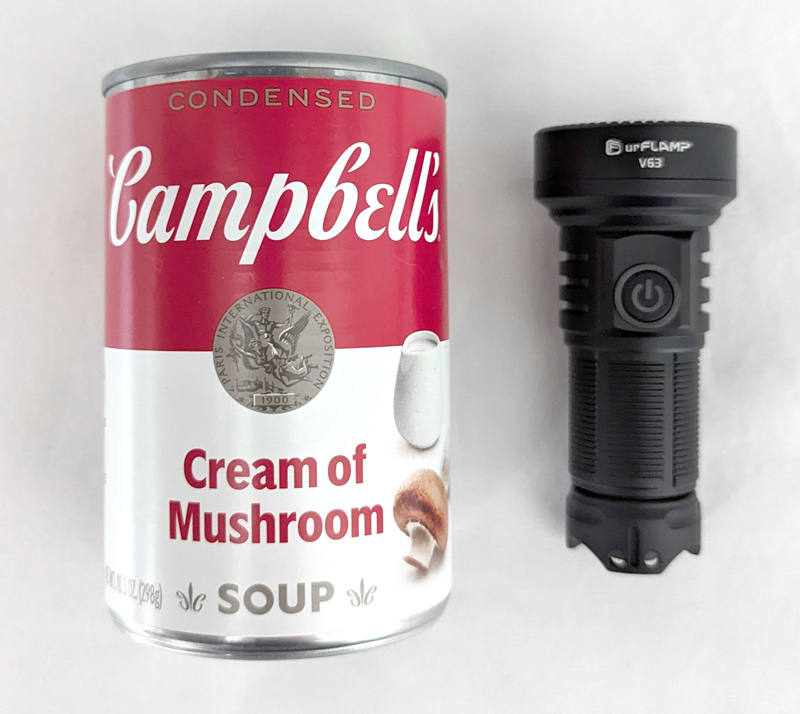 Here is a picture of the V63 fully expanded next to both batteries: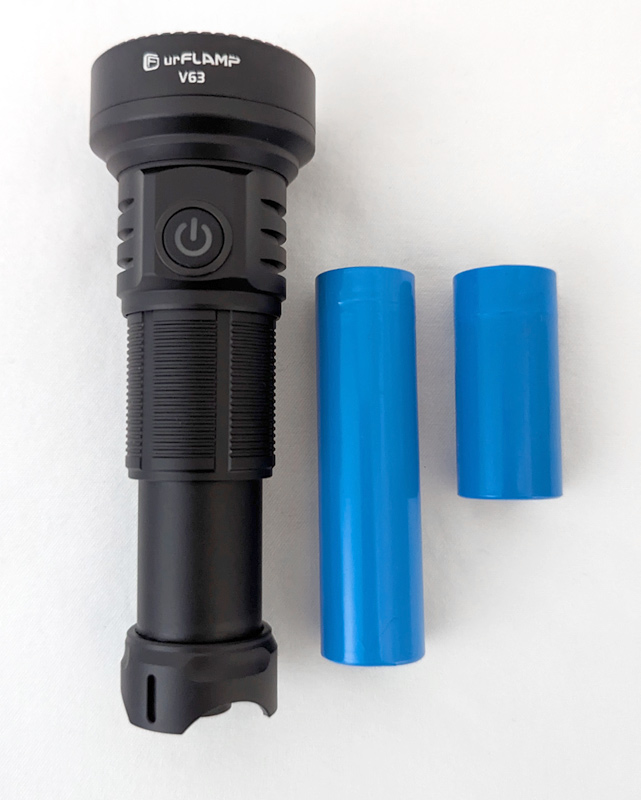 There's an attachment you can screw on the bottom of the urFlamp V63 retractable flashlight that provides you a magnet that allows you to attach it to a ferrous metal surface.  I used this while I was working on the golf cart one day doing maintenance on the batteries and again on the car one day while looking under the hood checking the oil. The only issue I had with the V63 was the tightness of the magnetic base. When I screwed it in, it easily came loose and I would have to tighten it again and again.  A little annoying, but I don't keep the magnetic base attached all the time, only when I need it. So that isn't a deal-breaker for me. The magnetic base also can adjust to provide you various angles of use, as you can see in the pic below.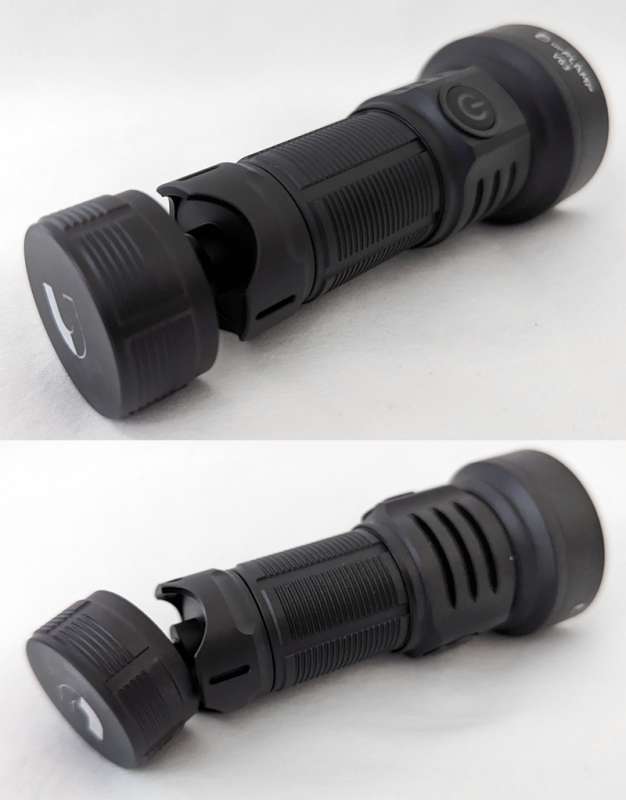 There are 5 levels of brightness with the urFlamp V63 retractable flashlight:  Eco, Low, Medium, High, and Turbo.  Depending on the level you pick and the size of the battery you have inserted (there are 2 sizes remember), your battery performance will be different.  So rather than try to recreate the table that is in the manual that shows the performance you'll get with each brightness level and battery, I will insert the table from the company website: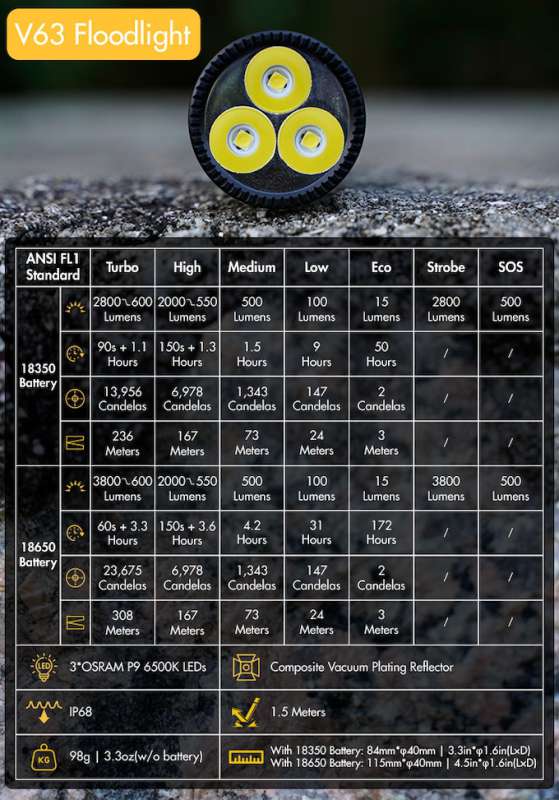 When using the urFlamp V63 retractable flashlight with the larger battery on the high level, I was able to get almost 4 hours of constant use, which is a little better than the 3.6 hrs listed in the table. I imagine that will go down over time as the battery ages. When you turn the flashlight on you will be surprised at how much power is packed into the small frame. It kinda blew me away.  Here are some pictures that I took at night outside my house. We walk the dogs in the evening/at night before heading to bed, and some of the paths in my neighborhood are pitch black late at night. The urFlamp V63 absolutely destroys darkness. These pictures show me using the High-level brightness: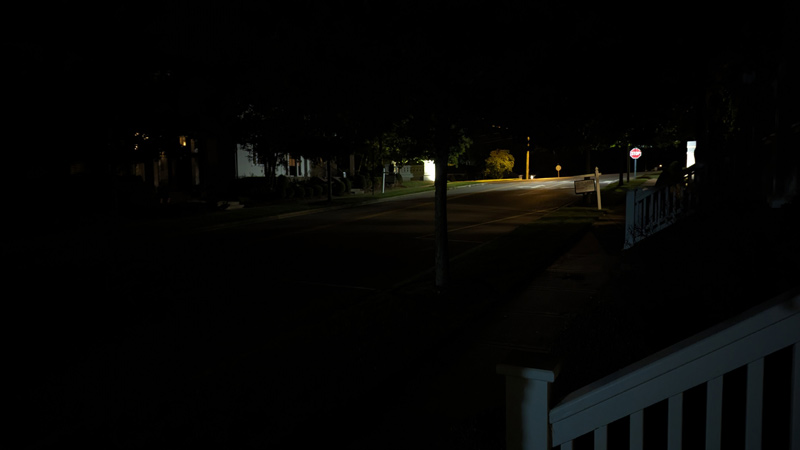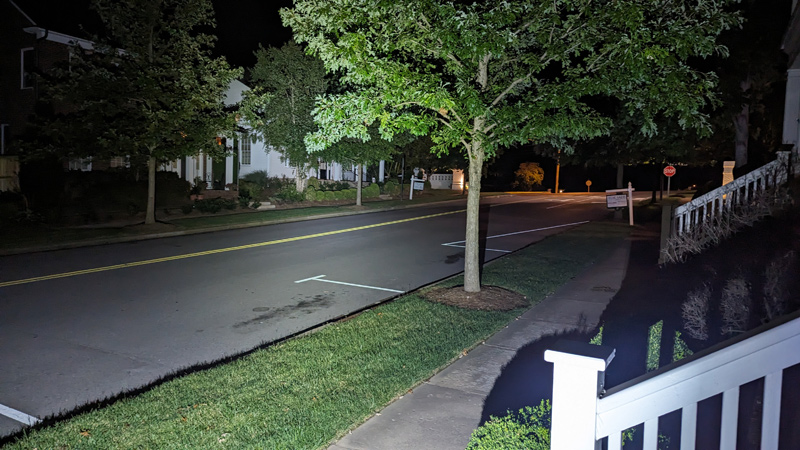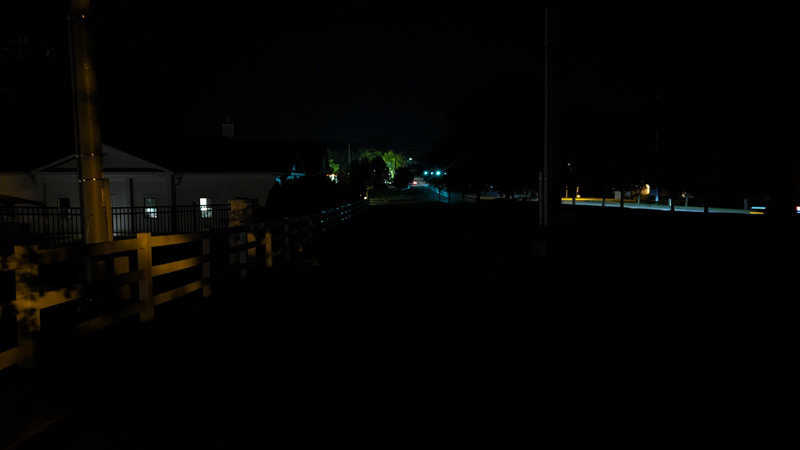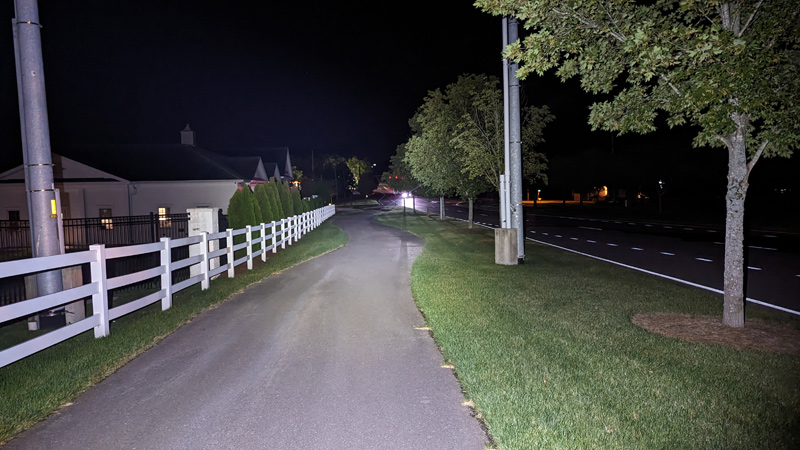 You can also use the urFlamp V63 retractable flashlight as a portable battery to charge other devices utilizing the included USB-C cable and the OTG USB-C adapter if needed.  Keep in mind that the flashlight battery is only 1,100 or 3,800 mAh in capacity, depending on which one you have, so you won't be fully charging much of anything.  And of course, utilizing this cool feature reduces the time you'll actually be using the V63 as a flashlight.  But I could see this as a great way to provide a quick charge to your cellphone that's about to die so you can make some calls for the park ranger to come find you!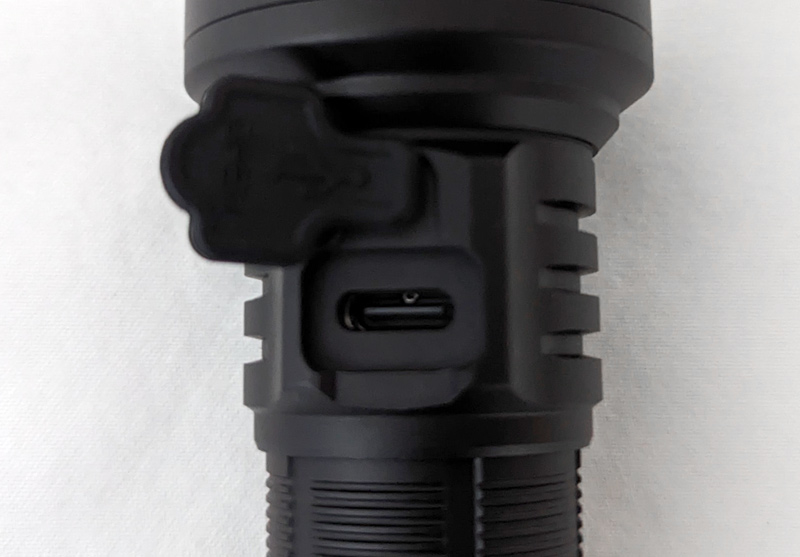 The urFlamp V63 retractable flashlight is rated at IP68, which means you can completely submerge it in water and it stays waterproof for long periods of time.  I didn't go scuba diving with it, but I did test this in my neighborhood swimming pool and it works.  It also comes with replacement O-rings if you need to replace them to maintain that waterproof ability, because O-rings do wear out over time.  I also nervously tested the drop protection feature. urFlamp says that you can drop the flashlight from 5 ft and it will be ok.  I didn't drop it from 5 ft, but I did drop test it from 2 ft on my garage floor and it survived. Nothing broke or cracked.
The power button on the side of the V63 also doubles as the battery power indicator light.  It displays a color when you turn the flashlight on so that you can tell how much battery is left, and once again, rather than recreate a table that shows you what the colors mean and how much battery is left, I will insert the graphic from urFlamp's website: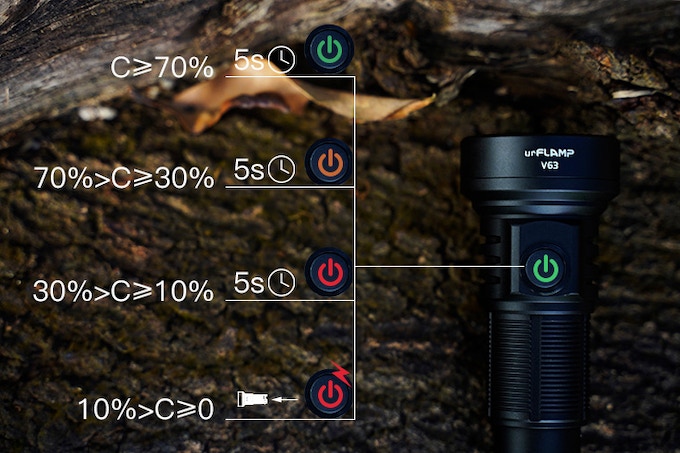 The test unit came with a zippered carrying case that feels like mesh nylon on the outside and it's a great way to keep everything together. The foam inside the case is divided into small sections so that you can create just the right layout for whatever you want to store in the case.  Nice touch.
Finally, my only complaints were small. I mentioned the magnetic base that wouldn't quite stay tightly connected all the time.  The other complaint I had was that the included manual that came in the box was actually quite pitiful. It looked like it was printed on an inkjet printer from 2005 that was almost out of ink.  And a young person was surely the one who created it because the text was so small that my middle-aged eyes couldn't even read it.  Luckily, they provide a PDF of the manual on their website, which I downloaded so I can keep it to use later if needed.
What I like
It's incredibly compact and adjustable
Carrying case holds everything
Magnetic base is super handy
Hours of incredibly bright light
Ability to charge other devices
What I would change
A little tighter fit on the magnetic base
The manual was pitiful
Final thoughts
While the price is low during the Kickstarter campaign, there's no reason not to buy this flashlight.  The urFlamp V63 retractable flashlight will replace just about every flashlight in your house and garage. In fact, you need one for the house AND the garage.  And get another one for your vehicle and your hunting/camping gear. Do what I did and graduate from all those plastic, crappy toy flashlights and never buy another flashlight again. You'll thank me.
Price: $35 to $88 pledge
Where to buy: Buy on Kickstarter
Source: The sample of this product was provided by urFlamp.