We use affiliate links. If you buy something through the links on this page, we may earn a commission at no cost to you. Learn more.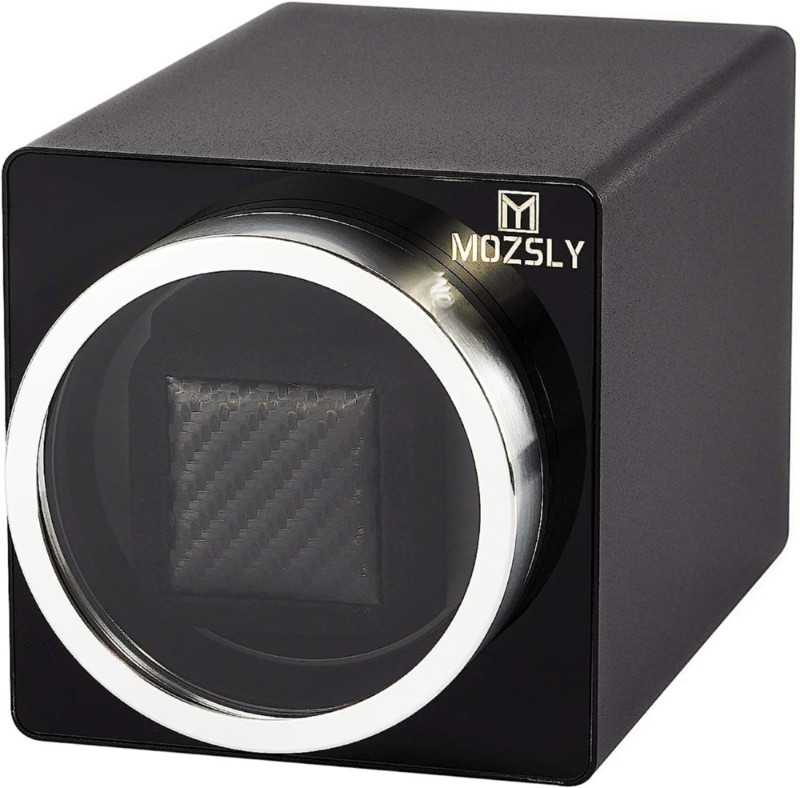 REVIEW – The Mozsly Watch Winder is for watch owners who have one or more self-wind watches but don't wear them full time. When you put an auto-winding watch aside, they usually stop within a week or so. The Mozsly watch Winder keeps the watch mainspring 'topped off' so the watch is ready to use when you're ready to wear that auto-wind watch again. How well did the Mozsly Watch Winder wind, and how did it perform?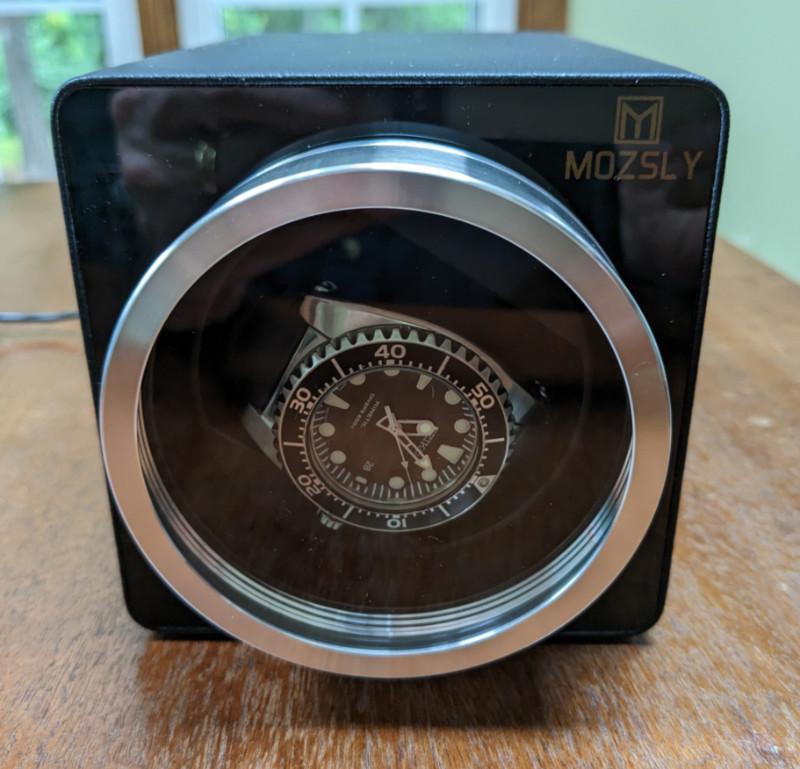 What is it?
The Mozsly Watch Winder is a motorized winder box for automatic or 'self wind' watches that require movement to keep the watch running. It is available in a wide variety of colors and finishes.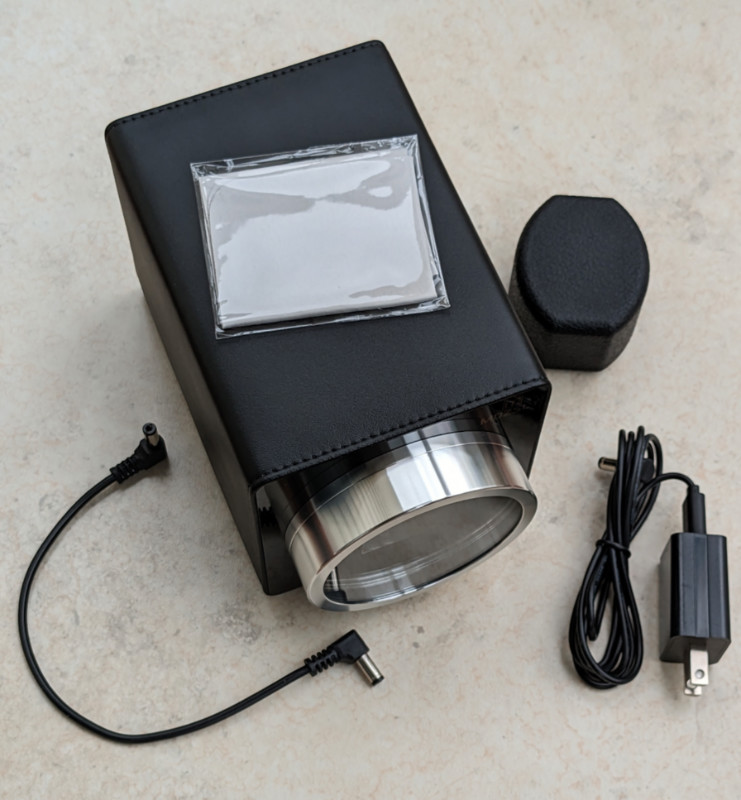 What's in the box?
Mozsly watch winder
Two watch 'pillows'
AC power adapter
Cord to connect an additional Mozsly winder box
Glass cleaning cloth
User manual
Quick start sheet
Hardware specs
14 finish choices
Japanese Mabuchi motor
< 10 dB motor sound
AC power or two AA batteries
Four 'turns per day' winding modes
Three directional winding modes
Dimensions: 4.4″ L X 6″ W X 4.4″ H
Design and features
The Mozsly Watch Winder is available in a lot of finishes and colors.
The choices are, leather in black, brown, green, white, blue, red, purple, light blue or orange, and even carbon fiber leather. Or you can choose space metal silver or black, carbon fiber paint, or classic wood grain paint.
Setup
Directions in the Mozsly winder say to wear the watch before placing it in the winder box. The implication is for the watch to be well wound when placed into the winder. The Mozsly Winder isn't intended to restart a stopped watch, but rather to keep it 'topped off' after it has been in use.
The only decision to be made is whether to use the squared-edge watch 'pillow' or the one with rounded edges. My son in law and I found the rounded edge pillow to work best for the 4 watches we tested in the Mozsly Winder. I assumed a very thin watch that has a leather or NATO band would fit the squared pillow best.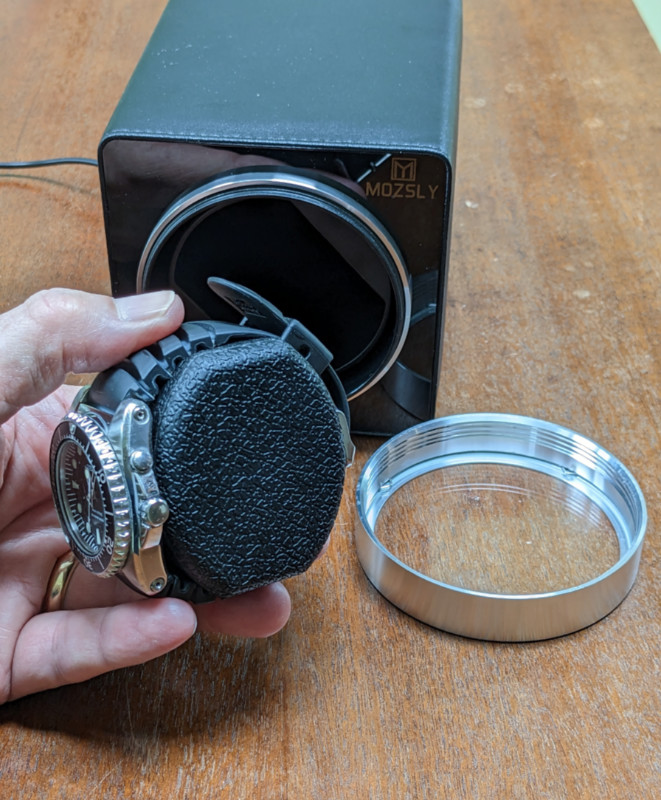 A bit of care is needed to protect the watch face during winding. It's necessary to insert the watch on the chosen pillow fully into the Mozsly Winder so that the watch face doesn't grind against the inside of the screw-on winder cover. Should the watch slip forward during winding and contact the winder box face, it may call for either the other pillow or tightening of the watch band on the pillow.
This review convinced me my old Seiko Prospex SKA413 Kinetic finally needs service. Recently it even slows or stops during overnight sleep. Through no fault of the Mozsly winder, it would not keep my watch wound even on the highest TPD setting. Instead of seeking a $200 watch repair, I turned to a son in law who owns three automatics to help complete this review. H.N.S. saved the day. And this review.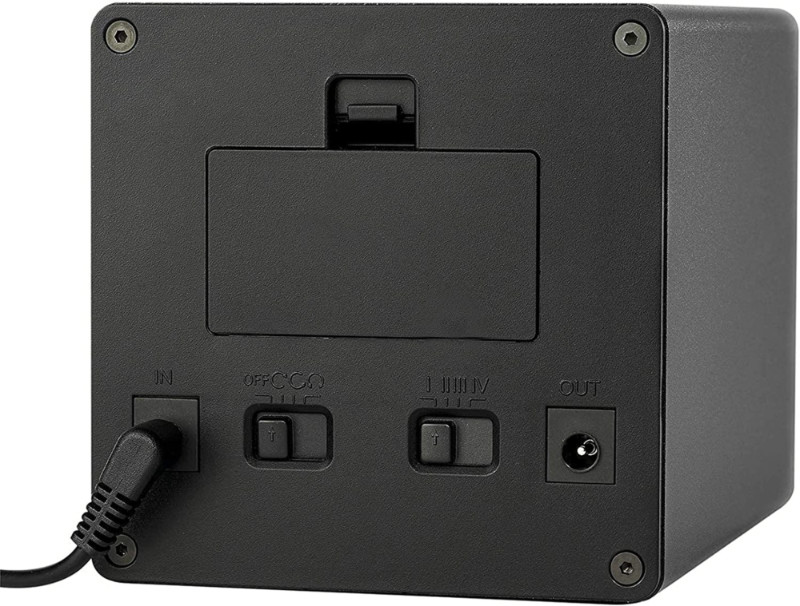 For the Mozsly Winder controls, there are 3 directional modes and 4 'TPD' (turns per day) mode choices. The directional choices are clockwise, counterclockwise and alternating. For TPD, you can choose 600, 900, 1200 and 1500. The most the Mozsly winder can turn a watch is for about 8 minutes every 50 minutes on a continuous cycle. The least turning that can be chosen is for about 3.5 minutes every 56 minutes on a continuous cycle.
In between, you can switch to about 4 hours and 48 minutes of winding every 55 minutes, or 6 hours and 28 minutes winding every 53 minutes.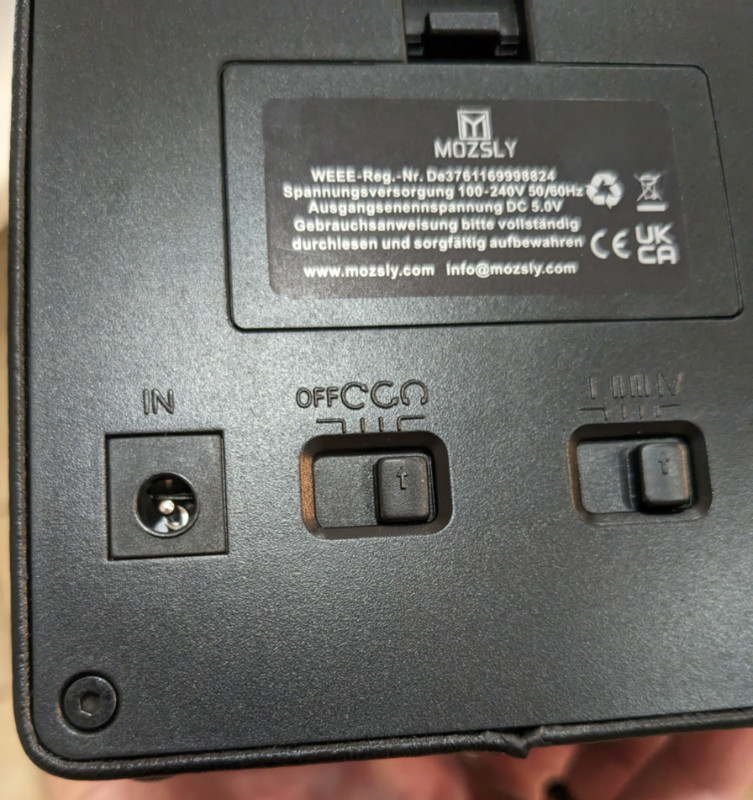 In the center is the directional switch. From left to right, off, clockwise, counterclockwise and alternating.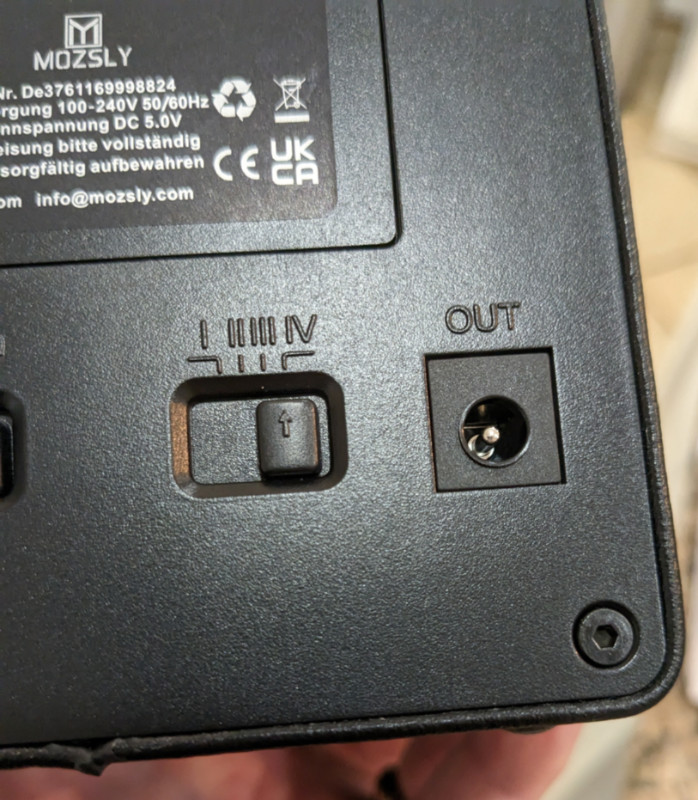 This photo shows the four TPD settings, Roman IV is the most turns per day as described above. The output plug is for 'daisy-chaining' Mozsly winders together if you use them in multiples.
The Mozsly Winder can be powered by AC current or by two AA batteries. We didn't test battery operation of the winder but it is an option.
Performance
The sound in these videos is room noise only. The Mozsly Winder is nearly silent.
The Mozsly Watch Winder matched the winding time estimations within reasonable limits, as they were stated in the manual.
I mistakenly thought (and hoped) watch winders had a continuous mode, but auto-winding watches shouldn't need continuous motion. I just need to get my watch repaired.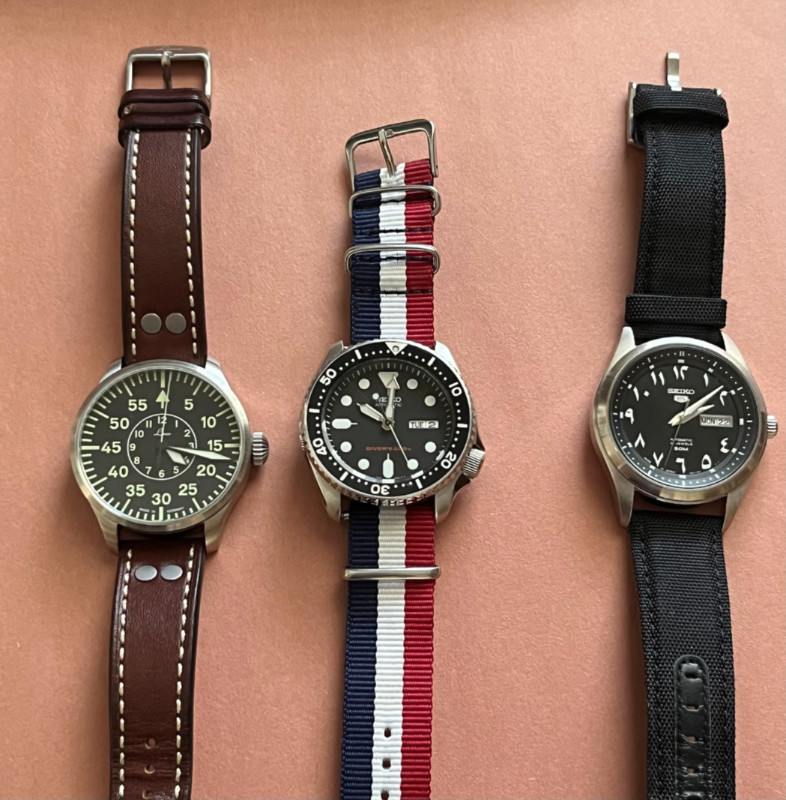 These were the watches tested with the Mozsly Winder. From left to right, Laco Aachen, Seiko SKX007, Seiko 5.
In each case, the Mozsly Watch Winder wound wonderfully. These watches kept time to their normal accuracies while in the winder, and days / dates changed as they should have.
What I like
Very quiet operation
14 finish choices – You can find several you like
The device works as described
What I'd change
No complaints or recommendations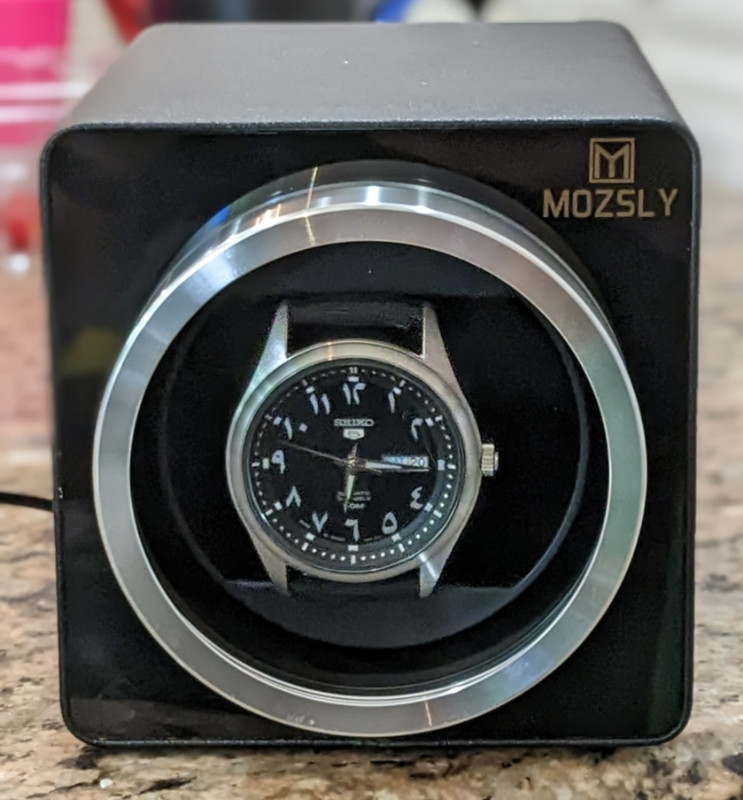 Yes, those are actual Arabic numerals.
Final thoughts
Watch nuts debate the need for a watch winder. Which is worse, using a winder and subjecting the watch to continuous wear of the inner watch parts, or leaving the watch to run down thus letting lubricant settle or migrate? You can fight it out on your favorite forum, but for those who want a winder, the Mozsly Watch Winder worked quietly and perfectly. Thanks to H.N.S. for saving this review since he had the foresight to own some nice, automatic watches.
Price: $81.99 at Amazon. $89.99 at Mozsly.
Where to buy: Mozsly and Amazon
Source: The sample of this product was provided by Mozsly.