We use affiliate links. If you buy something through the links on this page, we may earn a commission at no cost to you. Learn more.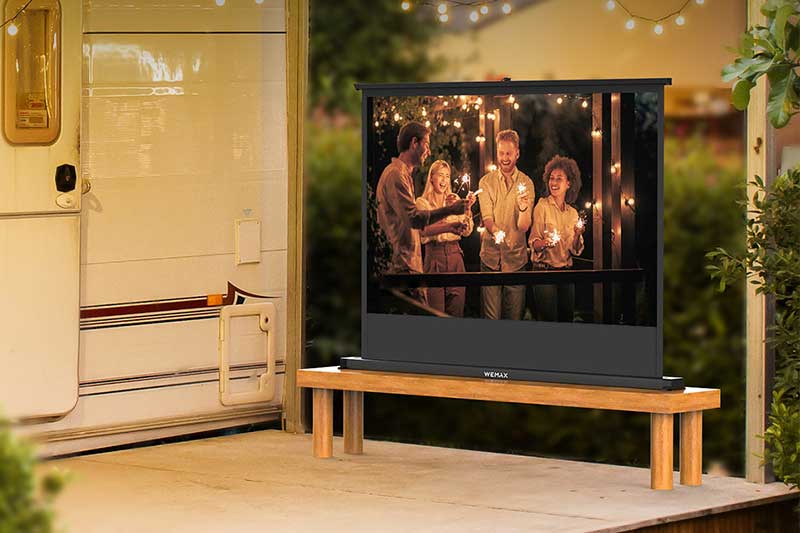 DEAL NEWS – Boost your home movie-viewing experience with the Watch from Anywhere Bundle: Wemax Go Projector + 40″ Portable Screen for $199.97 (Reg. $679).
The days of trekking to a movie theater to watch your favorite titles on their larger-than-life screens are long gone. Larger traditional TVs changed the game years ago, but the portable projector has made the movie-viewing experience a reality for many.
During our Memorial Day Sale, you can purchase the Watch from Anywhere Bundle: Wemax Go Projector + 40″ Portable Screen for just $199.97 (reg. $679). This is a limited-time deal, so you won't want to wait too long. 
The Wemax Go Projector transforms your living room into a home theater, a movie lounge, or whatever you prefer to call the enhanced space. At less than an inch thick, the projector features patented ALPD Laser Technology that provides crystal-clear picture projection. 
It features 300 ANSI lumens, and the projector has built-in Wi-Fi if you wish to stream content from your portable device. Everything including the color of the projector has been factored into performance. The all-black design assists in reeling in sharp light, which creates an ultra-sharp image. 
Smart eye protection allows the cinema-grade laser light to reflect off the projector screen instead of having it beamed directly into your eyes. 
The projector screen features multi-layer white fabric with 1.1 gain. It's compatible with 4K and 3D projection with a smooth surface. It is easily retractable and can be pulled out from its aluminum casing for setup in mere seconds. And it's versatility allows for placement on any surface or table. 
Casting is supported for iOS and Android devices. 
Skip a trip to the movie theater and obscene amounts of money on required snacks by purchasing the Watch from Anywhere Projector and 40″ Screen Bundle for just $199.97 (reg. $679.97) through May 31 at 11:59 p.m. PT.
Prices subject to change.