We use affiliate links. If you buy something through the links on this page, we may earn a commission at no cost to you. Learn more.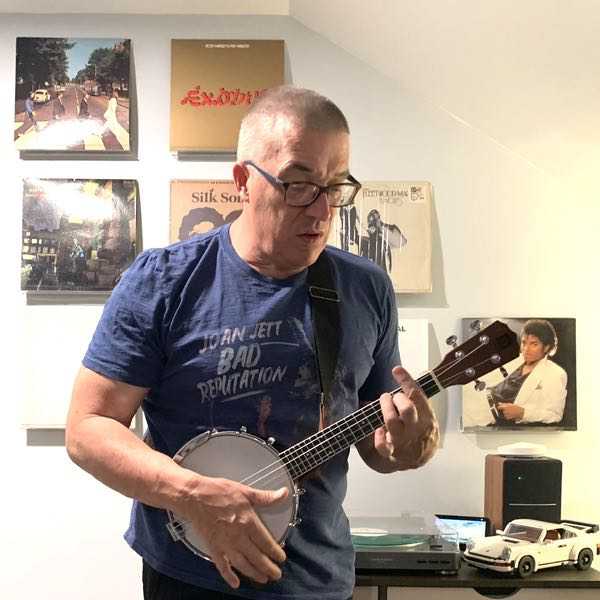 REVIEW – You read that right! A banjolele is exactly what it sounds like: the love child of a ukulele and a banjo. The Vangoa VBU-20 Banjolele is designed to be an entry-level instrument that you can learn on without spending a whole bunch of cash. In my opinion, it accomplishes that mission. To the review!
What is it?
The Vangoa VBU-20 Banjolele is a hybrid banjo/ukulele (banjo body, four strings & tuned like a uke). I'm testing the VBU-20 which is a closed-back, 23″ concert-sized model.
What's in the box?
This banjolele comes well equipped with everything you need to get started including an electric tuner, several picks, a backup set of strings, a shoulder strap, a pickup, and a carrying case.
Design and features
The Vangoa VBU-20 Banjolele is advertised as a beginner's instrument, equipped with everything you need to get started. Your purchase comes with an impressive set of goodies including a basic carry case, a strap, a few picks, extra strings, an electric tuner, and a stick-on pickup in addition to an adjustment wrench. I wouldn't say that they're all premium quality, but it's a nice package for a beginner that gives you everything you need to get to playing. I'll highlight some details about the accessories at the end of the review.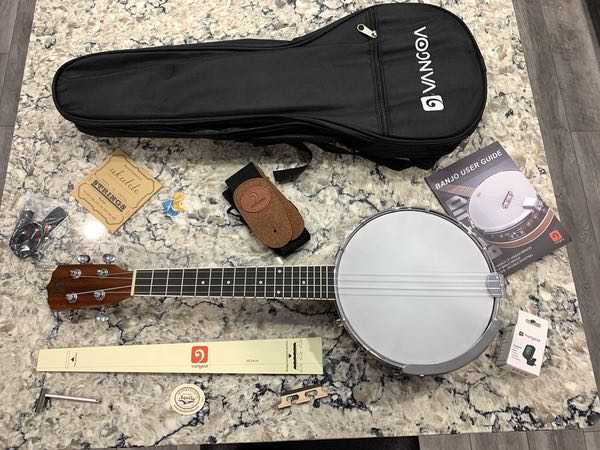 The build material is a bit of a mystery. The fretboard is definitely walnut. They state that they're using mahogany as the primary body material, but I see references to sapele (a less-expensive mahogany knockoff) in the specs. Maybe it's a composite? Whatever the choices, the build feels solid and sturdy. The finished wood grains look nice.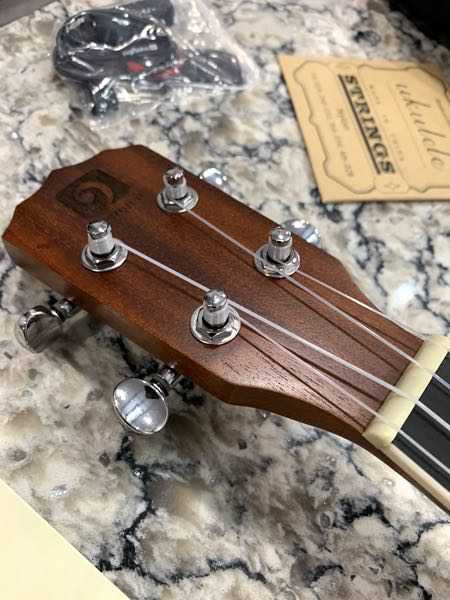 The 18:1 sealed gear pegs are a lovely addition that allows for precise tuning. They also hold the tune quite well once you get through the break-in period. You'll need to install the bridge as part of your setup, but it's not a tough task (see Setup below for more info).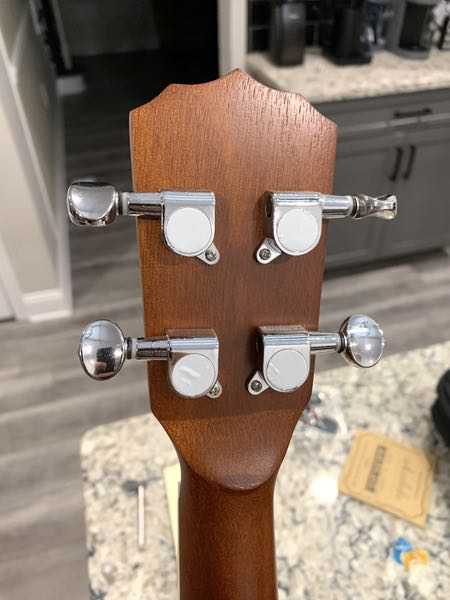 If you look closely enough at the Vangoa VBU-20 Banjolele you'll see some rough edges in the finishing, like some odd gaps and seams at the point where the neck connects to the body. It's not terrible, and I haven't seen any signs of cracking over the month I have had to play with it.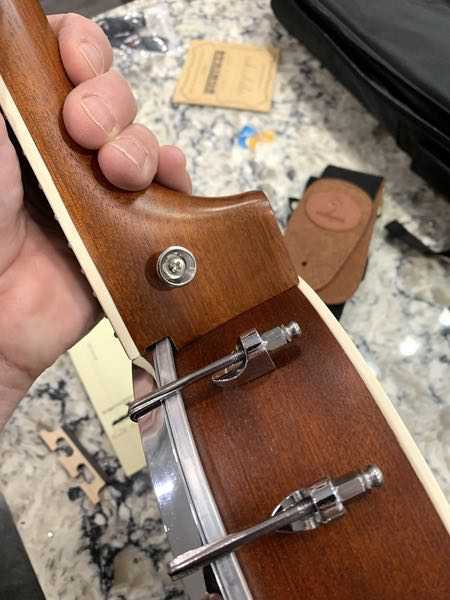 Run your finger along the edges and you may find some rough spots where the frets connect to the fretboard at the ends, but nothing a quick file won't fix. I didn't find any sharp edges, and it wasn't anything that interfered with the playability. This is a theme throughout the build that I found: not perfect, but better than I expected at this price level.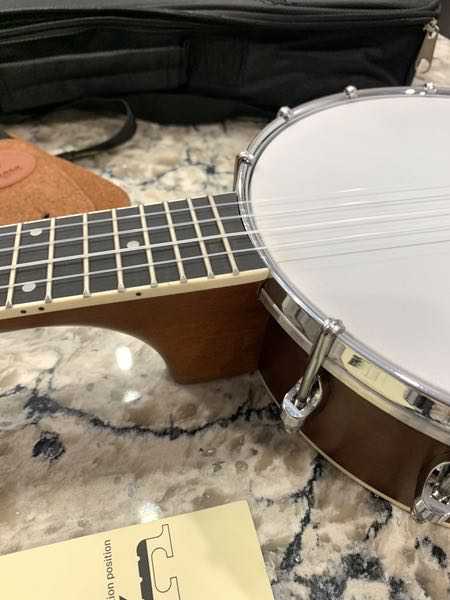 I will be the first to tell you that I've never owned a banjo before… but the setup of the Vangoa VBU-20 Banjolele looks tight, with no loose bits to be had in the hardware assembly.  This angle shows you the armrest at the lower part of the pic. That's where your forearm rests while playing. Note that this is before I installed the bridge.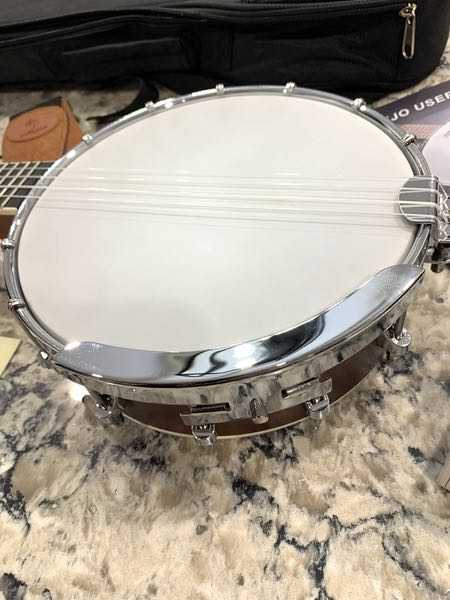 Here's a shot from the tailpiece. Again, everything looks solid out of the box. You get a wrench to adjust the tension of the head. It all sounded good to me from day 1, but I may need to take it to a music store to get a professional opinion.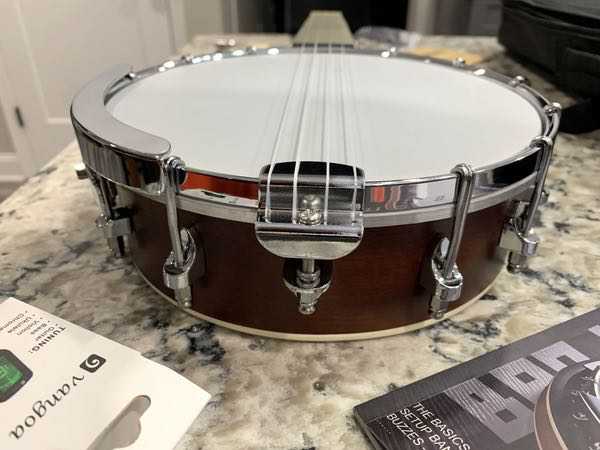 Here's the back side of the wee beastie. This is a closed back banjolele, which presents with a louder "twangier" sound. This model is advertised with a removable back plate if you want the softer sound of an open back, but I'm not sure that I feel comfortable opening up those tiny screws. They don't seem to be made for continuous opening and closing.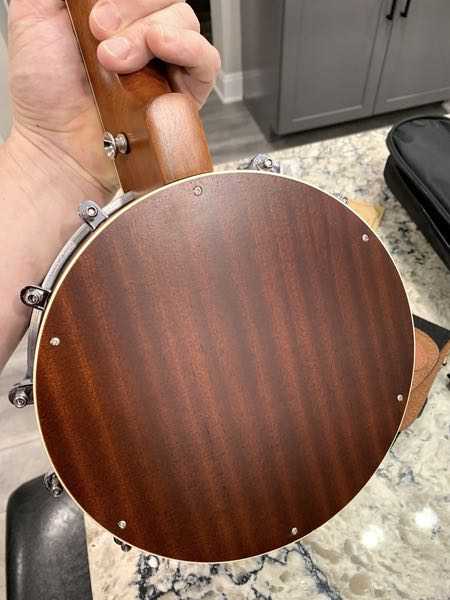 Setup
There are two setup bits you'll need to know to set up your Vangoa VBU-20 Banjolele. The first is the bridge setup. Your bridge comes separately in the package: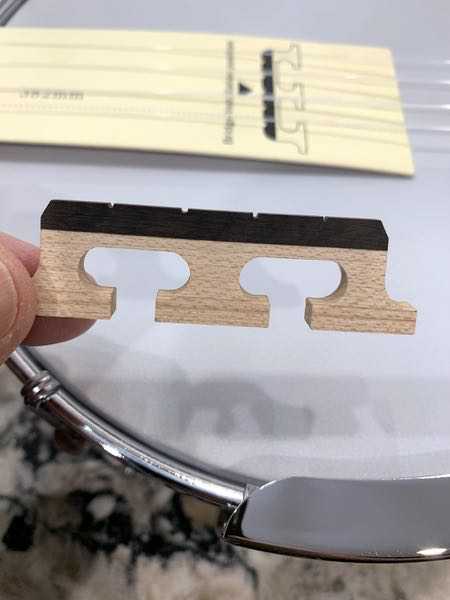 It's not as intimidating as it looks to do the install. Vangoa includes a handy bridge installation guide with your kit. You'll loosen up the strings, and put the cardboard guide in place as shown below: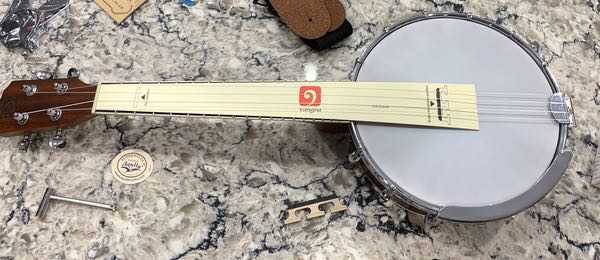 Then you simply insert the bridge under the strings at the mark at the end of the guide. Note that the notches in your bridge follow the string sizes.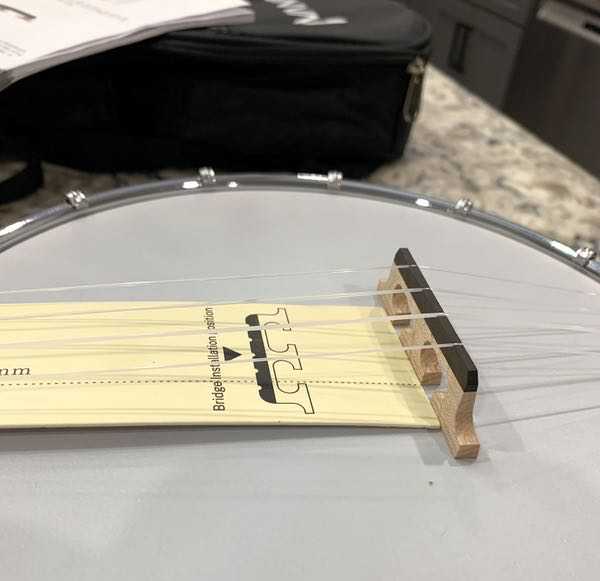 Once the bridge is in place you'll tighten the strings. There will be a time period where the strings need to stretch and settle in. You'll be retuning a number of times until the strings settle. This happened to me over the course of the first few days, but now it holds its tune very nicely.
The second installation bit is the banjolele strap. The banjolele comes pre-installed with a nut attached to the heel. One end of the strap pops right on: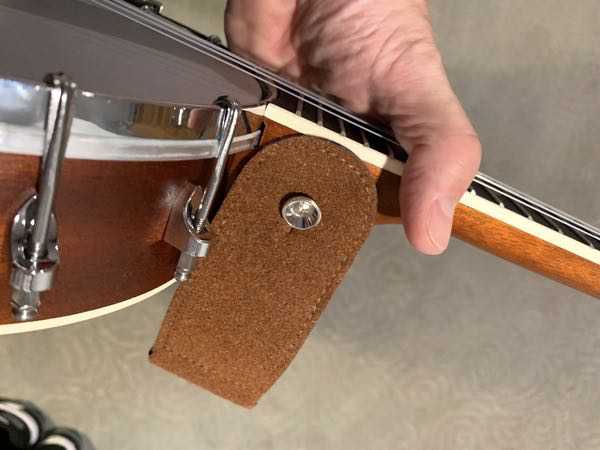 The other end attaches with a cord (supplied) to the tailpiece, as shown below: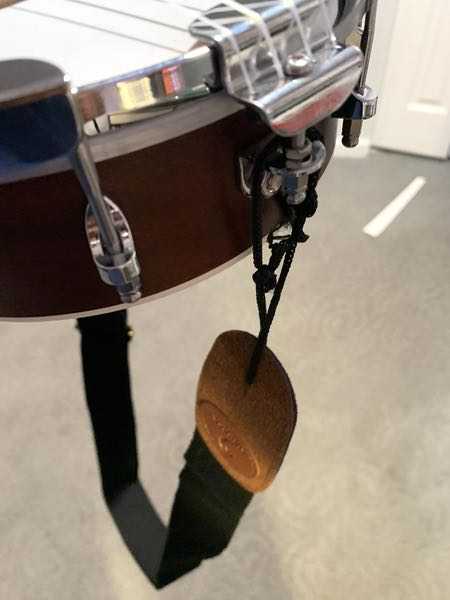 Performance
I don't have much experience with banjos as a reference point, but I can tell you that the Vangoa VBU-20 Banjolele has been a lot of fun to play with. The 23″ concert size and 2.5 pound overall weight are a great combination. It feels good to sling around, but it's not so small that you're struggling to position your fingers on the fretboard.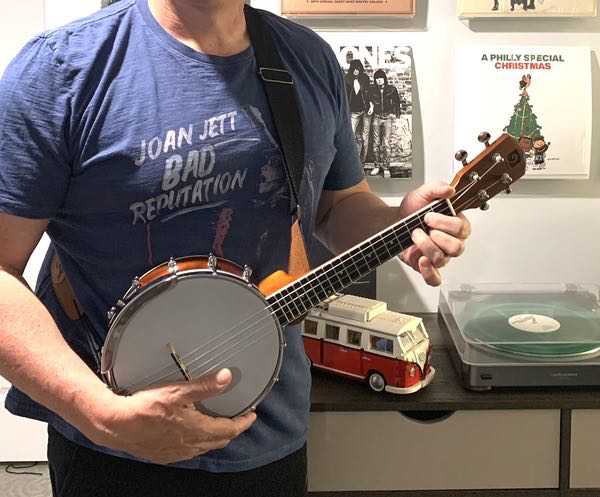 The tone is lovely for what it is. It definitely has that distinctive banjo twang, with some deeper notes to the tone that give it a distinct character. I do find that it gets a little rough to get a clean tone as you work your way up the fretboard (toward the body), but that's common among budget instruments. I could probably get a pro to help with the setup to adjust the action.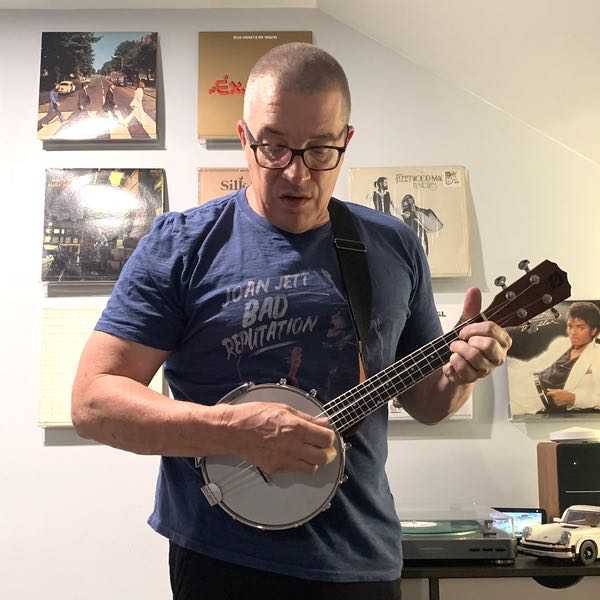 It really is a blast to play. The sound is full and projects well enough that you can play to a larger room while bringing that "twangy" banjo feel to the typical ukulele tone. I really like it for playing blues, and it sounds particularly good when you're fingerpicking. It's just fun to pick up and experiment with, and feels good to handle on a regular basis.
Here's a sample of what it sounds like. Pardon any sloppy picking!
The Vangoa VBU-20 Banjolele setup was much easier than I expected. It LOOKED intimidating, but I had the bridge installed in about five minutes. It does take a few days to settle in, but now holds its tune quite well. I've had no issues with buzzing, loose parts, loose screws, or other mechanical issues after playing it almost daily for a solid month. We'll see how it holds up over long-term use.
A few notes on the accessories…
I'm a little confused by the strings. They include an Aquila tag in the package (which is a good thing), but the backup strings aren't Aquila. Maybe the Aquilas come strung on the instrument? That could be. They sound pretty great. You can always buy some good strings later.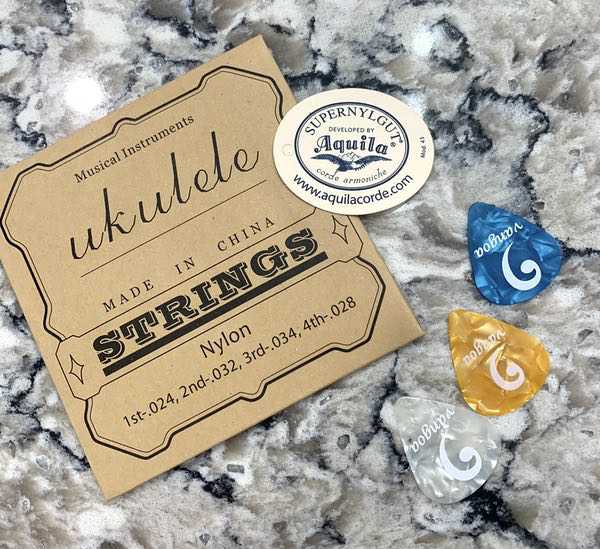 The enclosed tuner is a nice addition, but it seems determined to NOT confirm a solid C note. I tested it against one of my other tuners (on the right), and everything else lined up perfectly but that C note. Odd.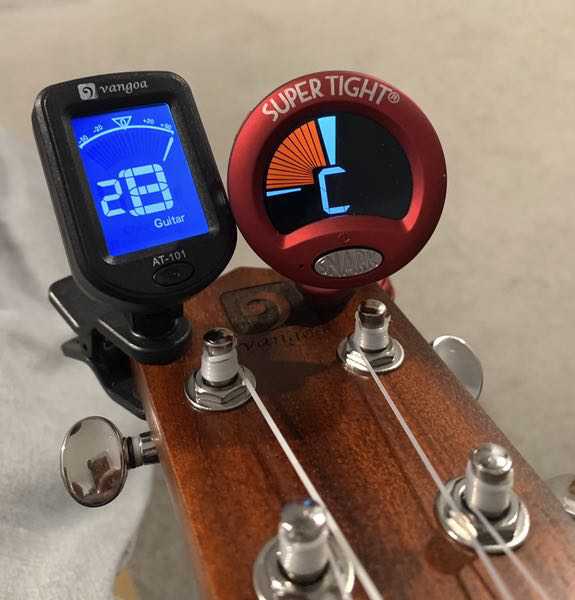 The included carrying case is a pretty standard, lightly padded affair. It does include double shoulder straps, though, which is nice.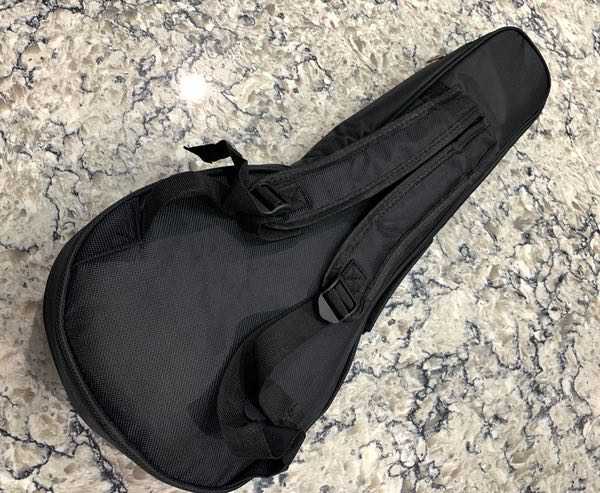 The included shoulder strap is a cotton weave with leather (or suede) end tabs. Perfectly comfortable and exactly the right size for the lightweight instrument. No issues to report there. The total length of the strap is roughly 50″ from end-tab to end-tab before adjustments.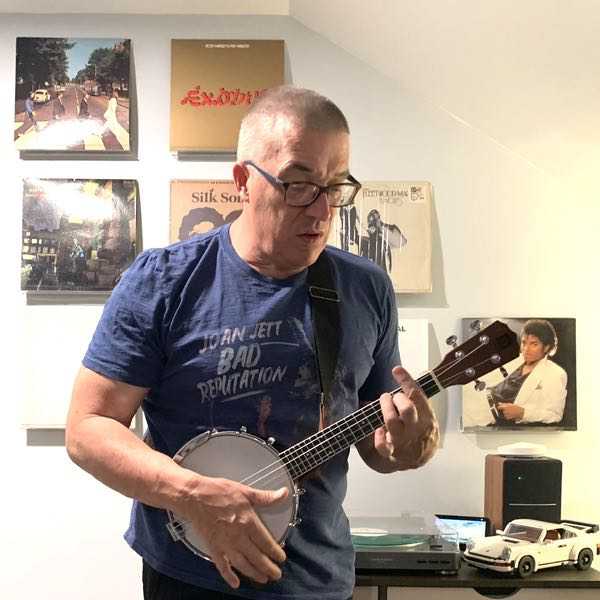 I did not play with the included pickup (yet), but it seems to be a budget throw-in with the package. I would probably get one properly installed if I wanted to plug it in.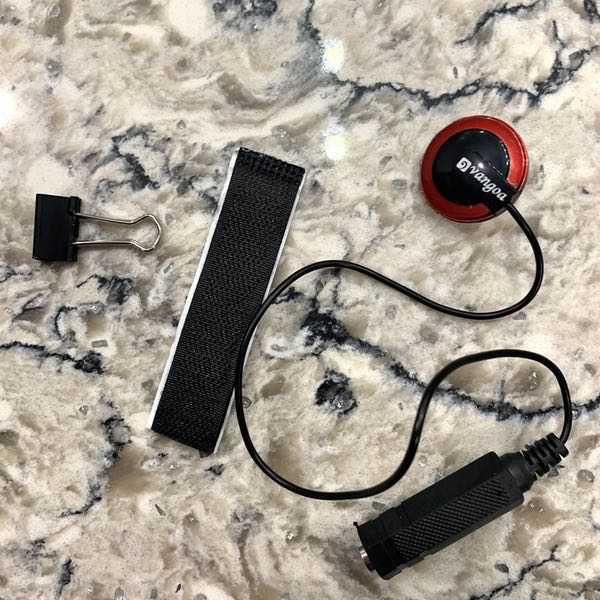 What I like
Great starter kit — literally everything you need to get going
Solid build for this price point
Surprisingly good tone and overall performance
What I'd change
Some finishing details are lacking, but nothing that interfered with performance
Final thoughts
I will get a serious musician to have a look at this thing at some point, but my experience so far with the Vangoa VBU-20 Banjolele has been nothing but fun. It's got great sound, no issues out of the box, and includes everything you need to get started for about $100. It's a blast to pick up and poke around with. It feels good to handle on a regular basis.
I could pick apart some of the finishing details and accessory bits, but here's the thing: this whole package comes in at about a hundred bucks! At that price point, it feels like a pretty great deal to me. I would not hesitate to recommend this package as a starter kit to someone looking to explore something new.
Price: $99.99
Where to buy: Vangoa.com and Amazon
Source: The sample of this product was provided by Vangoa.