We use affiliate links. If you buy something through the links on this page, we may earn a commission at no cost to you. Learn more.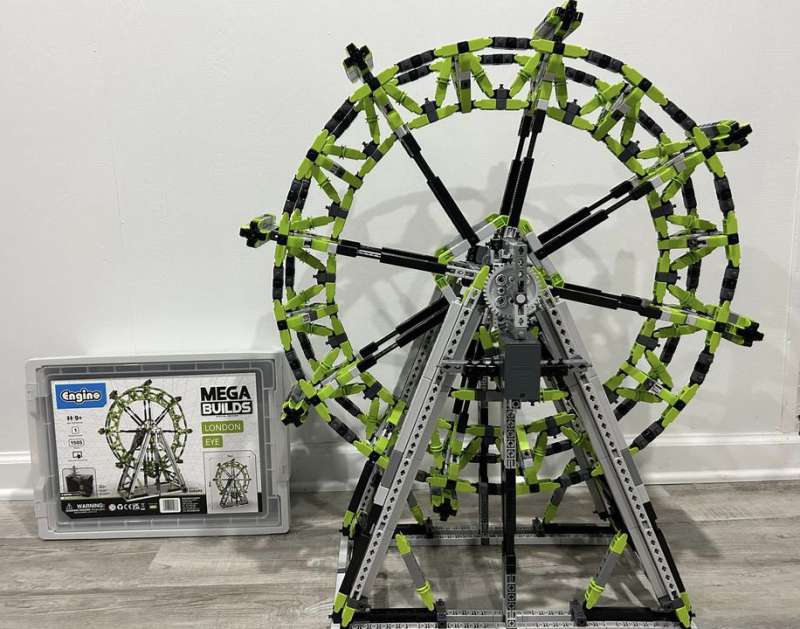 REVIEW – We are a LEGO family! My husband and I grew up building and our children have continued the tradition.  As if building at home wasn't enough, my children and I have all been involved with First Lego League.  I mention this only because we used the LEGO Technic line.  Lego Technic is a line of LEGO with interconnecting plastic rods and parts and a little more complex than your average LEGO.   In this review, I'm going to be building the MEGA BUILDS: London Eye, a building brick set similar to LEGO Technic, from ENGINO, to see how it stacks up.
What is it?
The ENGINO MEGO BUILDS is a new line of products developed by ENGINO for those users who aspire to build a sizeable model and have it on permanent display.  For this review, we received the London Eye model.
What's in the box?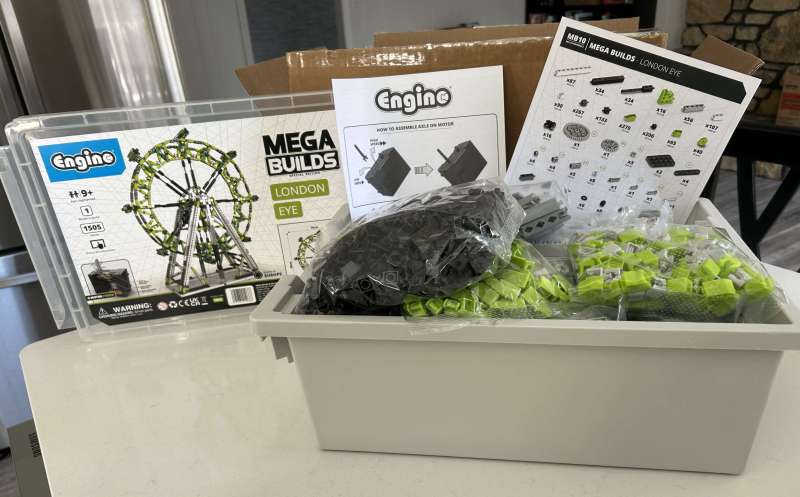 1505 building bricks
Detailed parts inventory list
Power motor
Plastic storage tub
Download the 3D Builder app for building instructions
Design and features
The App
Due to the size and complexity of the ENGINO MEGA BUILDS: London Eye model, all building instructions are provided in a virtual interactive format as opposed to the traditional instruction booklet we are very much accustomed to.  The App is available to download on both iOs and Android. The App is called "ENGINO kidCAD" and looks like the photo below.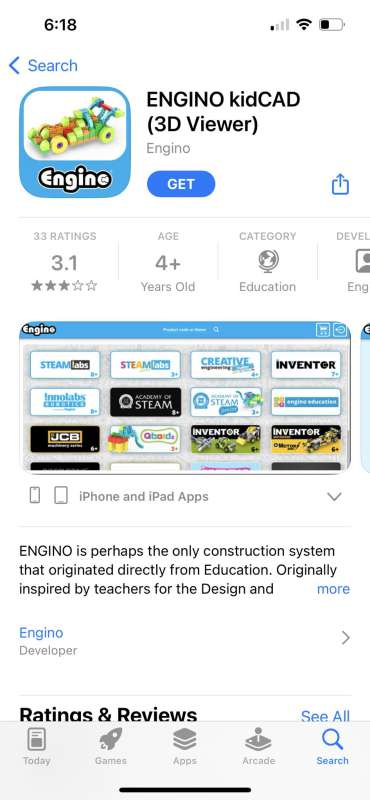 The App is the only way to get the steps to build your model.  The ENGINO kidCAD App shows you step-by-step instructions and allows a 3D view of the pieces and assembly.  This is superior to just a paper manual and allows you to see exactly how to rotate and attach your blocks in an easy-to-use 3D interactive manual.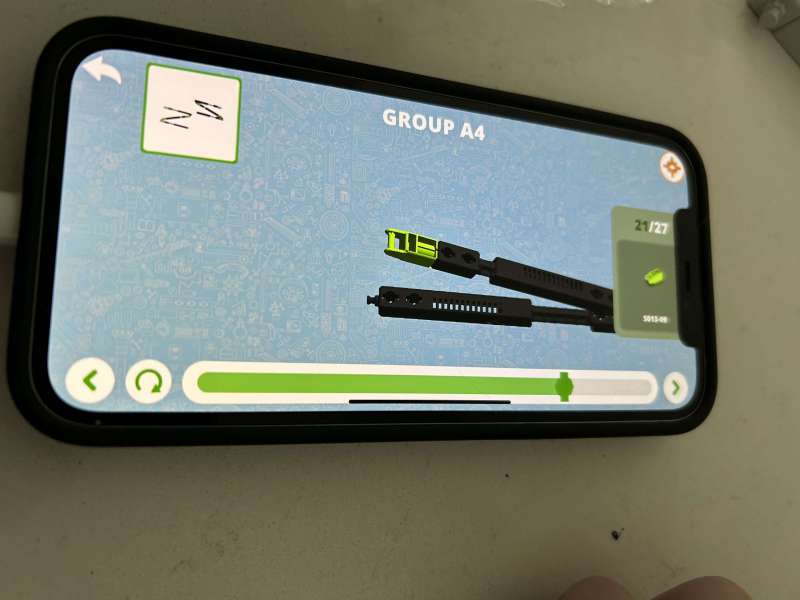 The ENGINO's kidCAD App not only walks you through the building of your model, it also allows you to take apart your model in virtual reality 3D.
The Setup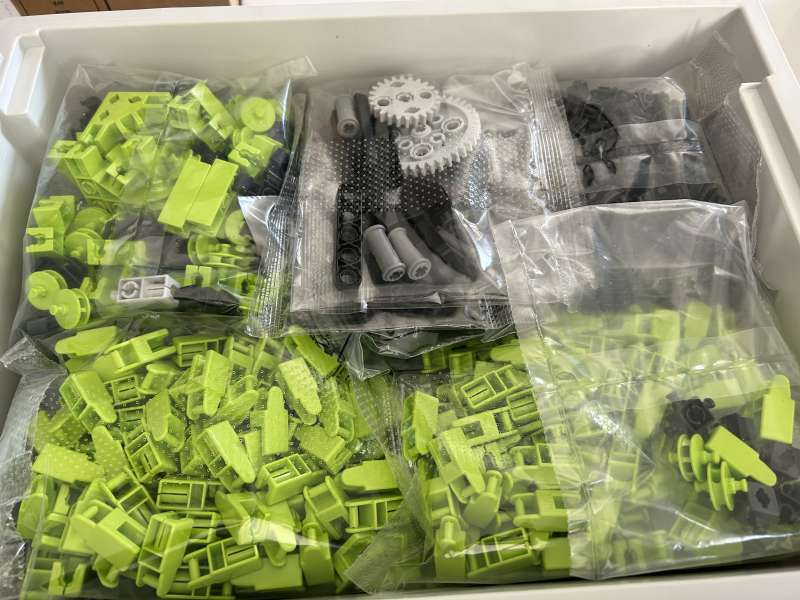 The ENGINO bricks come packaged by type of brick and are not labeled, unlike LEGO which organizes its sets by steps and are labeled accordingly to be able to follow along easily.  The ENGINO MEGA BUILDS: London Eye set came as you see pictured above.  This choice of not labeling or separating the bricks as LEGO does make it a lot more complicated for us as we were building the model.  We had to dig and look thru all the bricks to find the pieces we needed and it definitely resulted in taking more time than we expected to build a 1505 piece model.  This is definitely an area that can be improved.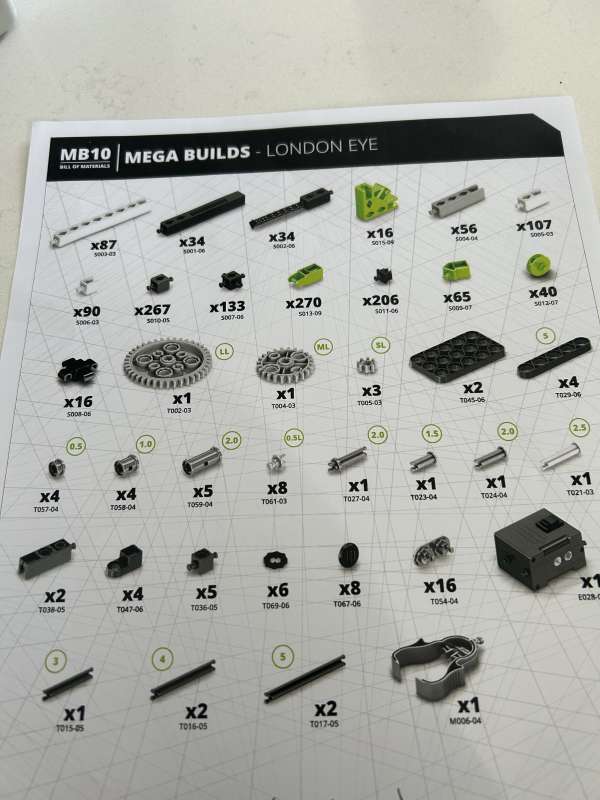 One piece that the ENGINO MEGA BUILDS: London Eye kit comes with is the extraction tool.  Like your LEGO brick separator, this tool helps you "unlock" your pieces.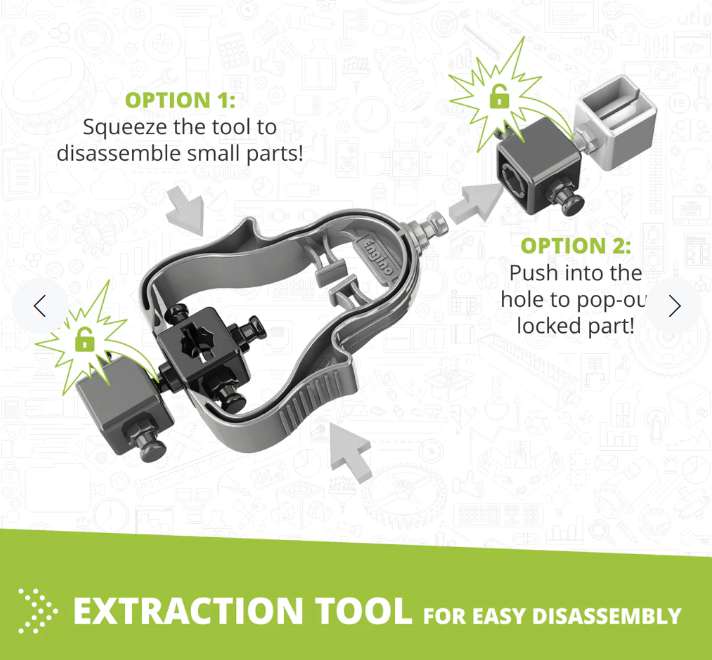 The included motor for your ENGINO MEGA BUILDS kit not only makes your ENGINO MEGA BUILD: London Eye move forward, but also backward!  This was an unexpected but enjoyable discovery for us.  Note: your motor requires 3 AAA batteries which are NOT included.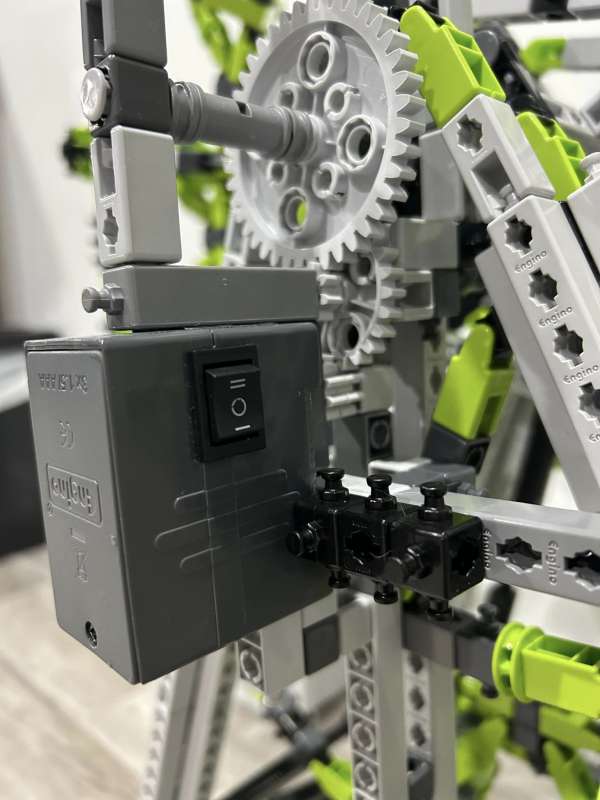 This particular model of the ENGINO MEGA BUILDS: London Eye is very repetitive to create, but that is just the nature of this particular design.  What makes this model different than most LEGO Technic kits is the motorized function.
Performance and Appearance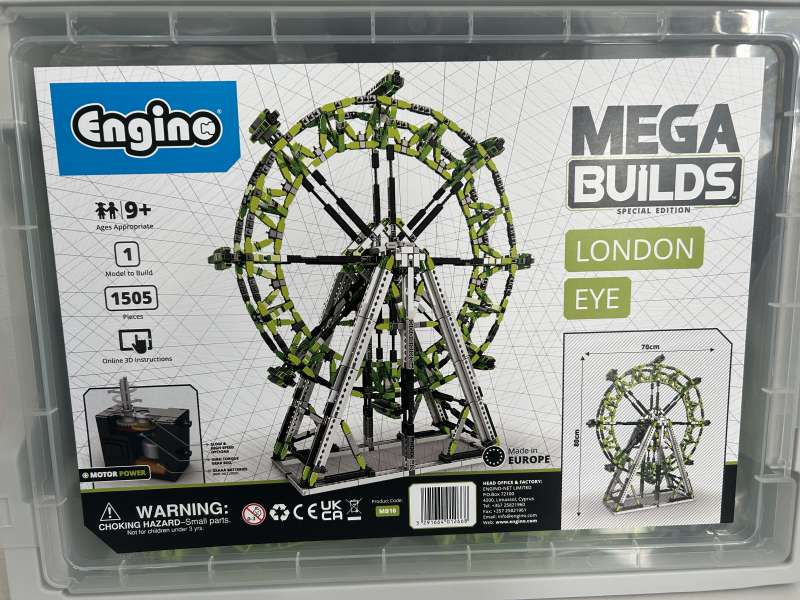 The final model of your ENGINO MEGO BUILD: London Eye model measures at 80cm tall and 70cm wide.  The kit is advertised for ages 9 and older, however, I will say that my 12-year-old who has no problems with advanced LEGO kits did struggle to build parts of this model.  So, just be aware that it will probably require some adult help for younger children.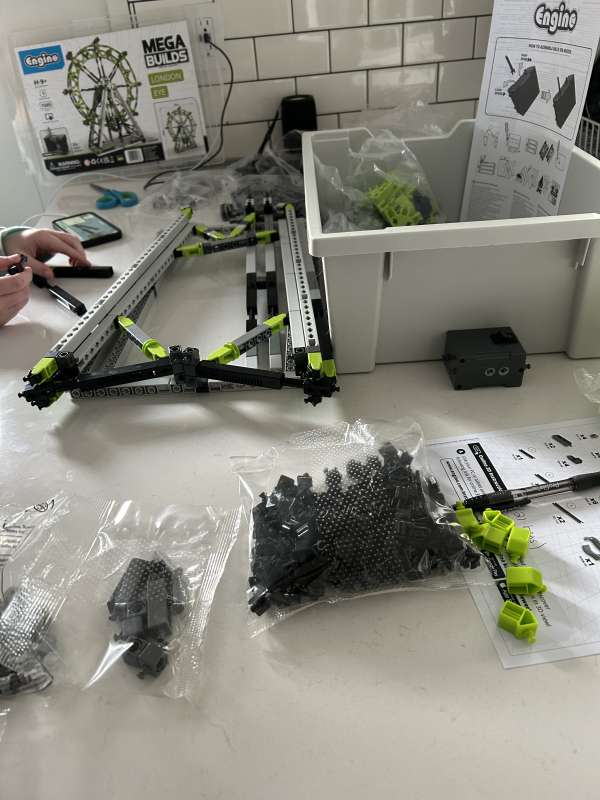 Just like LEGO, the ENGINO models can be disassembled, and you can reconfigure the parts to develop your own ideas and designs.  Every ENGINO part is compatible with every other ENGINO part, so combine multiple sets and create away.
See the ENGINO MEGA BUILDS: London Eye in action
All ENGINO parts come with a  basic 3-year warranty and the motors come with a 1-year warranty. Any defective or damaged ENGINO parts will be replaced free of charge within those time periods.
Note: As of the time of writing this review, the ENGINO website is still only accepting pre-orders for their MEGA BUILD sets which are set to release April 2023.  The first four sets of this new series of models include this motorized London Eye and also a 1.5m tall Eiffel Tower, the NASA challenger space shuttle with its launch rockets, and a dual-motor geared helicopter.
After building this ENGINO kit, we are definitely interested in seeing what some of their other series offer.  ENGINO has the CREATIVE BUILDER – Designer Series whose kits range from 15 models set to 30 models with a motor suitable for younger builders and also the Discovering STEM series, which covers all simple machine mechanisms.
What I like
Good quality pieces
ENGINO kidCAD App
Motorized action of the model
Storage bin
Extraction Tool
What I'd change
Organize the pieces by steps in the process and label bags accordingly
Lower price point
Final thoughts
The ENGINO MEGA BUILDS: London Eye is a great building set for your older kids and even adults.  The completed creation is fun, although notably large model to keep put together.  This would be a kit that we built, keep together for a little while, then store until we want to build again, as it is too large to keep together all the time.  The motorized function makes it even more enjoyable and interactive than a normal brick build.  Overall, this is a great alternative to LEGO and I would recommend if you are looking for a more advanced and large build to consider the ENGINO MEGA BUILD series of kits.
Price: $239.99 Delivery is said to begin April 2023
Where to buy: ENGINO Website and the US version on Amazon
Source: The sample for this review was provided by ENGINO.