We use affiliate links. If you buy something through the links on this page, we may earn a commission at no cost to you. Learn more.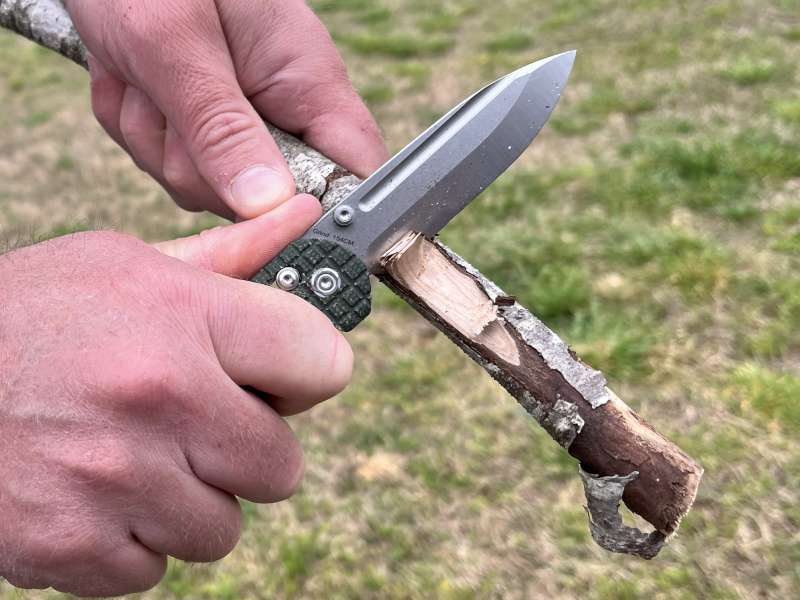 REVIEW – Aren't all pocket knives the same?  If the only reason you need a knife is to open that never-ending stream of boxes from Amazon, then sure, any everyday carry (EDC) pocket knife will do the trick.  It may, however, surprise you to know that pocket knives come in a wide variety of styles and options for a plethora of different uses.  This review is for a pocket knife intended for bushcraft use:  The Vosteed Grind.
What is it?
The Vosteed Grind is a folding knife designed for bushcraft.  It's a 7.70-inch knife with a Scandi grind and a crossbar lock.  The blade is made from 154CM stainless steel, and the handle is made of micarta.  The Grind is made by Vosteed, a knife company that was founded in 2021 and has the core belief "Stay Sharp, Stay Wild."
What's in the box?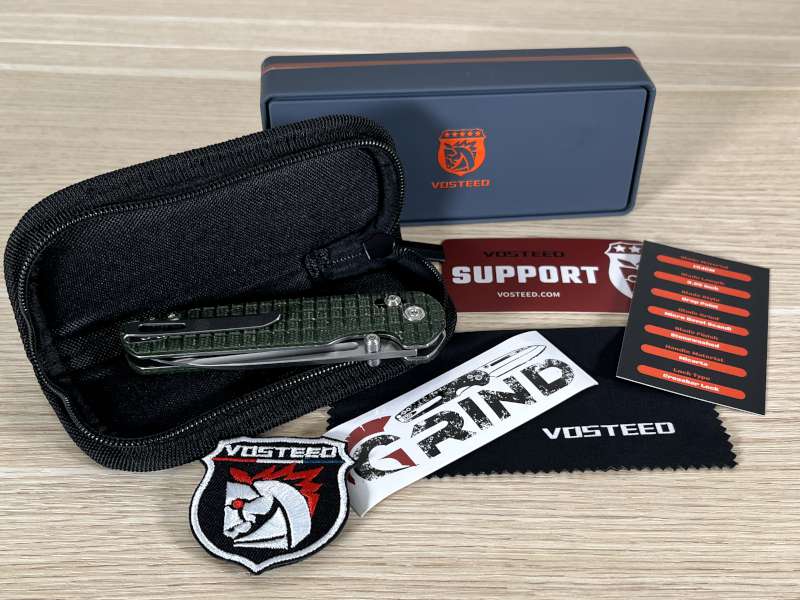 Knife
Knife case
Support card
Features card
Sticker
Patch
Cleaning cloth
Specifications
Handle material:  micarta
Blade material:  154CM stainless steel
Blade length:  3.25 inches
Overall length:  7.70 inches
Weight:  3.68 oz
Blade style:  drop point
Blade finish:  stonewashed
Lock type:  crossbar
Grind:  Scandi
Color:  black or green
Design and features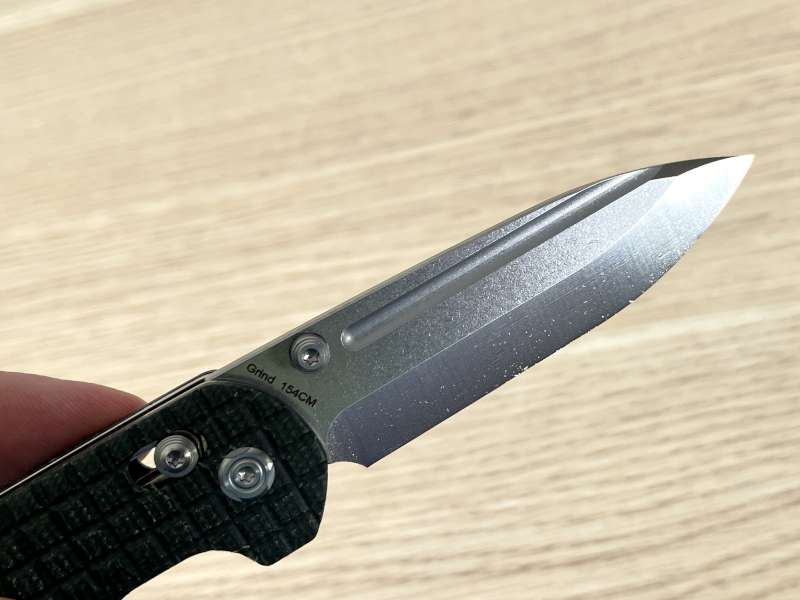 The Grind is a medium-sized folding knife that has a drop point blade, a type of blade that is both popular and versatile as it is used for EDC, tactical, and hunting knives.  The blade is made from 154CM stainless steel, which "has an exceptionally good balance between three enviable attributes which are toughness, hardness, and corrosion resistance."
Perhaps the most distinctive feature on the Grind is its grind, which is a Scandi grind, something somewhat rare on a folding knife.  Scandi means that it has a single grind "that runs right to the edge of the blade with no angle change."  If that's hard to picture in your mind, you can see how it compares with other grinds in this image.  This is a common grind for bushcraft knives because it's easy to cut and carve wood (though not as good for fine whittling).  The blade above the grind is stonewashed.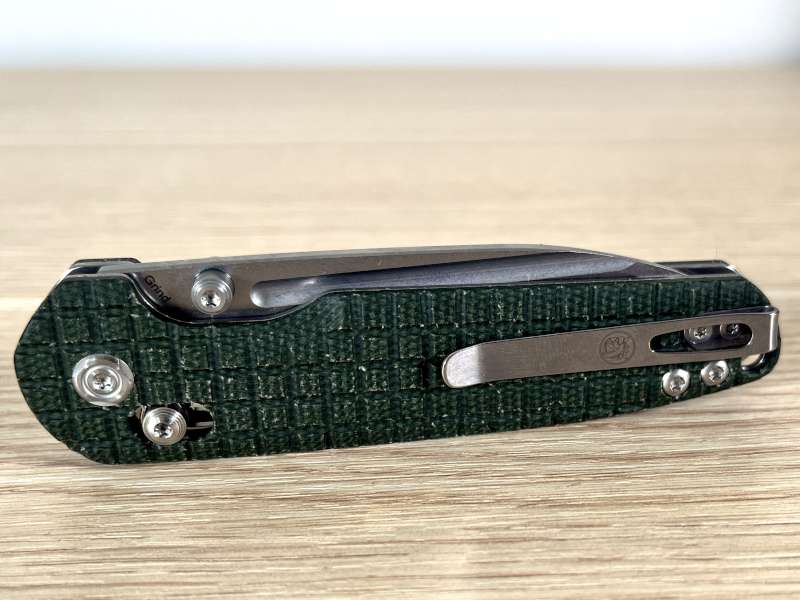 The handle is flat and made of micarta; it has a checkerboard pattern carved into it with a distressed vibe, making it rough and thus easier to grab.  There's a substantial cutout for the index finger to improve the grip.  Overall, this knife has a very practical, almost rugged, look and feel to it, like it expects to be taken into the outdoors.
Installation and setup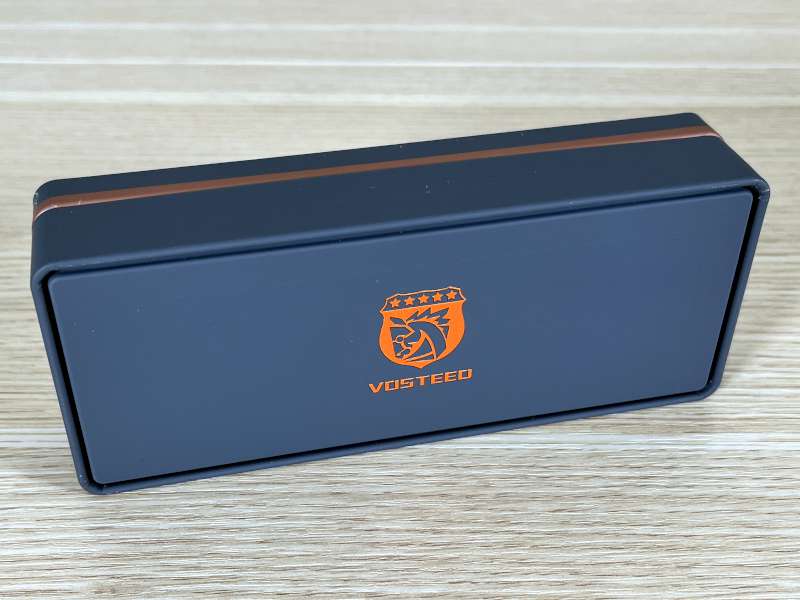 The Grind arrived in one of Vosteed's trademark metal containers.  I opened the case, pulled the knife from a plastic bag, and gently wiped off the excess oil that protected the blade during shipping.  It's ready to go.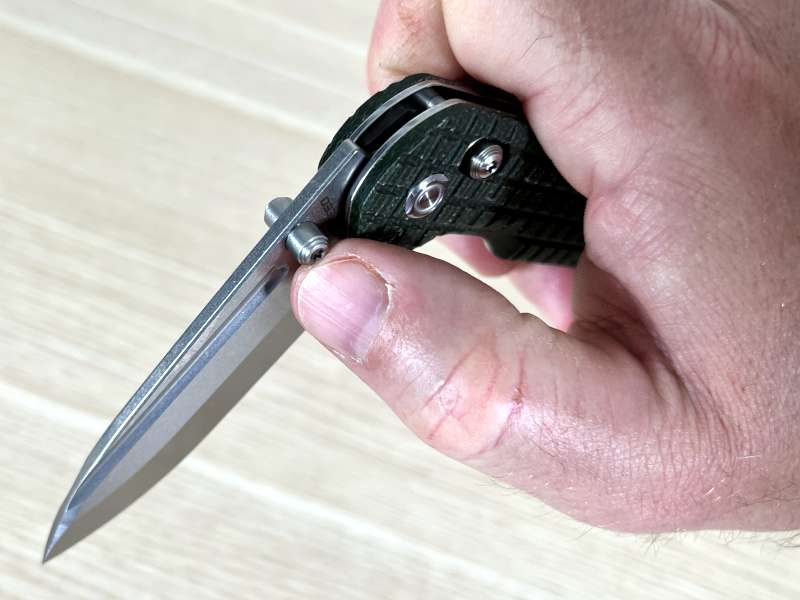 This knife is opened with a thumbstud.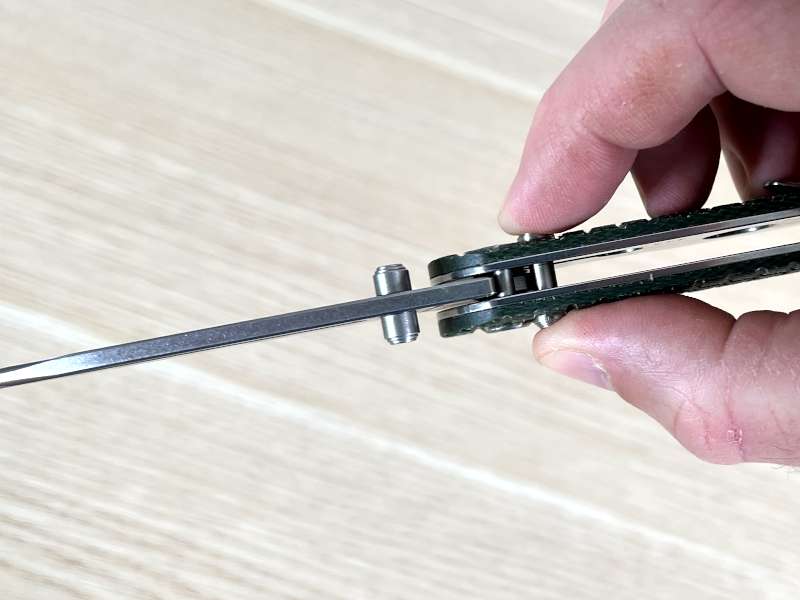 The blade is locked open with a crossbar lock.  The tension on the lock is adjustable.
Performance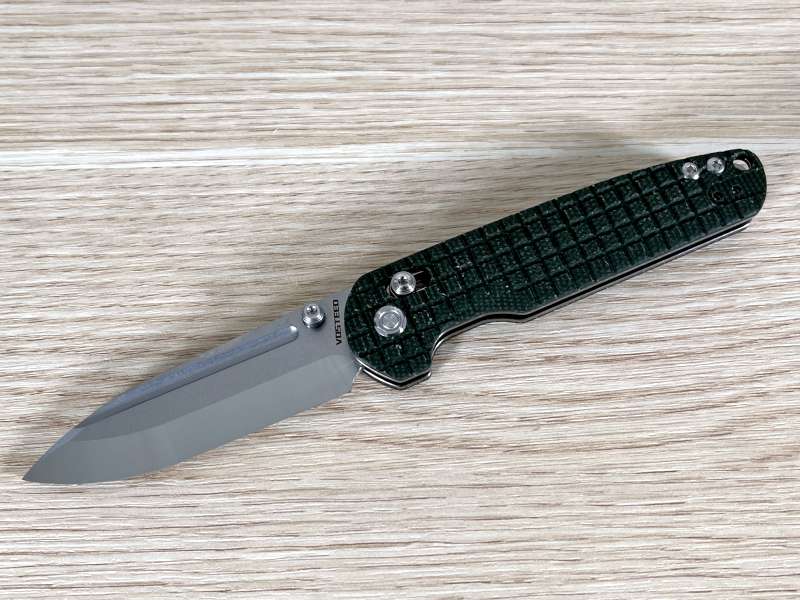 Vosteed's marketing material says, "This will be your go-to knife for bushcraft use!" and the Grind's webpage says that it is "the best for bushcraft" and its best use is for wood carving.  What is bushcraft?  It is the art of surviving in the wilderness.  It includes skills like making a shelter, starting a fire, hunting, trapping, and fishing for food, applying basic medicine, and navigating without an iPhone.  The most valuable tool for bushcraft is a good knife.  Bushcraft knives are almost always fixed blade knives with a full tang, have a handle that is comfortable when cutting or hacking wood, have fairly significant size and weight, and are durable enough to be used for batoning a small log.  The Grind doesn't meet any of these criteria, so why would you want it for bushcraft?  If you are only carrying one knife with you into the bush, you probably wouldn't.  Sometimes, however, you have room for multiple knives, one larger and one smaller; perhaps you prefer a machete or a kukri, and you need a smaller knife for the finer wood work.  In situations like these, a bushcraft pocket knife like the Grind would be a good choice to bring along.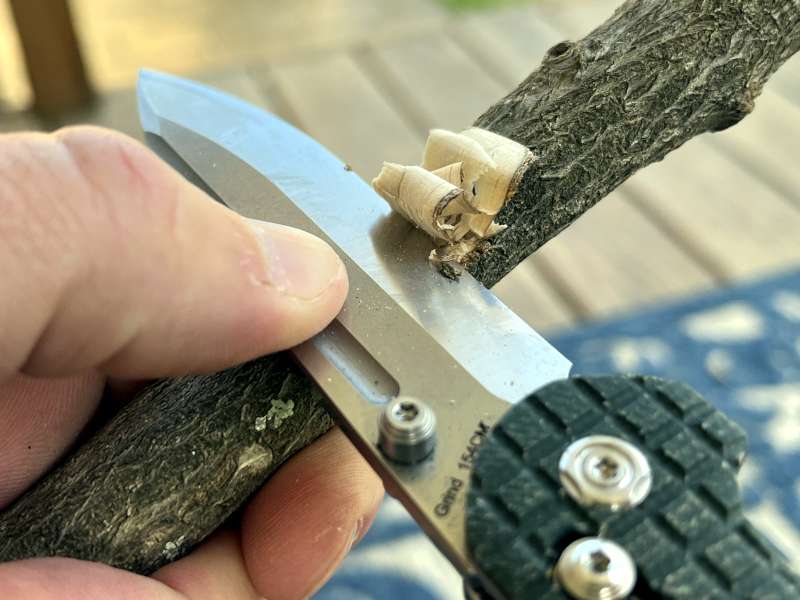 I decided to test the Grind by carving a trap and by starting a fire, two common uses for a bushcraft knife.  For the first test, I set out to build a small figure 4 deadfall trap.  If you're not familiar with this type of trap, there are plenty of websites that describe how to make one.  I started by selecting three small sticks that were about a foot in length.  I then began carving them according to the pattern to make the trap.  I found the Grind to be very good at carving, whether creating a point, cutting out a notch, or shaping a 90-degree corner.  This is certainly the strong suit of this knife.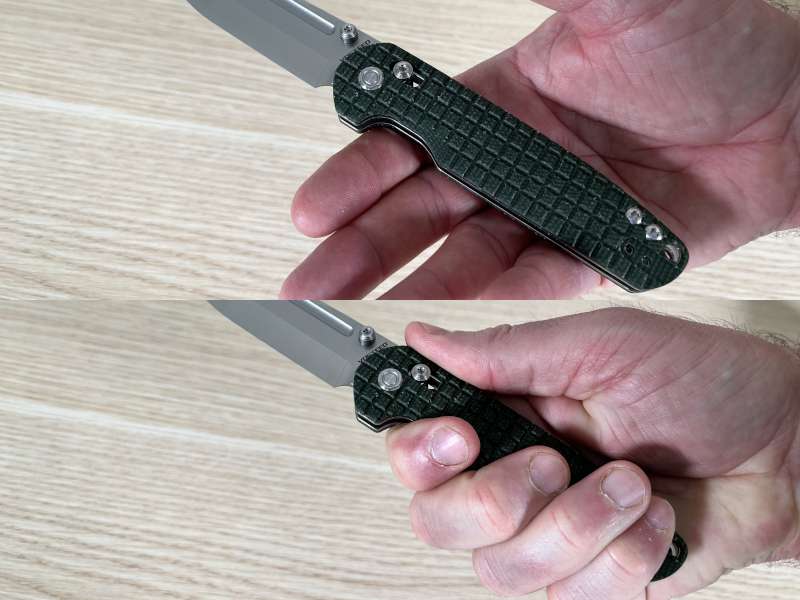 The handle of the Vosteed Grind is both good and bad for carving wood.  The rough pattern ensured that I kept a firm grip; it never slipped in my hands (for which I am quite grateful).  It could not, however, be called an ergonomic or comfortable handle.  For small tasks like this trap—it took me less than 30 minutes to carve it out—it's not a problem, but if I had to make several of these traps out in the bush, it would leave my fingers feeling pretty raw.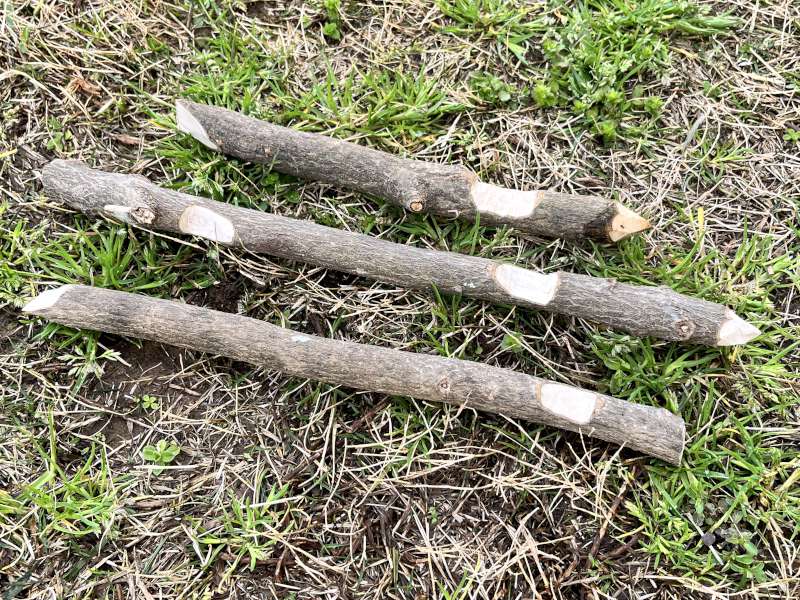 I carved all three sticks out until I had what I needed for the trap.  If I were out in the bush, I would have to find a large, flat stone for the trap; for testing purposes, I just used a concrete block cap that I had lying around.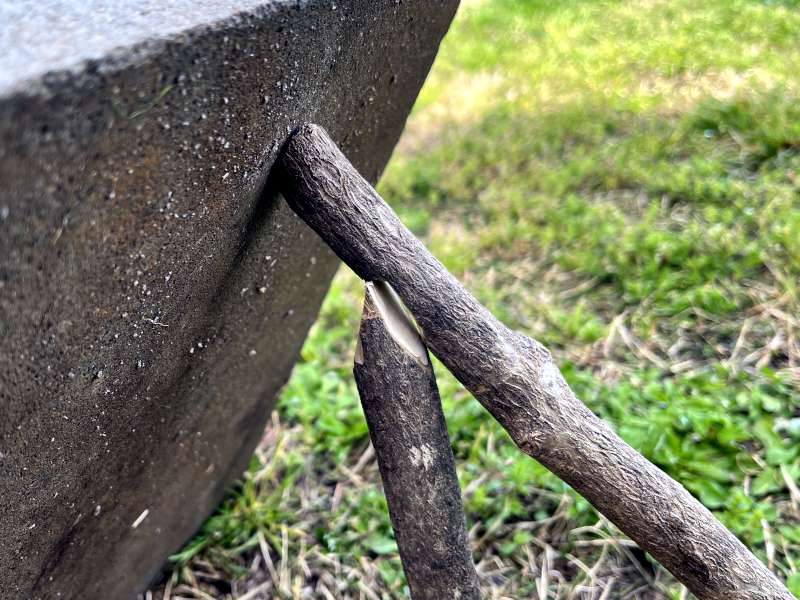 I propped up the cap with the angle piece and braced it on the vertical one.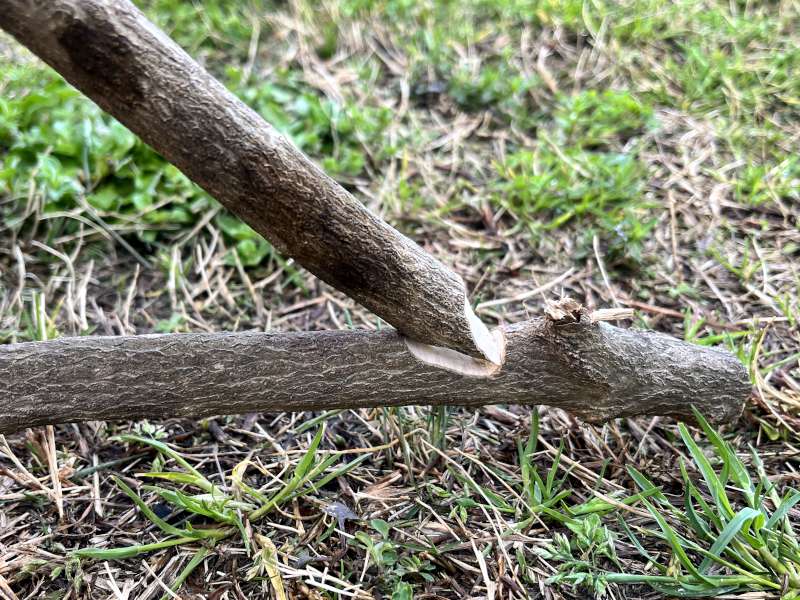 I then notched the angle piece into the horizontal piece.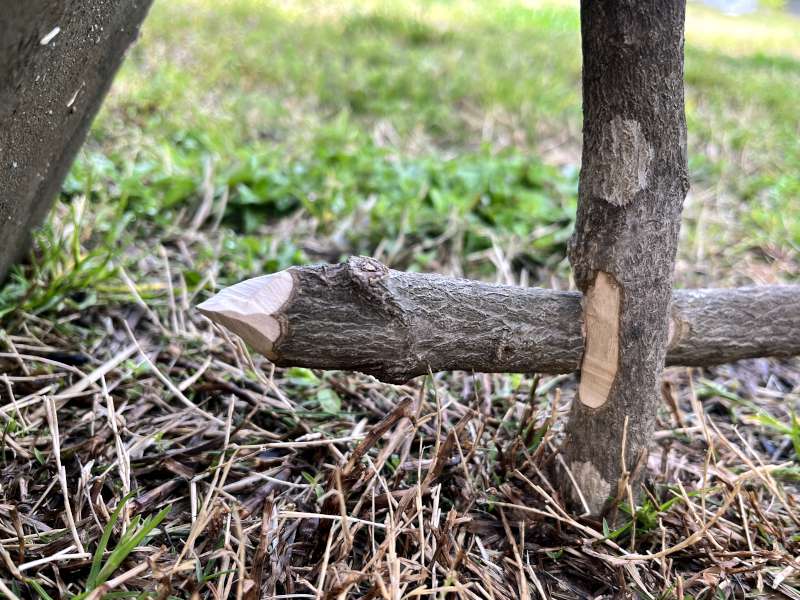 Finally, I put the notch of the horizontal piece onto the 90-degree corner of the vertical piece.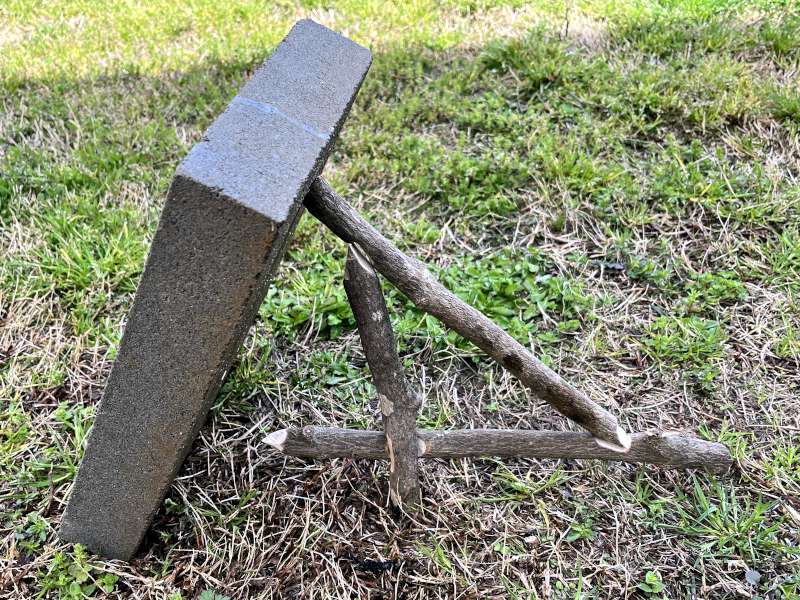 It worked!  The tension held everything together.  (If you're struggling to visualize how this all works, jump to the 2:30 minute mark in this YouTube video and watch how this guy does it.)  It's not perfect; the cap should probably be at something more like a 45-degree angle.  It is, however, enough to know that the Grind did its job very well.
I said "it worked," but does it actually work?  If a small animal bumped the trigger, would the whole thing collapse?  I created a short 1080p video to show you.
For the second test, I decided to start a fire.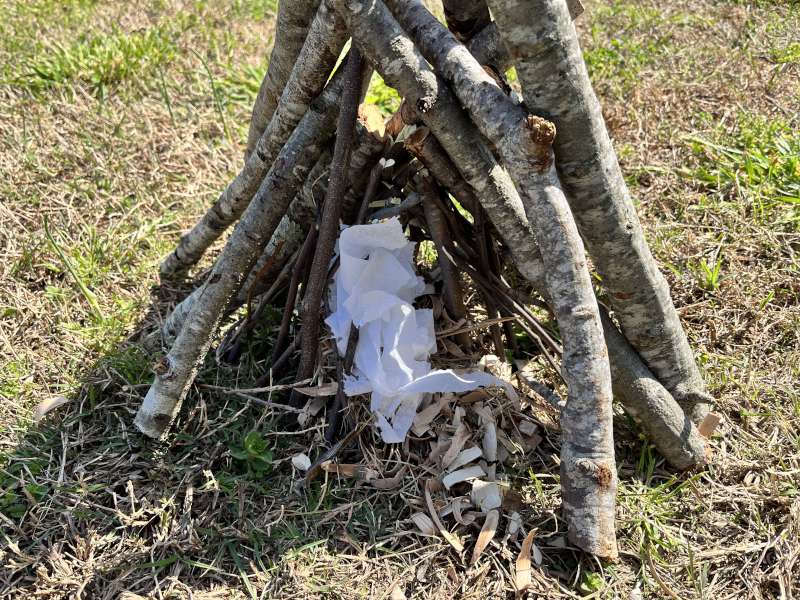 There are several things that are required for a fire, most of which a bushcraft knife should be able to help with.
Smaller sticks, those around an inch in diameter.  Unfortunately, being a pocketknife, the Grind is not ideally suited for cutting branches this large.  A larger, fixed blade would do better here, or even Swiss Army Knife with a saw blade.  Vosteed should probably add a partially serrated edge to the next version of this knife, something like the one on this pocket knife from Kershaw.
Twigs, those with a diameter of a pencil or smaller.  The Grind easily cuts through these in a stroke or two, though they are easy enough to break without using any knife at all.
Larger tinder, such as wood shavings.  The Grind can easily create all the wood shavings that you need, as I found out when creating the figure 4 trap.  I had a huge pile of them at the end.
Fluffy tinder, like dry grass, peelings from a birch tree, or dried out cattails.  These sorts of things I would have to find out in the bush, or I could plan ahead and bring something from home, like toilet paper or a cotton ball coated with petroleum jelly.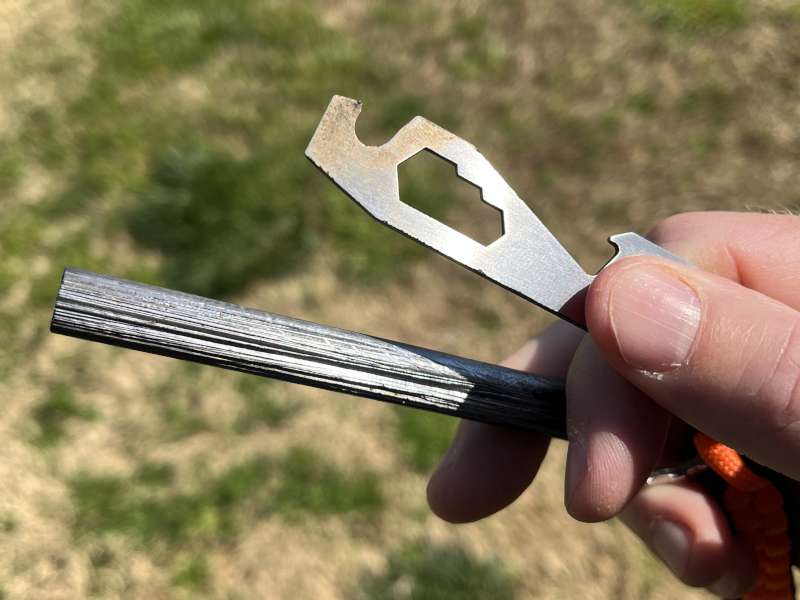 To start the fire, I could use a lighter, but if I'm going full bushcraft mode, then I should use a ferro rod instead.  I bought this kit, and the little striker that comes with it produces good sparks most of the time.  Using the spine of the Grind, however, rarely produced sparks.  I think the problem is the spine of the Grind is slightly beveled; it looks pretty, but it's a terrible striker.  A good striker has a sharp, 90-degree spine or some sharp grooves.  Vosteed should probably add a firestarter to the spine of the knife, something like the one that comes with this survival knife.  The Grind doesn't even have any jimping, which might have worked.
In the end, I found that the Vosteed Grind wasn't particularly well-suited for starting fires.  I was never able to get a fire started with it.
Extra Features
The clip is reversible, and there's a hole for a lanyard.
What I like
Sharp blade with Scandi grind
Easy to grip handle
What I'd change
Add a partially serrated edge
Add a firestarter to the spine
Final thoughts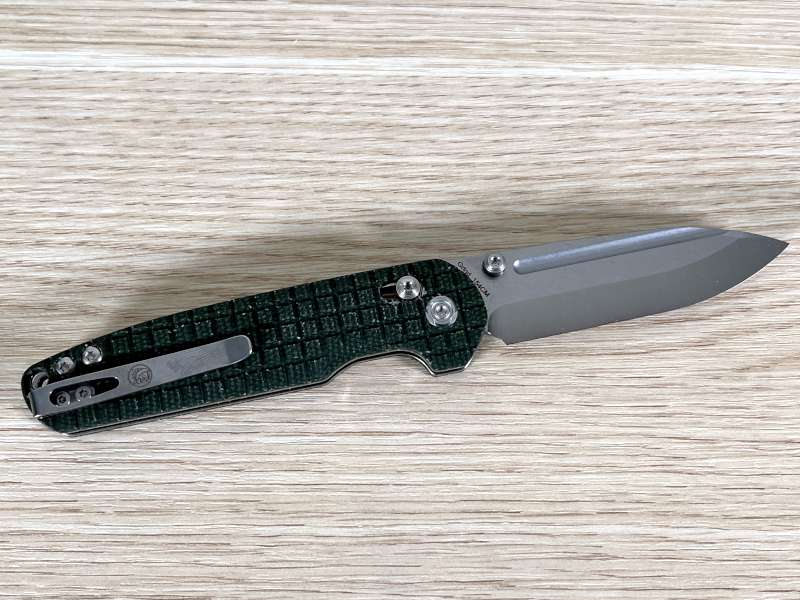 The Vosteed Grind is a pocket knife with a Scandi grind, a thumbstud opener, and a crossbar lock.  Although Vosteed pitches it as good for bushcraft, it lacks the features found in a typical bushcraft knife.  It's probably better positioned to be a supplement to a larger bushcraft knife or a machete.  The core strength of this knife is its ability to do fine wood carving, things like the small trap that I created.  I would absolutely take this knife with me camping, hiking, or riding a long trail.  If you're in the market for a pocket knife with a Scandi grind, then I recommend that you pick up the Vosteed Grind.
Price: $75.00
Where to buy:  Vosteed's online store
Source: The sample for this review was provided by Vosteed.