We use affiliate links. If you buy something through the links on this page, we may earn a commission at no cost to you. Learn more.

REVIEW – I own a bunch of earbuds that I have reviewed over the years.  Each one purports to provide some kind of unique feature that sets them apart, and I do have my favorites that I use on a regular basis in specific situations. These OneOdio OpenRock Pro OpenEar Air Conduction Earbuds have an over-the-ear design which means they aren't going to fall off no matter what you are doing, and believe me, I tried! So you folks who are outdoor enthusiasts will enjoy these, especially considering that they have IPX5 water resistance to handle sweat, dust, and moisture. But they also provide a design feature that I have never tried before. Instead of the earbuds being inserted into your ear canal with a tight seal to keep the noise out, the speakers on these earbuds sit just outside your ear canal and sort of just hang there. Let's see how they performed!
What is it?
OneOdio OpenRock Pro OpenEar Air Conduction Earbuds ore over-the-ear design earbuds that utilize what is called 'open fit' or 'open ear', where the speakers sit just outside the ear canal and provide greater ability to hear what is going on around you.
What's in the box?
The OneOdio OpenRock Pro OpenEar Air Conduction Earbuds, a charging case, a USB-C charging cable, and a manual.
Product specs
Audio driver:  16.2 mm dynamic
Audio decoding: aptX, AAC, SBC
Frequency:  20 Hz – 20 kHz
Waterproof rating:  IPX5
Battery life: 19 hrs (earbuds only), 46 hrs (w/ charging case)
5 minutes of charging gets you 1 hr of use
Charging time to full:  1.5 hrs
Charging port:  USB-C
Weight:  1 earbud weighs 13 grams
Dual, CVC8.0 noise-canceling microphones
Bluetooth version:  5.2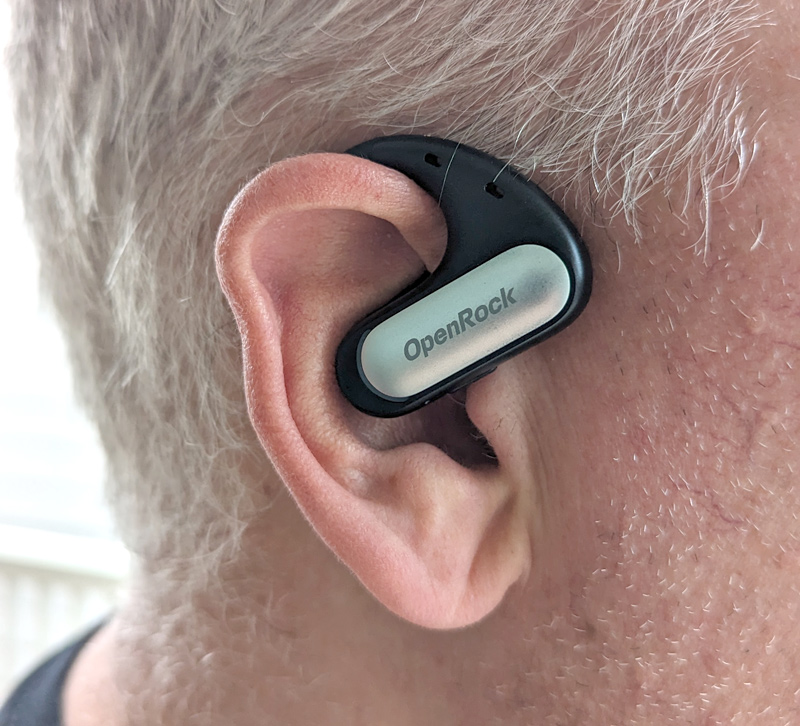 Design
Like most wireless earbuds today, the OneOdio OpenRock Pro OpenEar earbuds come with a case that can charge the earbuds when you are on the go.  By themselves the OpenRock earbuds give you up to 19 hrs of listening time, depending on how high you like the volume.  I consistently get about 15 hrs of listening time because I like the volume loud, but that easily lasts me a couple of days before I have to charge them again since I don't wear them constantly, all day. They say the case provides up to 46 hrs of playtime and you can see from the pictures below that the case is a bit larger than a couple of other earbud cases that I have.  It will fit in your jeans pocket, but it will be a little bulky. There also isn't any spot on the outside of the case that is flat, which means it won't sit flat on any surface and could easily roll off the surface if you aren't careful (which is why the first picture below shows it laying on its side!). On one end of the case, you'll see the USB charging port, a button for Bluetooth pairing, and a charging indicator.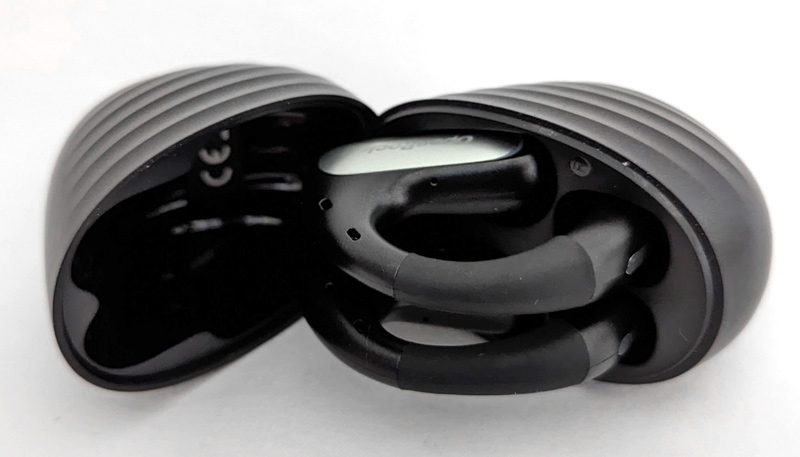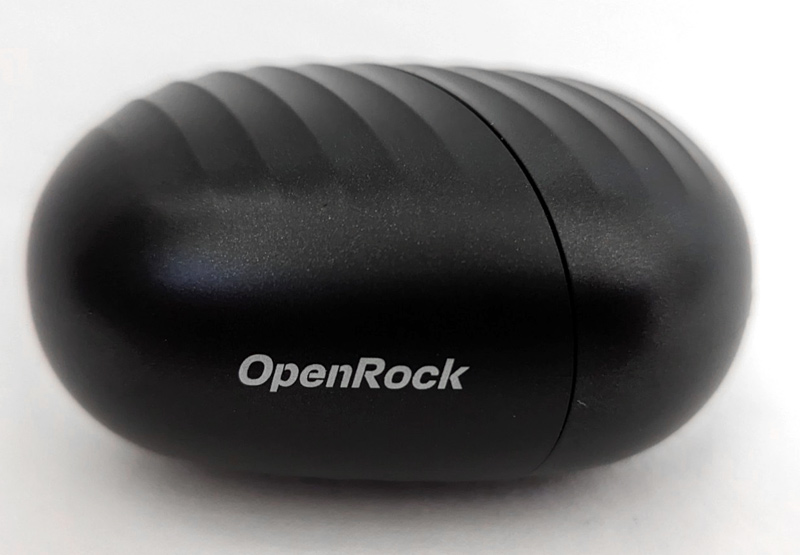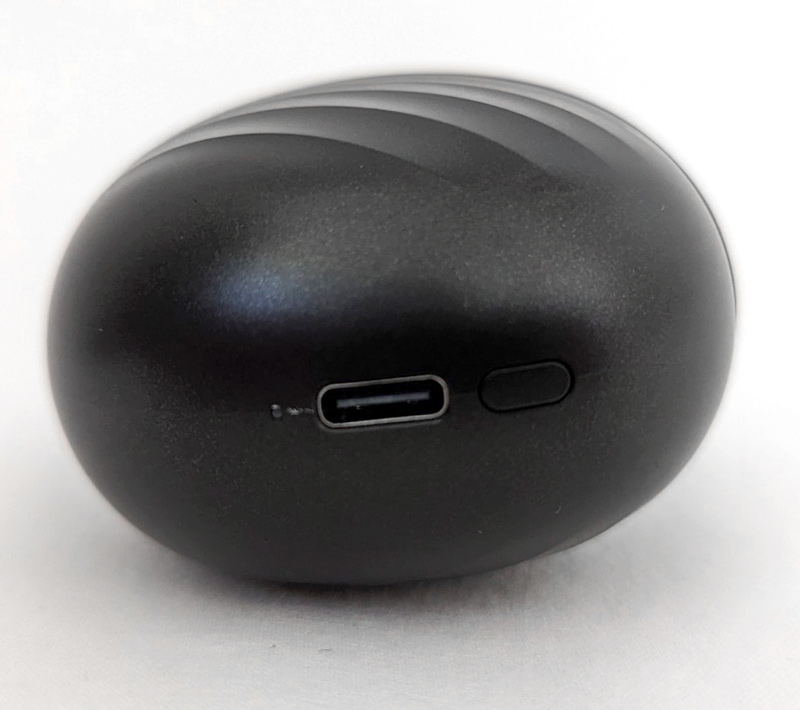 The OneOdio OpenRock Pro OpenEar have an over-the-ear design, and once they are in place they stay put.  I tried everything to get them to fall off, and they just don't. The back of the loop that wraps around behind your ear is slightly flexible so you can bend it left, right, up, and down to get the fit you want, and it worked pretty good. On the tip, at the end of the loop, you'll see some little metal spots that provide the magnetic connection that holds the earbuds in the case when you insert them into the case to charge them.
On the bottom of the part that hangs in front of your ear, you will find the 1 multi-function button that you use to control the sound, phone calls, music, etc.  I always prefer a physical button on my earbuds because the touch controls on some of my earbuds aren't ideal.  I am prone to having stray touches that inadvertently mess things up, so the buttons on the OpenRock earbuds work great.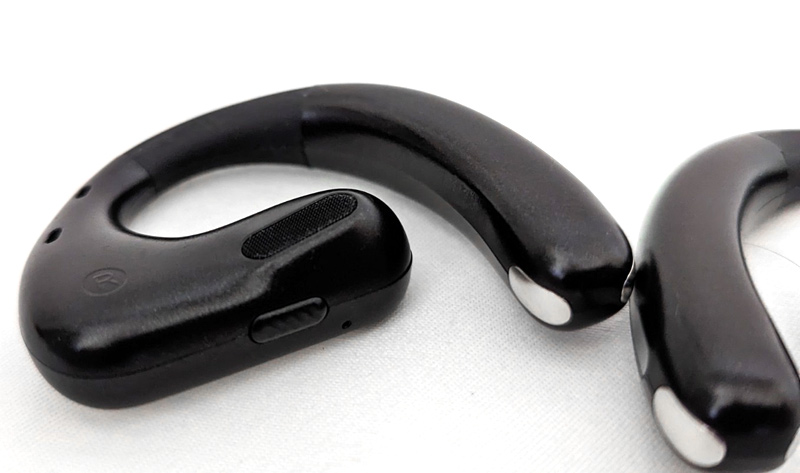 The thing that took me the longest to get used to was the 'open air' aspect of the earbuds. Every set of earbuds I have ever owned were inserted into my ear canal. And many of those earbuds I own provide a feature like noise cancellation so that outside noise doesn't take away from the listening experience. Some of them also provide a feature like ambient noise which does allow surrounding noise to get in so that you can hear others talking around you or hear traffic sounds so you can avoid accidents. With the OneOdio OpenRock Pro OpenEar, OneOdio pitches the 'open air' design with ambient noise as one of the main benefits of using them.
Because the speaker sits outside of the ear canal, you easily hear what's going on around you, to an extent.  If the volume is turned up all the way then it will be harder to hear what's around you simply because the sound quality is so good.  But this 'open air' feature is a big plus when you are walking the dog around your neighborhood, going on a run, or whatever, as long as the volume isn't turned up all the way.  It works great!  And as I mentioned, the sound quality is so good I never found myself disappointed with the quality of my music or phone calls. The sound is rich, with good highs and lows. Not having the earbuds actually in my ear canal wasn't a big deal to me. In fact, I didn't anticipate how much I would like not having the earbuds firmly planted in my ear canal. Having earbuds in your ears for hours on end has always annoyed me because my ears just get sore from that. But with the OpenRock earbuds that is never an issue. The comfort is outstanding. Even if you are laying your head on the pillow it is comfortable.
I tested these earbuds in environments with lots of background noise to see how they worked.  For example, I usually walk the dog on a path in my neighborhood that is along a busy street.  Cars going by are going fast, and it's loud. The OpenRock earbuds performed better in that environment than any other earbuds I have ever owned.  My wife could hear my conversation with the same clarity as when I talk to her with my phone up to my ear without using earbuds. I was impressed.
Having said all that, there is a downside to the OneOdio OpenRock Pro OpenEar. As I mentioned, I love the 'open air' design, but it also made it harder to hear every nuance of the music I was playing because you can't avoid the sound leakage of this design. That is also the main reason I listen to these earbuds at a higher volume level than perhaps I would otherwise because I want to hear the music better. And that means anybody around you is going to be able to hear your music, your phone call, etc. And if you turn the volume up loud, people will be able to hear it quite a bit. I did several tests with my wife and she was able to hear the music even up to 20 feet away.  In fact, she wasn't always able to hear the words of the music or be able to tell what song it was.  It was just loud enough to annoy her. So that means even though these are now my favorite earbuds, I don't use them in environments where the sound leakage is going to annoy others, like a library, or a crowded office, or on an airline flight where I don't want to bother those around me. I have other headphones and earbuds that can seal my ears off if needed.  Finally, several other earbud cases that I have include wireless charging which is nice to have.  But the OpenRock earbuds don't have that, and it would be nice if they did.
What I like
Outstanding comfort with no ear fatigue
Great battery life
The charging case provides lots of extra hours of playtime
Excellent sound
What I'd change
A reduction in the sound leakage
Wireless charging capability
Final thoughts
The OneOdio OpenRock Pro OpenEar are now the ones I grab first, as long as I won't need to deal with sound leakage from the 'open air' design.  But the bottom line is that the OpenRock earbuds have excellent phone call quality with background noise reduction, and excellent fit and comfort so you can use them in any situation without fear they will fall off or wear out your ears. At the time of this writing, you can pre-order them from OneOdio for $129.99 on their website, which I believe is a really good price for what you get.
Price: $129.99
Where to buy: OneOdio and Amazon
Source: The sample of this product was provided by OneOdio