We use affiliate links. If you buy something through the links on this page, we may earn a commission at no cost to you. Learn more.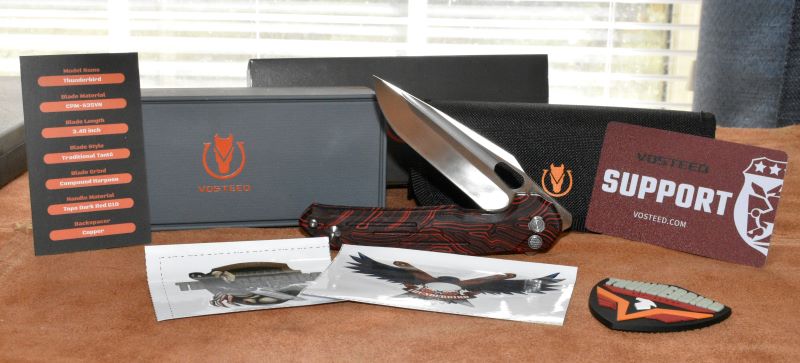 REVIEW – I'm pretty sure it's a safe bet that everyone here at the Gadgeteer loves knives, more specifically pocket knives since they can fit into one's EDC much easier than a fixed blade. I know getting a knife for me puts a huge smile on my face so getting the chance to review the Vosteed Thunderbird knife made me very happy.
What is it?
The Vosteed Thunderbird is a push-button lock pocketknife with an S35VN blade, wire pocket clip, and bold design choices.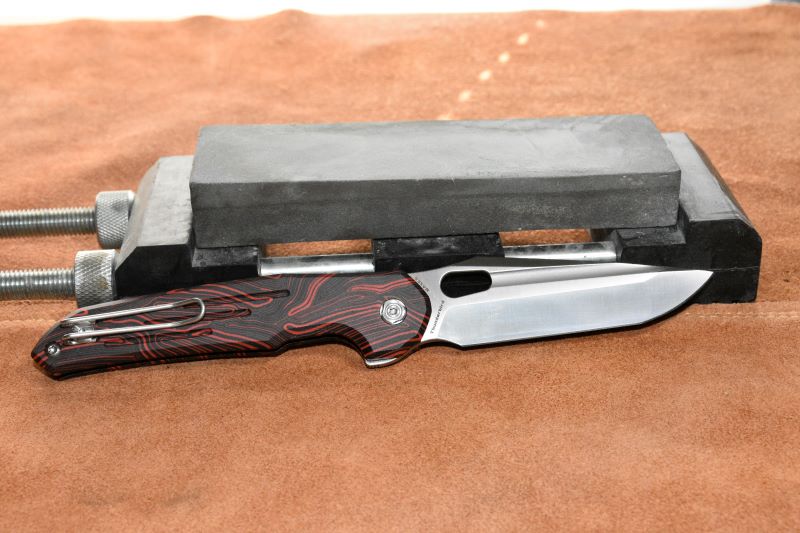 What's in the box?
Metal tin with rubberized coating
Vosteed Thunderbird knife
Thunderbird Patch
Stickers
Cards with support and specification information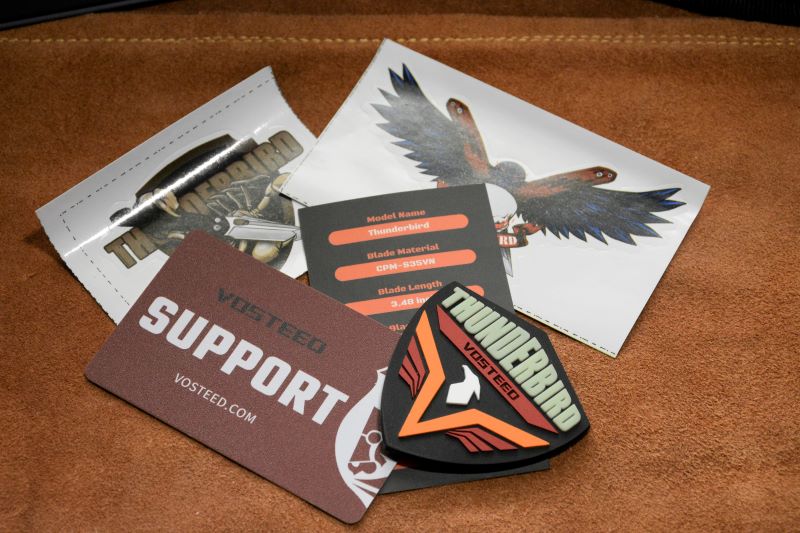 Hardware specs
Color – Topo Dark Red
Overall Length – 208.16mm | 8.2 inch
Blade Length – 88.39mm | 3.48 inch
Blade Width – 27.90mm | 1.10 inch
Blade Thickness – 3.0 mm | 0.118 inch
Blade Material – S35VN
Hardness – HRC 60±2
Grind – Compound Hollow | Harpoon Tip
Finish – Satin
Lock Type – Trek Lock

(

Patent Pending)
Handle Length – 119.8 mm | 4.72 inch
Handle Width – 26.2 mm | 1.03 inch
Handle Material – GT-Mascus(Topo G10)
Backspacer – Copper
Weight – 3.77 oz | 107g
Carry Position – Tip-up | Reversible
Pocket Clip – Wire | Stainless | Deep-carry
Knife Type – Manual | Folding
Opener – Flipper| Front Flipper | Fuller | Thumbhole | Button
Design and features
The first thing to draw your eye is the Vosteed Thunderbird knife handle scales. Vosteed calls this a GT-Mascus. It consists of laminated G 10 in a topographical design. Red isn't necessarily my color, but I admit, it's pretty striking. I was a little surprised by the smoothness of them though. Other knives I own with G 10 handles have more texture that promotes a good grip. The Vosteed Thunderbird does try to combat that with grooves in the scales, but I would prefer a little more gription.
The next thing to notice is the button lock. This is my first button lock folder and I have to say I like it. Lock-up is solid. There's no slop or movement from the blade when locked open. To release it, just push the button and the blade drops shut. Of course, I had to take the knife apart to see how it worked. There's a spring that sits in that cup that presses the blade into the locked position.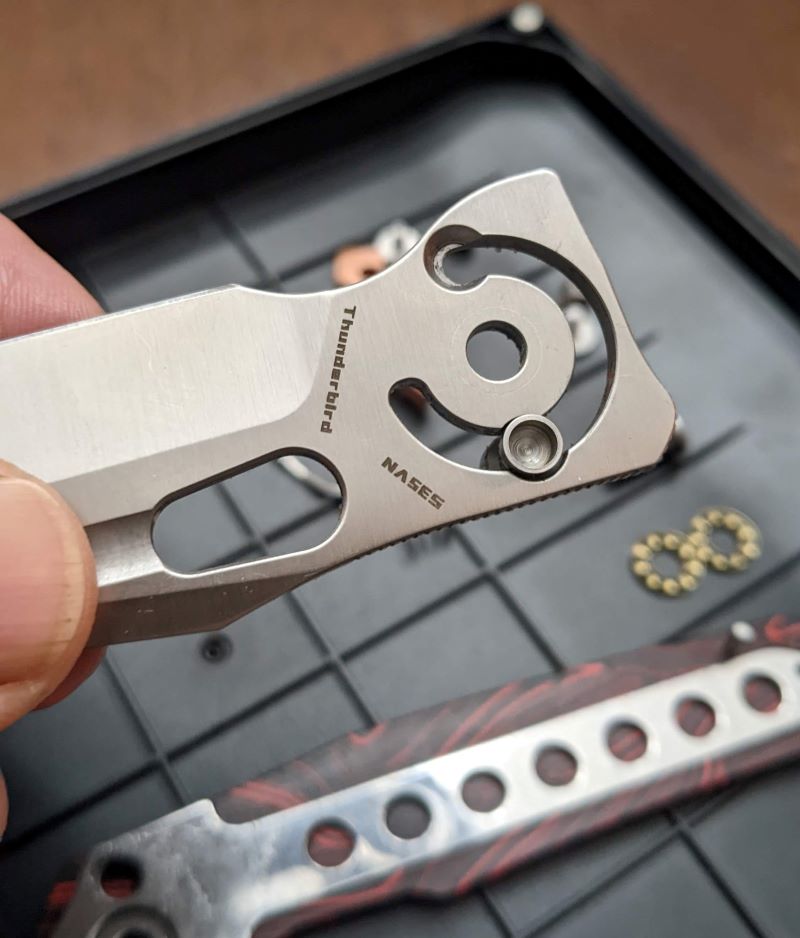 The push button itself has good knurling on it which you can see here.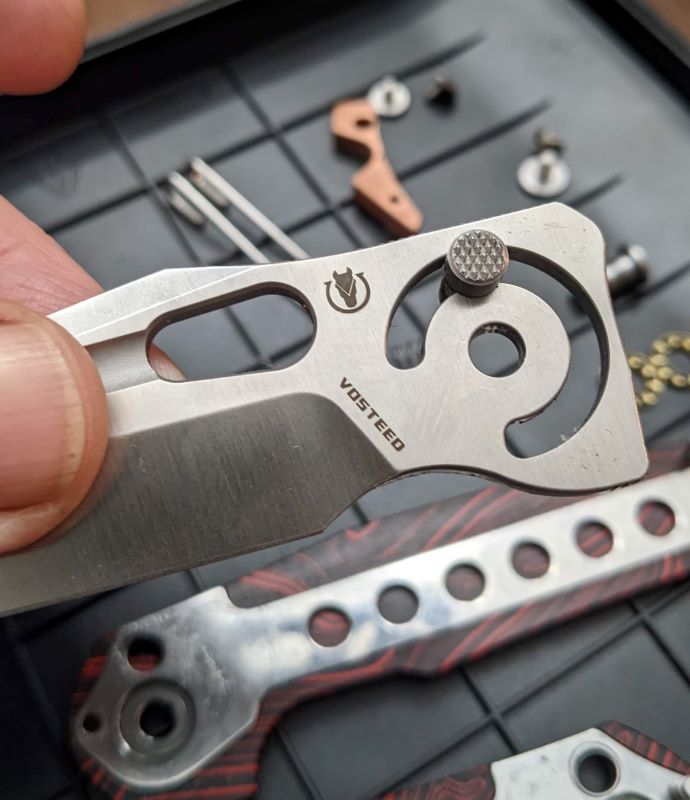 The Vosteed Thunderbird knife offers you a myriad of ways to open the blade. It has a front flipper and a rear flipper. You can thumb flick or reverse flick it, using the thumb hole in the blade. Someone with smaller hands could probably flick it open with the fuller as well. If you press and hold the button you can open it with a flick of the wrist. And, of course, there's always the slow roll with your thumb. This knife is very fidget-friendly. I found myself playing with the knife's opening methods more than actually cutting things. It's fun. And lefties should be able to enjoy this knife just as much as it's ambidextrous.
The blade is S35VN stainless steel, offering improved edge retention and toughness. The flip side is it may be harder to sharpen than other steels. I found I was able to maintain its razor sharpness quite well with just a few strokes on a fine stone and a strop. The blade has a traditional tanto cutting edge with a compound grind and a satin finish. Vosteed calls the blade shape a harpoon style. I lean more toward a modified harpoon, but I love the look of this blade.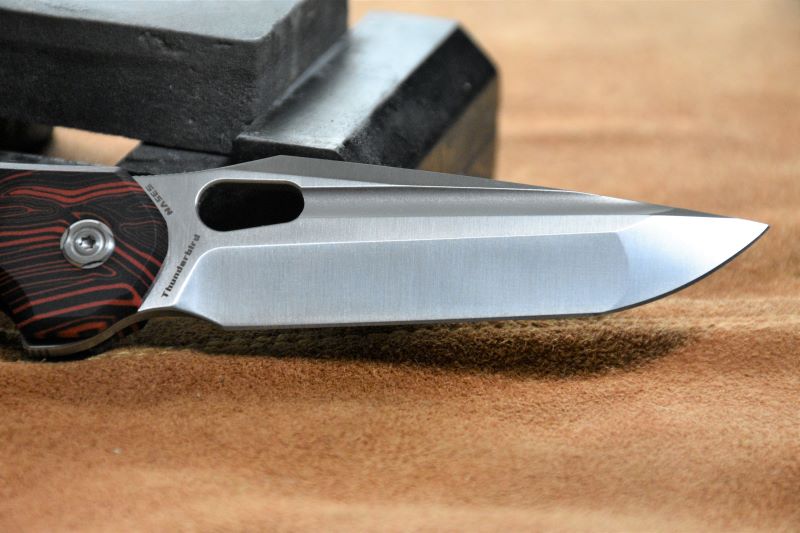 I do have a few items I don't particularly care for, but they aren't deal breakers. The first is the pocket clip. I'm not a fan of them in the first place but the wire clip on this Vosteed Thunderbird seems more like an afterthought. I think they missed an opportunity to make the Thunderbird feel even more premium than just the simple wire clip.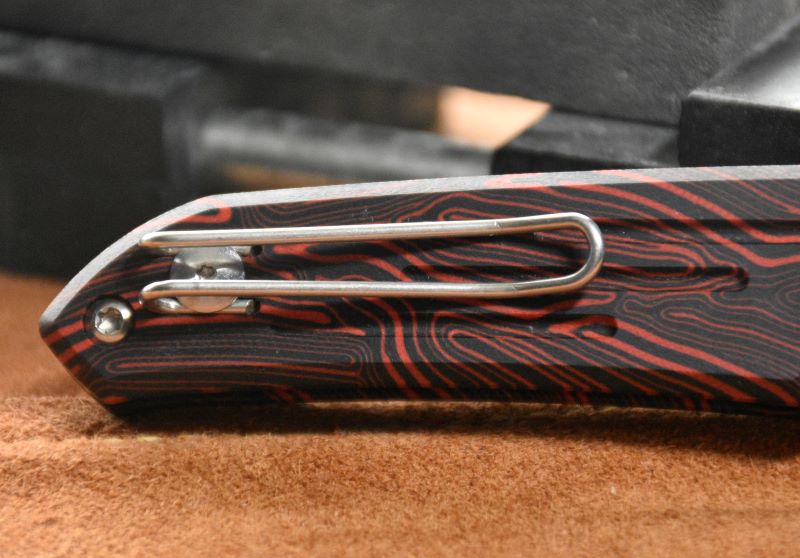 The second is not a gripe really but a question about a design choice. The provided red review sample has a copper back spacer. I like that Vosteed went with something other than steel, but the copper seems out of place with the red scales.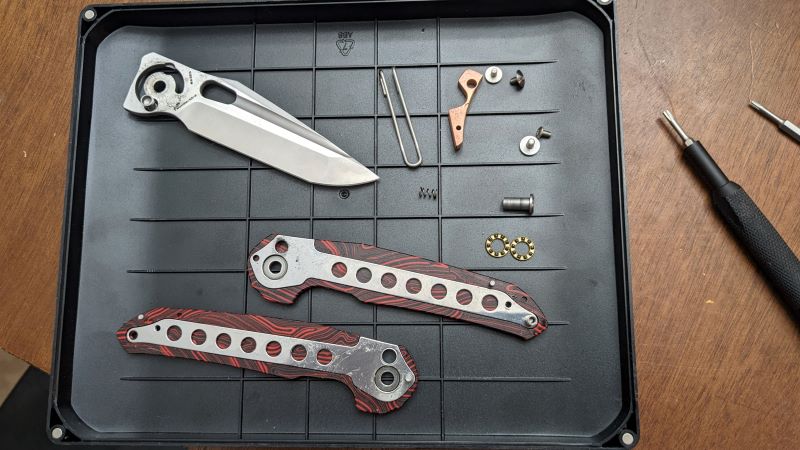 Finally, this may just be me, but I wish they'd have continued the jimping on the top of the blade all the way to the top of the rise. It would give you a little more purchase on the blade.
Performance
The Vosteed Thunderbird knife performs well. The blade is uber sharp out of the box, and, I think, as long as you touch up the edge after a few uses, it won't be difficult to maintain it. The blade runs on caged ceramic bearings making it buttery smooth.
Even though it's a little over 8" total length, with a blade length of 3 and ½ ", it doesn't feel like a large knife. I can get a good four-finger grip, but I wouldn't consider it a pocket sword. Due to the materials used, it's light in your pocket making it easy to carry every day.
What I like
Build quality
Knife steel
Blade shape
Fidget friendly
What I'd change
Final thoughts
This is my first experience with a Vosteed knife as well as one with a button lock and it has been a positive one. The Vosteed Thunderbird knife has become my go-to for everyday carry. The blade shape makes it extremely useful in a number of situations. The blade steel should make it so for years to come. I use it as a fidget toy to help me focus or just give my hands something to do but play at your own risk.
Price: $129.00
Where to buy: Vosteed
Source: The review sample was provided by Vosteed