We use affiliate links. If you buy something through the links on this page, we may earn a commission at no cost to you. Learn more.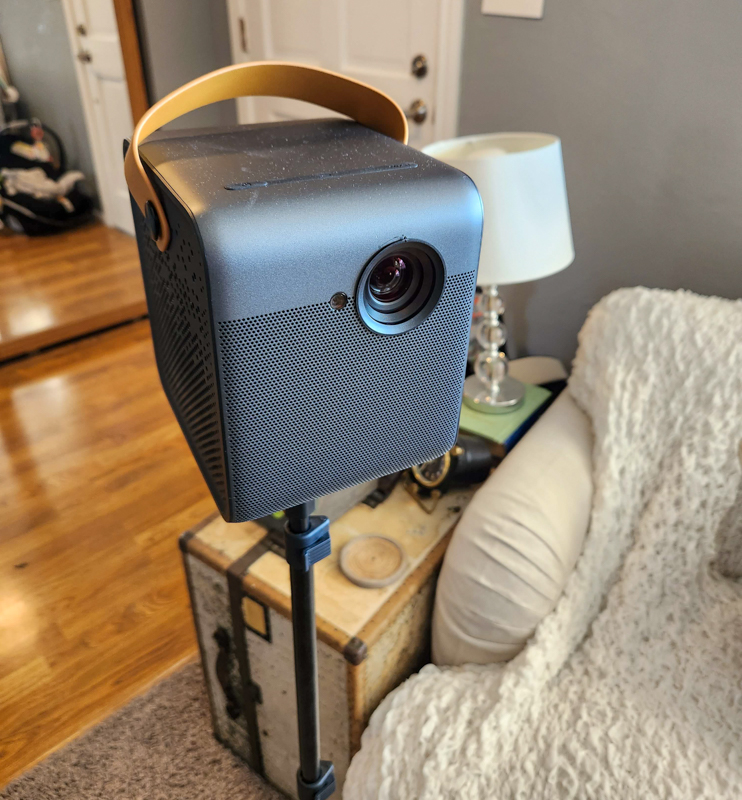 REVIEW – I've reviewed and bought a couple of projectors now, ranging from small (and dim) portable projectors to home-theater style higher-end projectors. I've encountered a wide variety of quality and performance in the different models, so I rely especially heavily on reviews myself to know what to expect from a projector. I've been sent the Wemax Dice Portable Smart projector to test out, and have spent a few weeks trying it in a variety of conditions and use cases. Overall, I'm impressed with nearly everything, but read on for my caveats.
What is it?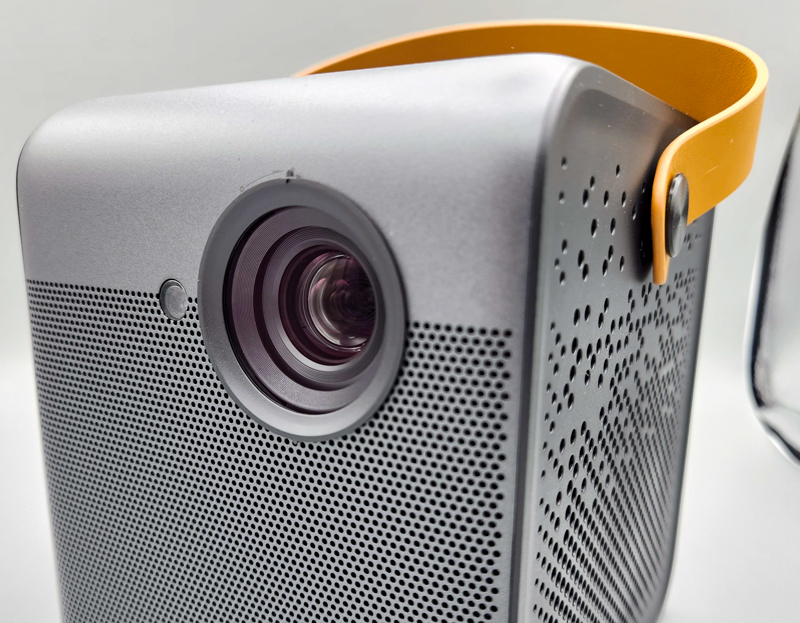 The Wemax Dice Portable Smart projector is a video projector with a battery and AndroidTV built in. It features a smart auto-focus system, support for nearly any streaming app you prefer (more on this later), stereo built-in speakers, Full HD resolution (1080P native), and a bright 700 ANSI lumens bright output.
What's in the box?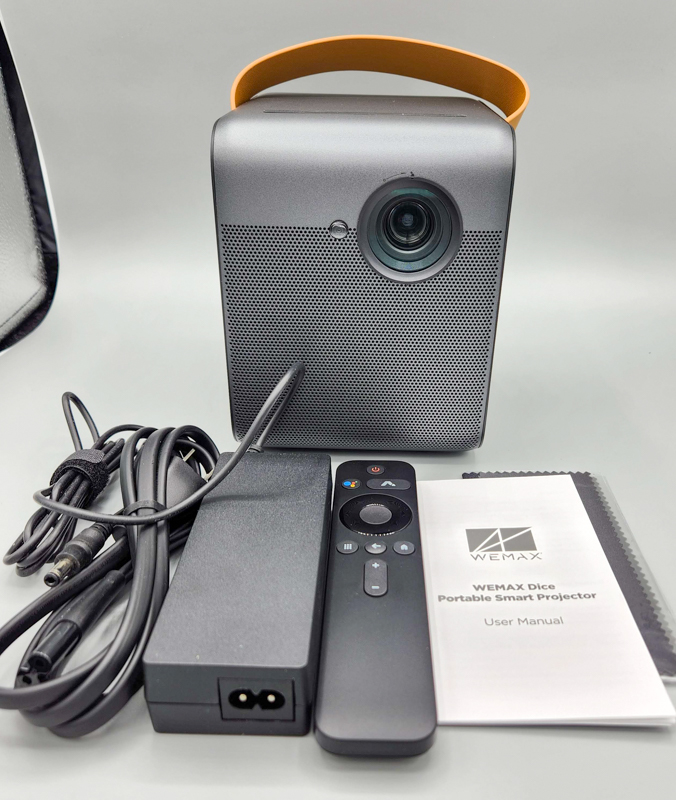 In the box is the Wemax Dice Portable Smart projector, AC charger brick, remote, a cleaning cloth, and manual.
Hardware specs
Size: 155 x 125 x 160 mm
Weight: 2.2kg
Resolution: 1920 x 1080 native (supports input up to 4k)
Light source: 4-channel LED
Brightness: 700 ANSI lumens
FOFO Contrast: 350:1
Screen ratio: 16:9
Throw Ratio: 1.2:1
Projection size: 40″-200″
Keystone: 4 point correction
Focus: Auto/manual
Voice Commands: Yes
OS: AndroidTV 9.0 with Google Play store
Chromecast casting
Storage: 16 G
Memory: 2 G DDR3
Wifi: 2.4/5Ghz
Bluetooth: 4.1
HDMI 2.0
Speakers: 5 Watts x 2
Dolby DTS support: Yes
Battery: Up to 3 hours runtime, 16000mAh
Power consumption: up to 65 W
Bluetooth Controller: yes, 2xAAA batteries (not included)
Noise level: 32db
Operating Temperature: 0-40 degrees C
Design and features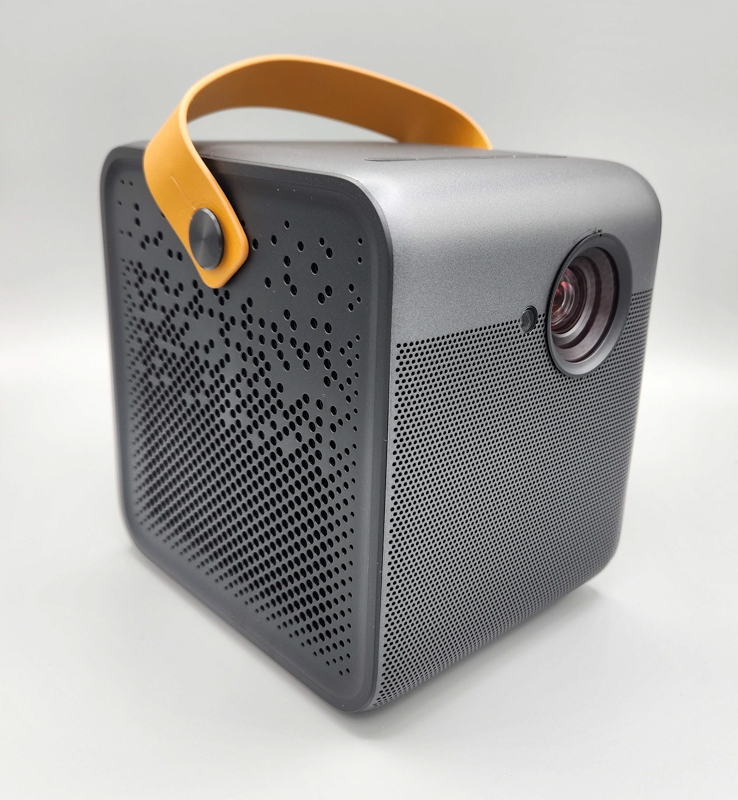 I've owned and reviewed a handful of projectors, and none have looked this nice! The Wemax Dice Portable Smart projector is a black-coated aluminum square-shaped device, with a nice leather carrying strap.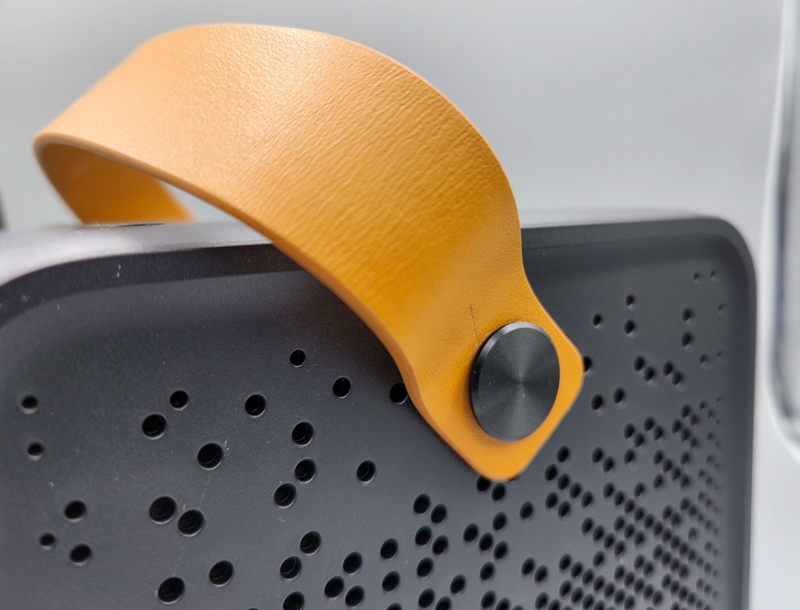 The strap was great for moving the projector around and adds a touch of class you don't often see on these kinds of devices. I also really like the striking mesh cutout on each side (for speaker output and airflow).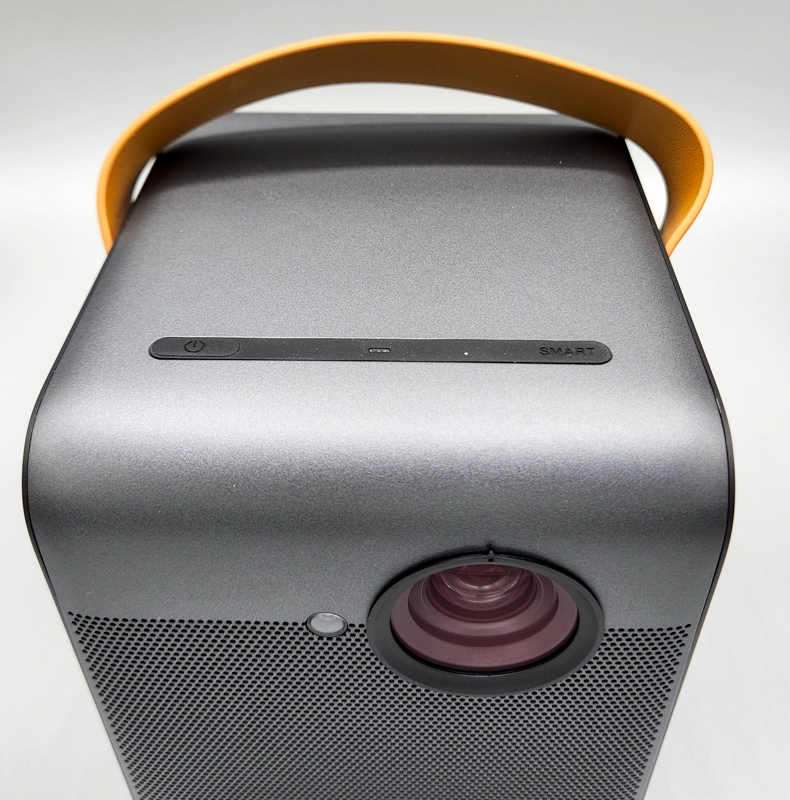 On the top, there's a power button. You'll rely on the remote for all controls, so don't lose it!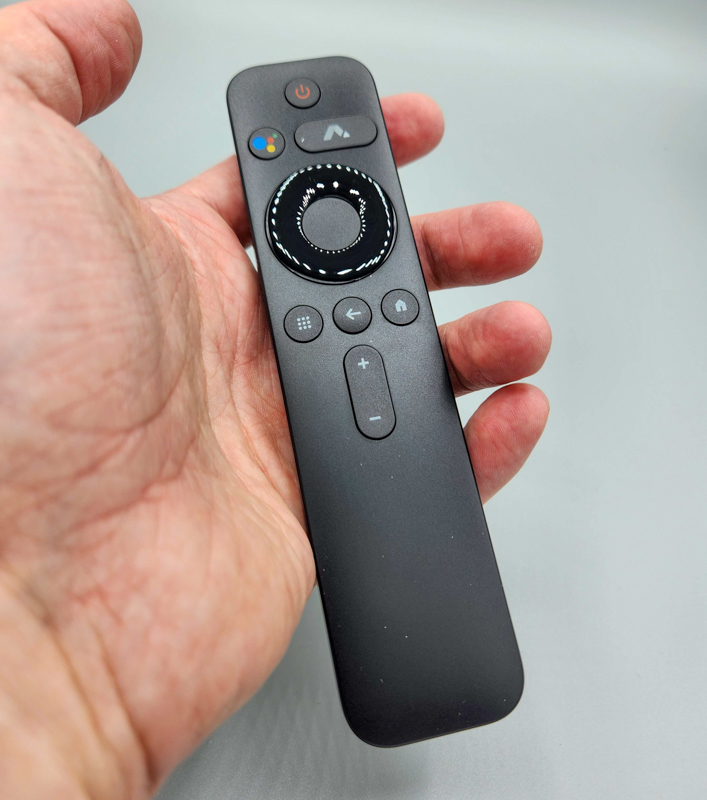 Speaking of, the Wemax Dice Portable Smart projector's remote reminds me of some of the other popular streaming boxes, with a simple layout and good button placement. I like that the volume is separate, as this is often the most important one to find in the dark. The remote also supports voice commands (triggered by the Google assistant button at the top left).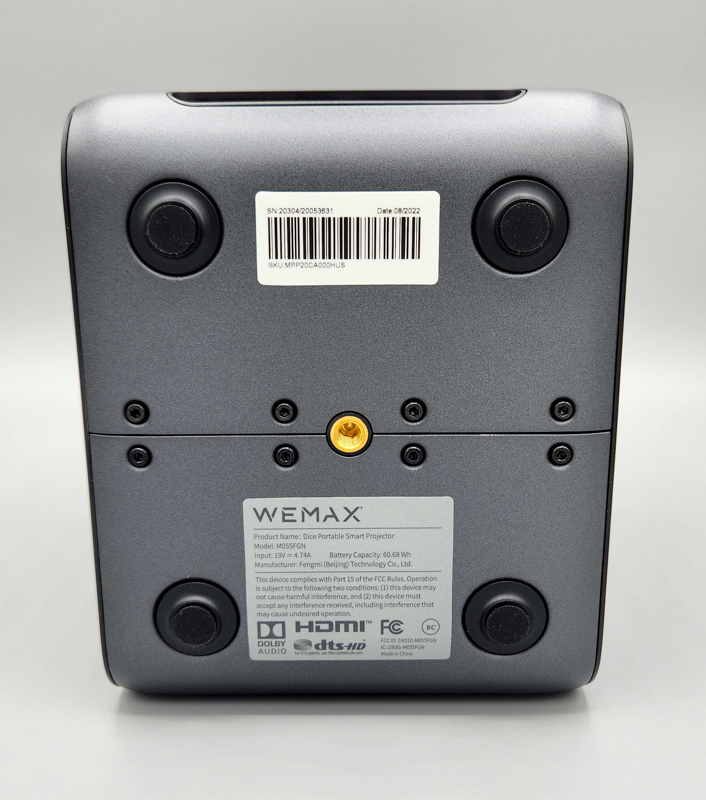 The bottom of the Wemax Dice Portable Smart projector has rubber feet and a standard tripod mounting point, which is nice for being able to place a portable projector where you want it.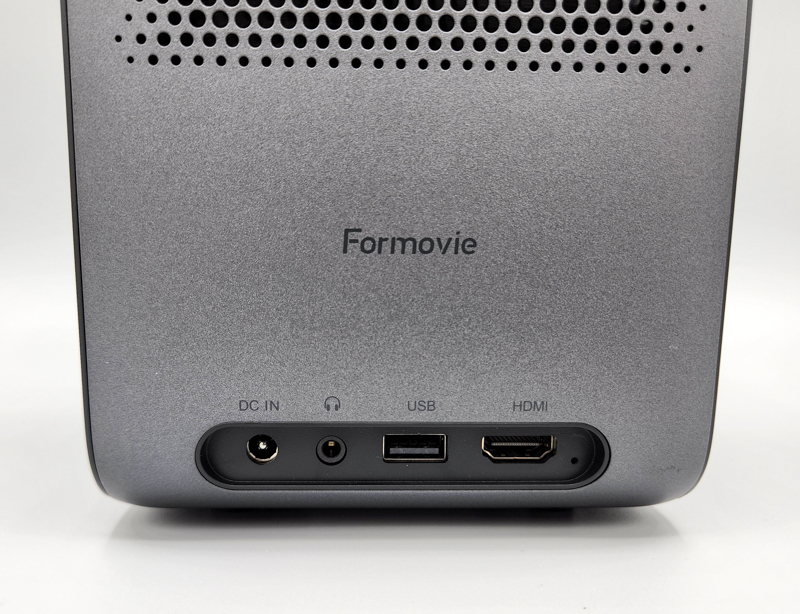 Around the back are the only 4 ports: Power in, headphones out, USB input, and HDMI input.
Setup
Setup was as simple as following the first screen that appears: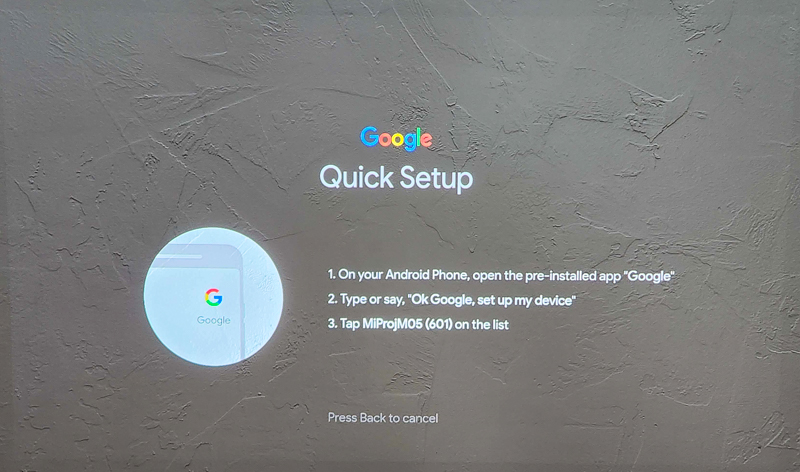 After logging in with my phone, the projector automatically installed most of the apps I'd used with previous smart TV devices.
Performance
The visual quality of the Wemax Dice Portable Smart projector exceeded my expectations. I edited the image below to match what my eyes were seeing as closely as possible (on a calibrated monitor, your mileage may vary).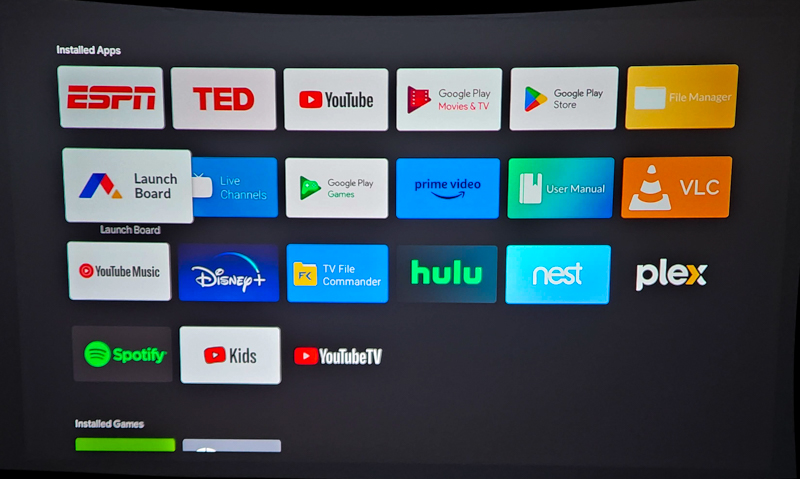 In a dark room on a projector screen, colors were vibrant and darks were fairly dark. The projector is brighter than most of the other ones I've tested, so it got the room bright enough in mixed scenes to cause ambient light to slightly wash out dark parts of the scene, for most content, it looks fantastic. The video below shows a few moments of a trailer to give an idea of the performance:
I tested with an Xbox Series X as well, and at first, there was a noticeable lag but then I found the solution: hold the enter button to pull up input-specific settings, and enable "HDMI 2.0" (off by default). Once I did this, the projector did great for gaming. Even fast games felt snappy and looked great.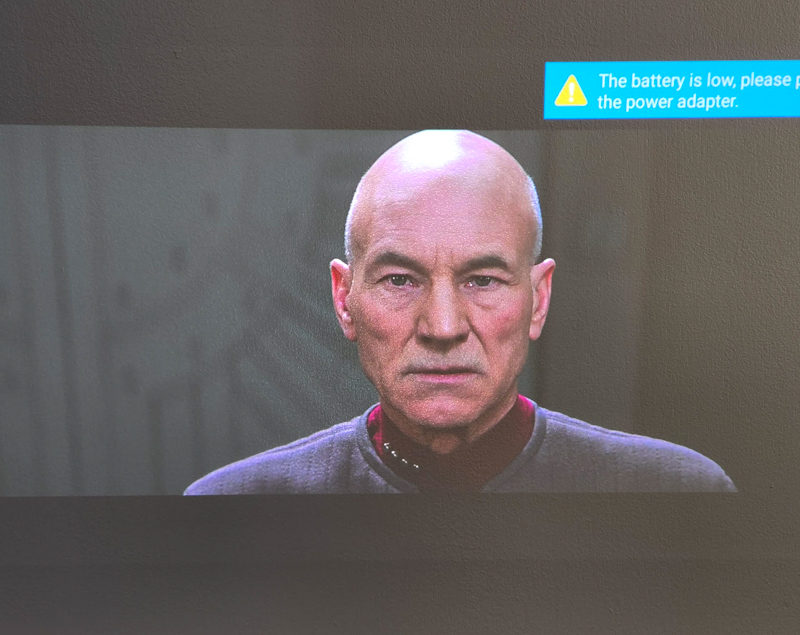 Finally, I charged the Wemax Dice Portable Smart projector to full (which took a few hours) and tested the battery life. At around 2:15 I got the battery low warning shown above, then shortly after it shut itself off. This was tested from a USB stick with an MP4 file and on Eco mode (the dimmest mode). I was hoping for a runtime closer to the 3 hour mark, so you can confidently bring all but the lengthiest movies on a trip and be sure to be able to finish. At just over 2 hours actual playback time, you'll have to be more careful with your mobile projector plans.
Finally, I tried to test as many streaming apps as I could, including Disney Plus, Hulu, Plex, Amazon Prime video, Apple video, but to my surprise, I couldn't find Netflix in the Google Play store. This is the first Android/Google-based device where I haven't seen Netflix natively supported. Digging into user reviews on WEMAX's website, it seems this is a common problem, with no clear solution. This was the glaring negative spot for me, since Netflix is such a popular service and one we watch more than any of the others. While you can still cast videos from Netflix to the device from a phone or computer (the projector operates like a Chromecast as well), it's a real bummer not to just have it natively on the projector.
One final note is that the interface itself was slow at times, loading thumbnails and registering navigation controls had an annoying lag to it. At this price point, I'd have really liked to see faster hardware so the interface felt as nice as the picture and the projector's exterior appearance.
What I like
Great picture quality
Striking design
AndroidTV
What I'd change
No Netflix?!?
Slow interface/hardware
Just a bit more battery life!
Final thoughts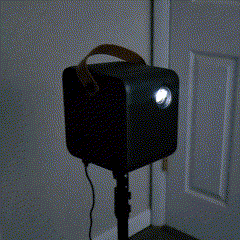 Overall, I really enjoyed my time reviewing the Wemax Dice Portable Smart projector. I was impressed with the picture clarity, the accurate auto-focus every time I tried it somewhere new, the portability, and the user-friendly AndroidTV interface. I was quite surprised that Netflix wasn't in the Play store, it's a glaring omission in an otherwise excellent package. I wish the battery lasted just a bit longer as well, but I foresee many great summer movie nights and random shows on the wall for our new toddler going forward.
Price: $899.00 (much cheaper on Amazon)
Where to buy: WEMAX and Amazon
Source: The sample of this product was provided by WEMAX