We use affiliate links. If you buy something through the links on this page, we may earn a commission at no cost to you. Learn more.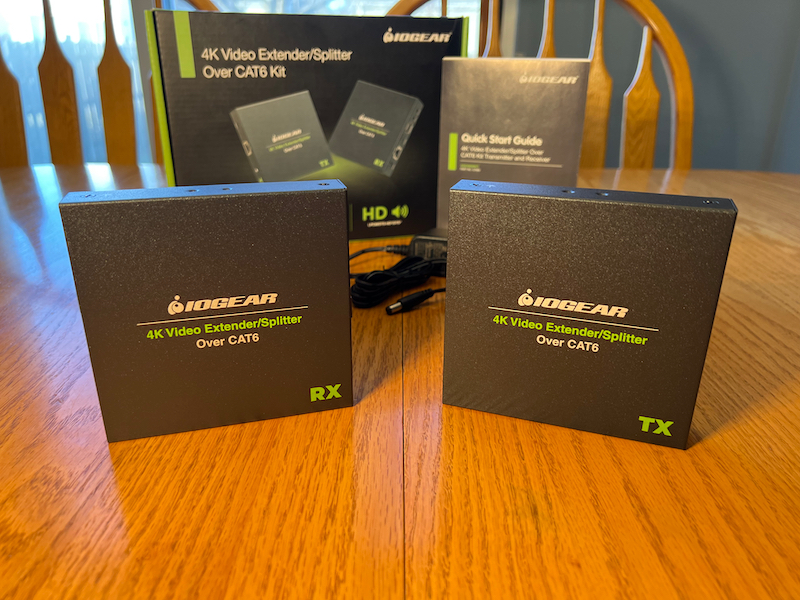 REVIEW – Have you ever had to run an HDMI signal more than 25 feet? You can buy longer cables but they either get very expensive or don't work very well. Plus your source device might not like pushing the signal that far. One way to get around the issues with a long HDMI cable is to use an extender. That is what I'm reviewing today, the IOGEAR 4K Video Extender/Splitter Over Ethernet Cable Kit (aka GVE4K60KIT). 
What is it?
The IOGEAR 4K Video Extender/Splitter is a powered pair of devices used to transmit an HDMI signal up to 230 feet over a Cat6 ethernet cable. In addition to the video signal, the extender can send audio (in stereo or multiple surround sound modes), as well as bi-directional infrared signals for remote control of devices at either end.
What's in the box?
Transmitter
Receiver
2x IR Extension Cables
2x Power Adapters
Mounting Kits
User Guide
Warranty Card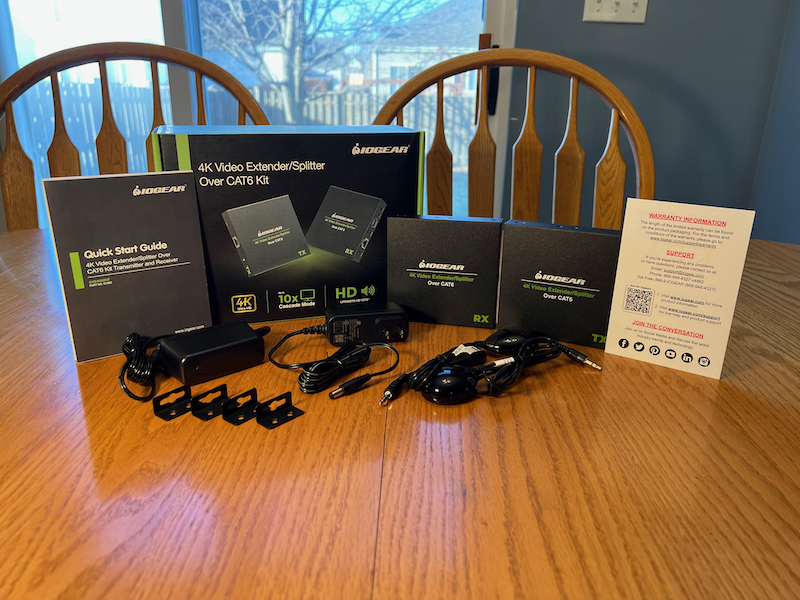 Hardware specs
Displays Supported: Up to 10
Resolution: up to 4096 x 2160 @30Hz or 3840 x 2160 @60Hz (4:4:4)
Latency: 1ms
Transmitter Features HDMI Output for Local Display Connection
Supported Audio: LPCM, DTS-HD, DTS, Dolby TrueHD 7.1, Dolby Digital 5.1
ARC support
HDR Support
Only 1 transmitter is needed to cascade up to 10 receivers
Distance: 230 ft. to the first receiver and 165 ft. between all cascading receivers
S/PDIF Connection for Digital Audio Output
Bi-directional IR: Allows source unit control from display and display control from source (additional IR receiver and emitter required for full bi-directional functionality)
Aluminum housing

 

Electrostatic protected
Unit Dimensions
Height: 0.75 in (19.05 mm)
Length: 4.125 in (104.77 mm)
Width: 4.125 in (104.77 mm)
Design and features
Both the transmitter and receiver are small, square, dark gray aluminum boxes that look identical except for the markings and input/output connectors. They're about 4" square and 3/4" tall. Each device needs to be powered to work so there are two power supplies included. On one of the sides of the transmitter (TX) unit there is an RJ45 TX OUT ethernet connection, a Reset button, and a power LED. On the other side there is a DC input jack, a pair of HDMI ports (input and output), an IR IN port and an IR OUT port. The receiver (RX) has a Reset button, a S/PDIF-ARC audio switch, an RX IN RJ45 connector, and a power LED. The other side of the RX unit has a DC input jack, an RX OUT RJ45 port, an S/PDIF optical audio connector, an HDMI output port, and an IR IN port and an IR OUT port.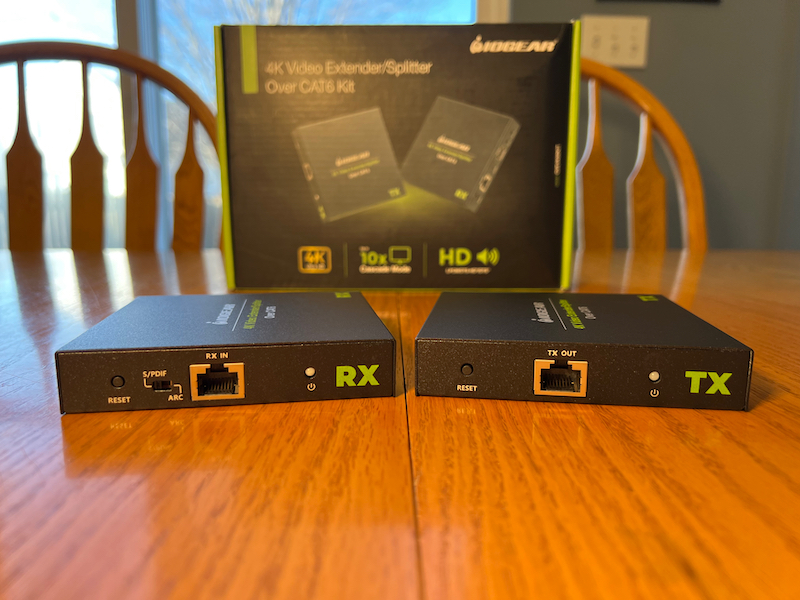 The HDMI output port on the TX unit is used for looping the signal out to a monitor or TV at the transmitting end. This is convenient for being able to monitor the source, to know what you are sending, or for being able to see the same signal in both places (both an indoor and outdoor entertainment space for instance). The RX OUT port on the receiver is for looping to another receiver, up to a total of 10 in the whole chain. The first receiver can be up to 230 feet from the transmitter; any further receivers can be up to 165 feet from each other. This would be convenient for feeding a signal to multiple TVs in a house or in a business if you want to display a looping slide of announcements or videos. The S/PDIF digital audio output allows you to break out the audio from the HDMI signal to feed a receiver or sound bar if you don't want the sound coming from the TV's speakers.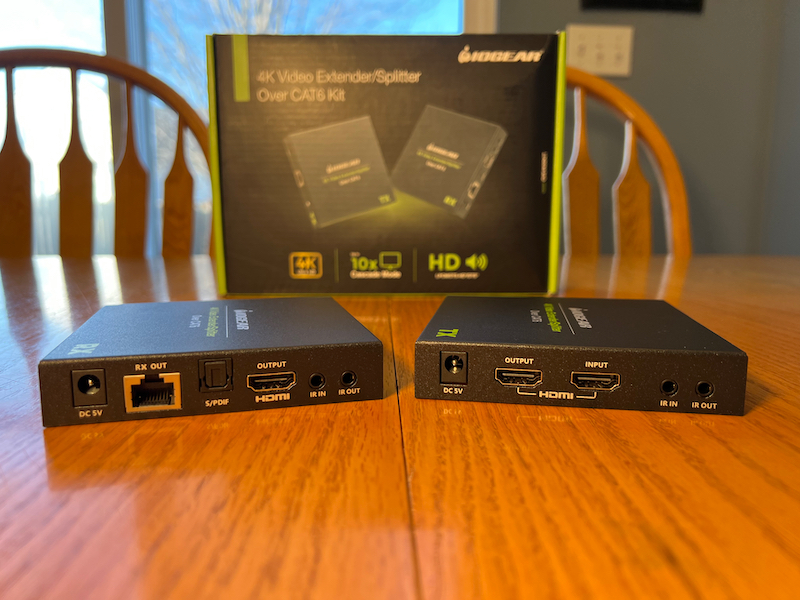 The IR ports on both devices can be used to send an infrared remote control signal from the receiving end to a device mounted at the transmitting end or from the transmitting end to a device at the receiving end. It can also be set up to transmit IR signals both ways if you have devices at both ends that need to be controlled from the other end. To do this you would need to purchase another set of IR extension cables.
Installation and setup
The installation consists of taking the devices out of the package, plugging power into the transmitter and receiver (and locating them near your source and display devices), plugging in your Cat6 cable, and plugging in HDMI cables at each end. If you only have one display device then that's all you need to do to get the signal working. Assuming your Cat6 cable is built well, after a few seconds of the blue LEDs blinking on both devices, the LEDs should go solid blue and you should see your signal on your display. The only other thing you need to do if you're only setting up for one display is to decide whether you want to use the S/PDIF digital audio output or use the HDMI audio on the display device. If you have devices at either end that need IR remote control then plug the IR extender cables in as needed.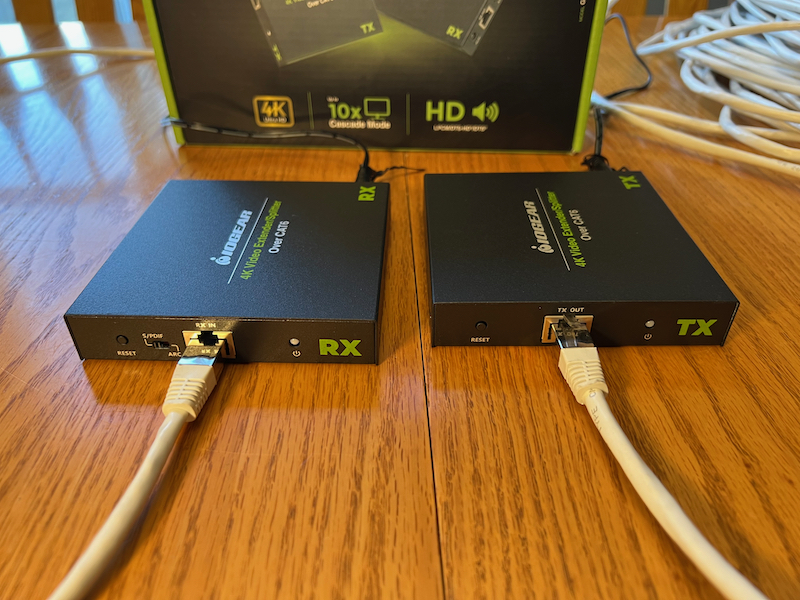 If you choose to use the S/PDIF output the S/PDIF-ARC switch allows you to select whether you get the audio from the HDMI source or from the ARC channel coming back from the display device.
In Use
I tested this with a Cat6 cable that is approximately 150 feet long. Unfortunately, the small plastic tab on one of the ends had been broken off so I had to push it into the transmitter several times to make sure it was making contact and actually sending a signal. Once I did that the blue LEDs on both devices started blinking rapidly, then after a few seconds they lit up solid and I was able to see the signal from my laptop on my TV. The signal on my TV was as clean and solid as if I had connected it directly to my laptop. I tested both 1920×1080 60p and 3840×2160 at both 60p and 24p. All of them worked properly and showed the signal as I expected to see it on my TV. I did notice a little stuttering when I first watched a little bit of a movie from Amazon Prime Video through Chrome on my MacBook Pro. I'm not sure if this is because I was trying to watch a 4K movie through a browser or what, but it did seem more solid at 24p so maybe it was just a frame rate issue.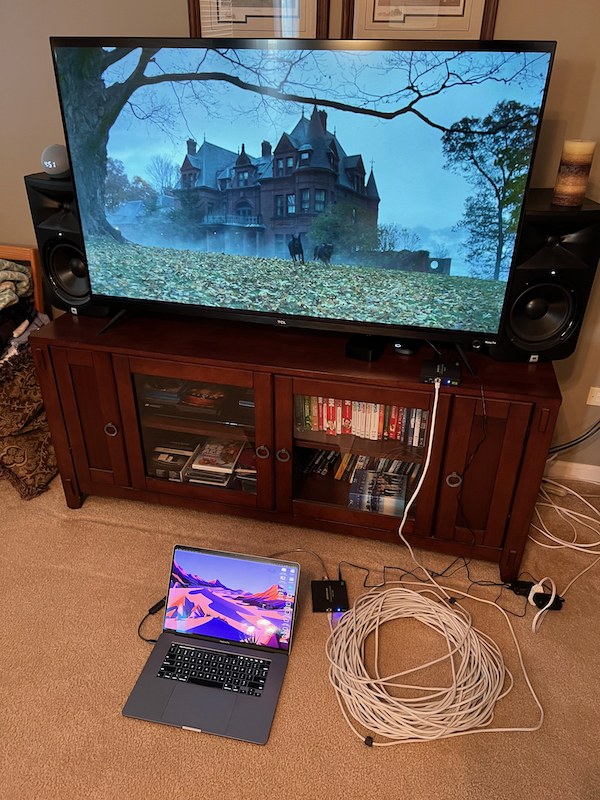 After testing that the video and audio signal worked correctly I moved the laptop across the room and plugged in the IR extender cables to test the remote control. It worked as expected. I was able to control my TV's volume and other functions just as if I was in front of the TV itself. I didn't have a second set of IR extenders to test control the other way but there is no IR control available on my laptop so it wouldn't have done me much good anyway.
Latency wasn't a problem in my testing. If I moved my cursor really fast I think I could perceive just a tiny bit of delay but it was nothing that would cause a problem in a day-to-day setup in my opinion.
The aluminum construction of both devices feels very solid. These aren't cheaply made boxes. That and the fact that they include mounting hardware so you don't have to figure out a way to strap these under a counter or behind a TV or so you don't have to try to hold them up with duct tape (or gaffer's tape in a pro-environment) means that they can be solidly mounted wherever you need them and you won't have to worry about them getting kicked or knocked out of place or falling because the glue on the tape has dried up.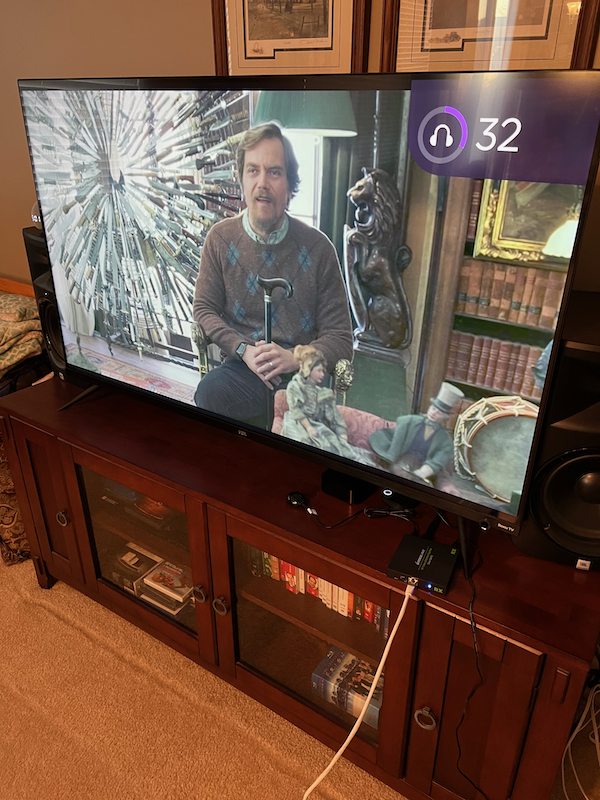 When you consider the fact that this kit supports 4K up to 60p, HDR, ARC, multiple surround sound formats, up to 230 feet to the first receiver, IR extension, etc., this is something that can give you many years of service. The fact that it can be cascaded up to 10 receivers means you don't have to buy a transmitter for every TV and run a cable back to the transmitting end for every receiver. That can save a lot of time, money, and hassle.
What I like
4K signal up to 230 feet away
Solid construction
Simple setup
What I'd change
Final thoughts
If you need to run an HDMI signal more than about 25 feet you owe it to yourself to find an extender rather than trying to buy a long HDMI cable. IOGEAR has a great option in this kit, going beyond simple extension with S/PDIF out, and cascading to multiple receivers. I've used cheaper extenders (before the days of 4K) but the solid construction, features, and ease of setup make this set a great option to consider and well worth the price.
Price: $149.95
Where to buy: iogear.com and B&H Photo
Source: The sample for this review was provided by IOGEAR. For more information visit their site.