We use affiliate links. If you buy something through the links on this page, we may earn a commission at no cost to you. Learn more.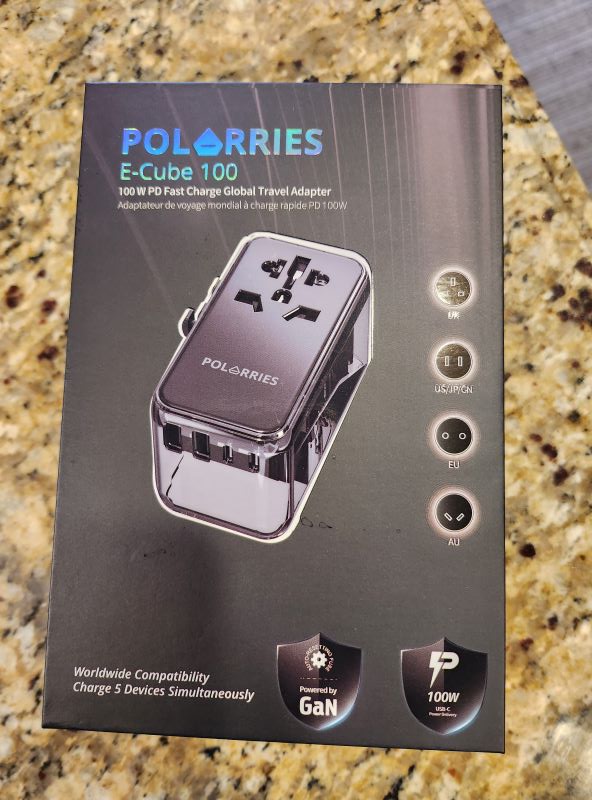 CROWDFUNDING REVIEW – I'm already planning my summer vacation in Europe and from previous experience, you can never have too many power and plug adapters, so I can't wait to bring the Polarries E-Cube 100 travel charger with me this summer! It can charge five devices at the same time, which should help in older buildings where they don't have enough plugs for my modern, gadgety lifestyle.
What is it?
The Polarries E-Cube 100 is an all-in-one 100W USB charger with two USB-C ports, 2 USB-A ports, and a universal outlet.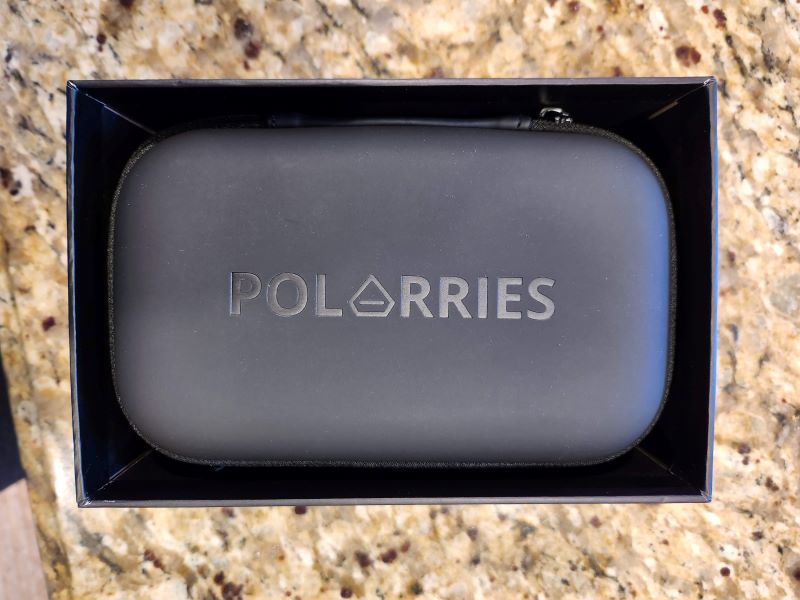 What's the in the box?
Polarries E-Cube 100 travel charger
A USB-C to USB-C cable
A handy carrying case
A user manual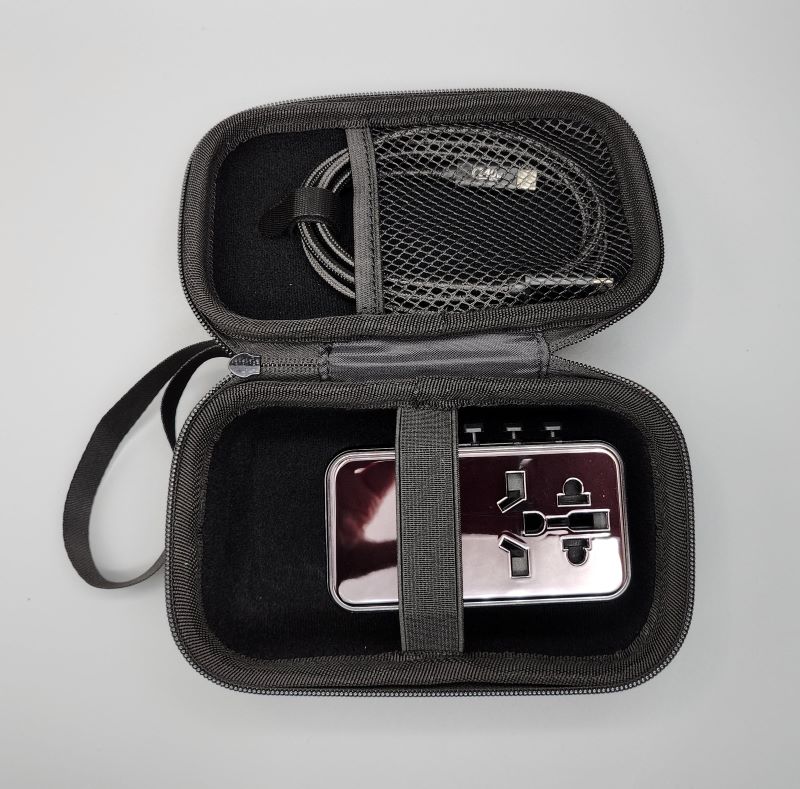 Hardware specifications
AC Output:
10A Max (1000W at 100V or 2500W at 250V)
DC Output:
USB-C1/C2 :5-20V, 100W
USB-A1/A2:18W QC
(USB-C1 PPS:(3.3-11V 4A))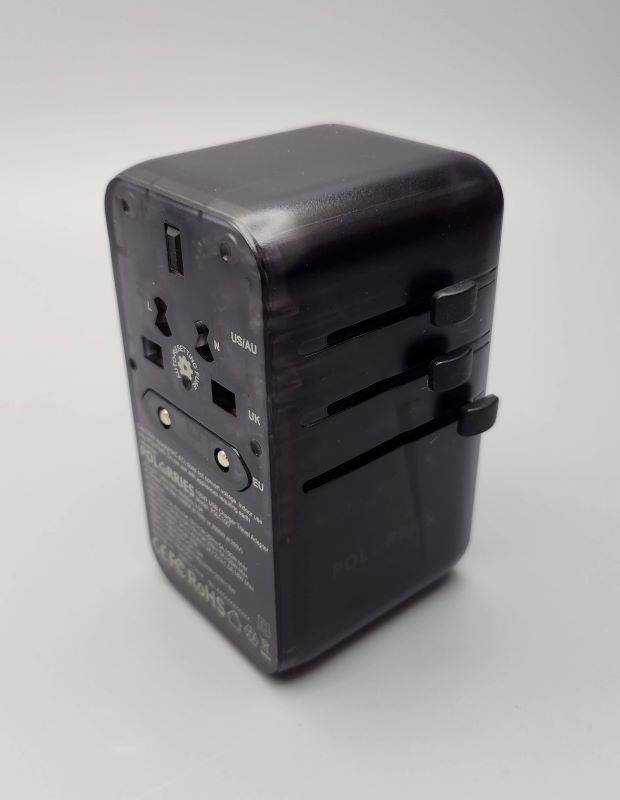 Design and features
While the Polarries E-Cube 100 travel charger is great for travel, I've been using it around the house to charge my various devices before my summer trip. It works great, and the fact that I don't lose a plug if I plug it in the bottom outlet makes it even nicer. Lots of older buildings in Europe don't have enough plugs for me and my gadgety lifestyle. My tablet, my phone, my backup battery, and my earbuds, are four things right there that are probably depleted by the end of the day if I'm touring around. If I've only got one accessible plug, I'll be fine E-Cube 100. It's got 4 USB outlets plus the regular plug that I can use to charge my toothbrush, smartwatch, or my laptop.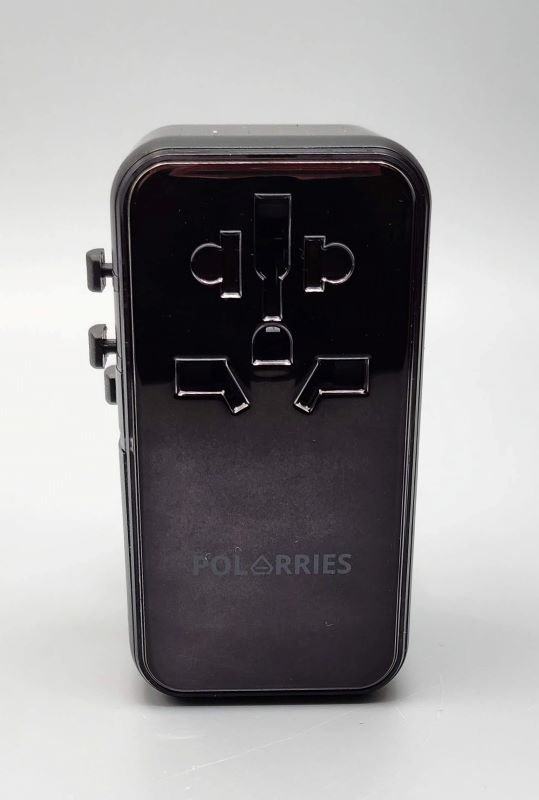 The Polarries E-Cube 100 travel charger is capable of charging several devices at high speed as well. The intelligent power distribution will automatically distribute the power between the four ports. Their literature gives the example of a smartwatch or earbuds at 15W from the USB-A port, a phone, and a laptop at 20W and 65W from the USB –C ports. While that may not be an issue for some, I find it extra handy when I'm traveling, because sometimes when I'm on a layover I'd like to charge some things but I have to pick and choose because I can only find one outlet.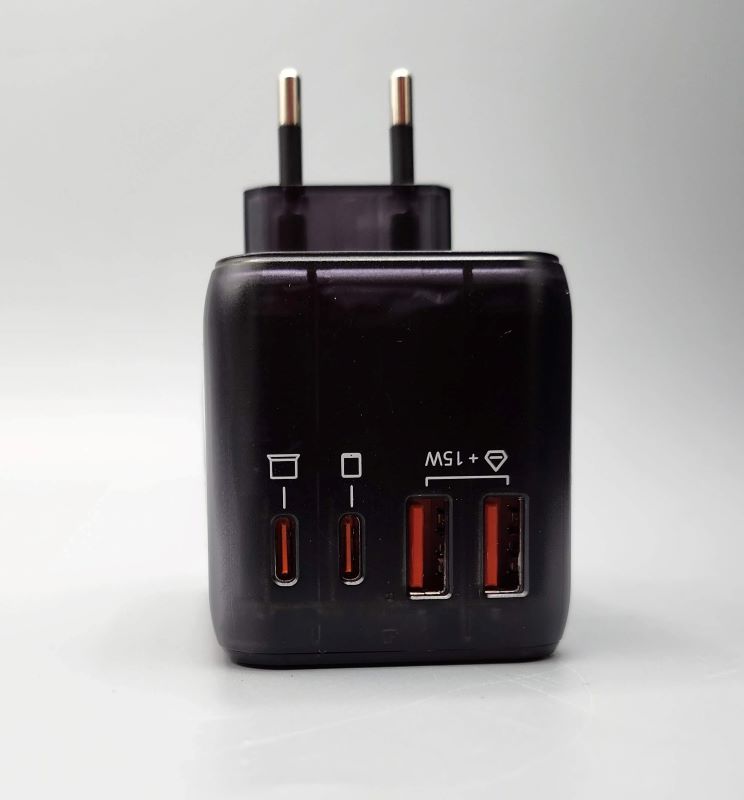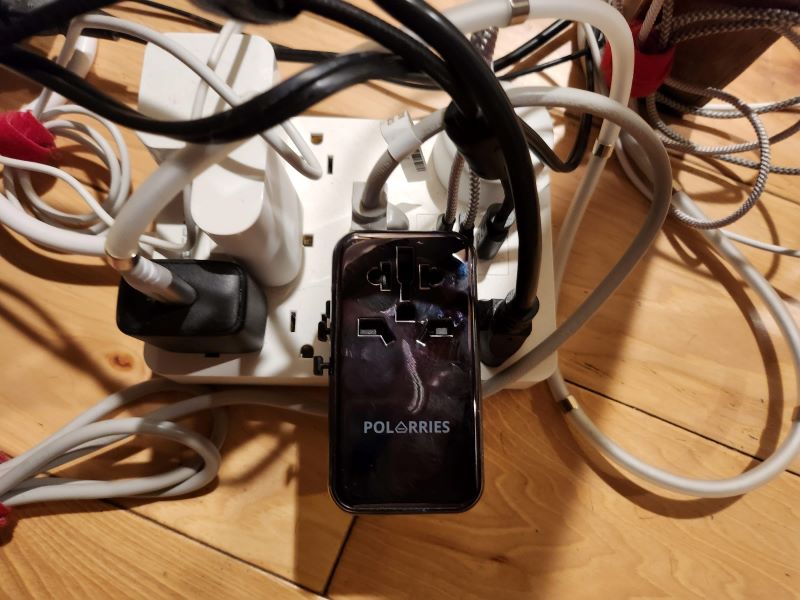 I tried out the Polarries E-Cube 100 travel charger in some power strips and it did take up spots for two plugs in most of my conventional power strips. Like I say, you do get one back, but it is something to keep in mind if you're going to use it that way. I also find this power adapter heavier (at about 9.5 ounces) than regular USB chargers, which is pretty standard when they convert voltage as this one does. I found the E-Cube 100 pretty solid when I plugged it in and I didn't feel like the weight was going to make it fall out of the socket or anything, but it did sag a bit when it was plugged in sideways, so maybe vertical is the best way to use this adapter.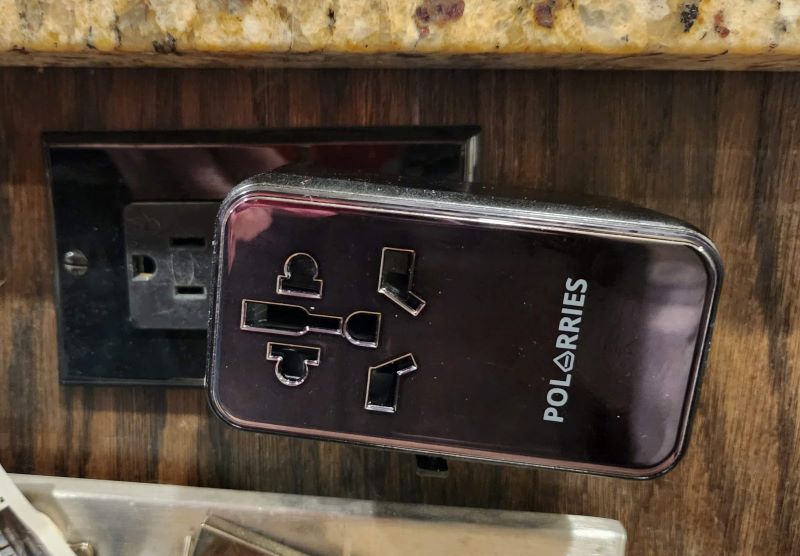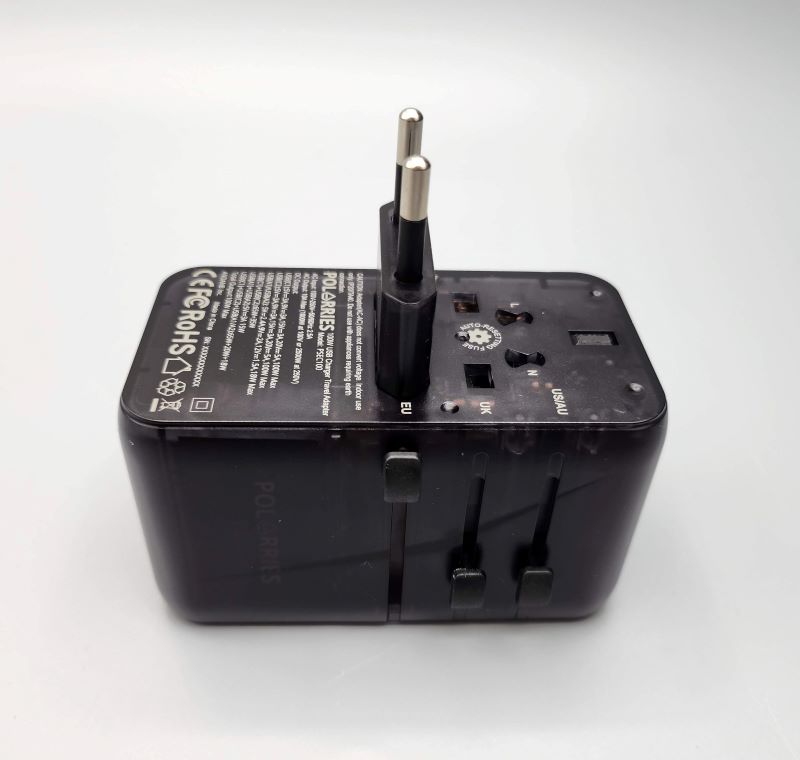 The Polarries E-Cube 100 travel charger is both a plug adapter and a power adapter, which means you don't have to carry around a bunch of wacky plug adapters on top of your usual charger. The way it does this is through slide-out plug configurations, which is neat. I've had these kinds of adapters before and they seem to work OK, but at some point, every one of mine broke, usually mid-trip. I think they blew a fuse inside and I neither knew how to get inside it to change it, nor did I bring extra fuses on my trip, so they wound up in the bin. One super neat feature of the E-Cube 100 is that it has a 10A auto-reset fuse, so I shouldn't run into that situation this summer. Polarries notes that the E-Cube 100 can recover from an overload up to 5,000 times without service or replacement.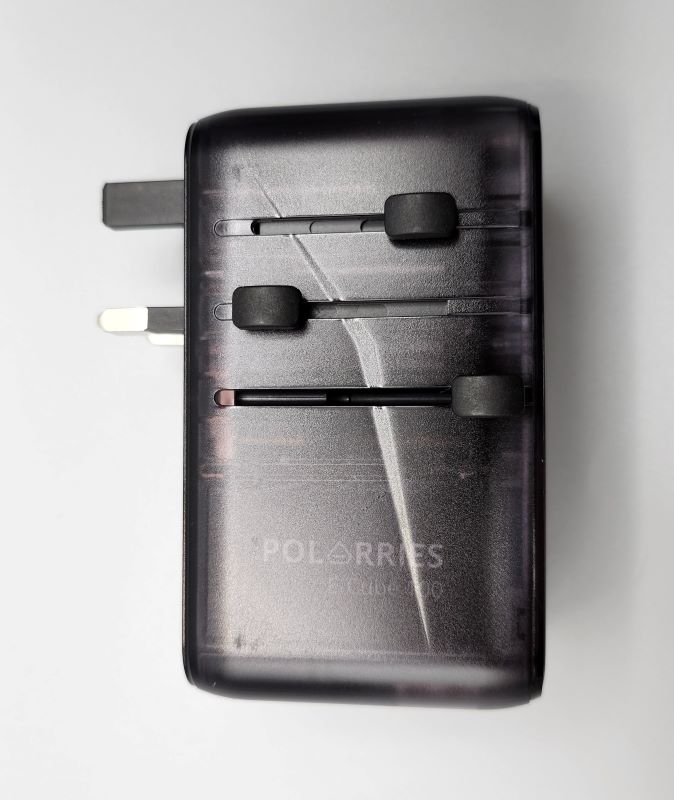 The slide-out plugs will work in over 200 countries, and I noted that the US/Mexico/Canada prongs are not polarized, which is what makes them work in Japan as well. It comes in three colors and the styling is very sleek, but the mirrored front surface on the front picks up fingerprints.
What I like
Being able to charge many things at high speed at once.
An all-in-one travel power solution (all the plug configurations and power adapter in one unit).
What I'd change
The mirrored side picks up fingerprints.
Final thoughts
You can find more info about the Polarries E-Cube 100 travel charger on their Kickstarter campaign page.
The Polarries campaign ends on 3/31/22 and they are working towards their funding goal of $10,000.
Price:  Starts at $79
Where can I buy:  Kickstarter
Source: The sample for this review was provided by Polarries.