We use affiliate links. If you buy something through the links on this page, we may earn a commission at no cost to you. Learn more.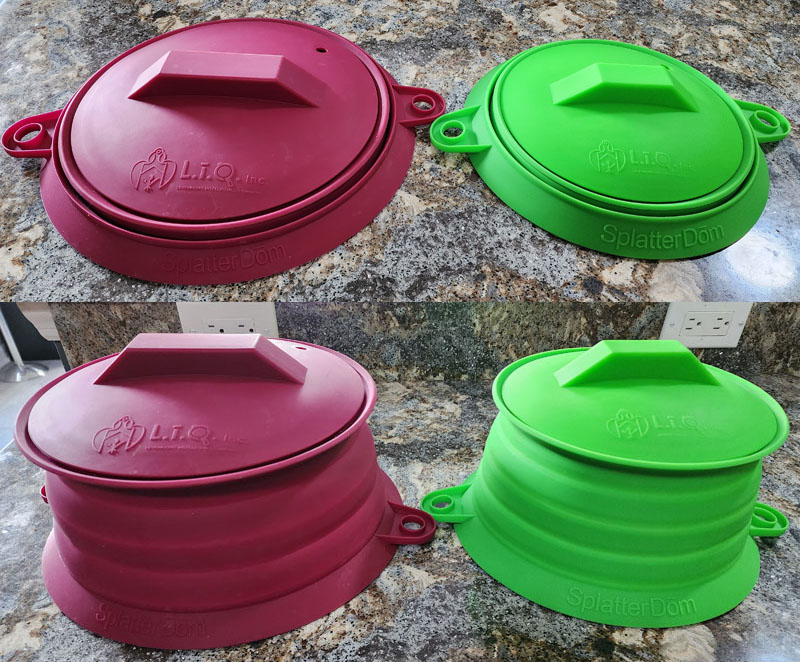 REVIEW – Cooking is a messy business. Deliciousness usually means splashes and splatters and that leads to tons of cleanup.  If only there was a way to contain all those splatters while still giving you access to the yum in the pan. Welcome to the SplatterDōm!
What is it?
SplatterDōm is a food-grade silicone lid of sorts.  It comes in two sizes designed to fit 8/10″ pans and 10/12″ pans.  It is expandable for more coverage and collapsable for convenient storage.  Each comes with a ventilated lid to keep in the heat and mess.  SplatterDōm is stovetop, microwave, and dishwasher safe.
What's in the box?
There is no box!  Each SplatterDōm plus lid comes wrapped in a sleeve containing all the instructions.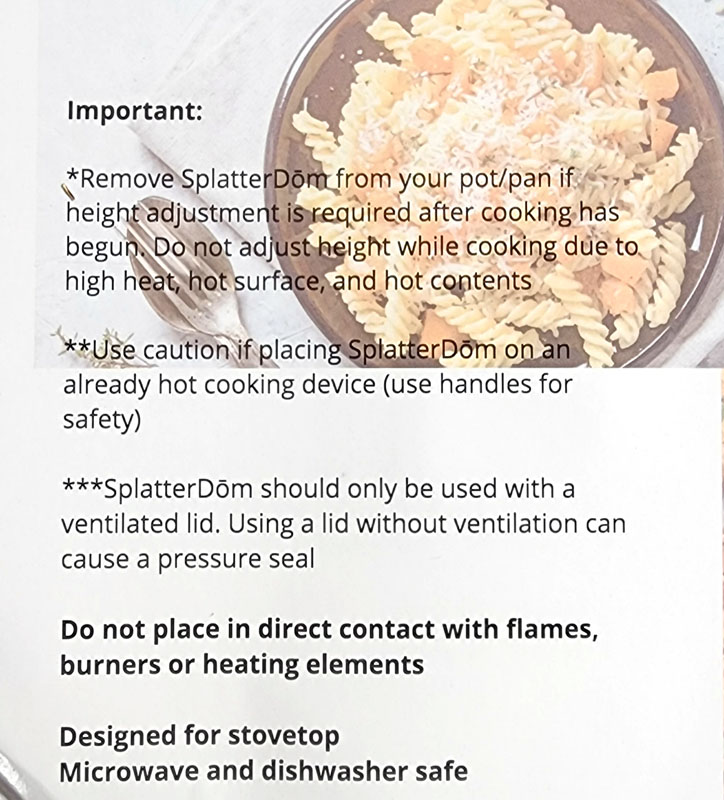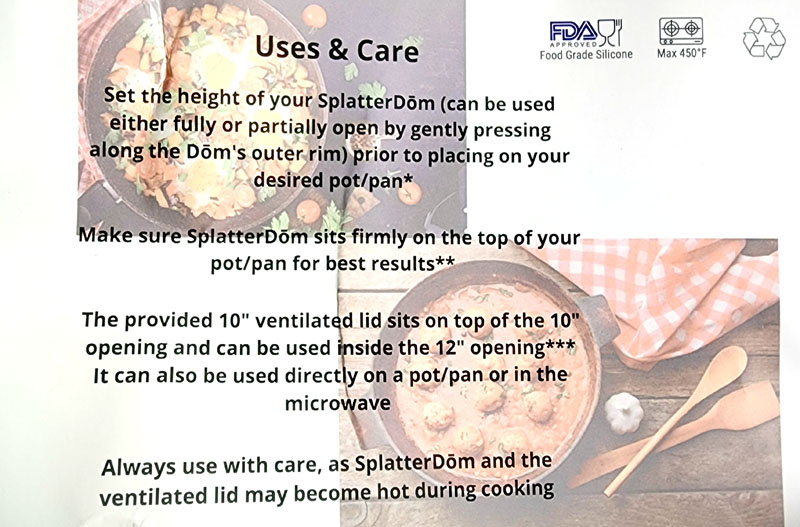 Hardware specs
SplatterDōm is made from 100% food-grade silicone. It is stovetop, microwave, and dishwasher safe and can withstand temperatures up to 450F.
8/10″
Dimensions:

Width 11″; 13.25″ handle-to-handle
Height: 1.75″ collapsed with lid inverted; 6.75″ expanded with lid

Weight: 23.8oz with lid
10/12″
Dimensions:

Width 12.75″; 15.25″ handle-to-handle
Height: 1.85″ collapsed with lid inverted; 6.75″ expanded with lid

Weight: 32.4oz with lid
Design and features

Each SplatterDōm consists of two pieces – the ventilated lid and the expandable SplatterDōm main body.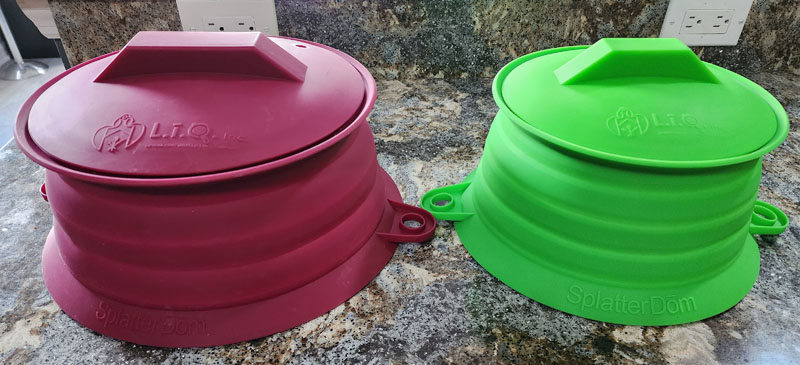 In the traditional orientation seen above, the lid sits on top.  These are designed to sit on a 12″ (left) and 10″ (right) pan.
Flipping them over, they are designed to sit on 10″ (left) and 8″ (right) pans.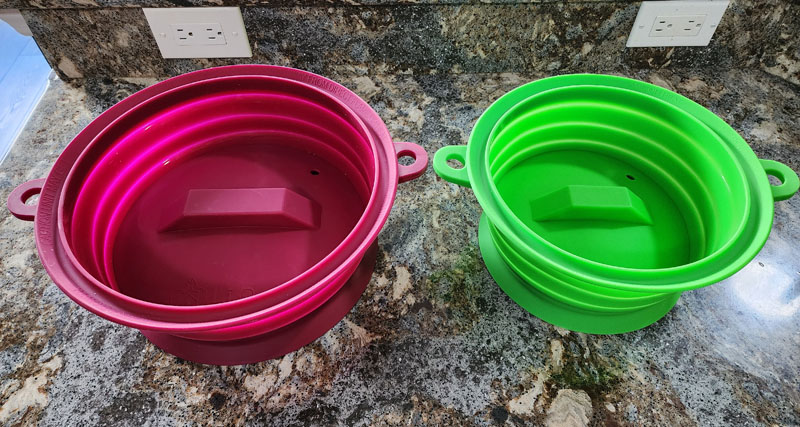 The lids can still be used and rest about midway down inside.  You can also see the convenient handles integrated into each SplatterDōm, making it easier to move on and off the pan.
Here are some photos of the 8/10″ SplatterDōm sitting on an 8″ pan.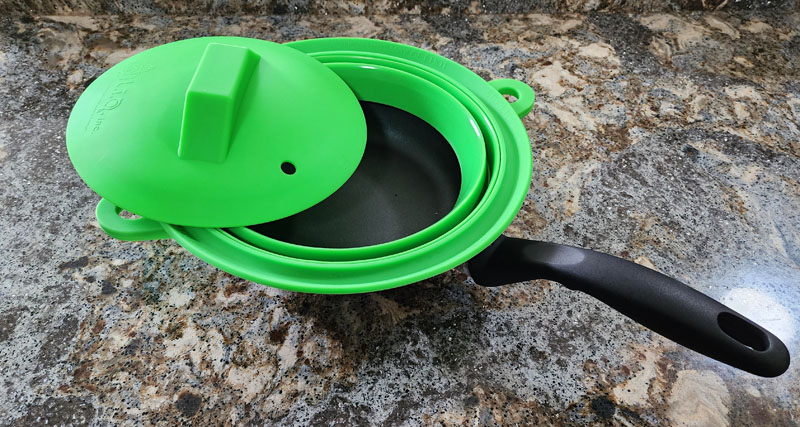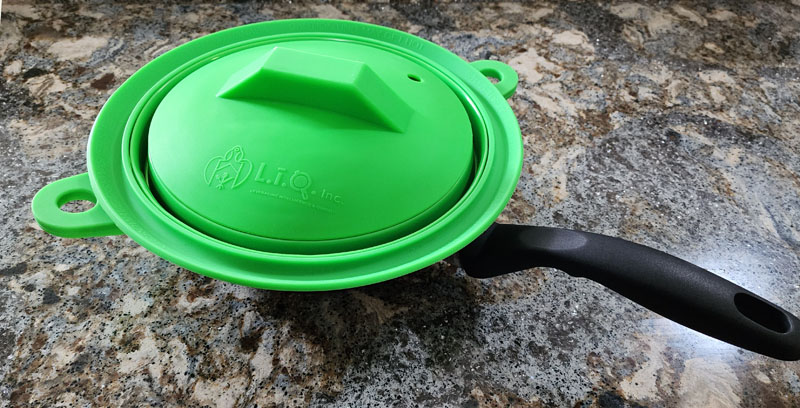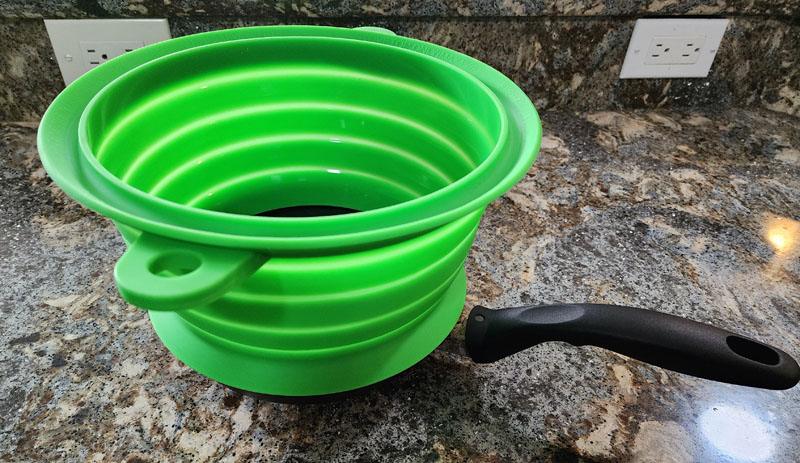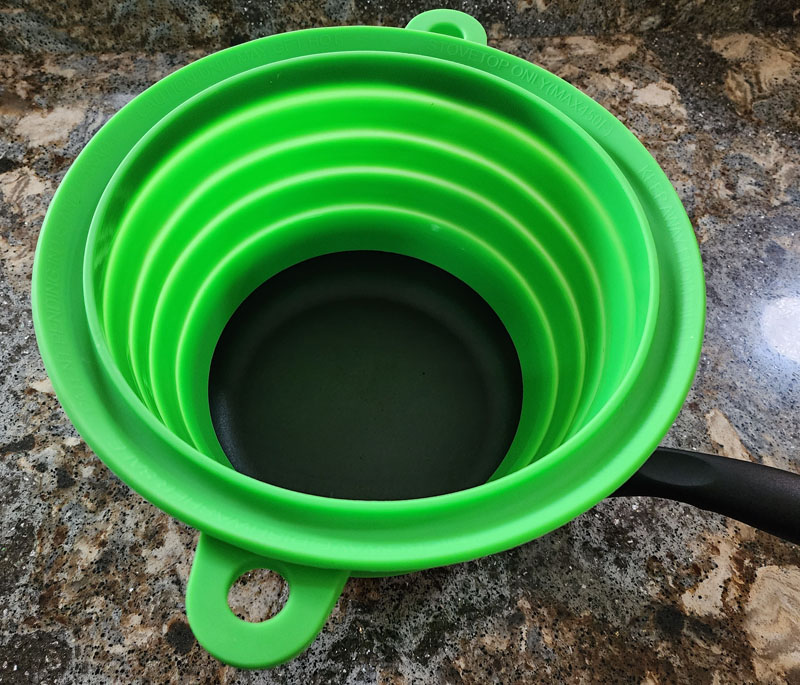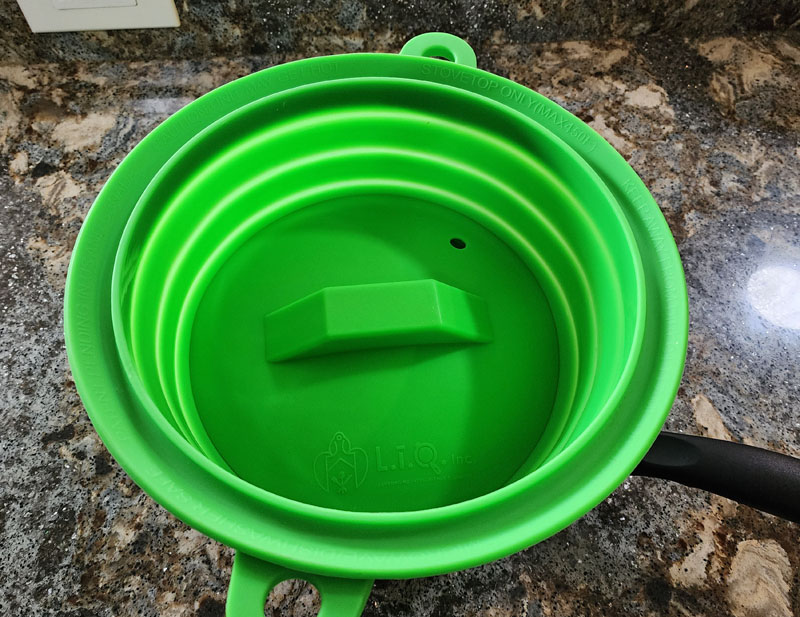 Moving to a 10″ pan, we just flip the SplatterDōm over so the larger side faces down.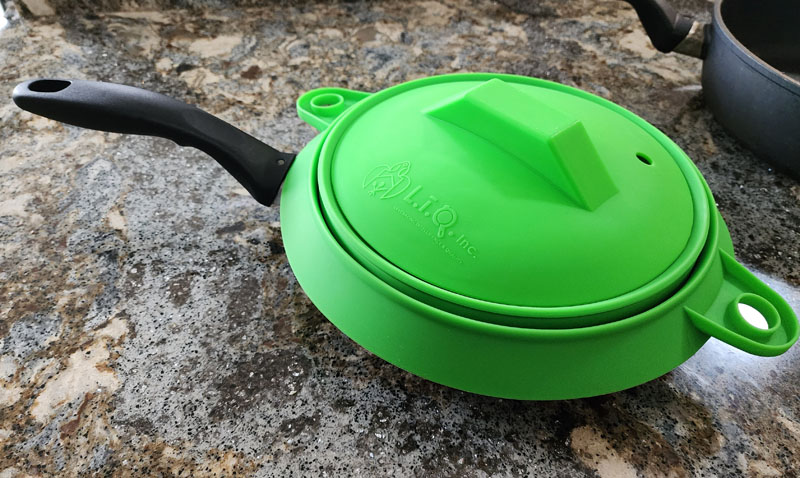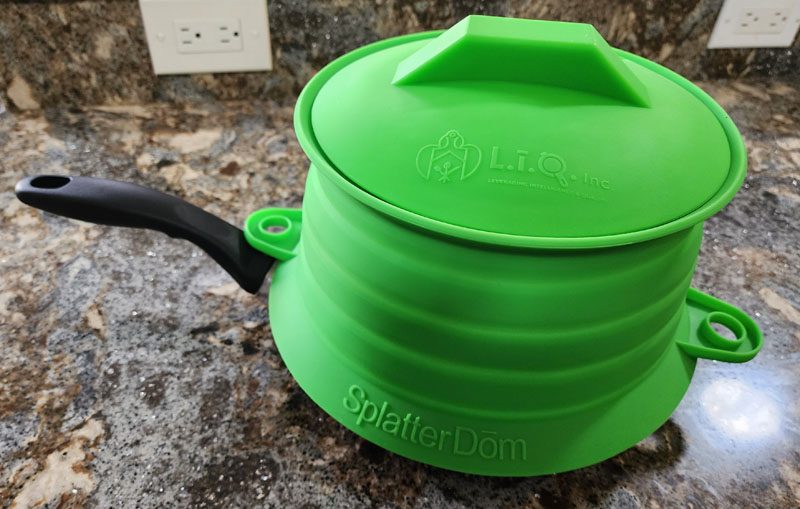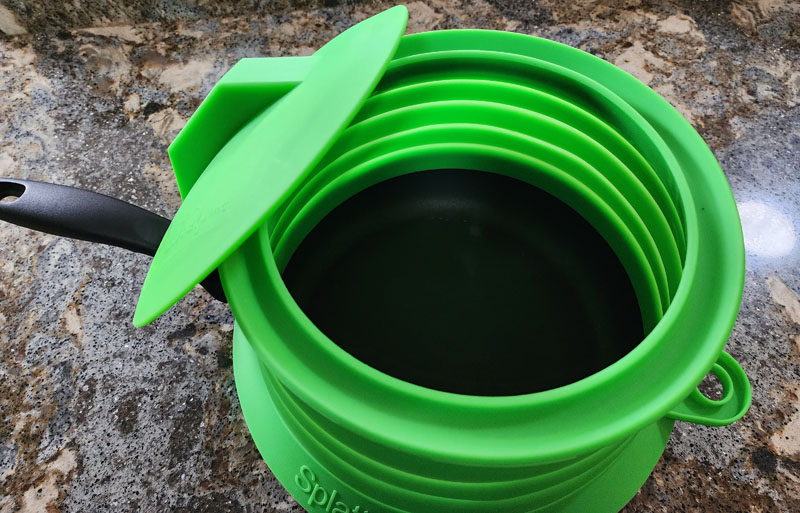 The 10/12″ SplatterDōm works equally well on a 10″ pan.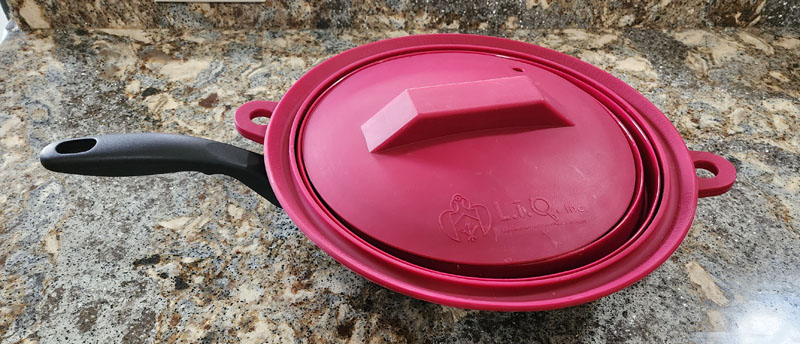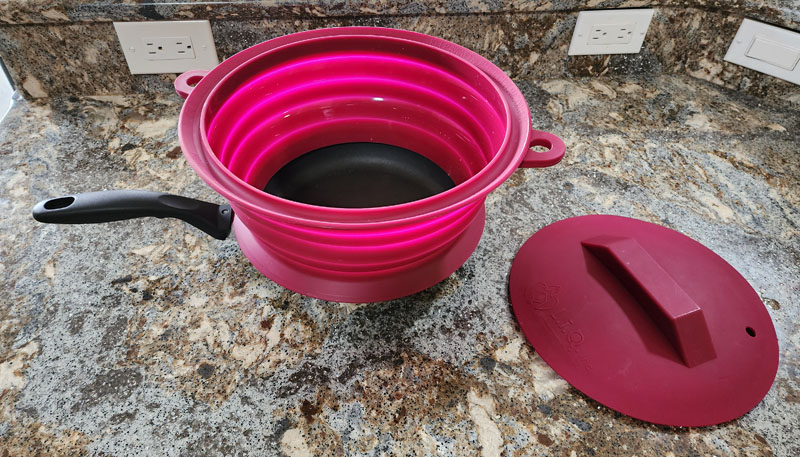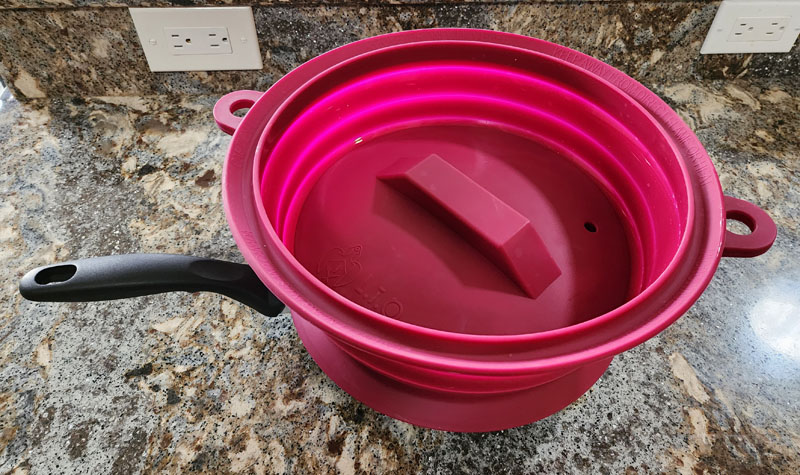 Jumping up to a 12″ pan was a minor issue as our goofy pans are more like 11.5″.  Still, it fits with a small overhang.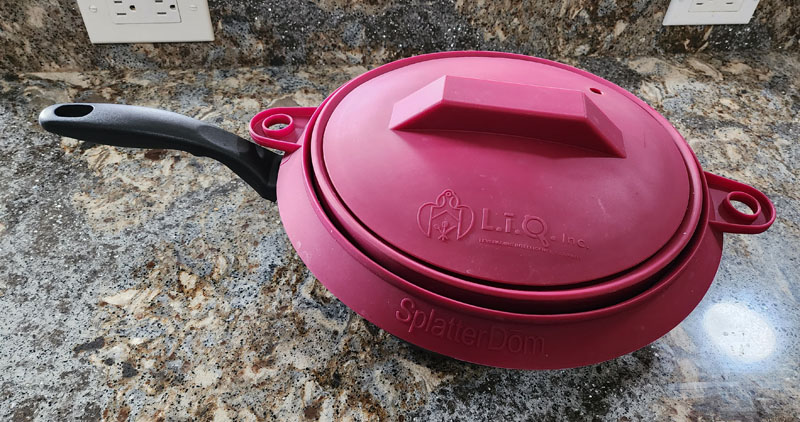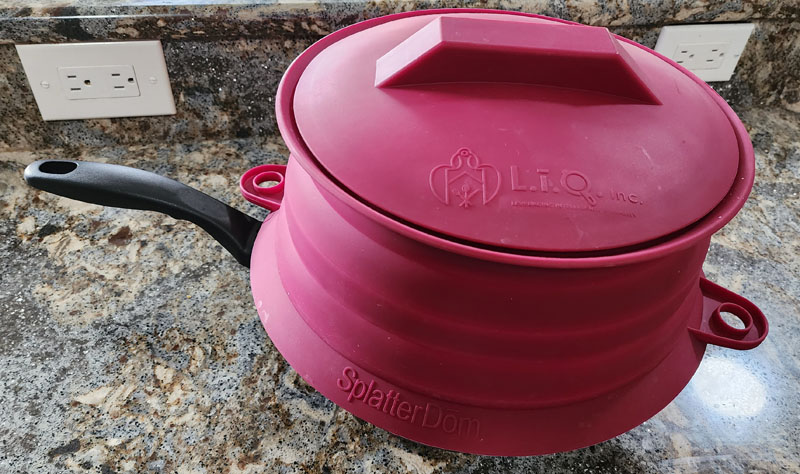 Setup
Other than giving the SplatterDōm a quick wash, it comes ready to use.
Performance
To test the SplatterDōm, I cooked notoriously messy chili. You can see that the 10/12″ SplatterDōm didn't exactly fit my weird pan, but no matter, it was still effective.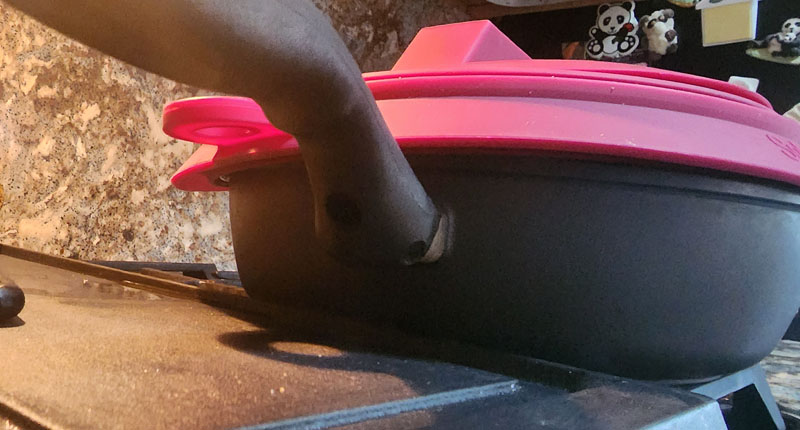 The ventilated lid did its job, letting a little steam out while keeping the bubbling splats contained.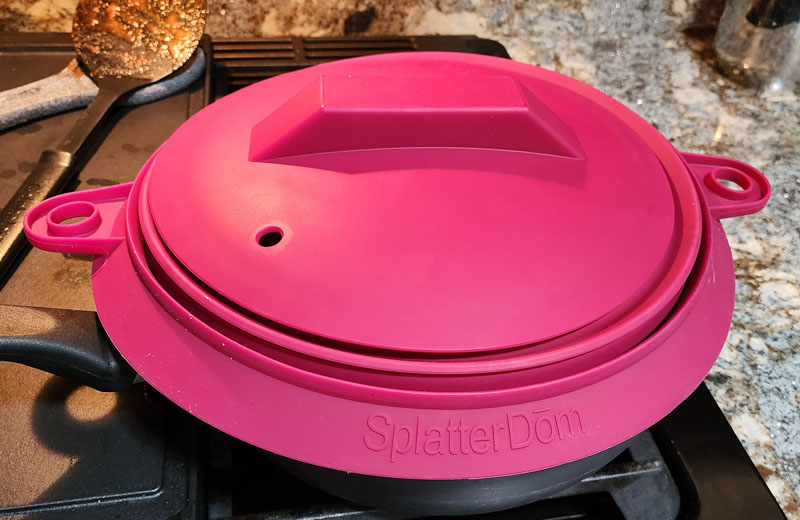 The lid added just enough height that I could remove the lid to add ingredients or stir without worry that splatters would mess up the stove.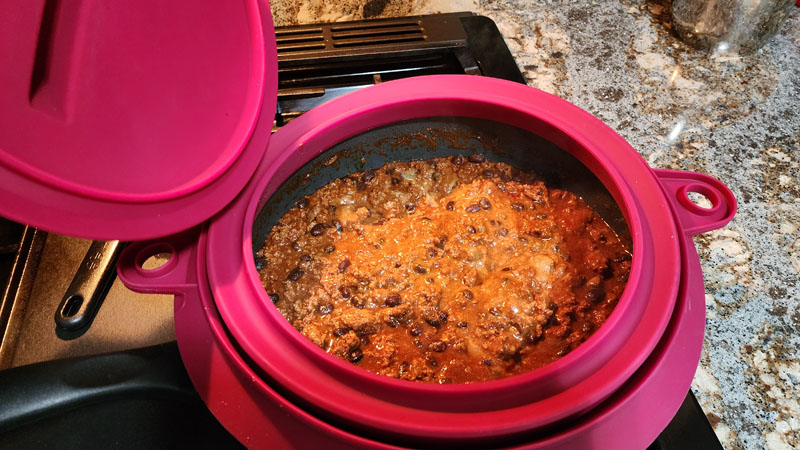 If I was cooking something that splattered more, I could just expand the SplatterDōm for higher coverage.  Easy peasy.
Cleanup was easy, both in the sink and in the dishwasher.  My only issue with using the dishwasher is that the SplatterDōms are large and take up a lot of space.  But, so do the pans, and pan lids.  Plus, I'd be cleaning the stovetop.
If you make popcorn on the stove, I can see how a SplatterDōm on top of the pan would be terrific, making more room for the kernels without having to dump them in the middle of a batch, risking rogue popping kernels flying around unchecked.
I can also see a use for SplatterDōm or even just the lid when cooking or warming things in the microwave. The small lid can cover a bowl and the ventilated lid means it won't create a seal.  No more food explosion cleanup in the microwave.
What I like
Works well
Collapses nicely for storage
Cleans up easily
What I'd change
Final thoughts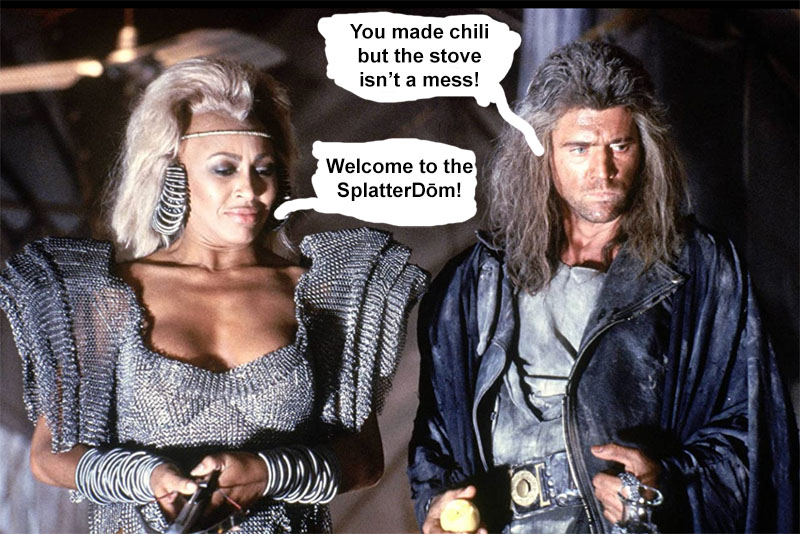 If you're a cook and regularly cook items on the stove or in the microwave, SplatterDōm is a nice tool.  Eating is good.  Cleaning up is bad. SplatterDōm can let you wield your culinary skills while keeping your food contained.  More eating and less cleaning.  What's not to like?
Price: varies – 8/10″ is available on Amazon; 8/10″ and 10/12″ is available to pledge on Kickstarter with their campaign scheduled to end Thursday, March 9, 2023, at 9:17 AM EST.  They have met their funding goal and expect to ship in April 2023.
Where to buy: Kickstarter – rewards start at about $30 and $36 for the 8/10″ and 10/12″ respectively with combo packages available as well
Source: The sample of this product was provided by LIQ, inc.