We use affiliate links. If you buy something through the links on this page, we may earn a commission at no cost to you. Learn more.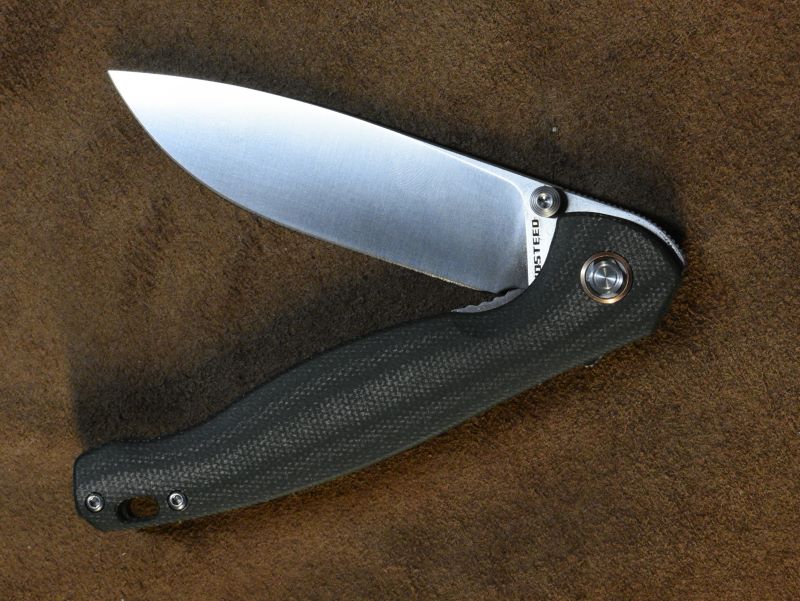 REVIEW – The Vosteed Labrador pocket knife is a new addition to the ever-growing Vosteed lineup. When I first heard about it, it sounded too big to be comfortably carried as a pocket knife. The blade is almost 4″ long and the knife is almost 9″ overall. I'm not one for pocket swords but I did want to see what the Vosteed Labrador was all about.
What is it?
The Vosteed Labrador is a pocketknife with a 154CM blade, green micarta handle scales, and a liner lock.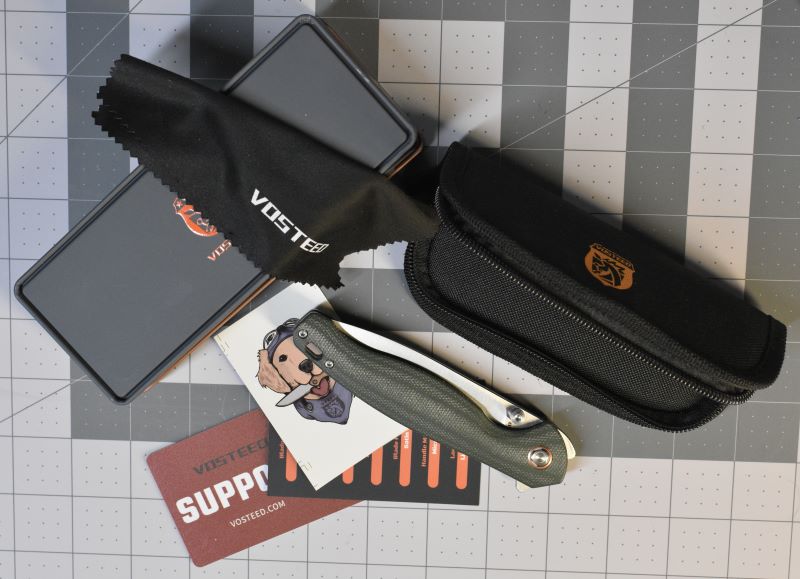 What's in the box?
Metal presentation box
Vosteed Labrador pocketknife
Details card
Support info card
Zipper case
Labrador sticker
I've seen some folks got a patch, but sadly, no patch for me
Hardware specs
Overall length – 8.73 inch | 221.73 mm
Blade Length – 3.74 inch | 95 mm
Blade Width – 1 inch |25.51 mm
Blade Thickness – 0.118 inch| 3.0 mm
Blade Material – 154CM
Grind – Flat
Finish(Black & Green) – Satin
Finish(Green) – Black coated stonewashed
Lock Type – Liner Lock
Hardness – HRC 60±2
Handle Length – 4.99 inch | 126.73 mm
Handle Width – 1.11 inch | 28.12 mm
Handle Material – Micarta (Black, Green)
Weight – 3.44 oz | 97.4 g
Carry Position – Tip-up Right Side
Pocket Clip – Deep carry, Non-reversible, Stainless
Frame/Liner – Stainless
Design and features
The Vosteed Labrador is a large knife that doesn't feel large in the hand or pocket. I do consider a knife that's almost 9″ in overall length too big for me to carry in my pocket comfortably. But, Vosteed has done a wonderful job of keeping the Labrador light and thin making it much easier to carry.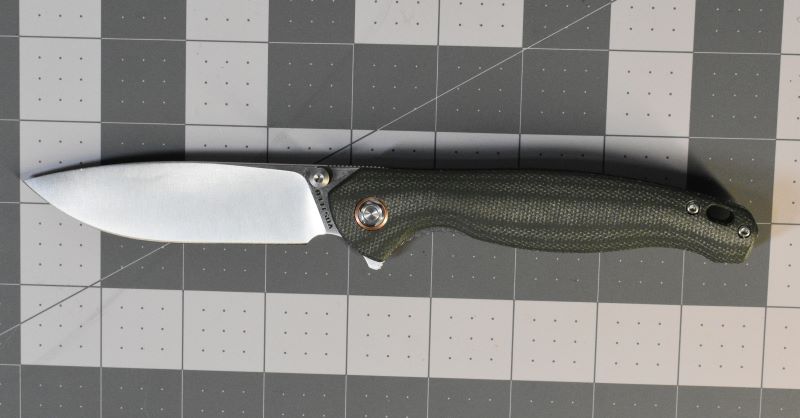 The blade of the Vosteed Labrador is made of 154CM steel.  I've become a big fan of this steel. It's rugged, holds an edge, and is easy to sharpen.  It's also much more affordable when compared to all the super steels manufacturers seem to be leaning towards these days. Look, I like knives of all shapes and sizes and there are plenty of them out there I'd love to have, but for what most cost, I'd never use them.  I'd be too afraid to damage them.  The Labrador is in that sweet spot range for me.
The handle uses what Vosteed says is responsibly sourced Micarta. It does look really nice and feels great in the hand. The slender design and inset steel liners make the Labrador so light to carry. I easily get a full four-finger grip on it and with the finger choil, I can choke up on it with no issues.
The Vosteed Labrador uses ceramic ball bearings and is buttery smooth to deploy. It also has multiple ways to deploy the blade as well with thumb stubs, top flipper, and front flipper. So it's very fidget friendly.  So much so, my wife threatened to take it and hide it from me. Oops.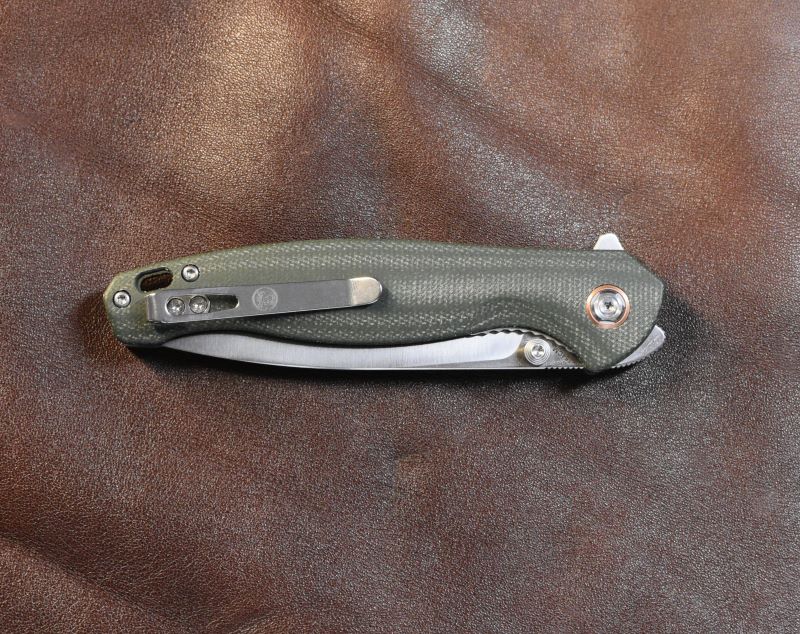 Yep. There's a pocket clip.  Nope, I don't use them, but here's the scoop on this one. It's a deep carry but it's not mounted all the way at the end of the handle, so some of the handle will peek out of your pocket.  It's also not reversible so not lefty-friendly.
Performance
I have to say the Vosteed Labrador performed very well.  It was razor-sharp out of the box. Lockup was tight with no wiggle of the blade whatsoever.  The detent is good. The blade springs forth whether you flip it with the top or front flipper or the thumb studs. I will say that it took me a little time to get front flipping down.  With the slender design and the length of the knife, it took me a while to find where and how exactly I needed to hold it to get it to open every time using the front flipper. The blade is easy to keep sharp.  A few strokes on my fine stone and it was ready to go again. It was also centered perfectly straight out of the box.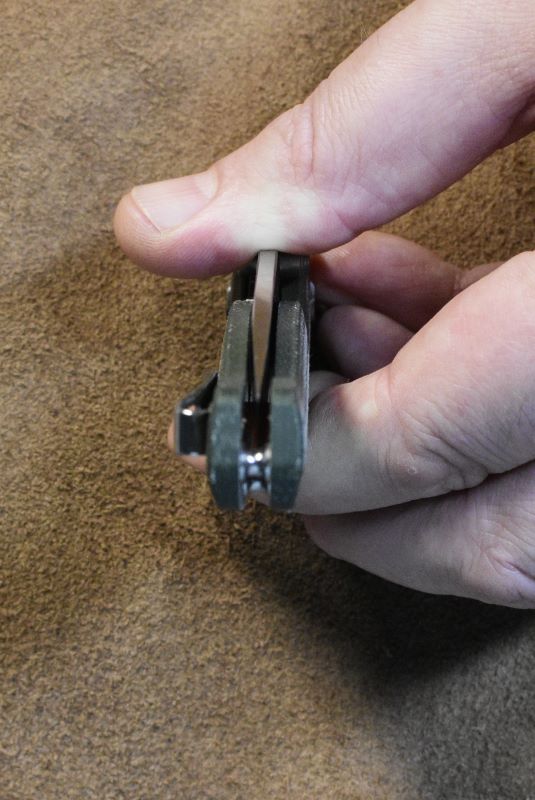 I'd like to add that since the Vosteed Labrador is larger than any of my other pocket knives, I used it in the kitchen the other night while preparing dinner. It was the perfect size for the task at hand.
What I like
154 CM steel
Ceramic bearings
Fidget friendly
Micarta handle scales
Slender and light build
What I'd change
Final thoughts
Vosteed has been knocking it out of the park lately, in my opinion, and the Vosteed Labrador knife is no exception.  I think it's perfect at this price point. If you want a great knife at a great price, get this one. If you're looking for something a little larger to carry that isn't a pocket sword, get this one. This Labrador will most definitely hunt.  Good boy.
Price: $84.00
Where to buy: Vosteed (use code: Labrador10 to save 10% directly from Vosteed) and Amazon
Source: The sample of this product was provided by Vosteed.