We use affiliate links. If you buy something through the links on this page, we may earn a commission at no cost to you. Learn more.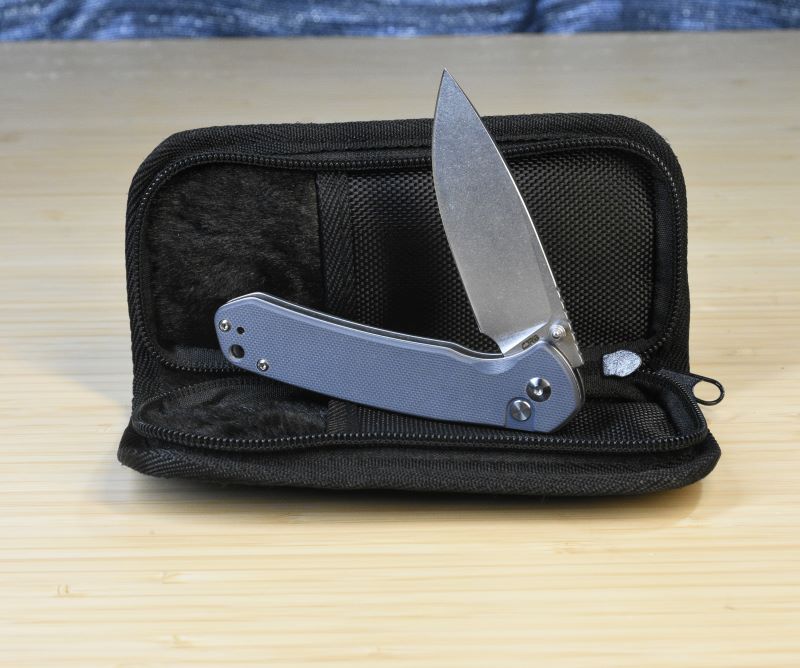 REVIEW – I watch a lot of knife reviews and unboxing videos. So, I'm always interested when a knife comes along for review.  I don't care if it's uber-expensive or budget-minded. If I can get my hands on it, I want to use it, see the build quality, and check out the materials used.  I just learned about CJRB knives a few months ago so I was definitely curious to see what the Pyrite knife was all about.
What is it?
The CJRB Pyrite knife is a button lock EDC pocket knife with G-10 handle scales and AR-RPM9 powder-form stainless steel.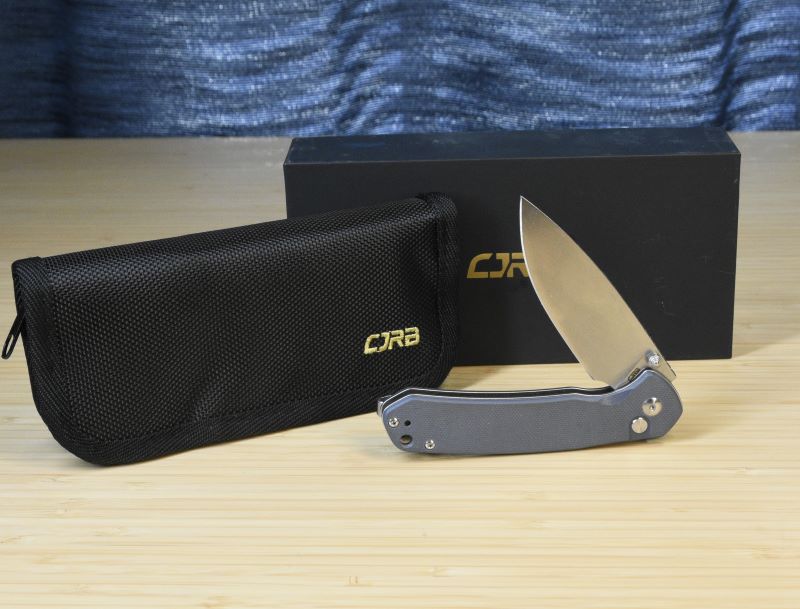 What's in the box?
CJRB Pyrite knife
Zipper case
Hardware specs
Blade Length – 3.11″ (79mm)
Blade Thickness – 0.11″(2.7mm)
Blade Hardness – HRC59-61
Blade Style – Drop Point
Blade Finish – Stone Wash
Blade Grind – Flat
Blade Material – AR-RPM9
Overall Length – 7.3″(186mm)
Closed Length – 4.2″ (107mm)
Handle Material – G10
Weight – 75g/2.65oz
Lock Type – Button Lock
Clip Material – Steel
Design and features
As I've said, I just recently heard of CJRB knives so I was pleasantly surprised to find out they are actually a line of budget-focused knives by Artisan Cutlery.  I have heard of them and like a lot of their designs. The first thing I wanted to know about the Pyrite is the AR-RPM9 powdered stainless steel. From what I've read, it's very similar to D2 steel in its hardness, edge retention, and ease of sharpening but is stainless. So, +1 for cool factor and practicality.  They've used that cool steel to make a very simple, clean drop-point blade with a nice satin finish. Call me boring but that's my favorite combo.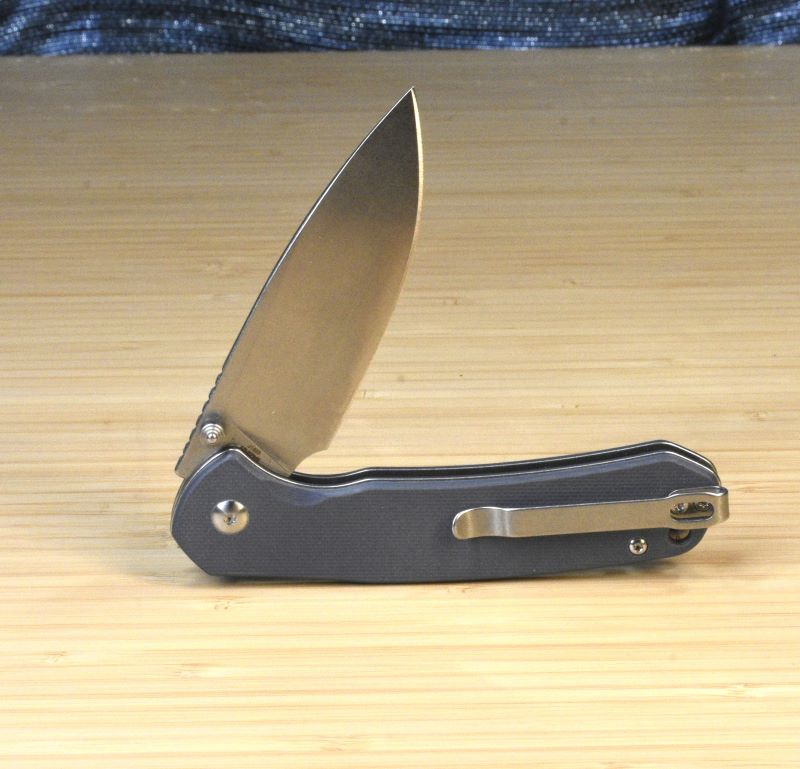 The CJRB Pyrite is the second button lock pocket knife I've gotten to review and I really like this locking mechanism. Its ease of use to deploy and close the knife is great. You can open the Pyrite with a push of the button and a flick of the wrist and it will most definitely fall shut.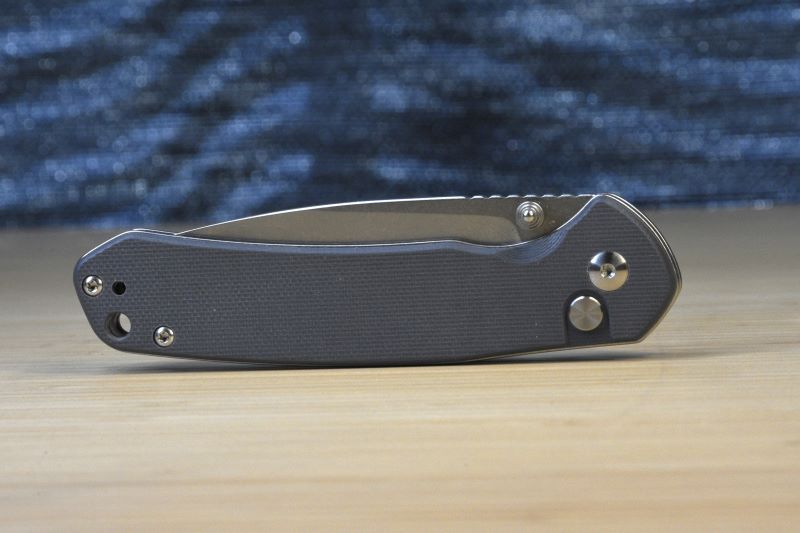 You've also got thumb studs on both sides of the blade to make the Pyrite very fidget friendly. I can easily thumb or reverse flick it right and left-handed. So, yeah, it's fun to play with.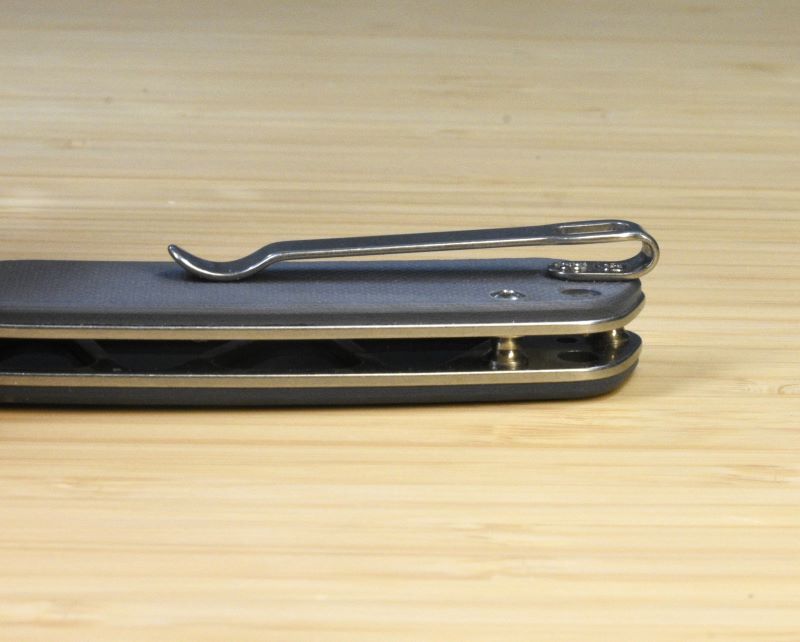 The CJRB Pyrite knife comes with a deep carry pocket clip if that helps.  I don't use pocket clips for the most part. But, hey, it's reversible, making it lefty-friendly. With that said, you lefties will have to use your index finger instead of your thumb to use the button lock.
The G-10 handle scales are light and have just the right amount of texture to them. The steel liners themselves are skeletonized to keep the Pyrite as light as possible while still feeling solid in the hand.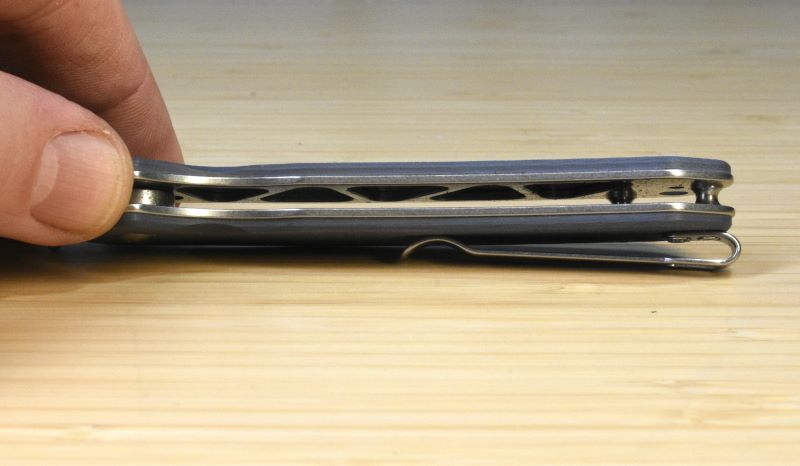 Performance
The CJRB Pyrite pocket knife rides light in the pocket and feels good in the hand. I don't feel any hotspots when using it. It's large enough for a four-finger grip but slim enough not to feel like a pocket sword. There's just enough jimping located in just the right spot on the blade for me. The corners of the jimping have been eased so you don't rub your fingers raw but still get a good purchase. The only thing I don't like about the Pyrite is the bearing used.  This could just be the one I received but the bearing is crunchy or bumpy. It works fine. The blade deploys smoothly.  It just doesn't feel great.  I really think it's just mine.  I've read and seen reviews of other CJRB knives and no one has had this issue.  The blade shape and grind allow for easy cutting and it's easy to sharpen when needed.  I've only needed to give a few swipes across my fine stone to get back to razor-sharp. Lock up is rock steady and the blade was perfectly centered out of the box.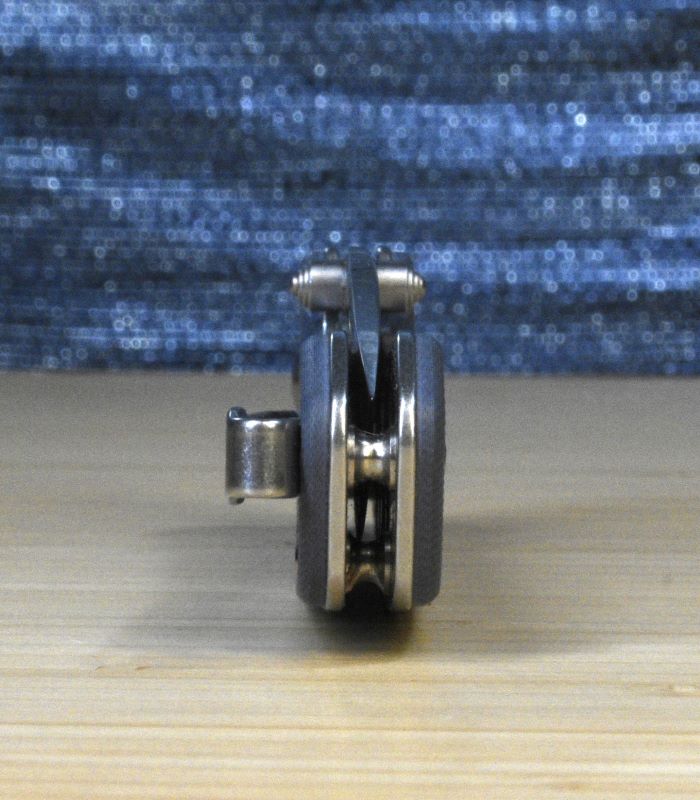 What I like
Blade shape and grind
Nice fit and finish
Button lock
What I'd change
Final thoughts
The CJRB Pyrite knife is the perfect example of a great EDC blade at a great price. It doesn't look like a gas station knife. It looks like a tool that's ready to work, even if it is only to open boxes. There are several different options available for the Pyrite if the grey G-10 and satin finish blade don't do it for you. Go check them out!
Price: $50.39
Where to buy: Amazon
Source: The sample of this product was provided by Artisan Cutlery.