We use affiliate links. If you buy something through the links on this page, we may earn a commission at no cost to you. Learn more.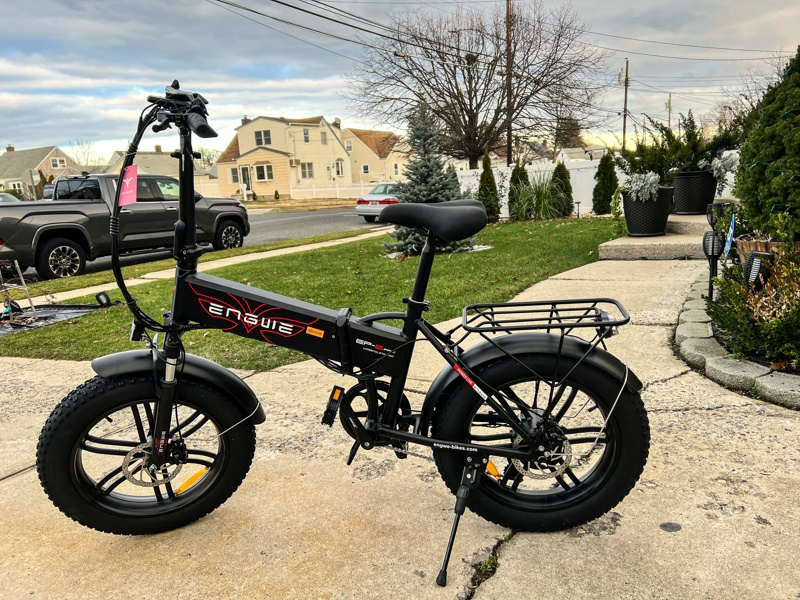 REVIEW – Here I go again getting all excited and energetic about my newfound or maybe reenergized passion for bike riding and what I plan to do as a part of my weekly exercise once the New York weather breaks into a warm Springtime. If you have read my previous e-bike review, you already know that I have been putting a lot of effort into new and sustainable health initiatives as I plan my journey toward retirement. I recently tested and reviewed 2 e-bikes with fat tires and I can't wait to get them out riding through the numerous trails in the 400 Nature Preserve near my home. I love variety and having options. So, let's see how good of an option this ENGWE EP-2 Pro Foldable E-Bike will be.
What is it?
The ENGWE EP-2 Pro Foldable E-Bike is a 7-speed electric bike that features a 48V 13AH battery, 4″ fat tires, a centered LCD display, 960W peak power, a range of 50+ miles, and a maximum speed of 28mph.
What's in the box?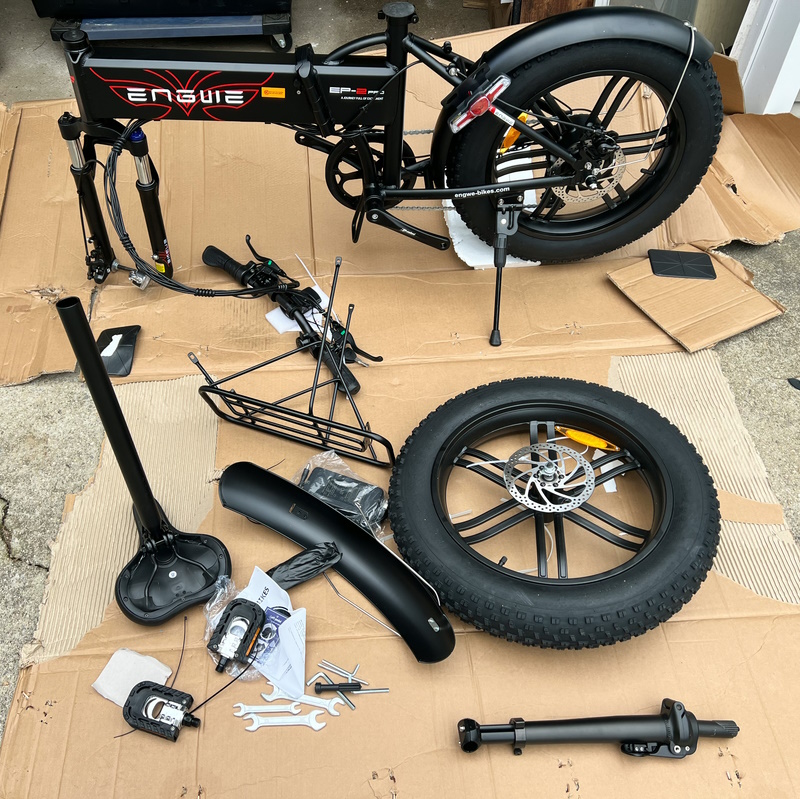 1 x ENGWE EP-2 Pro Foldable E-Bike
1 x 13 Ah Battery
1 x Battery Charger
1 x Assembly Tools
2 x Pedals
1 x Handle Bars Shipped Installed On Bike
1 x English User Manual
1 x English Display Manual
Hardware specs
HUB MOTOR: 960W PEAK brushless gear motor
BATTERY: 48V13ah Lithium Battery
RANGE: 50+ Miles – *The actual distance may vary depending on various conditions
MAX SPEED: 28MPH (45KMH) – *The actual speed may vary depending on various conditions
FRAME: 20″Aluminum Alloy Folding Frame
TIRES: 20″*4.0 CHAOYANG FAT TIRES
BRAKE DISC: ¢160MM Mechanical Disc Brake
DISPLAY: 48V Centered LCD Display
BIKE WEIGHT: 74 lbs
PEDAL ASSIST: Intelligent 0~5 Level Pedal Assist
FRONT SUSPENSION: Aluminum Iron Leg Shock Absorbing Fork
FREE WHEEL: 7pc Free Wheel, 14-28T
PEDALS: Black/Silver, Half Aluminum Folding Pedals
SENSOR: 36-48V12Magnetic Steel Sensor
CONTROLLER: 20″-48V*500W Brushless Controller
BACK STORAGE RACK: 20″ Square Iron Rack
FENDERS: 20″ Iron All Terrain Fender
CHARGER: 48V 2A Charger
BELL: Black Iron Bell
SEAT: PVC Leather
Design and features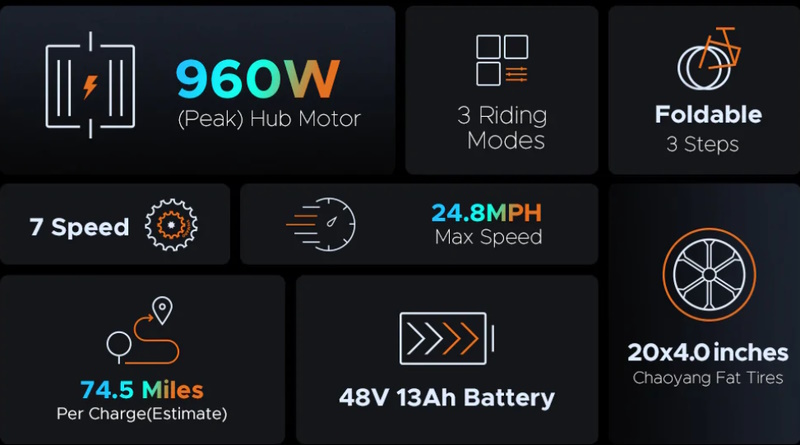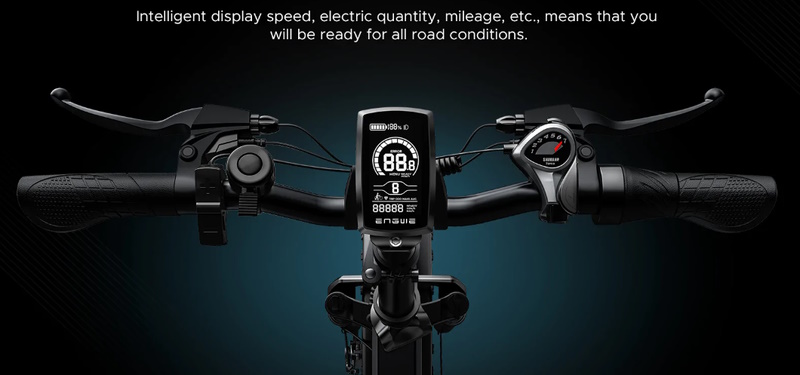 Powerful Motor & Battery: With 48V 750W brushless gear motor and 48V / 12.8A lithium removable battery, maximum endurance 100-120KM.
Perfect Brakes & Speed: The folding electric bicycle with front and rear disc brakes and a 7-speed transmission system.
Customer Service: ENGWE EP-2 PRO electric bike assembled.
Convenient for any road: 20-inch wheel suited to both urban and trail environments in good road condition.
The ENGWE EP-2 Pro Foldable E-Bike is an upright e-bike featuring fat 4″ tires, a rechargeable battery, and a cargo carrier on the back. It comes with keys to not only lock the battery but to also engage the electric function. It is mostly metal and somewhat heavy for a bike that is truly portable. See the photos below!!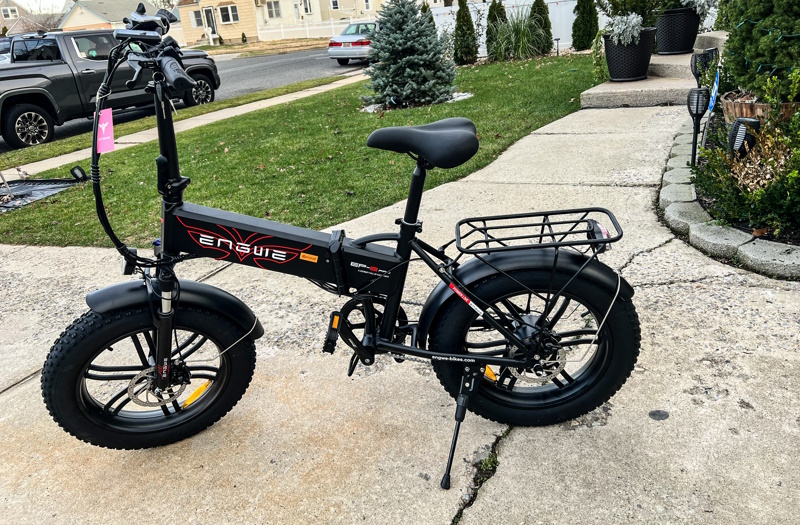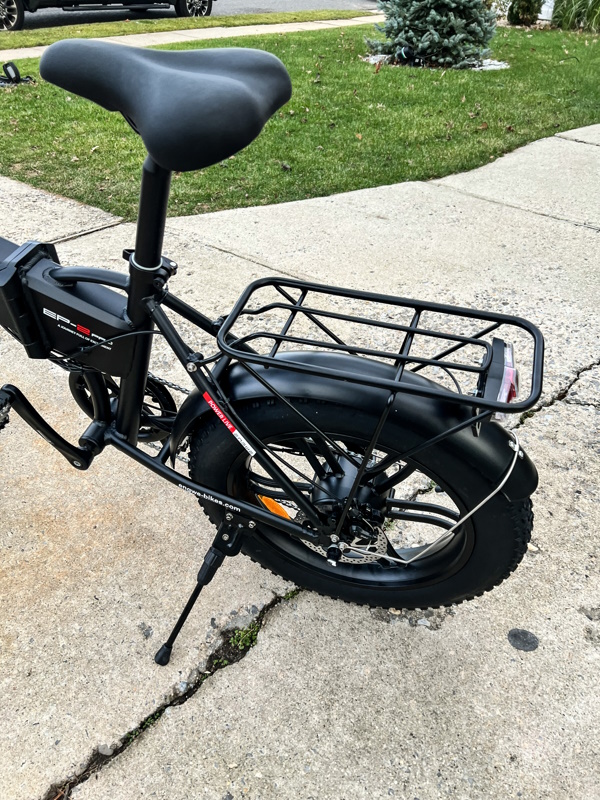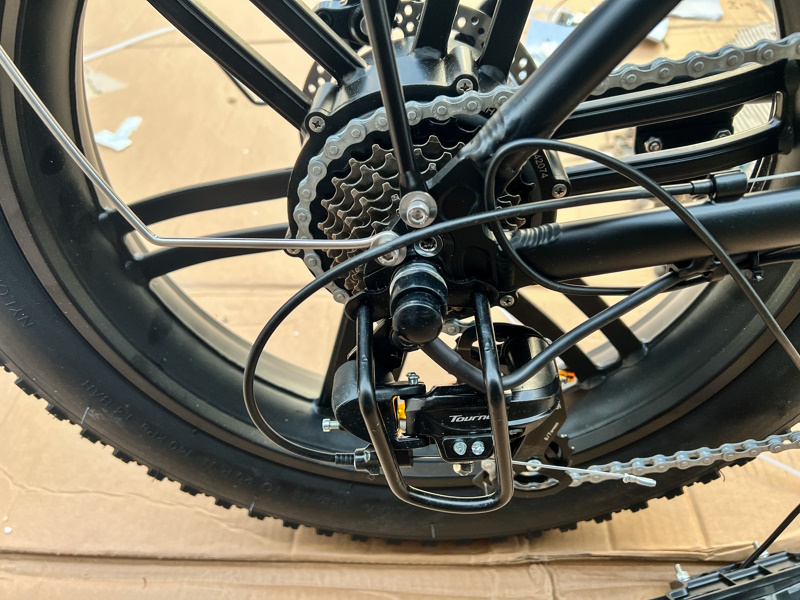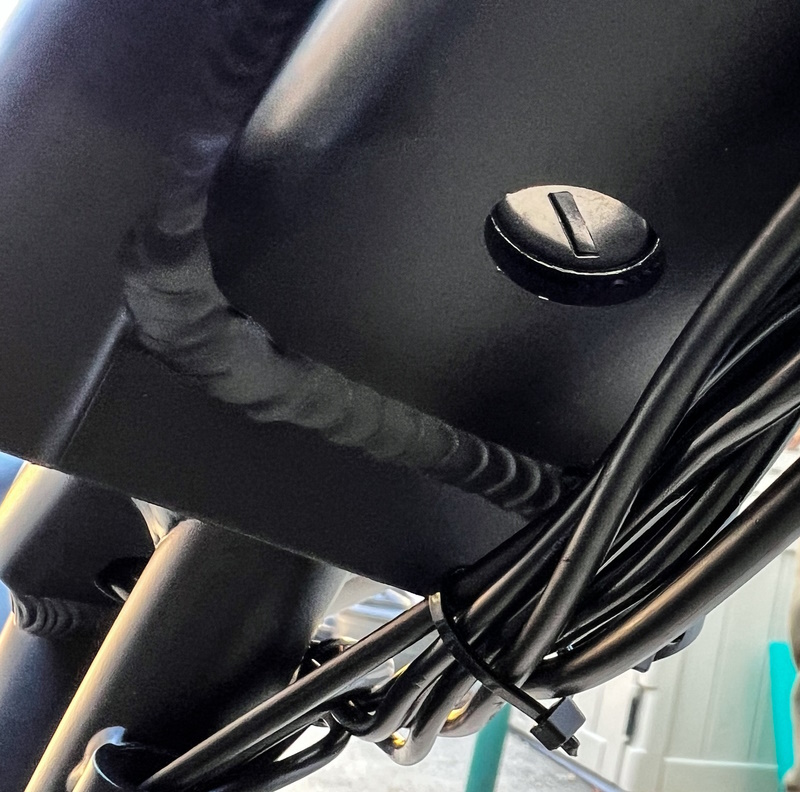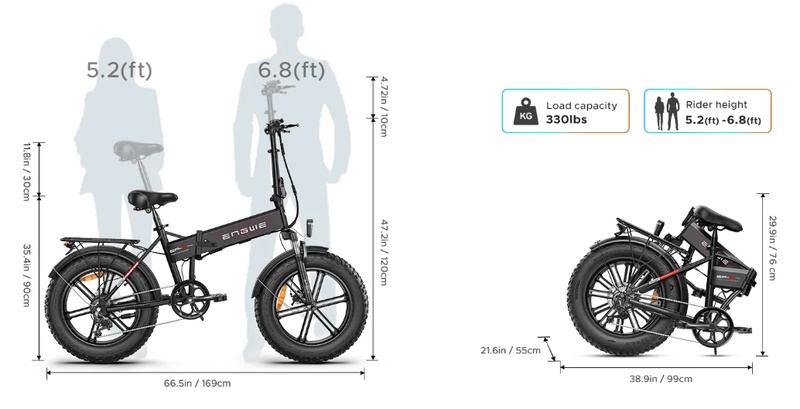 Assembly
The ENGWE EP-2 Pro Foldable E-Bike arrives partially assembled in a big box. The bike weighs 74 pounds, so it is quite a heavy package. The following photos provide some snapshots of my assembly process: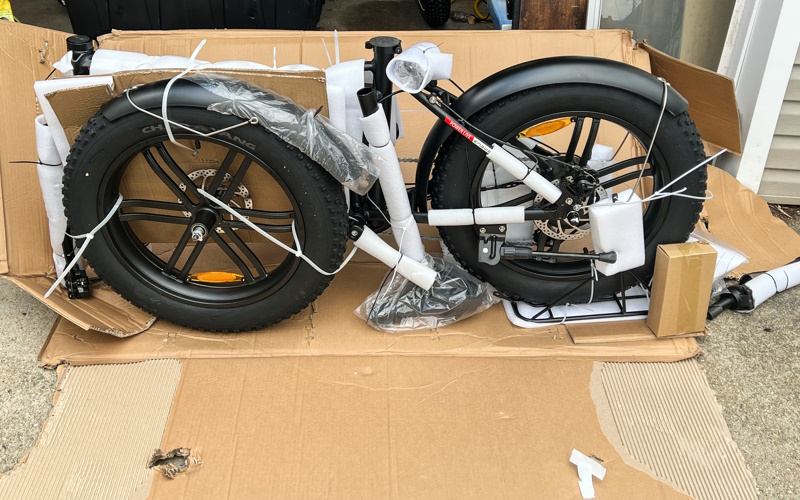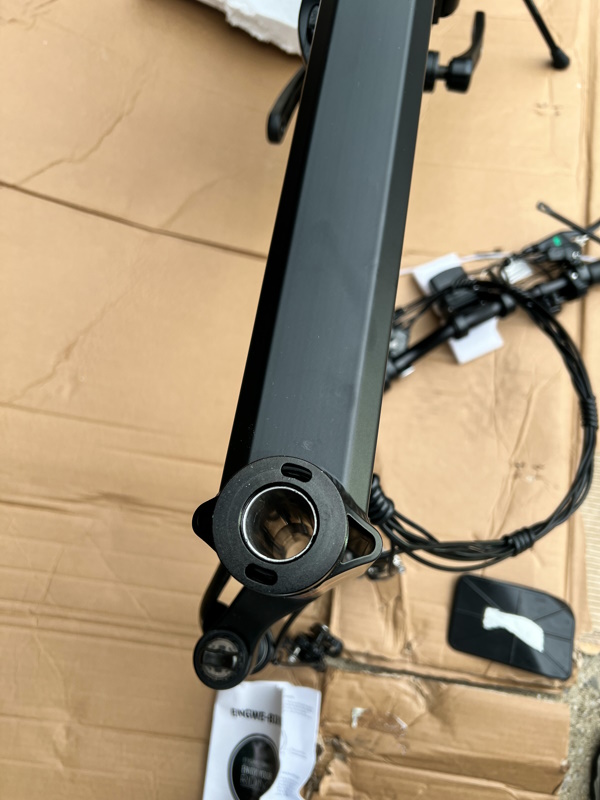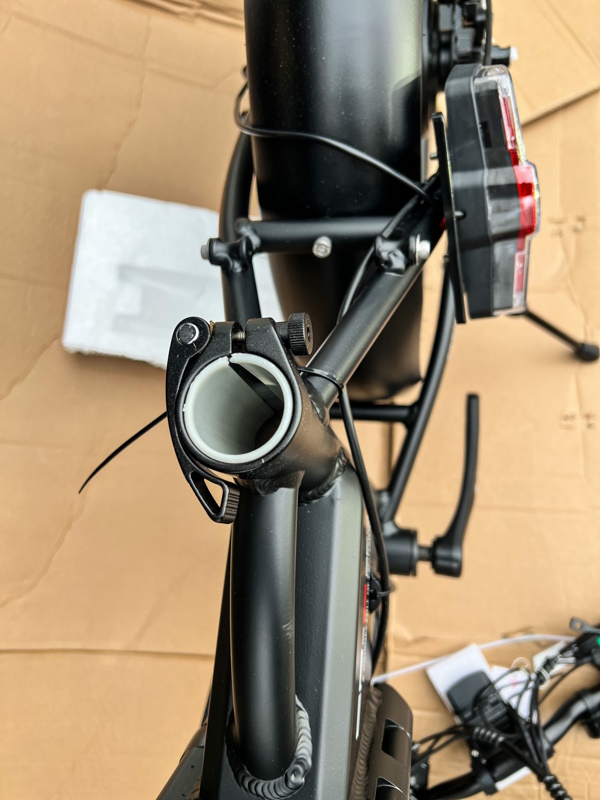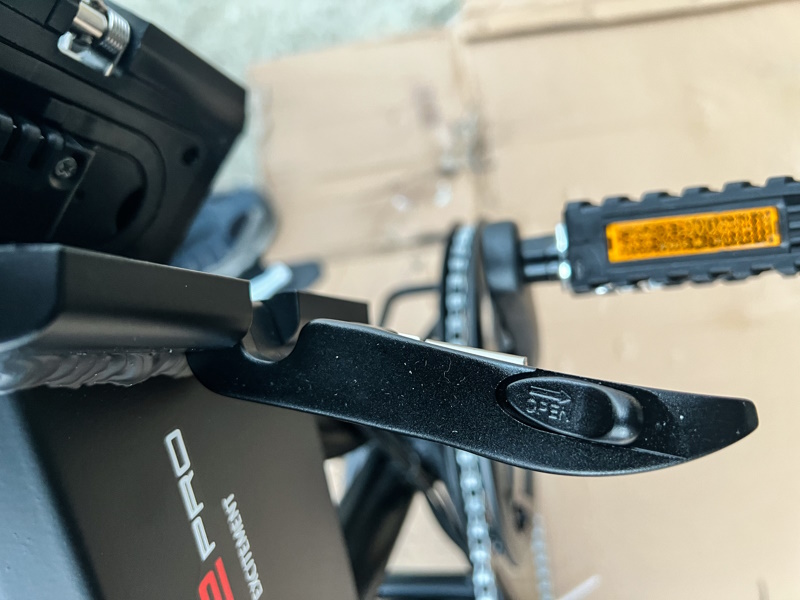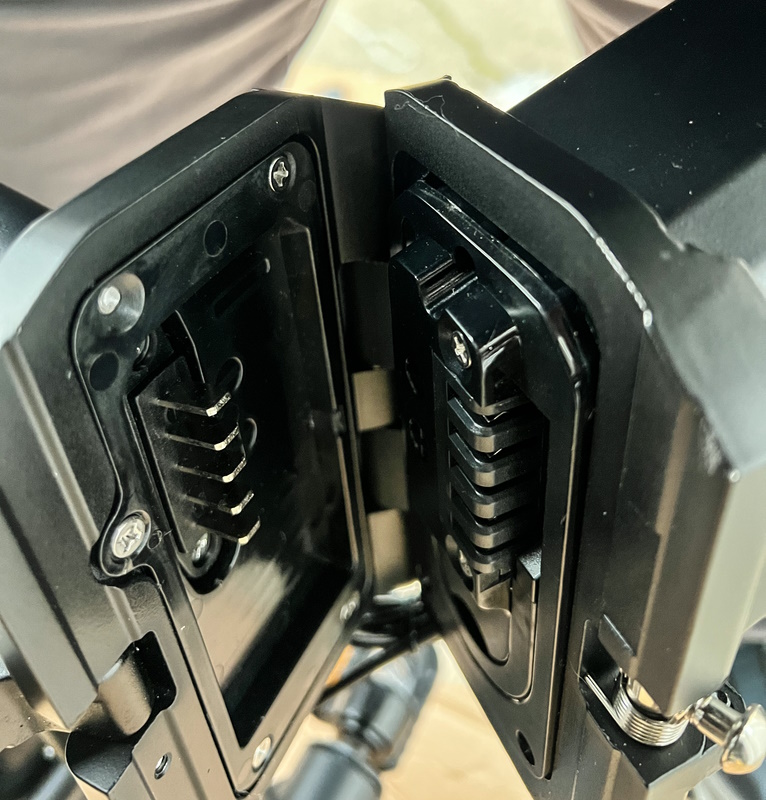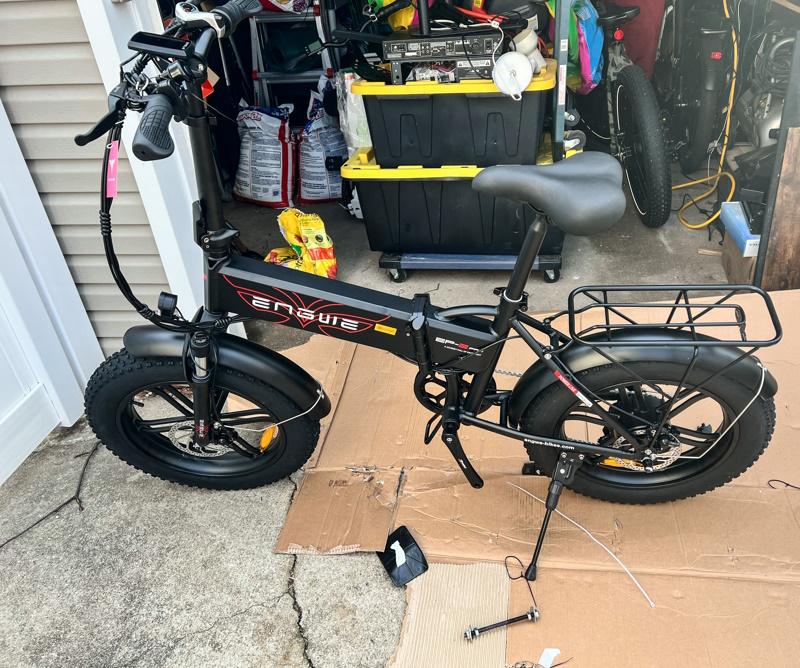 Here is what the ENGWE EP-2 Pro Foldable E-Bike looks like folded: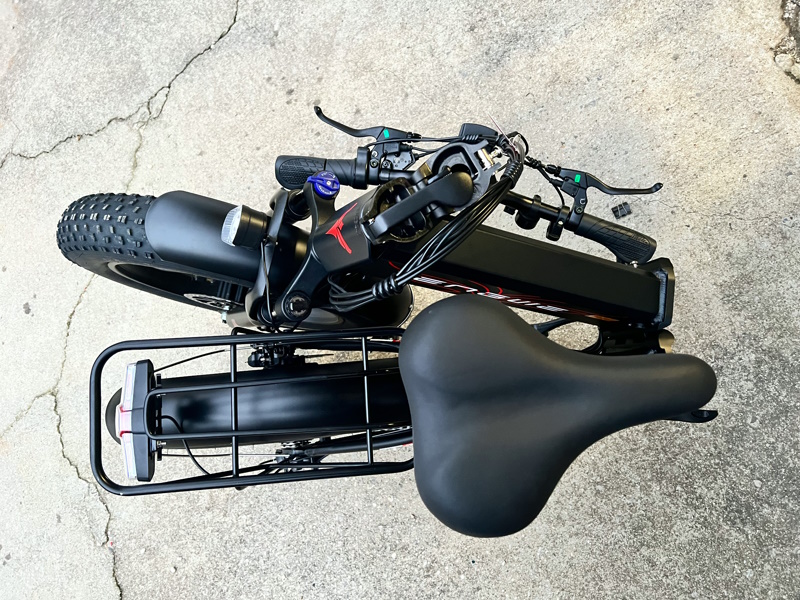 Performance
On the side of the main part of the frame where the battery is installed, there is the charging port. There is also the option of folding the bike to gain access to the battery and removing it to charge it outside of the bike. I had much difficulty removing the battery so I decided to charge it in the bike since there is no negative doing so. For the first charge, I left it to charge overnight.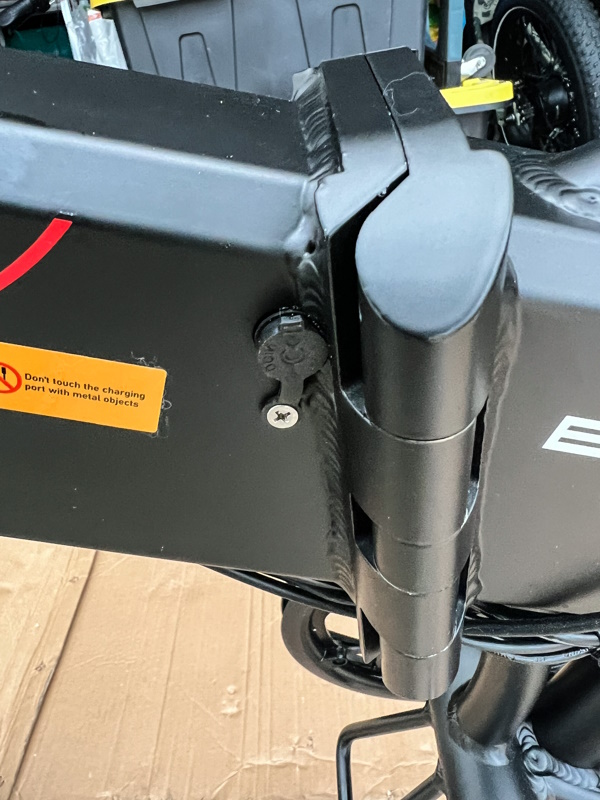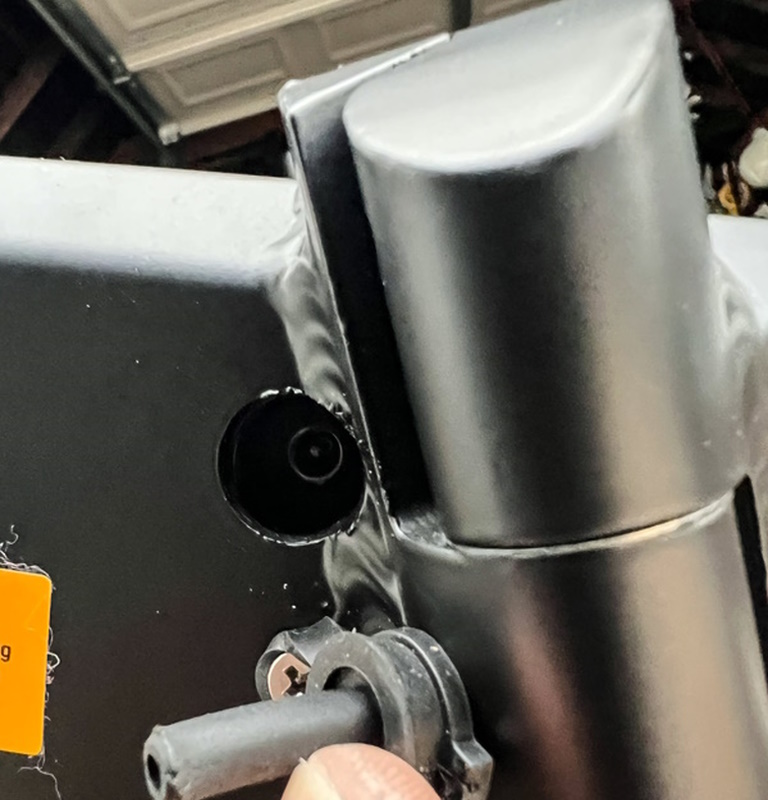 Once the bike was charged, I powered it on the make sure and then I was ready to take it for a ride. It is important to note that on this e-bike, the key must be inserted in the lock for the e-functions to work. I have seen this on one other bike I tested. The rest of the e-bikes that I tested did not require the key to remain inserted to use the e-functions. The keyhole/lock on this bike is underneath the mainframe and this gave me immediate cause for concern. My initial thought is that when riding on the trails, the key is in a very vulnerable position and could easily be damaged and broken off in the lock.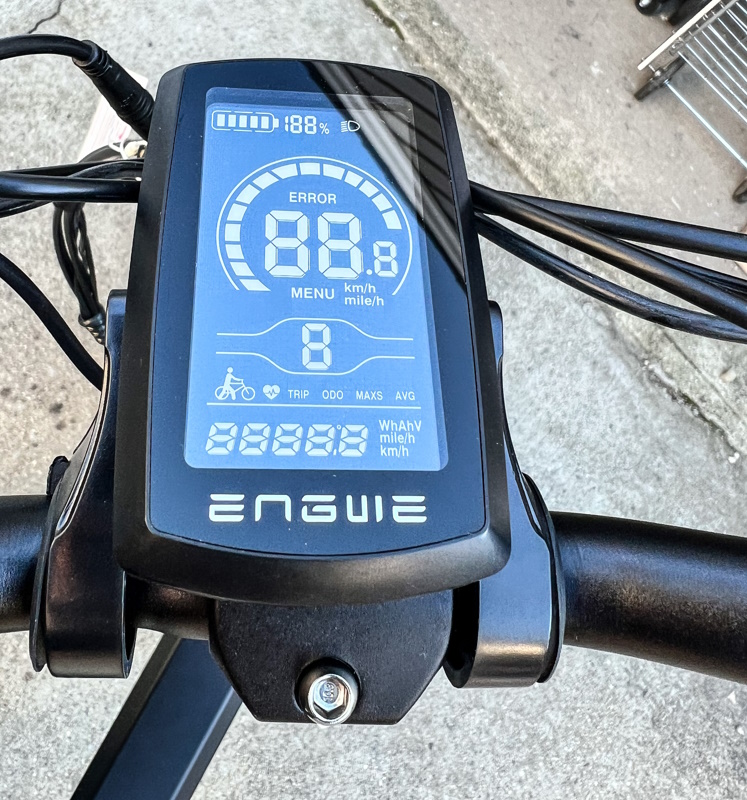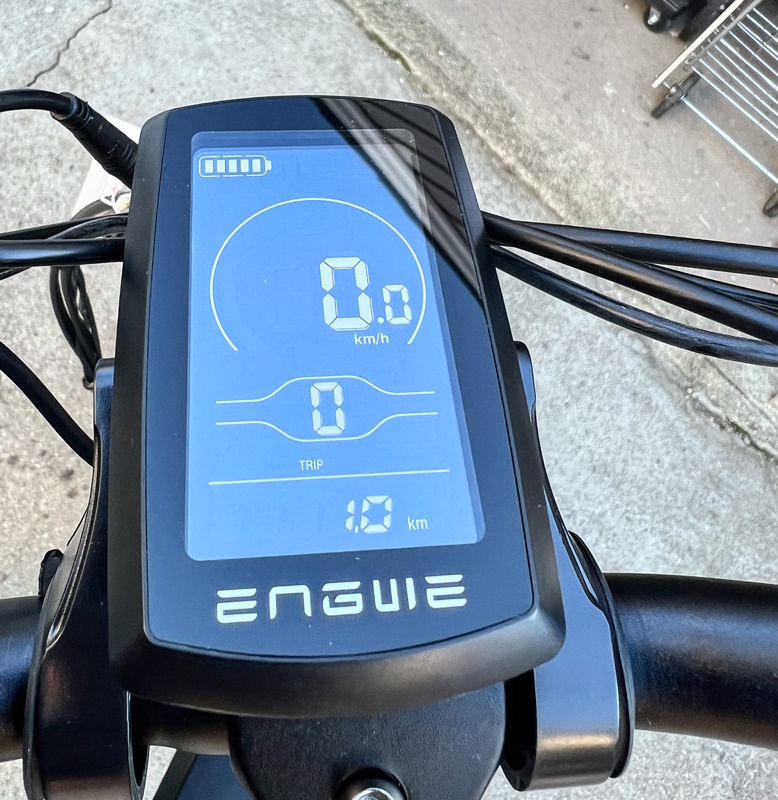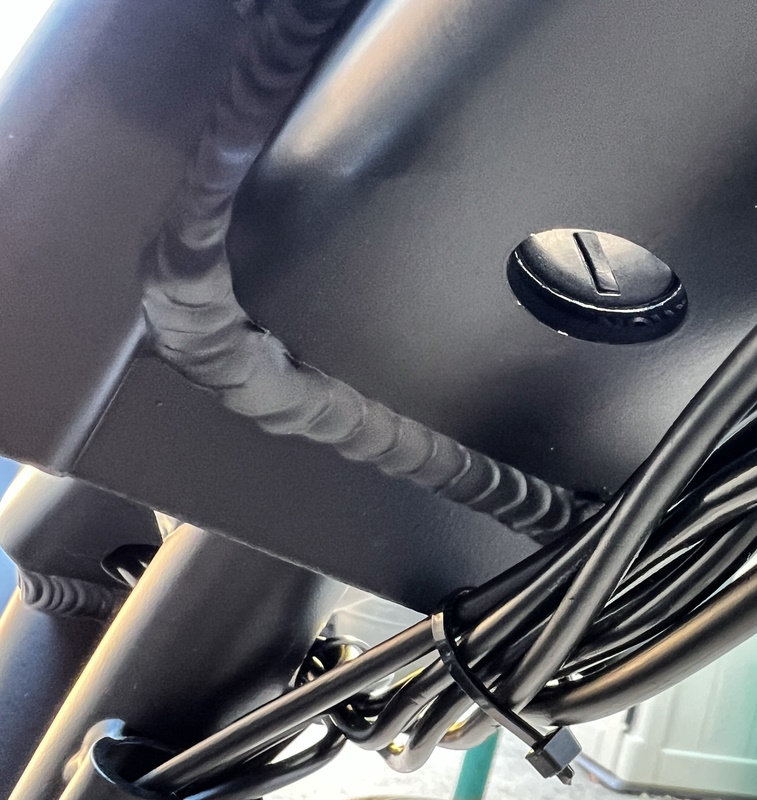 Nevertheless, I inserted the key and then enlisted the help of some friends to shoot some video of the bike in action. It is really cold in NY at the moment, so footage from the trails in the Nature Preserve will have to wait until it warms up in the Spring.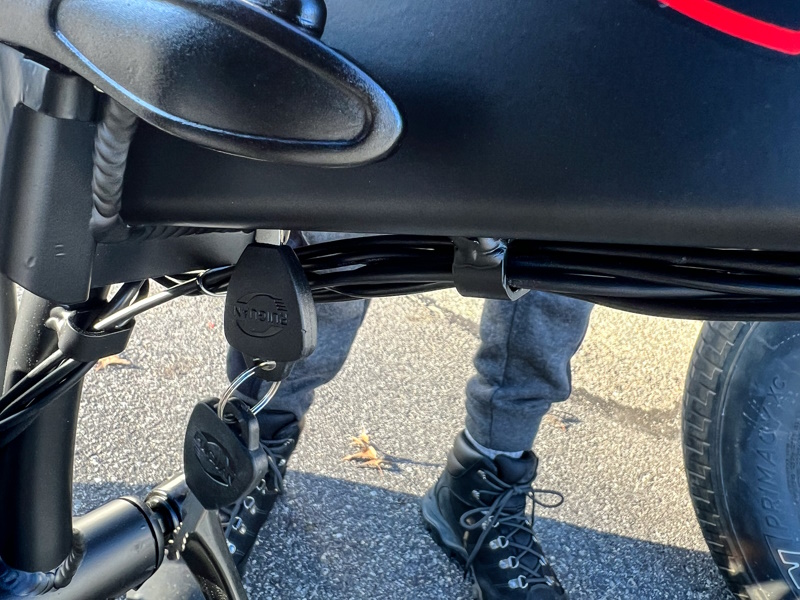 What I like
The very robust build quality
That it is foldable albeit not completely portable because of the weight
The seating position is very comfortable
The speed and acceleration are good
The fat tires are great
What I'd change
It is a bit heavy and so not portable for every scenario
The key that has to be inserted while riding is at the bottom of the bike frame and while riding trails could be damaged
The battery is not easy to remove
I do not like the upright seating position for off-road/trail riding
Final thoughts
The ENGWE Foldable E-Bike is probably the most comfortable e-bike I have tested. The seat and the posture it provides make it easy to ride for a long time with no fatigue. The bike is well-built and every function works well except for the flimsy bell. Since you do not need to remove the battery to charge it, I will not put much emphasis on that, but I really do not like that the key has to be inserted from underneath the frame and remain in the lock to be able to ride with the e-functions. I have tested 3 other e-bikes that use the key to lock in the battery but do not require it to be inserted to ride the bike. Obviously needing the key can be counted as a plus for security, but the positioning of the lock/keyhole on his bike is a negative for me. Other than those personal peeves, this is a really nice bike. I am not sure that I want to ride upright on trails, but time will tell.
Price: $1049.99
Where to buy: Engwe webssite and Amazon
Source: The sample of this product was provided by Engwe.