We use affiliate links. If you buy something through the links on this page, we may earn a commission at no cost to you. Learn more.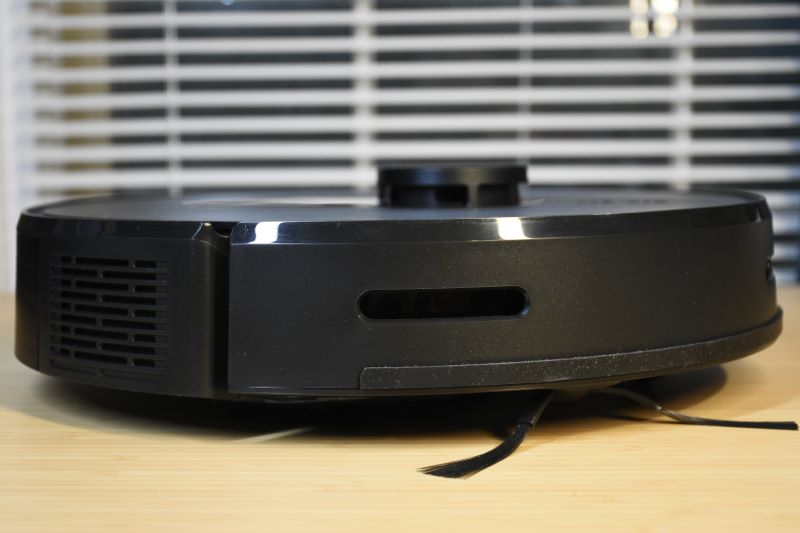 REVIEW – My wife got us a robot vacuum cleaner a couple of years ago. It was our first, so we didn't want to spend a ton of money on it. It was fine.  It did its job ok. I mean, it did help put a huge dent into cleaning up the fur and dirt brought in by our dogs and cats. Anything that helps keep some sort of handle on that mess is worth it. But sadly, Rosey, named after the robot maid on the Jetsons, just couldn't keep up. Her dustbin always filled up too quickly and unless you remembered to empty it after she was done cleaning, she would go through the motions but not clean anything. She wasn't very smart either.  She was of the bump-and-go variety. She'd roam around bump into something then move a bit and go again. She would remember how to get home most of the time, but if she got stuck or had a problem, you'd have to pick her up and move her.  Most of the time that was enough for her to forget how her way back to the charger.  Long story, longer. She was ready for retirement after only about 2 years.  Botslab to the rescue! The Botslab S8 Plus robot vacuum cleaner became available to review and my wife threatened to pummel me if I didn't get it.  Lucky for me I got the chance and now we have Rosey 2.0.
What is it?
The Botslab S8 Plus is a robot vacuum cleaner using LiDAR technology to map out your home, vacuum, mop, and then empty itself after the job is done.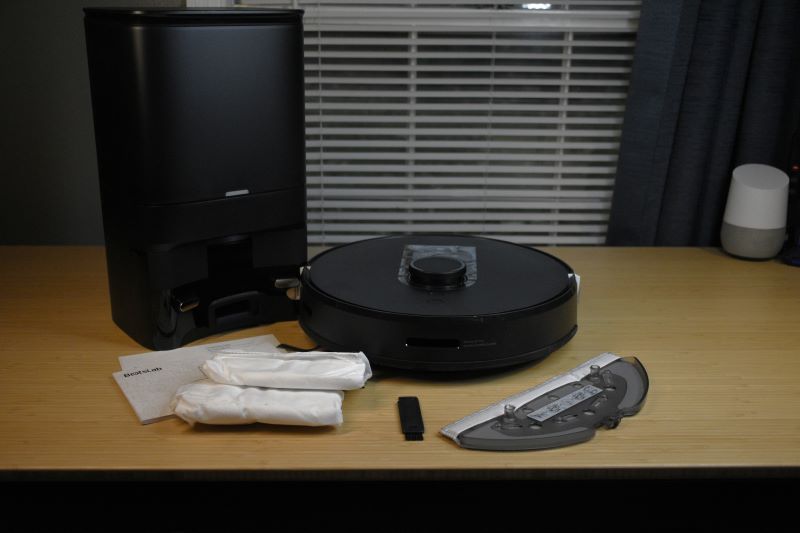 What's in the box?
Botslab S8 Plus robot vacuum
Dirt disposal and charging base
3 vacuum bags (1 pre-installed in the base)
Cleaning tool
Manual
Hardware specs
Dimensions: 340 x 340 x 95 mm / 13.4 x 13.4 x 3.7 in
Battery capacity: 5000 mAh
Brushless motor
Anti-collision: LiDAR + ultrasound + bumper + wall sensor
Suction power (Pa): 600 | 1000 | 1500 | 2700
300mL water tank
Noise levels (dB): 59 | 61 | 63 | 65
Processor: RK3308 4 core
Design and features
The Botslab S8 Plus robot vacuum cleaner looks like so many other vacuums out there so she's not much in the looks department, but she's got attitude.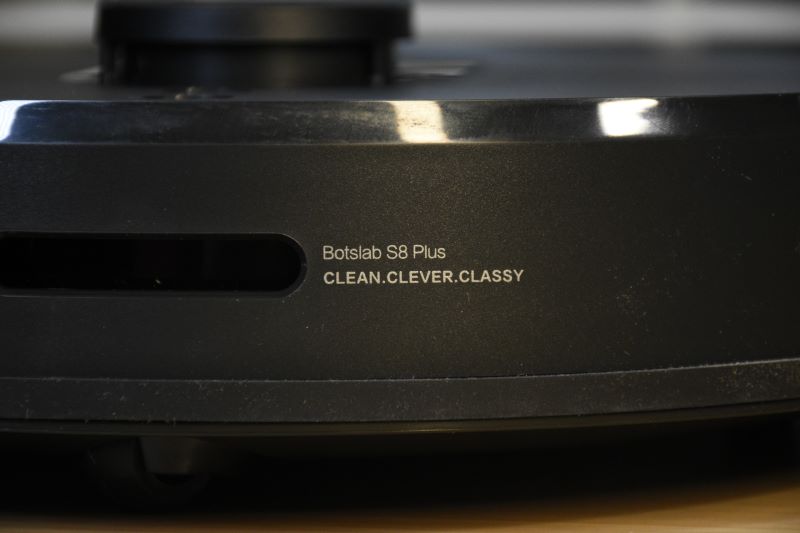 I know they went for alliteration there, but they should've gone with sassy rather than classy. The Botslab S8 Plus will talk as it does its work telling you she's starting up, going home to recharge, if she's stuck, and once you've freed her and started her back to cleaning, she'll say, "Cleaning makes me happy!"  I keep saying she mainly because the voice is most definitely feminine and quirky.  A little too quirky for my wife and me at times.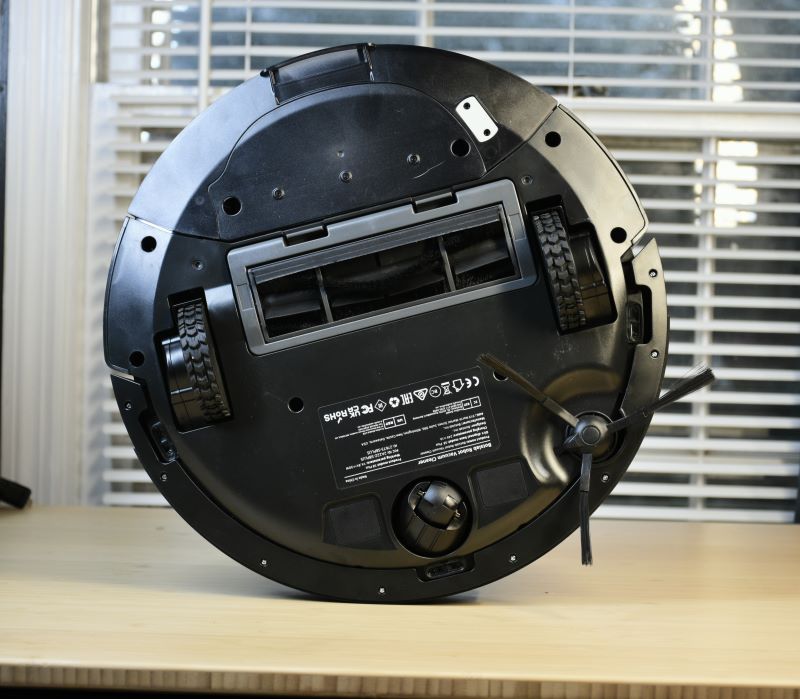 The Botslab S8 Plus tools of the trade from the bottom side are very similar to my previous vacuum. It's got two beefy, treaded wheels and one roller-style wheel in the front, the main brush, and a side brush.  The side brush on the S8 Plus is larger than what we were used to which is a plus and it stays put.  I can't tell you how many times I've picked up a side brush from our old unit.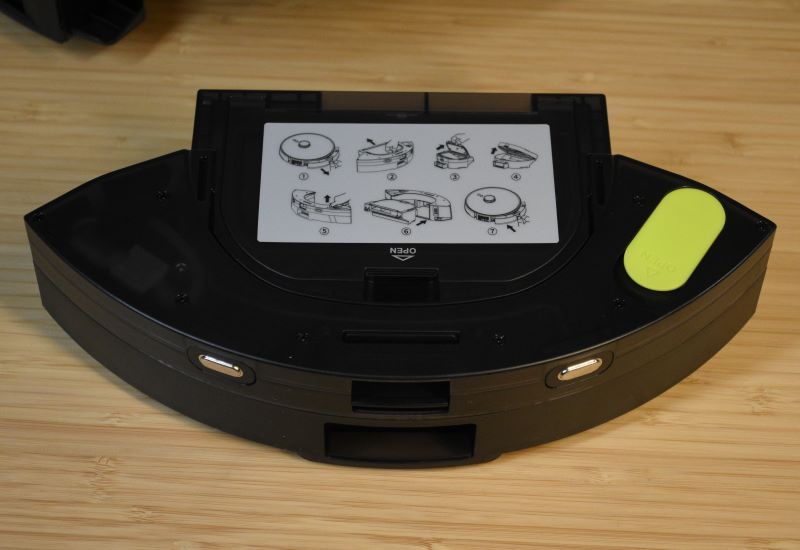 The Botslab S8 Plus has about the same size bin, but where my old unit was vacuum only, this one has a smaller bin for the detritus and a larger one for water.  I was concerned when I first saw the small dustbin, knowing how much my animals shed. I mean, it was half the size of the old one. The two silver pills there are the contact points for charging and alerting the base for emptying once the S8 Plus returns home. There's also a filter in the dustbin itself. The great thing about this one though is you can clean it, let it dry, and put it back in. Not so on my old one.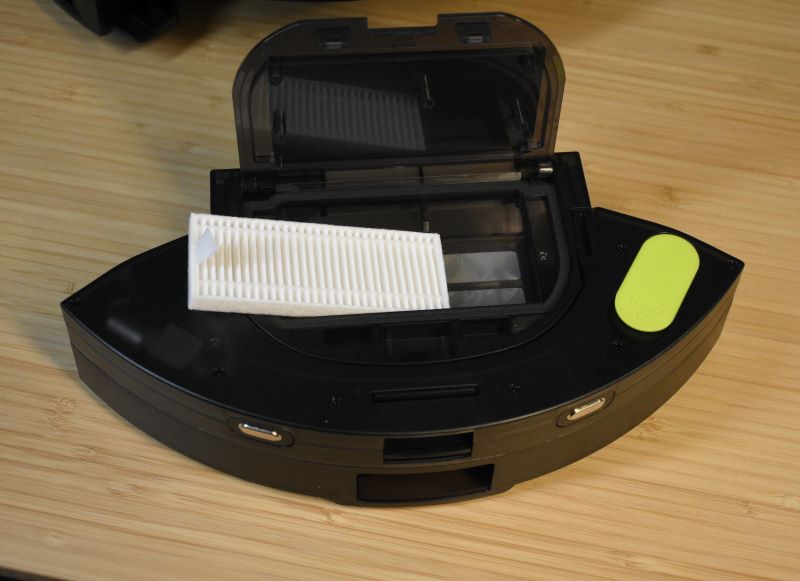 Speaking of the base, it looks like a small trash can. Don't get me wrong, it's a nice trash can. Flip up the lid and you can see the 4-liter dust bag. Again, I was a little alarmed thinking I would be changing it out once a week instead of the 70 days for a normal family like it says on the Botslab website. My family certainly is normal by any stretch.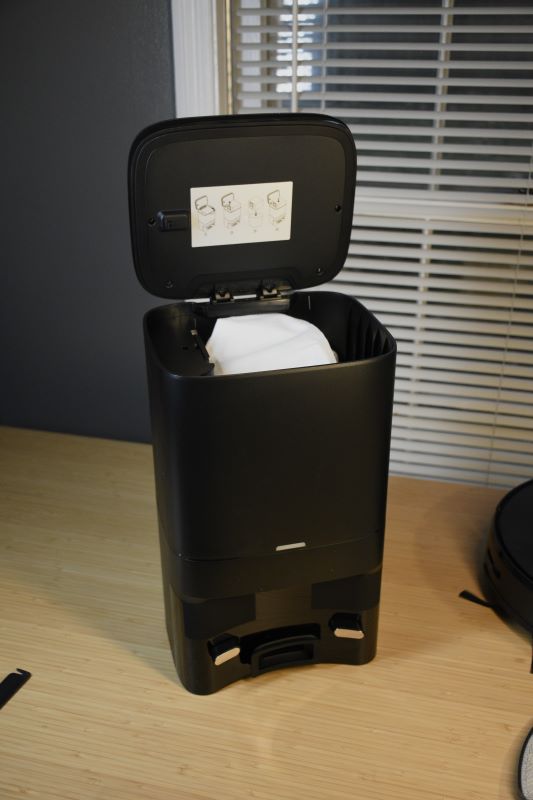 This next feature is what my wife was most excited about. Mopping. Rosey 2.0 was going to mop for us! It has a removable mop plate so you can choose to run it without mopping if you want.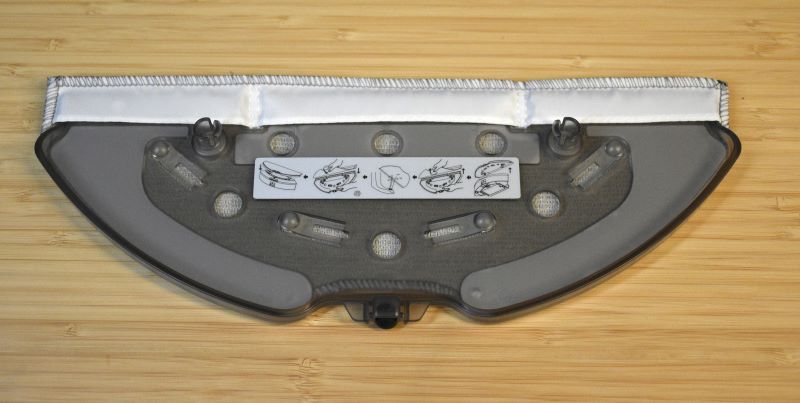 The mopping pad itself can also be removed and cleaned which I assume is a common trait.  I mean, no one wants to buy a new mop head every time you turn around.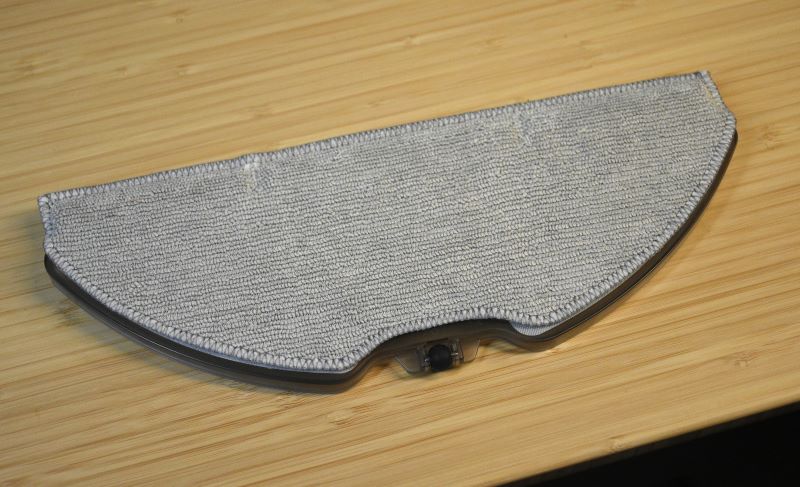 Setup
Now comes the part where I tell you it was a simple, one-button press to get everything going. I really wish that was true, but it's not.  You'll definitely need to download the Botslab app so you can pair it to your phone.  Pairing was my first problem.  I went through the process numerous times, rebooting the S8 Plus, rebooting my phone, and praying to the other robot overlords to cut me some slack. Typically, I would try to show you how that process goes, but I don't know what I did to finally get it working and I was determined not to go through that headache again.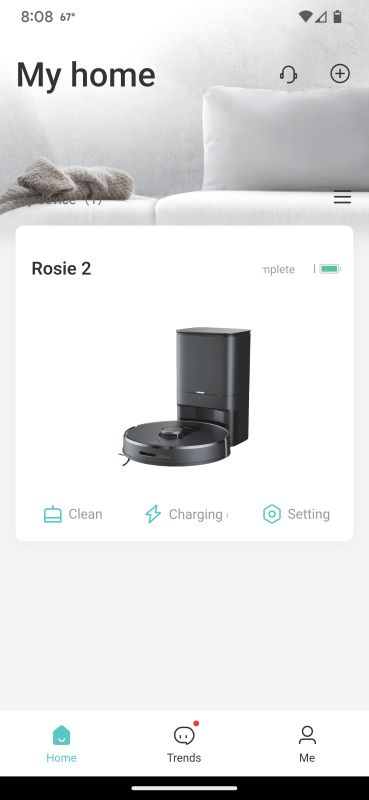 Ok, we're paired and ready to go. Nope, not yet. You'll have to let the Botslab S8 Plus roam around your home for a while to build a map.  It will scan and bump its way around. Then, you can choose how you want it to clean your house.  You have the choice of whole house,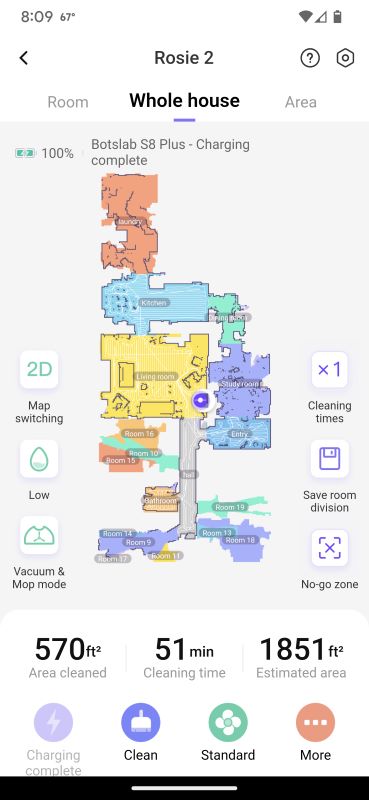 rooms,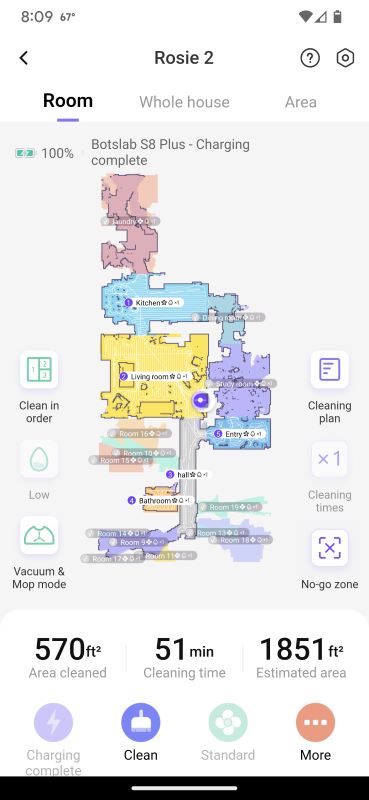 or area. If you want to set it up to clean certain rooms you have to go through the process of defining the borders between them.  Then you can name the rooms with some default names or you can create your own. Let me tell you.  It sounds like it should be an easy process. But it isn't. The app is a pain to use. For the most part, you just have to keep messing around with it until you figure it out. The S8 Plus constantly creates new maps so if you don't choose one to favorite it'll just kind of do its own thing. I picked one, set up the rooms, and no-go zones after much gnashing of teeth.  I don't know if the cause was my fat fingers, the sensitivity of my phone screen, or just the app (I'm leaning toward the app), but I could draw a line to make a border and when I lifted my finger, the line would go to a totally different position.  I did NOT have a good time getting everything set up.  There were other quirks as well but I think my mind blanked them out to save my sanity. One I do remember though is if you go into the app, the default view is Whole House. If I didn't make sure I switched to Rooms view before I exited the app, Rosey 2.0 would ignore the scheduled Rooms cleaning agenda and take off doing the whole house again.
One thing I will say about the app is, it has tons of information and options. After having poked around and screwed things up enough, I think I can navigate around, make changes, and get back out without setting me back a couple of weeks.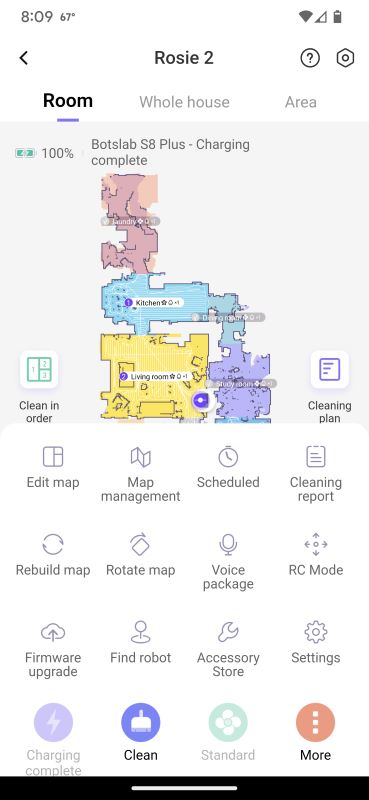 Performance
Alright, I know I've been beating the Botslab S8 Plus up a bit, but let me make something perfectly clear.  The hardware is great. Rosey 2.0 does a better job cleaning than the original Rosey ever did. The S8 Plus doesn't leave the fine dust particles behind her.  The floor actually looks clean. The mopping function is definitely a plus, although mopping may be a bit of a misnomer.  I would say it's more of a wet dust mop than a scrubbing mop, but I'll take it.  It only uses clean water in the tank and it just wipes as it goes. The robot can also recognize when it goes from a hard surface to carpet and will turn off the water spray.  That's kind of pointless since the mop is already damp at that point.  I would recommend removing the mop altogether if you want to use it on the carpet.
The automatic dustbin cleaning is also fantastic. My misgivings about the small size of the dustbin and the dust bag have been alleviated.  We've been running the S8 Plus every day for about a month and both are doing fine.  I will say the first few times we ran it, it did clog at the rear of the dustbin. Rosey 1.0 hadn't done a good enough job for Rosey 2.0 to start. A leaf or two got in there and blocked the chute. It still happens occasionally but for the most part, it's not an issue.
What I like
LiDAR mapping, it's cool to watch it map out your home
It rids my house of so much pet hair!
Self-emptying
I don't have to constantly rescue it
Its brushes stay attached!
What I'd change
The app, from the ground up.
Final thoughts
My wife and I are happy with the Botslab S8 Plus robot vacuum cleaner. It definitely has its pros and cons, but I think most of the cons can be fixed with software.  The bot itself is fantastic. It's so much better than what we had before. I don't have to babysit the thing wondering when it's going to get stuck next, where it is when it's stuck, what happened to the side brush, or if the dustbin has been emptied. Considering what we paid for our old vacuum, I'd say the Botslab S8 Plus is reasonably priced and well worth it.
Price: $369.99
Where to buy: Amazon
Source: The sample of this product was provided by Botslab.