We use affiliate links. If you buy something through the links on this page, we may earn a commission at no cost to you. Learn more.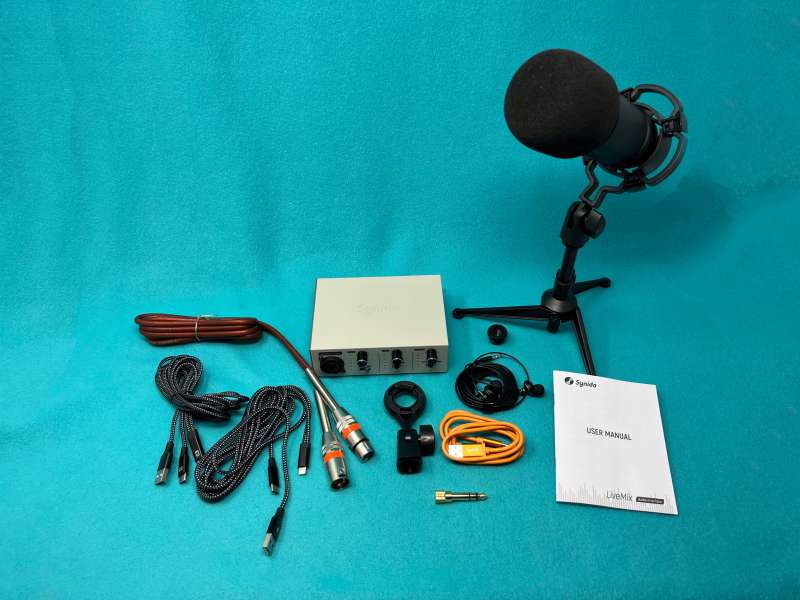 REVIEW – Sound mixers are an old idea, but digital technologies have made them both smaller and less expensive. Synido has just released two new mixers for personal use: the LiveMix solo and the LiveMix duet. The Solo has a single XLR mic input and a single instrument input, whereas the Duet has two XLR mic inputs. I was sent the Solo model in Grey to test. (Both models are available in a grey colorway as well as a purple model).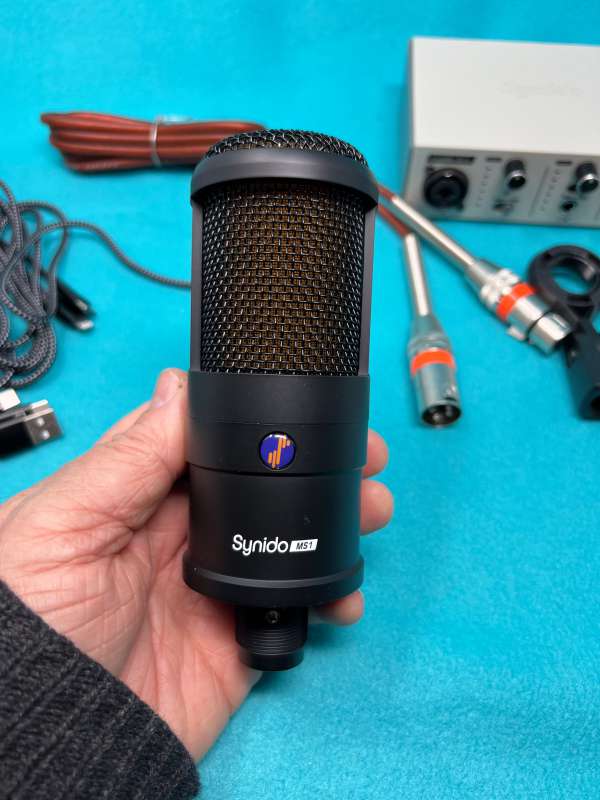 What is it?
The Synido LiveMix Solo is a two-input audio mixer for a single XLR mic and a quarter-inch instrument input. The kit includes a mic with a stand.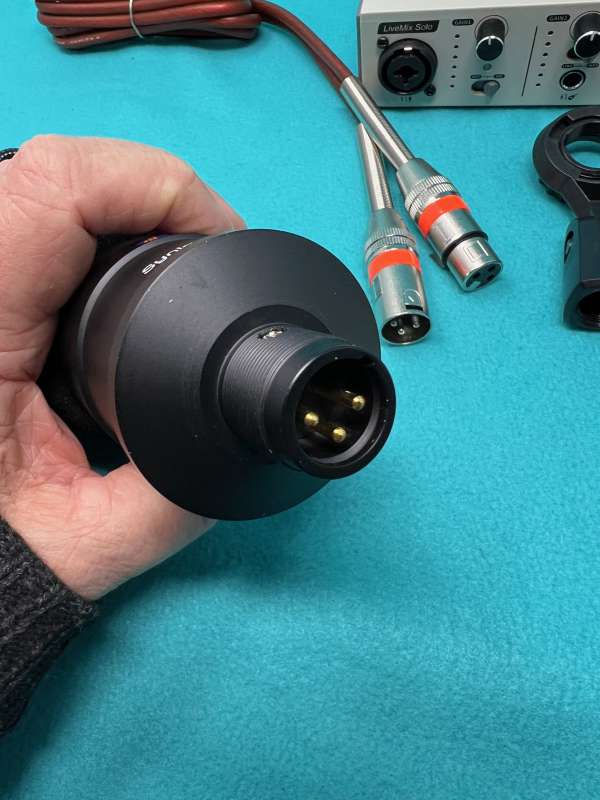 What's in the box?
2 channel Mixer
Large-diaphragm condenser mic with pop filter
Shock mount for the mic
Desktop stand for the mic
XLR cable for mic-to-mixer connection
USB cable for mixer-USB-C connection
USB cable for mixer-Lightning connection
USB-A<=>USB-C cable for a computer to mixer power (if not using a mobile device
Earphones with a .125″ audio plug
.125″ <=> .25″ audio adapter
Hardware specs
From website
One Bundle Covers All: This bundle comes with an Audio interface, Desktop Tripod, Condenser Microphone, OTG Cable, and Earphones, It is a kit that Ready-to-use on arrival.
Create Anytime Anywhere: The Synido audio interface is well-make with a compact and delicate form factor, with built-in various connection ports, and desktop, and smartphone compatibility, making it perfect for recording anytime anywhere.
High-definition Sound Quality: Supporting 24Bit/44.1kHz, 48kHZ sampling parameters for recording guitar, stereo, or vocals input signals with XLR, Line, and Instrument inputs with phantom power. it delivers clear, punchy sound quality even in different environments.
Independent Audio Chip: Independent audio chip reduces recording lag and captures every detail whether arranging or Singing.
Wide Compatibility: Compatible with mainstream recording software like Studio One, Cubase, Adobe Audition, Pro Tools, Logic Pro X, Samplitude, etc. Seamless Compatibility with mobile phone computers Windows 7 and Above, Mac OSX 10.11 and Above, Android IOS 10.0 and Above.
Design and features
The LiveMix Duet is designed to be a complete package. There is the mixer, a mic with the proper cable, a mic stand with a shock mount, and a set of earbuds with an adapter to use to monitor the mix. If you only need to connect to your computer or phone, you'll be ready to go.
If you'd like to add an instrument or a mic with a quarter-inch plug, you can plug them in and monitor the levels between them as it is going to your output source. (You'll need your own quarter-inch cable for this.) The box itself is 5.5″ x 4.125″ x 1.875″ and weighs 9.2 ounces. It is made of two colors of hard polystyrene (or similar material). There are 4 cushions on the bottom of the unit that will prevent it from scratching furniture, but the unit is so light that I don't think this will be an issue. To me, the problem was keeping it from sliding off the table from the weight of the cables.

On the front side, there are three ports with level potentiometers: one (Gain 1) has a combo XLR-quarter-inch input port, the other (gain 2) has a quarter-inch input, and the third (monitor) has a quarter-inch output. (The Duet model has two XLR/quarter-inch inputs rather than just one.)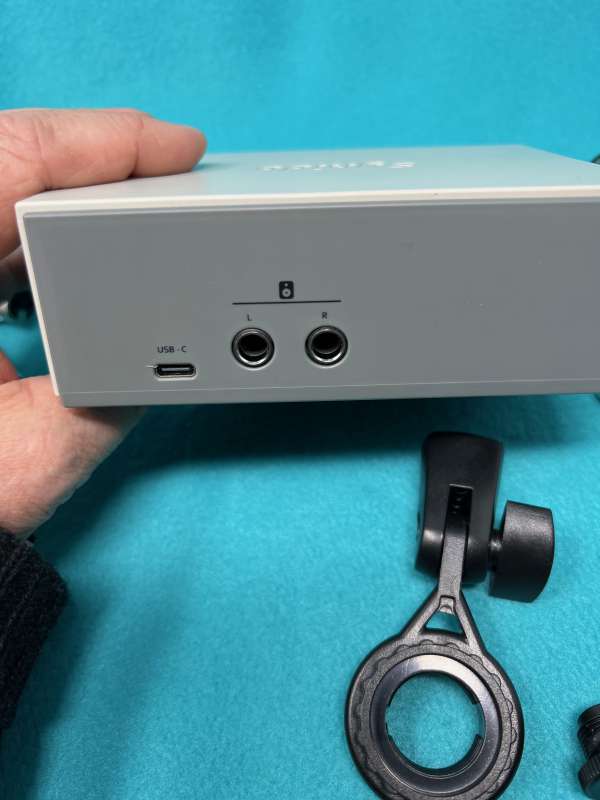 There is a USB-C power input in the back, as well as two quarter-inch ports with an icon that sort of looks like an iPod. The package labels this as being for speakers.
Setup
Setup is minimal. Connect the mount to the mic stand, and the mic to the mount. (These are easy, threaded connections.)
Plug the XLR cable with the release clip into the mic, and the other end into the mixer on Gain 1. Plug the three-way cable into the mixer on the back, your computer, phone, or tablet, and a power source. This is probably the most difficult part of the process because you'll need to decipher the icons on the plugs. The one with two circles is for the mixer. If you get them right, when you turn on the Gain 1 power, you'll see the LEDs bounce to let you know you have power going to that channel.
Performance
Mixing for portable systems is a pain – ask any podcaster (which is probably about 25-30% of the people you know!) While USB mics can be used to record on computers without having to have an outboard mixer, better quality mics will have an XLR connector, and therefore will require an audio interface. Using more than one mic, or an instrument and a mic, will require a two-input setup like the LiveMix.
The LiveMix software has not yet been updated to run with recent macOS versions, so I reverted to using GarageBand on my iPad. This isn't a horrible problem, as it works well, but the mix happens before the single input to GarageBand, so there is no post-production editing you can do, as there would be if the two inputs were recorded separately. From what I've read, the older version of the macOS driver gives you each input on a different channel, so you can tweak them later, which would be nice.
The mixed sound I have recorded below was made with the included mic sitting on a table off to my left as I played the piano, which went into the second channel. I don't have a boom stand, so couldn't get the mic closer to my mouth, which I would have preferred. I could have made several more takes and turned the piano down and the mic up, but you get the idea. The piano is a Yamaha P-71 using the default sound.
What I like
Light and portable
Works as expected
Complete kit for most users
What I'd change
Define cable icons in the manual
Have something to add (a clip? A weighted base?) to keep the mixer from sliding around, or redesign it so that the cables don't pull it around every time you move.
Final thoughts
Recording sound for our ever-present machines is fun. Having that sound have multiple inputs, or having any control over the input, requires an outboard mixer. The Synido LiveMix Solo USB Mixer Audio Interface gives you a lot of creative control at a very affordable price. If you're a content creator doing a podcast or recording music for any type of distribution, this is a great starter rig.
Price: $79.99
Where to buy: Amazon
Source: The sample of this product was provided by Synido.