We use affiliate links. If you buy something through the links on this page, we may earn a commission at no cost to you. Learn more.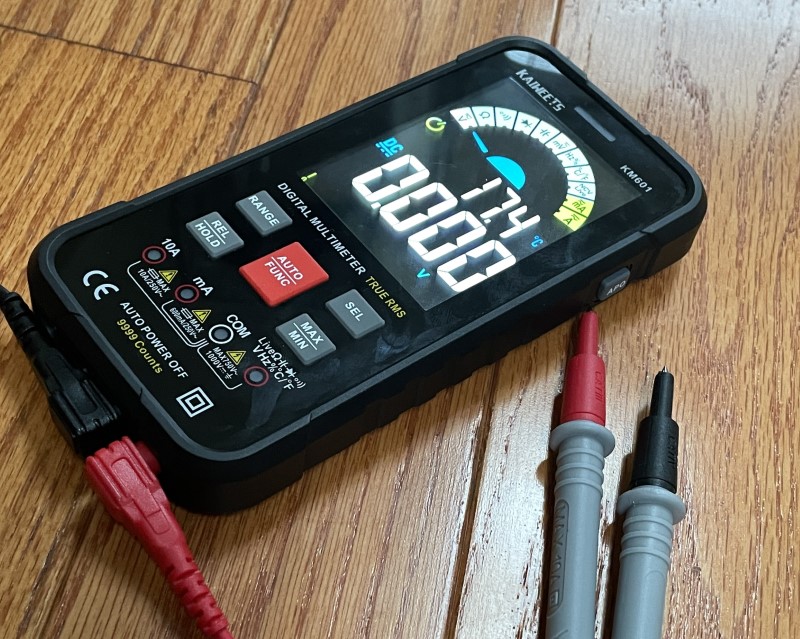 REVIEW – No toolkit is complete without a good multimeter. Electrical troubleshooting is nearly impossible without one. If you're a "do-it-yourselfer," are curious if those batteries in that drawer are kaput, or want to play doctor with your car, then the Kaiweets KM601 Digital multimeter should be stuffed in your stocking this year!
What is it?
The Kaiweets KM601 Smart Digital Multimeter is a battery-operated electrical measurement device.
Hardware Specs
Multimeter
Item Weight: 265 KG (9.35oz)
Product Dimensions: 5 x 4.37 x 2.13 inches (165  x 111 x 54.1mm)
Batteries: 6 AAA batteries included ( 2 sets)
Performance Description: 2 colors LCD screen, True RMS
Safety Level/Certification: IEC-61010-1 CATⅢ 1000V, CAT IV 600V, double insulation
Usage: Voltage, Frequency, Diode test, Capacitance, Ohms, Continuity, Temperature, non-contact voltage detection.

Ranges:

DC Voltage: 99.99mV/999.9mV; 9.999V/99.9V/1000V ±(0.5%+3)
AC Voltage: 99.9mV/999.9/mV; 9.999V/99.9V/750V ±(0.8%+3)
DC Current: 9.999mA/99.99mA/999.9mA ±(0.8%+3); 9.99A ±(1.2%+3)
AC Current: 9.999mA/99.99mA/999.9mA ±(1.0%+3); 9.99A ±(1.5%+3)
Resistance: 999.9ohm/9.999k/99.99k/ 999.9kohm ±(0.8%+3);9.999m/99.99mOhm ±(1.2%+3)
Capacitance: 9.999/99.99/999.9nF/9.999/99.99/ 999.9uF ±(4.0%+3); 9.999mF/99.99mF ±(5.0%+5)
Frequency: 99.99/999.9/9.999k/99.99k/999.9kHz/ 9.999mHz ±(1.0%+3) Duty: 01.%-99.99% ±(1.0%+2)
Temperature: -40 to 1000°C (-40 to 1832°F) with thermocouple ±(1.0°)
Three-year warranty
What's in the box?
Kaiweets KM601 multimeter
Protective cover
Storage Box
Test Leads
Thermocouple
Six AAA batteries (two sets)
Manual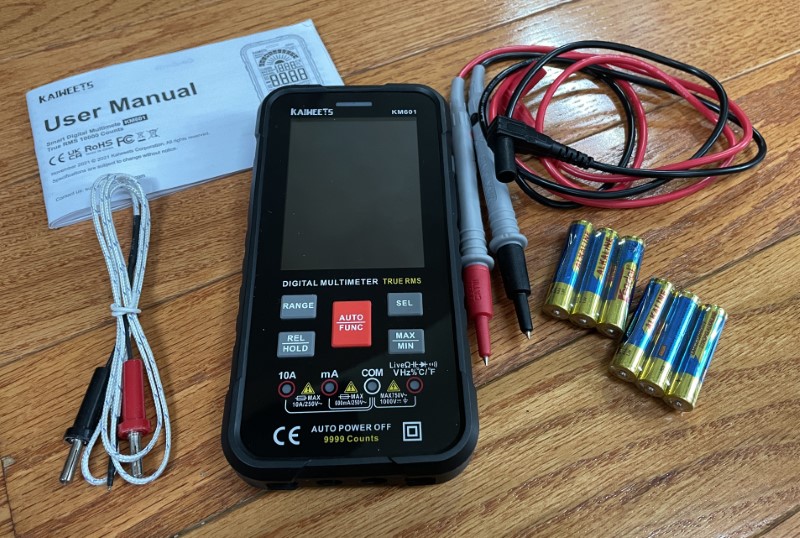 Design and features
Before starting, a word of caution about electricity: Working with high voltage requires both expertise and respect. Making bodily contact with the metal portions of the meter's probes or exposed wires can be deadly. Please know what you are doing and safely examine every connection before making measurements or touching wires. Your life depends on it. Please don't be a candidate for this 2022's Darwin Awards.
The Kaiweets KM601 multimeter arrives in a nice-looking, recyclable box.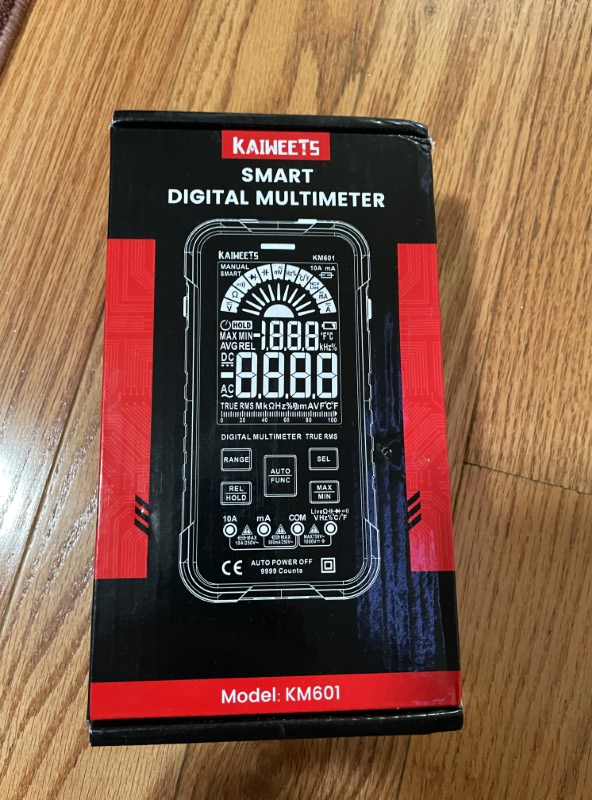 The manual is well-written and illustrated, but the print is small.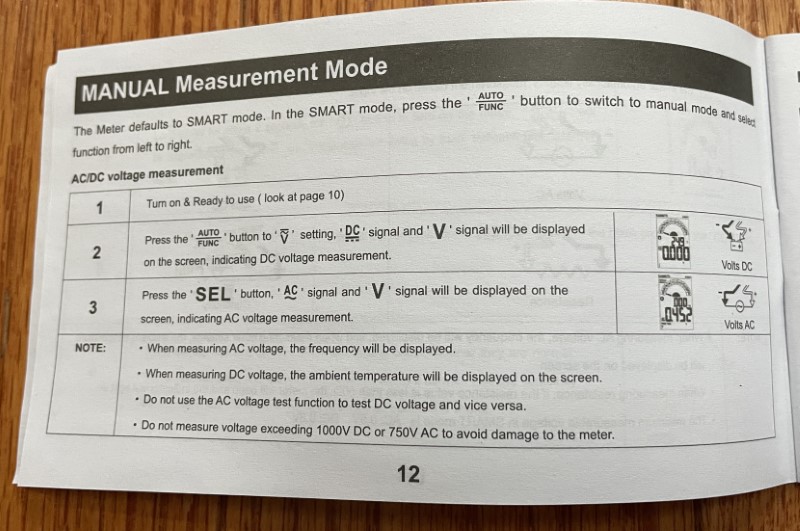 Two sets of AAA batteries are included. Nice touch, Kaiweets! Installation requires the removal of the protective cover and a removing a single screw on the back.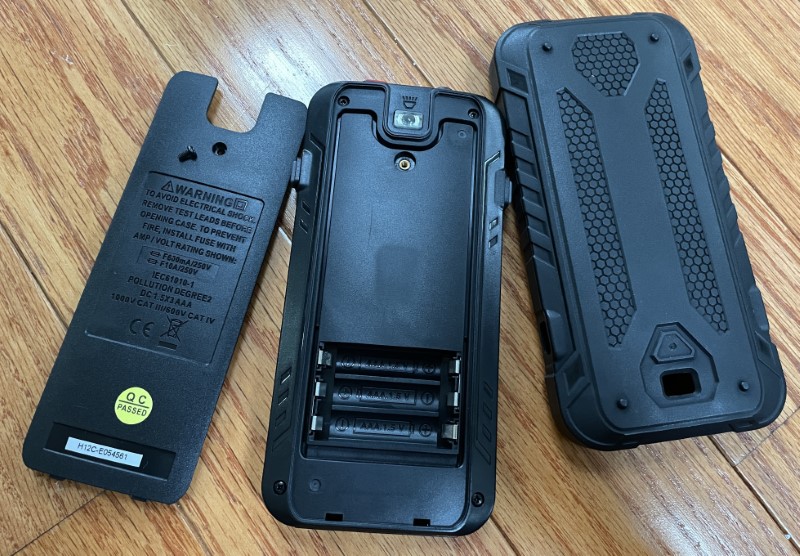 The Kaiweets KM601 multimeter feels solid and the protective case fits securely. Fitting feels similar to installing a phone cover.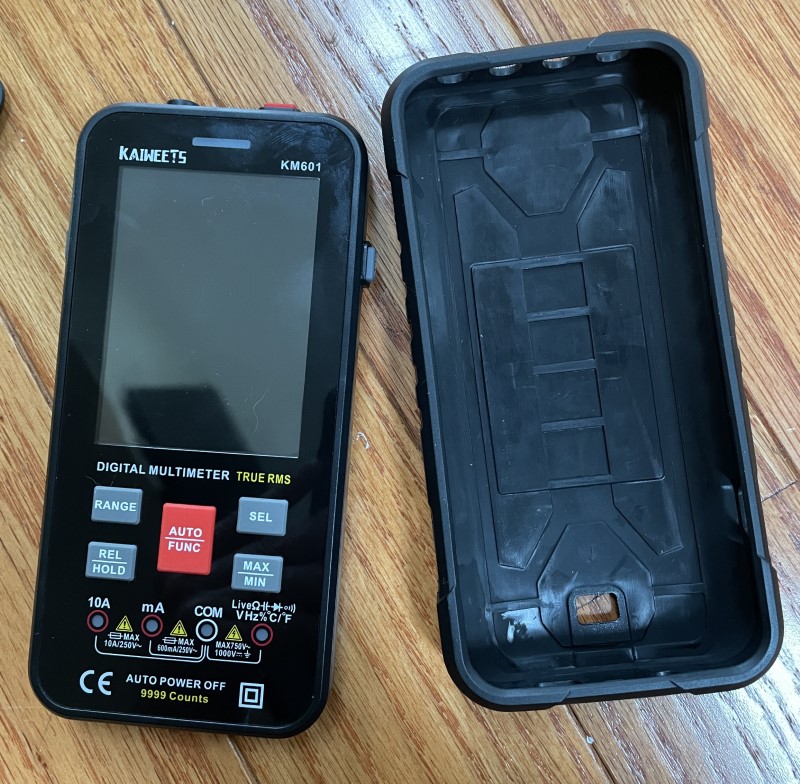 Speaking of phones, The KM601 is about the same size as an iPhone (my daughter's old 11 plus).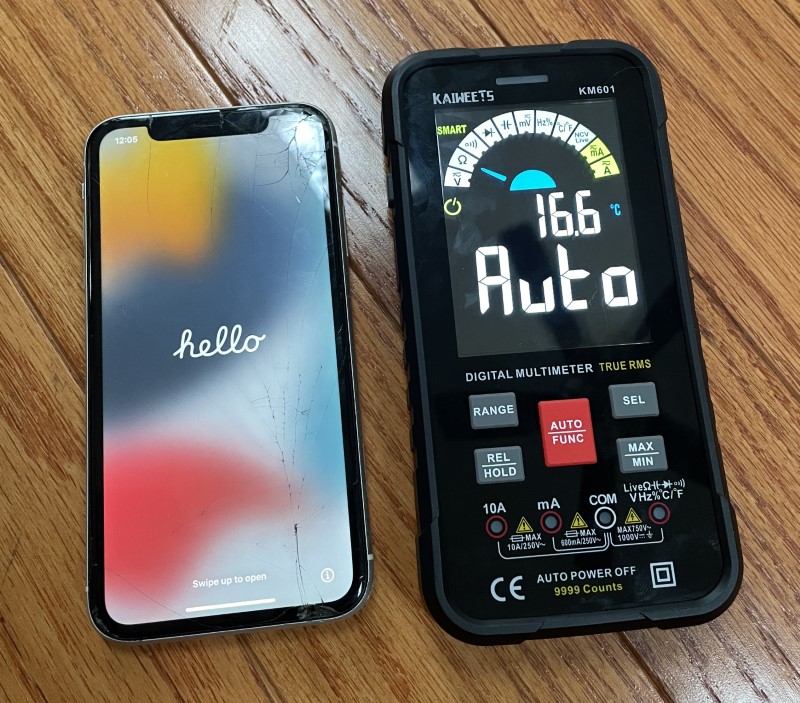 Red and black meter probes with protective tips are furnished.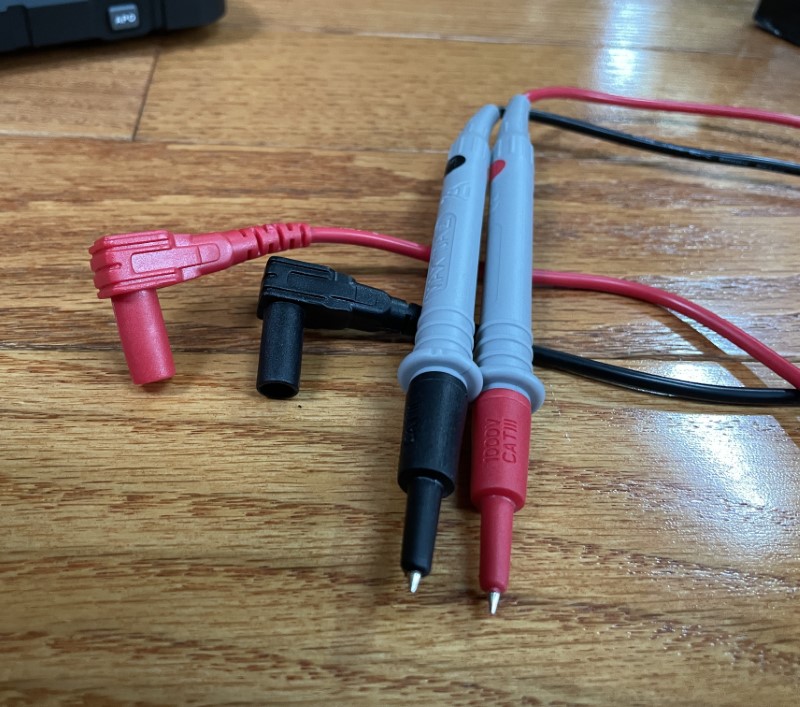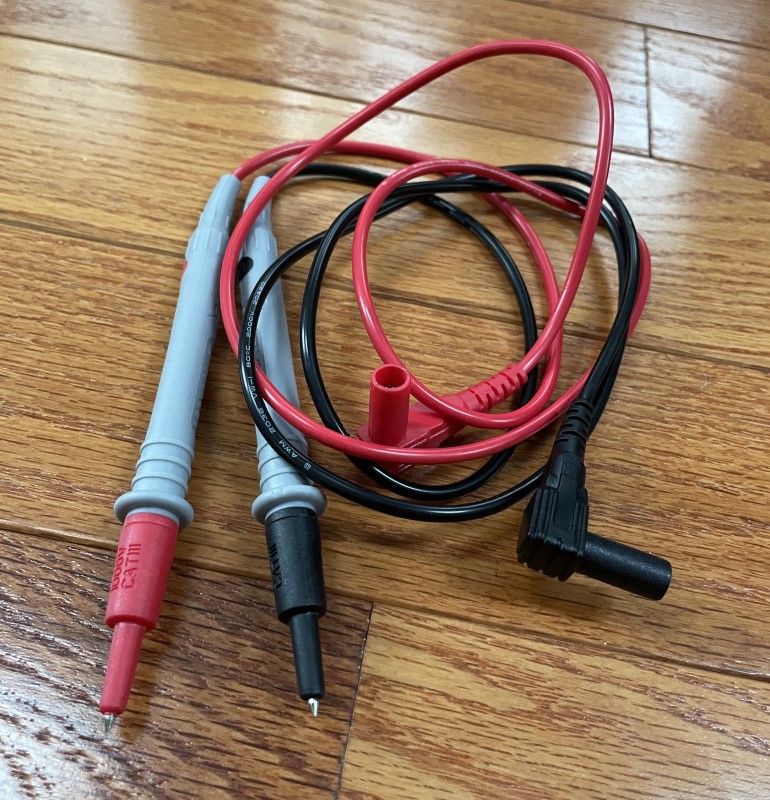 The Kaiweets KM601 multimeter is a nice-looking meter!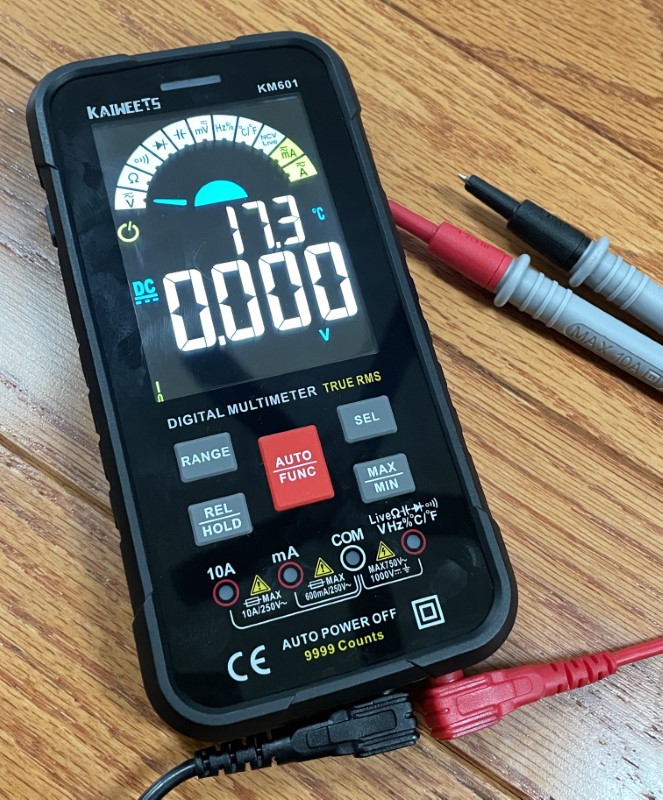 To keep the goodies contained, Kaiweets provides a handy-dandy storage case. It's big enough to add a few extra doodads, spare batteries, and maybe a small flashlight.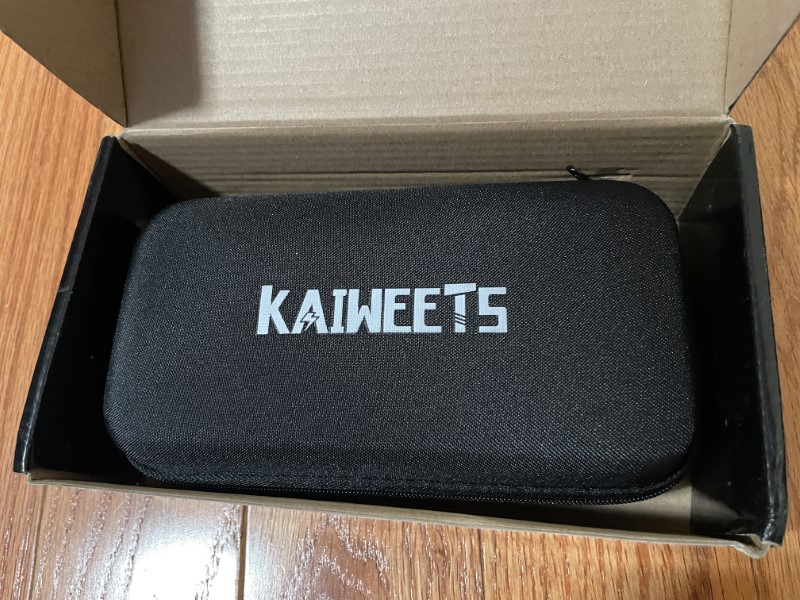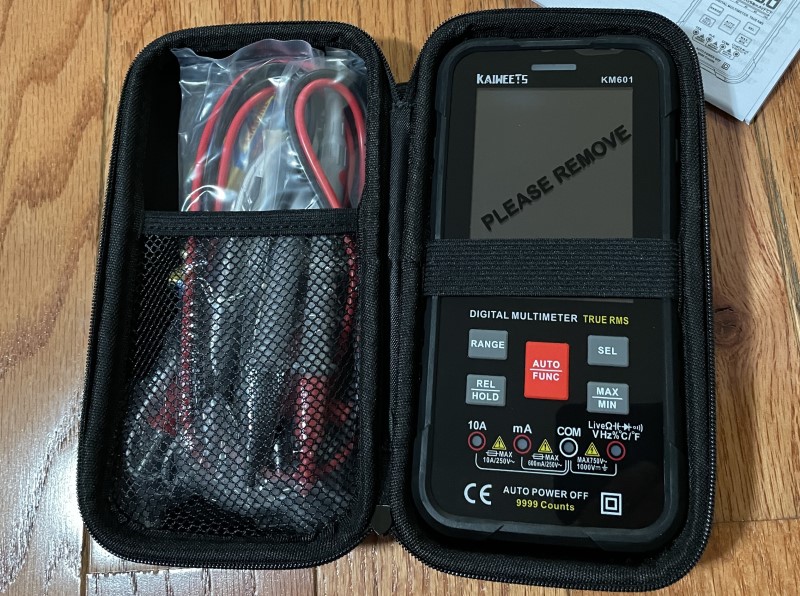 But wait! There's more!… I don't need to include a flashlight because the KM601's thoughtful design incorporates one into the back of the phone. Delightful! The button for the flashlight is on the left side. The meter needs to be turned on to use it.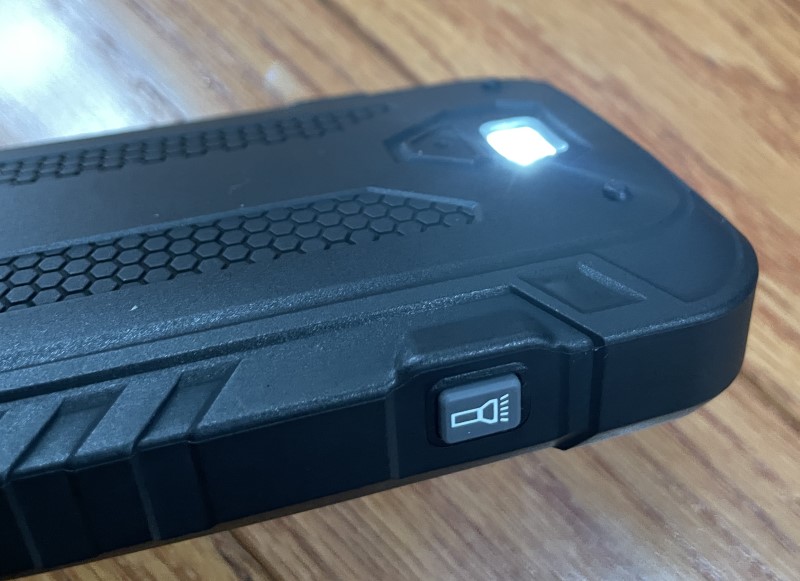 Atop the Kaiweets KM601 multimeter is the power button and non-contact voltage (NCV) detector. The sensor is exceptionally sensitive and was able to identify live wires from several inches away.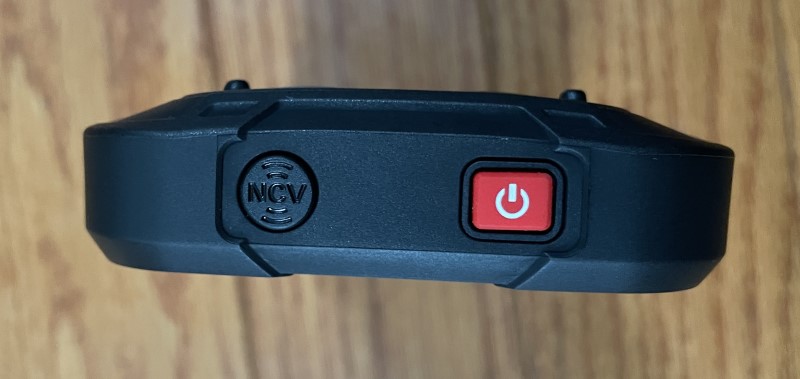 An "APO" on the right side of the meter enables and disables the automatic power on and off capabilities. With "APO" turned on, an icon turns on and the meter will turn off after 15 minutes without any functional changes. One minute before the KM601 powers off, a beep will sound with five more just before completion.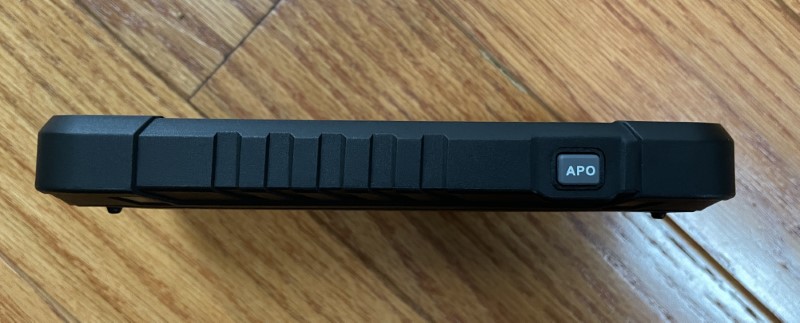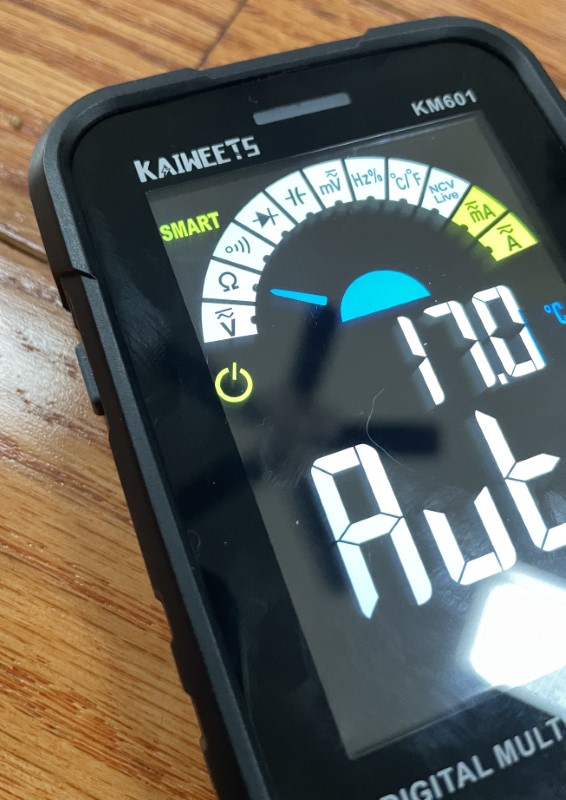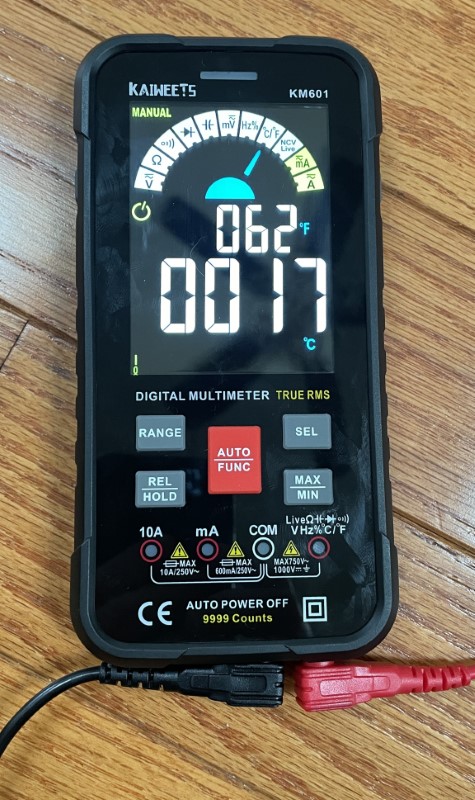 For most measurements, attachment of the leads is required. The bottom houses the connections which are appropriately labeled on the meter's face. The Kaiweets KM601 multimeter sports a great feature and flashes green LEDs above the connections five times to indicate where the probes should be plugged into the meter. Lovely! Another excellent feature is the automatic selection of the mA or A mode if a lead is plugged into either port. Brilliant!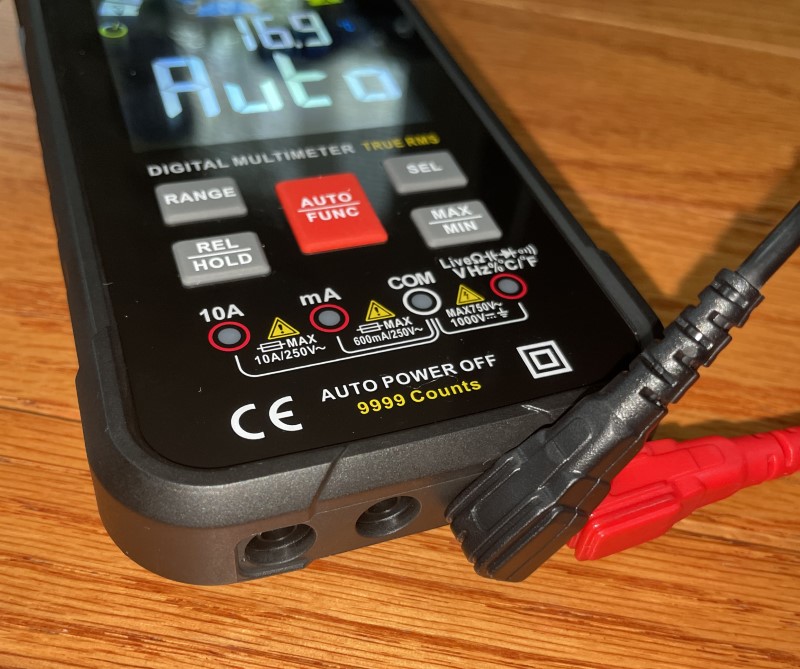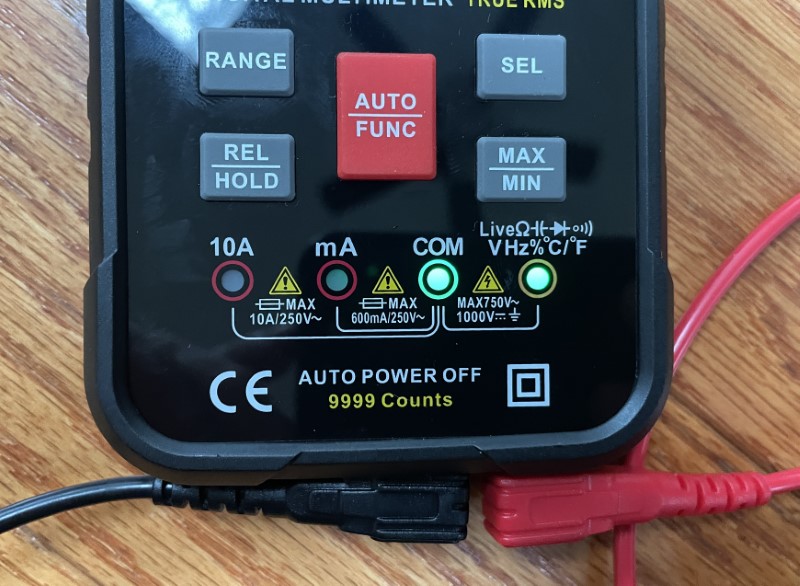 Five buttons on the KM601's happy face select the "RANGE," "HOLD/REL (release), "AUTO/FUNCT (function)," SEL (select)," and MIN/MAX (minimum/maximum)." REL/HOLD locks the current data on the display. MIN/MAX records the lowest and highest readings and toggles between these two values – particularly useful if trying to troubleshoot an intermittent voltage issue, especially with the automatic power-off disabled.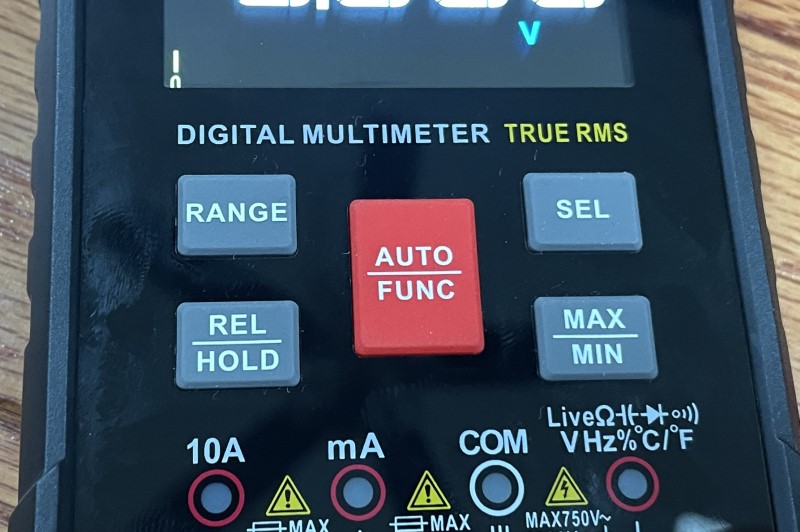 Holding the power button (top) for two seconds activates the meter. The three-color display is big, bright, and easy to read. The default mode is "Auto" with temperature in Celsius and will automatically switch between AC and DC volts, Ohms, and audible continuity. The selection display switches between these modes until the leads are connected to the circuit being measured.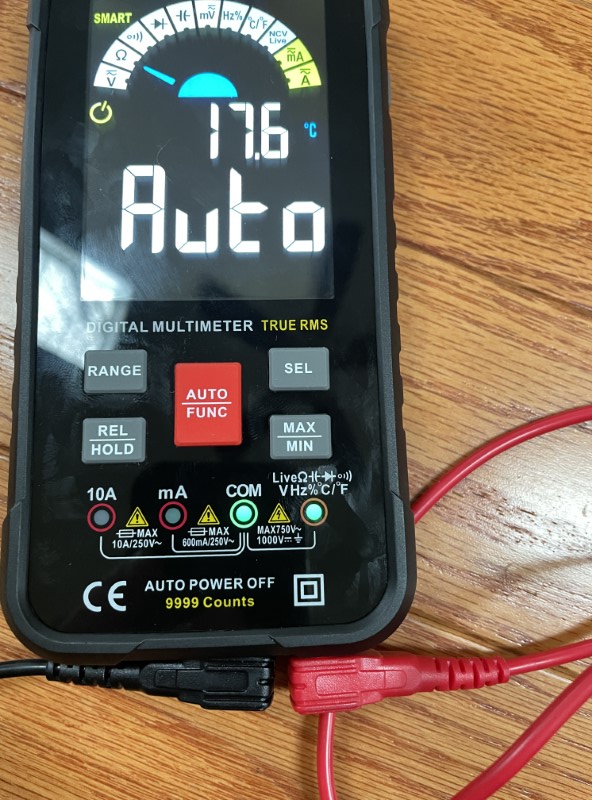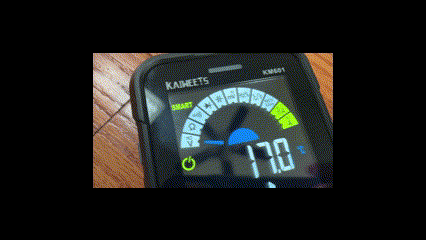 If preferred, tapping the red "AUTO/FUNC" button switches the KM601's mode sequentially from AC/DC volts, Ohms (resistance), audible continuity, diode test, capacitance, mV AC, HZ (frequency), °C/°F  (temperature), mA (milliamps), and A (Amps). Current modes are protected by internal fuses. AC voltage is measured in true RMS for techies, engineers, and Gadgeteers alike!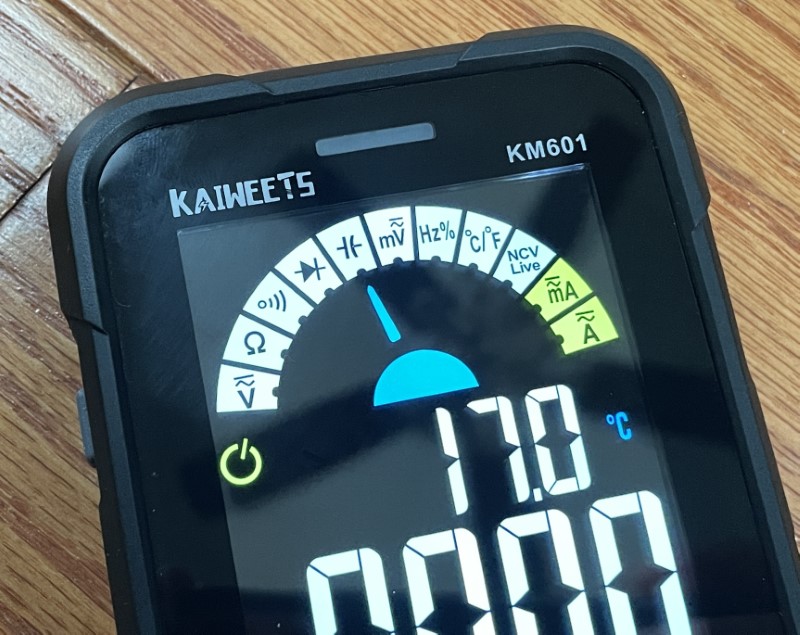 Volts…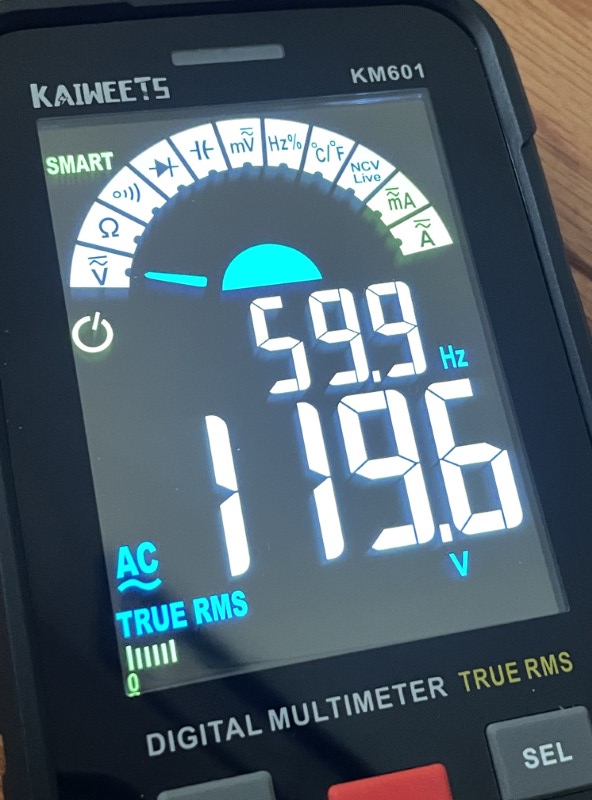 Ohms…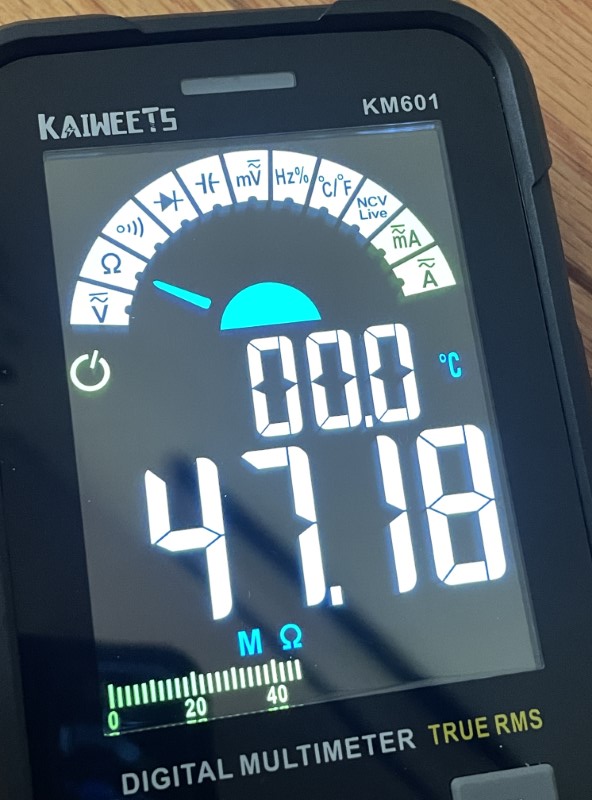 Continuity…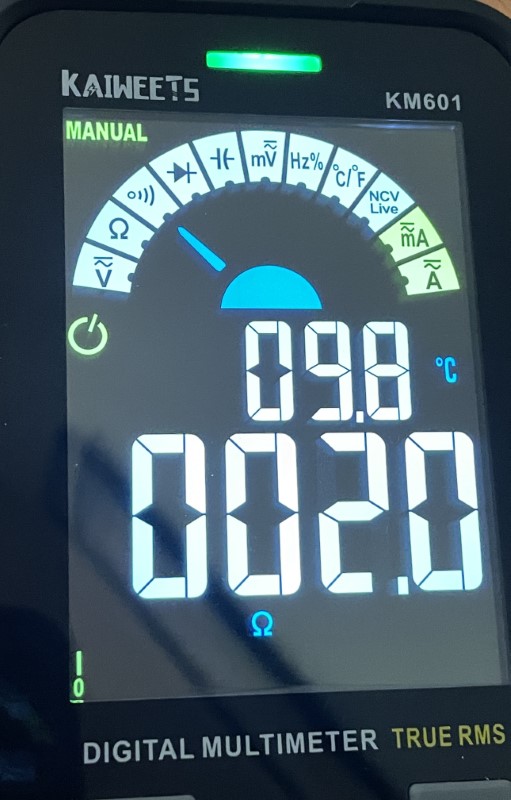 Diode test…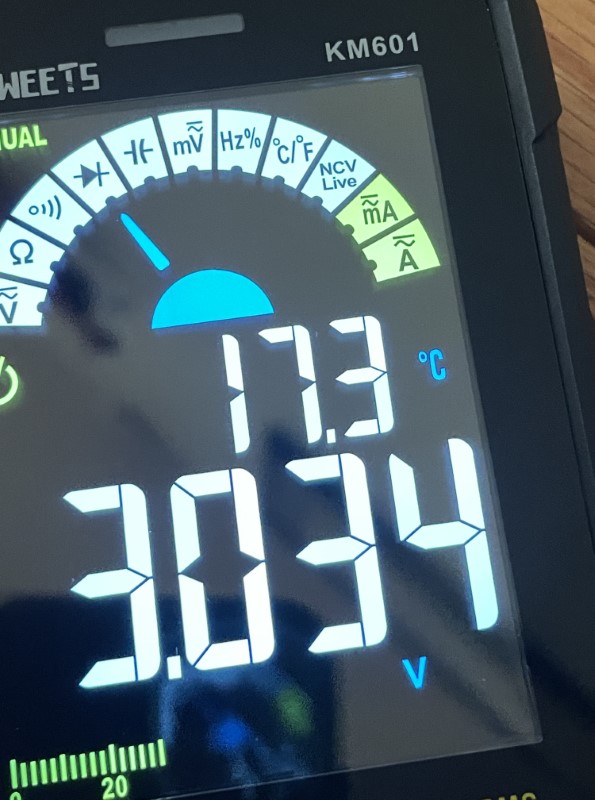 Capacitance…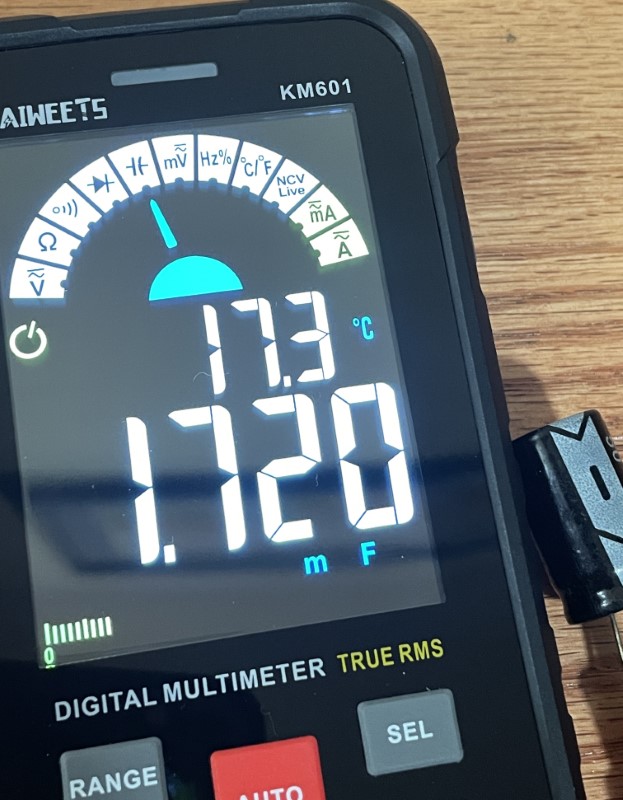 Frequency and duty cycle…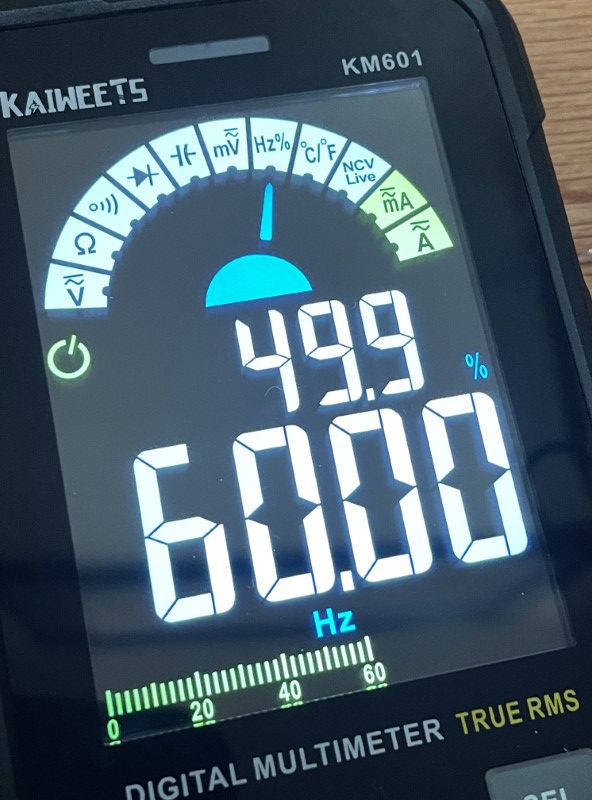 The Kaiweets KM601 multimeter kit also includes a thermocouple for measuring external temperature. Without the probe connected, the meter will display the ambient temperature with a built-in sensor.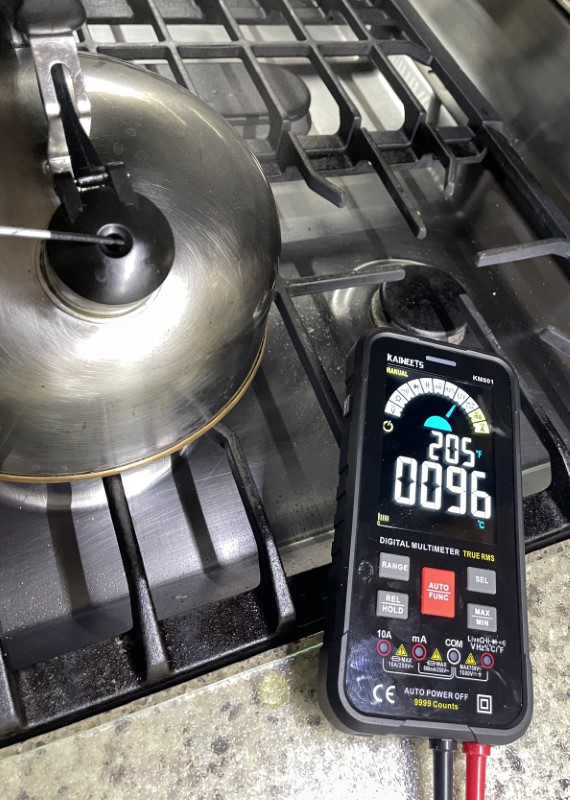 In general, the meter's "SMART" mode automatically selects the correct range but can be manually changed using the "SEL" button. The "MANUAL" indication illuminates in the upper left corner of the display.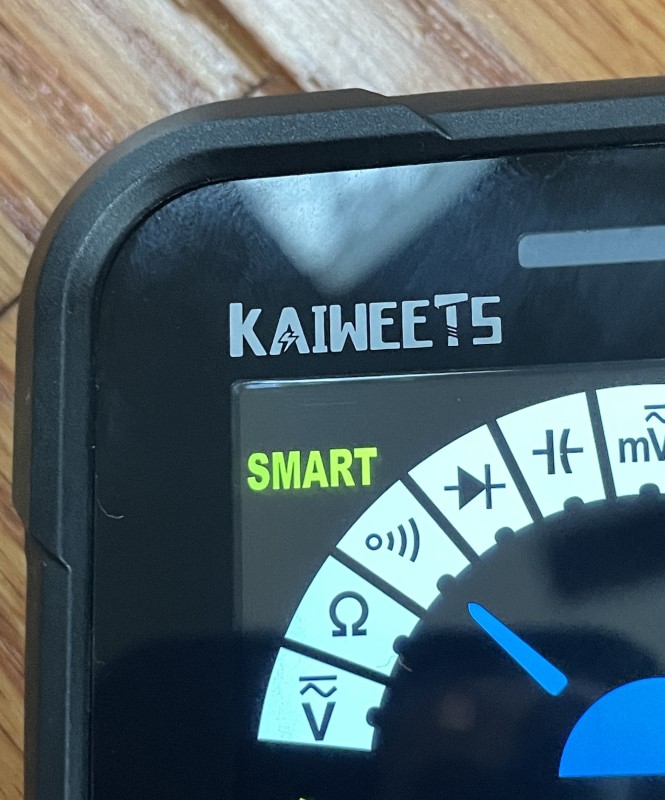 In some cases, NCV might not be the best choice in circuits that could carry power from different sources. Examples are motor drives with separate logic and bus bar power and power sockets that have one outlet connected to a light switch and the other to constant power. This scenario isn't a problem for the KM601 – a single lead can be used to detect that power is present, but this "Live" mode requires the probe tip to make physical contact with the supply. This is the first meter that I've used that has this capability and I think it will be handy.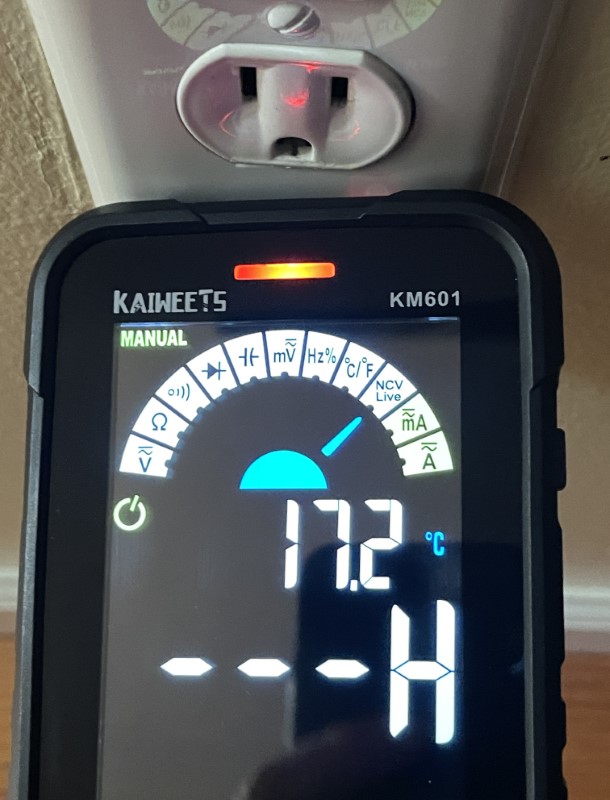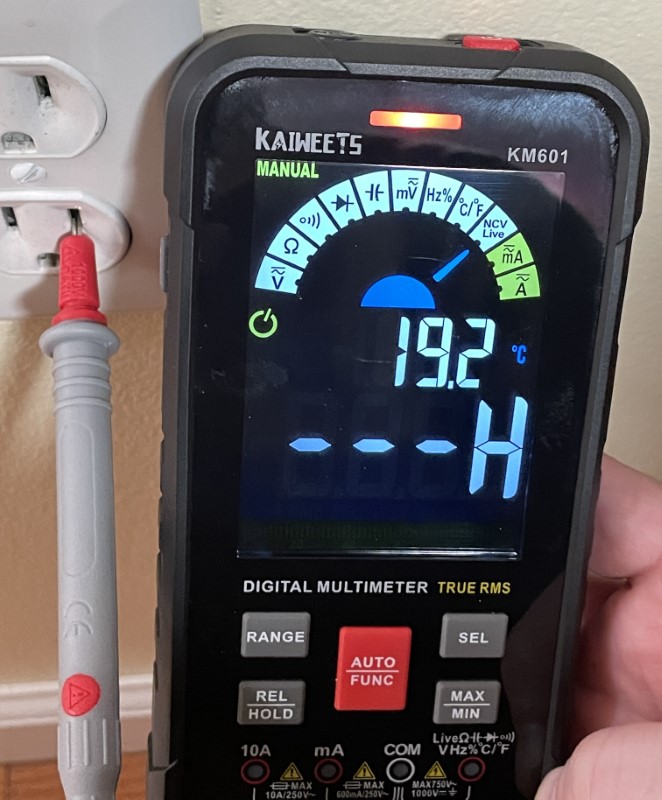 I compared the Kaiweets KM601 multimeter to several other meters, including a calibrated Fluke 77, and found the results virtually identical. Solid performance!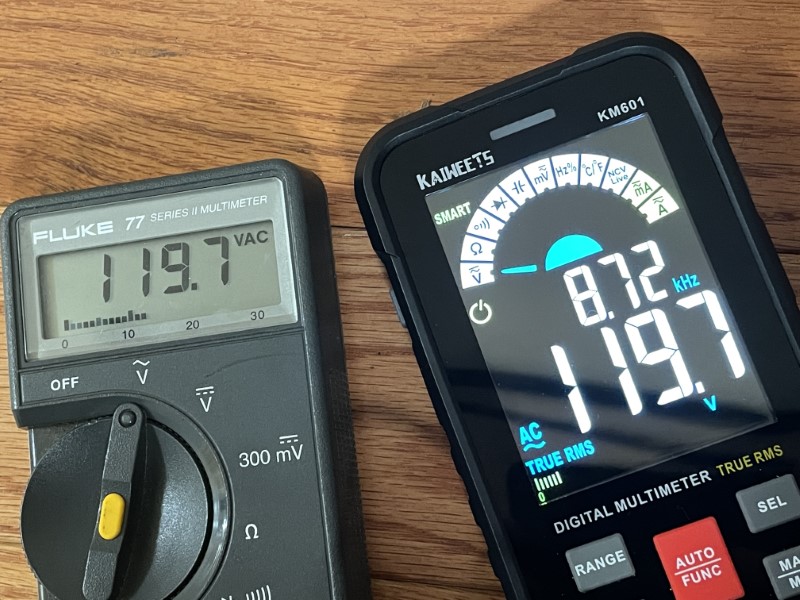 What I like
Fabulous display!
True RMS
Lead connection LEDs are great!
The protective cover and case are included.
What I would change
Final thoughts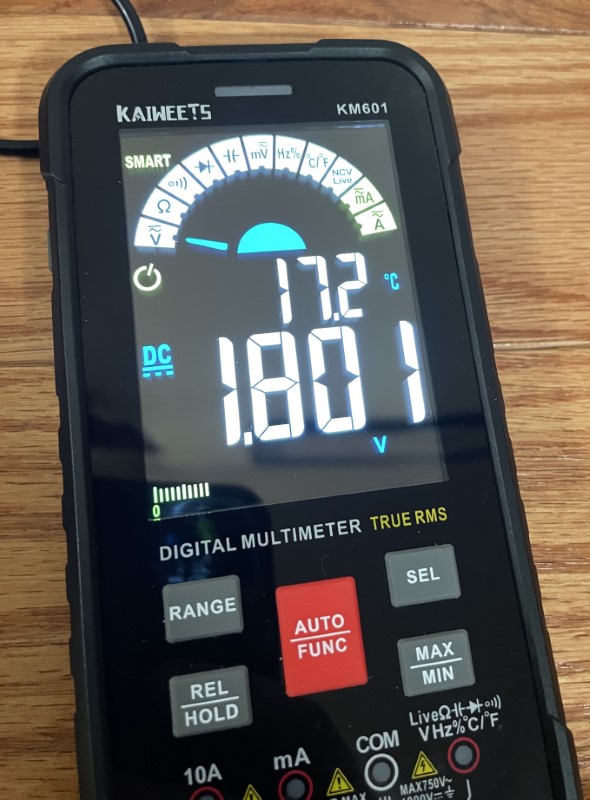 If you are the person friends and family call when technical issues arise and keeping a multimeter at the ready describes you, the Kaiweets KM601 multimeter makes a worthy addition to your toolbox, bench, or glove box. A bright, colorful display, lead location indicators, and accurate readings make the KM601 a big success in my book. Thank you and well done, Kaiweets!
Price:  $45.99
Where to buy:  Kaiweets (use 15% off code: KWS15 )
Source: The sample for this review was supplied by Kaiweets.