We use affiliate links. If you buy something through the links on this page, we may earn a commission at no cost to you. Learn more.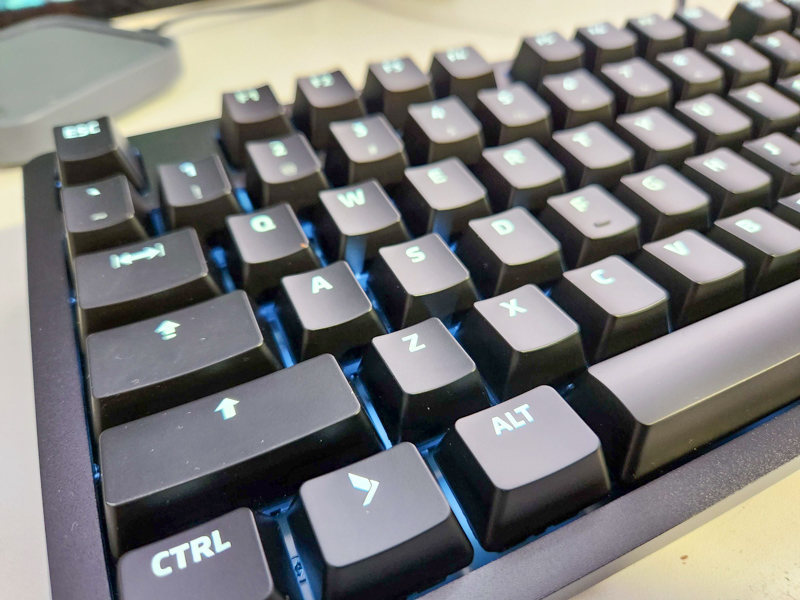 REVIEW – I've been slowly amassing a mechanical keyboard collection through my own purchases and through review offers sent to us at the Gadgeteer. I've tried clicky and silent mechanical switches, metal and plastic builds, tiny ten-keyless versions, wired and Bluetooth, and even swapped out switches and keycaps on multiple boards. The great thing about mechanical keyboards is the thriving market with so many choices to fit pretty much anyone out there, but for many professionals, the base requirement is a really nice reliable keyboard with premium parts and feel, and that's where Das keyboard comes in. Since their original Das Keyboard with completely blank keys, they've always been at the top of many lists of excellent mechanical keyboards. Not all of us were hardcore enough to dive into the world of blank keys when that came out in 2005, so I'm glad they also offer premium keyboards with backlighting and laser etched keycaps for the rest of us nowadays. The Das Keyboard 6 Professional Mechanical keyboard is their latest model which is geared towards professionals who write or code all day, but should also be great for the rest of us. Without further ado, I'll dive right in.
What is it?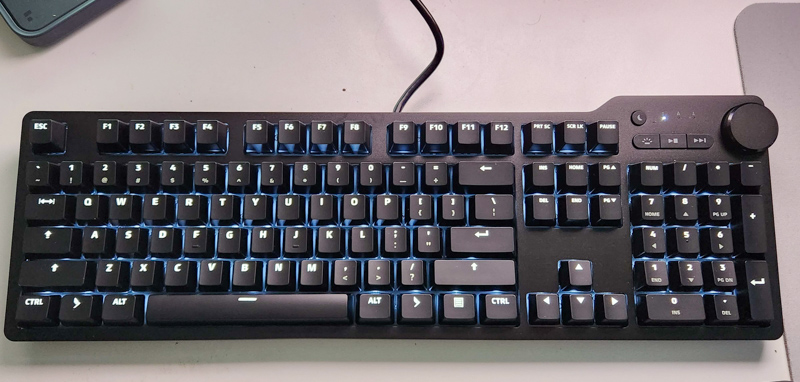 The Das Keyboard 6 Professional mechanical keyboard is a keyboard! A very well-built 104 key mechanical keyboard with white backlighting, a 2 port USB C hub built-in, a volume spinner dial, and media controls.
What's in the box?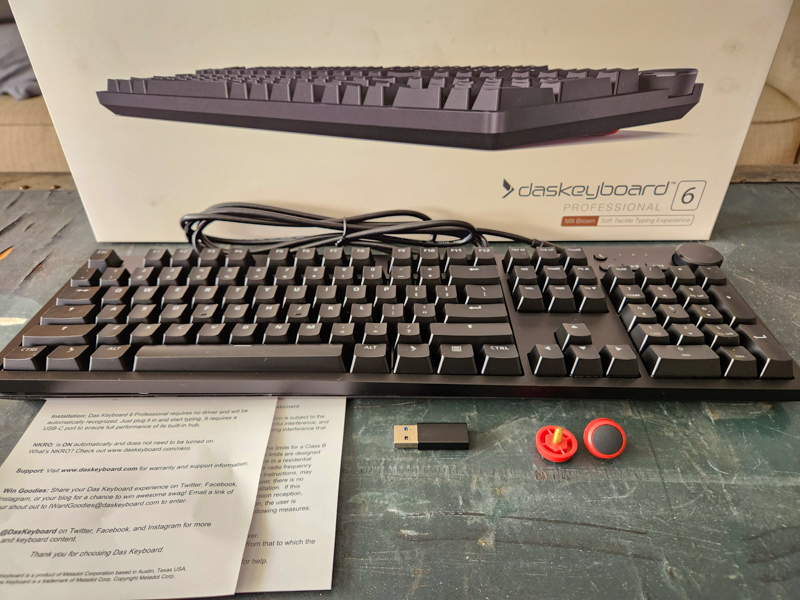 Das Keyboard 6 Professional Mechanical keyboard
Screw on rubber bottomed feet
USB A to C adaptor
Manual
Hardware specs
Length: 17.5" (444.5 mm)

Width: 5.31" (135.5 mm)

Height: 1.17" (29.8 mm, 35.7 mm with feet)

Weight: 2.89 lbs (1310 g)

Brown Switches (tested):  100 million actuations, Actuation force: 55 cN (56 gf), Pre-travel: 2.0 mm (0.08 in), Total travel: 4.0 mm (0.16 in)
Blue Switches (alternate option): 100 million actuations, Actuation force: 60 cN (61.2 gf), Pre-travel: 2.2 mm (0.087 in), Total travel: 4.0 mm (0.16 in)
Built-in 2 port USB-C Hub
Full-time Full NKRO (All key rollover)
Aluminum Chassis
White LED backlighting (3 light settings and off)
Sleep and media controls
Oversized volume roller knob
Wired USB-A or USB-C connection
Plug and Play, no software needed
Design and features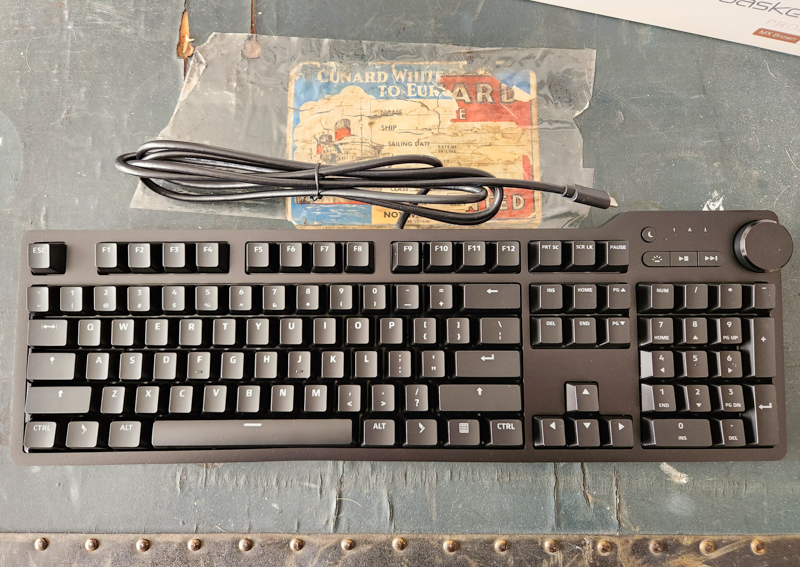 The model I was sent to review of the Das Keyboard 6 Professional Mechanical keyboard was the 104 key US version. It's also available in 105 UK, 105 DE, and 105 NO versions. I chose the Cherry MX Brown switches (tactile but quiet and great for light typing with an earlier actuation point) though you can also pick Blue switches (your classic standard clicky mechanical keyboard switch). No surprises on the key layout here: it's completely standard with media keys, sleep, and volume controls at the top right.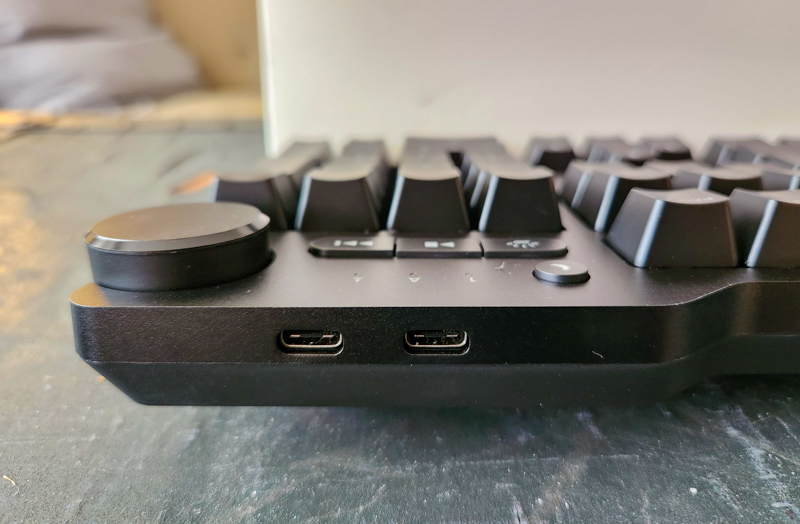 Right behind the media control cluster is the 2 x USB-C ports. These are great for connecting memory cards or devices or charging things right off the keyboard.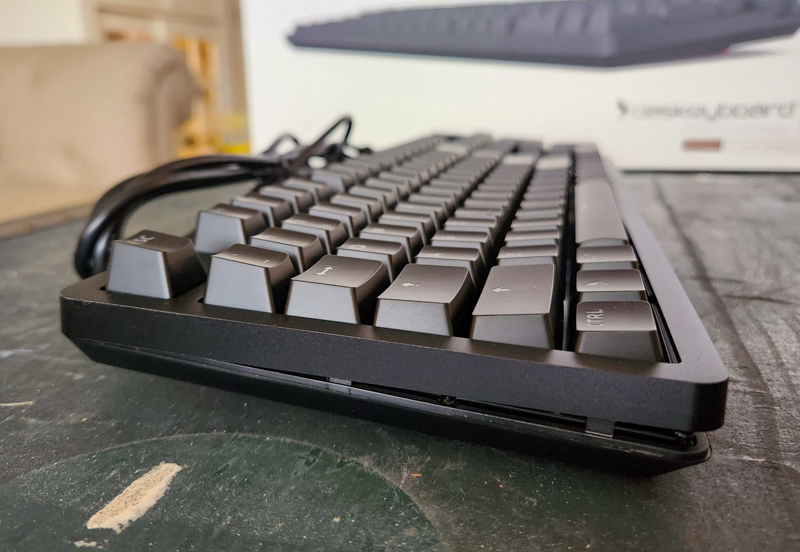 The enclosure is aluminum and feels very sturdy. The plastic top shroud came popped off on my review unit though which was strange, since the box didn't have any damage. Luckily just popping it back in results in a perfect keyboard, but if you're spending ~$200 on a keyboard you would probably not like to see this kind of manufacturing or shipping snafu.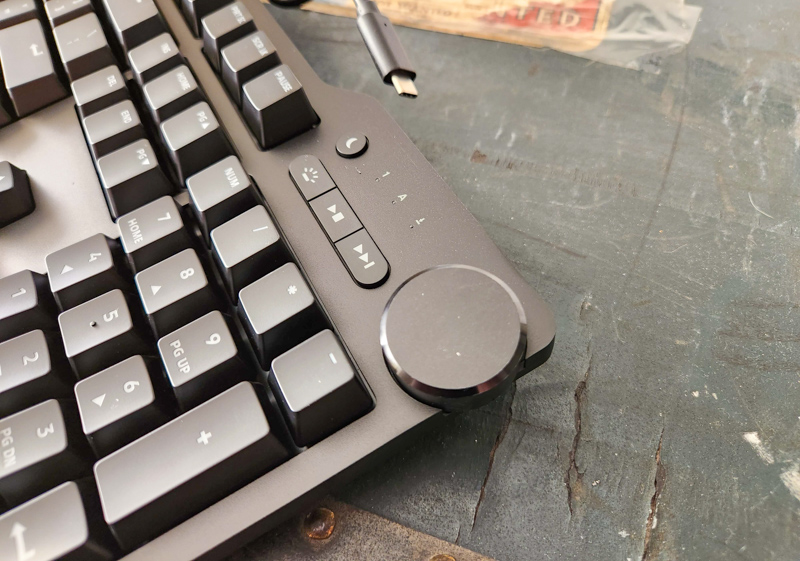 The Das Keyboard 6 Professional mechanical keyboard's large volume knob is delightful. It's metal, rotates smoothly, and you can swipe it from the side with your finger without even taking your hand off your mouse. I haven't had a volume control on a keyboard that I've liked so much.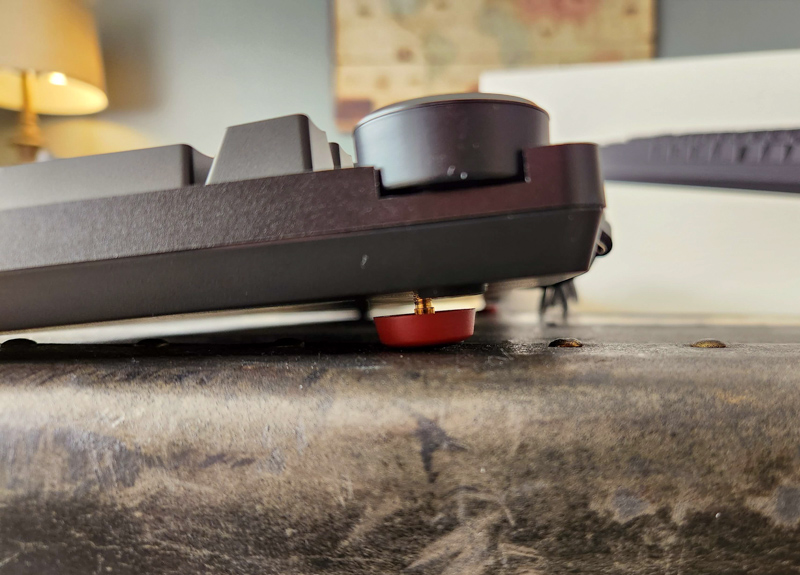 You can either use the Das Keyboard 6 Professional Mechanical keyboard flat on your desk, or you can screw in the feet to any height you desire (this can add up to 5.9 mm to the back height of the keyboard).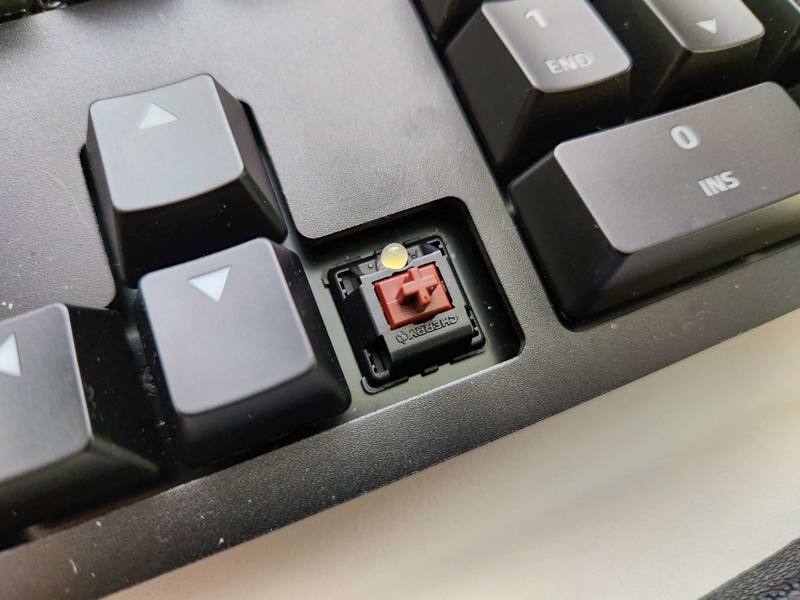 I popped one of the keys off, and sure enough, the Cherry MX Brown switches are there under the laser etched keycaps, with a single white LED on each.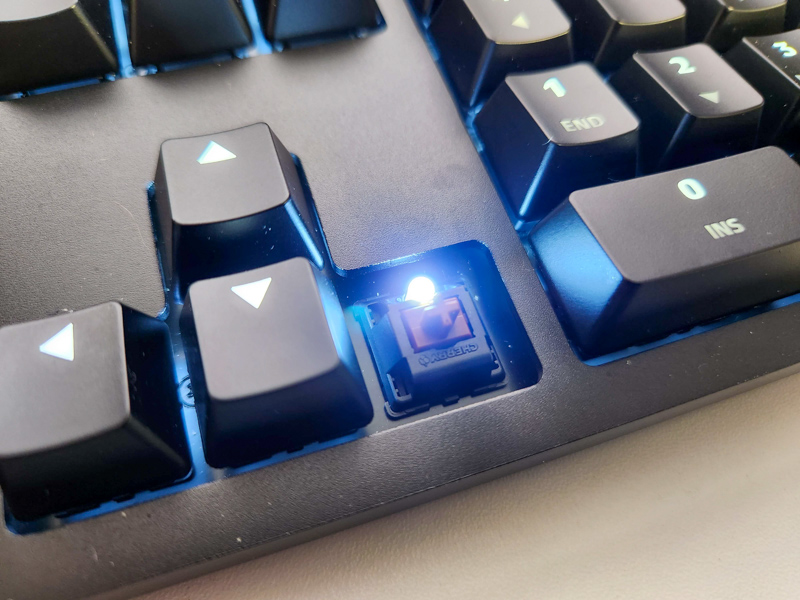 This provides a nice even backlight on all of the keys including any alternate function text, none were hard to read or see in any lighting.
Setup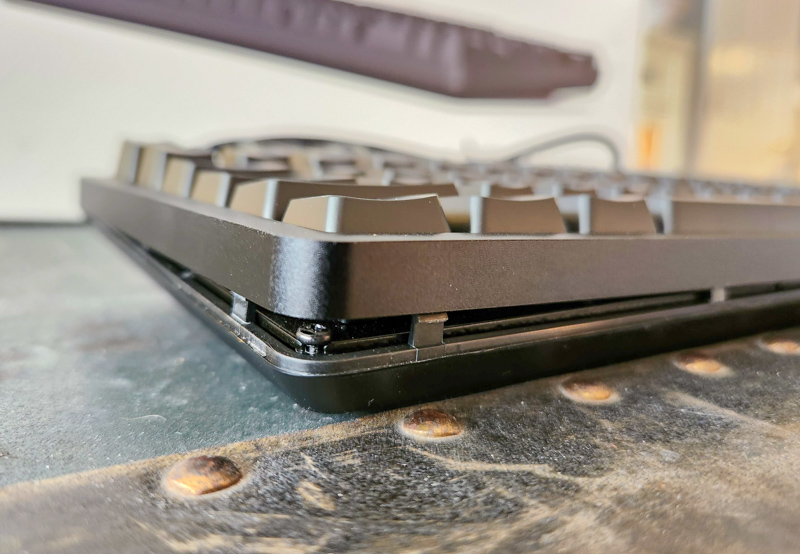 As previously mentioned, the first thing I had to do with my Das Keyboard 6 Professional mechanical keyboard review unit was pop the plastic shroud back onto the aluminum chassis. You can see a bit of the guts of the keyboard in the photo above, everything I could see and feel felt premium (except for the fact that this came popped off like this). Materials and build are very tight.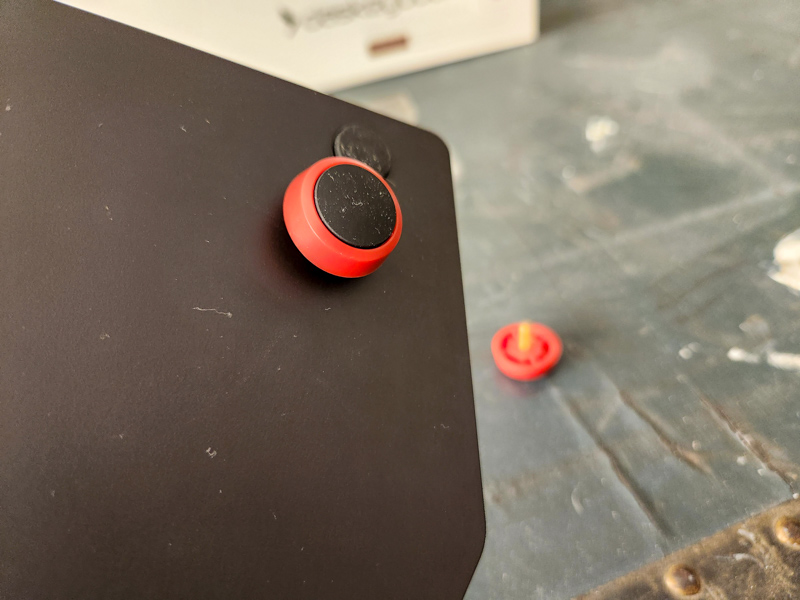 The next step for setup was screwing on the rubber feet. I really liked that each foot is simply screwed in or out to your desired height, this gives you much more precise height control and thus angle on your keyboard. You can also use it flat, if that's what you prefer. One of my desks is slightly uneven (homemade furniture and warped wood, and this is the only keyboard that sits perfectly flat on it without rocking; every other keyboard has a slight wobble due to the warped surface).
After the physical setup, you simply plug the keyboard in (either directly to a USB-C port, or using the included adaptor to convert the USB-C to a USB-A connection), no software is needed for Windows, MacOS, or Linux devices.
Performance
In the video above, you can hear the typing sound of the Das Keyboard 6 Professional Mechanical keyboard's brown switches, as well as see the different backlight settings. I really like the Brown switches, I was able to hit 90+ WPM in typing tests (my average is usually mid-80s). A light touch combined with the tactile bump of each key results in some of the fastest and most accurate writing I've done. Anyone who's coding or writing all day (like the professionals this keyboard is marketed to) will probably love this keyboard. I had a hard time trying to think of "Cons" for the next section, this keyboard ticks my boxes on what a good work keyboard should be: full size layout, fast and pleasing keys, premium reliable build, and handy volume and media controls. The 2 port USB-C hub is an added bonus. Some keyboard companies (including Das Keyboard for other models) include extra software you can use to further customize your experience, but most of the programmers I know prefer to use things like markdown and other utilities like AutoHotKey to automate writing and coding rather than using keyboard macros or other keyboard software specific options.
On a side note, I also used the Das Keyboard 6 Professional Mechanical keyboard for quite a few long gaming sessions through the review period. I haven't used a tactile-switch keyboard while gaming in a while, so it was a bit weird at first having the slight tactile "bumps" each time I strafed from side to side, but I quickly got used to them and really enjoyed the experience. The Brown switches short actuation point made for fast reaction times and movement controls.
What I like
Premium build (except for the strange plastic-shroud-popped-off on my review unit, but this was easily fixed)
High quality switch options
Good all white backlight
What I'd change
Final thoughts
If you're looking for a keyboard that's well-built with premium components that nails the basics with work-friendly mechanical keyboard switches, the Das Keyboard 6 Professional Mechanical keyboard should be on your shortlist. I loved everything about it for the weeks I used it day and night for work and play, and it's my new daily driver as I conclude this review!
Price: $199.00
Where to buy: Das Keyboard and Amazon
Source: The sample of this product was provided by Das Keyboard.