We use affiliate links. If you buy something through the links on this page, we may earn a commission at no cost to you. Learn more.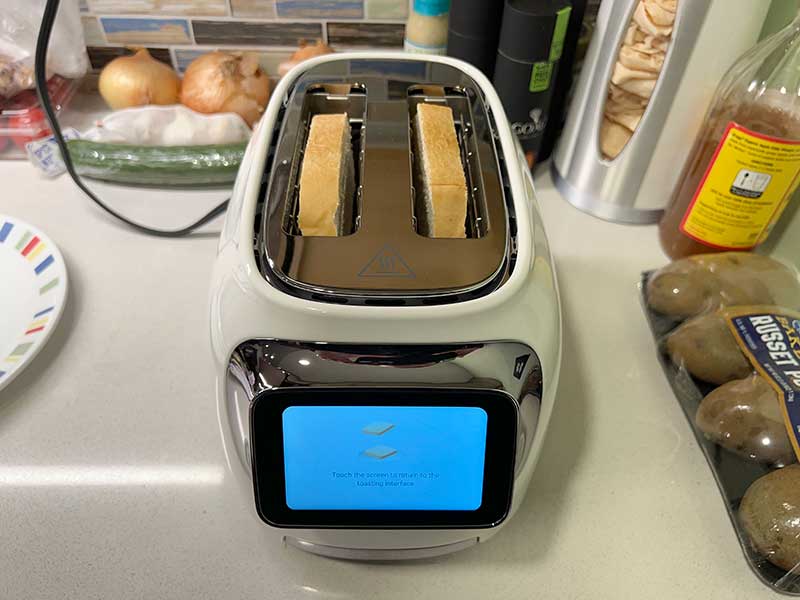 REVIEW – Who likes perfectly toasted bread slathered in butter, jam, peanut butter, etc? If someone didn't raise their hand to that question, you're not human and I banish you! For those who did raise their hands, welcome to the toast club where today we're going to check out the Tineco TOASTY ONE Smart Toaster. What makes a toaster smart and is this insanely expensive toaster better than the one you bought from Walmart or Target for less than $20? Grab a loaf of bread, and your spread of choice, and let's find out!
What is it?
The Tineco TOASTY ONE Smart Toaster is exactly what you think it is… it's a toaster… that's smart. My definition of smart may be different than Tineco's definition though.
What's in the box?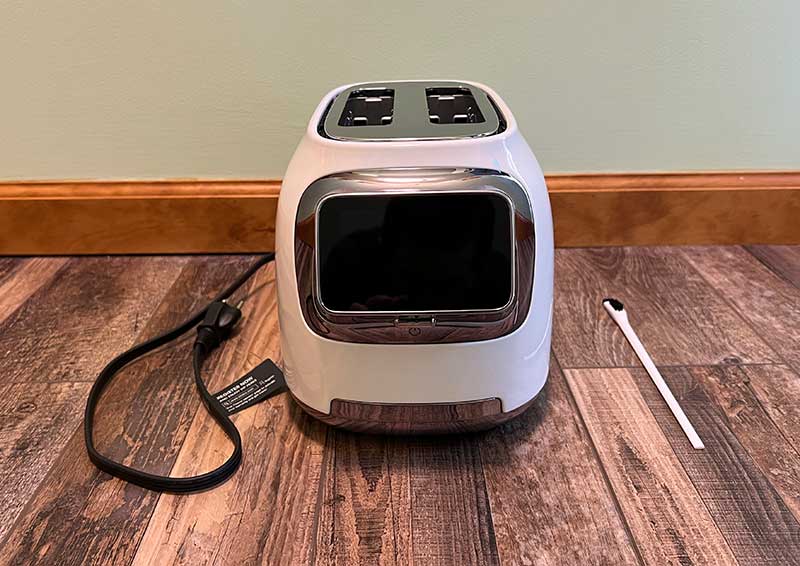 Tineco TOASTY ONE Smart Toaster
Crumb brush
Manual
Design and features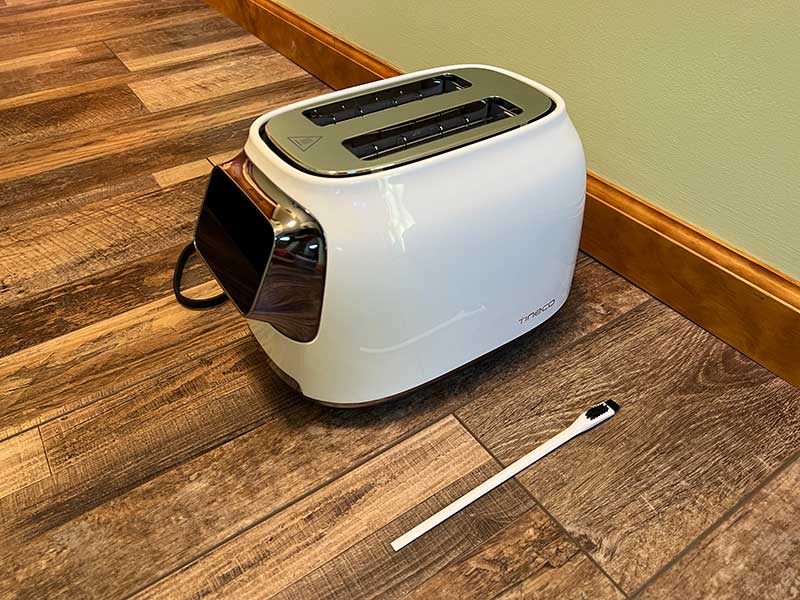 If toasters could be described as sexy, the Tineco TOASTY ONE Smart Toaster definitely fits that description. The white enameled case with chrome accents makes this bread-toasting appliance look clean and sleek.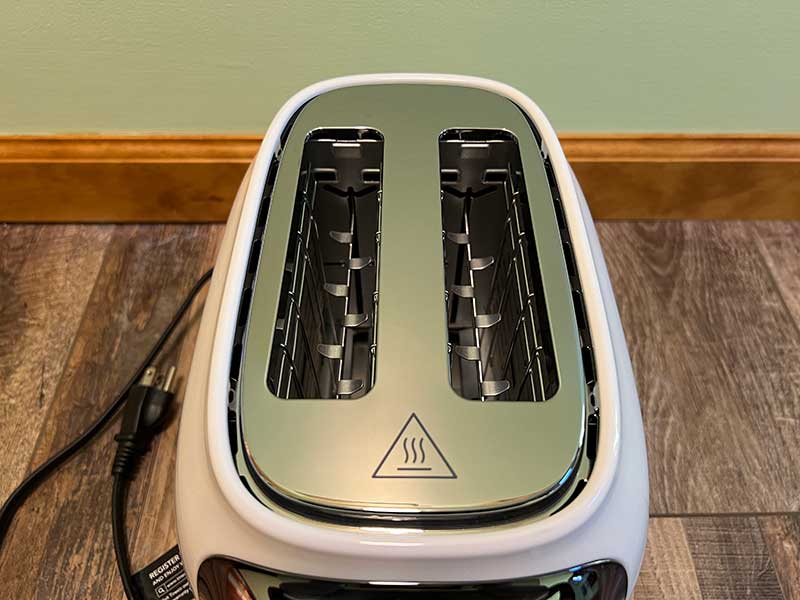 The first bummer of a toaster in this price range is the fact that the Tineco TOASTY ONE Smart Toaster only has two slots. That's fine if you live alone, but if you have another person or a whole family in your household, using this toaster will be similar to one family sharing one bathroom… people are going to fight over who gets to use it next.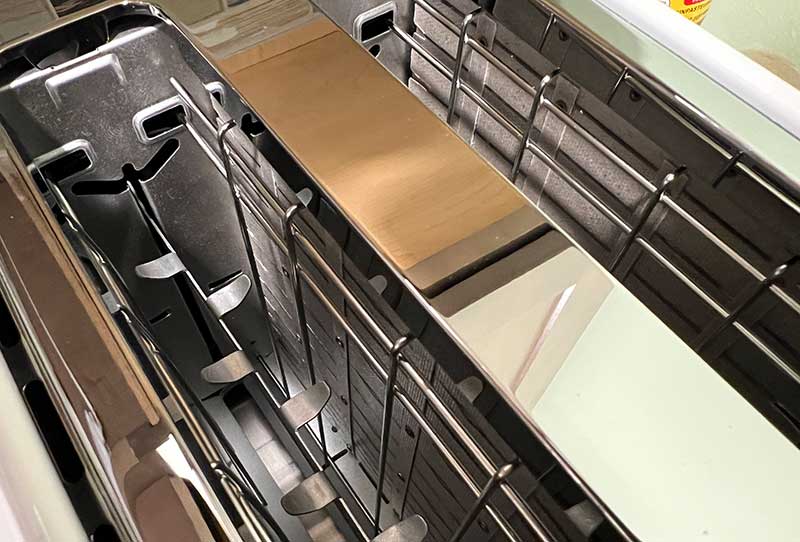 The slots are wide enough to accommodate thicker bread or sliced bagels.
Toasters toast bread and that activity creates crumbs. My old-school non-smart toaster has the most annoying way ever to clean out all the collected crumbs, but the Tineco TOASTY ONE Smart Toaster has a simple way to do this same task. It has a pop-out crumb drawer that is easily removable for lightning fast cleaning.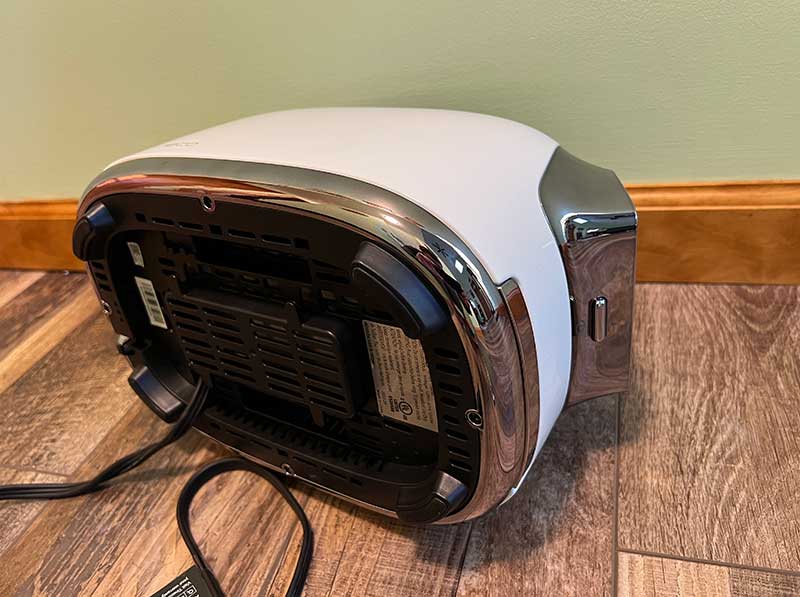 The Tineco TOASTY ONE Smart Toaster is a chunker of a toaster and that's not a bad thing. It stays put on the counter with no sliding around due to its not skid feet. In the image above you can also see the toaster's only physical button which is located under the 4-inch touch screen.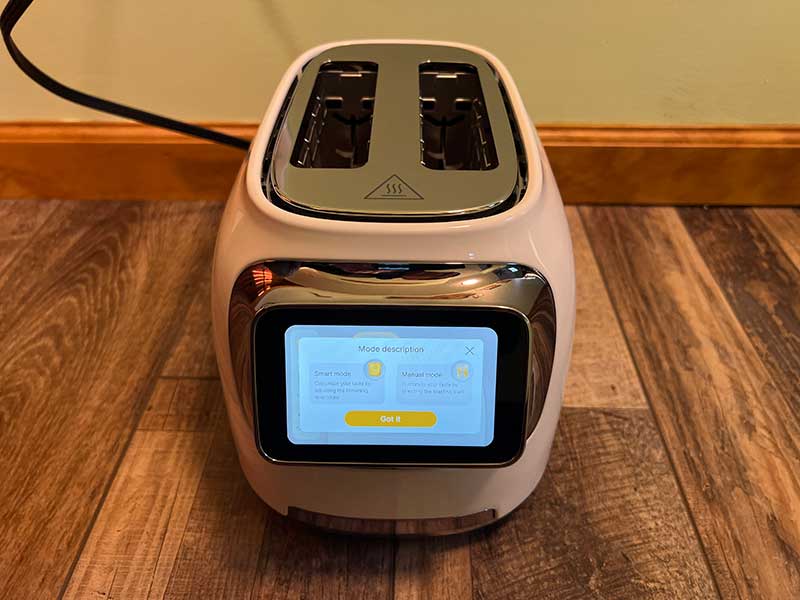 The touch screen is the toaster's interface that you'll use to customize your bread's toastiness.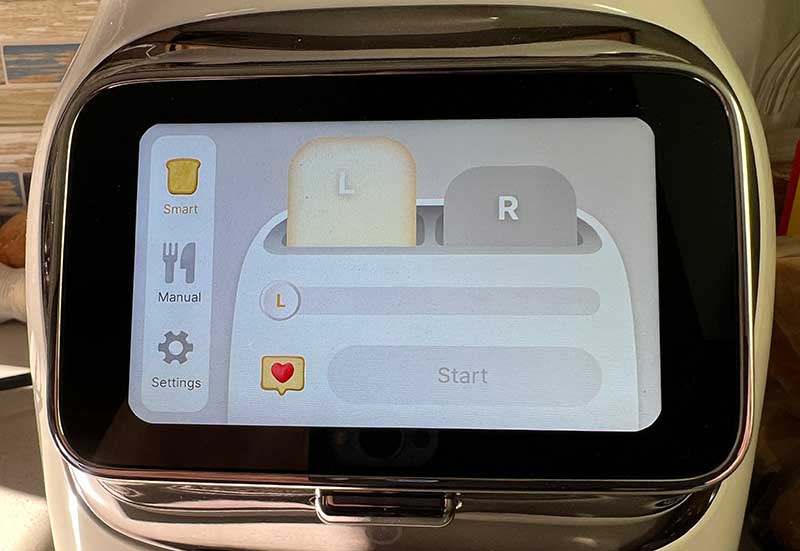 The Tineco TOASTY ONE Smart Toaster has smart and manual settings. The smart settings allow you to customize how dark you want each slice of bread to toast by using a simple slider using your finger.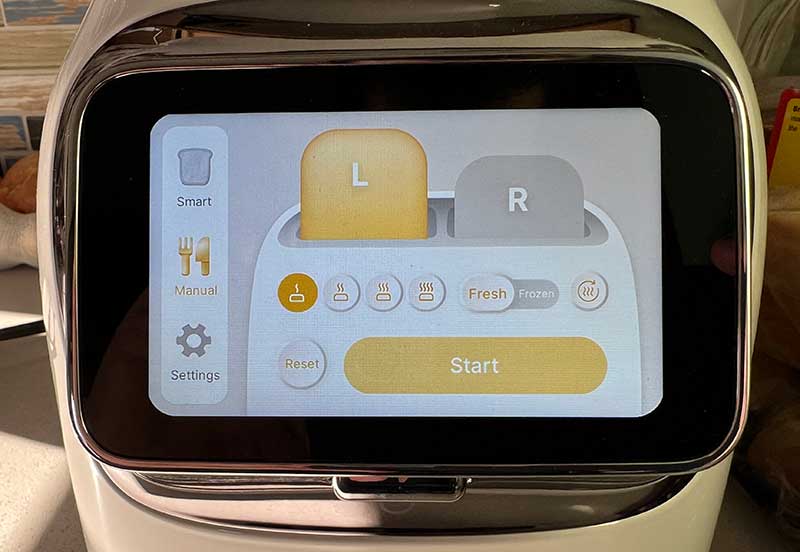 The manual setting is similar but you can specify if you're using fresh or frozen bread.
Let's make some toast!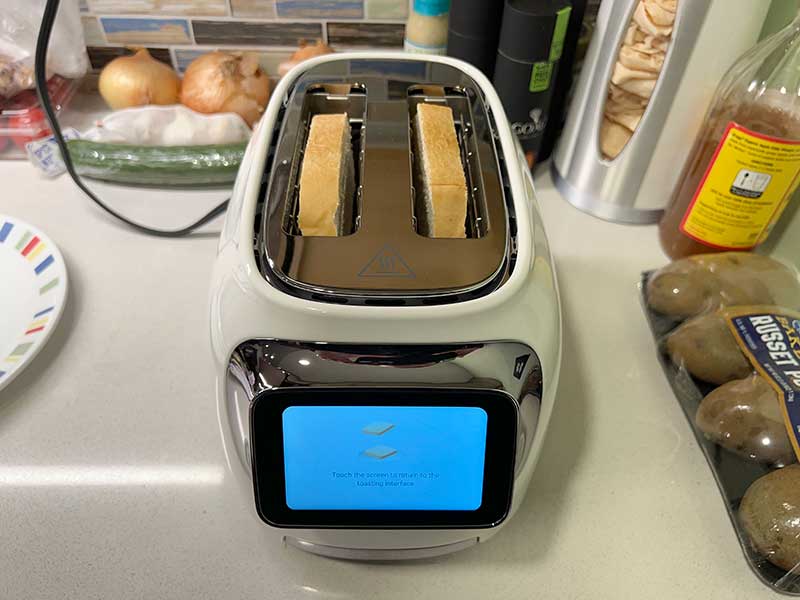 Although the Tineco TOASTY ONE Toaster is smart, it doesn't require you to set up an account, connect to your WiFi, or install an app. All you have to do is turn it on by pressing the button under the display. You'll be instructed to insert your bread which you can see that I've done above…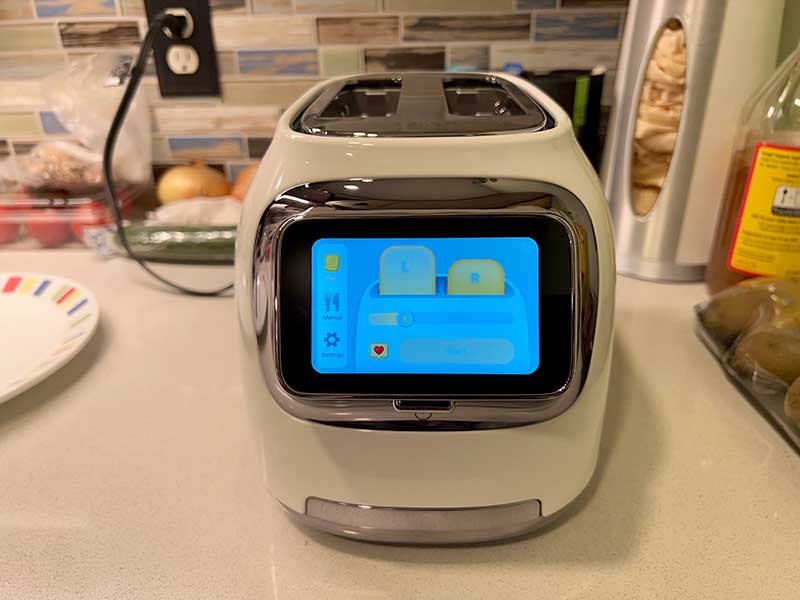 Then you can adjust the toast level of the left and right slots by sliding your finger across the touch screen. When you have your prefs set, you just press the start button…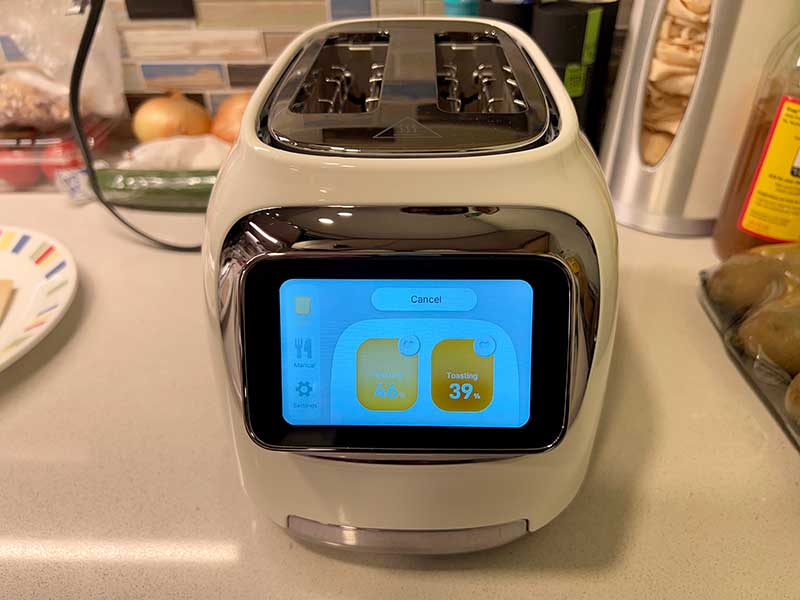 The bread will lower into the toaster and toasting will begin. The onscreen status will show a percentage that counts up to 100%.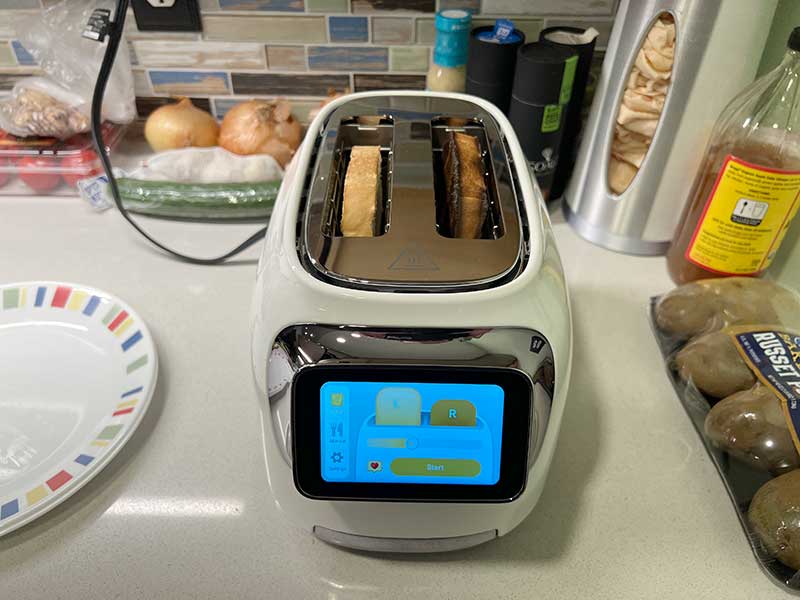 When both slots have finished toasting, the Tineco TOASTY ONE Smart Toaster will ding a bell and the bread will automatically rise out of the slots like a phoenix rising from the ashes. Ok, that's not a good metaphor for a toaster as we don't really want ashes. But…..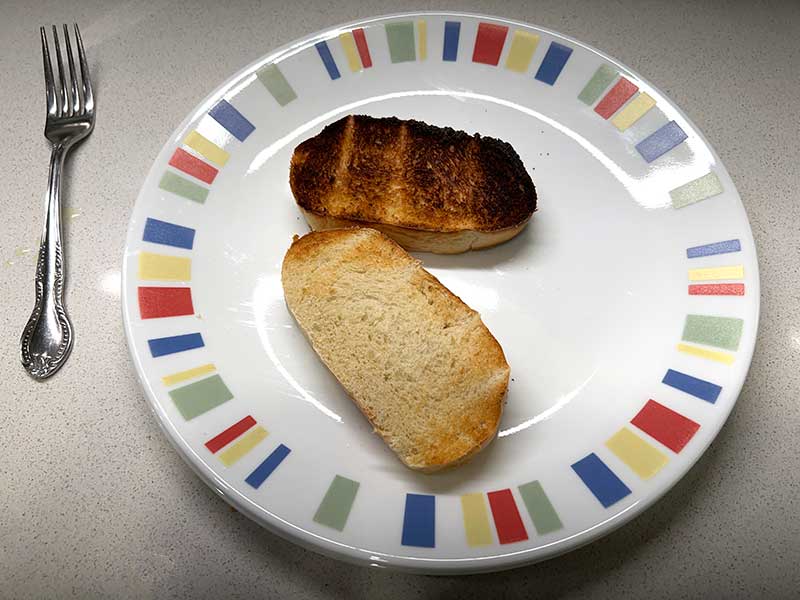 Hmmmm, the darker slice turned out a lot darker than I would have expected compared to the setting that I selected for that slot… So just like non-smart toasters, you will need to figure out how the darkness levels on the screen really translate to real life. But once you do, you can favorite that setting by pressing a little heart icon.
Luckily my better half likes darker toast (but not really that dark). She took that one and my piece turned out exactly the way I like my toast which is slightly brown while still nice and soft inside. I hadn't had real bread in a while because I mainly eat low carb/keto and wow, this toast tasted amazing. We used the Tineco TOASTY ONE Smart Toaster every night until the loaf was gone. Once we figured out the sweet spot on the slider, it toasted bread perfectly. But then so does my old toaster. I also tested the TOASTY ONE with packaged wheat bread and it worked just as well. I even tested it with frozen bread.
See it in action
The 30-second video above shows the automatic lowering and raising of the toast. In this video, I'm toasting fresh frozen bread. I had purchased fresh bakery-made Italian bread from a local grocery, brought it home, sliced a couple of slices, and immediately placed them in the freezer where they remained for over a week until I did this test.  You will notice that the outside of the bread was very barely toasted. It did have a toasty-crisp texture. However, the interior of the bread wasn't fully heated up. It was no longer frozen, but there were a few spots where it was still slightly cool.
What I like
Looks great on the counter
Automatic lowering and lifting mechanism
Waits until both sides are done before lifting both pieces of toast
What I'd change
The price. Ouch.
Needs more slots for the price
Final thoughts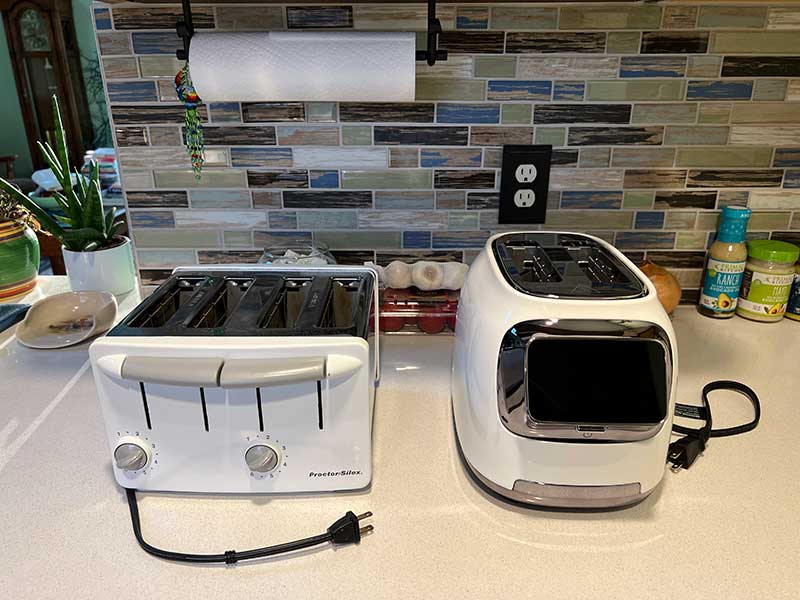 In the image above, I show my old-school toaster that I've had for at least 20 years if not longer. It has 2 slots per side and each side has a selector dial to choose from 11 levels of toasting. You have to manually lower the bread with the levers and when the toasting cycle is completed, the toast will pop up. I think I paid less than $20 for this toaster all those years ago. Would I trade in my old toaster for the Tineco TOASTY ONE Smart Toaster? I won't say that the Tineco TOASTY ONE Smart Toaster isn't super cool, because it is. It is a quality appliance. But I don't see a huge advantage over other non-smart toasters.
My old toaster has 4 slots, the Tineco TOASTY ONE Smart Toaster has only 2 slots which can cause a problem if you have more than 2 people in your family and even if you just have 2 people and you each want 2 pieces of toast, you'll be left waiting. My old toaster has plenty of toasting levels and the level is "saved" until someone changes it. With the Tineco TOASTY ONE Smart Toaster, you have to choose a favorited level or set it each time you use it. I just don't think there are enough features to really justify the price of the Tineco. In a world where so many things are becoming smart, I think some things are just better left dumb… AKA simple.
Price: $339.00
Where to buy: Tineco and Amazon
Source: The sample for this review was provided by Tineco.