We use affiliate links. If you buy something through the links on this page, we may earn a commission at no cost to you. Learn more.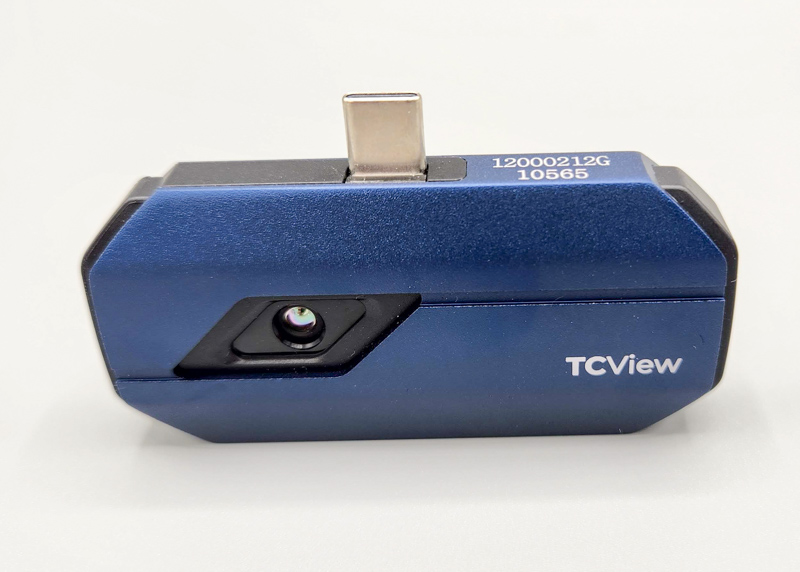 REVIEW – Have you ever needed (or wanted) to own your own infrared thermal camera? Until recently it was hard to find any options under $500, and even then many of them would have a vertical resolution of 100 pixels or less and less than stellar screens! The TOPDON TC001 Thermal Camera is an intriguing option at nearly half the cost of dedicated thermal cameras. I've always been envious of Youtube tech reviewers that can illustrate cooling/heating problems in devices with their fancy thermal cameras, so I'm excited for the chance to review the TOPDON TC001 Thermal Camera.
What is it?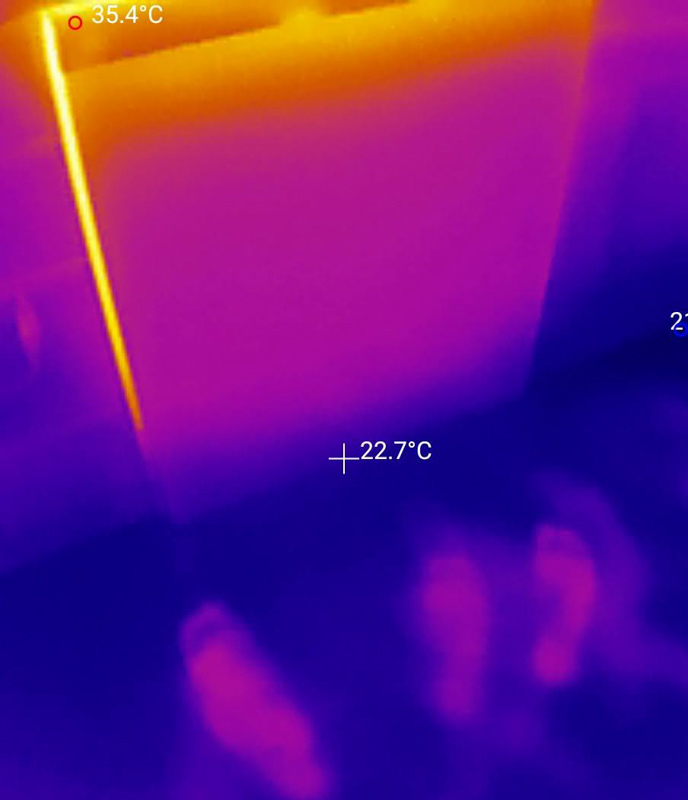 The TOPDON TC001 Thermal Camera is an infrared thermal camera designed for use with Android phones or Windows computers and laptops. It uses a USB-C connection to attach to a phone, and through the TOPDON software you can see a thermal version of whatever scene you're looking at. You can capture images and videos, monitor temperatures over time, and much more with the app.
What's in the box?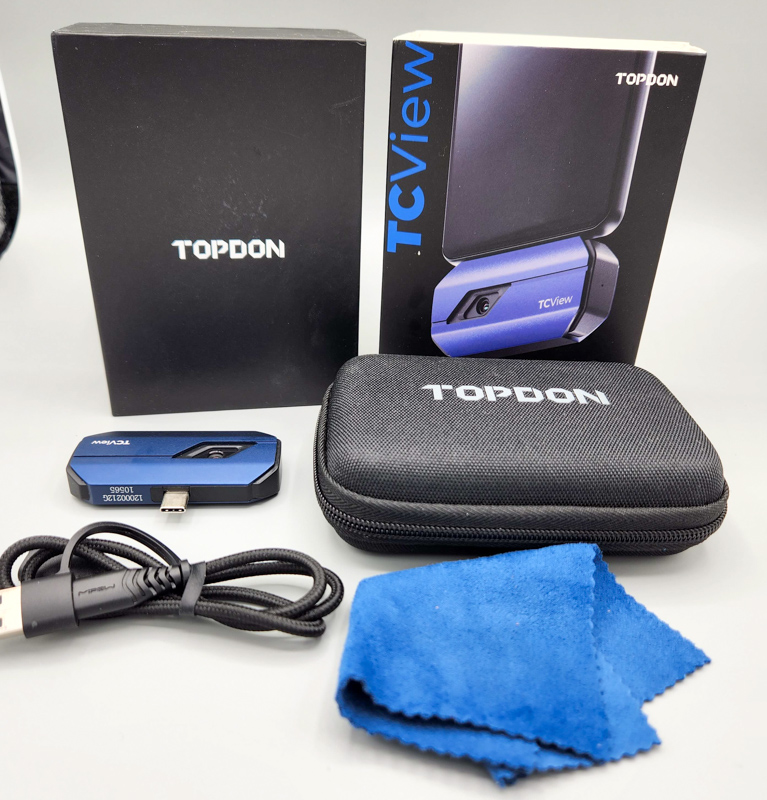 TOPDON TC001 Thermal Camera
USB extension cable with USB-C to USB-A converter
Cleaning cloth
Carrying case
Hardware specs
Resolution: 256 x 192 pixels
Heat sensitivity: 50 mk
Accuracy: ±3.6℉ (2℃)
Temperature range: -4℉ to 1022℉ (-20℃ to 550℃)
Spectral Range: 8~14μm
Pixel Size: 12μm
Frame Rate: 25Hz
Design and features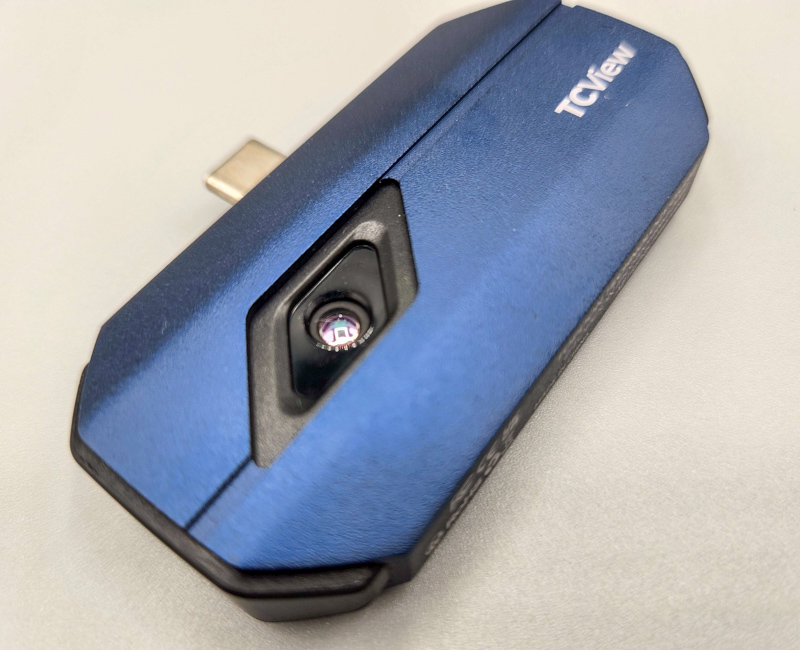 The TOPDON TC001 Thermal Camera is a small rectangle roughly 2.75″ x 1.75″ x 0.5″. On the business end is the thermal camera.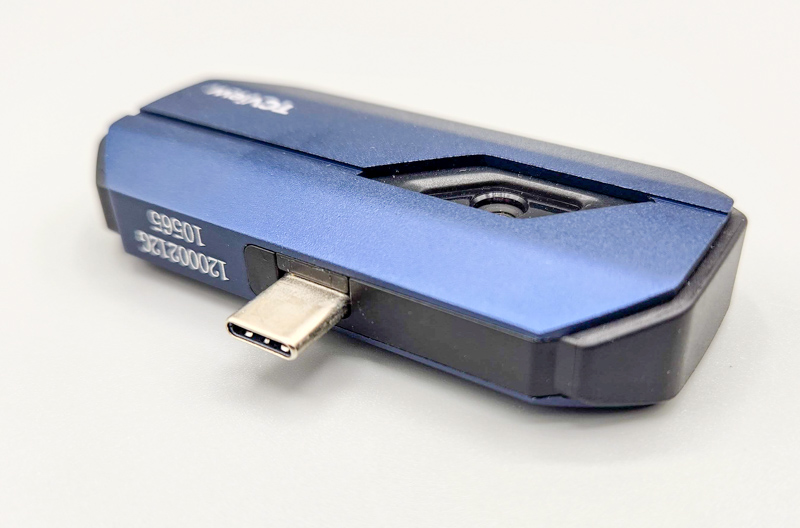 The top of the unit has a longer-than-normal USB-C connection. This allows it to connect to phones even if they have a decently thick case installed. I used it on two different phones, both with cases (the REDMAGIC 7S Pro smartphone and a Samsung Galaxy Fold 4).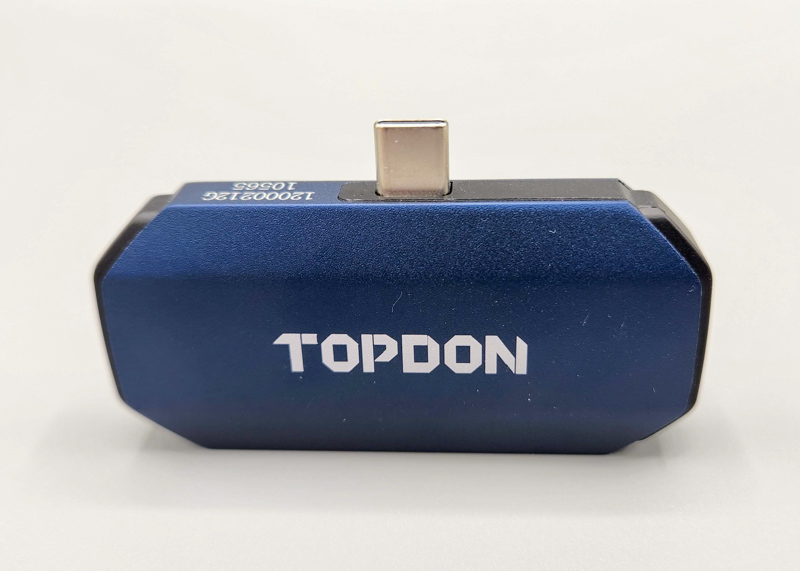 The backside of the TOPDON TC001 Thermal Camera simply has a TOPDON logo. The entire unit is an aluminum and plastic build, and feels sturdy.
Setup
To use the TOPDON TC001 Thermal Camera, you'll either need to connect to an Android phone that supports OTG, or a Windows PC. I did all my testing on Android phones, since this is the use case I think most of us would be buying this product for. You'll need the TC001 app from the Google Play app store, installation is straightforward.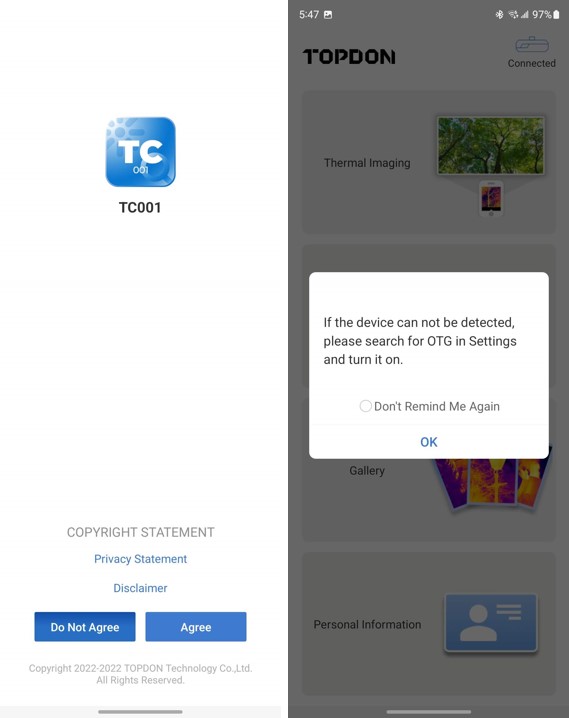 Once you have everything installed, you're presented with a screen very similar to your typical Camera application on your mobile phone, but everything will be in various shades of red by default. You can switch the color palette, capture images and video, and tweak settings in the app (for example you can narrow the temperature detection range to a range that ignores everything outside the range).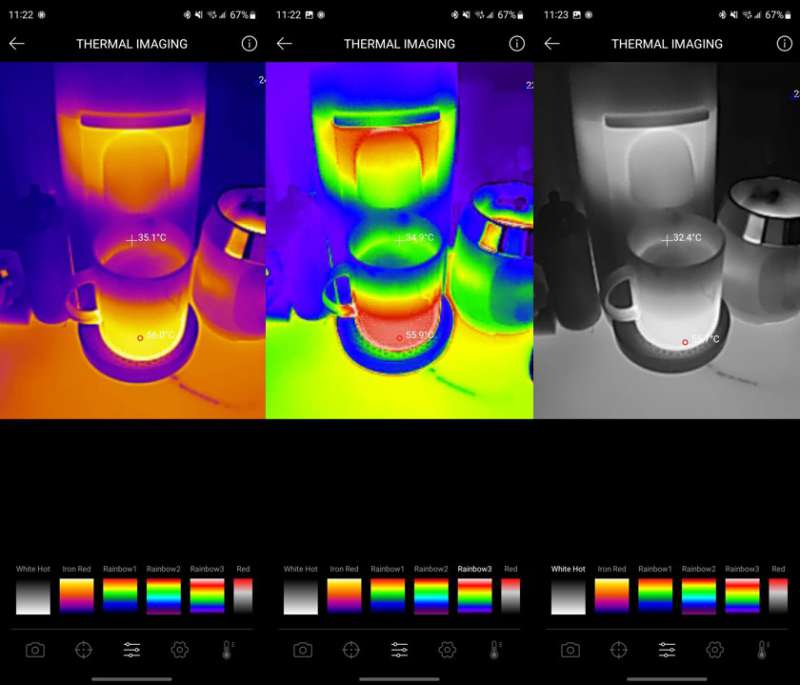 The default settings were good for most things for me, you can see in the image below a good doggie posing for a thermal picture.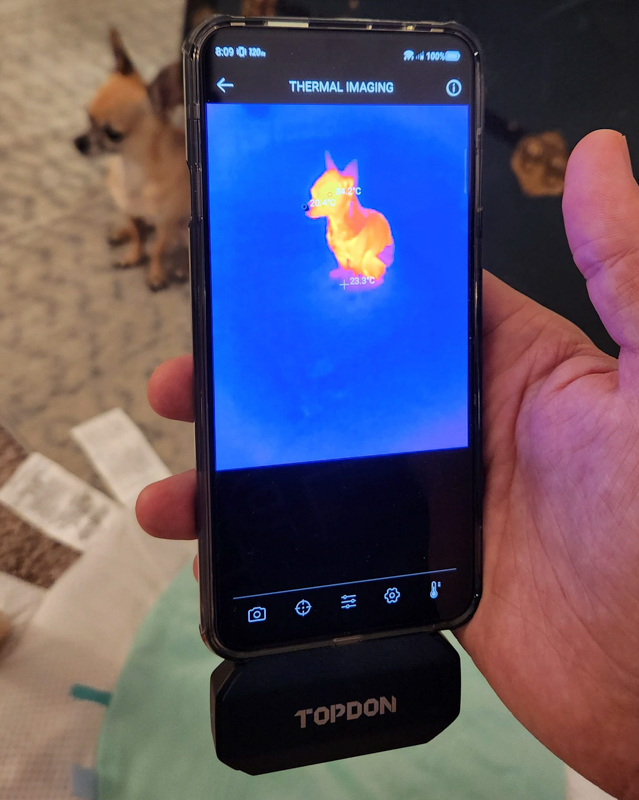 Performance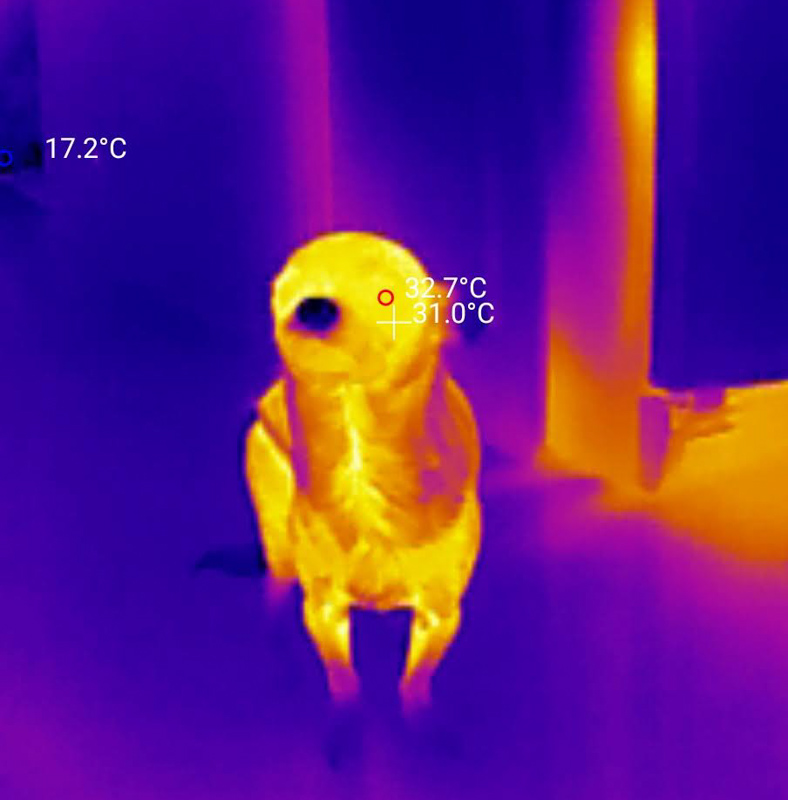 Each captured image shows the hottest, coldest, and average temperature spots. Notice in the picture above how cold our dog's nose is. The video below is a short video of my treadmill laptop workstation (ignore the terrible cable management, I switch things up too often to be bothered anymore).
Notice the freeze in the video at the 0:08 and 0:18 second marks, this seemed to be pretty regular; about every 10 seconds or so there was a temporary freeze. This didn't affect what I was doing at all, but it is noticeable. It happens while recording video, or while just viewing things through the app without recording.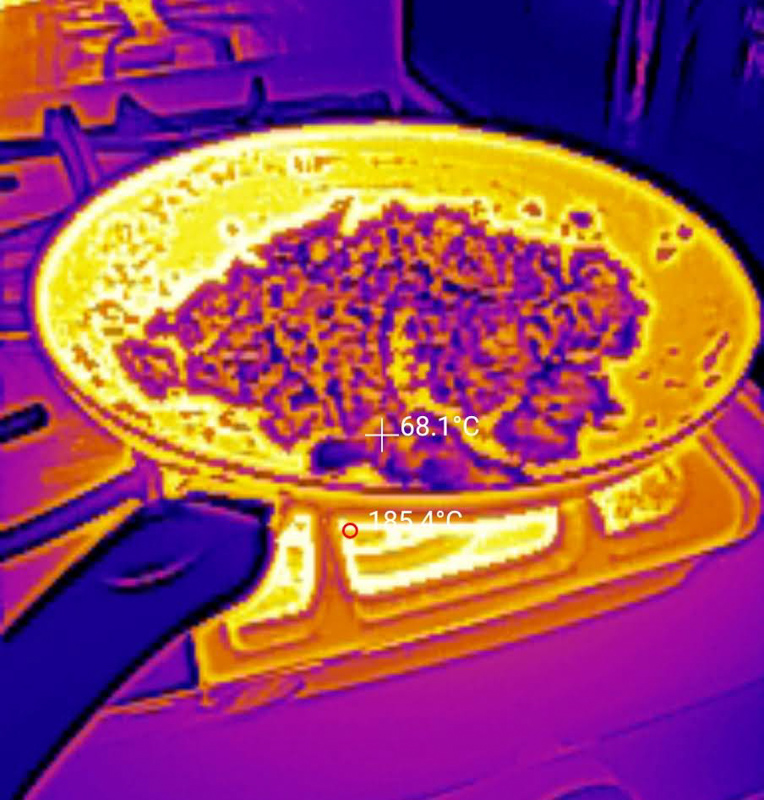 I tested a wide range of temperatures, up to about 185 degrees Celsius on our stove, as shown above. I was impressed with the accuracy, speed, and resolution of the TOPDON TC001 Thermal Camera.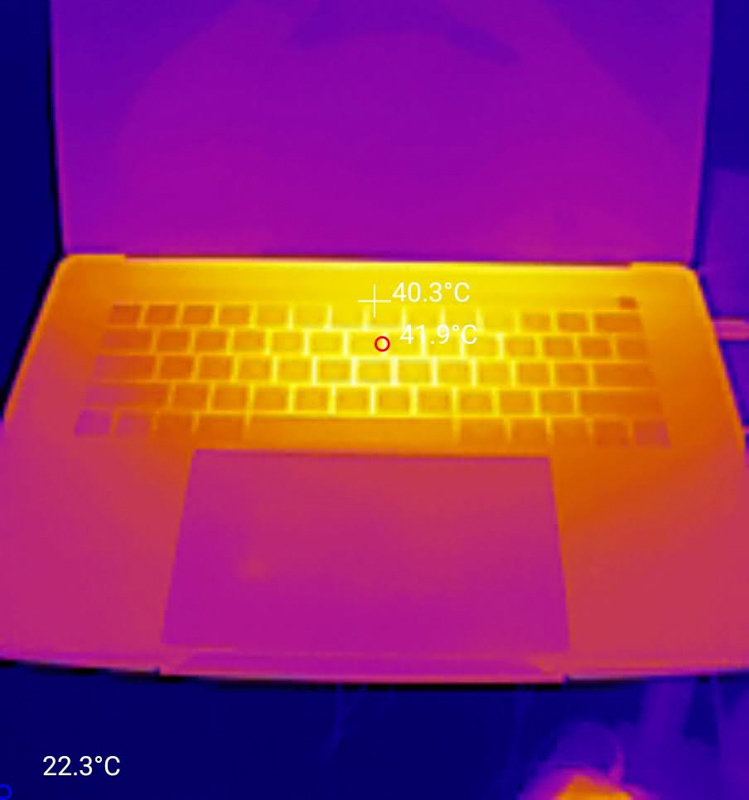 This device could be very useful if you're evaluating or monitoring the temperature of things. In the image above, you can see my aging company Macbook is getting quite hot in the top center under light use, probably indicating the need to blow out the fans to clear built up dust.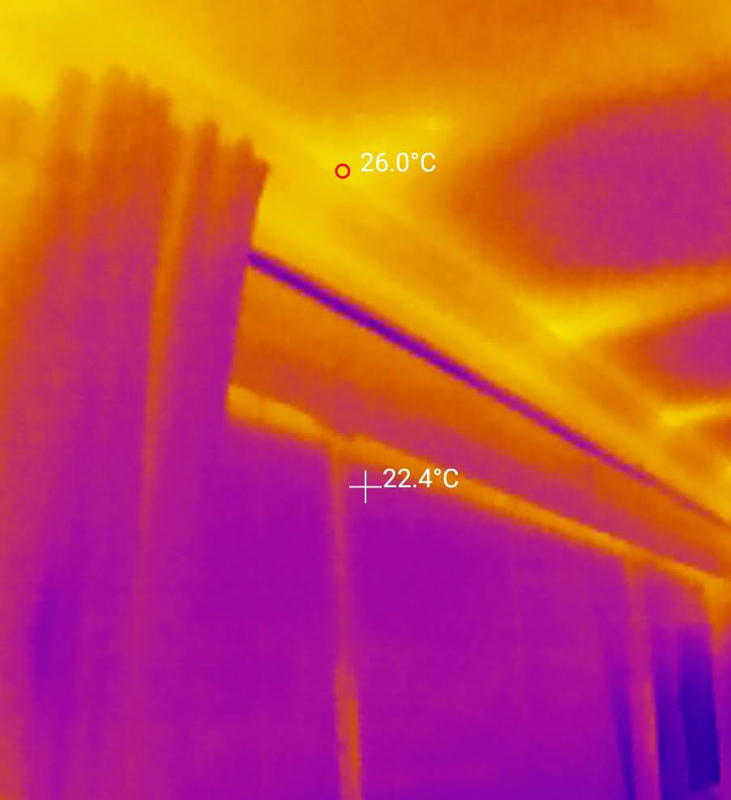 Another immediate use I set the TOPDON TC001 Thermal Camera to tackling was evaluating insulation in our house. I was able to quickly confirm which windows and doors seemed to be letting in the most cold/hot air (as indicated by floors and ceilings around them at higher/lower temperatures than the rest of the house). You can also quickly find studs; in the top of the image above you can see each stud going across our ceiling.
What I like
Easy to use
High resolution for a thermal camera
Long USB-C connector to work with phone cases
What I'd change
Fix the frequent stutters when capturing video or viewing in the app. This happened on both phones I was testing with, and I could hear a periodic clicking from the device itself, so it seems like something is resetting or updating on a regular cycle.
Adaptor or version for iOS
Final thoughts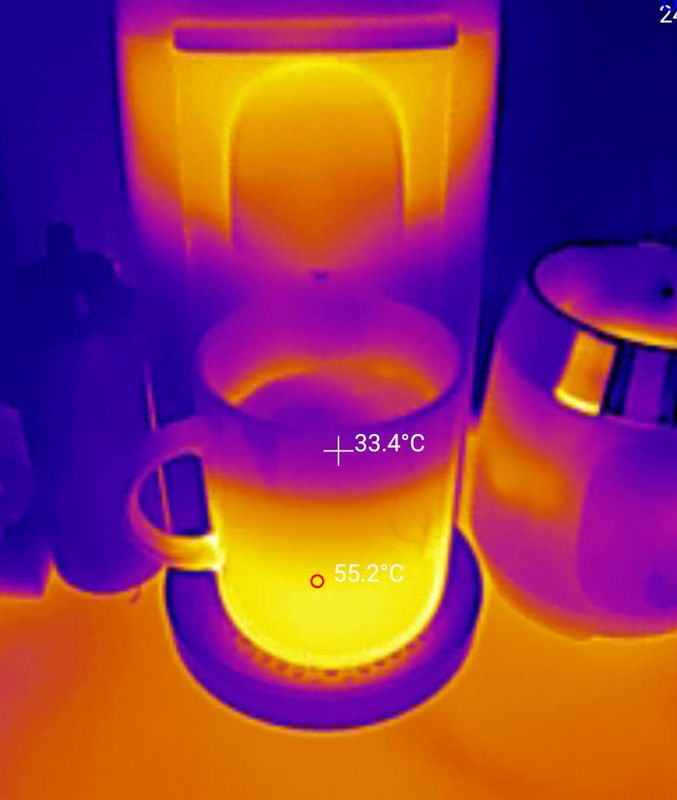 Overall, the TOPDON TC001 Thermal Camera does exactly what you'd want it to do: show and record thermal images in high quality for a variety of needs and purposes. Compatibility with Android phones makes it very easy to grab and use whenever I want to check thermal things. I think if they'd release a Lightning (iOS/Apple) version they could reach another large market quickly, but compatibility with Windows PCs is also nice.
Price: 299.99 ($50 coupon available at time of review)
Where to buy: Amazon
Source: The sample of this product was provided by TOPDON