We use affiliate links. If you buy something through the links on this page, we may earn a commission at no cost to you. Learn more.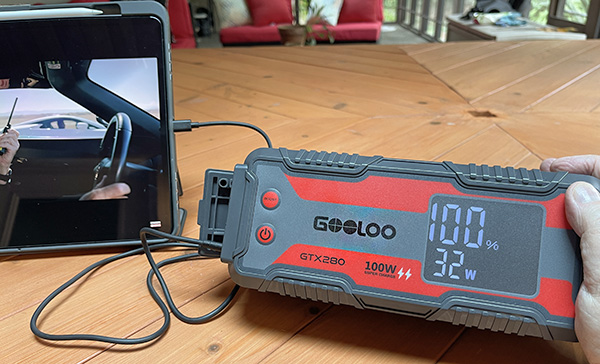 REVIEW – The portable power station market is getting interesting. Just a few years ago, all you could get were small, hand-held units with an AV outlet, a couple of USB ports and a 12V "cigarette lighter" port—all fairly basic stuff. Now, everybody seems to offer power stations in a vast array of sizes, ports, and of course—prices. A company called Gooloo (where do they come up with these names?) has released the new GTX280 Portable Power Station—a charger that can start your car! 

What is it?
The Gooloo GTX280 Portable Power Station is a powerful battery that can charge many small to medium-sized devices for power outages, camping, or power emergencies that crop up in our lives. It's equipped 280 watt-hours, meaning it will run a 10-watt gadget for 28 hours or a 140-watt gadget for 2 hours. It's mathematical.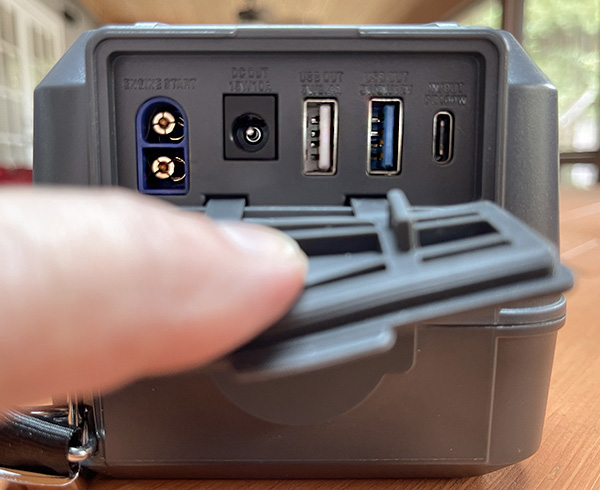 The Gooloo GTX280 Portable Power Station comes with a good selection of ports: 12V cigarette lighter, 12V battery clamps, 15V DC out, USB A out, USB A quick charge out, and USB-C In/out. The USB-C port is used for charging and for charging the GTX280 itself.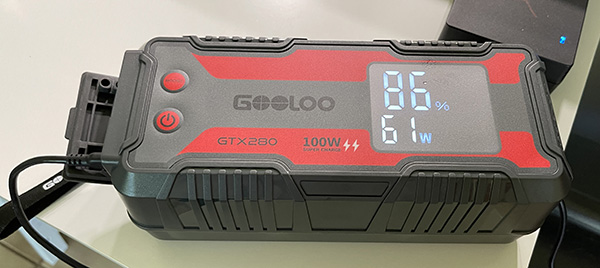 An oversized display screen shows battery life, discharge and charging wattage, low power activation, + and – battery clips polarity reversed warning (a safety feature), low temp warning, and a "ready" icon for use when it's ready to charge a vehicle.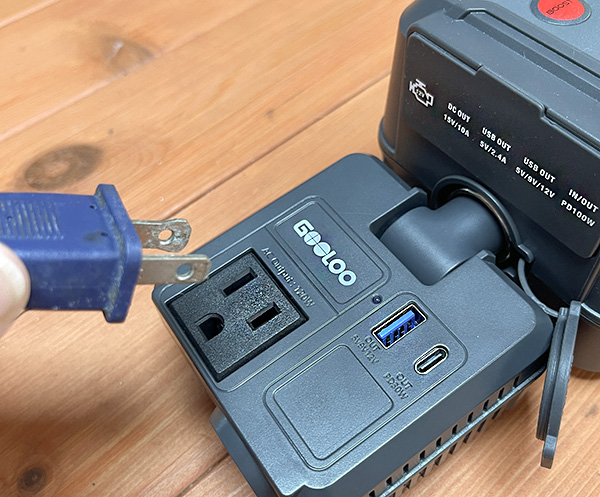 A separate car inverter is included in the box, as are battery clamps, USB A to USB-C cable, a carrying bag, 60W USB-C to USB-C cable, and a carabiner.

Specs
Capacity: 280Wh
Charge cycles: 1000 cycles
Main ports: USB A (2), USB-C, 15V DC, 12V cigarette lighter, Battery clamp
Inverter ports: 15V cigarette lighter socket, USB 3, USB-C, AC outlet
Peak current: 3000A
Weight: 4.65 pounds
Dimensions: 10.59 x 4.33 x 3.5 inches
USB A to USB-C cable
USB-C to USB-C cable
Car battery clamps
Carabiner
Carrying pouch

Design and features
The Gooloo GTX280 Portable Power Station fits into the in-between size of power stations. At slightly under 5 lbs., not nearly as big or as powerful as some extremely large stations and too big to casually throw around, such as the Shargeek Storm2 Slim power bank reviewed recently.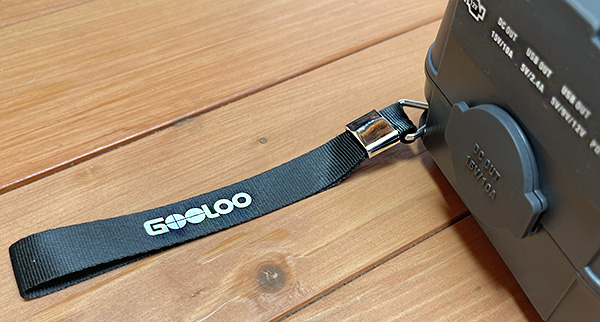 The GTX280's shape makes it difficult to hold in one hand—especially if you have small hands. It does come with a ribbon lanyard, however.  Plus its weight isn't balanced, making it clumsy to hold.
Another issue I have with the Gooloo GTX280 Portable Power Station is the extra inverter. It attaches via the cigarette lighter port. Despite Gooloo's instruction to securely insert the inverter into the port, it never felt secure. It wobbled a bit too much for my comfort. Plus, the inverter is hinged allowing it to be set at a 90° angle. However, doing that pulls the inverter out of the socket! It's a clumsy design. I keep wondering why the inverter and its ports can't just be built into GTX280 itself. The inverter weighs almost nothing, so it wouldn't add much weight or size to the GTX280's already large-ish body.
Now that the griping is out of the way, is the Gooloo GTX280 Portable Power Station useful?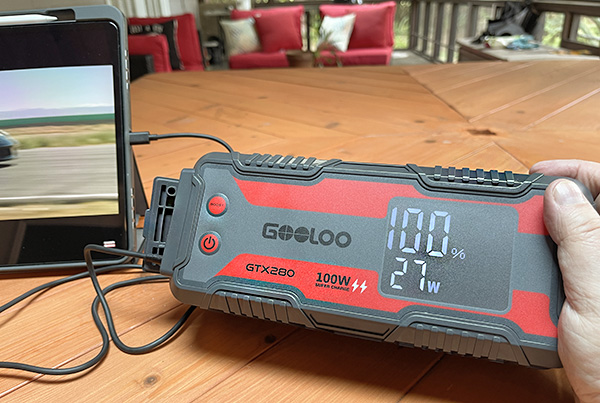 Absolutely. 280-watt hours is a decent size for those short, but annoying blackouts. Plus, that display screen can be seen from across the room. I like that!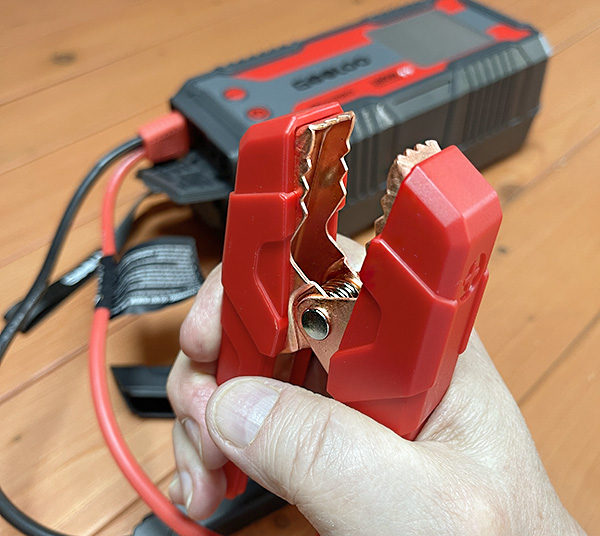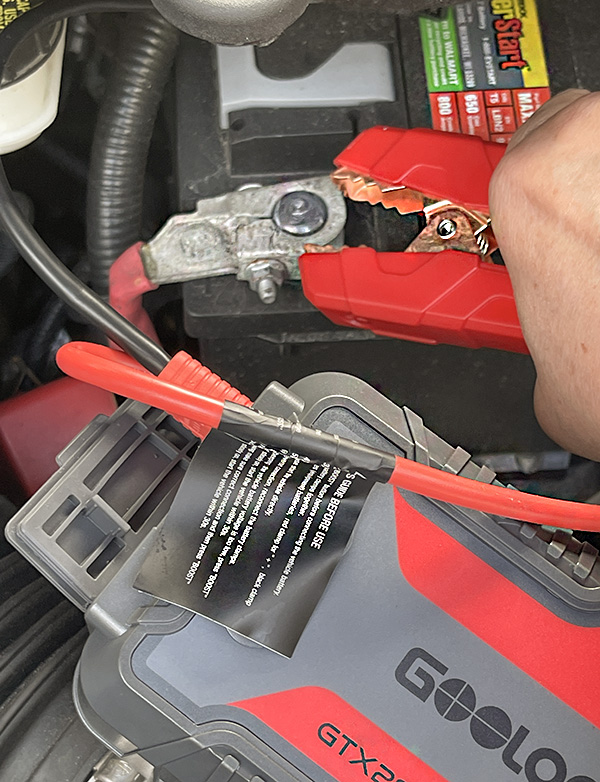 The Gooloo GTX280 Portable Power Station performs functions like any other power station—and some features are not as common. If you find yourself with a faulty car battery (common in Florida's extreme humidity and heat), you can use the GTX280 to charge the car. It's too easy to use. Just press the boost button until a "Ready" icon appears on the display, and connect the clamps to the battery terminal (Red is +, black is –). Start the car and that's it! Unfortunately (or fortunately), I couldn't try this feature since my car battery works just fine. But I'll be ready when it does die!
Eventually, the GTX280 will need to be re-charged. The good news is it only takes 2.8 hours. It can be connected to solar panels, but no instructions are given except that the panels must connect to a USB-C port and not exceed 100 watts.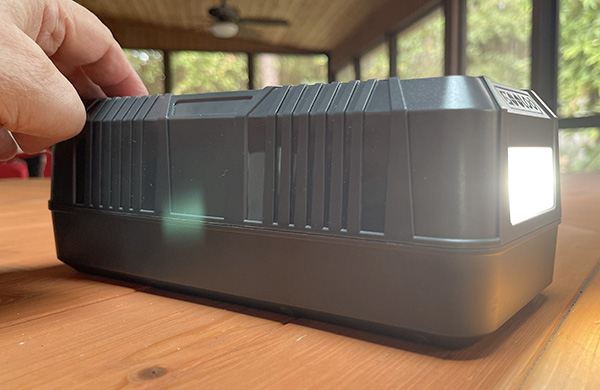 The GTX280 has a built-in light that can help during blackouts or under-the-hood repairs on the side of the road. It will also flash SOS or flash rapidly to get attention. It's a good safety measure. Another good safety measure is the built-in protections, such as over-charge, over-current, short-circuit, high or low temps, and reverse polarity. Reverse polarity happens when the car battery clamps are backward. The GTX280 cannot be damaged if this happens.
After carrying the Gooloo GTX280 Portable Power Station around for a few days, I've decided it's perfect for leaving in my car. I currently do not have a power station in my car for roadside emergencies and this fits the bill. I can leave it in the storage space in the rear of my Ford Edge and have instant access to power, should my batter ever die—which happens a lot in Florida.

What I like
That giant screen!
Many useful ports
It can start a car
Re-charges to 100% in less than 3 hours

What I'd change
The extra inverter should have been built-in
The inverter pulls out of the socket if the hinge is turned 90°
Weigh is not balanced

Final Thoughts
It's a bit too heavy to call the Gooloo GTX280 Portable Power Station super-portable. But it packs a punch and can take care of most power needs for a weekend camping trip and can even help you start your car or truck should you be stranded in the middle of nowhere! I recommend keeping a GTX280 in your vehicle at all times. You never know when you may need it.
Price: $299.99 US
Where to buy: Amazon
Source: The sample of this product was provided by Gooloo.