We use affiliate links. If you buy something through the links on this page, we may earn a commission at no cost to you. Learn more.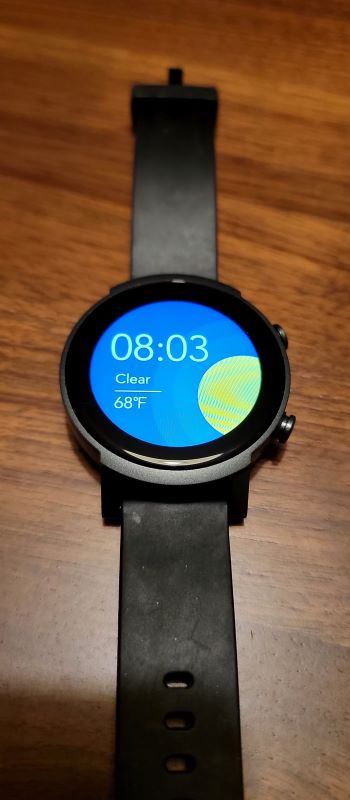 REVIEW – You know when a watch comes up for review and several Gadgeteers "reply all" with "That's a really good watch" that you're in for something neat if you get to review it.  Such was the case with the Mobvoi TicWatch E3 smartwatch, and I was lucky enough to get it and give it a review.
What is it?
The Mobvoi TicWatch E3 is a smartwatch that runs OS Wear and has many handy wellness and fitness features.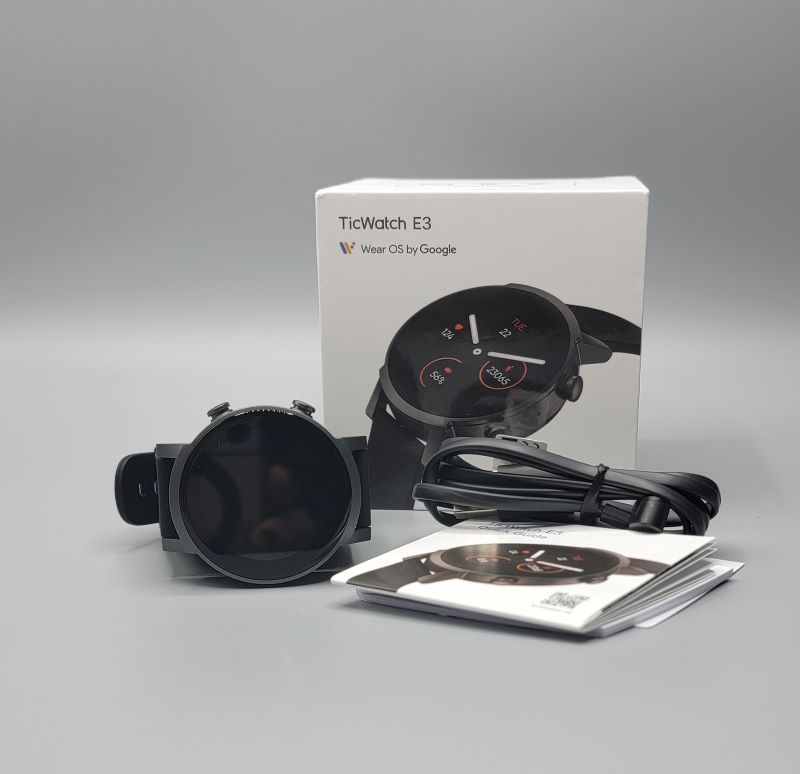 What's in the box?
Mobvoi TicWatch E3 smartwatch
Manual
Proprietary charger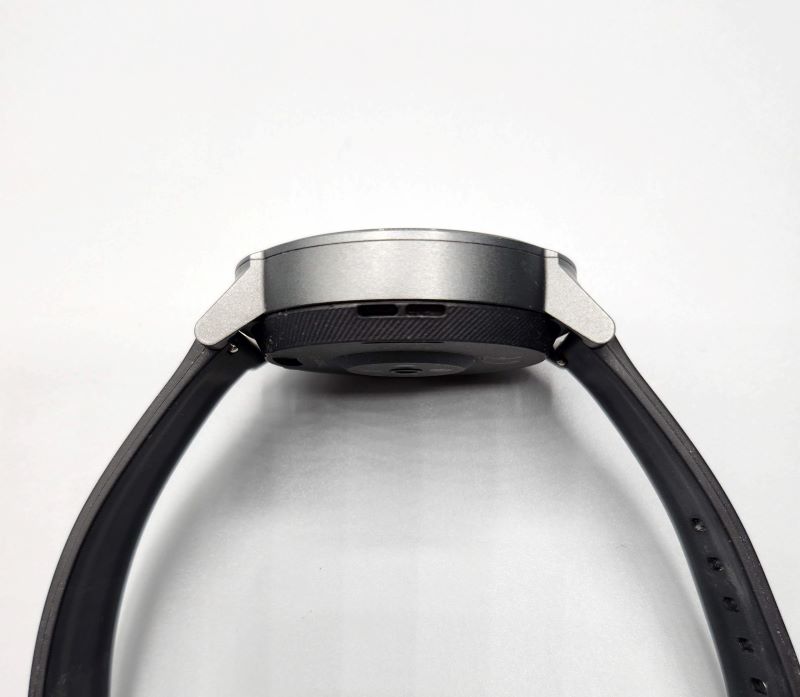 Hardware specs
Dimensions (mm)  44 x 47 x 12.6

Weight About 32g

Color Panther Black

Watch case Polycarbonate and glass fiber

Screen 2.5D glass

Watch strap Silicone rubber (interchangeable), 20mm, Black

Operating System Wear OS by Google

Chipset Qualcomm® Snapdragon Wear™ 4100 Platform and Mobvoi dual processor system

Memory RAM: 1GB / ROM: 8GB

Display 1.3″ High Density Display (360 x 360 px)

Connectivity Bluetooth 5.0, Wi-Fi:802.11b/g/n

GNSS GPS + GLONASS + Beidou

NFC Payments Google Pay

Speaker Yes

Mic Yes

Vibrator Yes

Sensors Accelerometer, Gyro Sensor, HD PPG Heart Rate Sensor, SpO2 Sensor, Low Latency Off-Body Sensor

Battery capacity 380mAh

Waterproof rating IP68, Pool swimming

Design and features
The Mobvoi TicWatch E3 smartwatch is a nice looking round faced watch.  It has a simple interface with two buttons and is sleek looking and lightweight.  Although it comes with a silicone band in your choice of three colors, it can be changed if you'd like a different look.  It is pleasant to wear – I usually wear a Samsung Galaxy with a leather band, but if I wear it too many hours I get a case of the itches where the back of the watch sits.  I didn't find that to be true with the TicWatch, which meant I could wear it at night and take advantage of some of the sleep tracking features.
The setup was pretty easy – but in the month I was testing it I switched phones twice.  I started with a Samsung flagship and that went well, then I was testing the AGM Hero3 and pairing with that phone was a breeze too.  But when I switched again to a new Samsung folding phone, it took multiple attempts over the course of an hour to get it to pair.  I had all my other phones off in case it was trying to pair to them so I'm not sure why I had trouble, but eventually it worked.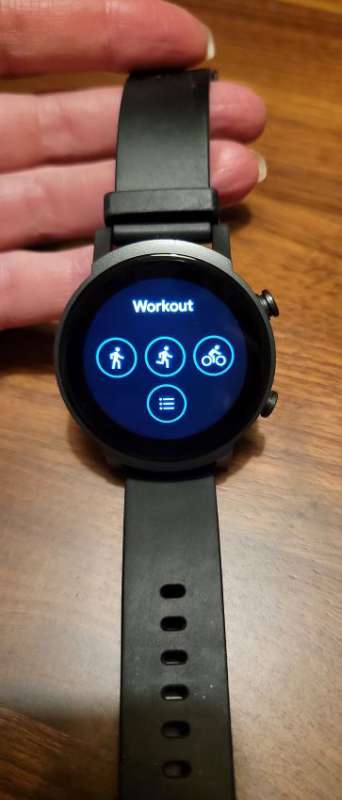 The Mobvoi TicWatch E3 smartwatch does lots of cool things that a lot of other smartwatches do.  It runs Google's WearOS, so it does all the things that you can do with that including paying for things with NFC.  Using the Mobvoi app you can customize watch faces,  find out your heart rate and check out your oxygen saturation.   You can use it to skip songs on your favorite music app and it will track your sleep and your steps.  How well it tracks these things always makes me skeptical.  What I found out when I compared it to my Galaxy is that you shouldn't get too hung up on accuracy.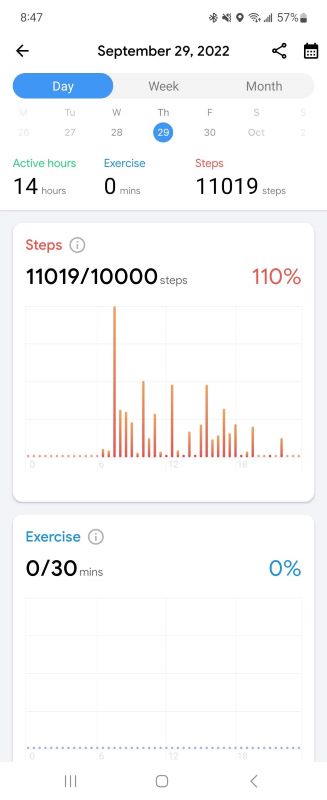 Let's start with the step tracking.  I noticed when I started wearing the watch that my step rate seemed to increase a lot.  Curious, I put both my Galaxy and the TicWatch E3 on the same wrist and wore both watches for a day.  I looked a little weird, but it's a small price to pay for science!  At the end of the day, there was a 1,000 step difference between the two watches, with the TicWatch having more steps.  That seemed like a lot, so I put on both watches on another day and counted 100 steps to see which had the more accurate reading.  The Ticwatch E3 lagged behind the  Galaxy, which was the opposite of my experience with the full day of wear.  I then reversed the position of the watches on my wrist and took another hundred steps.  Again the TicWatch lagged.  All my testing yielded no answers, but I guess the lesson is to not get too hung up on numbers.  Pick a device and go for consistency, I guess.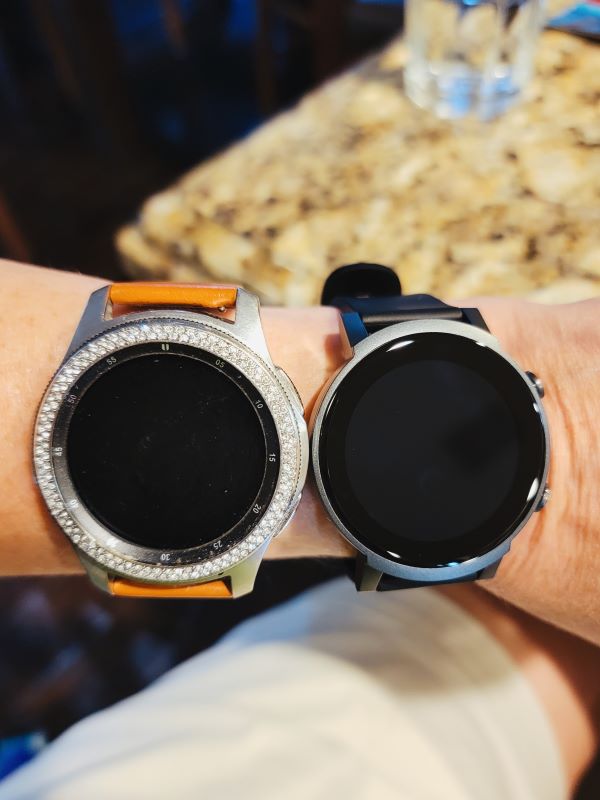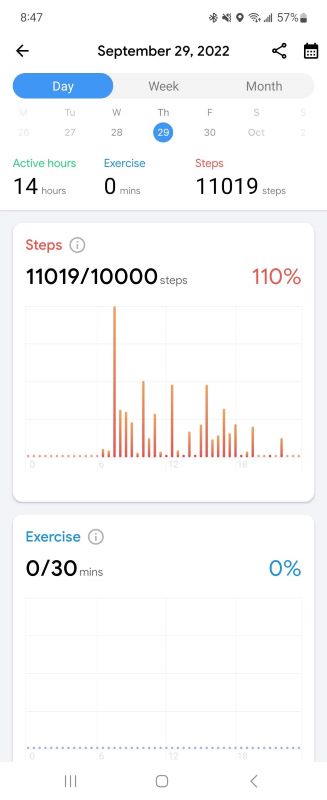 In addition to tracking steps, the TicWatch E3 features sleep tracking.  It measures your time awake, in REM, in light sleep, and in deep sleep, and then it gives you a sleep efficiency score.  You don't really tell the watch you're going to sleep, it just figures it out and while I  know I  sleep like a baby, I have no idea how "efficient" it is.   One night I checked my sleep figures and while I was in the 90th percentile for efficiency, the watch was measuring some time that I was wide awake and goofing around on my phone and watching Netflix as "light sleep."   So I guess the message is that you should take note of your sleep time, but don't get too hung up on the numbers because there is a margin of error there.   Generally, I was impressed by the data and I liked the fact that I could look at my heart rate and oxygen saturation.  Ideally, I think it would be cool if you could see those two metrics overlayed on each other to see if you had a heart issue when your oxygen dipped, but as displayed in the app you can see whether they line up.  The watch can also be set to send an alert if it detects unusual heart rate changes, which is pretty cool.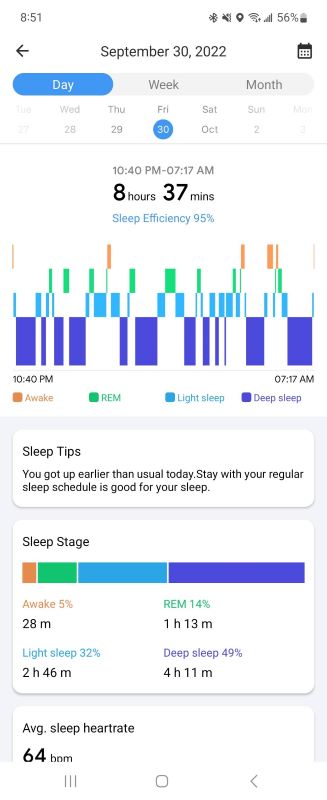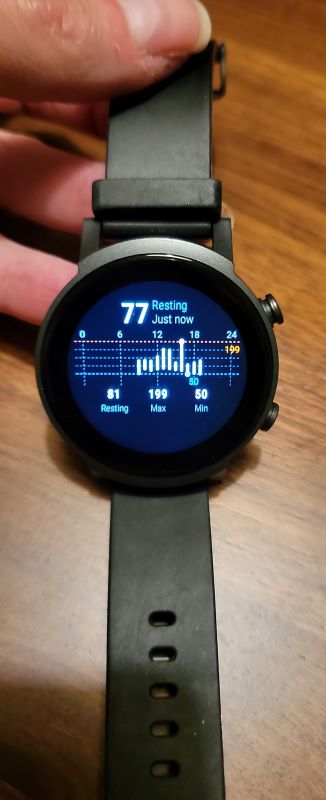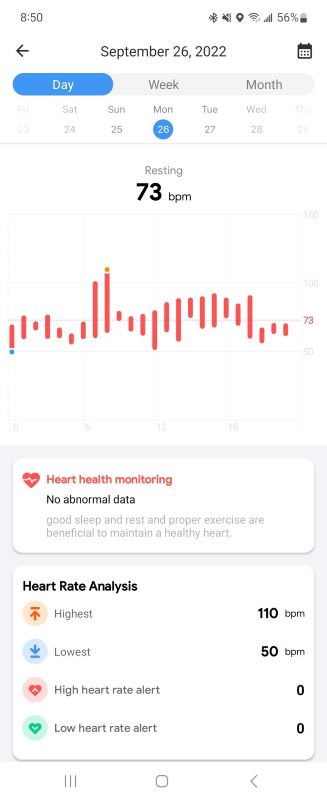 The really impressive thing that the Mobvoi TicWatch E3 smartwatch can do involves exercise.   You can still use Google Fit, if you are hooked on that, but the Mobvoi app with the watch does some really impressive things.  It can sense when you're working out and what you're doing if you enable motion tracking. It has over 100 workout modes that it can measure, and if you set a heart rate goal, it will let you know when you are in your chosen heart rate zone.  If you go over your zone, it will also let you know.  It even has exercise routines in the app if you need inspiration.  I have a  Bowflex Max that I use off and on so I gave all of this a try.   It never figured out what exercise I was doing, probably because the Bowflex is a bit like if a Stairmaster and an elliptical had a baby — it doesn't really fit into one category.   Also, I don't work out like a maniac … I am a slow and steady exerciser, so maybe that was part of it.   In any case, it didn't matter to me.  The machine I'm on gives me plenty of data so I don't miss it on my watch. I did like the fact that you can link through their app to family and friends with Tic devices for health checks or friendly competitions.  I find that motivating.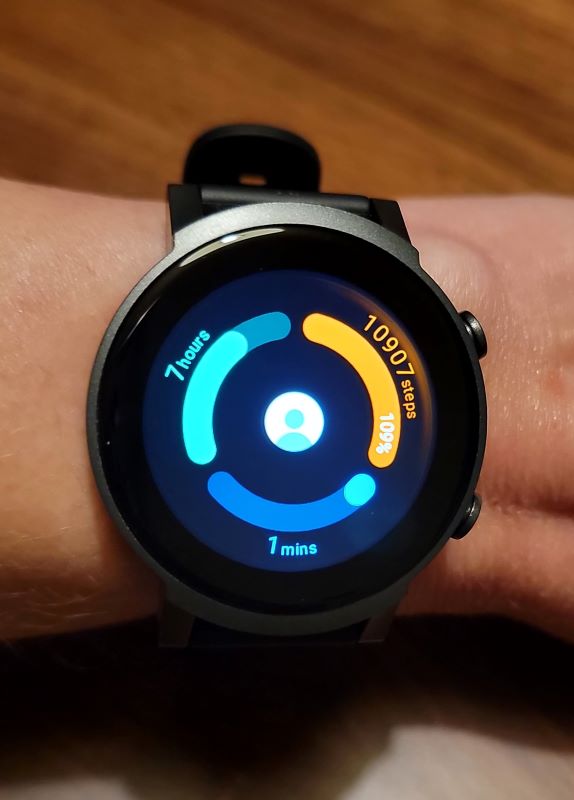 If you are someone who needs a map on your wrist, it is interesting to note that the TicWatch E3 has its own GPS functionality.  I didn't test this out because it's integrated into the exercise features and my Bowflex doesn't move, but if you're a cyclist or runner, it will measure your time, distance, and calories as well.
There is a setting you can enable that will sense when you're stressed.  That never went off for me, but I tried the "TicBreathe" breathing exercises anyway just to give them a try.  It was neat to have a physical and visual prompt to take deep breaths.  I probably should keep that handy the next time I'm in a meeting at work.
There is a setting called "TicHear" that measures the decibels in your environment.  I turned it on while I was typing this article and with my mechanical keyboard I'm racking up 80dB which is apparently dangerous if it is nonstop.  I think that might be a little off – or maybe it's because my watch is very close to the keyboard, I don't know.   I doubt that my typing is ruining my hearing, but I think it's good to stay aware of such things.
Kind of a nifty feature that allows you to customize the watch face with a photo of your choosing.   I think they meant for you to choose a picture of your loved one, this effectively means your watch can be a Mickey Mouse watch, a Spiderman watch, or a Brad Pitt watch.  You do you.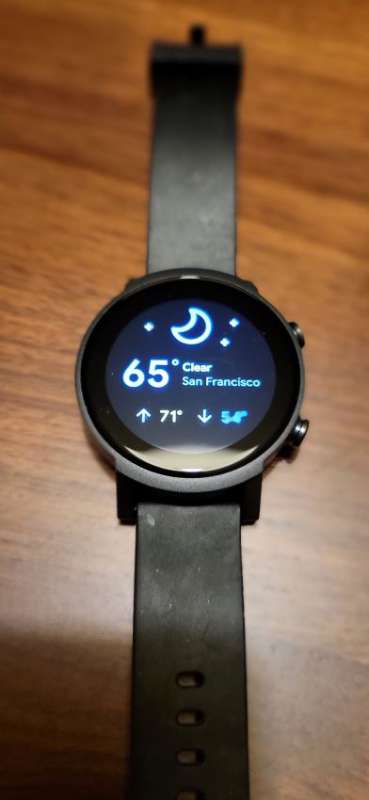 What I liked
Fitness features
Sleep/Oxygen/Heart Rate Tracking
What I'd change
Maybe allow for some overlays of the data in the app
Final thoughts
Overall I was quite impressed by the Mobvoi TicWatch E3 smartwatch.  As a matter of fact, I like it better than my Galaxy, which was a lot more expensive.  It has all the features I use regularly plus the health data is far richer than my Galaxy offers.
Price: $139.99
Where to buy:  Mobvoi and Amazon
Source: The sample for this review was provided by Mobvoi.