We use affiliate links. If you buy something through the links on this page, we may earn a commission at no cost to you. Learn more.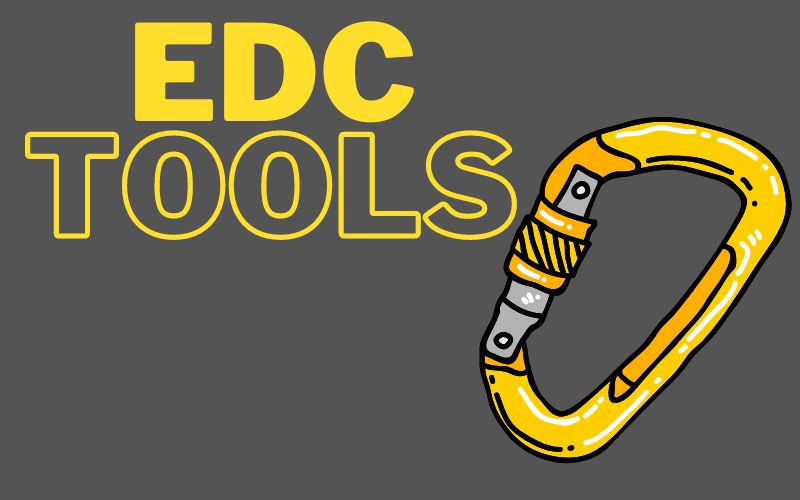 NEWS – If you're looking for a way to lighten your EDC gear load, one way is to find tools that can serve multiple functions and are easy to carry. I found this selection of specially designed carabiners that provide basic multi-tool functionality and won't bust your wallet (well, all but one won't…).
1. EDCfans 10-in-1 carabiner keychain stainless steel multi-tool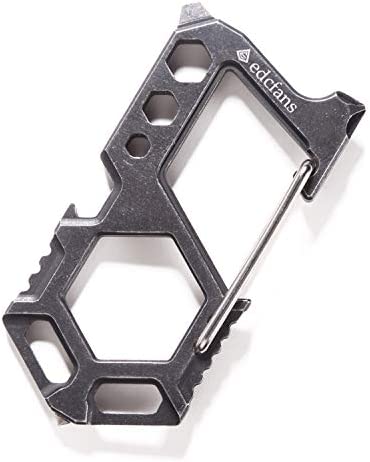 This stone-washed carabiner can clip to your belt for easy carry and provides 2 slots to clip keys and other gear. Four more openings double as wrenches while the EDCfans carabiner also features a carbide tip glass breaker, Phillips and slotted screwdrivers, and a bottle opener because no multi-tool is complete without a bottle opener.
Price: $17.99
Where to buy: Amazon
2. KeyUnity KU00 Titanium Quickdraw Carabiner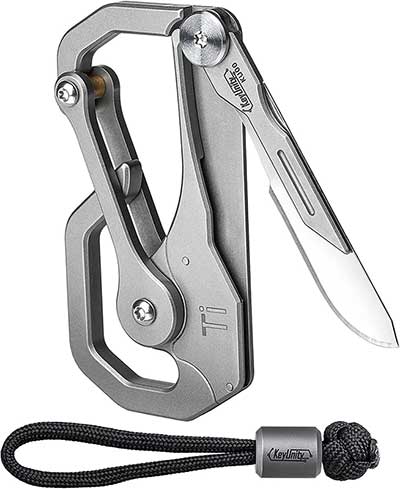 I think this carabiner is cool for a couple of reasons. First of all, it's made out of titanium, so it's strong but lightweight. The Quickdraw carabiner features a folding knife that has easily replaceable JH#10 surgical blades. It also has (not shown) a 2-inch measuring scale on one side and it even comes with a handy lanyard with a titanium bead.
Price: $39.99
Where to buy: Amazon
3. Tibitdeer EDC Pocket Knife Carabiner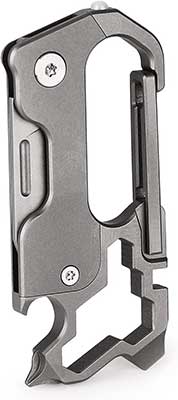 If you didn't like the KeyUnity carabiner above with the folding knife, you may like this one better because it's only 2.4 inches long and it has more built-in tools. The Tibitdeer (weird name…) is also made of titanium and features a VG10 stainless steel blade, a glass breaker, Phillips and slot screwdriver tips, a bottle opener, a bicycle spoke wrench, and other wrenches.
Price: $29.99
Where to buy: Amazon
4. KeyUnity KF02 Titanium Multitool Carabiner Clip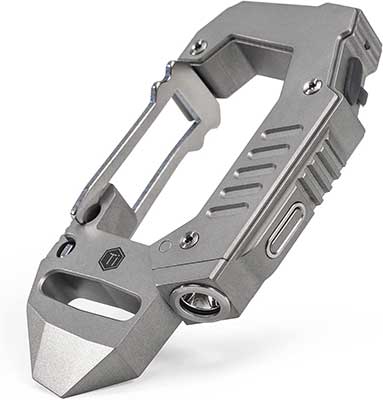 This 7-in-1 multi-tool looks a lot more rugged than the other carabiners on this list. It features a built-in micro USB rechargeable flashlight that has a max output of 360 lumens. While not as insanely bright as the IMALENT MR90 50000 lumen flashlight that we recently reviewed which has 50000 lumens, the KeyUnity KF02 can provide enough light to find the fuse box in the dark or the TV remote which slid under the couch. This carabiner also has a built-in bottle opener, a slotted screwdriver that doubles as a box opener glass breaker, and a pry bar. The only gotcha with this tool is the price. Ouch.
Price: $129.99
Where to buy: Amazon
5. PREPARED4X 10-in-1 Multitool Carabiner Keychain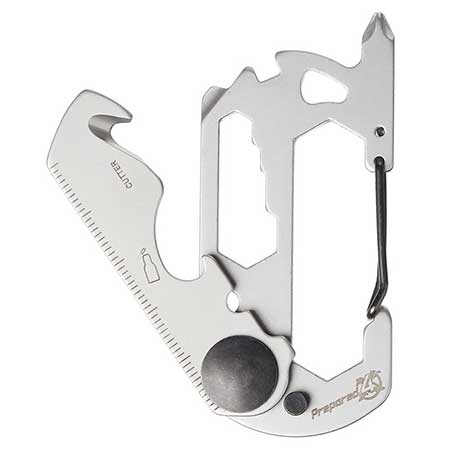 The carabiner before this one is the most expensive at $129.99 and this one from PREPARED4X is the most affordable at just under $10. It features 10 tools that include a Phillips and flathead screwdriver, keychain, ruler, bottle opener, wrench, carabiner, box cutter, wire cutter, and a hex wrench. Too bad that it doesn't also include a built-in knife.
Price: $9.99
Where to buy: Etsy
Which one do you like best and do you carry a carabiner as part of your EDC? If so, please share more about it in the comments below.