We use affiliate links. If you buy something through the links on this page, we may earn a commission at no cost to you. Learn more.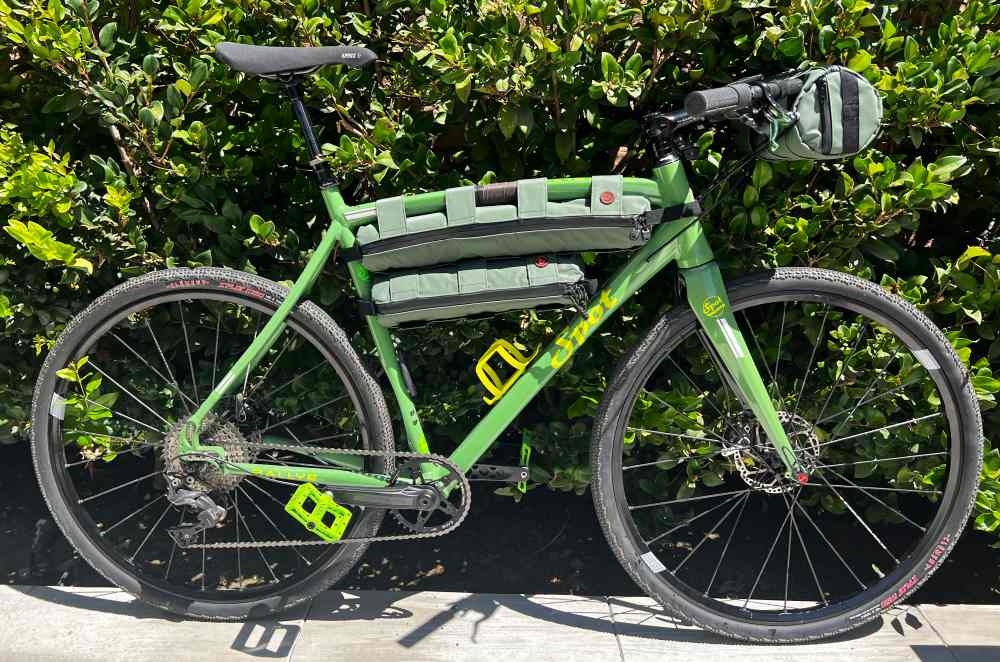 REVIEW – Headed over to a friend's house and want to bring a few cold drinks along? Oh, you're thinking of riding your bicycle there or maybe even walking? That takes the typical cooler out of play. What if I told you that there's a solution that's bike and/or hike-friendly and doesn't take up much more space than the drinks you're bringing? Stashers Adventure Bags to the rescue.
What are they?
Stashers are insulated adventure bags specifically designed to attach to bikes, roll bars without needing additional hardware. Designed for beverages like cans, tall boys, and even wine bottles, they'll also handle whatever you can fit inside getting it there cold, protected, or both. I was sent the Green color. They're also available in Black, Orange, Floral, Realtree edge camo, and Laughing Grass camo.
What's in the package?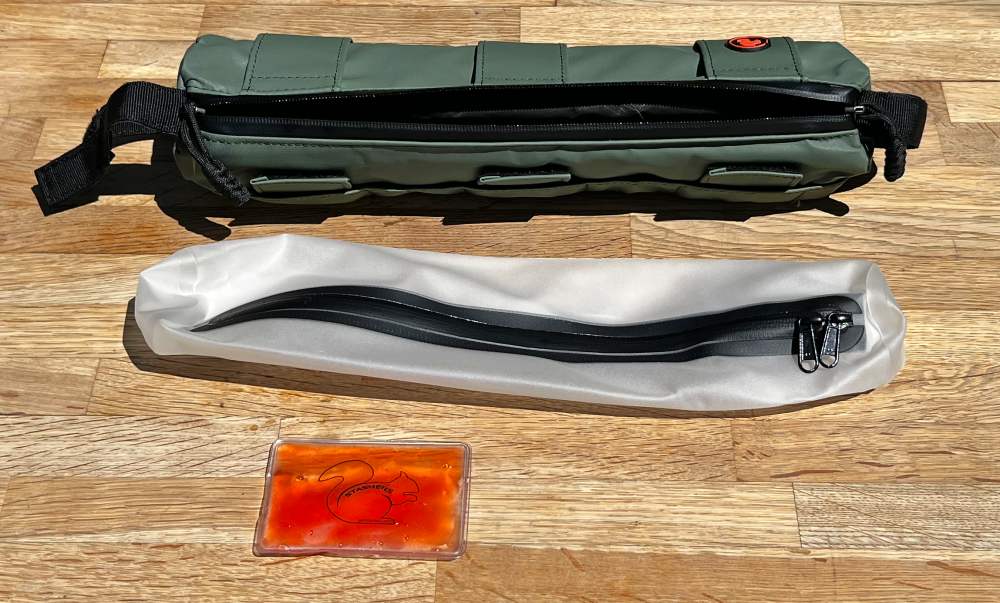 Each model consists of…
Stashers Adventure Bag
Food-grade zippered liner
Reusable cold pack
The Plus Sized version additionally has 2 re-positionable dividers as well as zippered pockets on each end.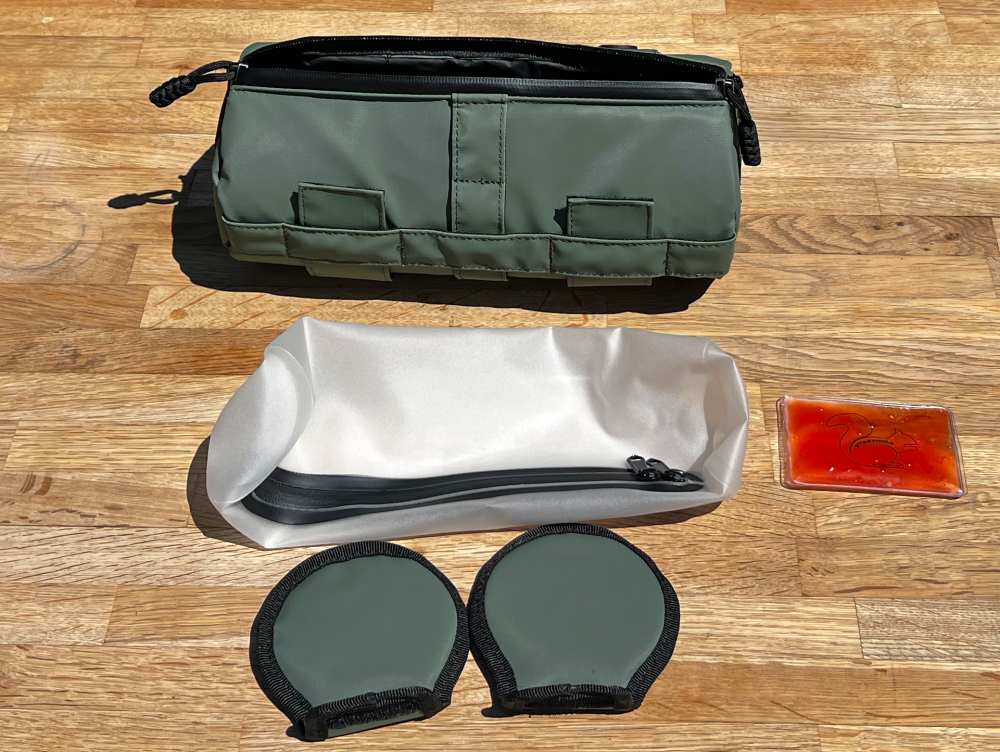 A carry strap is available separately and includes a shoulder pad.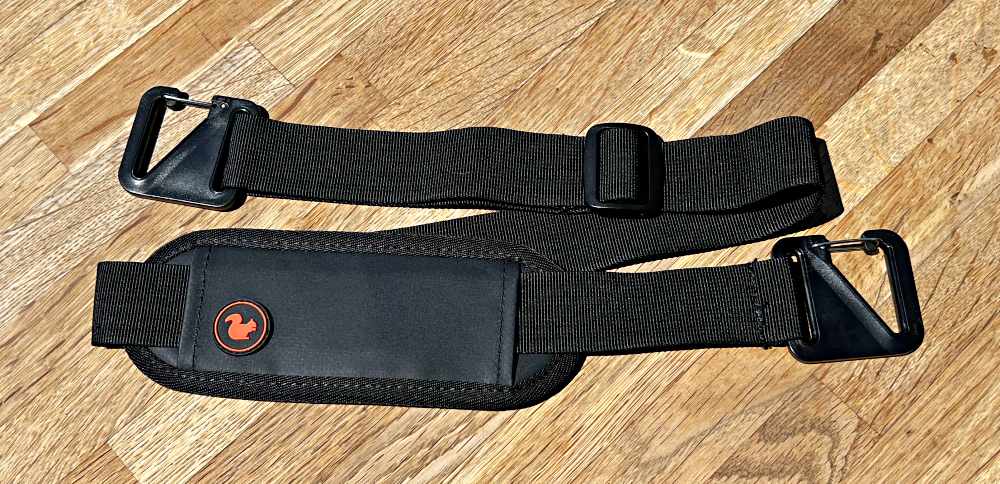 Hardware specs
Materials: Waterproof Tarpaulin with waterproof zippers and velcro
Dimensions: Diameter x Length – Medium 3.5″ x 15″ | Large 3.5″ x 20″ | Plus Sized 5″ x 12″
Construction: Multiple layers of padding and insulation keep things cold for 4 plus hours
Modular: Velcro straps allow connecting to each other
Design and features
Each Stashers Adventure Bag is designed with waterproof materials making condensation and spills non-issues. The modular attachment design allows them to be wrapped onto bicycle tubes, handlebars, car roll bars or to each other. Additionally, the zippered closure is also waterproof and offset by 90 degrees so that it can be accessed without needing to detach a bag first.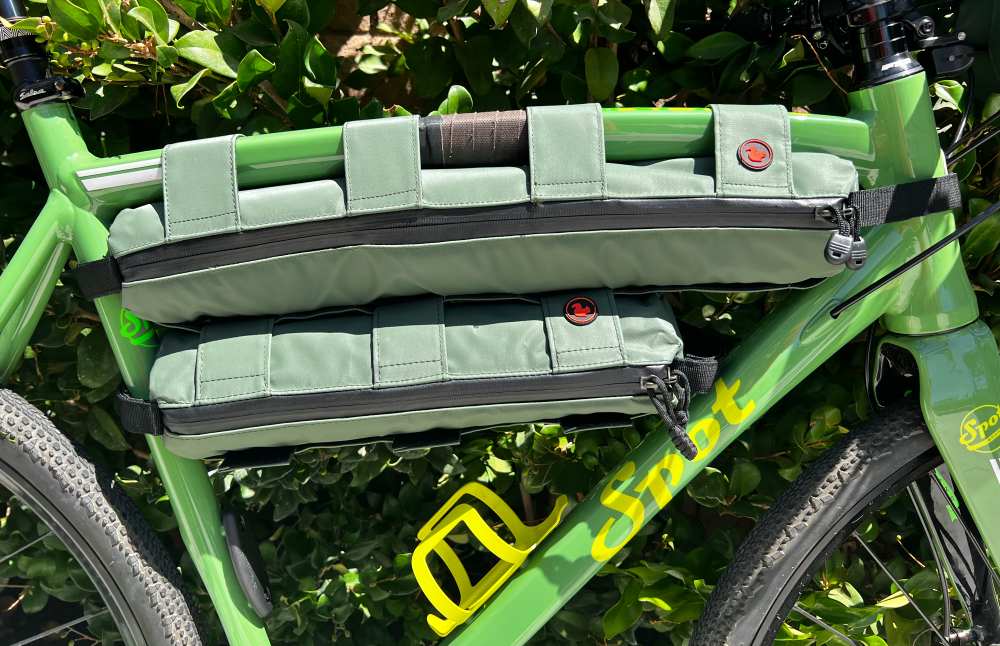 The thick padding and insulation help to keep drinks cold for over 4 hours. Removable food-grade liners can be used for loose snacks, or to further keep moisture at bay with their waterproof zipper keeping any messes much easier to clean up.

A shoulder strap makes going from bike to hike super simple.
Setup
Remove from the poly bag packaging, throw the included cold packs in the freezer and then figure out how and where you want to use your Stashers Adventure Bag. Let's jump right into how these work using the Plus Size to demonstrate.
Stashers Adventure Bags are designed with straps that wrap around a tube and then velcro back to the bag in a way that allows for different tube sizes and excess strap management. The trickiest part of installing a bag is that those same straps are curved and like to stay closed, so un-velcro the two straps and just be ready to keep un-velcro-ing.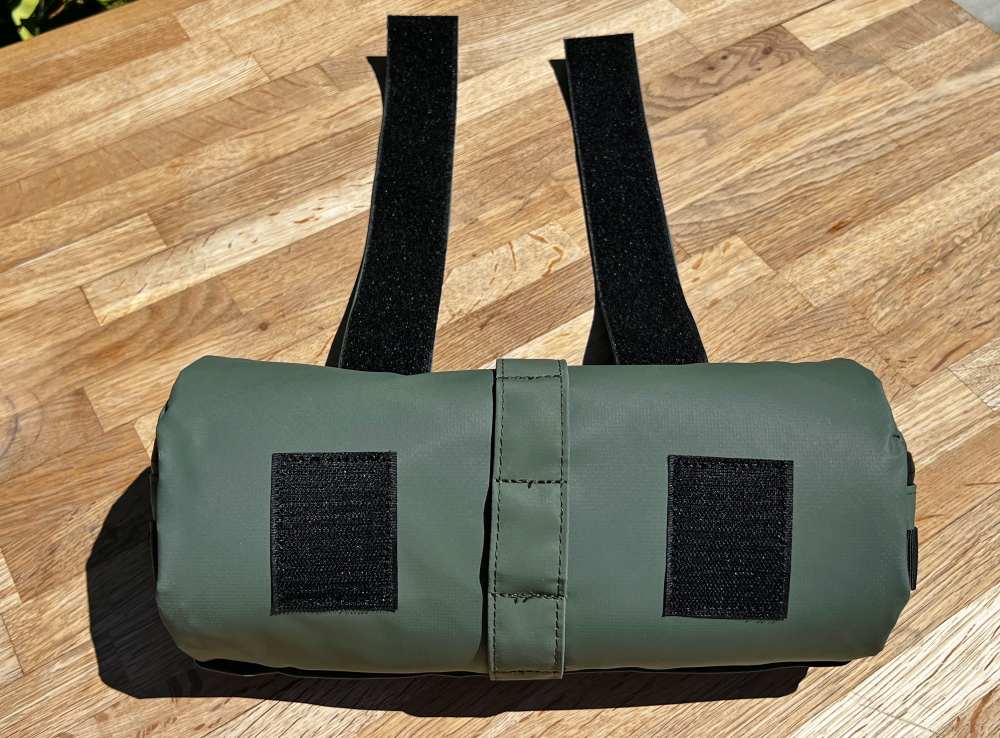 Wrap the straps around the handlebar or top tube and back to the two velcro patches shown above. I'm using a dowel here for simplicity.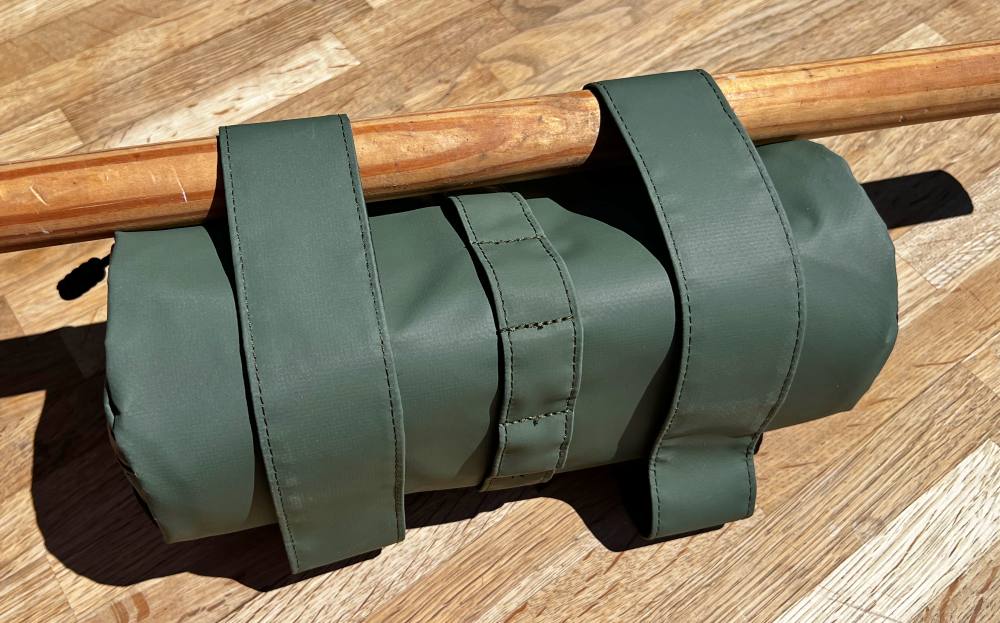 On the bottom where the straps extend beyond the velcro patches, you can tuck the ends into the pseudo-MOLLE strip like the strap shown on the left below.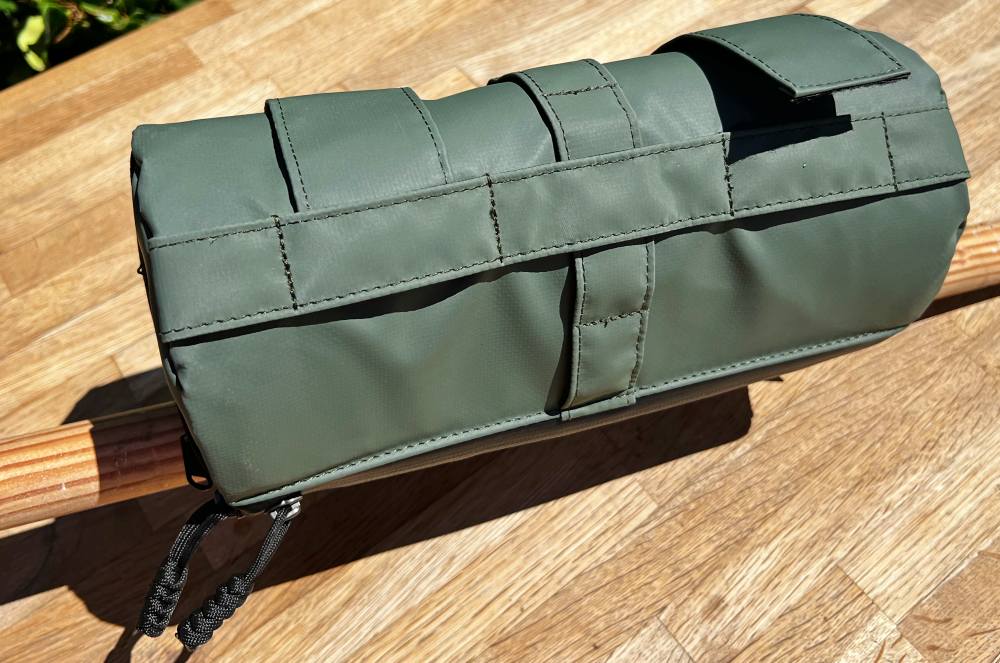 The other bags work the same way, but additionally have velcro straps on the ends to help anchor to a seat tube or head tube as shown here where you can also see how those same straps can be used through the "MOLLE" channels to daisy chain them if your bike has room.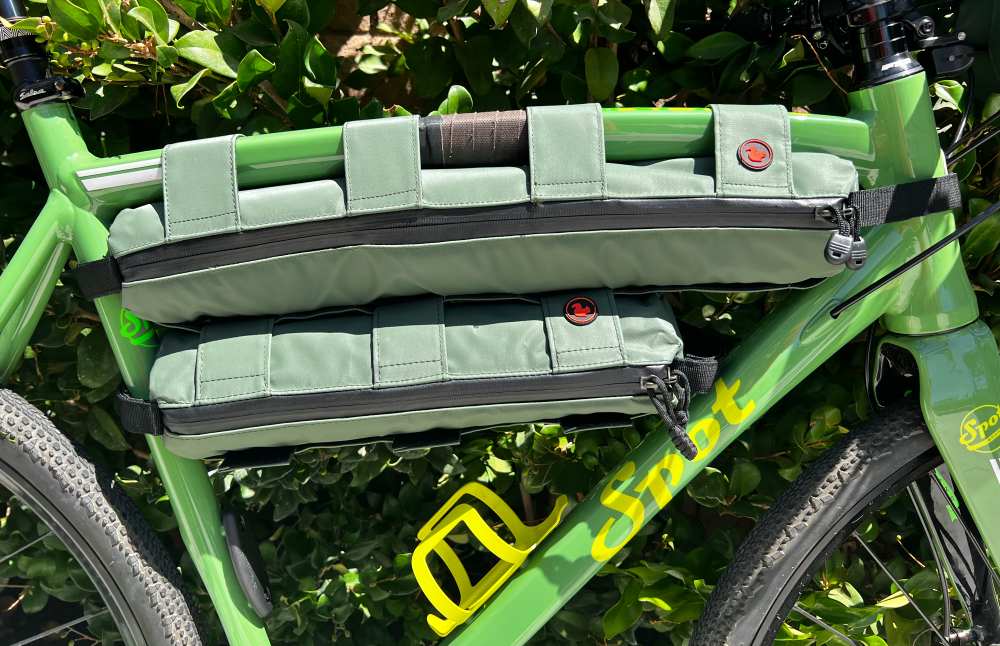 Attaching their shoulder strap is easy. You just slide the carabiner at each end through the narrow section at the end of each bag.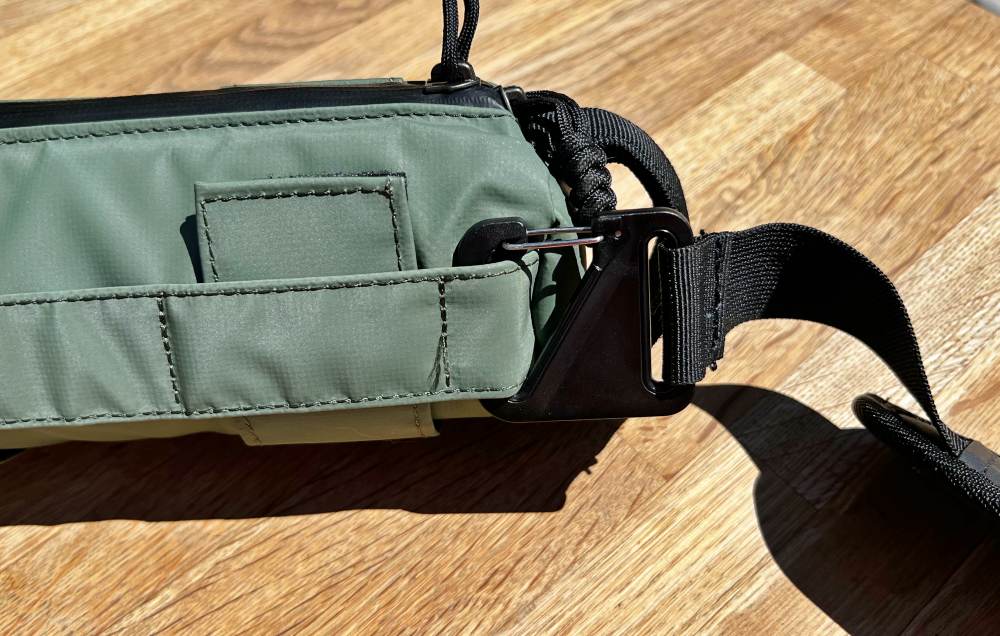 Performance
Overall, the Stashers Adventure bags are great. The three standard sizes 2, 3, or 4 (the number of cans they can carry) are easy to attach to bike frames and anything dimensionally similar to a bicycle top tube. Here are the 4 (with 3 bottled beers) and the 3 (with 3 cans). The strapping system keeps them locked down really well.

That said, you'll want to check the dimensions of your bike frame as they don't really want to squish and the velcro on the ends could stand to be longer, or a different closure with more adjustability.
The 2-can size is actually a perfect fit for my Jones handlebars positioning the zipper directly between the front and rear tubes and underneath my phone mount.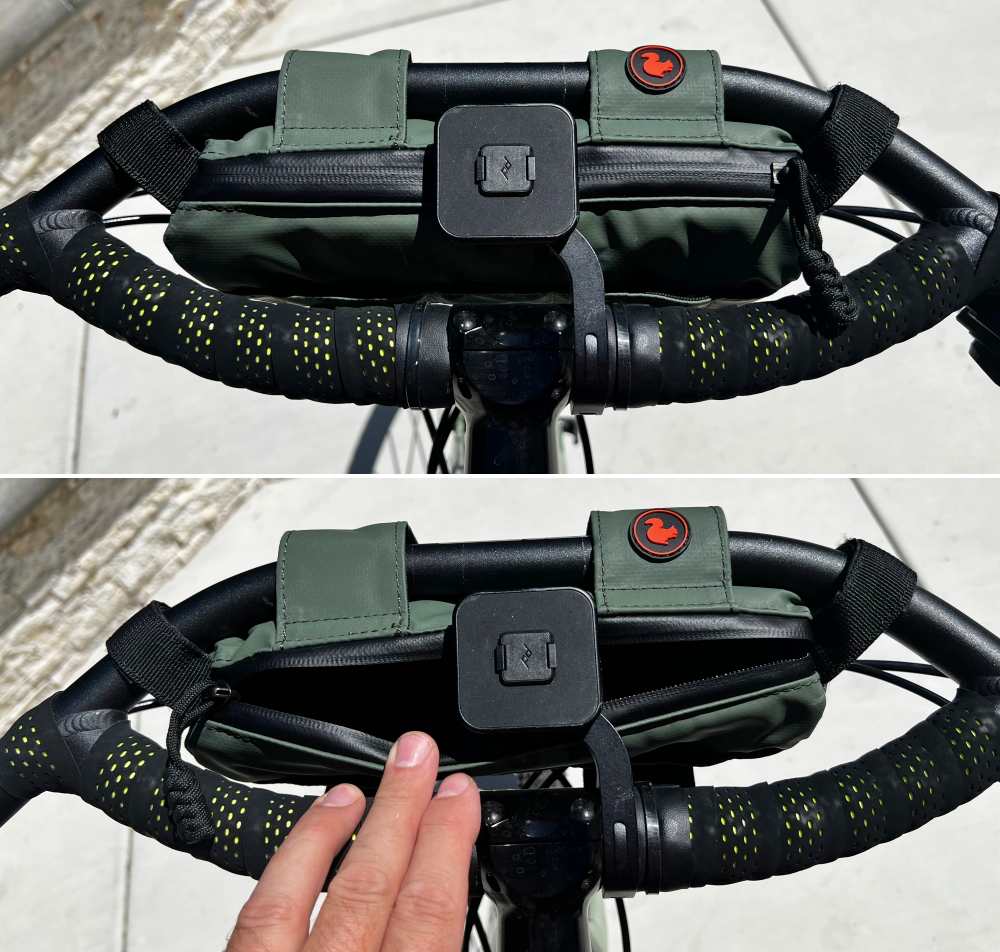 The larger Plus Size bag feels more like a traditional handlebar bag and is large enough to hold a good size Nalgene bottle which is usually a little tricky on bikes without an oversized bottle cage.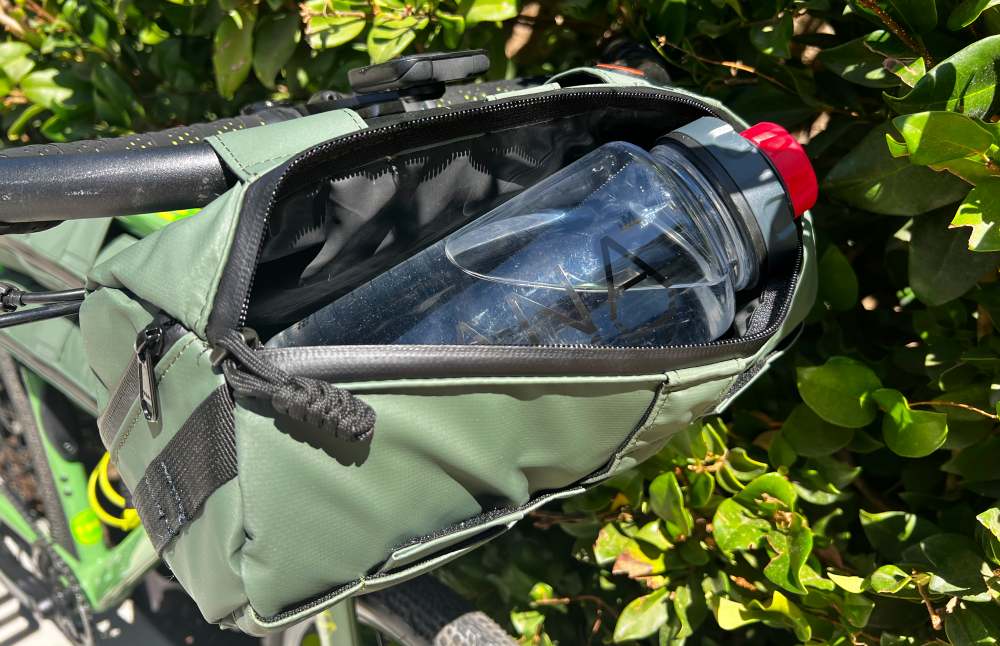 The ability to divvy up the inside with the dividers is cool for keeping things from rattling or just being organized.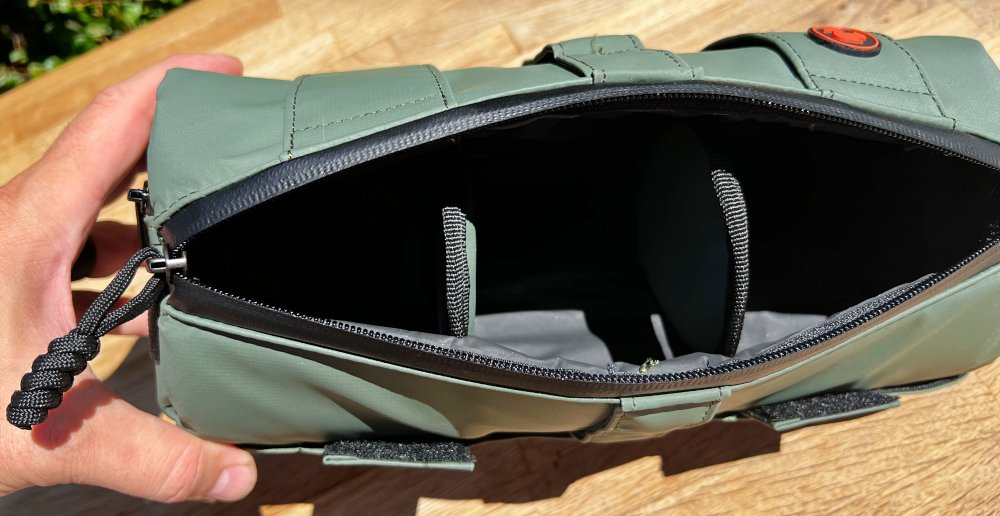 We've done a couple of multi-hour family rides and the 4 can bag did indeed keep cold beverages cold. Here's what the 3-can bag looks like when used with the shoulder strap. It's easy to carry and even easier to swing around to grab a fresh cold can.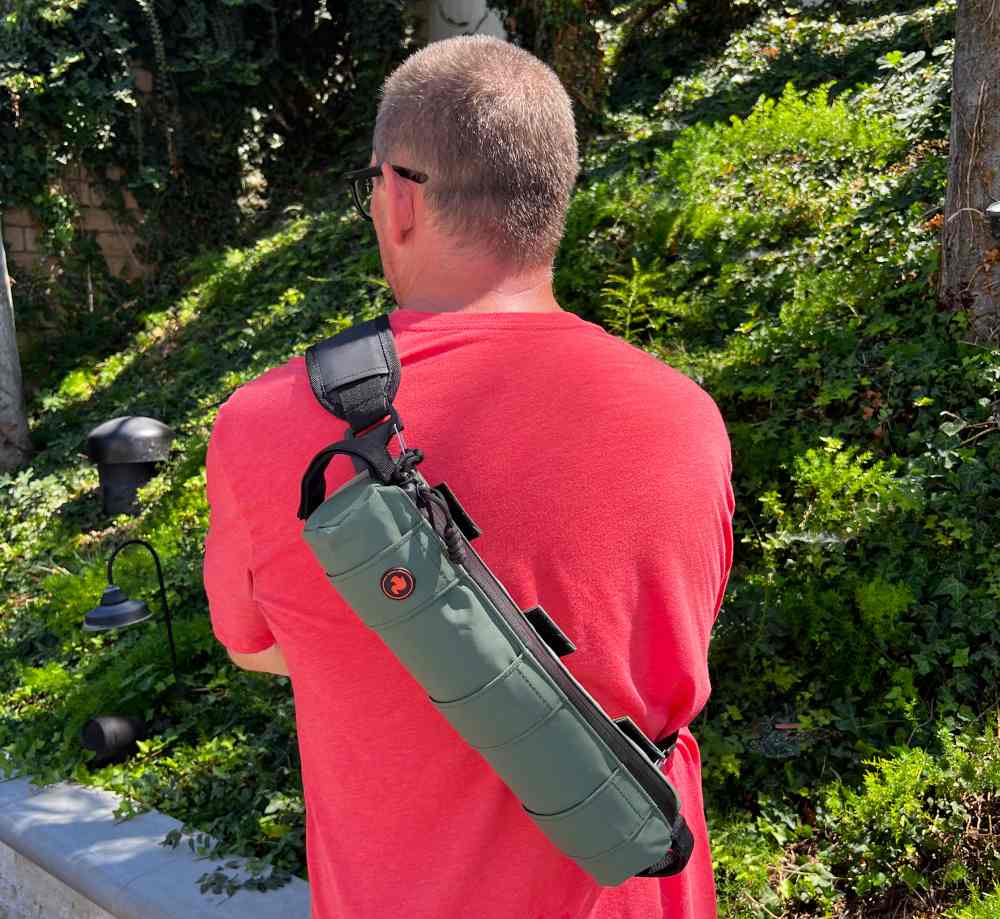 Unrelated but when making a frozen sweet and sour dish the other day I now picture the Stashers cold pack. It is a cute squirrel icon.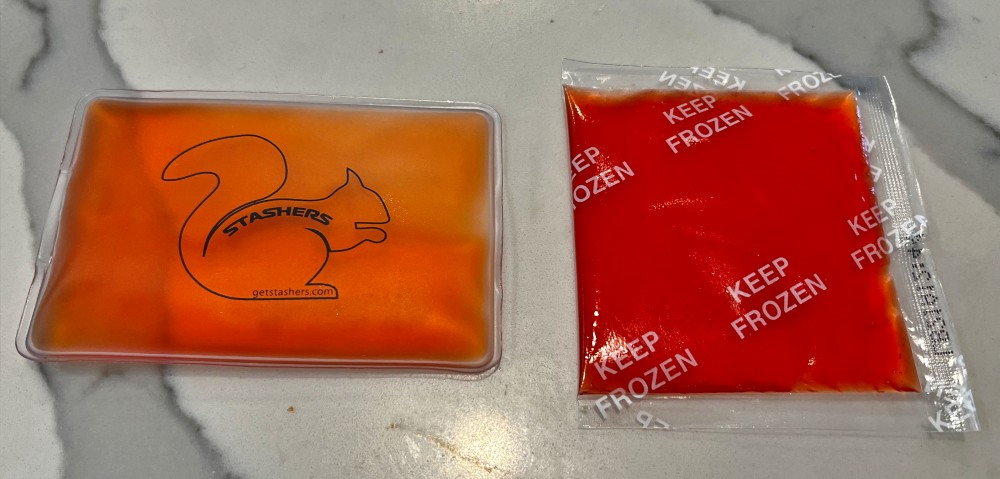 What I like
Innovative strapping system
Offset zipper remains useable after mounting
Good insulation keeps things cold
Small cold packs are easy to use and don't take up much room
Food grade liners are a great way to reduce messes
What I'd change
Longer velcro or a strap with a cinch system on the ends to reach around head tubes/seat tubes better
Final thoughts
Stashers has taken some cues from bike-packing bags and helped focus their line on carrying beverages at some great prices. Even more so with the current sale. The Stashers Adventure Bags are well made uniquely in that they really can strap on to a variety of bikes, handlebars, golf carts, or even just a shoulder sling.
Price: Each sold separately
$9.99 • Carry Strap
$34.99 • Medium 3-Can Bag • On sale for $19.99!
$39.99 • Medium 3-Can Bag • On sale for $24.99!
$44.99 • Large 4-Can Bag • On sale for $29.99!
$59.99 • Plus sized Modular • On sale for $29.99 !
Where to buy: Stashers
Source: The sample of this product was provided by Stashers