We use affiliate links. If you buy something through the links on this page, we may earn a commission at no cost to you. Learn more.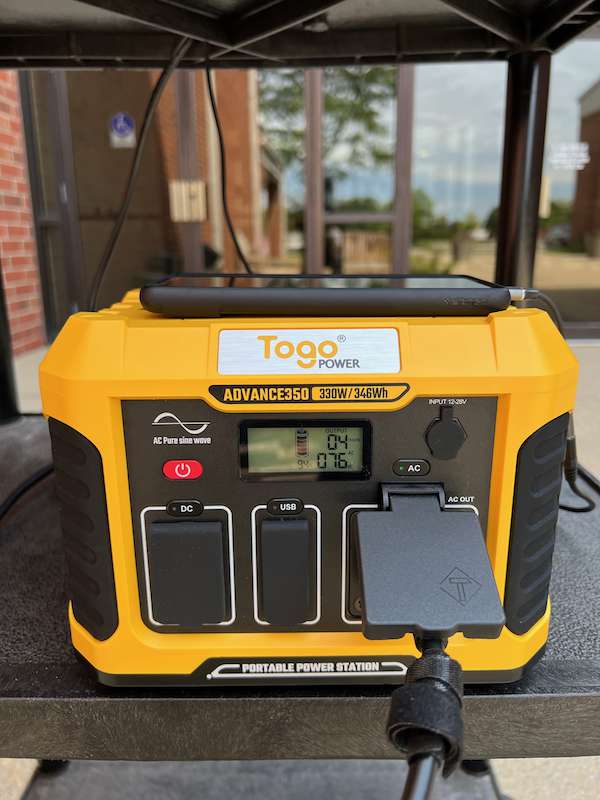 REVIEW – Portable power is a convenience you don't want to be without once you've gotten used to it. Portable batteries can be used for many things from charging mobile devices, lighting up a dark camp site, running a CPAP machine while camping, even running a fan or small refrigerator. The convenience is unquestionable, but what do all those numbers mean – 346 Wh, 330 W, 60 W PD, 10 W Qi, etc.? Today I'm reviewing the Togopower Advance 350 Portable Power Station. I hope to explain these numbers and give a good overview of the power station and give you some ideas of what it can do for you.
What is it?
The Togopower Advance 350 is a portable power station useful for powering multiple types of devices, either separately or simultaneously, through an AC outlet, multiple USB outlets, several DC output ports, and a Qi charger. It also functions as a flashlight, a floodlight, and an SOS light. 
What's in the box?
Togopower Advance 350 Portable Power Station
Car Charger Cable
AC Adapter
Solar Panel Parallel Adapter Cable
User Manual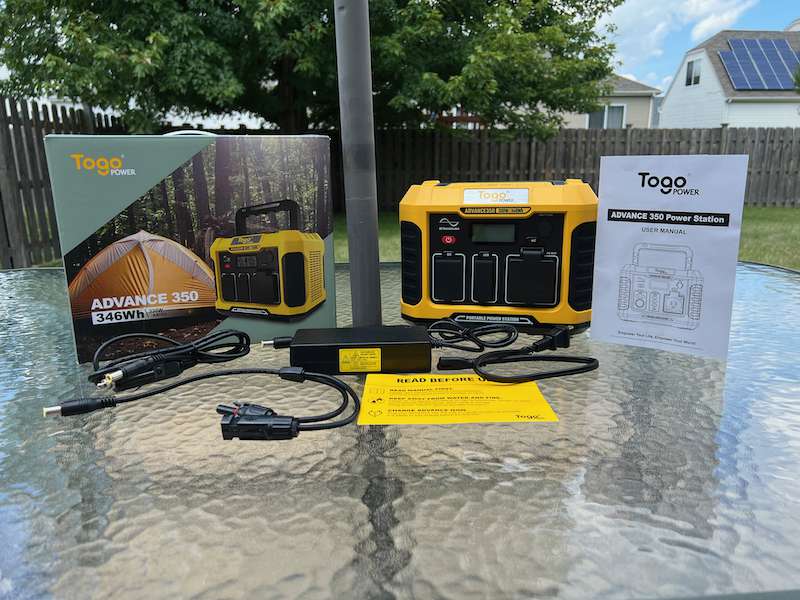 Hardware specs
Battery Capacity: 346Wh
Battery Type: 18650 Lithium Batteries
AC Outlet: 120V, 60Hz, 300W (600W peak)
Weight: 9.24lbs (4.2 kg)
Dimensions: 9 x 6.6 x 7 in. (23 x 16.8 x 17.8 cm)
DC Input: 12-28 V, 80 W
AC Output: 120 V, 60 Hz, 330 W (660 W Surge)
Cigarette Lighter Port: 12 V, 10 A
USB-A Ports: 3x 5V/9V/12V, up to 3A/54W Max
USB-C Port: 5V/9V/12V, 3A, 60 W Max
Qi Pad: 10 W
LED Floodlight: 0.5 W
Flashlight/SOS: 1 W
Lifecycles: ≥500 cycles to 85%
Operating Temperature: 14-104° F (-10-40℃)
Warranty: 12 Months
Design and features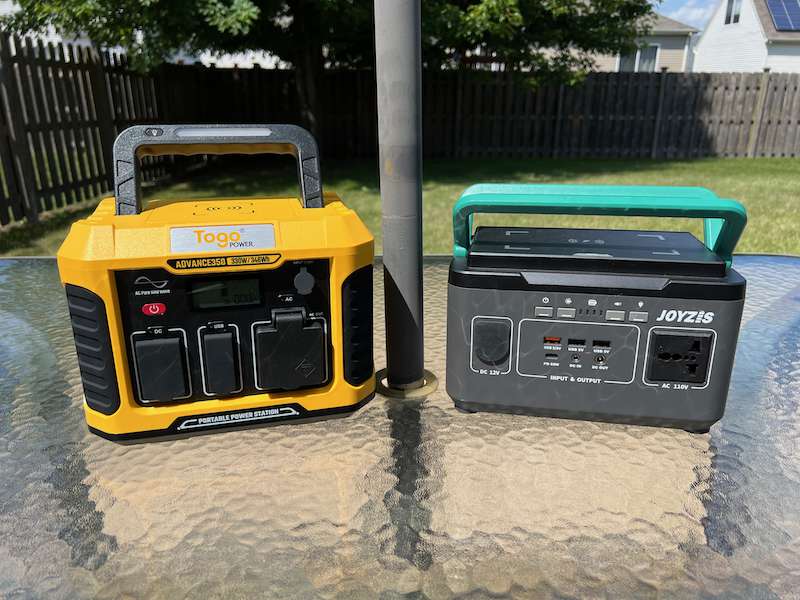 The Togopower Advance 350 is a medium-sized, rectangular portable battery with a folding handle at the top. The case is yellow and black with silicone feet to help keep it in place, and air vents on the left and right sides and two fans on the right side to help keep the unit cool. On the left side is an LED flashlight. A floodlight is built into the handle, as well as a switch that toggles between flashlight and floodlight modes, and is used to turn on SOS mode when held for three seconds.
All the input and output connectors, controls, and display are on the front, making it easy to connect and keep an eye on the status of the battery. At the top of the unit is the Qi charging pad, supporting output of up to 10 watts for compatible phones, wireless earbuds, and other Qi-enabled devices. There is a red master power button on the front panel as well as separate power buttons for the DC, USB, and AC outputs, enabling you to only turn on the outlets you're using.
All the input and output connectors include a black plastic cover to keep dust and water out. The battery is not waterproof but these covers can help keep dirt and debris as well as accidental splashes out of the connectors.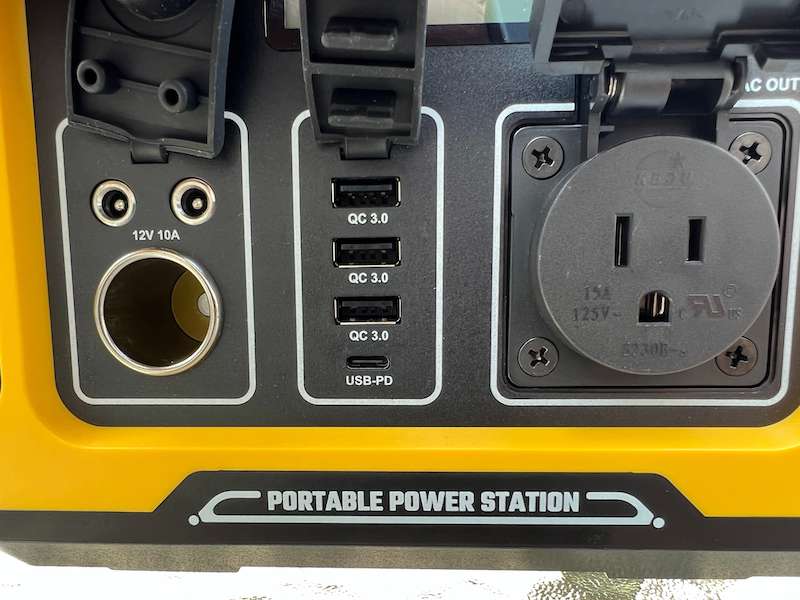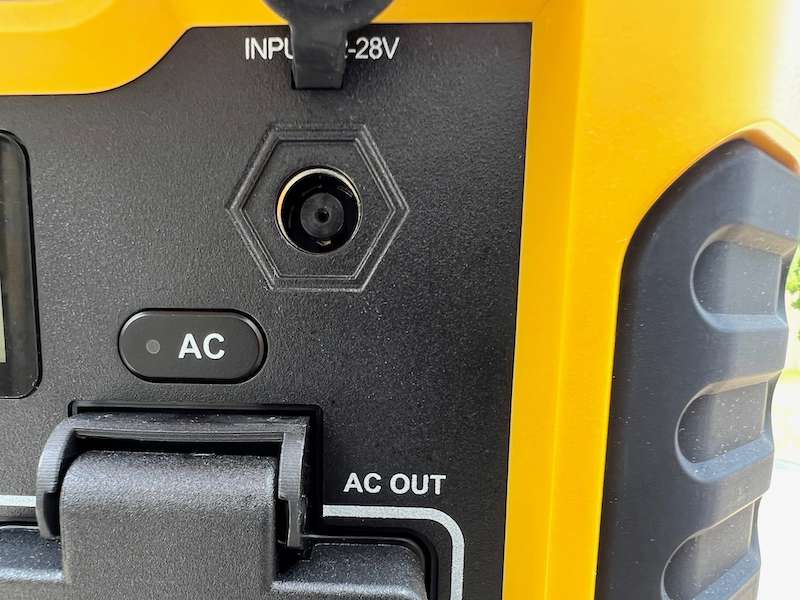 All three USB-A outputs support QC 3.0, which is a Qualcomm standard, supporting up to 36 W between 3.6 – 12 V, so it supports a wide variety of devices and can charge them quickly, adjusting the voltage and wattage output as necessary. Knowing that all three of these outputs have the same capabilities is nice because you don't have to remember which output can be used to charge each type of device – just plug in and know that your device will be charged as fast as possible. The USB-C output supports USB PD, which means it can output up to 20 V and 60 W, for fast charging of all but the largest laptops out there.
Installation and setup
After unboxing the Togopower Advance 350 power station the only thing you need to do is make sure it's charged before first use. My review unit came with 48% remaining power out of the box; charging it up to 100% took just under three hours. Togopower says it will take 6-7 hours to fully charge with the included AC-DC power adapter, which seems about right considering how long it took me to charge it from just under half full. Other charging options include 12 car adapter (included in the box) or a 60 W solar panel (not included).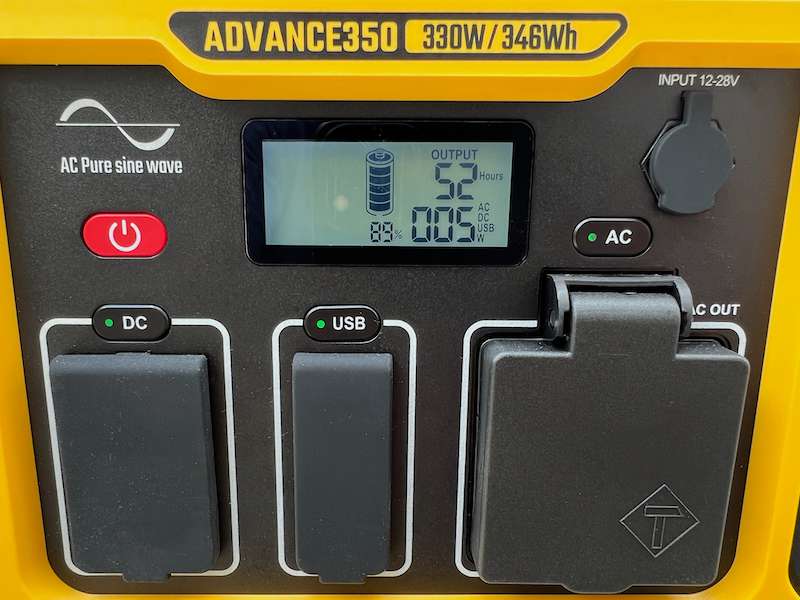 Once the power station is fully charged turn on the master power switch, then turn on the power switches for the outputs you want to use and plug in your devices. All outputs can be used simultaneously, as long as the devices you're plugging in to charge don't use more than the 330 W output available (it will peak up to 660 W, but that's for short bursts only).
In Use
First, let me go over those numbers I mentioned in the opening paragraph. Watt-hours (Wh) is a measurement of how many watts a battery can provide for one hour. The Togopower Advance 350 can output up to 346 Wh. If what you have plugged in uses less than that, then it will last longer than an hour. Togopower says it can provide 330 W (up to 660 W peak), so at full capacity it can last just over an hour (they actually list both 330/660 W and 300/600 W on their website; that's not a huge difference, but I thought I'd point it out). This number can also be converted to mAh (a typical measurement provided by portable phone battery manufacturers). Using an online calculator I came up with 69,200 mAh at 5 V, the typical charging voltage for phones or similar devices (yes I know some can charge up to 12 V, but 5 V has been the standard for a while, and is what is often used for mAh calculations by default). The PD (Power Delivery) spec. refers to a standard for putting out up to 100 W of power for large laptops; this power station puts out up to 60 W, so not the highest but enough for most laptops. The Qi charger on top of the battery puts out up to 10 W for wireless charging of most recent phones. Many can now support up to 15 W so this won't do the fastest charging but it's still more than many of the chargers that top out at 7.5 W.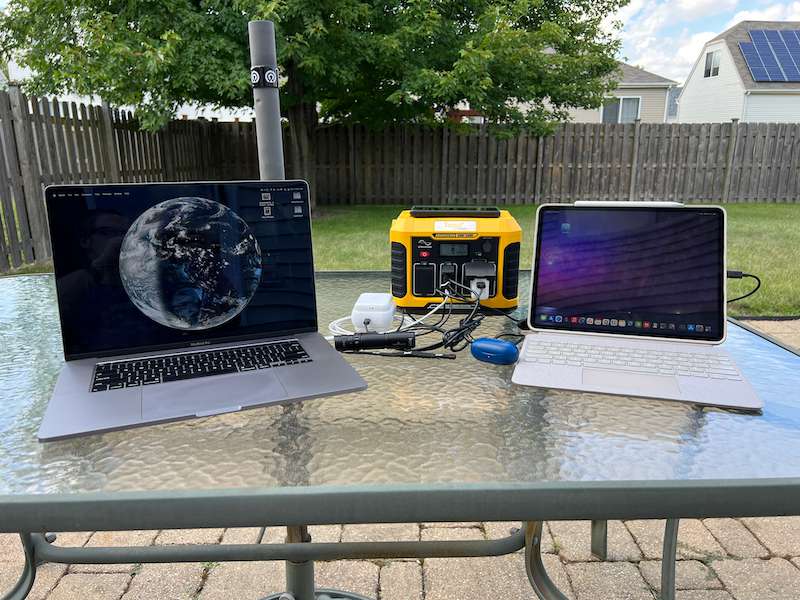 I was able to test this battery both at home with several of the devices I use regularly, as well as at work with some portable audio equipment. In both cases, the setup was easy and very convenient to use. At home, I plugged in my MacBook Pro, my iPad Pro, a flashlight, a pair of Bluetooth earbuds, and a set of portable batteries. With all of these devices plugged in the display on the Togopower Advance 350 power station said it was outputting 86 W. I could have plugged in more items to the DC output sockets but I didn't have a cigarette lighter charger handy and I don't have any other devices that can be charged from the other DC output sockets.
In this test, my laptop said it wasn't charging, but the battery was delivering enough power to keep it running anyway. I suppose if I had unplugged the other devices it might have put out more power over the USB-C PD outlet, but I wanted to test how many things I could power simultaneously. I also could have plugged the laptop's power brick into the AC outlet, which probably would have put out the full 96 W the laptop requires, but it's nice to have both options. Honestly, as long as I'm not rendering video or doing other similarly demanding tasks with my laptop the amount of power this battery provides is plenty to keep it going. I could have also closed the screen of the laptop, which would use less power, allowing it to charge while not being used.
At my workplace, I often have a need to set up a portable audio system, sometimes outdoors. Finding a power outlet can be a challenge depending on the needs of the event. I set up a powered speaker and plugged in my Android phone to play back some music. The power station easily provided enough power for the speaker at a medium volume and I was able to charge the phone on the Qi charger while it was plugged into a headphone dongle to provide the audio to the speaker. There's no headphone jack on this phone so if I want to keep the battery charged while playing music for several hours, wireless charging is very convenient.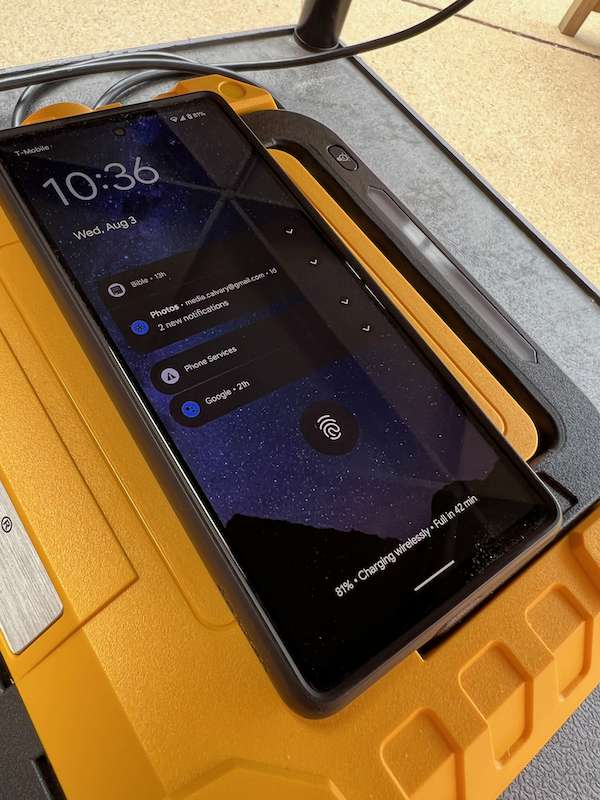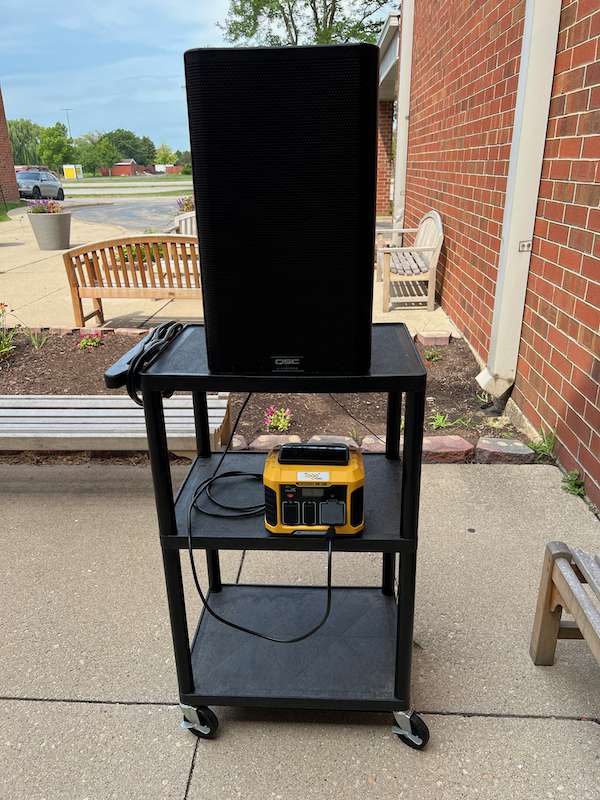 While testing this setup, the power output peaked at 76 W during the louder parts of the music I was playing. At that volume and power usage, the battery indicated that it had 4 hours of battery available. I stepped back from the speaker to see how loud it was from a distance (in actual use not many people would be right next to the speaker like I was during testing). At about 100 feet away I could still hear the music perfectly fine at the volume I tested. This would be good for background music during a meal or sporting event, but not for spoken word or a music performance. The speaker itself can pull up to 1,200 W, so this battery wouldn't be good for peak performance in that scenario, but I wouldn't try to use it for a full-on musical performance to a lot of people; it's just not made to do that. For most of what I do in portable audio around our campus, though, this would provide plenty of power.
As I was testing the portable audio setup I kept hearing a buzz coming through the speaker. The buzz would go away as I moved the phone further from the battery or if I unplugged the audio cable from the speaker. My guess is that this unbalanced/unshielded audio cable I'm using is picking up some noise from the battery which was getting amplified by the speaker. Interestingly this noise only came through when I paused the music on my phone; while it was in play mode there was no noise no matter how close I held the phone to the battery (I even turned the output volume of the phone down to confirm that the music wasn't just masking the buzzing noise – it wasn't). I decided to see if there was any noise from a microphone with a balanced, shielded cable, and it was completely quiet as expected. Interestingly enough I did this same test with my iPhone and a Lightning-headphone dongle and it didn't buzz at all.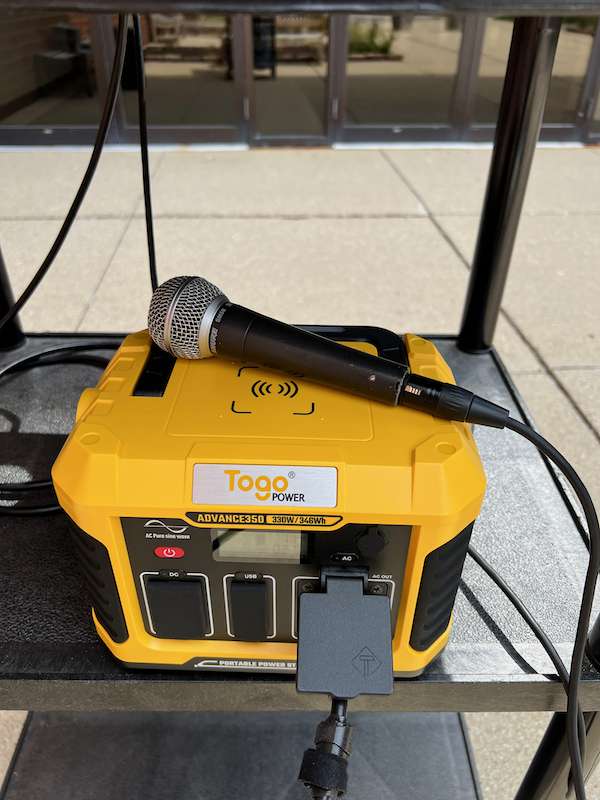 Doing this test, starting at 100%, the battery dropped to 89% after about an hour. At moderate volume, using this to play background music and maybe some periodic voice announcements with a mic, I would expect this setup to last at least 4 – 5 hours. The meter on the front of the battery is a great feature for calculating how long you can use the battery depending on the amount of power being used in real-time.
One welcomed feature of this Togopower Advance 350 power station is that it can output to all of the connected devices while it is being charged. I wouldn't use it this way all the time, especially once the battery is fully charged, but being able to power everything while also charging the battery would be convenient when necessary.
The dual flashlights and SOS are a nice feature as well. They're not necessarily the brightest lights out there but will light up a campground or backyard at night, and help you find something if you don't have another flashlight available. They can also be used in lieu of candles if the power goes out at your house.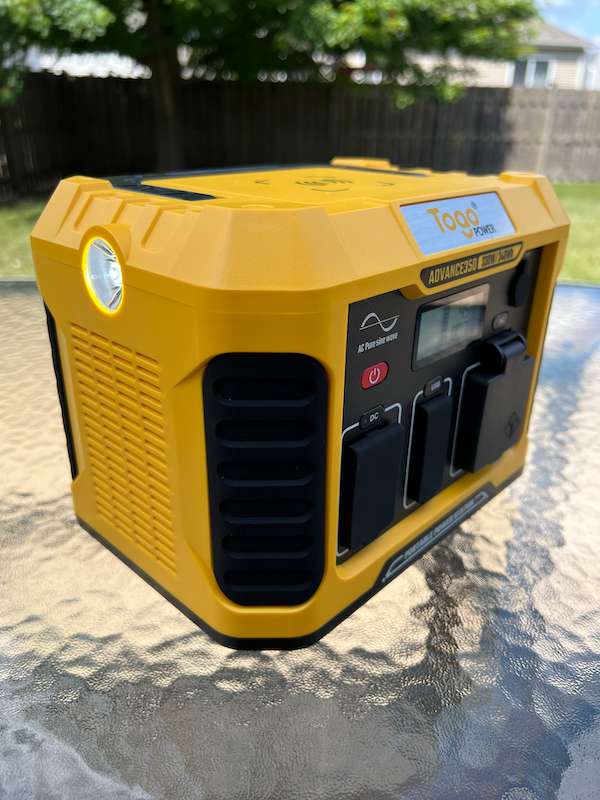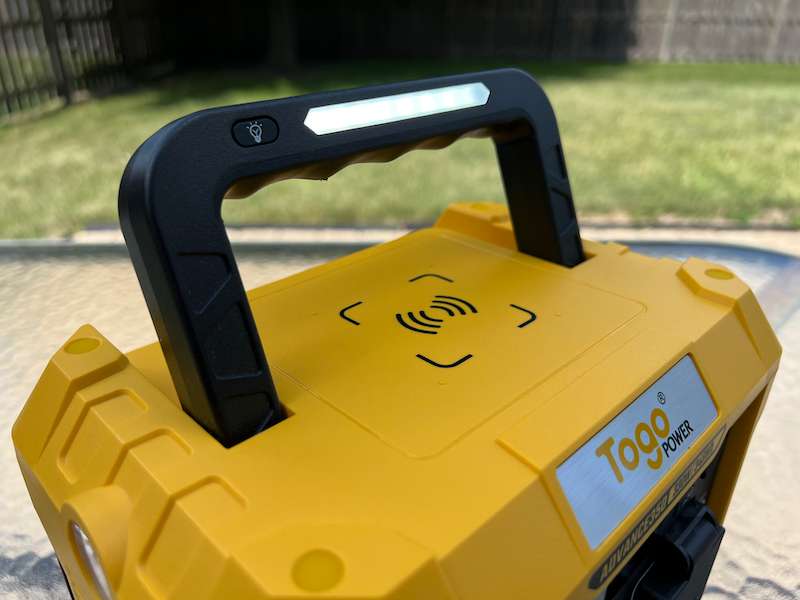 Be aware that the included AC-DC charger gets pretty warm while charging the battery. It isn't hot enough to burn you but it is pretty warm to the touch. Make sure to charge the battery in an open space and if you have the option don't leave the charger or battery on carpet while it's being charged for safety reasons. 
What I like
Lots of power in a compact battery
A wide range of output options
Multiple charging options
What I'd change
100 W PD output on the USB-C connector would be nice
Final thoughts
When you need power on the go, with lots of input and output options, in a convenient package for easy transport, the Togopower Advance 350 Portable Power Station has what you're looking for.
Price: $299.99
Where to buy: amazon.com or togopower.com
Source: The sample for this review was provided by Togo Power. For more information visit their site.