We use affiliate links. If you buy something through the links on this page, we may earn a commission at no cost to you. Learn more.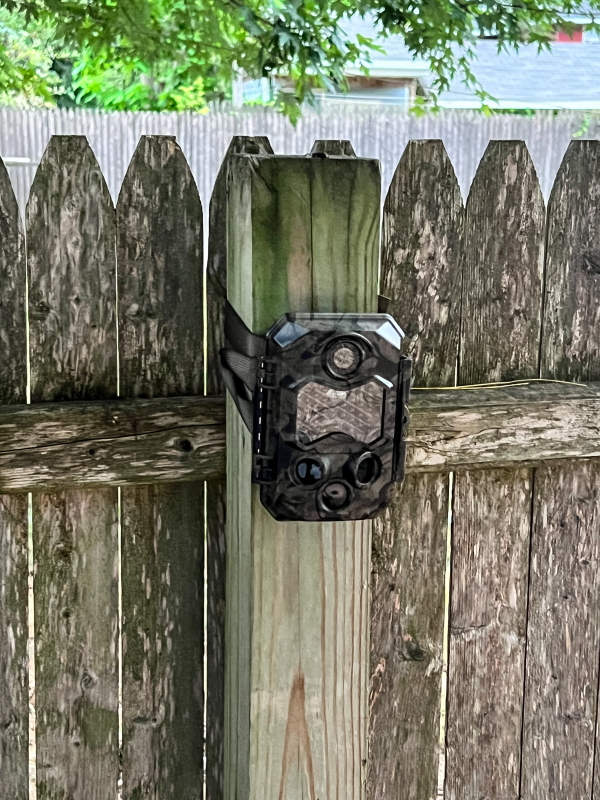 REVIEW – From the first week that I moved to my new home in the suburbs of NY, I began seeing wildlife. It seemed like Raccoons, Possums, and other types of bugs and creatures were everywhere. On a few occasions, my security cameras have provided notifications and video/snapshots of wildlife. See below some of the photos I have taken with my phone. I am hoping that with this Coolife Hapimp 32MP Trail Camera I can catch more of the predators that lurk around my property at night.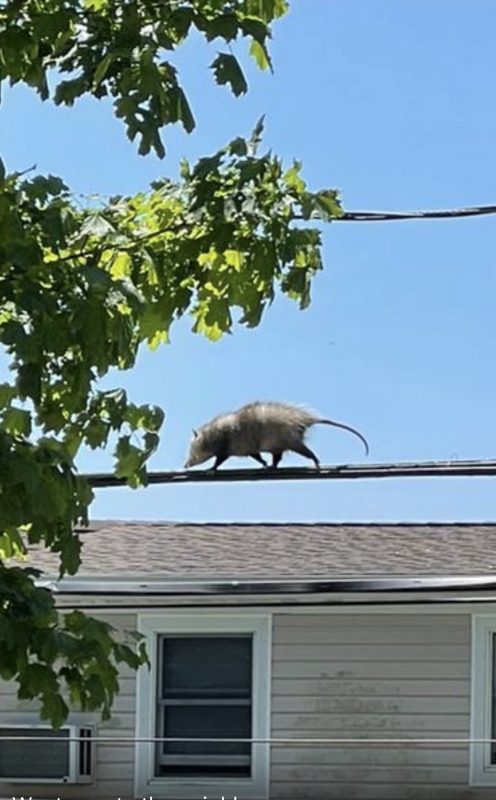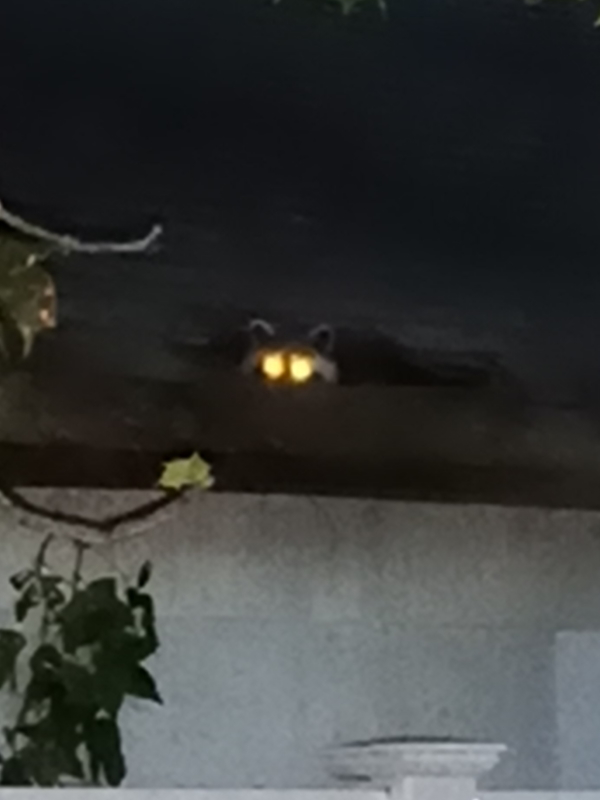 What is it?
The Coolife Hapimp 32MP Trail Camera is a 4K Wildlife Hunting Trail Game that features a 120° wide-angle, 32MP,  IP66 Waterproof,  45Pcs 940nm IR LEDs, and 0.2S motion activation. In addition, there is no glow when shooting at night.
What's in the box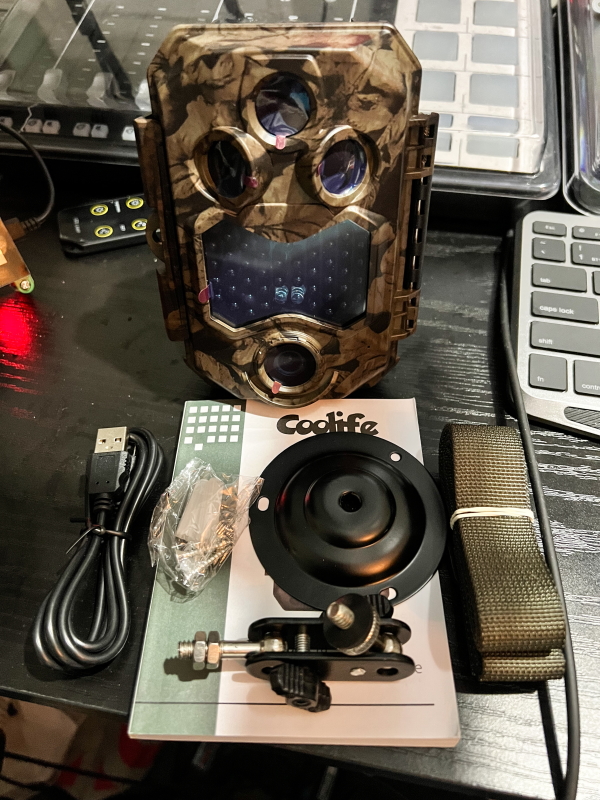 1 x 4K Trail camera PH770-5S
1 x Mini USB cable
1 x User manual
1 x Fastening strap
1 x Fixed metal stand
3 x Screws set
Design and features
Features
Ultra HD 4K Video Resolution and 32MP Photo Resolution: The Coolife wildlife camera offers 4K 3840 x 2160 pixels video with sound and a proud still image resolution of 32 megapixels, which allows excellent image quality with excellent detail accuracy and great color reproduction. All images are easy to categorize as they can be provided with the date, moon, and time stamps. Built-in 2.4-inch screen on which recorded images/videos can be viewed.
Night Vision and 20 Meter Flash Range: with 45 invisible infrared LED lights (940 nm) without lights that do not alert the animals, this wildlife camera with motion sensor night vision can capture an excellent image quality of wildlife at night within a detection range of 20 meters (65 feet).
Ultra-Wide 120 ° PIR Detection Angle & 0.2s Fast Trigger Speed: 3 motion sensors cover a full 120-degree angle, giving you a larger detection area for motion detection. As soon as the moving targets enter the detection range of the PIR sensor, it only takes 0.2 seconds to trigger the wildlife camera for taking photos/videos, so you don't miss a fantastic moment in real-time.
Rugged Case & IP66 Waterproof Rating: Can withstand even the worst weather conditions while still taking impressive photos. We recommend using 8 brand-new large-capacity AA alkaline batteries (not included). The memory card supports a maximum of 512 GB. The camera is suitable for wildlife watching, monitoring of home security, monitoring of wild animals in the garden, and parking monitoring.
User-friendly and custom settings: Time-lapse, video length, motion sensor sensitivity, target recording, loop recording, password protection, etc. allow you to set the parameters as needed. If there are any problems with our observation monitor during use, please contact us, we will respond to you within 24 hours and offer an optimal solution

Specifications
Video resolution: 4K video with adjustable quality
32 MP camera with adjustable quality
Video duration: 3 sec-10 min
Shooting time: 5 sec -60 min
Trigger speed: 0.2 seconds
Detection range: 20 meters
Flash range: 20 meters
SD card required: Class 10, up to 512 GB
Built-in microphone: Yes
The body of the Coolife Hapimp 32MP Trail Camera is mostly plastic. On the front, there is the lens at the top, the LEDs in the middle, and the movement sensors below. The front is designed in camouflage. On the back of the case, there are loops for the mounting strap and on the bottom back there is the 1/4 – 20 mount. Once you open the lockable clasp on the right of the case you have access to the actual camera inside. On the front of the camera, there is the screen on top and the control buttons below the screen. On the bottom edge of the camera, there is the SD slot, the Off/Test/On button, and the DC power and USB ports. The battery compartment is on the inside of the right case cover. Programming is done with the power button in the test position.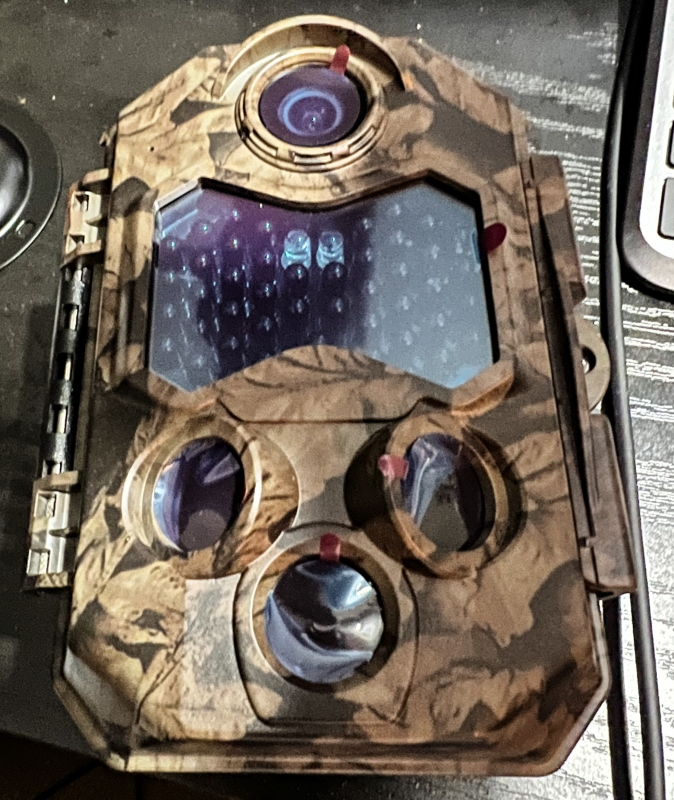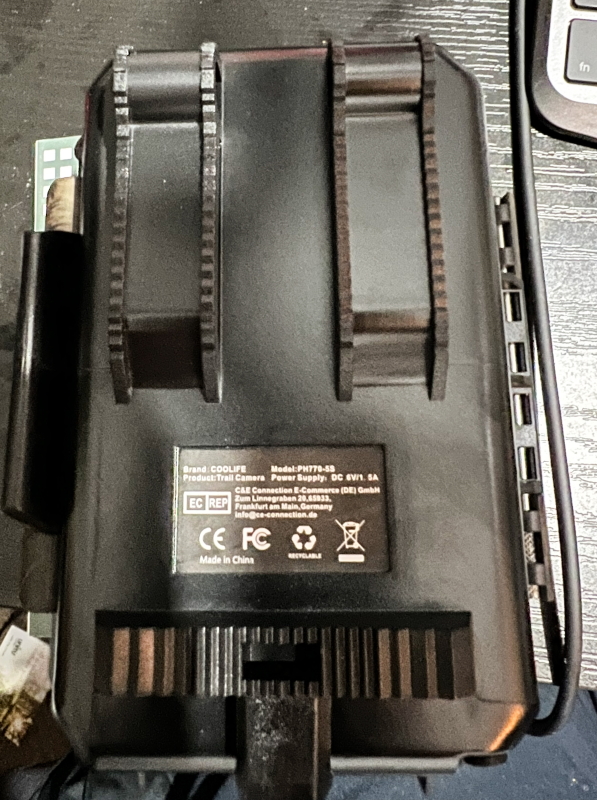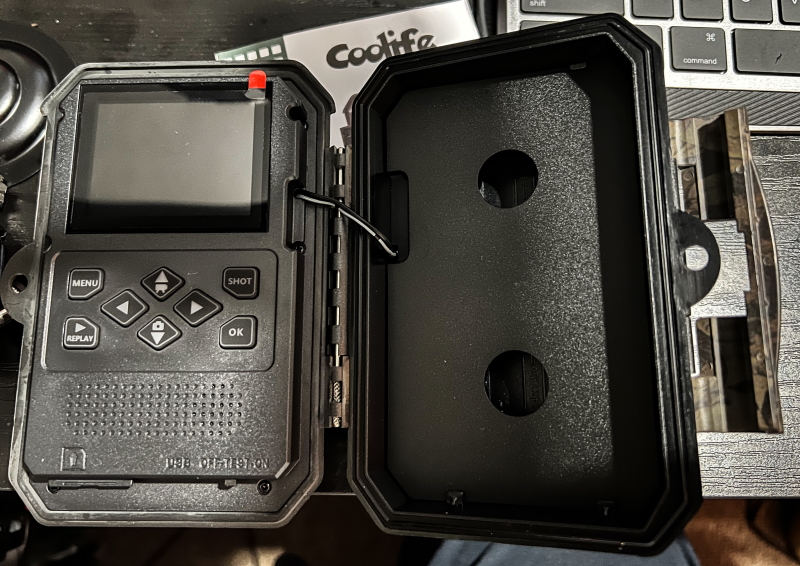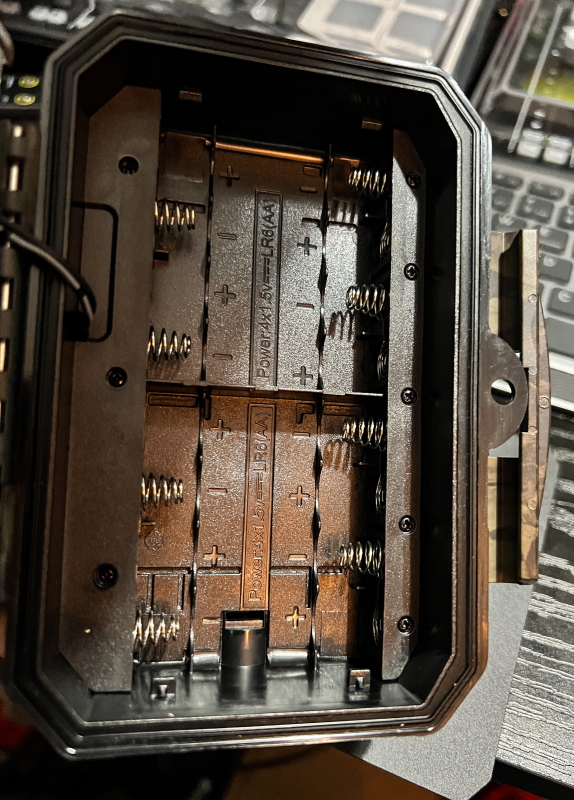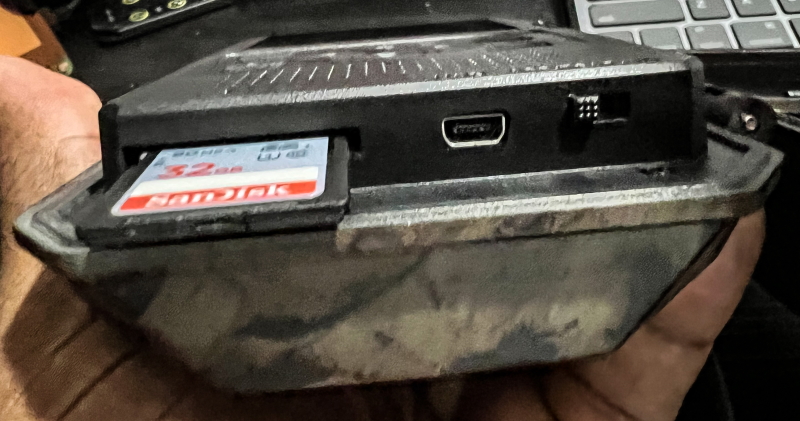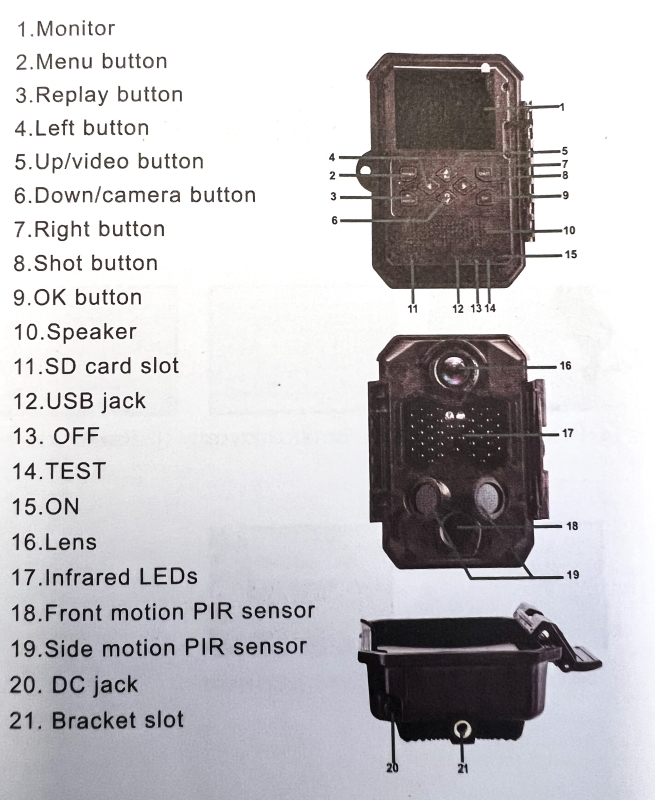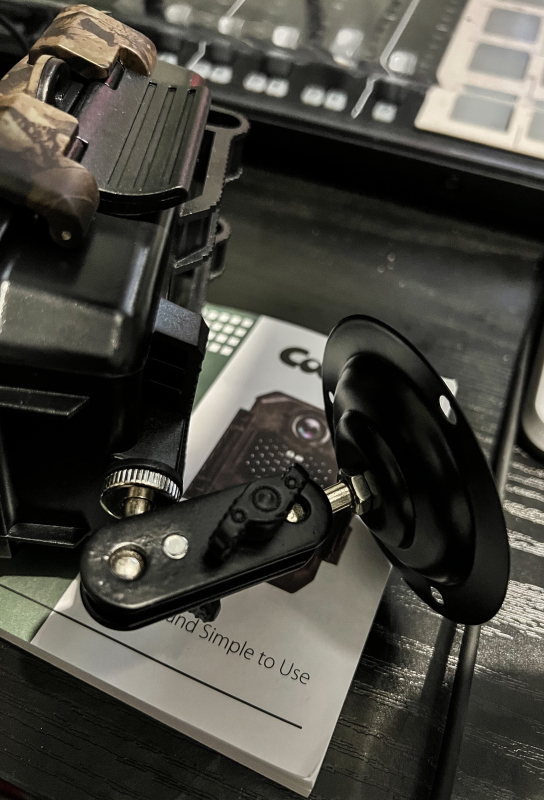 Performance
A 32Gb SD card is included with the camera, so the only thing that you have to do to get started is to insert batteries. The requirement is 8 AA batteries. The camera does have a DC power jack but the adapter is not included and I cannot imagine using this camera tethered to power.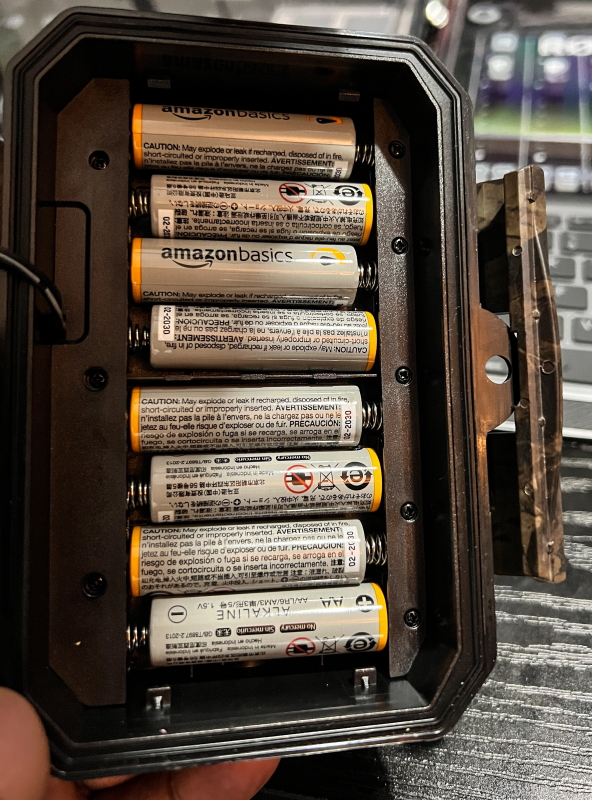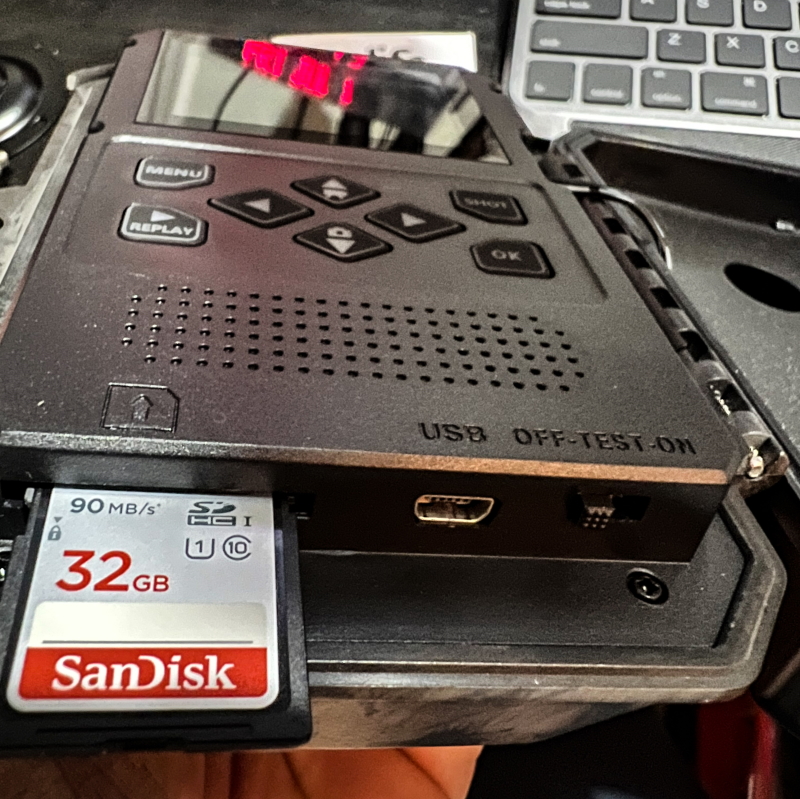 To set up the camera, you turn it on to "test" and go into the menu to set resolutions, video recording duration, etc.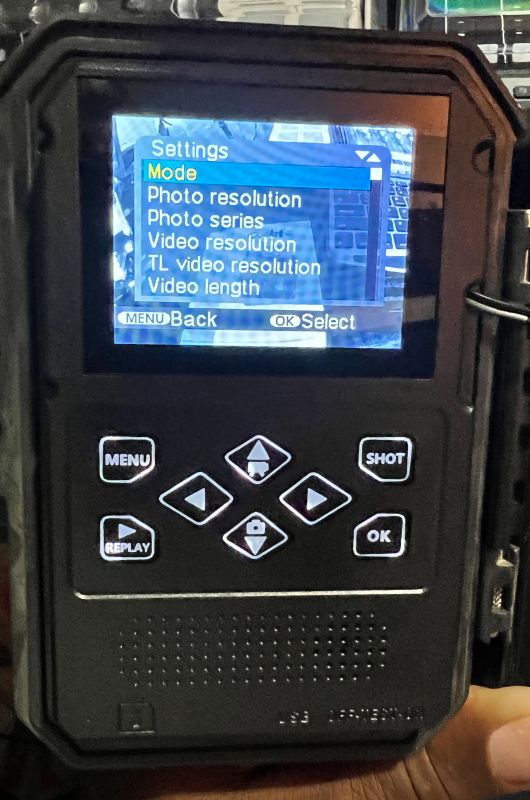 Once I decided on my settings, I took the Coolife Hapimp 32MP Trail Camera outside and strapped it to the fence. IMO the mount that is included does not have the structural integrity to properly support the weight of the camera.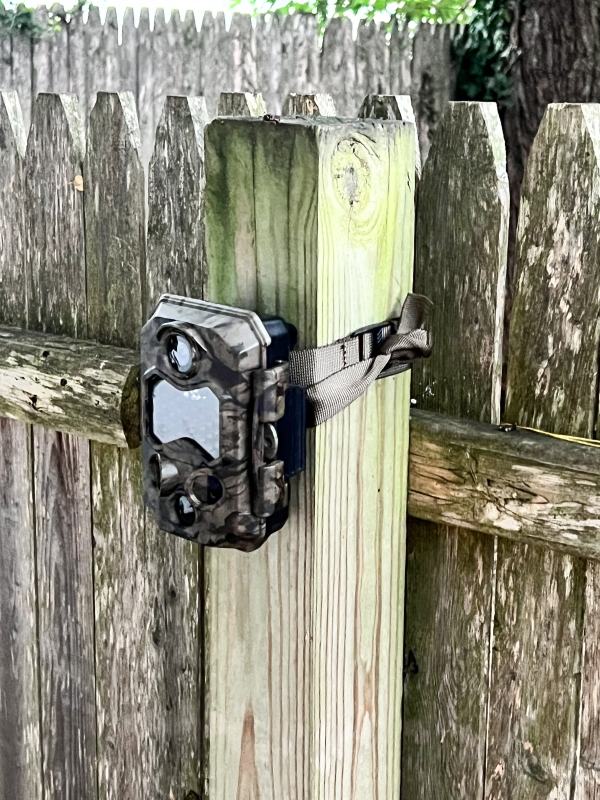 The SD card is only 32GB, so I did not set the camera to record at the highest resolution. This is important to note because I could set it to 4k and have it record continuously but I was concerned that because of the file sizes at that resolution the risk of overwriting a significant event was high. I also scheduled it to record between 10 pm and 5 am. Unfortunately, after checking the footage every day for 2 weeks, there was no significant recording other than a cat entering and leaving the camera view. I think the wildlife figured out that I have a camera there, held a meeting, and decided to punk me!!
Here is a still photo: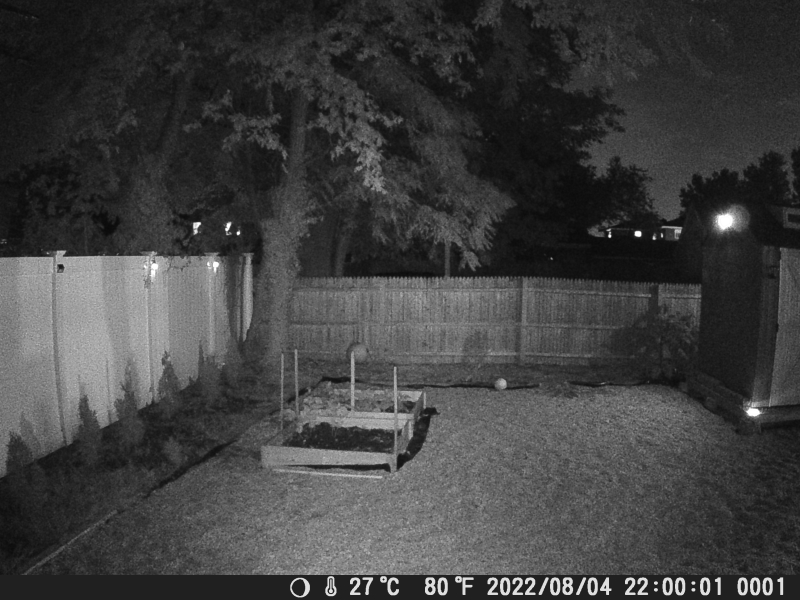 Overall, the Coolife Hapimp 32MP Trail Camera is a really nice trail camera and it provides clear footage even in total darkness. I would like to see improvements like the rechargeable battery and a mounting base that can actually hold the weight of the camera and stay intact even if something brushes up against it. Windy and rainy conditions do trigger the camera to record but I guess it would be hard to discern specific movements in those types of conditions. I have been removing the SD card from the camera to retrieve the files. There is a USB port for transferring files, but since this is installed outdoors, I would not use that option.
Useful for:
Hunting: A powerful tool tailored for hunters, helps you easily search for prey.
Farm Monitoring: A reliable assistant to help you monitor your farm, and prevent strangers from slipping into the farm.
Wildlife Monitoring: Suitable for researchers, and wildlife lovers.
Home Security: This hunting trail camera also acts as a home monitor, which will be a reliable security guard for your home.
What I like
The design and built quality
The variety of video/photo resolutions it offers
The compact size
The mounting options albeit that the mounting bracket IMO is inadequate
As the battery drains, the camera automatically shortens the recordings.
The ability to record video and photos
What I'd change
I wish there was the option for one removable rechargeable battery. The AAA batteries only last approximately 2 weeks and then I have to replace them. Even if I use rechargeable AA batteries, there are still 8 of them. With one rechargeable battery, I could buy 2 and swap them.
Final thoughts
The Coolife Hapimp 32MP Trail Camera is a really nice and cool device and offers a nice recording angle of range and numerous choices for resolution. It maintains its waterproof integrity and it is also well built to withstand the elements.
Price: $96.99
Where to buy: Coolife website
Source: The sample for this review was provided by Coolife