We use affiliate links. If you buy something through the links on this page, we may earn a commission at no cost to you. Learn more.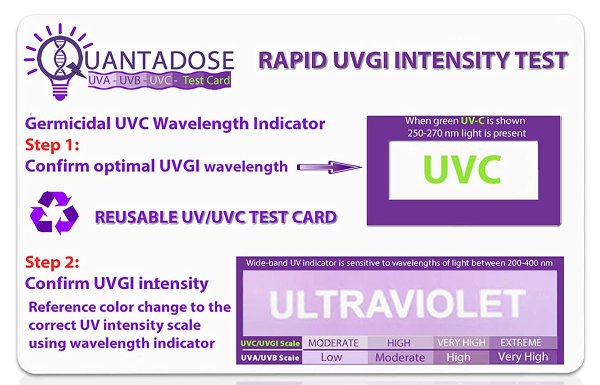 NEWS – Have you ever wondered whether your UV sterilization device really uses a germicidal UVC light source? Well, now you can test those products using the Quantadose Rapid UVGI (ultraviolet germicidal irradiation) Intensity Test card.
I first found it on the WeBeFit website. The card shows you when UVC light is detected and shows the intensity of the light. It's inexpensive, small, and reusable!!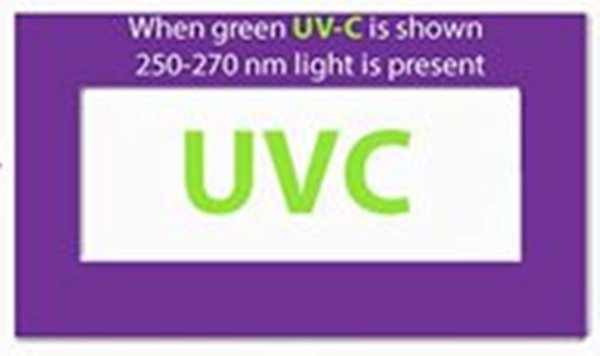 Step 1 of the card: The "UV-C" letters fluoresce green when exposed to 222-280 nm wavelengths and stop glowing the instant the UVC light is no longer detected.
According to the Quantadose website, Step 1 of the card confirms the presence of a UVC wavelength – it is an indicator only and doesn't mean that the light is intense enough to sterilize. That's where Step 2 comes in…

Step 2 of the card: When the intensity of the UVC light reaches 300 µW/cm² (the intensity necessary to sterilize), you will be able to read the word. If you can't read the word, the UVC light is not intense enough to sterilize.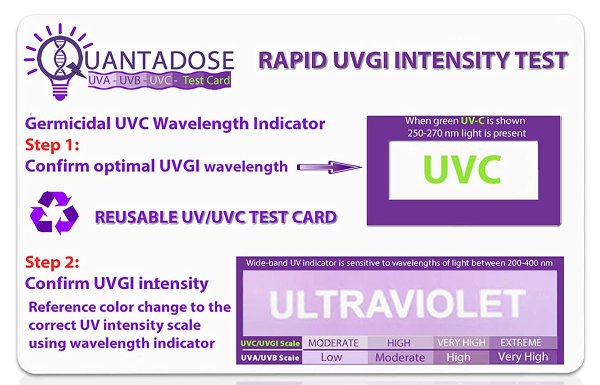 When the "UVC" letters fluoresce green and the "ULTRAVIOLET" letters can be read you have a powerful enough UVC device that can sterilize (both of these test results must be present for effective UVC sterilization).
There's a lot more to the Quantadose Rapid UVGI Intensity Test card than what I've described here. So, if you're interested in reading all about it, please visit the Quantadose website for more information. Also, I actually purchased this card, so if you're curious about how well it works, I'll be posting my review of it shortly!
The Quantadose Rapid UVGI Intensity Test card is available from Amazon for $12.10 and from Walmart for $12.10.