We use affiliate links. If you buy something through the links on this page, we may earn a commission at no cost to you. Learn more.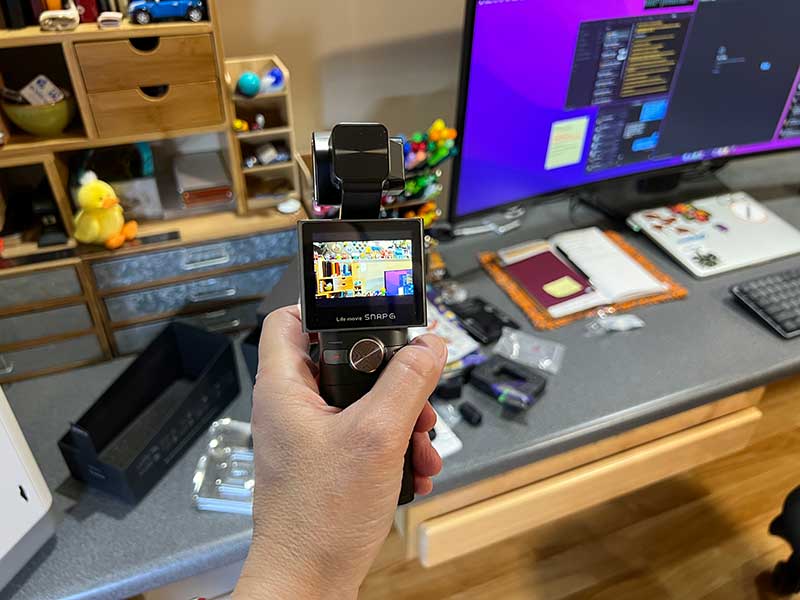 REVIEW – I use my iPhone as my main camera for all my personal pics and Gadgeteer product shots. The iPhone 13 Pro Max camera is awesome, but sometimes I want and need a dedicated camera for shooting video. When I was offered the Thinkware Snap-G gimbal camera to review. Let's check it out.
What is it?
The Thinkware Snap-G is a small handheld 4K camera with a built-in viewfinder display and gimbal. Thinkware is a company that has been around for quite a few years and is best known for its high-quality dashcams of which we've reviewed several.
What's in the box?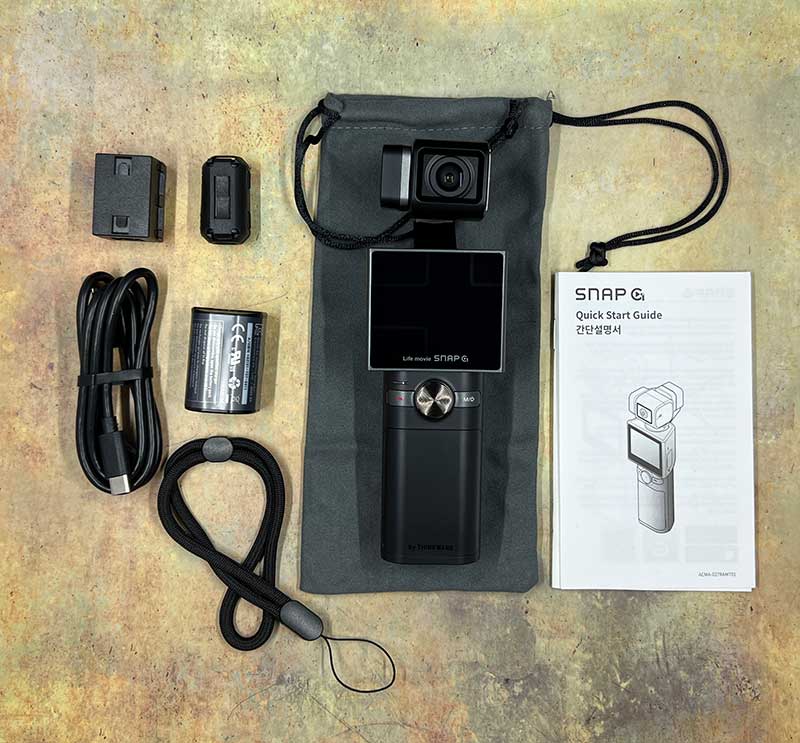 Thinkware Snap-G gimbal camera
Battery
USB-C charging cable
Ferrite core
Storage bag
Wrist strap
Quick start guide
Hardware specifications
Camera
Sensor Size: 1/2.3″ CMOS / 12.3MP
Lens: FOV: 133.9° (diagonally) / F2.6
Maximum Image Size: 4,506 x 3,040
Photo Mode: Photo, Panorama
Video Mode: Video, Time Lapse, Hyperlapse, Slow Motion, Dynamic Motion Recording, SNV Mode
Tracking Mode: FACE ID Auto Tracking, AI Tracking, Face Tracking, Active Tracking
Video Resolution [PAL]:
4K @50, 25, 24 fps
2.7K @50, 25, 24 fps
1080P @100, 50, 25, 24fps
Video Resolution [NTSC]:
4K @60, 30, 24 fps
2.7K @60, 30, 24 fps
1080P @120, 60, 30, 24fps
Photo Ratio: 16:9 / 4:3 / 1:1
Photo File Format: JPEG, RAW / Video File Format: MOV, MP4
MicroSD card max capacity: 512GB
Memory Card Requirement: Micro SDXC, UHS-I U3 Class, Class 10
Audio Output: 48 Khz AAC
General
LCD Screen: 2″ IPS (with Capacitive Touch)
Buttons: Recording, Power/Mode
Speaker: Built-in / Microphone Input Port: Yes
Gimbal Mode: Pan, Follow, FPV, Lock, None
Wi-Fi / Bluetooth: Built-in
Mount: 1/4 Mount, M4 Mount
Dimensions(WxDxH): 53 x 49.8 x 161.4 mm (2.09 x 1.96 x 6.35 inches)
Weight: 178.0 g (0.39 lb)
Battery
Type: Replaceable Lithium-Ion Pack
Storage: 2,000 mAh
Voltage: 7V
Charging Time: 180 min
Running Time: 120 min (FHD @30fps with LCD off)
Design and features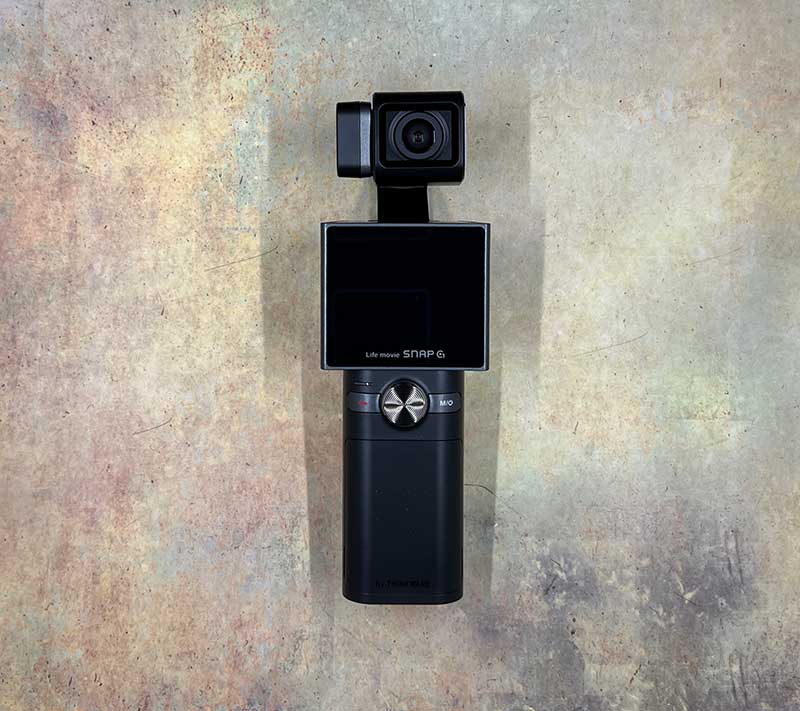 Thinkware Snap-G gimbal camera is small with an integrated handle and a 4-way joystick in the center that is used to move the camera which is attached to a gimbal. On one side of the joystick is the record button that has a status LED above it for both recording status and battery charging status. On the opposite side of the joystick, there is the mode/power button and above the joystick is a large color touchscreen live view LCD display.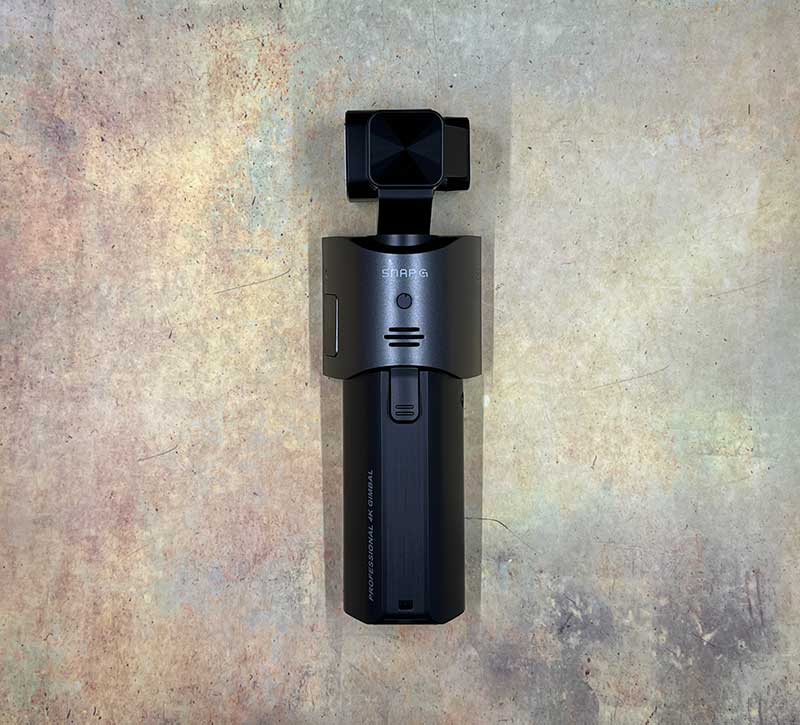 If you flip the camera over, you'll see an M4 mount connector in the center above the speaker. Below the speaker is the trigger which can be set to do 5 different functions that include centering the gimbal, toggling selfie/front modes, changing the shooting mode, zooming in, and zooming out. Note that the zoom functions also require you to press the joystick at the same time.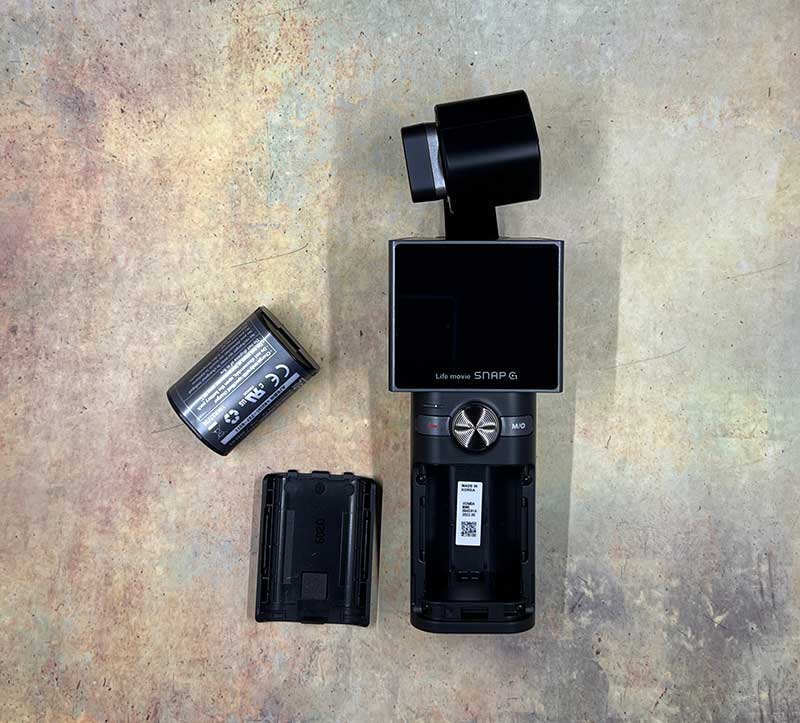 The back part of the triangular handle is the battery cover for the Thinkware Snap-G gimbal camera's removable/replaceable battery.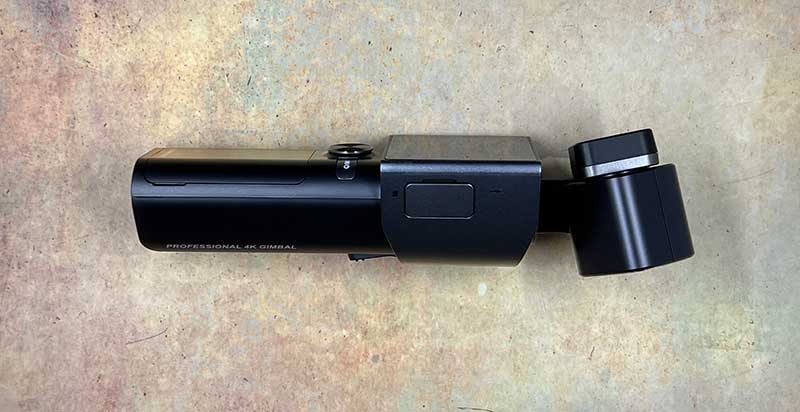 On the right side of the camera, there's a protective cover for the USB-C port and micro SD card slot.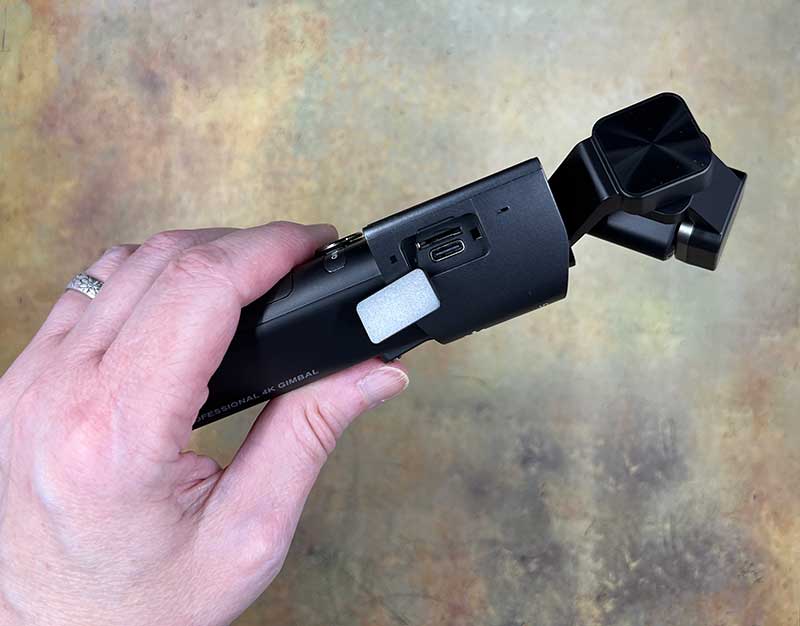 Above the cover, there's a microphone.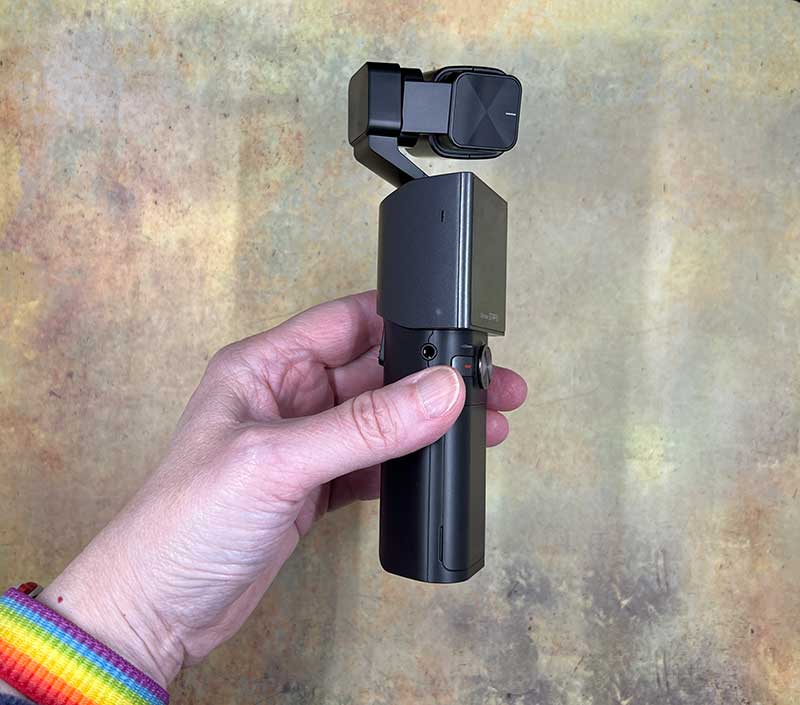 The opposite side of the handle has a matching microphone along with an external microphone jack.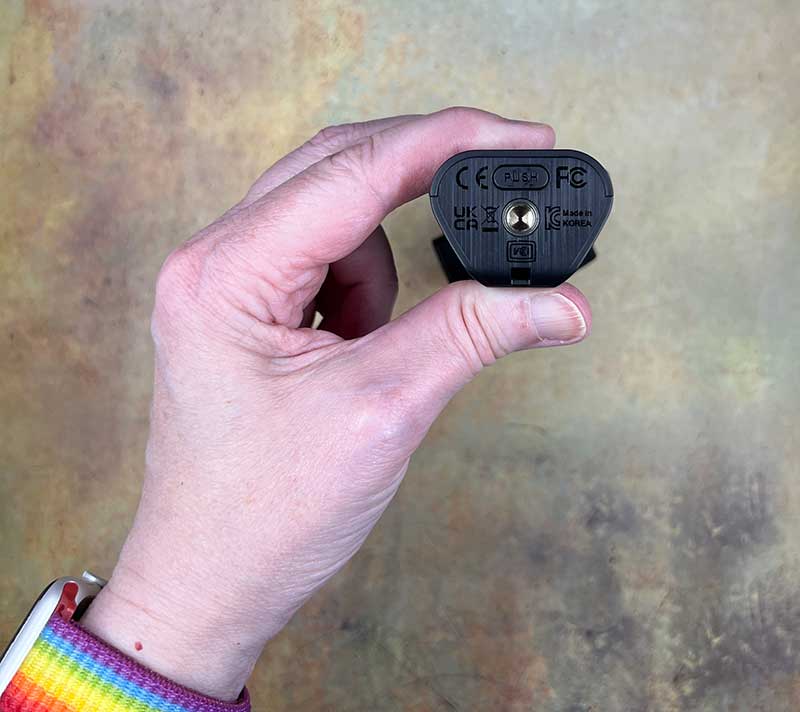 On the bottom of the Thinkware Snap-G gimbal camera is a 1/4″ threaded tripod mount and the battery cover release button.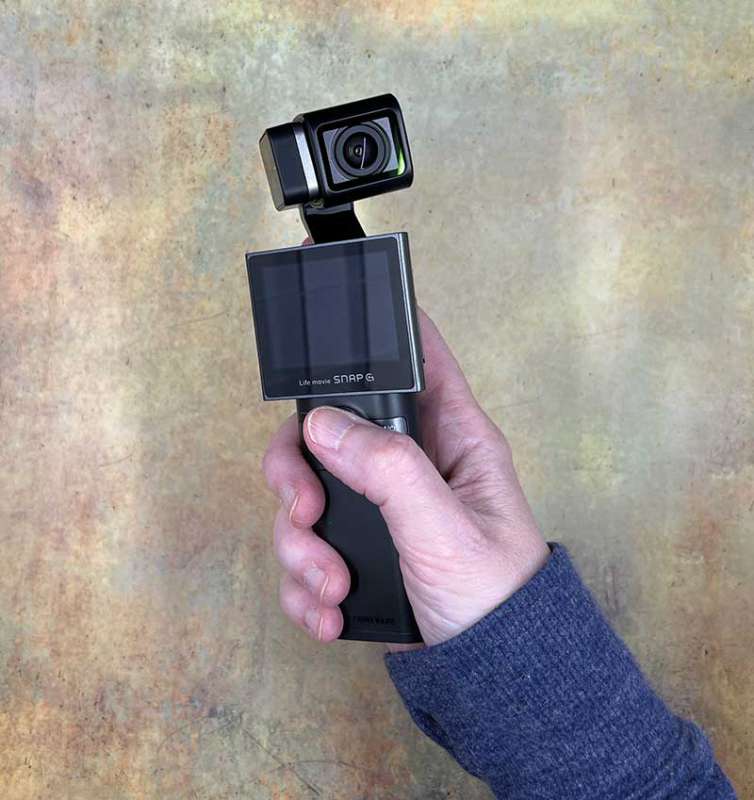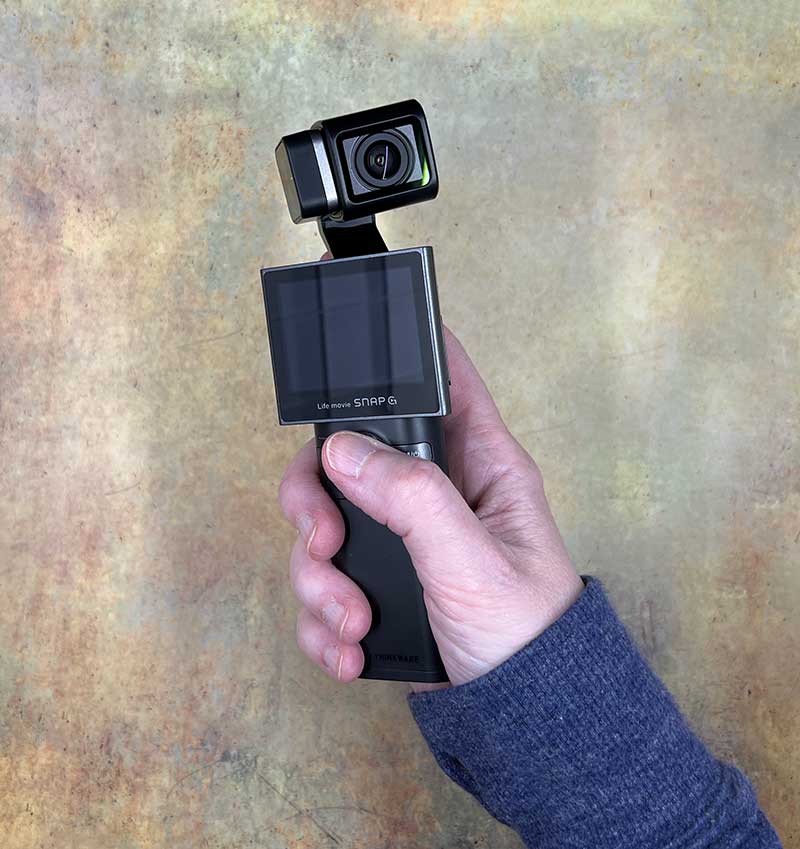 The triangular handle of the camera makes it comfortable to hold. For my hand, it is just right as far as size, but I can imagine that someone with really large hands might find it a little awkward to use the joystick while holding on to the grip/handle.
The Thinkware Snap-G gimbal camera's user interface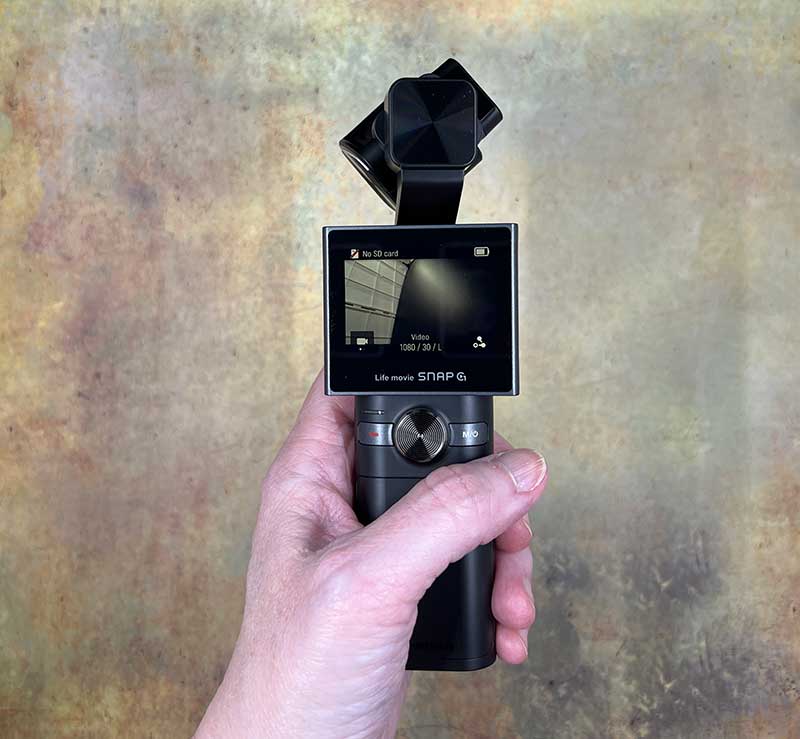 When the camera is powered on, the display gives you a live view of the camera as well as the estimated recording time you have left on the inserted micro SD card and the battery status in the upper corners of the display.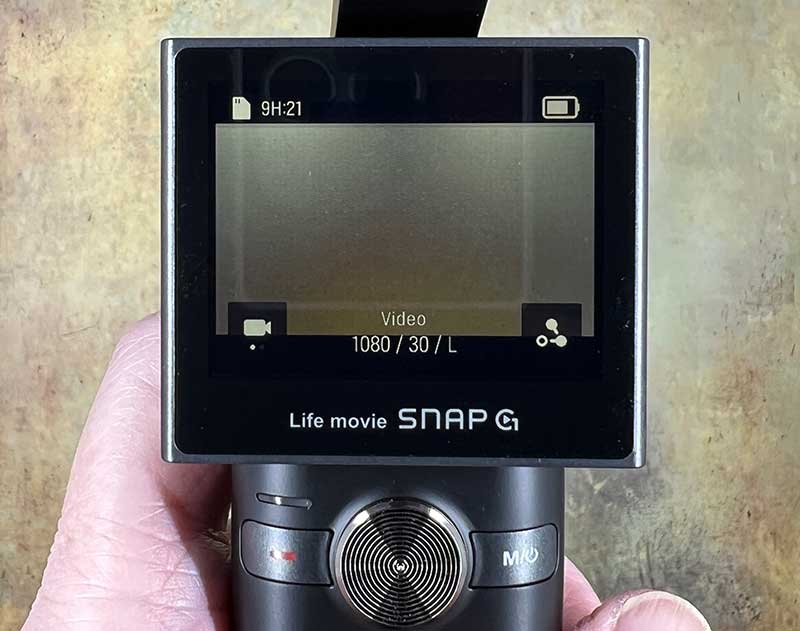 At the bottom of the display, it shows the mode on the left side (photo or video), and on the right side is a touch mode button that functions differently depending on if it's in photo or video mode. In photo mode, it will set the timer and in video mode, it will use dynamic motion recording.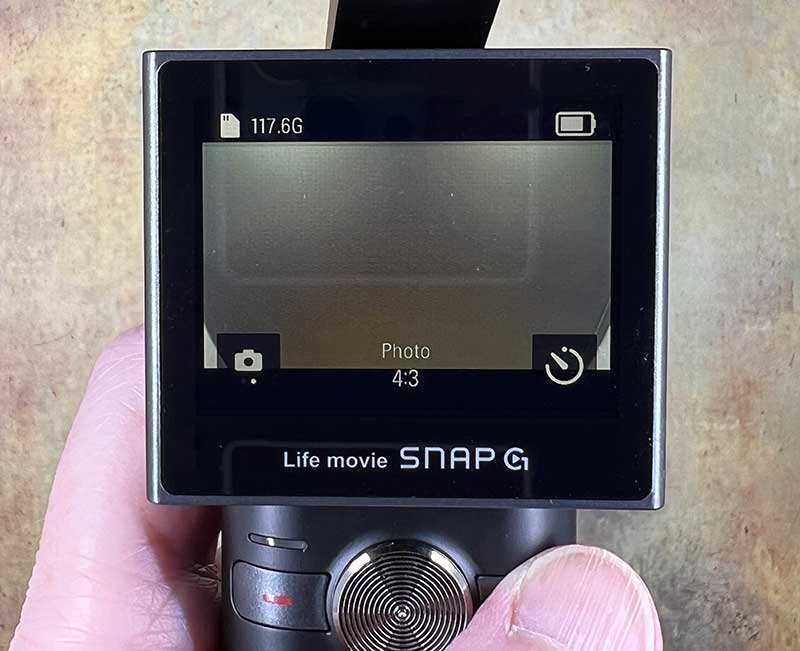 You can also use 4 different gestures on the touch display. Swiping up will go to the preset mode, swiping down will take you to the camera's settings, swiping left will bring up the gimble settings, and swiping right will take you to the album of saved photos and video.
Special Modes
AI face tracking and active object tracking modes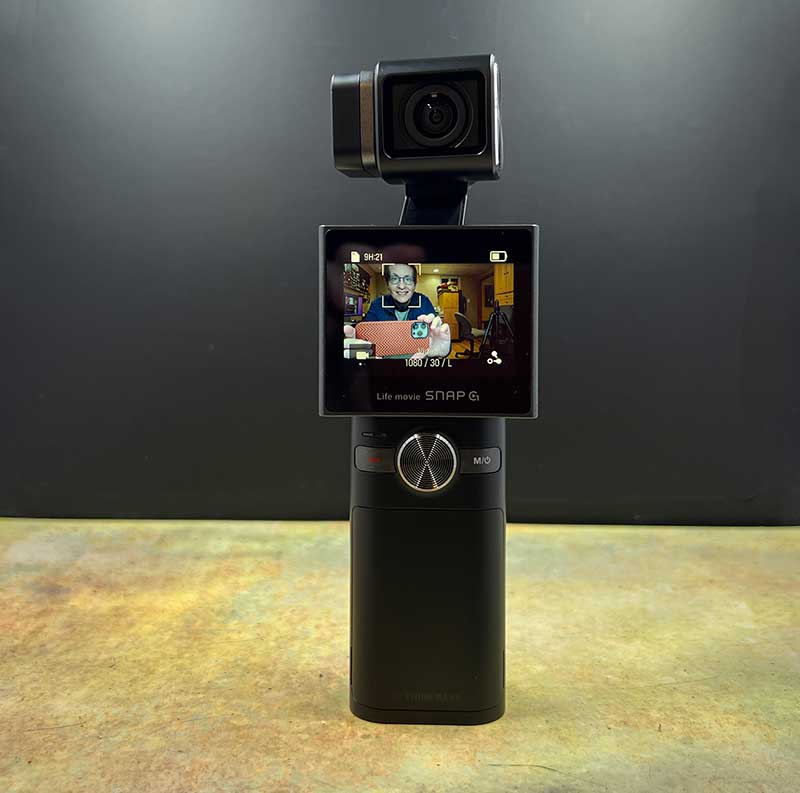 The Snap-G has built-in facial recognition that you can use to enable face tracking. When this mode is enabled, the camera will move to keep the detected face in the frame. You can even save up to 5 faces in the camera's memory so that it will automatically recognize the face and start tracking without your intervention.
You can use the active tracking mode to keep a static or moving object in the frame as you move the camera. To select the object, you just double tap it on the display to create a yellow border around it just as you do with the face tracking feature.
Dynamic motion recording mode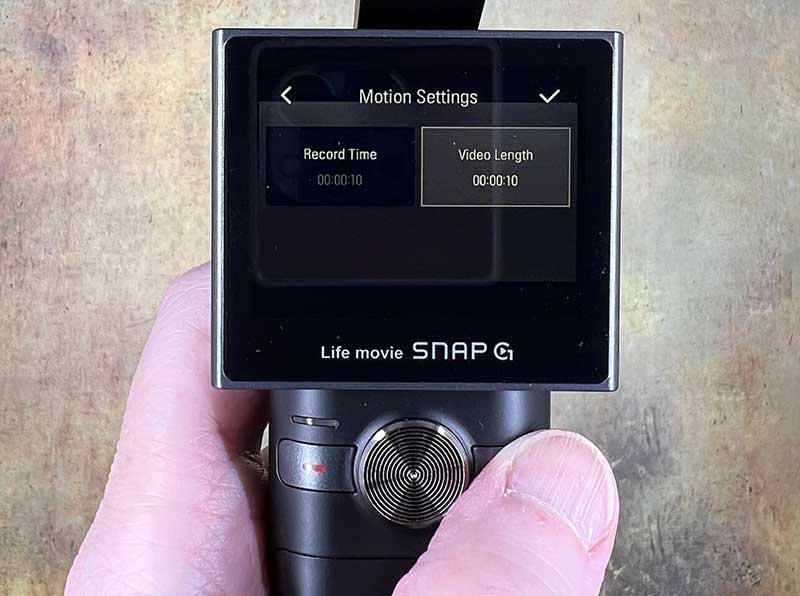 In this mode, you can set up to 4 recording points and set a path between the points and the video length. For example, you can set a video length of 30 seconds and then set 3 different points and the camera will record the first point for 10 seconds, will move the camera to the next point and record for 10 seconds, move to the next point for 10 seconds, and then it will stop and save the video.
Other features include live streaming, slow motion, hyperlapse, timelapse, and panorama image capture.
See it in action
Thinkware Snap-G gimbal camera hardware overview and a couple of feature demos.
Thinkware Snap-G gimbal camera outdoor video example. When shooting indoors, I found the video to be clear and the colors were nicely balanced. I did notice that the video is quite grainy in low light (see the end where I am walking down the stairs). I also noticed that the built-in microphone is only so-so. It works well if you're very close to it, but get 2 or more feet from the camera and the audio quality suffers. You can plug in a separate mic into the side.
I filmed this on a bright sunny day and the video suffered from blowouts and glare/streaks. Note that I was filming with default settings and it is possible to adjust the exposure.
What I like
Large built-in touchscreen viewfinder
Replaceable battery
Easy to understand user interface and physical controls
Nice selection of video modes
What I'd change
No way to fine-tune the gimbal calibration
Audio capture could be improved or include an external mic with the basic kit
Final thoughts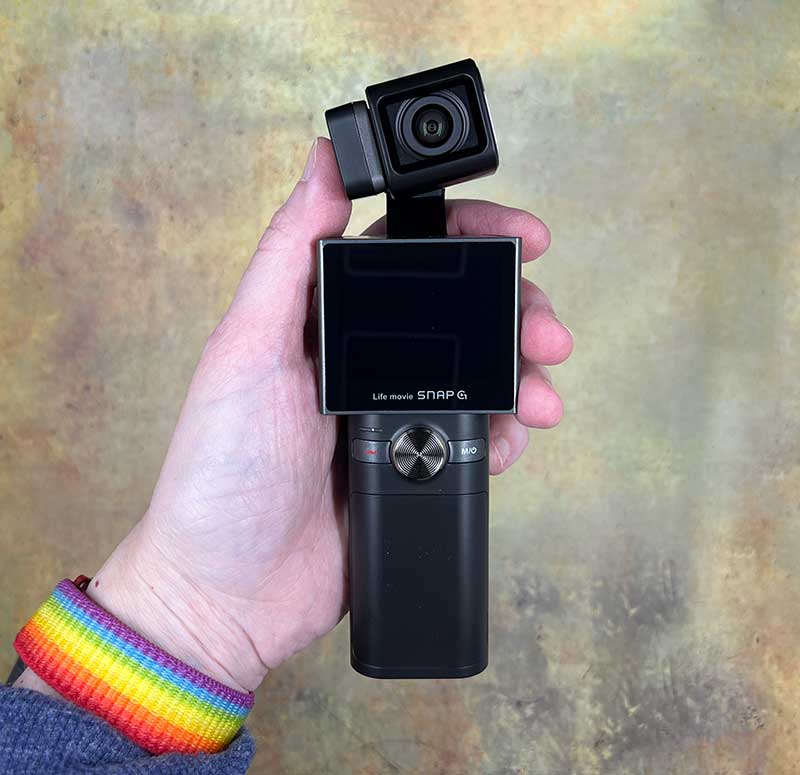 The Thinkware Snap-G gimbal camera is a nice option for vloggers, realtors, and anyone who likes to dabble in video creation. It's small enough to not stick out like a sore thumb while capturing video in public. It's not as small as the popular DJI OSMO Pocket, but the Snap-G does have a larger easier-to-see viewfinder compared to the DJI. The Snap-G's user-replaceable battery is also something that the DJI lacks which is a great option to have if you're going to be filming all day since the Snap-G's battery only lasts for about 2 hours per charge. All in all, I found the Thinkware Snap-G to be a fun little all-in-one gimbal camera.
Price: $419.99
Where to buy: Thinkware and Amazon
Source: The sample for this review was provided by Thinkware.