We use affiliate links. If you buy something through the links on this page, we may earn a commission at no cost to you. Learn more.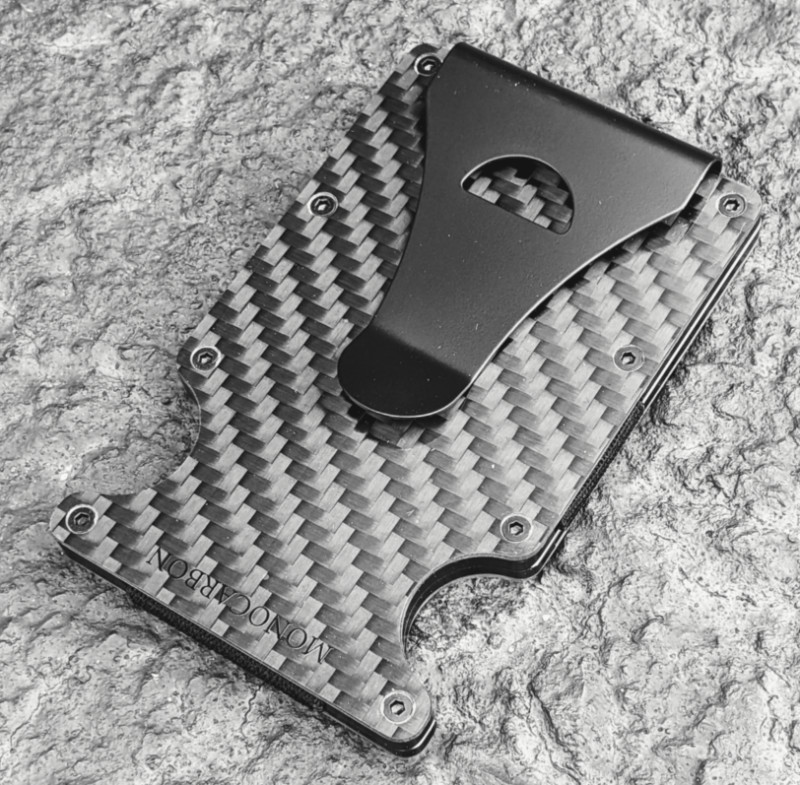 REVIEW – One of my daughters gave me a 'big name' wallet of a design similar to the MONOCARBON wallet for Dad's Day, and she spent way too much money on me. Is the MONOCARBON Carbon Fiber Wallet $20 less good than my big name wallet? Or will my daughter wish she had known about MONOCARBON? We may keep this review a secret.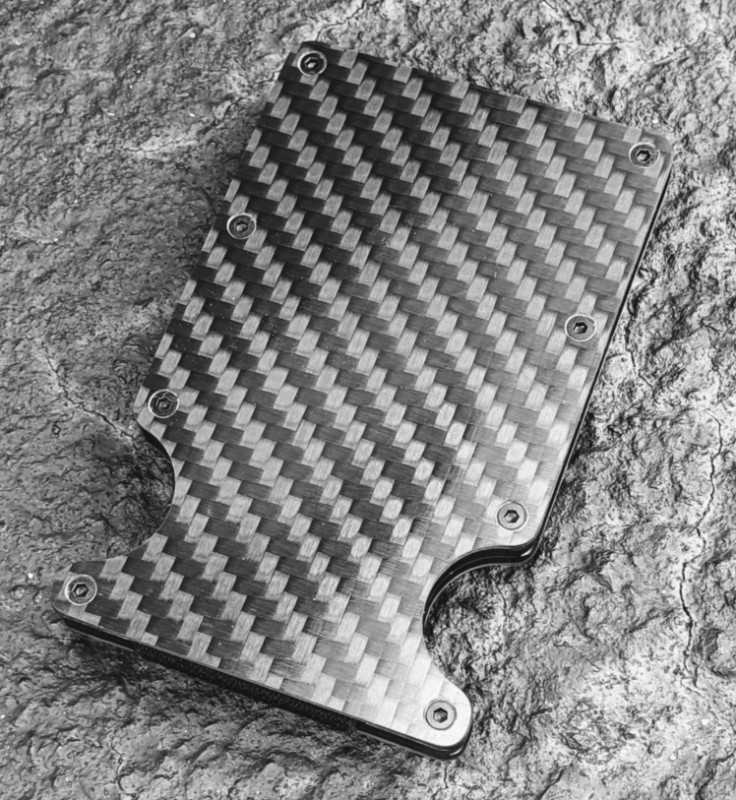 What is it
The MONOCARBON Carbon Fiber Wallet is an RFID-protective card carrier with a money clip. Cards are held secure by elastic fabric strips on 3 sides of the wallet.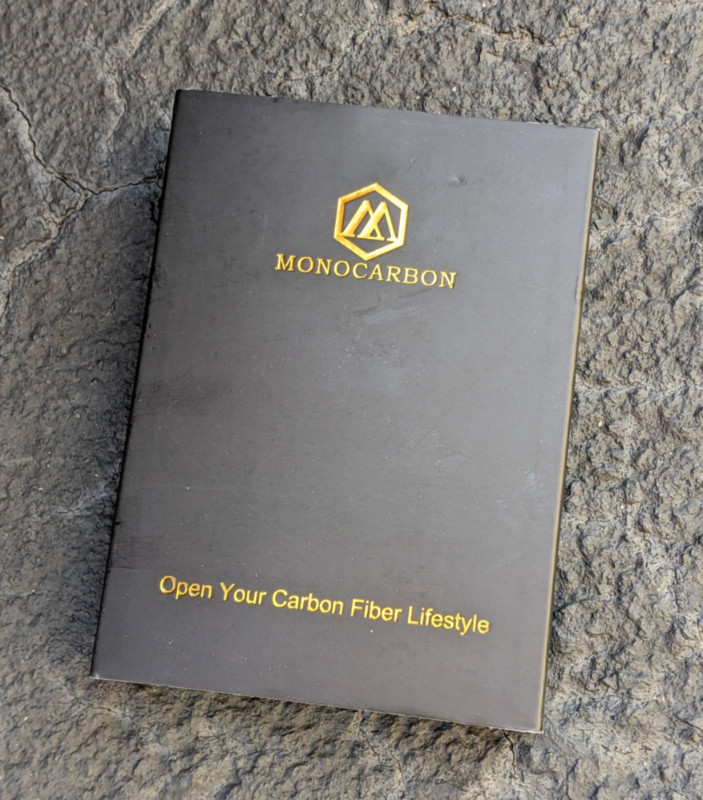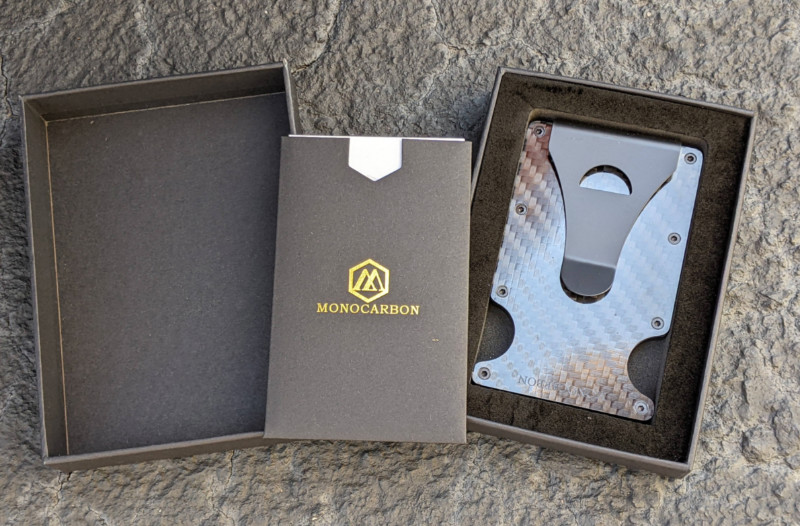 What's in the box
MONOCARBON Carbon Fiber Wallet

MONOCARBON promotional information cards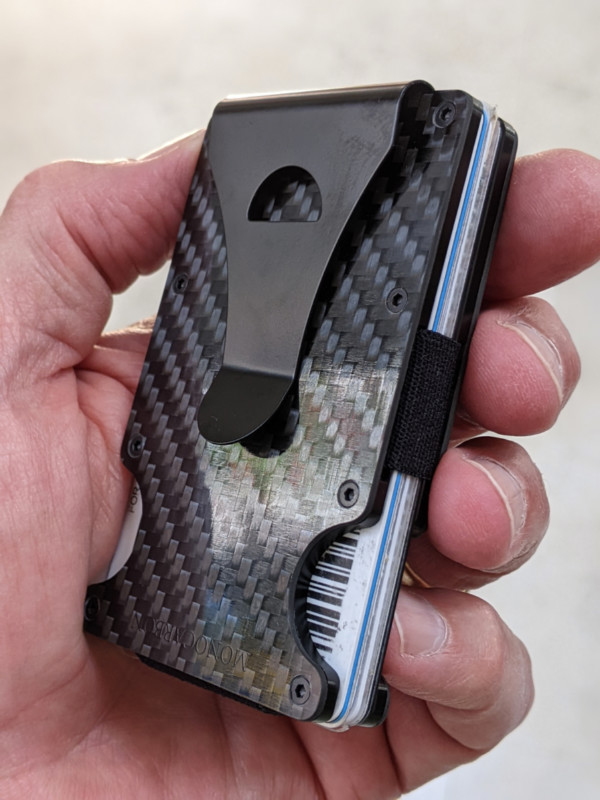 Specs
Weight: 2.1 ounces

Capacity claim: "30 cards, 20 bills"

RFID blocking

Magnetic [unsubstantiated]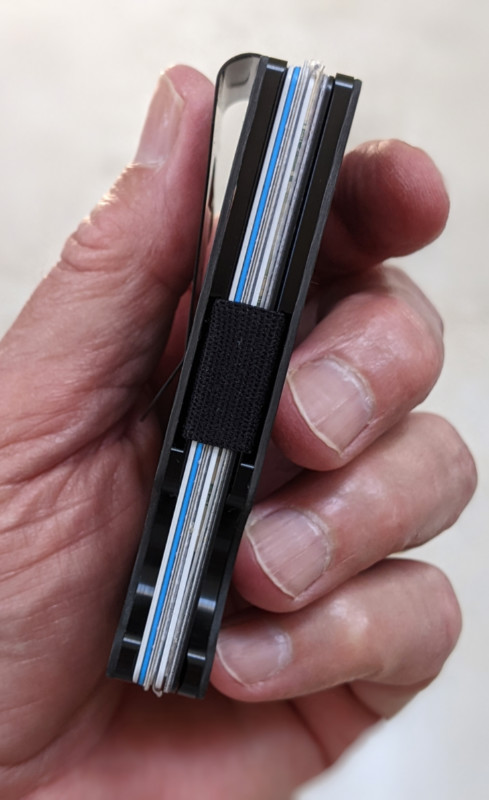 Design and features
RFID cards cannot be 'read' through the wallet

Cash clip pre-installed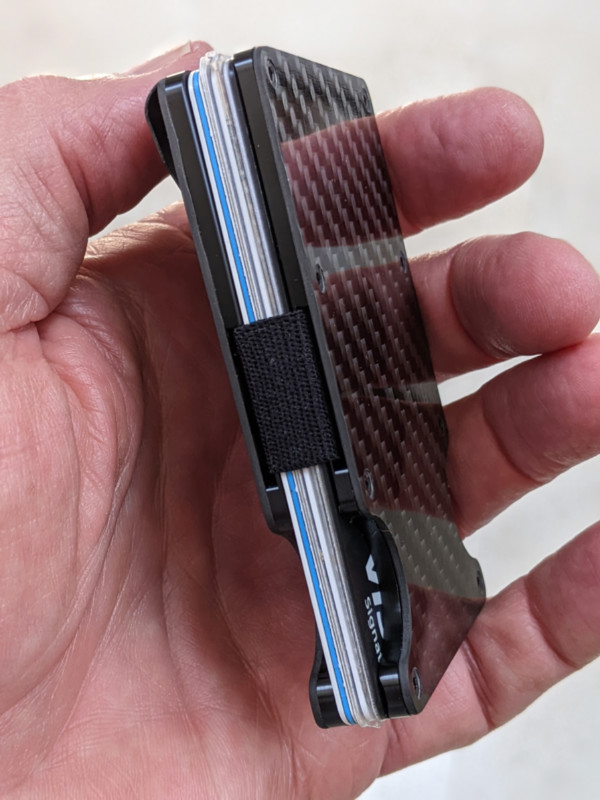 Setup
Setup is pretty easy for a low-tech item like a wallet. Open MONOCARBON box, load wallet, place in pocket. Remove and use cards as needed. You can charge with it but don't need to charge it.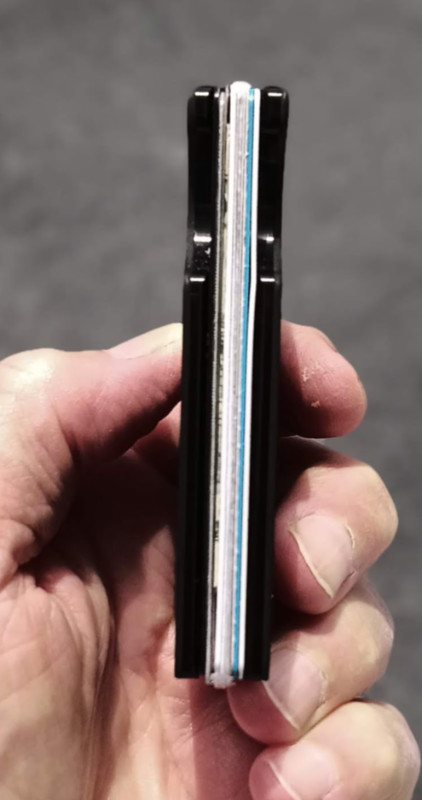 Testing and observations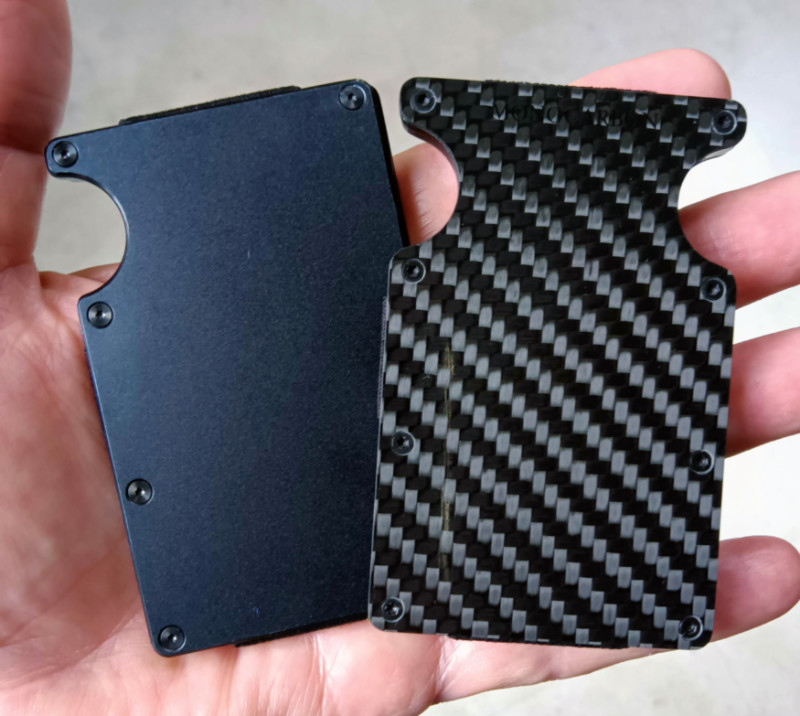 My big name card wallet is nearly identical in size and operation to the MONOCARBON wallet. The main difference is the MONOCARBON'S dual cutouts for pushing and pulling cards. I think the MONOCARBON excels here because one cutout can be used to push cards out and the other helps one grip the cards. My big name wallet allows for the pushing out but I have to push cards farther out to be able to grip them with the other hand. 
You won't cut yourself on the edges of the MONOCARBON wallet, but I wouldn't call it comfortable to grip, and the edges may not go easy on tight pants, especially if you carry lots of cards making it thicker. 
That "30 cards, 20 bills" claim is pretty funny. If you load this wallet with 30 cards I can guarantee you won't carry it in a pocket. And the name 'Costanza' comes to mind. After this review, I may smooth down the edges of the MONOCARBON wallet with my Dremel tool. 
The claim of the wallet being 'magnetic' makes no sense to me in the first place, and I found no evidence of magnets anywhere within the wallet. Magnets wouldn't be a great idea in the proximity of swipe-type cards with magnetic strips on the back. So, there should be no worries about this odd claim. 
A magnet does attract to the non-money-clip side of the wallet so it may be backed by a steel plate under the carbon fiber outer surface. I'm not sure how this is advantageous. 
I carry only the cards most essential to me and they number 10. I have a $20 bill folded between cards in the middle. This brings the MONOCARBON wallet to a ½-inch thickness. I wouldn't want mine much thicker. 
Here's how I arrange my cards. My primary credit card is the first card on one side of the MONOCARBON wallet, my membership warehouse shopping card is the first card on the other side of the wallet. Those are my two most frequently used cards. In their positions, they are the easiest to remove quickly. The second card behind my credit card is my driver's license. In the middle are my debit card, medical/dental ID cards and a few other 'must carry' cards. 
The MONOCARBON wallet has enough tension from the elastic straps to hold the cards securely but is not so tight as to make card retrieval difficult. The advantage goes to the MONOCARBON wallet vs. my big name wallet. 
I keep cash separately from my cards so I removed the cash clip from my big name wallet to make it thinner. That company included a screwdriver for that purpose. One can also replace the elastic strips of that brand, or trade out the money clip for an elastic cash band. Those features surely add to the cost.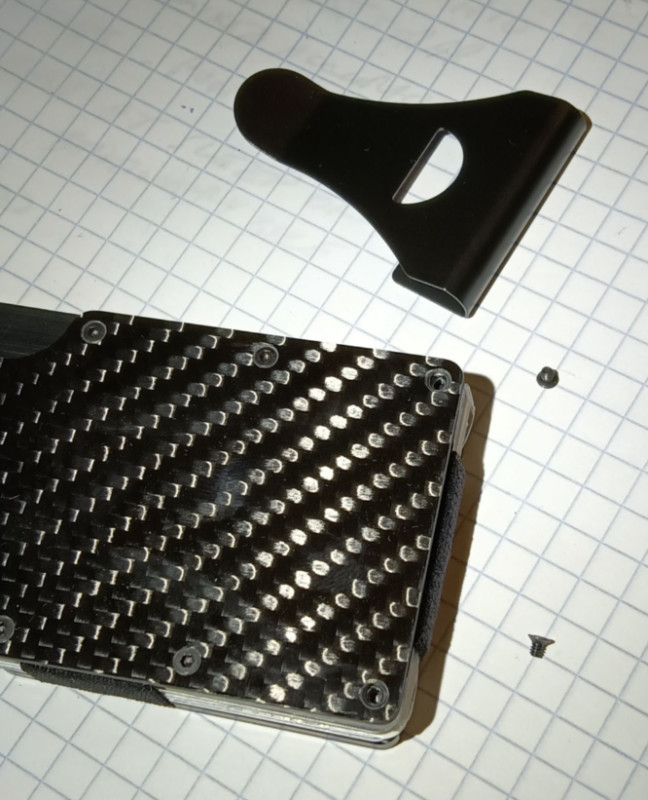 With a T-6 Torx driver bit, I removed the cash clip of the MONOCARBON wallet too. It is now even slimmer.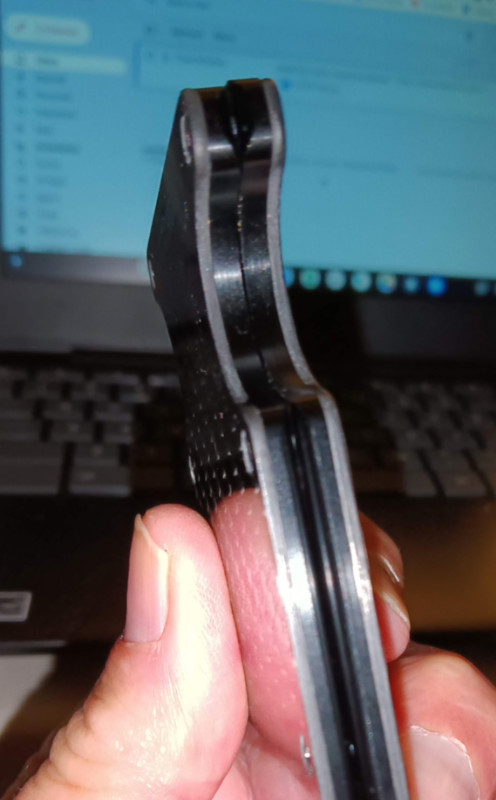 Are the sides of the MONOCARBON wallet truly carbon fiber or just embossed plastic?  I don't know and I don't know how to tell. MONOCARBON sends a small sample of carbon fiber material stuck to a card that came in the box. That material, which the card indicates is "Real carbon fiber material", looks and feels different than the wallet itself. The wallet has very smooth, hard sides. I'm no expert on carbon fiber, so, who knows? I also wonder if I really got the UV blocker coating on my prescription sunglasses. Carbon fiber can be smoothed to a slick finish, so, let's say it's carbon fiber. 
What I like
The Monocarbon Carbon Fiber Wallet works as advertised and as expected

The price is lower than some of the similar big name card carrier wallets
What I'd change
The sharp edges should be smoothed down for comfortable handling and carrying

Clarify or discontinue the 'magnetic' claim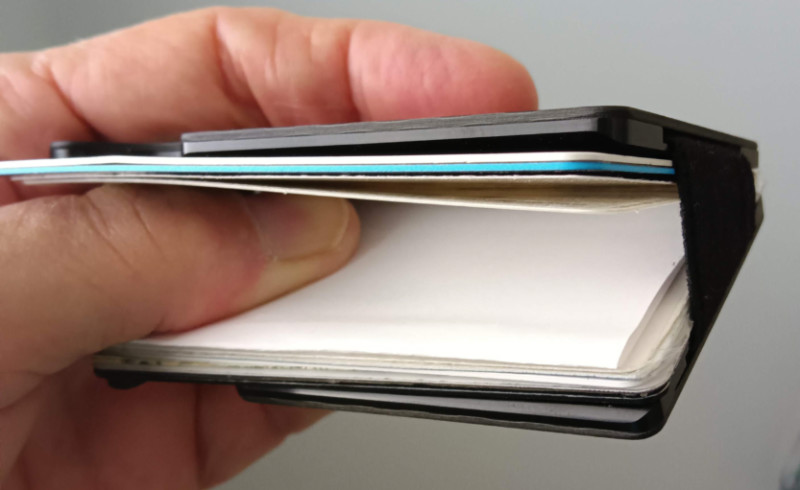 Final thoughts
At Amazon alone, the MONOCARBON Carbon Fiber Wallet has lots of similarly designed competitors at prices below, at, and above its price point. But it looks cool, works perfectly and I liked how it did what it's made to do. If it had smoothed edges I'd give it two thumbs up, but for now, one of my thumbs is vertical. 
Price: $39.90
Where to buy: MONOCARBON and Amazon
Source: The sample for this review was provided by MONOCARBON.