We use affiliate links. If you buy something through the links on this page, we may earn a commission at no cost to you. Learn more.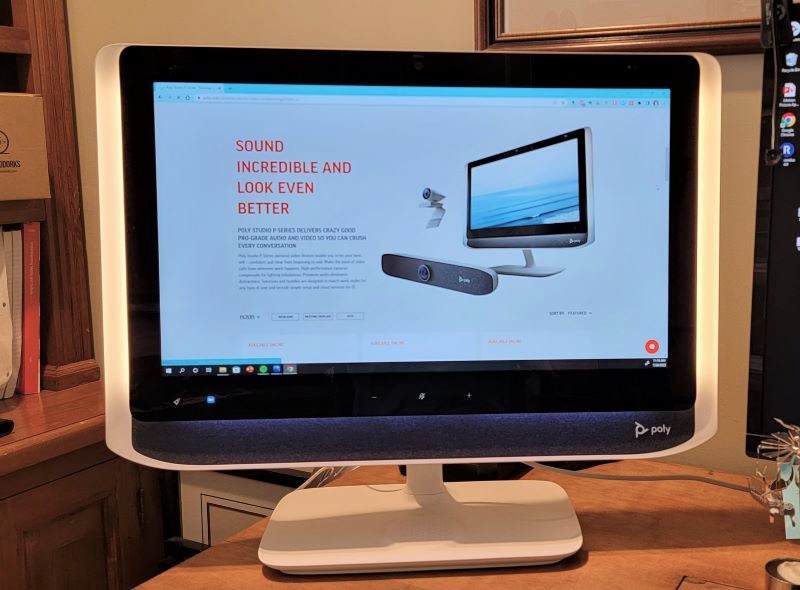 REVIEW – If you're gadgety like the gadgeteers, your desk has a lot of stuff on it.  I've got a couple of pictures, my echo device, my extra monitors, my centercam, my fancy microphone, my phone charging pad, and my ring light.  It's just a bunch of stuff and the cord situation generated by all of that is boggling.   Well, something has come along to help me pare all of that down: the Poly Studio P21 Personal Meeting Display took a lot of the clutter away and left me with just what I need to look awesome on Zoom (or Teams, or whatever my workplace is using this week for online meetings).
What is it?
The Poly Studio P21 Personal Meeting Display is an all-in-one monitor, camera, microphone, speaker, charging pad, and lighting system to use for online meetings.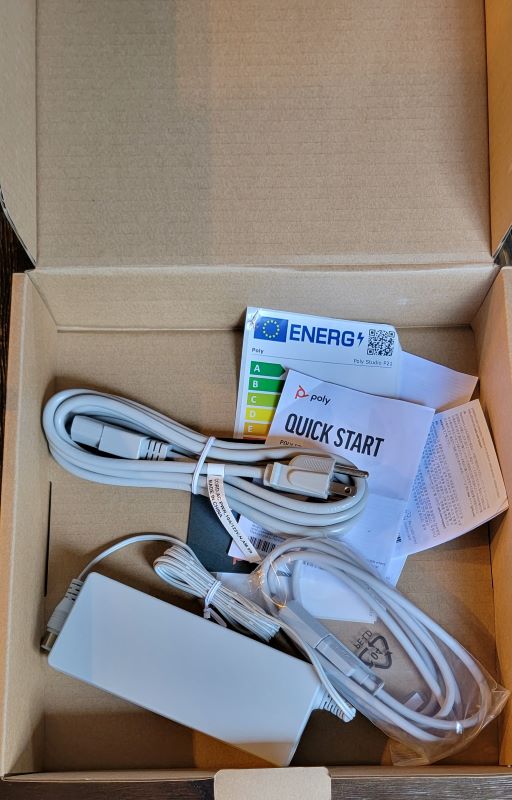 What's in the box?
The monitor and stand (which needs assembly)
A "Start Here" card with a link to the required software
Some safety pamphlets
A quick start guide of instructions
A sticker with the energy rating on it.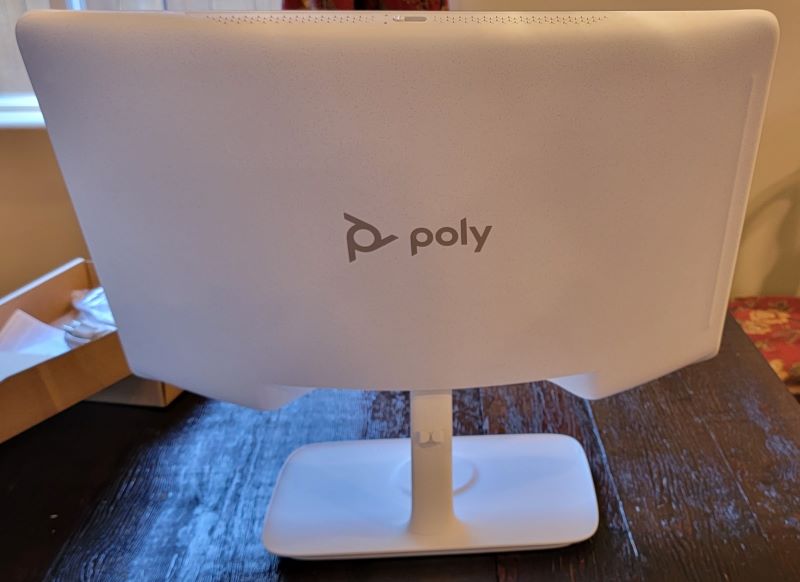 Hardware specifications
Display
21.5 inch LCD Monitor (476.1 mm x 267.7mm)
Fixed 1080p FHD resolution (1920 x 1080), 16:9
Contrast Ratio: 1000:1 (Typical)
Lighting
CRI 80/CCT – 3000K
Ambient Light Sensor
Camera
1080p (Full HD), 720P (HD) Compatible
Max 80° DFOV
Electronic Zoom up to 4x / EPTZ
Manual pan, tilt and zoom control through Poly Lens Desktop Application
Audio
Microphone: – Single uni-directional MEMS microphone for focused pickup with noise and reverberance rejection – -26dB sensitivity, 65dB FS SNR – 50 Hz to 20 kHz frequency response
Speakers: – Dual stereo speakers – 80 Hz to 20 kHz frequency response – 10W per Channel
Interfaces
1x USB 3.0 Type-C port (Studio P21 requires USB 3.0 connection on computer)
2x USB 3.0 Type-A ports
Kensington security lock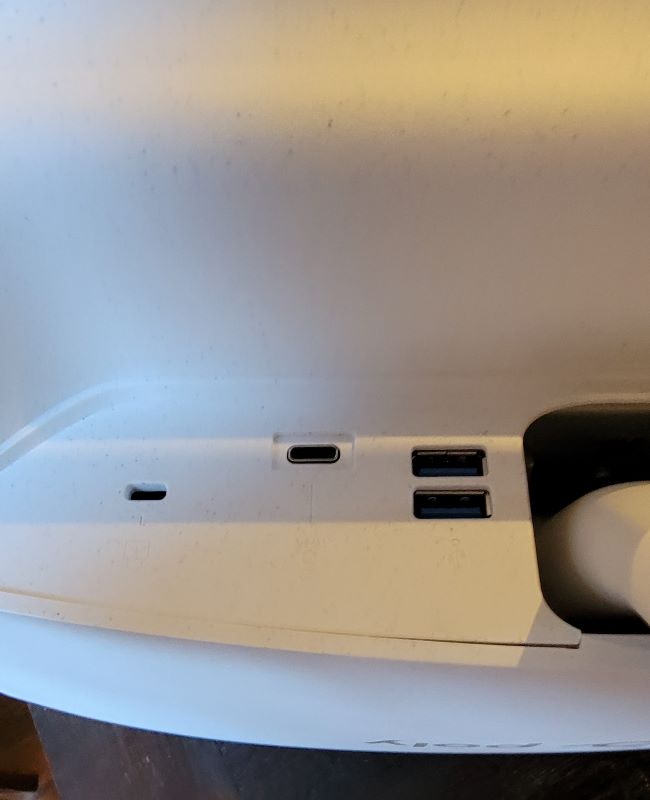 Setup and features
The Poly Studio P21 Personal Meeting Display comes in a humongous box that really protects it well but at the same time is landfill friendly — the entire box is recyclable and there is very little plastic.  It was easy to put together.  You just pop the stand into the back of the monitor, plug it in and you're almost ready to go.  Before you can use it, you also have to install a couple of pieces of software that allow the monitor to work with your computer.  I downloaded and installed the appropriate stuff and hooked up my monitor to my USB port and … nothing happened.  Then I did a restart and bingo!  The Poly Studio P21 monitor came to life.  The only other technical issue I had with the setup was that the system didn't recognize it as an external monitor in the right size and location…I had to keep moving around the screens in the display settings until I had all the monitors in the "correct" order.  All in all, these were super minor difficulties.

There are a number of features that make this more than just another monitor.  It has an integrated camera with a thoughtful privacy slider in case you want to make extra sure no one is watching you when you aren't aware.  The sliding shutter is orange, so you can see right away if it is engaged or not.  It also has a long gray speaker that runs along the bottom of the screen which makes my Spotify sound like it's being played on a much larger system.  There is also a lighting system that runs along the edge of the bezel to give you flattering indirect light.  On the bottom of the stand, there is a wireless charging pad and in the back, there are two extra USB ports.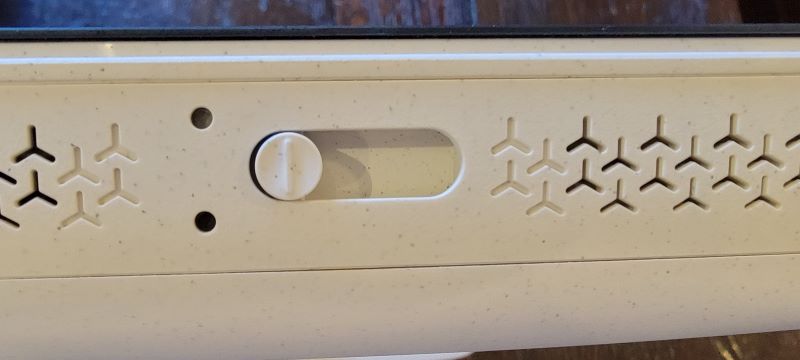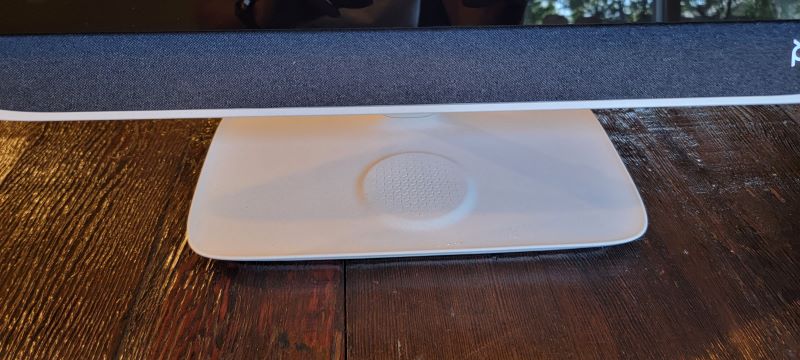 Of the three integrated features, I think the camera and the lighting are the most impressive.  I tried out the camera on a couple of Zoom meetings (my weekly poker game) and although I love my Centercam, the lighting in my home office area is challenging.  I'm usually over-exposed unless I use dark mode on my computers.  Just the ambient light from all the screens is so hard for most webcams to compensate for.   My poker buddies remarked at how crisp and evenly lit I appeared.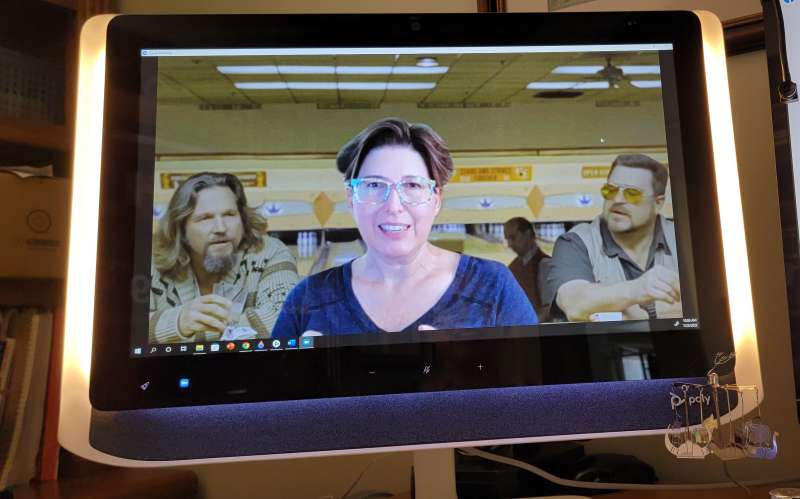 I don't know how many people appreciate flattering lighting, but as a film professor, I can tell you that lighting is maybe the most important factor in how you appear on camera.  All of the "golden age" starlets had specific lighting guys that they insisted lit them for their scenes because bad lighting can make anyone look like a monster.   And while you might consider that shallow or vain, there are plenty of studies that link physical attractiveness to career success, as wrong as that might be.  For me, I like to look as good as I can, but if I'm working from home I find it hard to motivate myself to doll up as I do for in-person classes, so I tend to crank the "touch up my appearance" setting.  I bought a ring light, but I found it tricky to make it not reflect in my eyes or glasses.  It makes me look like an alien, and it's clunky to use.    The indirect lighting on the Poly Studio P21 monitor is quite flattering, doesn't reflect, and is easily adjustable.  You can increase and decrease the lighting by swiping your hand up and down along the back of the edge of the screen.  Pretty cool.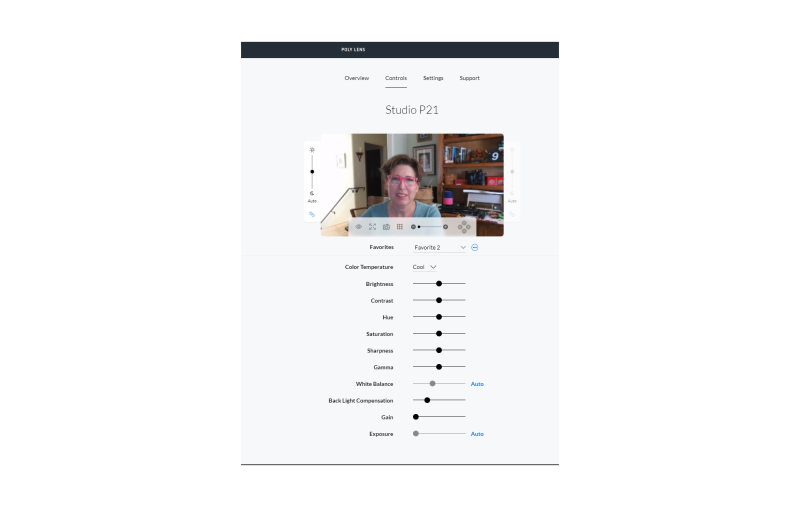 Probably one of the most unique functions of the Poly Studio P21 Personal Meeting Display isn't a physical part of it.  The Poly 21 software (Poly Lens) that you initially install allows you to play around with color temperature and other settings, then save them as a user profile.  If your lighting changes from day to night, you might want to use different profiles to look your best, or if several people use your computer, they can each have a profile saved.
The microphone seems fine.  I don't know if it's as great as my Yeti Blue microphone, but everyone could definitely hear me, and this microphone is super easy to turn on and off with a dedicated switch on the bottom of the bezel.  The volume adjustment is there as well, and there is a visual cue to remind you when you're muted.  The light at the bottom of the screen turns red when you turn your mic off.  I don't know anyone who hasn't forgotten they're muted in a meeting at one time or another and I think we're all pretty tired of saying "You're muted!" to our coworkers.  I appreciate the help with that.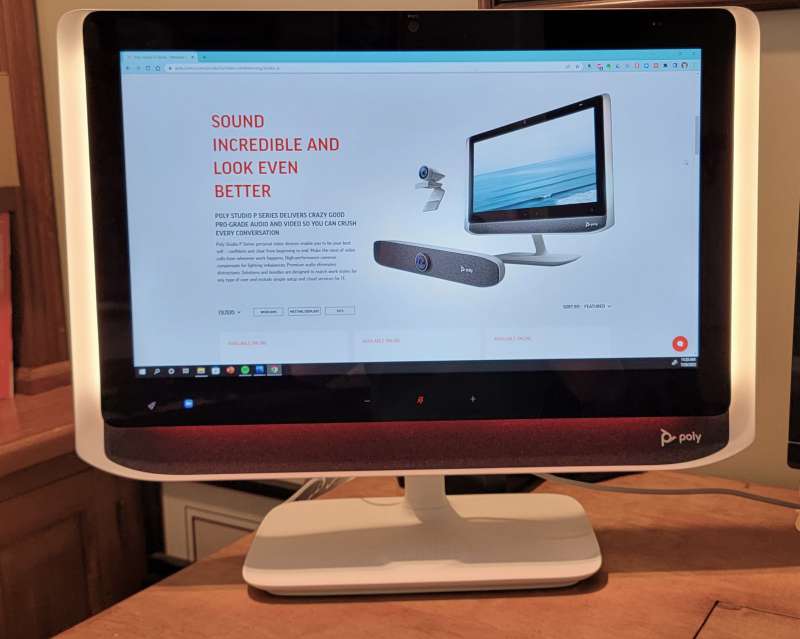 In the corner of the Poly Studio P21 Personal Meeting Display, you'll see a rocket button.  In the Poly 21 software, you can program that button to do something you do often.  It could turn on and off the lighting system, pause or answer a call, or play or pause your music.   I hope they add a little more functionality to that button in the future because I'd like to be able to skip a track with it.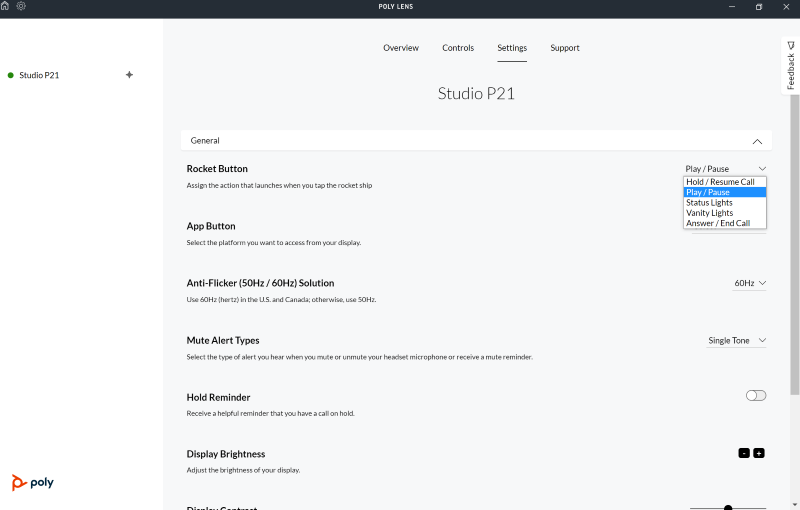 There are many other customizable settings in the Poly 21 software as well.  You can change how the lights react when calls come in, for instance, and you can have the lights indicate when you are using the wireless charging pad.  You can also adjust some of the ringtone settings.
The software also will give you insights as to your use of the monitor and it will remind you to take breaks and hydrate every 30 minutes if you enable those notifications.  They also offer different soundscapes that are supposed to help improve your focus.
I've been using the Poly Studio P21 Personal Meeting Display for a few weeks now and I really like it, but I do wish it was bigger.   Size matters when it comes to monitors, and I feel like the bezel is wider than it needs to be.  Every inch counts on my desk, and I just see a big black ring around the screen that I think could be more screen.  Otherwise, I think this is a great addition to most work environments and I appreciate all the features that make it more than just a monitor!
What I like
Lighting system
Camera quality
Adjustable settings and profiles
What I'd change
Less black ring, more screen
More functionality for the rocket button
Final thoughts
The Poly Studio P21 Personal Meeting Display is a great monitor if you put a premium on your desk real estate.  It integrates everything you need for online conferencing in one customizable package.
Price:  $579.95
Where to buy: Poly and Amazon
Source: The sample for this review was provided by Poly