We use affiliate links. If you buy something through the links on this page, we may earn a commission at no cost to you. Learn more.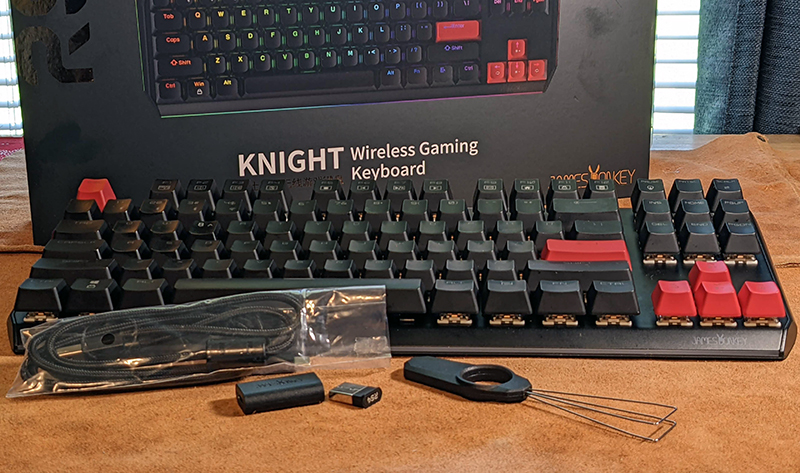 REVIEW – What's in a name? With a name like James Donkey, I had no idea, but I knew I had to find out.
What is it?
The James Donkey RS4 TKL is a ten-keyless budget mechanical keyboard in an ever-growing sea of choices. It has a number of nice features for around $100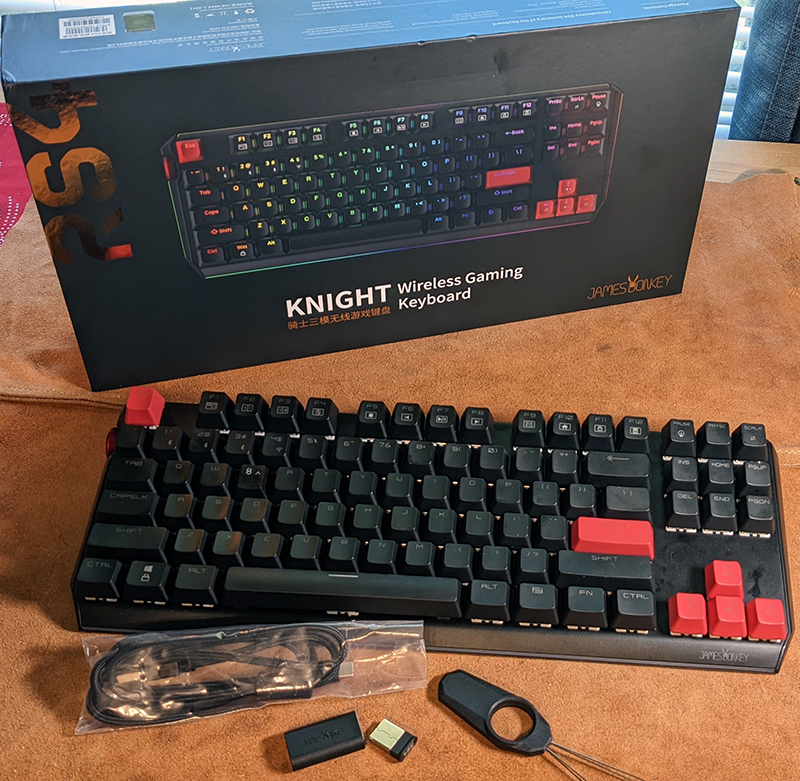 What's in the box?
James Donkey RS4 TKL Mechanical Keyboard
Braided USB C to USB A cable
USB C to USB A adapter
Wireless USB 2.4GHz adapter
Keycap puller
User Guide
Hardware specifications
Pre-lubed Gateron G Pro 2.0 Yellow linear switches
87-key TKL layout.
Bluetooth, wireless 2.4GHz, USB Type-C wired connection.
Aluminum top plate
PBT keycaps
Fully backlit RGB design
Multimedia volume knob
2 separate batteries with a total capacity of 4000 mAh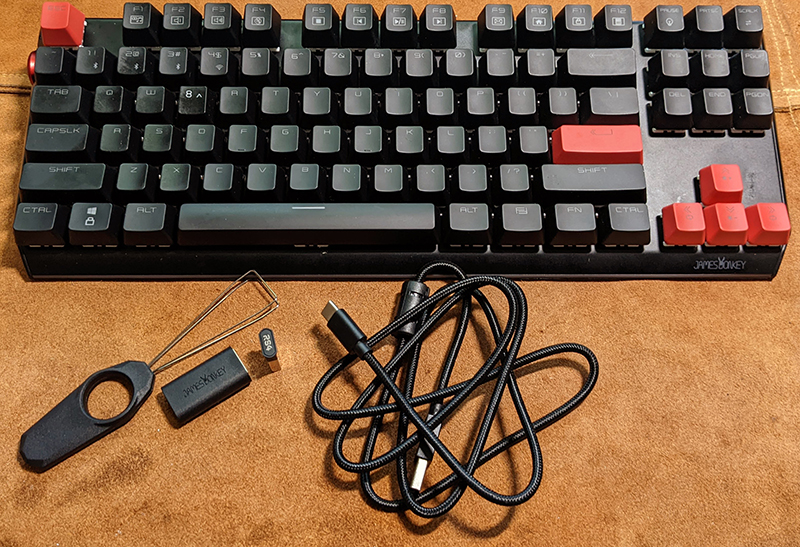 Design and features
With 87 keys, the James Donkey RS4 TKL mechanical keyboard falls in the 80% which falls right in the sweet spot of my comfort zone.  I prefer keyboards in the 70 – 80% range. So typists and gamers with sasquatch paws like me should find this a relatively comfortable size that doesn't crowd your fingers too much. A lesser chance of fat-fingering another key is a big plus in my book.
Looking at it, it certainly will fit into a gamer's setup with the svelte form factor, black and red theme, shine through PBT keycaps, and LEDs galore. There's no top bezel so you see the switches and get more light for all the Ooos and Ahs.  The RS4 has a plethora of lighting schemes to cycle through if that's your thing. Not only are there LEDs under all the switches, but there's a strip around the perimeter that you can set independently. So, while your keys do one thing the LED strip can do something different. The included manual does a good job of how to cycle through them.  On the left side, there's a small multimedia knob.  I like knobs.  Knobs are fun and I prefer them over keys for volume control.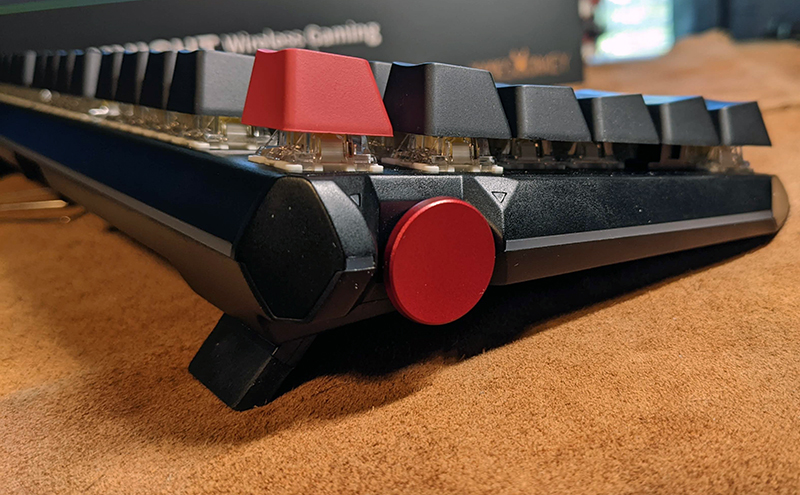 The James Donkey RS4 TKL mechanical keyboard has three modes of connectivity to appeal to all users. Of course, there's wired with the detachable braided, a nice touch, USB C, another plus, to USB A cable. Then there's Wireless 2.4 GHz with the included dongle and finally Bluetooth. All of which worked fine in my tests.
The build is very sturdy with the aluminum top plate. I experienced no flex while typing. It can be a plus if you plan to commute with it. I would think it could handle the rigors of traveling back and forth without the worry of damage. Now the bottom plate is plastic, probably to keep costs down, but again it's sturdy.
Speaking of the bottom plate, if you look there, you'll find a set of 4 dip switches. These dipswitches change the operations of the keyboard's power, communication, and LEDs. The first is for the RGB backlight. The second is the RGB strip lighting. Switch 3 swaps between Bluetooth and 2.5 GHz while switch 4 is for keyboard power. Here again, the manual is clear and concise on the dip switch functions.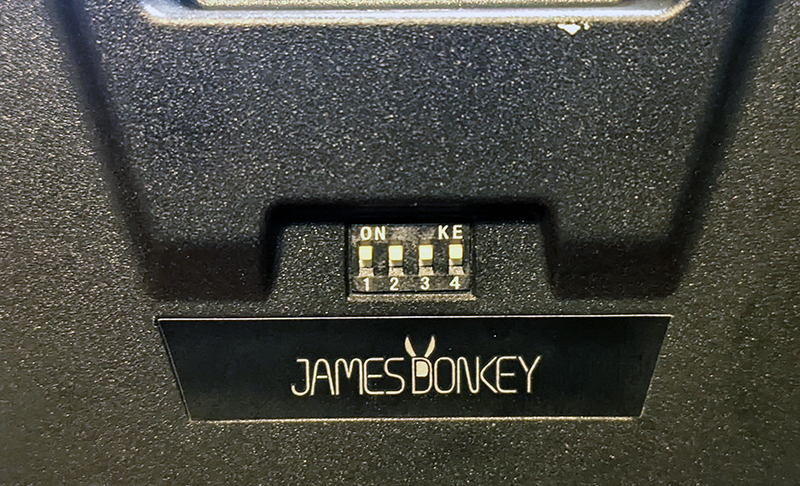 The switches my James Donkey RS4 TKL mechanical keyboard arrived with are Prelubed Gateron G Pro 2.0 Yellow linears. I found information online that said the 2.0 version uses a new mold to produce tighter tolerances. I'll have to take their word for it since this is the first time I've used any Gateron yellows. For those interested, here are some specs on them.
Pre-Travel – 2.0±0.6mm
Total Travel – 4.0mm
Operating Force – 50g
Bottom-Out – 67g
Spring – 15.4mm
I can't say I like them but don't take that as a recommendation to stay away from them. I'm more of a tactile fan. I like the bump tactiles it provides. As I've said these are linear. They are stiffer than any reds I've used which are good but overall, they felt squishy to me.  My middle son however liked them so much that he bought a set for his gaming keyboard.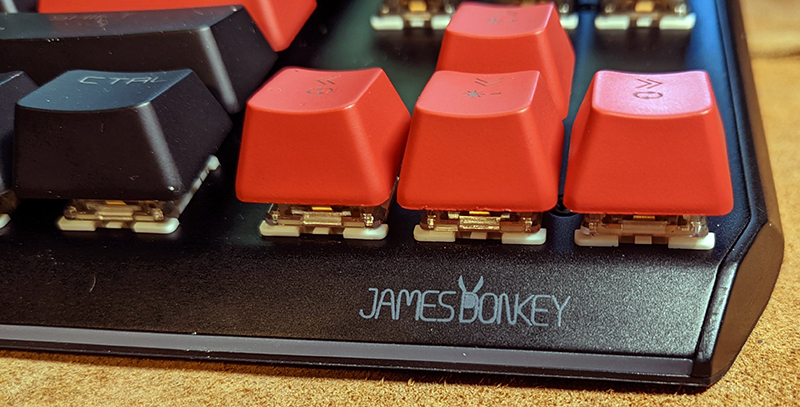 Now, if you're looking for an inexpensive keyboard to modify, keep looking.  I saw on one site where it was stated the RS4 was hot-swappable. Not so with my review unit.  The switches are soldered to the PCB. You won't be swapping switches unless you do a lot of desoldering and resoldering.  Since the switches are Cherry clones (not a bad thing) you can, however, swap keycaps to change the look if you want. The included ones aren't the highest of quality and pick up fingerprints easily.
If you're looking to try out the painter's tape mod I've seen online to affect the sound of the keyboard, I'd advise against it.  First, there's very little room inside the case when it's cracked open, plus with two batteries inside overheating could be an issue.  The same stands for any foam mods.
If you're wondering just who they are, James Donkey is a computer peripherals company based in Shenzen China founded on February 14, 2014. According to their website, they "combine the latest technology with sleek, ergonomic design. Our products make your work by the computer more functional and efficient. We always aim for original design, quality, and favorable price. James Donkey innovative computer accessories are attuned to the ergonomic requirements that our bodies need. These ergonomic advances provided in our products grant the user an amazing and unique experience, without sacrificing on quality or function."
What I like
Gateron switches even if I don't care for the yellows
The looks for a gamer setup
Knob….I like knobs
What I'd change
Final Thoughts
The James Donkey RS4 TKL mechanical keyboard is a good budget mechanical keyboard.  Arguably, there are cheaper options but there will also be tradeoffs.  If you're in the market, don't let the name turn you off.  Check them out.  It could be the one you're looking for.
Price: $99.00
Where to buy: Mechkeys
Source: The review sample was provided by Mechkeys