We use affiliate links. If you buy something through the links on this page, we may earn a commission at no cost to you. Learn more.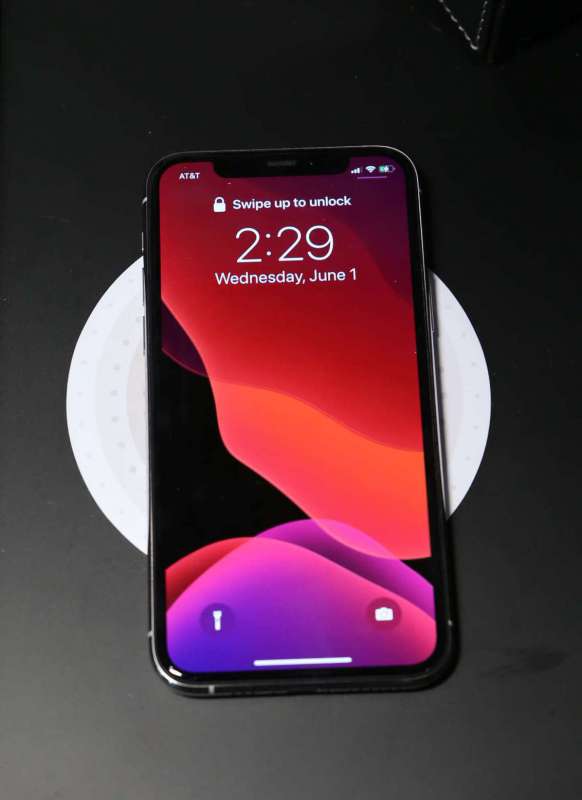 REVIEW – Both my husband and I have Apple phones.  We have multiple charging cords in the house along with two wireless charging pads that can charge both our phones and watches by our bedsides.   I normally make it a habit to put my phone and watch on the wireless charger overnight.  Yes, I know, don't lecture me on charging the phone or watch too much.   My phone is now almost two years old and I am having no issues with battery power.  What I do have issues with is occasionally I forget to charge my phone overnight.  That means I have to move my wireless charger to my home office, or find a cord and someplace to plug it in on my desk to charge my phone.  Having a charger in my office that does not take up precious desk space or use up any wall sockets or USB ports would be awesome.  That is why I chose to review the Choetech invisible wireless charger.   Let's see how it works out for me.
What is it?
The Choetech Invisible Wireless Charger (referred to as the charger from now on) is a wireless charger that mounts under a desk that is not metal and is between 15mm – 30mm thick.  It allows you to charge your phone on top of the desk while the charger itself is mounted under the desk.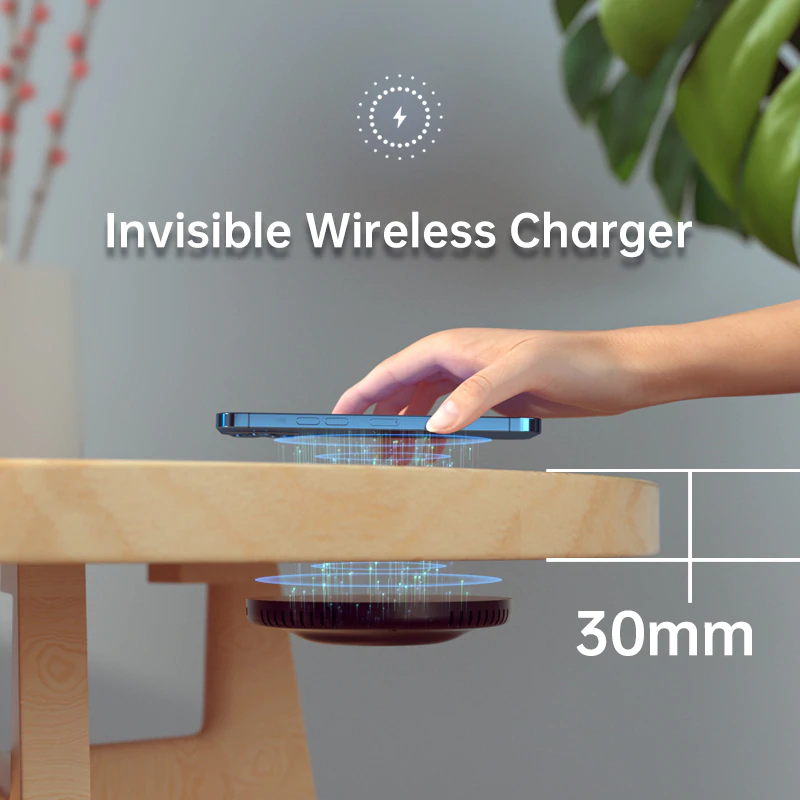 What's in the box?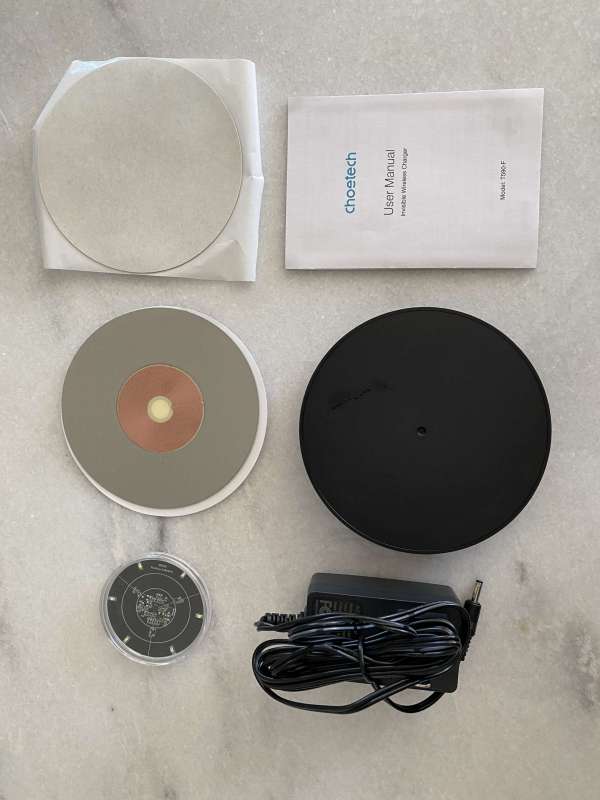 3M type double-sided sticky pad
Charging disk – not sure exactly what to call this.  They did not name it for me.
Charging pad
Indicator disk with LED lights
Power cord
two very tiny screws are not pictured.  I almost missed them in the packaging material.
Hardware specs
Works on desks 15mm – 30mm thick. Cannot be a metal desk.
10-watt charging for Samsung Note 9 up and S8 and up
7.5 watts for iPhone 8 and up
5 watts for other QI devices – Air Pods, Pixel Buds, Galaxy buds
Setup
Setting up the Choetech Invisible Wireless Charger was not too hard.  First I had to find a place on my desk to mount it where I could also run a power cord to the plug.  I also had to make sure there were no metal support beams in the place where I wanted to mount it.  My desktop is made of glass and barely 10mm thick.  I found a good spot for it.  The picture below is showing you the two pieces that will go on the desktop.  First, the metal disk will be mounted followed by the white sticker that will go on top of the metal disk.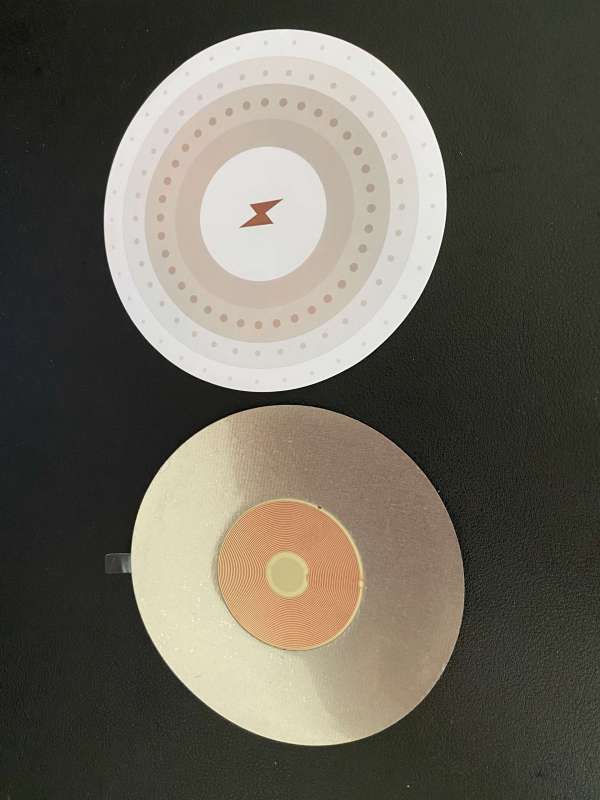 I mounted the metal disk on the bottom right-hand corner of my left side desk.  This desk holds my printer and personal laptop.   As I stated before, this desk has a glass top.  My main desk holds my work computer and two 27-inch monitors and has a wood top and it was too thick for the charger to work.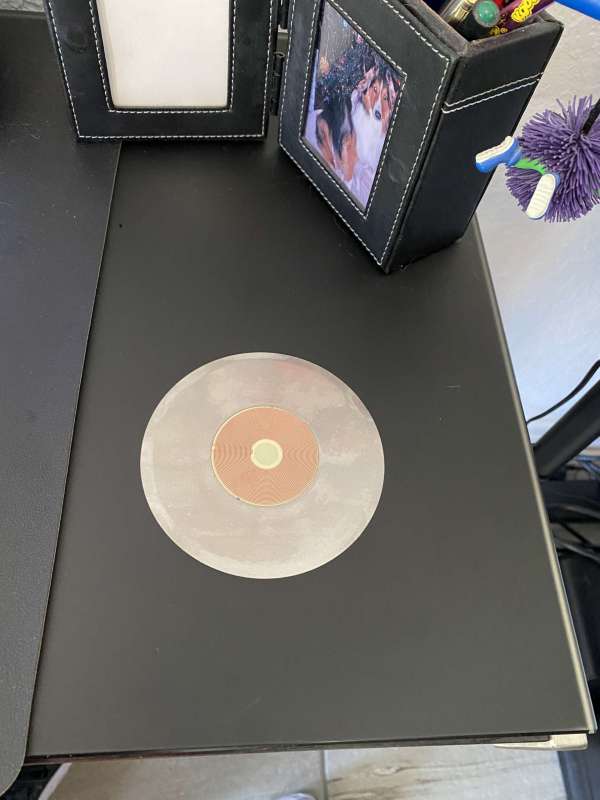 This next picture shows you the bottom of the Choetech Invisible Wireless Charger.  You can see that it has air vents and holes at the 12 and 6 positions of the charger.  Those are where you would put the screws to mount the device.   Since I am mounting on glass, I used the supplied 3M disk instead.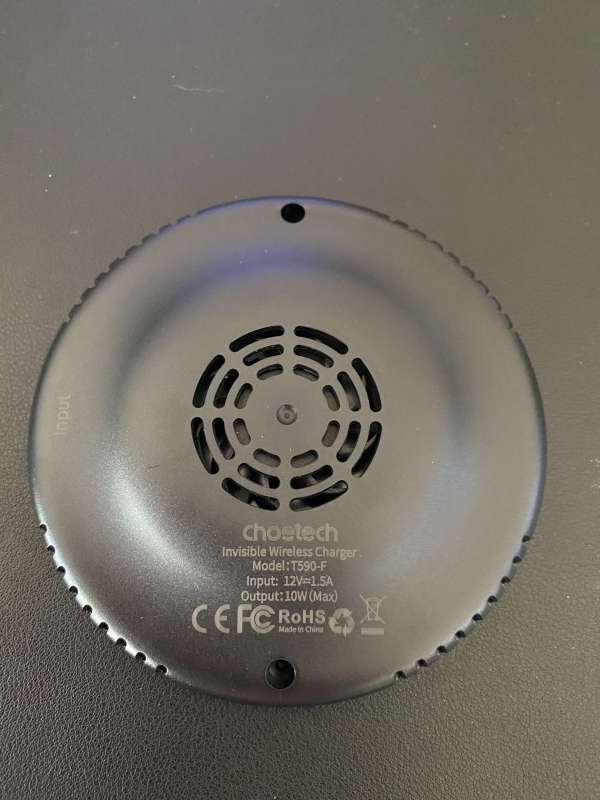 Before I stuck the charger to the bottom of the desk, I used the provided tester to make sure I had it aligned properly with the metal disk on top.  As I moved the charger around on the bottom of the desk, various LED lights would light up on the tester.  When I had it perfectly aligned, all of the LEDs would flash once and then light up individually around in a circle in an animation.  In the picture below you can see that I have the charger perfectly aligned with the metal disk as all of the LEDs are lit.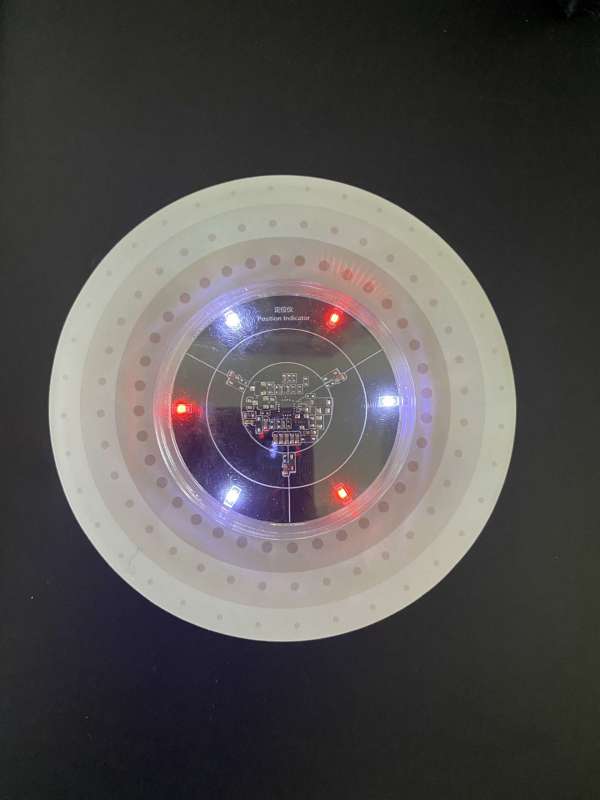 Performance
In the picture below you can see my phone on the Choetech Invisible Wireless Charger and that it is charging.  It does only get 7.5 watts so it does not provide any quick charge.  It will however keep my phone alive and charging while I work.  It also does not take up any desk space which I love.  I found that it can also charge through the thick leather case that I have around the phone.
What I like
Does not take up desk space.
They provide this cool tester so you can be sure you have the charger and metal disk perfectly aligned.
You can mount it with tape or screws
It works with any QI device.
What needs to be improved
I wish it could provide a quick charge.
Final thoughts
I have used the Choetech Invisible Wireless Charger a couple of different times now and have really enjoyed having it in my home office.  I love that it does not take up any desk space.  I think if anyone needs to occasionally charge their phone or top it off, this is a handy device to have.
Price: $49.99
Where to buy: Choetech
Source: The sample of this product was provided by Choetech.