We use affiliate links. If you buy something through the links on this page, we may earn a commission at no cost to you. Learn more.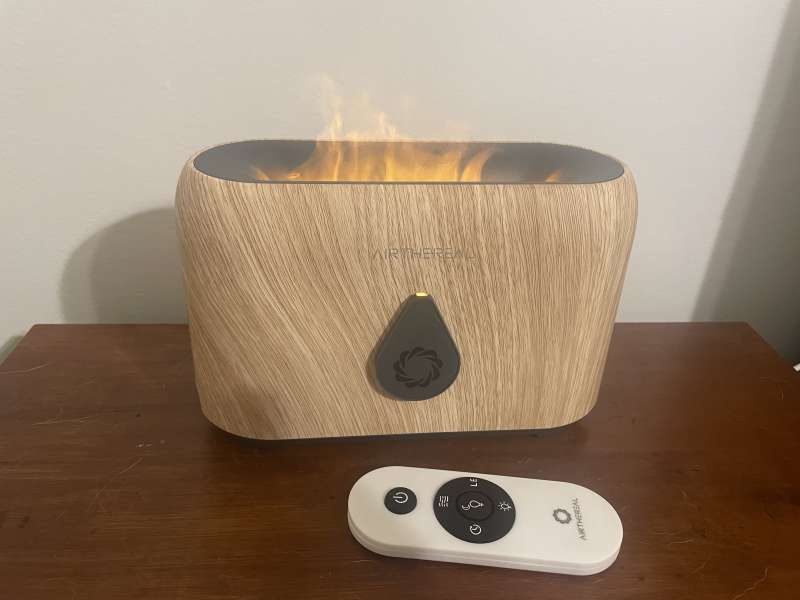 REVIEW – Whether you believe in aromatherapy benefits or just appreciate your home smelling wonderful, you may find yourself shopping for an essential oil diffuser.  For this review, I have been testing the Airthereal LF200 Aroma Diffuser.
What is it?
The Airthereal LF200 Aroma Diffuser is an aroma essential oil diffuser and cool mist humidifier.  The diffuser comes with a remote control which allows you to adjust the mist mode, a LED lighting feature and a timer function.
What's in the box?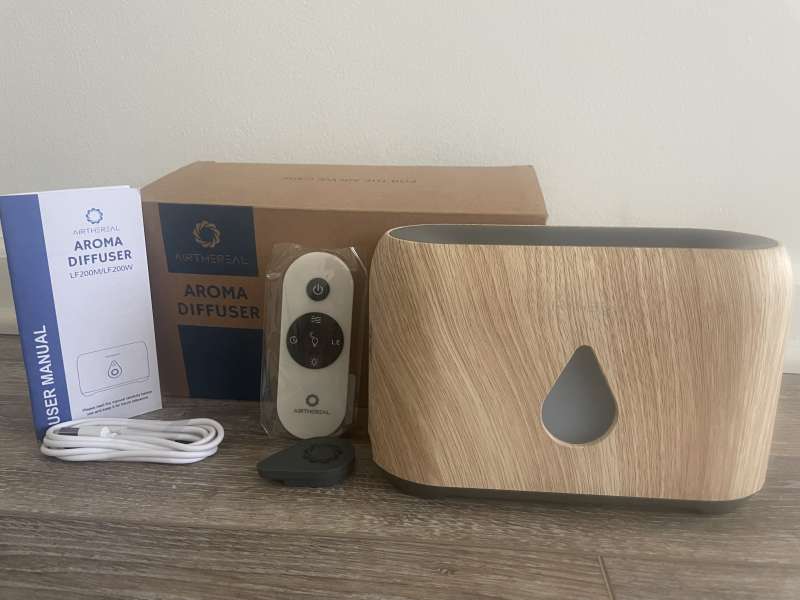 Airthereal LF200 Aroma Diffuser
Remote Control
Type-C USB Cable
Specifications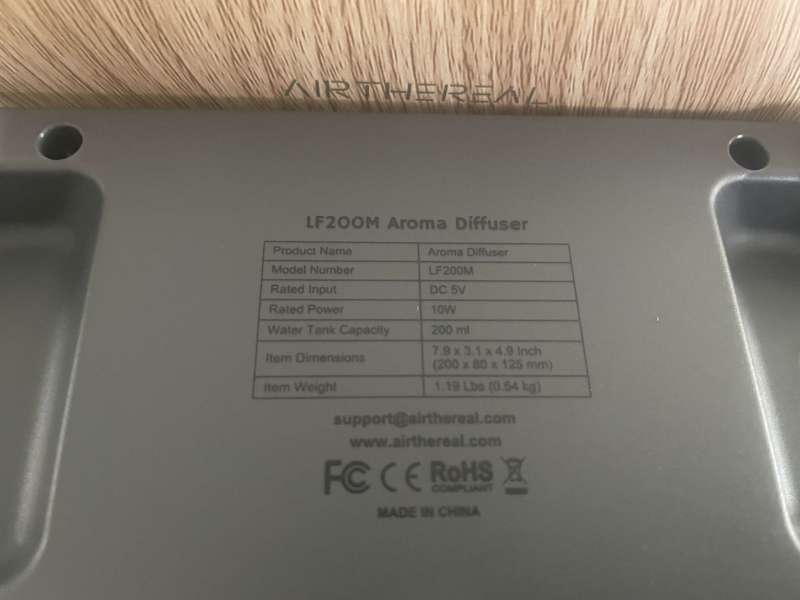 Weight 1.19 pounds
Dimensions: 7.87 x 3.15 x 4.92 inches

Adjustable timer from 1, 3 or 6 Hours

200ml water tank scents up to 150 sq. ft.

10M remote control

2 mist modes: low mist and high mist

Estimated run time with full tank: 9 hours

2 LED light effect: soft flame and intense flame
Design and features
The Airthereal LF200 Aroma Diffuser is easy to use.  You simply remove the top cover (must remove the safety buckle), add water to the max fill line, add a few drops of essential oils directly to the tank (optional), and place the top cover back onto the diffuser (add safety buckle back), press the unit on with included remote and enjoy.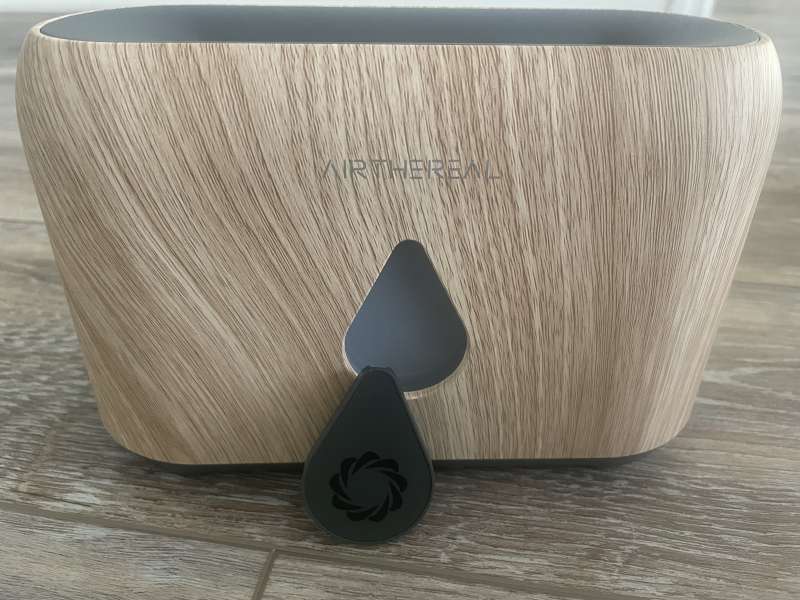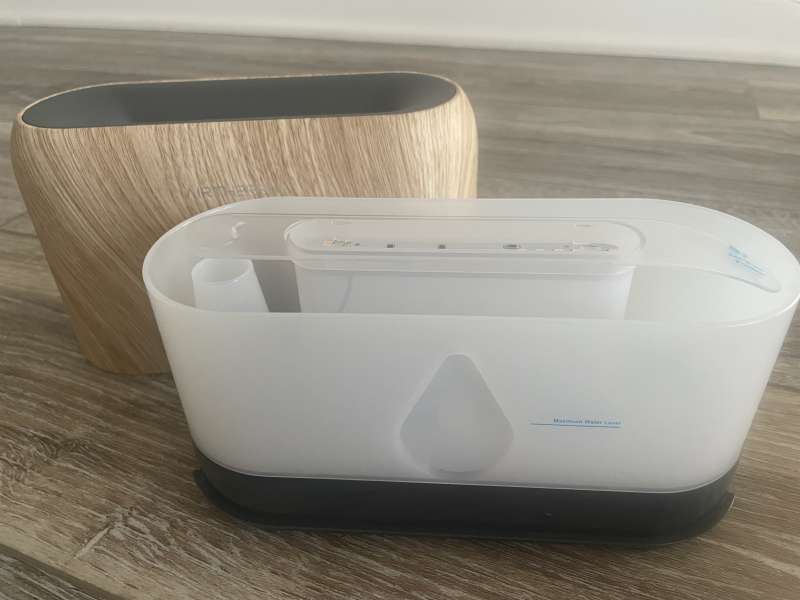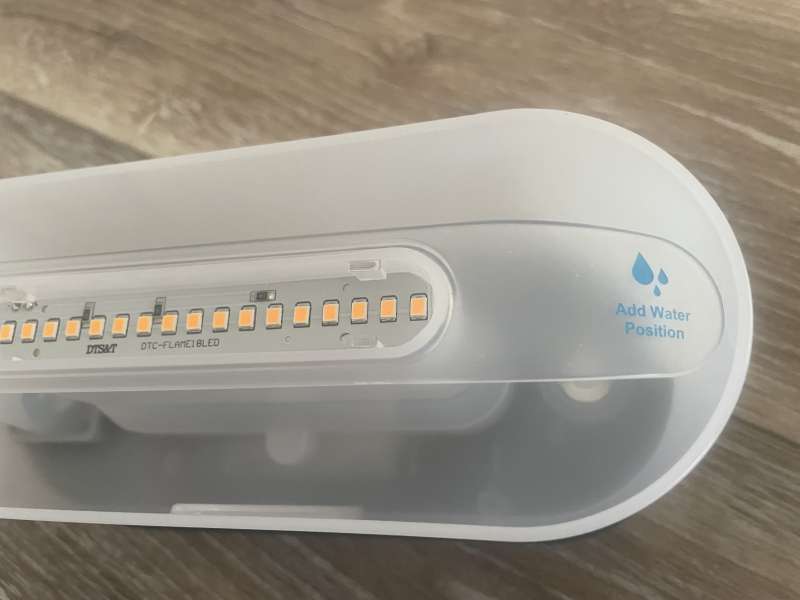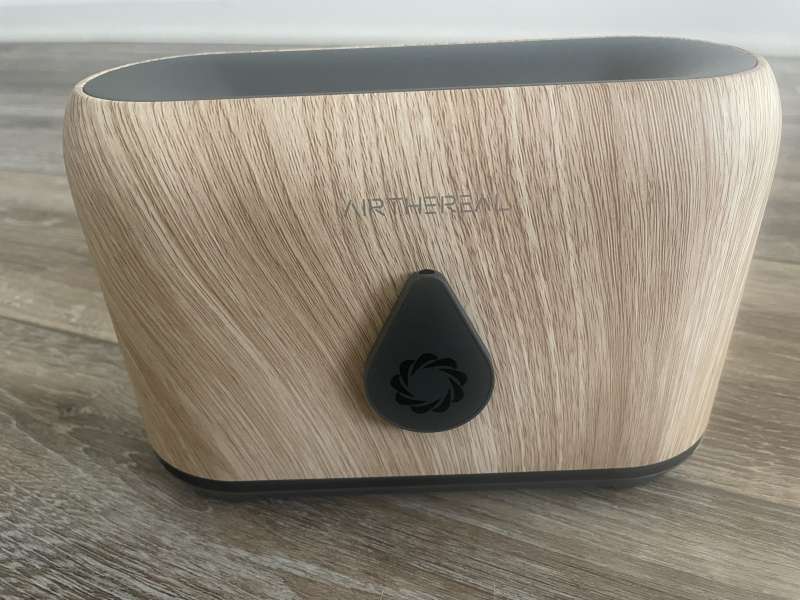 The included remote allows you to control all the various functions the Airthereal LF200 Aroma Diffuser has to offer.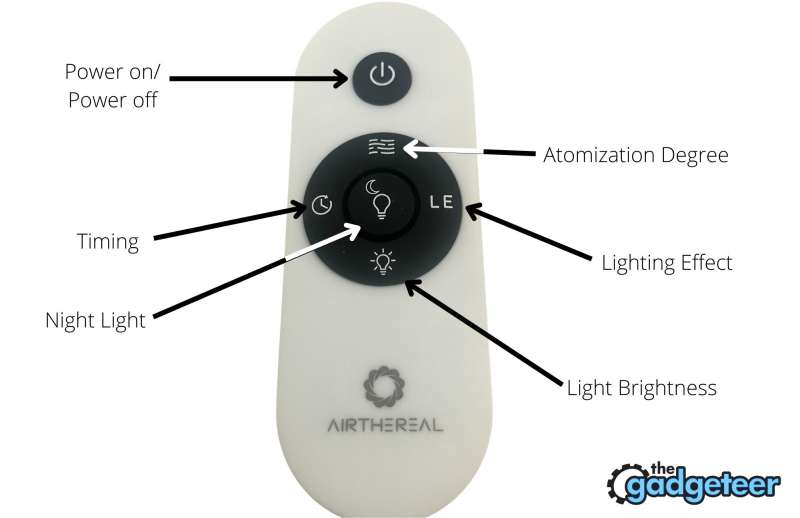 The feature of the Airthereal Diffuser I appreciate the most is the variety of lighting options.  The LED flame light offers a soothing light that emits a flame-like glow.  With your remote, you can select the light brightness, lighting effect and night light.
When choosing how bright you would like the light, use the light brightness button and choose between high, medium, small or off.  The night light button advertises that it is "light in the dark", when pressed it simply turns off the brightness.  I am unsure if the night light is supposed to produce any light or perhaps it is just a quick button to turn off all lights, but indeed that button just turns the lighting completely off.  The last lighting function is the lighting effect button.  This button allows you to select a constant light, flickering light, or flashing light on your diffuser to set the perfect lighting for your diffuser.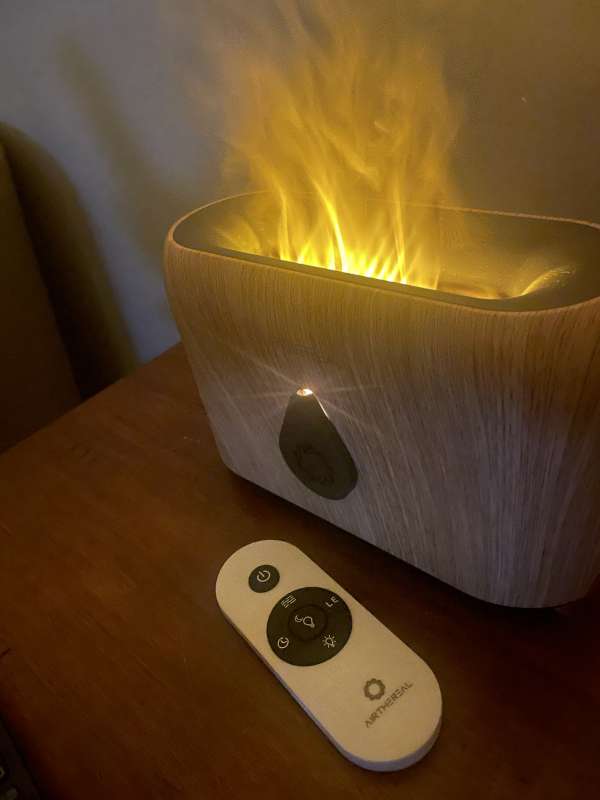 Other options the Airthereal LF200 Aroma Diffuser offers is an adjustable mist and timer option.  The timer button allows you to choose a timer setting for 1, 3, or 6 hours and the diffuser will automatically shut off once the timer ends.  This was a little tricky for me, the user manual indicates that there is a color lights that help you know what timer is set for.  However, I could not figure out where the light indicator was, I looked one the remote and on the unit and it wasn't until I removed the safety buckle that I saw there is a light at the bottom.  Red light is 1 hour, white light is 3 hours and blue light for 6 hour timer.  Note: The machine will also auto shut-off when the water level is low.  The atomization degree button allows you to choose simply from high mist (heavy flame effect) to low mist (soft flame effect).
Important to note: the default settings when turning on your Airthereal diffuser is: atomization set to high, 3 hour timer, brightness high and lighting at full light.
The Airthereal LF200 Aroma Diffuser can not only be used as an aroma diffuser, but also as a small humidifier to add humidity to the room, just by simply not adding essential oils.  The diffuser also comes in two color options, the wood grain like the one I have pictured and a white.  Airthereal offers a limited non-transferable 1-year warranty on this product.
Troubleshooting
If you need to repair your remote to your diffuser:
Make sure the diffuser is plugged in
Press the atomization degree button (wavy lines) for 5 seconds
Then, the buzzer will have long beep sound and that will indicate the pairing was successful
The max water level is marked.  Exceeding the max capacity can cause water leaking or damage.  I found that the machine simply didn't want to work properly when I overfilled on accident.
It is suggested to not leave water sitting in tank and use purified or distilled water so that the diffuser is not damaged due to impurities in the water.  I have not to date after one month and daily use had any issues with buildup in my diffuser or issues with performance from not using the suggested water.  This however is not the recommendation, so keep that in mind.
What I like
Flame effect and lighting functions
Affordability
Simplicity to use
What I'd change
Other color and design options
Night light as a true night light
Less beeping or option to turn beeping off (beeps when timer is shutting unit down, beeps every time you push a button on remote, beeps when water is low, etc.)
Final thoughts
If you are looking for an essential oil diffuser or small cool mist humidifier, you may want to consider the Airthereal LF200 Aroma Diffuser.  The flame lighting effect for me is what really adds that extra touch and sets it apart from other diffusers.  My only wish was that I had received the white color option, as the wood grain is pretty, but doesn't mesh with my décor as well as the white one would.  Guess I'll just have to buy that one next!
Price:  $39.99-$42.99
Where to buy: Amazon, Company Website
Source: The sample of this product was provided by Airthereal.