We use affiliate links. If you buy something through the links on this page, we may earn a commission at no cost to you. Learn more.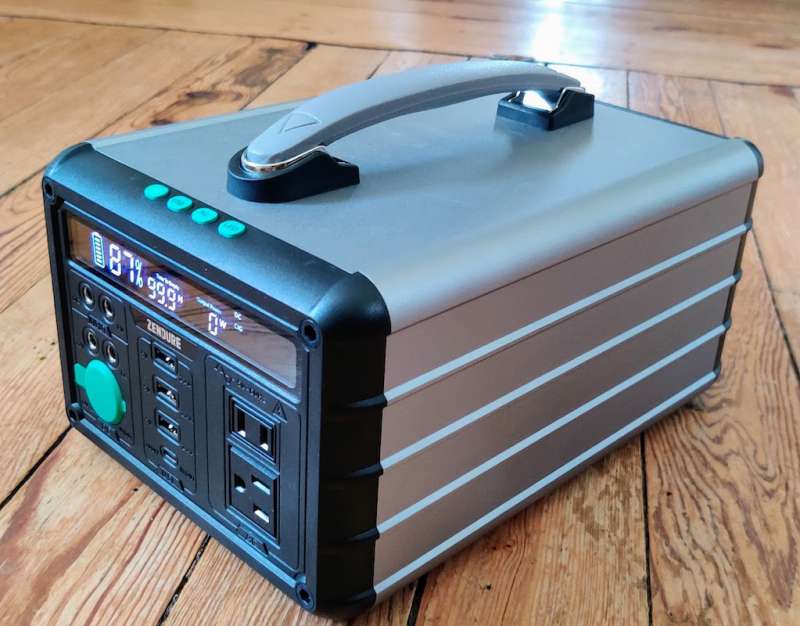 REVIEW – Have you ever pictured yourself living the #vanlife, out on some scenic bluff, working a few hours at your laptop, and then heading out for a bike ride or surfing a few awesome sets?  This could be the thing that makes it happen.  The Zendure SuperBase M Series 600 M is a light and rugged (and silent!) power bank that can power and charge all your electronics for a full work day, and then charge itself back up through a variety of inputs while you're out playing.
What is it?
The Zendure SuperBase M Series 600M (607Wh) power station is a small, light, fanless 600 Wh power station that can produce up to continuous 600W of AC power.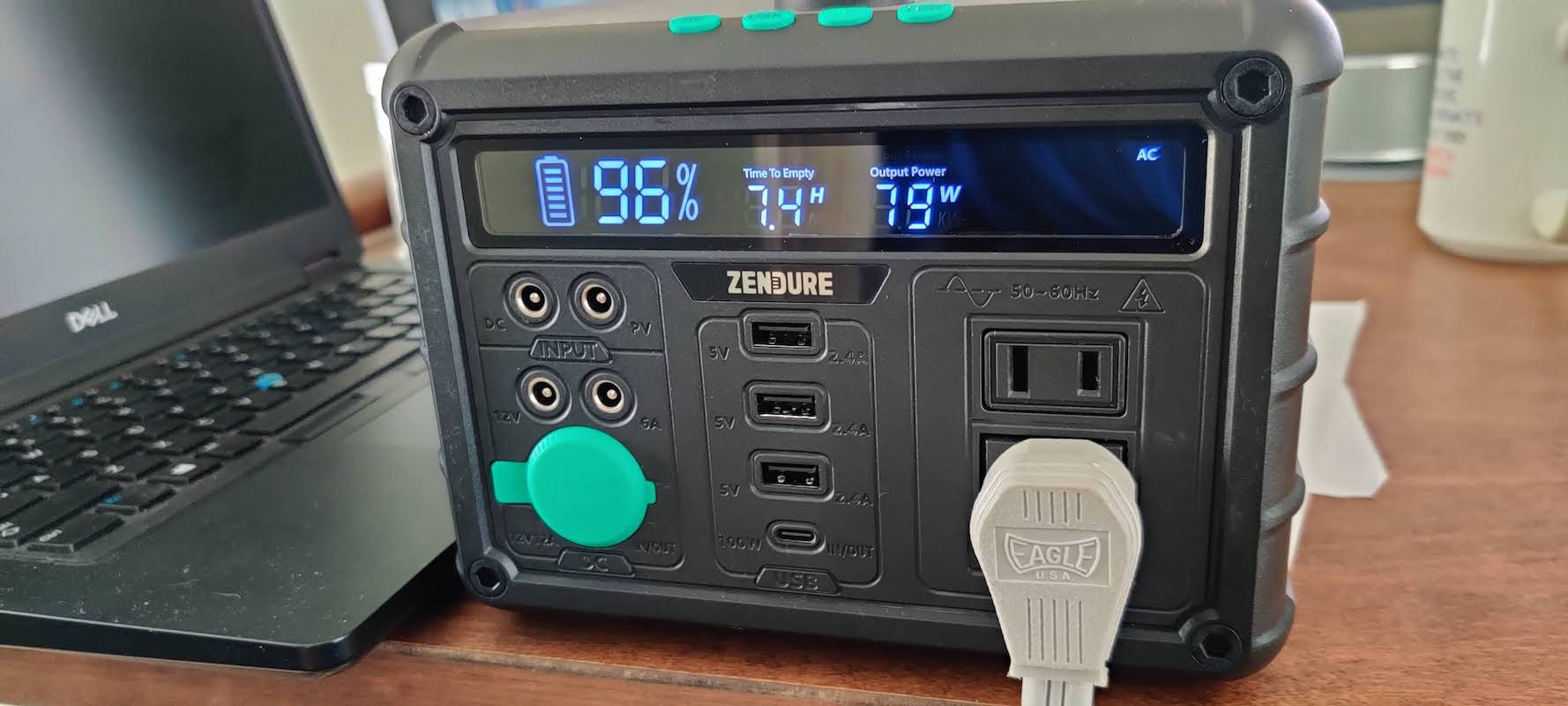 What's in the box?
Zendure SuperBase M Power Station

AC Charging Cable (power brick)

Cigarette lighter charging cable

Quick-start guide

Warranty card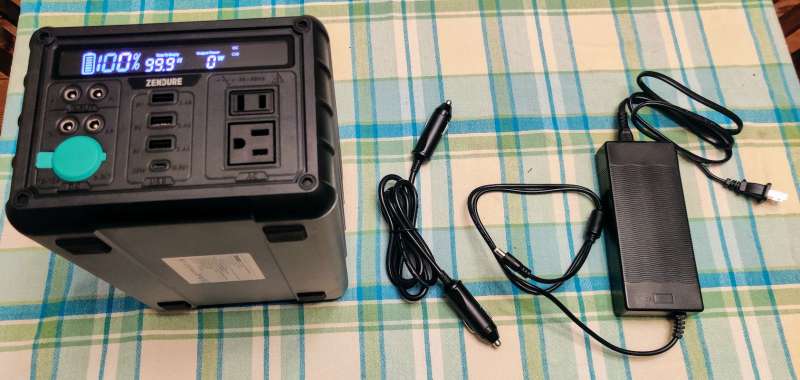 Hardware Specs
Size: 

32.5 x 19.0 x 13.8 cm

Weight:  6.4 Kg / 14.1 lb

Battery Type: Lithium Ion

Battery Capacity: 607 Wh

Display:  LCD Display

Input: 

DC:18-24V 120W Max/

Solar 18-24V input 160W Max

USB Type-C PD100W (in/out)

Car Socket:12.6V/8A, 100.8W Max

AC Output (2 AC plugs, one 3-prong):

600W (Rated Power)

1000W (Surge Power)

DC Output: 

USB-A (3): 5V/2.4A

USB Type-C PD100W (in/out)

Car Socket Port Output:12.6V/10A, 126W Max

DC Port (2): 12.6V/6A (126W Max Total)

LED Lamp modes:

1st Mode: 5W Max

2nd Mode:10W MAX

3rd Mode: SOS

4th Mode: Warning light burst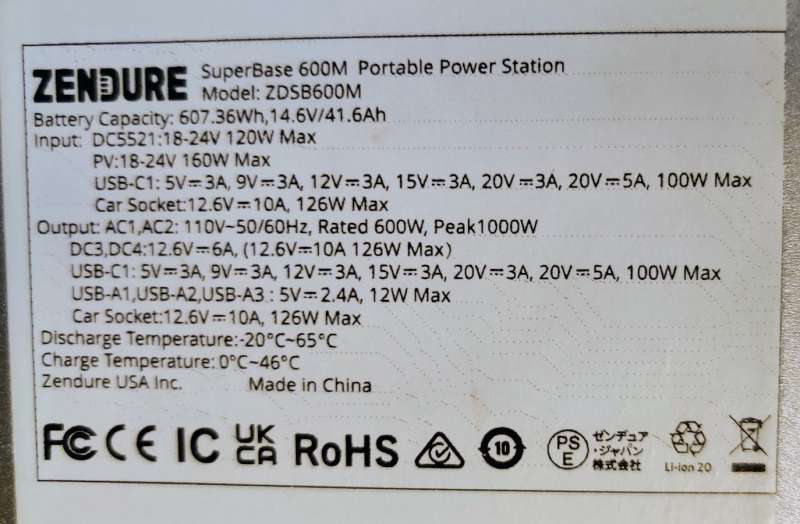 Design and Features
The Zendure SuperBase M Series 600M power station is perhaps one of the most attractive power stations I have ever seen.  The design is simple, elegant, and robust.  The top, sides, and bottom are a rugged but light brushed aluminum shell that appears to be seamless.  At least, I can't find a seam.  The bottom features four large rubberized feet, and the top has a sturdy and comfortable carrying handle.  The rear panel is all LED lights.  This leaves the front, where all the action really takes place.  Control buttons are on the top of the front, and the ports are arranged in three vertical columns under full-width display.  The left most columns are the inputs and DC outputs.  The center column is all the USB ports, and the right column has the two AC ports.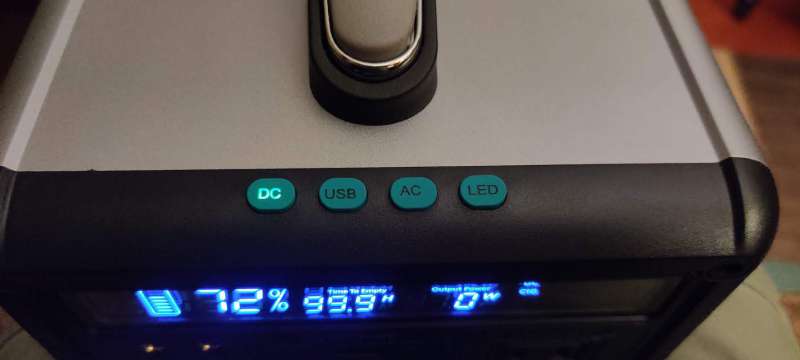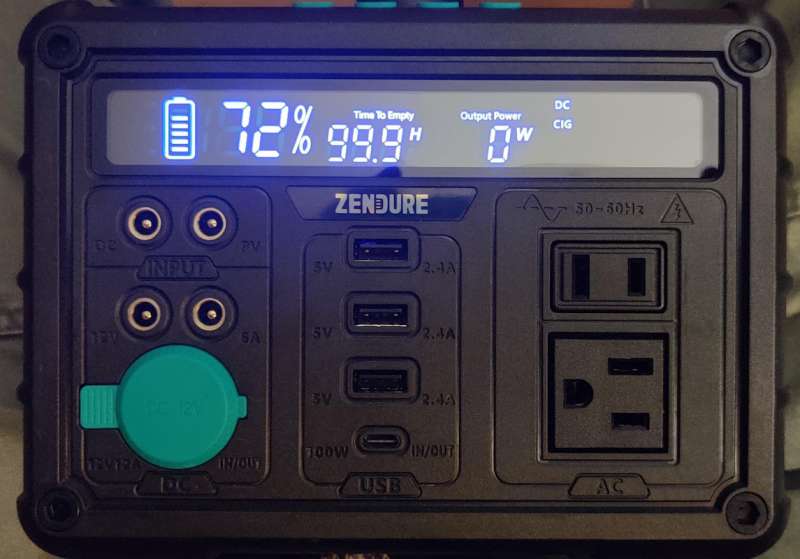 The unit I am reviewing is the 600 Wh model, which is capable of producing up to 600 W of AC power.  This is probably not enough to power most heating appliances (toaster oven, hot plate, coffee maker, etc) but more than enough to power most electronics.  The USB-C port is a PD (power delivery) port capable of 100W and can be used for both input (charging the battery) and output (powering your laptop).  One neat feature of this power base is that it can charge using multiple ports simultaneously.  For example, you could charge through the AC adapter and a 100W USB-C charger like those for a MacBook Pro.  While away from home, you could charge through the cigarette lighter in your car and a solar panel.  Simultaneous charging just charges the battery faster.  
The Zendure SuperBase M Series 600M power station's display provides a visual battery indicator on the far left, a percentage of battery remaining, a time to empty, a reading of the wattage either in our out (or the net, if charging and using at the same time), and indicators for which outputs are active.  The unit can also be used to jump start a car battery, with the right cable configuration.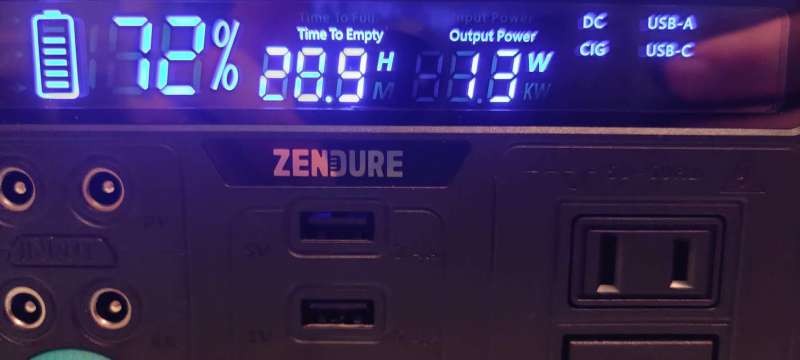 The Zendure SuperBase is heat dissipating, so it does not have a fan. This means operation is completely silent, even under high loads.  The aluminum shell helps play a big role in dissipating heat, although I never really noticed the unit get overly warm.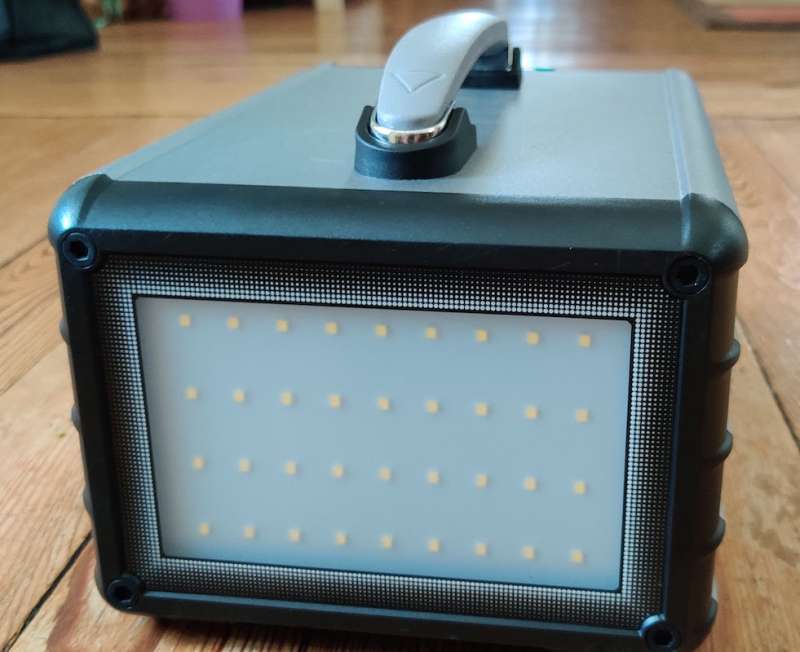 Performance
This is a fantastic power station if you understand its limitations.  Many people have dreams of living the van life and plugging their coffee pot or hairdryer into their power base to take care of morning routines.  This unit won't work for that – it's only capable of 600W of AC power (Zendure makes another identical 1000Wh unit that can produce 1000W of AC power that might run some of these appliances).  However, if you are able to generate your heat some other way, this is a fantastic unit for powering electronics.  Imagine living the van life and plugging in all of your work stuff (phones, laptop, monitor, etc) into this unit and having it last at least 8 hours.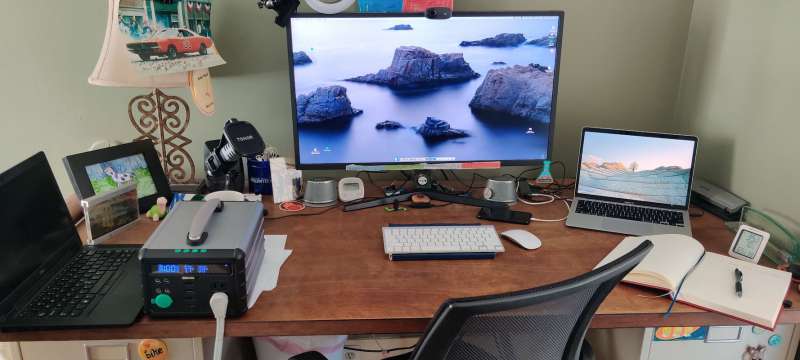 I have two WFH configurations at my house – one in my office, and one that I can roll out onto the patio for when the weather is nice.  Both feature the same MacBook Pro laptop The office has a 32in monitor, ring light, powered speakers, and draws between 70 and 120W depending on the charge state of the laptop. The outdoor configuration has a 27in monitor, and draws between 50 and 120W depending on laptop charge.  I tested the Zendure SuperBase M Series 600M power station with both configurations, using it exclusively to provide all my power needs for the day.  Charging and powering the laptop (sometimes two laptops!), powering the monitor, and charging two phones.  My days are filled with many zoom meetings, which take a lot of processor and thus consume a lot of power.  I started each day with a full charge.  The Zendure SuperBase 600M provided more than enough power for 8-10 hours of work.  I was very impressed.  The case was slightly warm to the touch, but never hot.  And because it's fanless, it's silent.  Most of the day, I actually forgot that I was not plugged into a traditional wall AC outlet.  
The rear LED lights are quite powerful, able to easily light up most of my backyard on the brightest setting.  That brightest setting draws only 10W and would last for over 60 hours on a full charge!
What I like
It's light for a large power base (thanks lithium-ion batteries!)

It can power electronics all da

y

It has a variety of ports to cover just about everything

It's silent

It's compact, rugged, and attractive

The LED light is very bright
What I'd change
There are three USB-A ports, and one USB-C port.  The world seems to be transitioning away from USB-A, so a way to future-proof this unit would have been to include more USB-C and fewer USB-A ports. 
There are two AC ports, but only one is 3-prong.  Two 3-prong AC outlets would provide more versatility.  
Final thoughts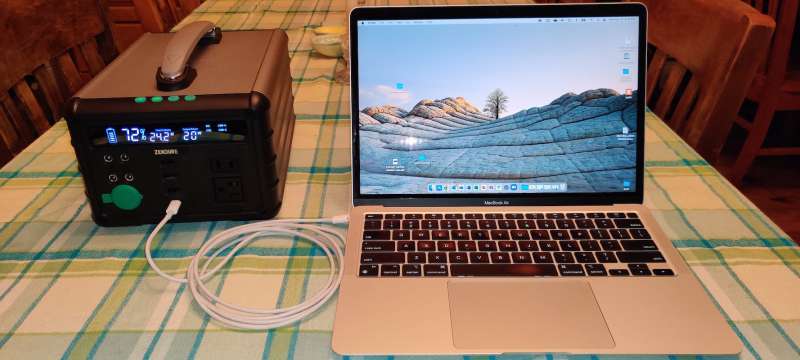 If you are looking for a power station to handle all your electronics for a full day, the Zendure SuperBase M Series 600M is it.  It can even run a small fridge for quite some time. But if you are looking for one to power your heat-generating appliances, look for something larger. This is compact, rugged, light, and silent.  It's also attractive, which can't be said for many of the power base designs out there. Grab one and start living your #vanlife dreams today!
Price:  $479
Where to buy: Zendure
Source: The sample for this review was provided by Zendure.