We use affiliate links. If you buy something through the links on this page, we may earn a commission at no cost to you. Learn more.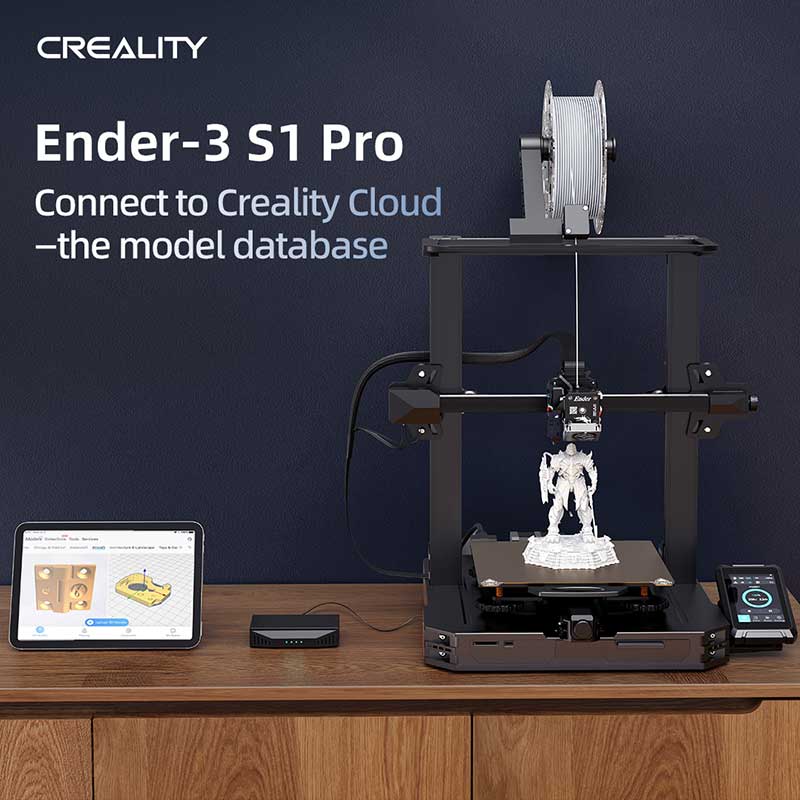 SPONSORED NEWS – The Creality Ender-3 S1 3D printer earned unanimous approval and favorable comments from domestic and international users when it made a stir in the 3D printing world after it launched. The new Ender-3 S1 Pro is an upgrade to the Ender-3 S1 and has been designed to be an excellent printer under high-temp conditions. Let's take a closer look and see why the Ender-3 S1 Pro 3D printer is unique.
High-temp Passion, Good with Multiple Filaments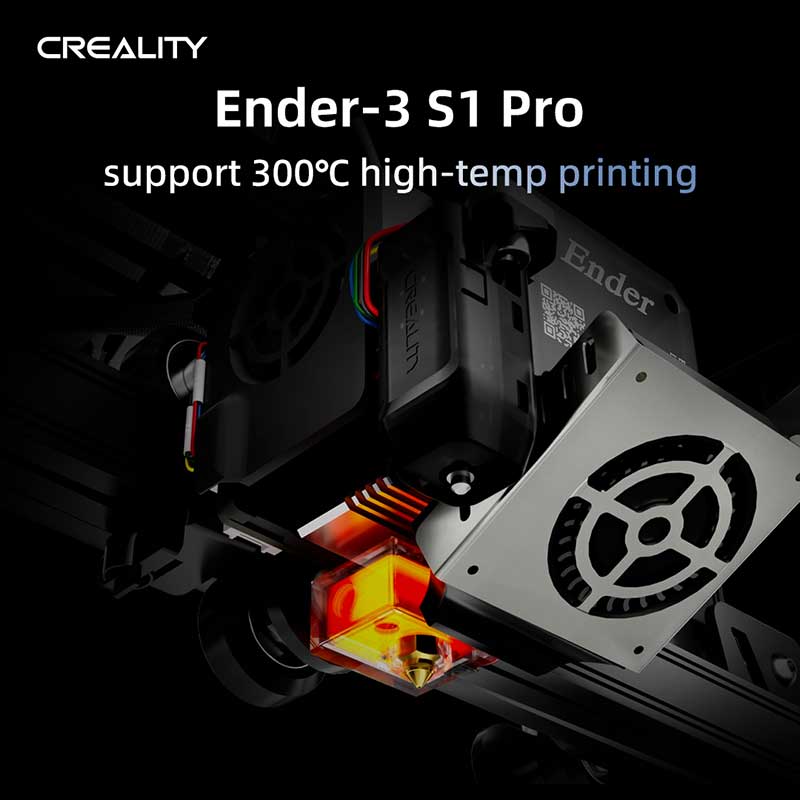 The Ender-3 S1 Pro's nozzle is made of brass and can stand up to 300℃ temps while printing. It is compatible with multiple filaments, such as PLA, ABS, PVA, Wood, TPU, PETG, and PA, creating numerous possibilities for the imagination. There is no need to change the nozzle even printing with different filaments, which is time-saving with enhanced efficiency.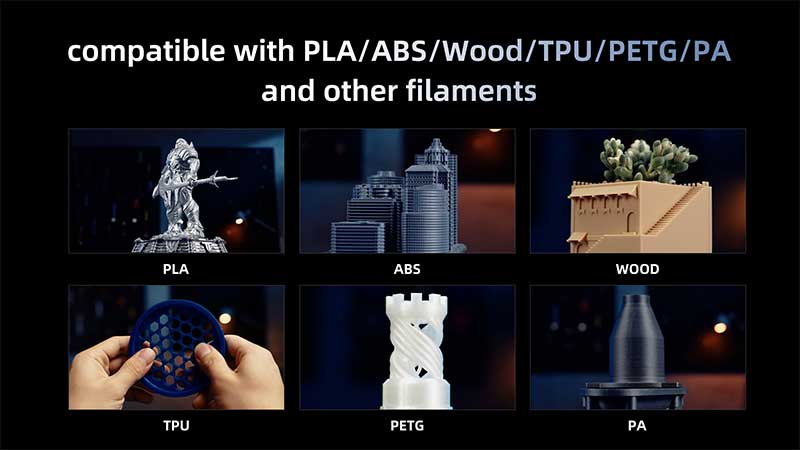 "Sprite", Small but Powerful
The Creality Ender-3 S1 Pro 3D printer uses the self-developed "Sprite" full Metal Dual-gear Direct Extruder. Same as its name, "Sprite", it is small but powerful – weighing only 334g, but the extrusion force can be up to 80N. It enables smooth feeding when printing with diverse filaments, including flexible materials, providing users with a stable and reliable printing experience.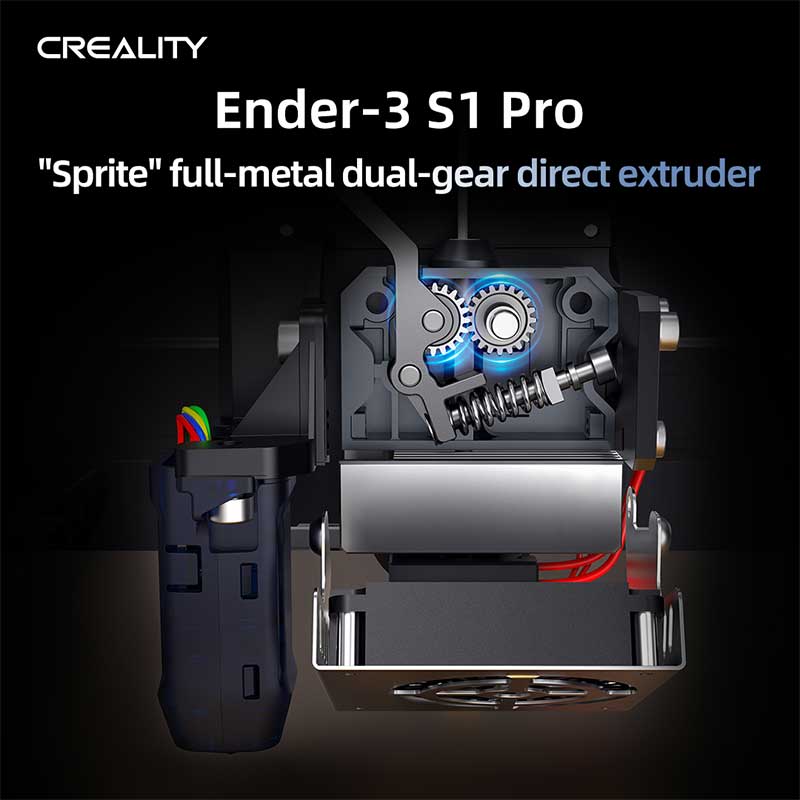 Hassle-free Leveling
Equipped with CR Touch, the 16-points automatic leveling system ensures perfect leveling by measuring the distance between the nozzle and the heat bed and then accurately compensating if needed. This makes the Ender-3 S1 Pro a great choice for 3D printing beginners.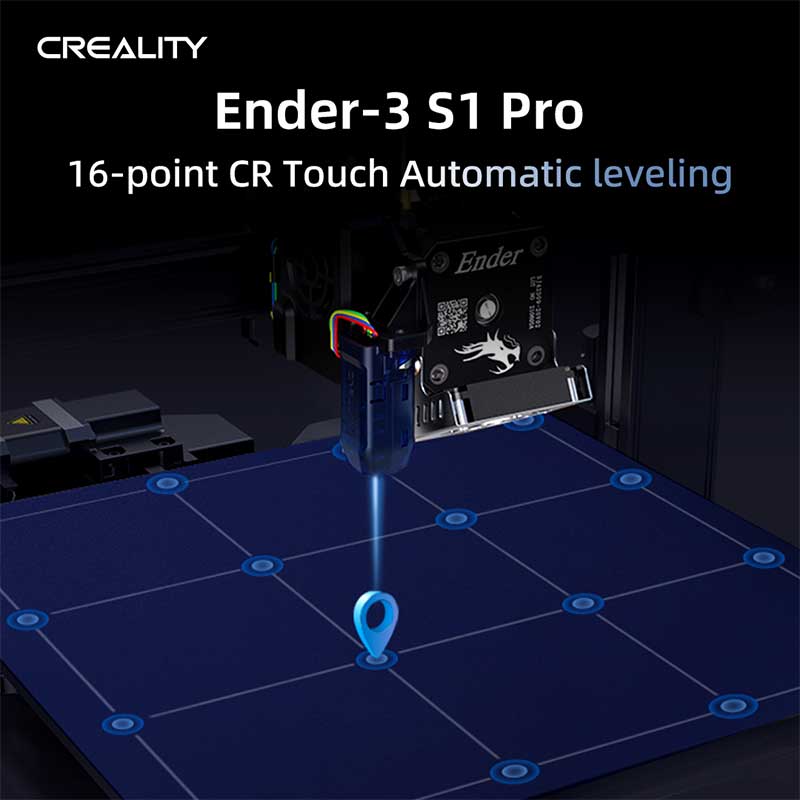 Interaction via the 4.3-inch Color Touch Screen
The 4.3-inch color touch screen enables click-to-control. It supports nine languages, making the printer more manageable for people from various regions worldwide.
Another nice feature of the touch screen is the energy conservation feature which will automatically dim if there is no action for three minutes.
Quick Assembly, Easy to Handle
The Creality Ender-3 S1 Pro 3D printer has a modularized structure and ships with 96% of the print body pre-assembled. The final assembly can be completed within six steps, allowing users to begin their printing quickly with no complicated assembly steps.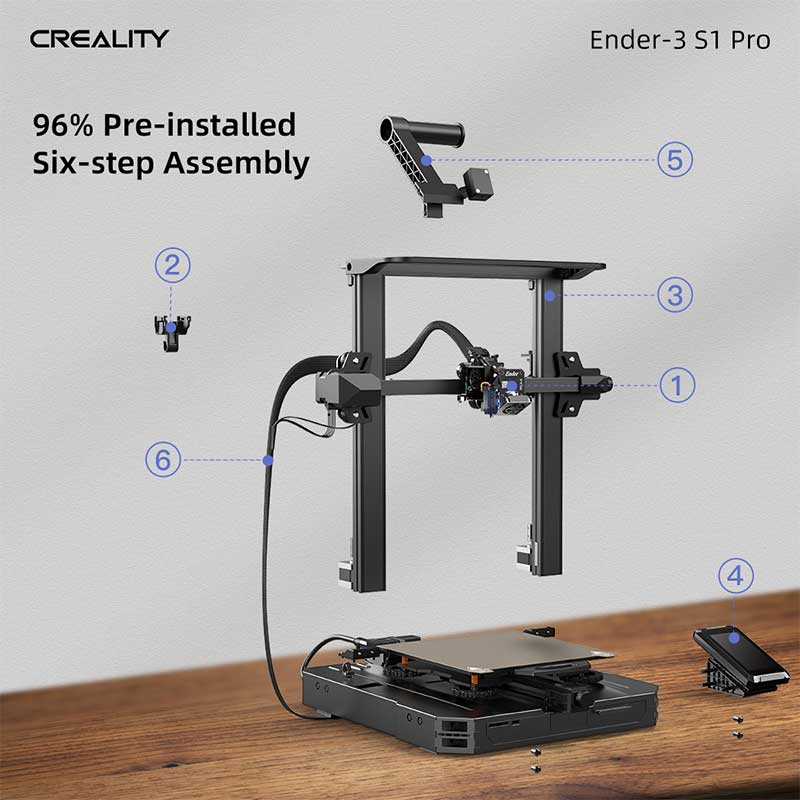 Bend to Remove the Print
The build surface of the Ender-3 S1 Pro is covered by a durable PEI spring steel build plate. It not only has good adhesion to the printed models but is also bendable, enabling a slight flex to remove the print. In this way, there's no need to worry about model toppling or any difficulty removing the completed print.
Impressive Human-centered Design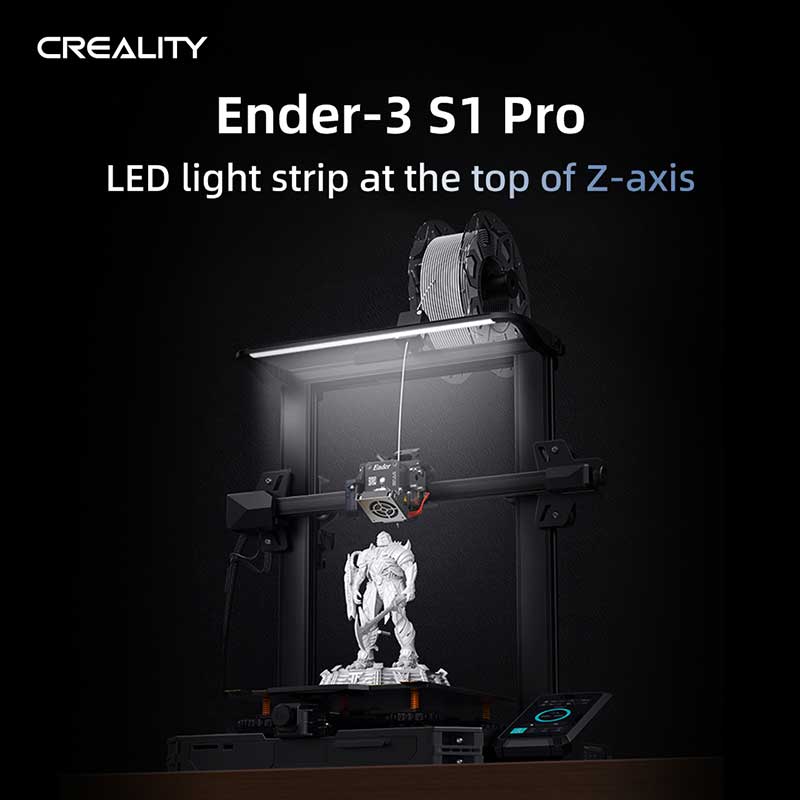 A LED light strip is equipped at the top of the Z-axis, providing even fill-in light and allowing viewing in the dark. In addition, a handle is added to the build surface for easier pulling out under the high-temp condition and is safe enough for every user.
Creation Potential, More Possibilities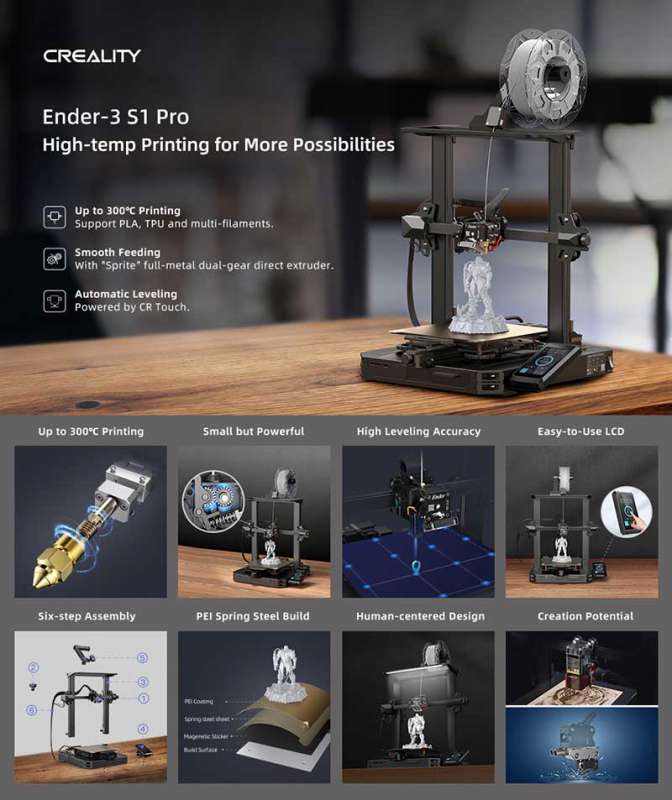 The Ender-3 S1 Pro 3D printer offers both a choice of laser engraving and a liquid cooling heatsink. Users can make the purchase according to their personal preferences.
The laser module, enables users to combine 3D printing with laser engraving and cutting. Creality Box 2.0 is also optional, which can help with remote slicing and printing for the Ender-3 S1 Pro, providing users with abundant model resources and allowing users to have fun.
The liquid cooling heatsink is good at heat dissipation, speeding up the cool-down process, and helps achieve high-precision printing.
If you're wondering about the differences between the Ender-3 S1 and this new Pro version, check out the table below. In addition to the machine dimension and net weight, the Pro version has received upgrades in the build plate, extruder, nozzle temperature, display, supported filaments, and supported languages. By optimizing the equipment as well as functions, Creality aims to make 3D printing more user-friendly, more reliable, and more creative.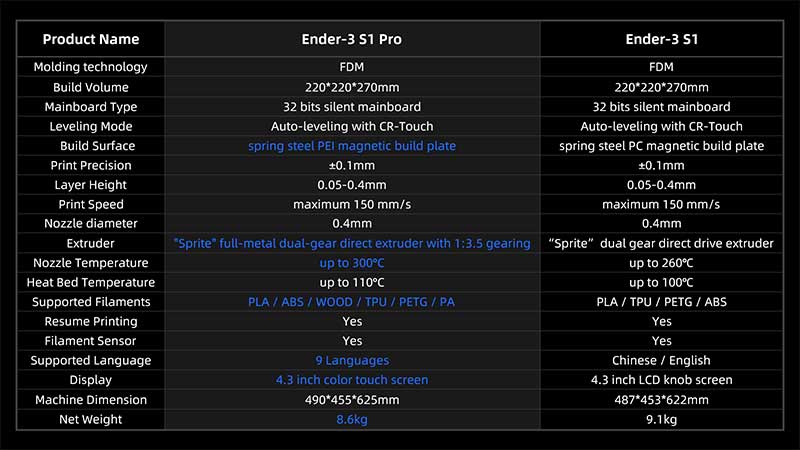 Creality celebrated its 8th anniversary on April 9th this year (2022) and during the ceremony, Creality launched its new DTC website as well as the official store, where users can obtain basic information and buy the Ender-3 S1 Pro 3D printer directly. Along with Ender-3 S1 Pro, Creality also brings the Ender-3 S1, CR-Laser Falcon, Sermoon V1&V1 Pro, CR-10 Smart Pro, and HALOT-ONE PRO & PLUS printers to consumers.
If the Creality Ender-3 S1 Pro 3D printer sounds like it meets your requirements, keep an eye on it. Click to watch its video. The Pro version is priced at $499 and will be available soon. Creality's Ender-3 S1 sells at $399.