We use affiliate links. If you buy something through the links on this page, we may earn a commission at no cost to you. Learn more.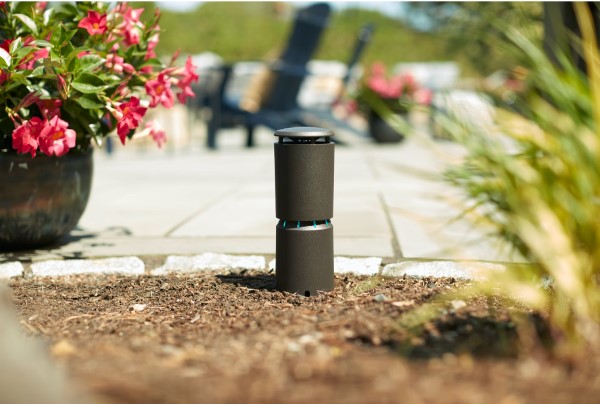 NEWS – The Gadgeteer has reviewed a handful of Thermacell products with excellent results (Thermacell Mosquito Repellent review, Thermacell Repellent Camp Lantern review, Thermacell Mosquito Repellent Lantern review). Now Thermacell has come out with the Thermacell LIV Smart Mosquito Repellent System for your backyard.
This interconnected-repeller system allows you to place the repellers exactly where you want them (within 20 ft. of each other; the range of each is a 10 ft. radius around the repeller) and also connects to your home WiFi – although this is not required. It works with the LIV+ app which allows you to turn on or off the system, set system schedules, and monitor the level of repellent left. The system even works with Alexa or Google Assistant so that you can voice-activate the system.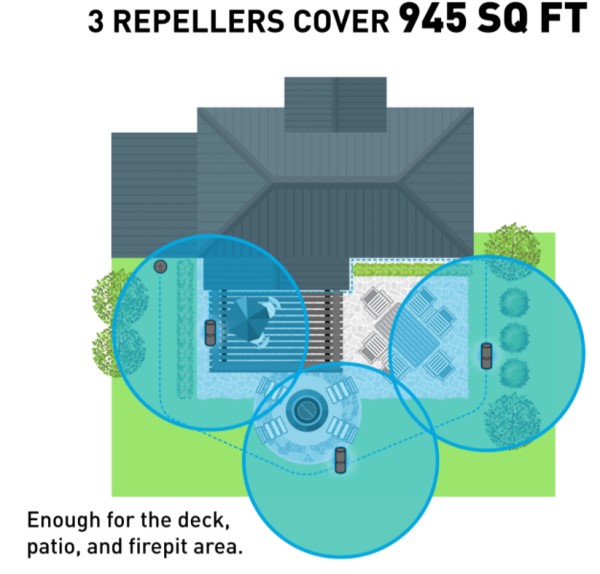 The system comes with a hub, repellers, 24-ft. cables, standard mounts, and ground stakes (hardscape bases sold separately). You can purchase a 3-repeller (945 sq. ft. coverage), 4-repeller (1260 sq. ft. coverage), or 5-repeller (1575 sq. ft. coverage) starter kit. Each hub can control up to 5 repellers.
To install the LIV system (see the installation video on YouTube), you mount the hub on the outside of your home within six feet of a GFCI outlet at about 30 in. or more above the ground to avoid water or snow, and within your home's WiFi coverage if you plan to use the system with WiFi.
The system consists of modules called repellers that you place around your backyard at 20-foot intervals (each repeller repels mosquitos in a 10 ft. radius in all directions). You can use ground stakes to insert each repeller into the ground or use standard mounts to screw them into a deck or use hardscape bases to set them on paver, concrete, etc. patios.
Each repeller is connected to another using 24 ft. cables that can be buried, covered up, or tucked along crevices to prevent damage from lawnmowers, prevent tripping, etc. Only the first repeller needs to be connected to the hub (the system does NOT form a loop).
Once the system is installed, you're done! You can leave it outside all year long. The liquid repellent in each repeller is designed to last 100+ hours (if you think of a season consisting of 12 weeks, the repellent can be used for 8 hours each week during the season before replacing the repellent cartridges). If you forget to turn the system off, it will automatically shut off after six hours.
It is pretty expensive though – the Thermacell LIV Smart Mosquito Repellent System is available from the Thermacell website for $699 for the 3-Repeller Starter Kit, $799.00 for the 4-Repeller Starter Kit, or $899 for the 5-Repeller Starter Kit. Hardscape bases are sold separately for $18 each, and the LIV Smart Mosquito Repellent System Refill 6-pack is $120. You can also find Thermacell products on Amazon.