We use affiliate links. If you buy something through the links on this page, we may earn a commission at no cost to you. Learn more.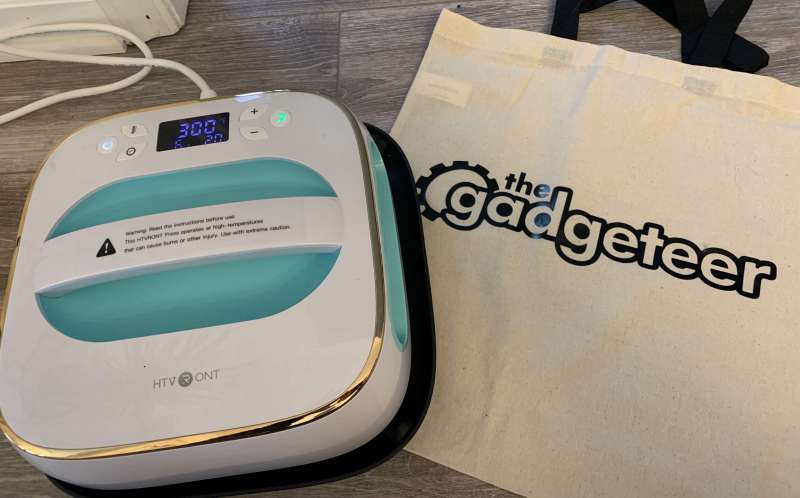 REVIEW – If you are an avid or even amateur crafter, you have probably worked with iron-on vinyl, also referred to as heat transfer vinyl (HTV).  As the name implies, it uses a heat-activated adhesive to permanently attach your designs to any fabric.  Today I'm excited to show you the HTVRONT Heat Press Machine as an alternative to using that silly iron.
What is it?
The HTVRONT Heat Press Machine is a 10″ x 10″ portable heat/iron press for HTV vinyl and sublimation.  Note: this machine also works for sublimation printing, but this is not a process that I have the equipment for, so for this review, I will strictly focus on vinyl.
What's in the box?
HTVRONT Heat Press Machine
Safety Base
Storage Cotton Bag
Power Cable
Instruction booklet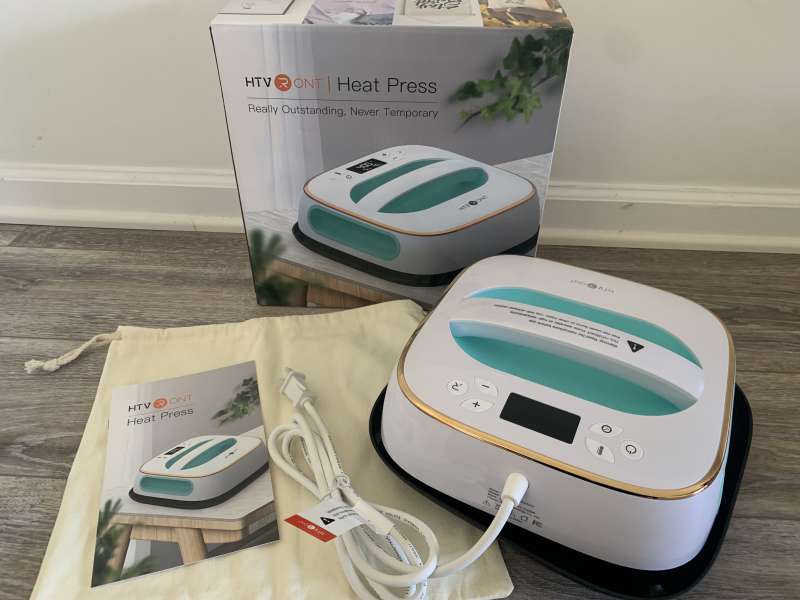 Specs
Temperature: 70°F-410°F
Timer: 1-999 seconds
Pressure display: up to 99lbs
FCC & UL certified auto shut-off
Input Voltage: AC 120V 60Hz
Power Consumption: 1200W
Size: 298mm x 298mm x 131mm
Design and features
The HTVRONT Heat Press Machine has many desirable features including portability, simplicity to use, fast heating up, useful timer, pressure display, and sleek design.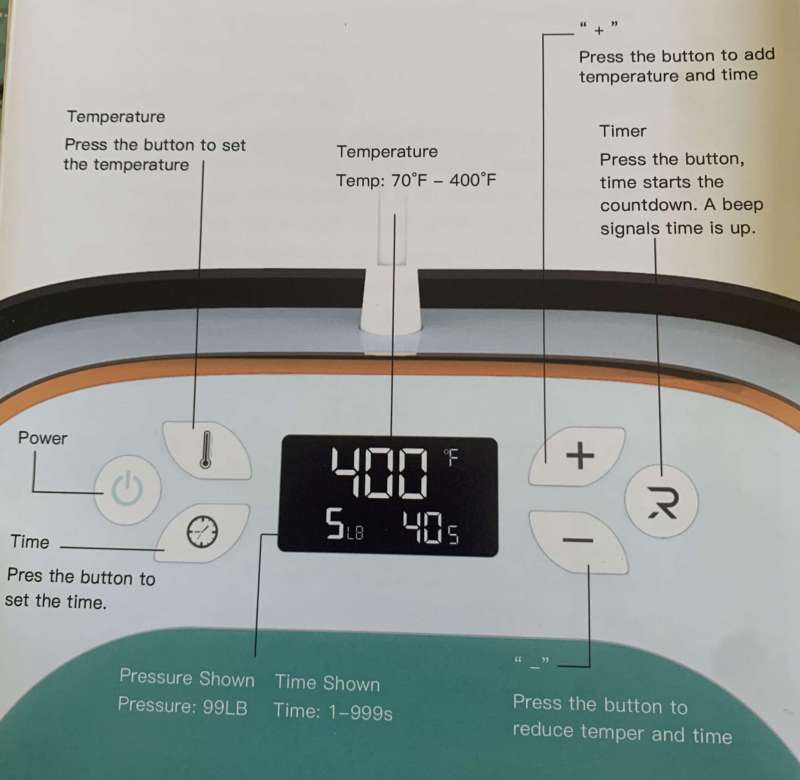 Step 1: Turn on power and make sure your machine is on the safety base
Step 2: Press the temperature/timer button and adjust the value with the plus (+) or minus (-) button
Note: your vinyl should give you the optimal temperature to heat
As the HTVRONT Heat Press Machine heats to the temperature you set, the display shows you the current temperature.  I can say that it doesn't take long for the HTVRONT to get to your desired temperature.  The surface temperature of the heat press machine is uniform, so it can be used for both sublimation and ironing.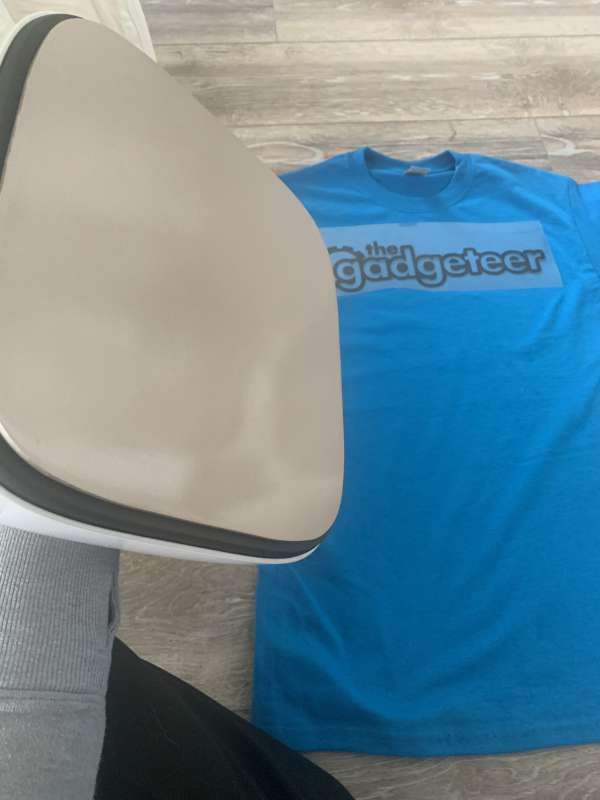 Step 3: Position your vinyl pattern on the garment, then place the heat press on the pattern and apply pressure.  (Make sure you are protecting the surface under the garment from the heat.)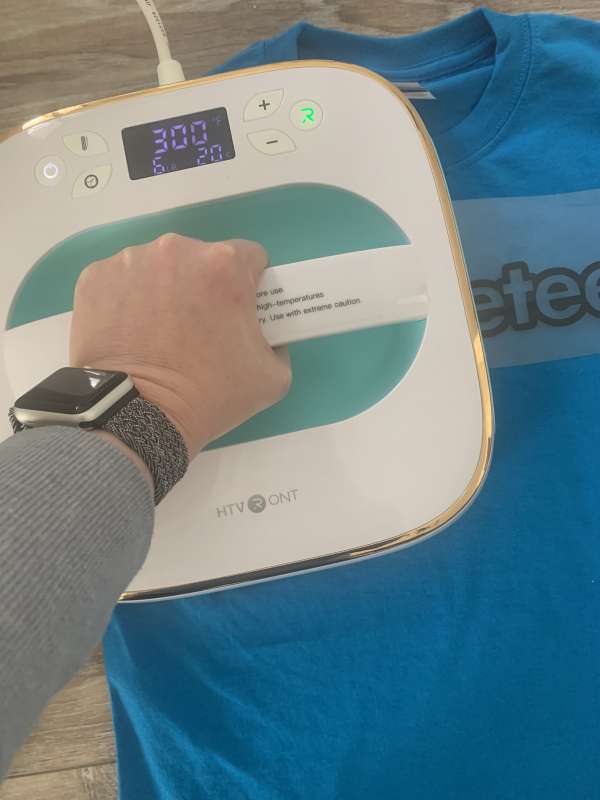 The sleek design allows for two ways to apply pressure.
Light Pressure: by one hand or by the machine itself (6-11 pounds)
Medium/Heavy Pressure: two hands on the side handles. (11-33 and 33-50 pounds)
Another thing I appreciate is the HTVRONT Heat Press Machine displays the pressure you are applying, so there is no guessing.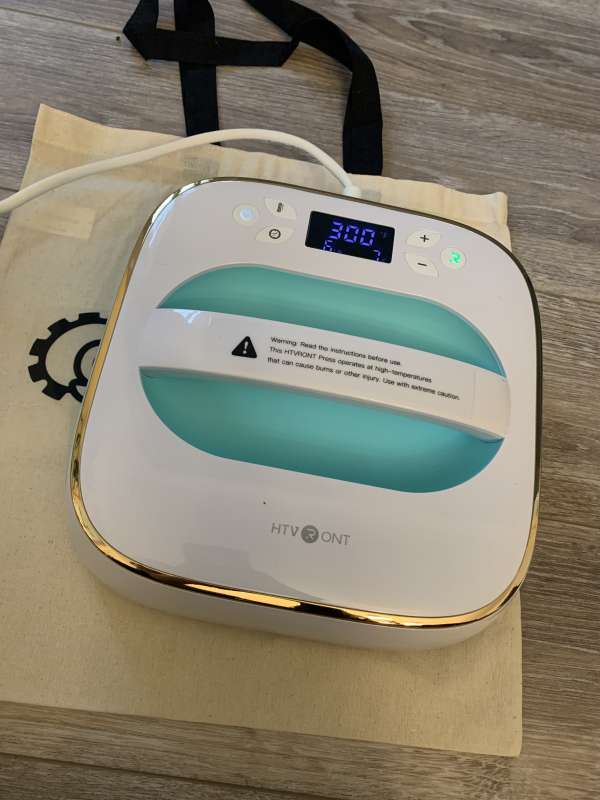 Step 4: Click the timer button (clock) and set your desired time.  Then click the "R" to start time.  The machine will beep when time is up.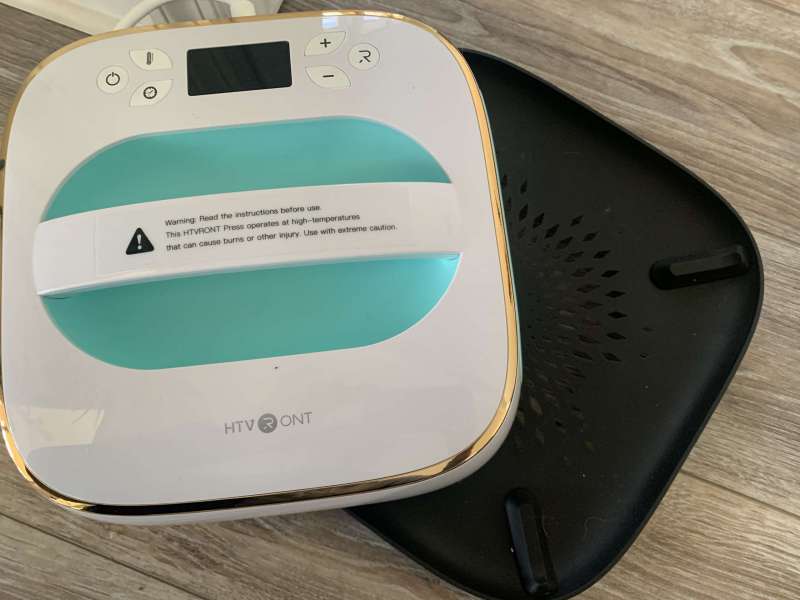 Step 5: When the countdown is over, remove the heat press and place on the included safety base.
Step 6: Remove the film and see your finished product!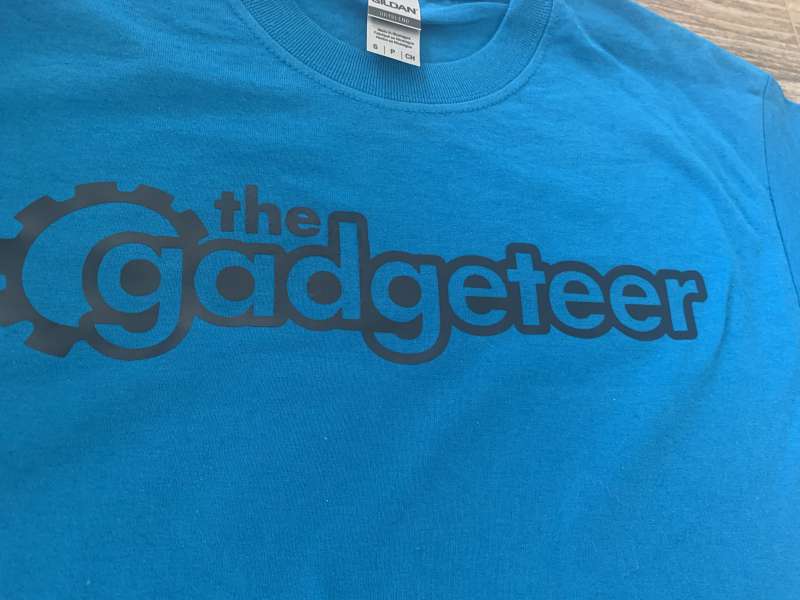 The HTVRONT Heat Press Machine has several safety features that I appreciate, including the safety base and design features.  The safety base can protect the heating plate not only from scratches, but it can prevent people from being scalded.  Even if the heat press machine works for a long time, the handle won't burn your hands due to overheating.  The most important and helpful feature is the machine will automatically shut off after 15 minutes of inactivity, so you don't have to worry about forgetting to turn off the heat press!
What I like
Fast heating
Timer function
Pressure display
Simplicity to use
Safety features
What needs to be improved
Storage Cotton Bag- I found it to be too tight of a fit to actually use
Final thoughts
Crafting game changer!  The HTVRONT Heat Press Machine is a product that I know I will be using often.  No more dragging out the iron, waiting for it to heat up, hoping that as I iron I'm applying even pressure and hitting all the vinyl.  A safe, simple, and efficient product, the HTVFRONT Heat Press Machine gets an A+ from me!
Price: $99
Where to buy: HTVRONT website or Amazon.
Source: The sample of this product was provided by HTVRONT.