We use affiliate links. If you buy something through the links on this page, we may earn a commission at no cost to you. Learn more.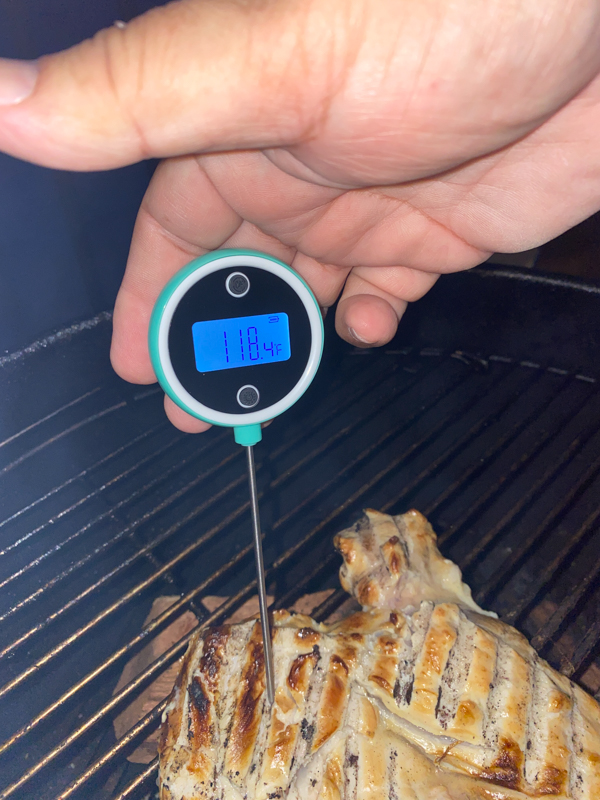 REVIEW – Even though it is February, we are already starting to get warmer days here in south Texas.  Just this next week, we have a couple of days predicted to be in the lower 80s!  That has the grilling and smoking bug in me starting up full force.  I have a Traeger BBQ smoker I use for smoking, but for quicker things like steaks, fajitas, burgers, or sausages, we use a round Webber grill that we fill with wood chunks.  We had an older meat thermometer we had been using for a while, but it has slowly started to fall apart.  When the chance came to review the ChefsTemp Pocket Pro Digital Thermometer, I jumped on it looking to replace my old one.  Let's see how it works out.
What is it?
The ChefsTemp Pocket Pro is a digital thermometer with a couple of really nice features.  It senses the direction you are holding the thermometer and will rotate the display of the temperature to make it easily readable.  It has a rechargeable battery and has a built-in magnet that allows you to hang it on a metal object like your refrigerator.
What's in the box?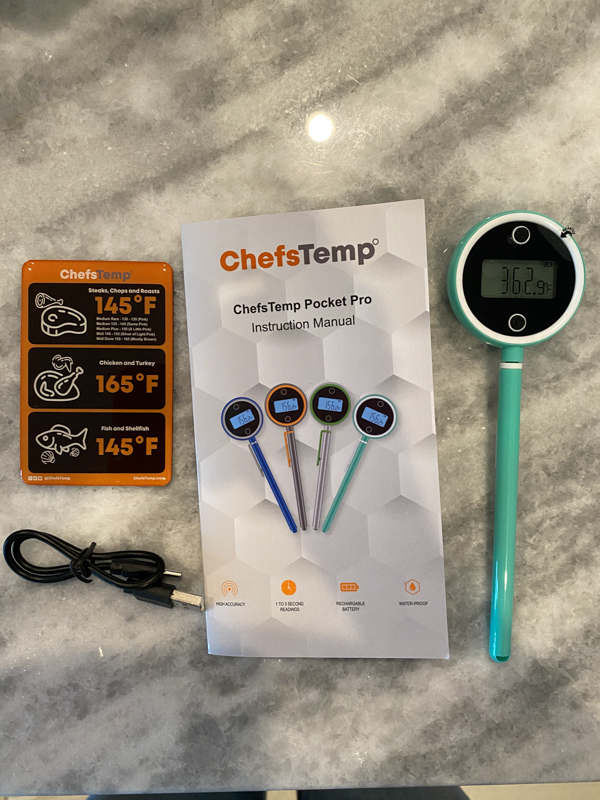 ChefsTemp Pocket Pro Digital Thermometer
One magnet for your fridge displaying the minimum temps for cooked chicken, beef, and fish.
A laminated instruction manual
One Pocket Pro thermometer with attached probe sleeve
USB-C charging cable
Hardware specs
RANGE: -22 to 572°F (-30 to 300°C)
ACCURACY:±0.7℉(±0.4℃), from 32 to 212℉ (0 to 100℃), otherwise±1.8℉(±1℃)
±3°F (±1.5°C) from 392 to 572°F (200 to 300°C);
RESOLUTION: Factory set to 0.1 °
RESPONSE TIME: ~1-second readout (Speed in oil is slightly slower than in water)
PROBE: 4.5 L x 0.1-inch dia. reduces to 0.06 inches dia.
(114 L x 2.5 mm dia. reduces to 1.5 mm dia.)
WATER RESISTANCE: IP 66
OPERATING RANGE: 14 to 140°F (-10 to 60°C)
AUTO-OFF: After 10 minutes  AUTO BACKLIGHT: 15 seconds
BATTERY: 3.7 V lithium battery, Type-C plug
DISPLAY: 1.13 H x 0.56 W inches (28.9 H x 14.4 W mm)
PRODUCT SIZE: 7.1 H x 2.08 W x 0.74 D inches (180.5 H x 53 W x 19 D mm)
Design and features
The front of the thermometer has two buttons and a display area.  The top button changes the temperature in the display from Celcius to Fahrenheit.  The bottom button is the power button.  Pressing the power button also turns on the backlight.  The backlight will stay lit for 15 seconds and then turn off to save the battery.  You can press the power button again to turn the light back on.
The thermometer will turn off automatically in 10 minutes if the temperature is below 102 degrees Fahrenheit and the temperature has not changed more than 3 degrees.   So leaving this thermometer out in the sun with the power on on a really hot day would probably wear out the battery pretty quickly!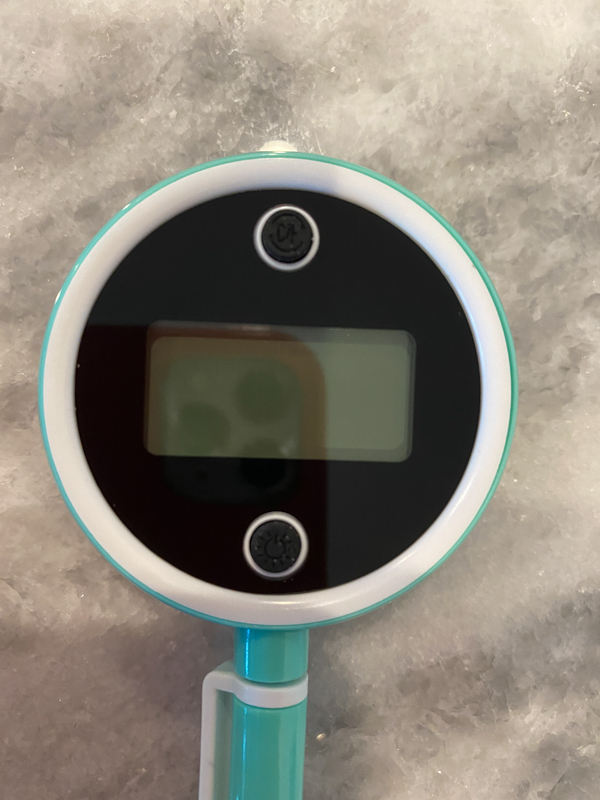 The next three pictures demonstrate how the temperature reading rotates around the thermometer display as you rotate the thermometer.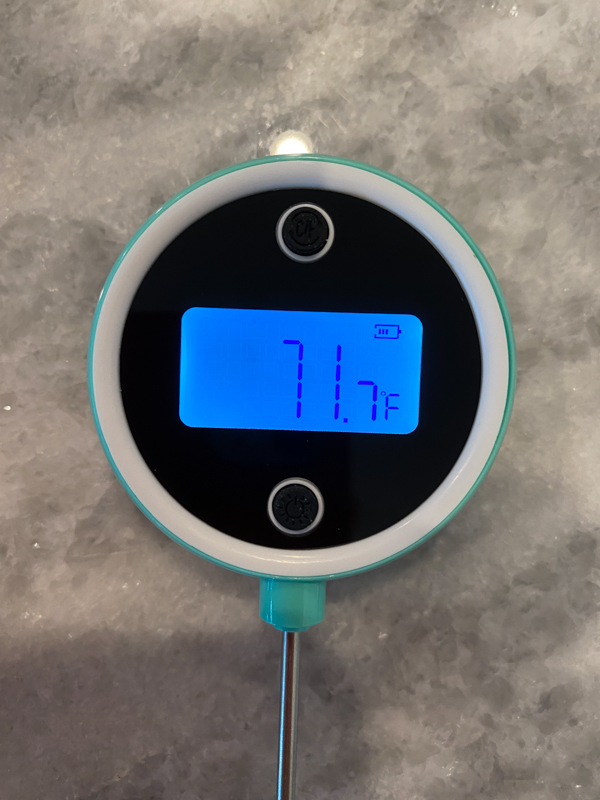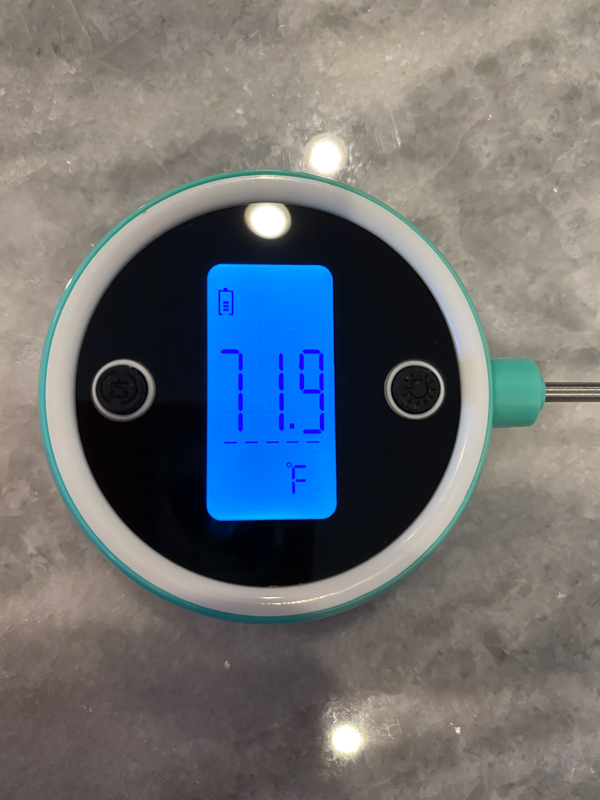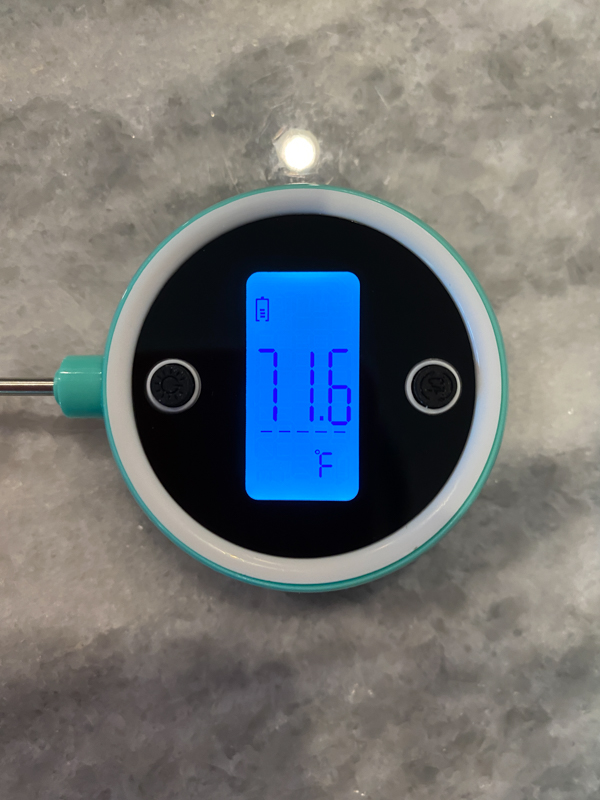 The thermometer comes with a really nice sleeve for the probe.  It stays on with a nice subtle click and has a built-in clip to hold it in place on your pocket.  The thermometer comes in several colors: dark blue, orange, lime, and tiffany blue.  I received the tiffany blue.
The ChefsTemp Pocket Pro Digital Thermometer display head is rather thick.  I am not sure I would want to keep it in my shirt front pocket.  However, the display is nice and large, and very readable.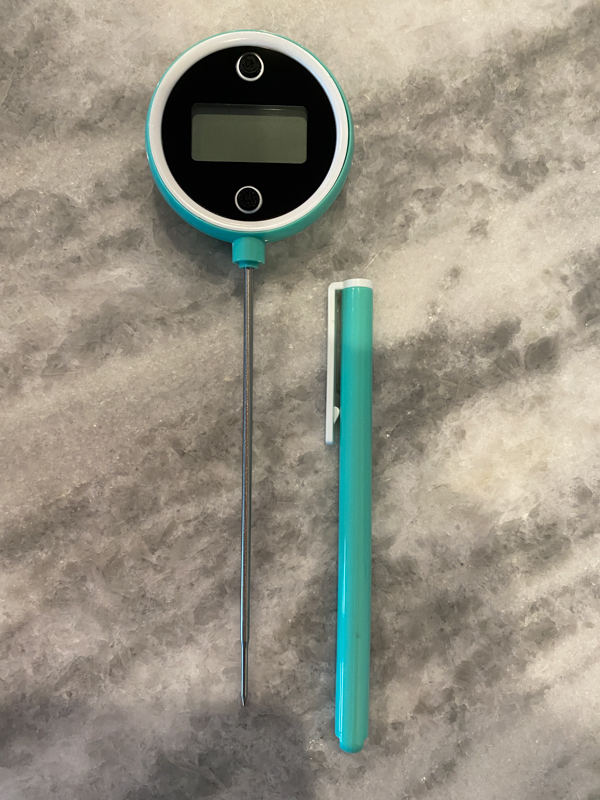 Setup
The setup was very simple.  I plugged the USB-C cable into the port on the right side of the ChefsTemp Pocket Pro Digital Thermometer shown below.  The display flashed once and the battery icon started blinking.  When it was fully charged, the battery icon stayed on with no more blinking.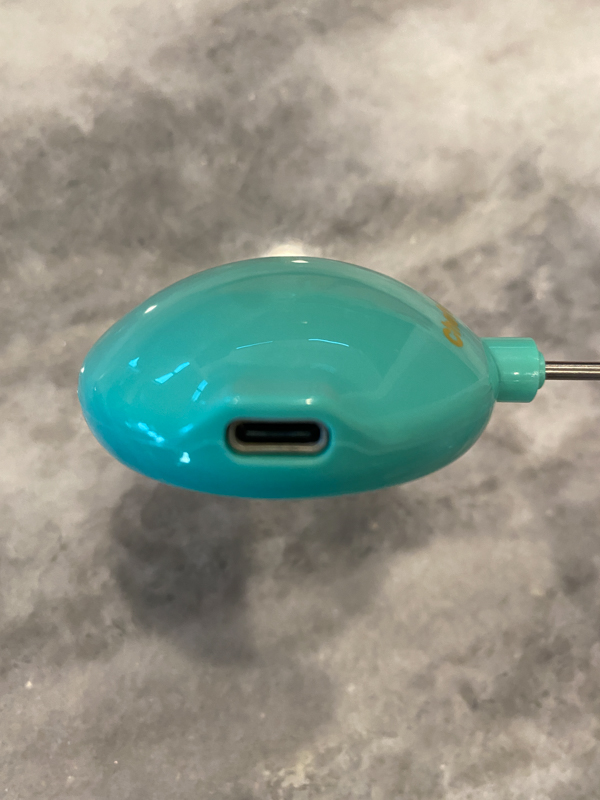 Performance
We tested the thermometer out while cooking some chicken fajitas.  These particular fajitas came pre-marinated from our local grocery store.  They are very thick chicken breasts.   I love medium-rare steaks, but I really want my chicken cooked at least to the minimum safe temperature.  The picture below shows the reading we got when we checked our chicken the first time.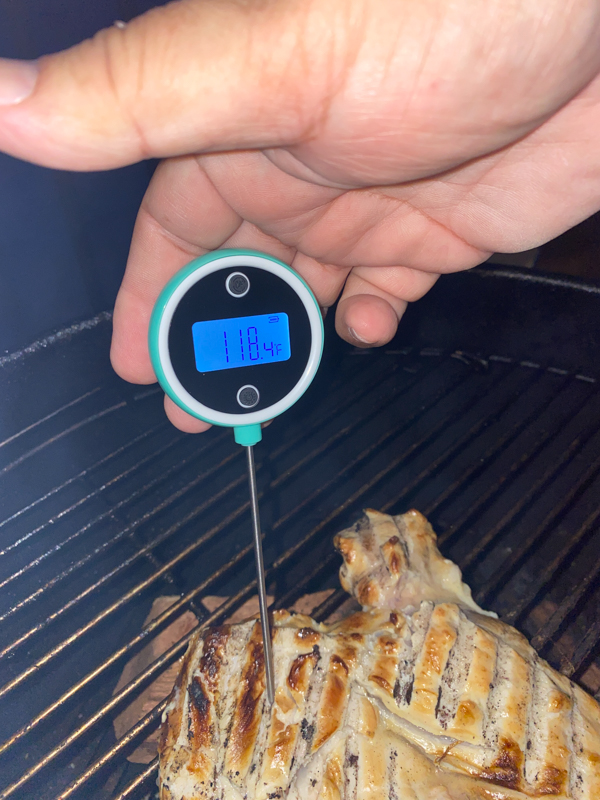 We cooked a bit longer and checked it a few more times.   This is the final reading we received when we checked the largest chicken breast in the thickest part of the breast.  A nice two degrees above the required 165.  We received the temperature readings almost instantly.  It was fast enough to feel like it was instant.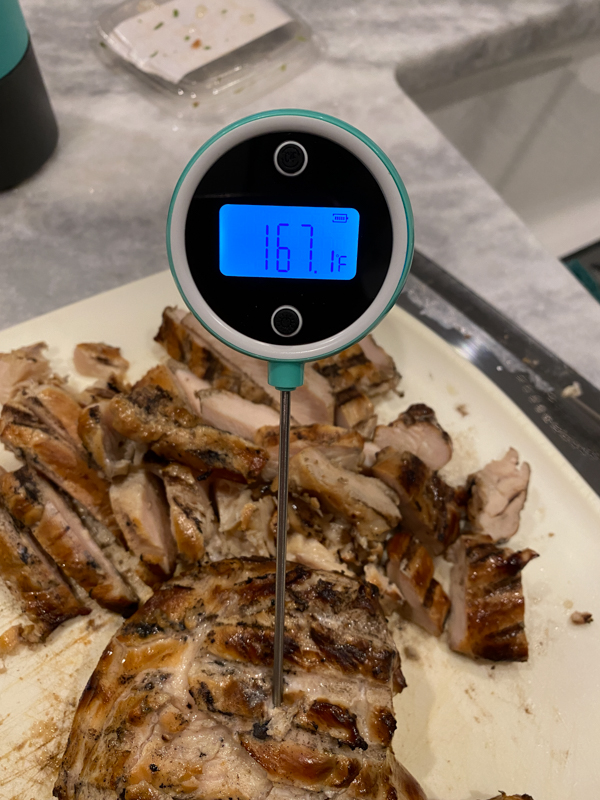 This is a picture of the meat as we sliced it up.  It was cooked perfectly.  You see a touch of red near the top of the breast, but this is from the smoke of the fire.  I normally prefer dark meat because I find the white meat too dry.  The marinate of this chicken and the fact that we did not overcook it due to the ChefsTemp thermometer made this very enjoyable.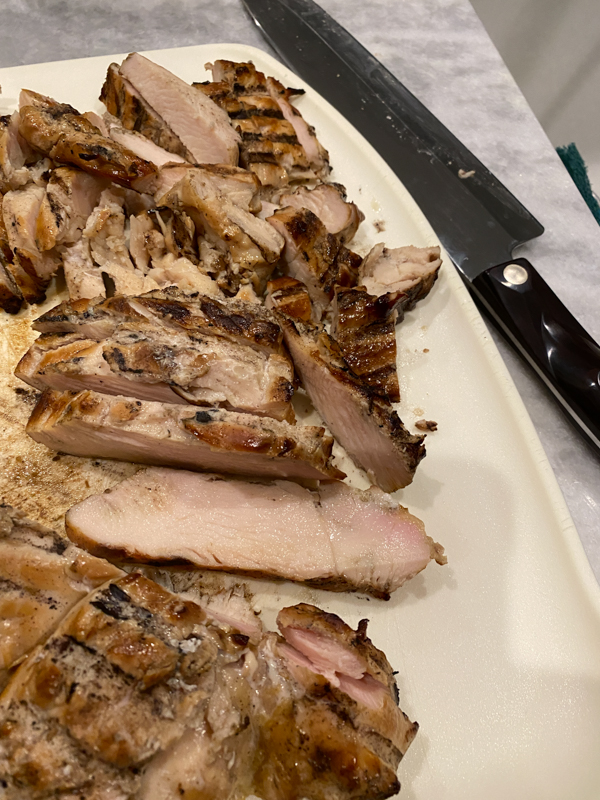 Finally, this last picture shows the ChefsTemp Pocket Pro Digital Thermometer hanging on the side of my refrigerator.  This brings up my only complaint.  The thermometer is slightly bulky and has a slick rounded back.  This makes it want to slide down the side of my fridge and not hang in place.  Maybe if they put a small flat spot in the back of the thermometer, or put a textured pattern, or a larger magnet it would stay in place.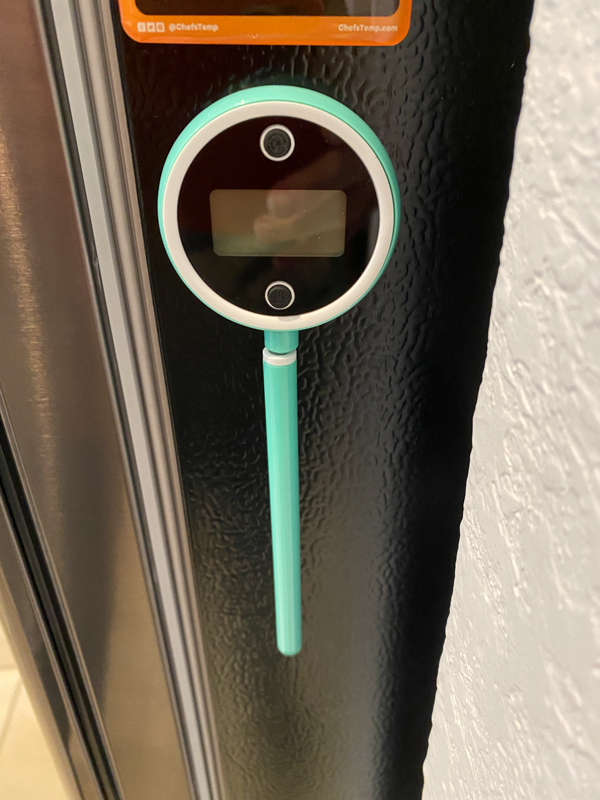 What I like
Priced economically.
Large display
Rotates the display depending on how it is held.
Magnetic back
Rechargeable battery
Fun color options
What needs to be improved
Maybe add a bit of texture to the back of the thermometer or put a larger magnet inside so it won't slide down the surface you are sticking it to.
Final thoughts
I highly recommend the ChefsTemp Pocket Pro Digital Thermometer.  It is easy to read and rotates the display for you.  It is also reasonably priced with some fun color options.  The key factor is that it appears to be very accurate and very fast.  If you need a new food digital thermometer and don't need wireless capabilities, don't hesitate to buy this one.
Price: $34.99
Where to buy: ChefsTemp
Source: The sample of this product was provided by ChefsTemp.