We use affiliate links. If you buy something through the links on this page, we may earn a commission at no cost to you. Learn more.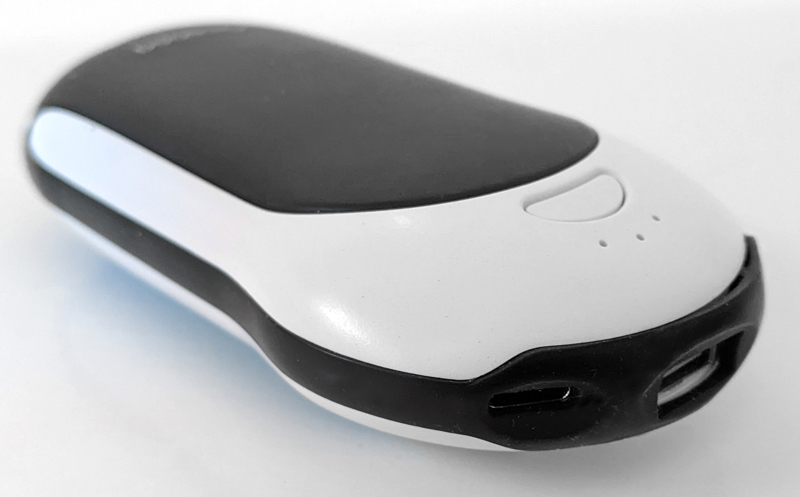 REVIEW – The only thing I like better than a gadget doing something really well is a gadget that does 2 things really well!  The $36.99 Ocoopa hand warmer does exactly that… warms your hands.  But it also doubles as a 10,000 mAh power bank with 2 output ports to charge 2 devices simultaneously. This is the gadget I never knew I needed. Let's dig into it.
What is it?
A rechargeable hand warmer that also doubles as a 10,000 mAh power bank with Power Delivery 2.0 output speeds and Quick Charge 3.0 input speeds.
What's in the box?
Ocoopa hand warmer
Lanyard
Cloth carry case
20-inch USB-C cable
Quick start guide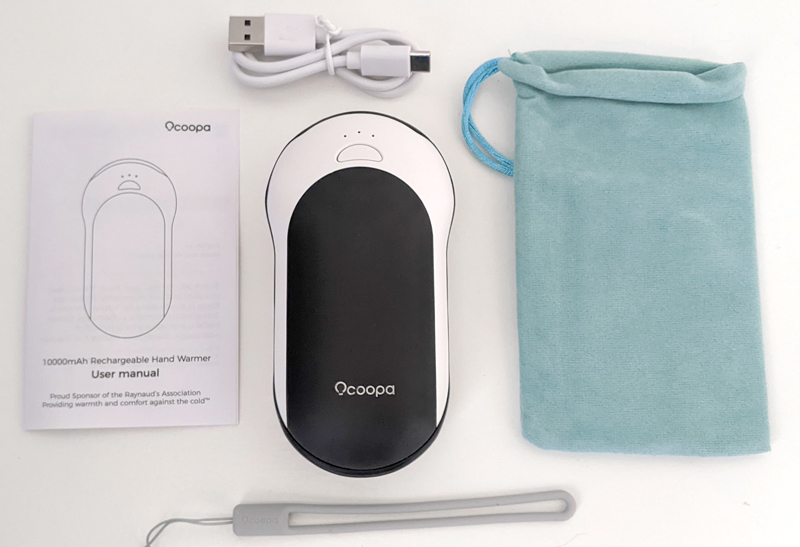 Hardware specifications
Model:  OC-H01 (PD)
Size:  5.94 in x 3.54 in x 1.93 in
Weight:  11 oz
Battery:  10,000 mAh lithium ion
Input:  USB-C (5V2A), Micro USB (5V2A)
Output:  USB-C (5V2A), USB-A (5V2A)
Heating time: 8-15 hrs, depending on heat level
Charging time:  3.5 hrs to 7 hrs, depending on charger
Heating temps:  from 95 degrees F to 131 degrees F
Design and features
So the Ocoopa is easy to hold.  The upper part of it is wider than the lower part which is more narrow, so it fits nicely in the hand. I guess you could say it is about as tall as one of those little 8 oz bottles of water, but it is half as thick. It is rounded on all sides, with the front, back, and sides covered in a matte silicone coating that is soft to the touch. There is a notch on the side to handle the lanyard if you want to use that (I did not).  On the wider end of the unit, you'll see 3 ports.  A USB-A port in the middle, and a Micro-USB and USB-C port on either side of that. The Micro-USB and USB-C ports can be used to charge the Ocoopa.  The USB-A port can provide up to Power Delivery 2.0 speeds output, which is wonderful.  The USB-C port can also provide output.  So 2 ways to charge it up, and 2 ways to charge devices at the same time.
On the top of the Ocoopa, above the ports, you'll see 1 button.  If you double press it the 3 LED lights will illuminate in blue to show you how much charge is left.  If you hold the button down you'll turn on the heating feature to the first heating level, and a single press will cycle through the 3 levels of heating.  Finally, it came with a cloth bag to carry it, but I use this thing so much that I never end up putting it in the bag.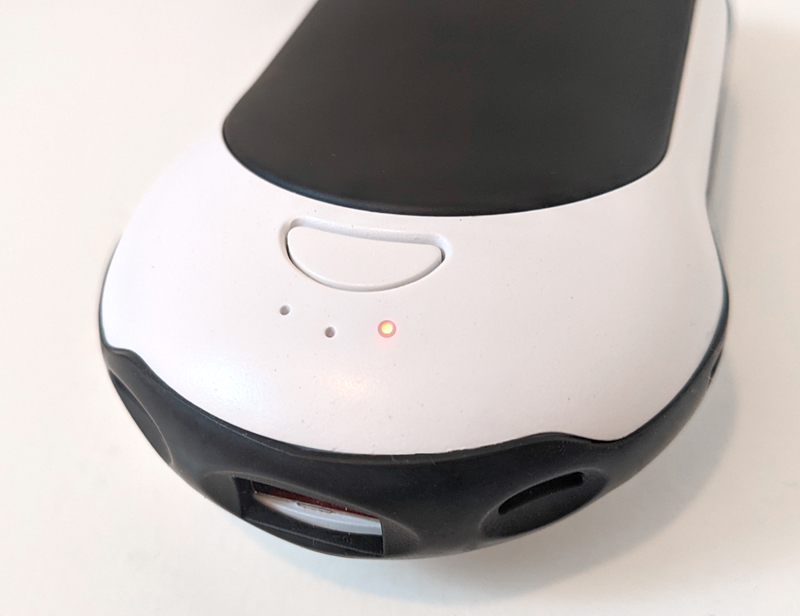 Performance
My phone is a Google Pixel 3, which came with an 18W charger and can provide me Power Delivery 2.0 speeds when charging, so the Ocoopa gave me the same performance for charging my phone as I get at home, which is wonderful. Of course, if you use the Ocoopa as a power bank then you'll have less power for the heating feature.  When I used it simply as a hand warmer on the lowest setting I can get several days of use from it.  I have never used it all day for hours on end with the heater going. I will use it while I watch a movie (my wife keeps the heat down in the house so my hands get cold!), or in the car on a trip, or while I am walking the dog.  The manufacturer's claim that you can get 8-15 hrs of use is pretty accurate I suppose.  I would say that using it the way that I have used it, which is off and on for short periods of time, I am getting closer to 8-10 hrs of use.  And using my 18W charger I can get the Ocoopa charged up within the 3-4 hrs that they claim is required to charge it.
I recently used the Ocoopa on a ski trip to Colorado, and as gifts, I got one for all my family members who went with me.  And it was a lifesaver for all of us.  We used it when we rode the lift up the slopes, during lunch on the mountain, and walking around town at night. Since the Ocoopa warms up on both sides of the unit, your hand gets warm quickly and you can even hold it between both hands as you clasp them together. It is wonderful.  In fact, I found that the first heating level was plenty sufficient for me.  Level 2 and 3 were too hot for me.  I might see how useful those hotter settings might be if I was camping in the cold or in frigid temps, but the first level has been plenty sufficient for my needs. I have seen commentary from others that the highest temp setting was simply too hot for them to hold, and that setting would obviously require my battery to maintain anyway, so I will avoid that.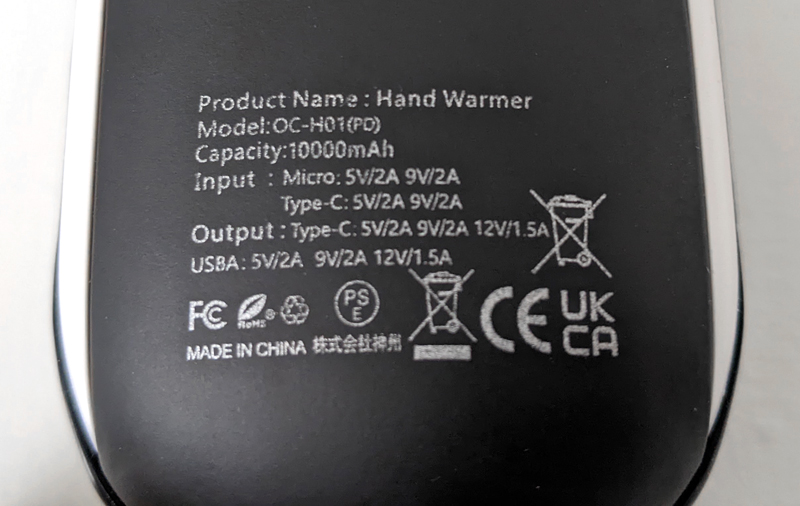 What I like
Great price
Easy-to-hold design
3 heating levels to choose from
Fast charging
Heats up in about 15-20 seconds
What I would change
I suppose a bigger battery
Final thoughts
I don't think you can have too many power banks.  So having a power bank that can be used to warm your hands in a pinch is a big plus. And the price of $36.99 is a no-brainer to me.  You should buy these as gifts for folks who could use one.
Price: $36.99
Where to buy: Amazon and Ocoopa.
Source: The sample of this product was provided by Ocoopa.