We use affiliate links. If you buy something through the links on this page, we may earn a commission at no cost to you. Learn more.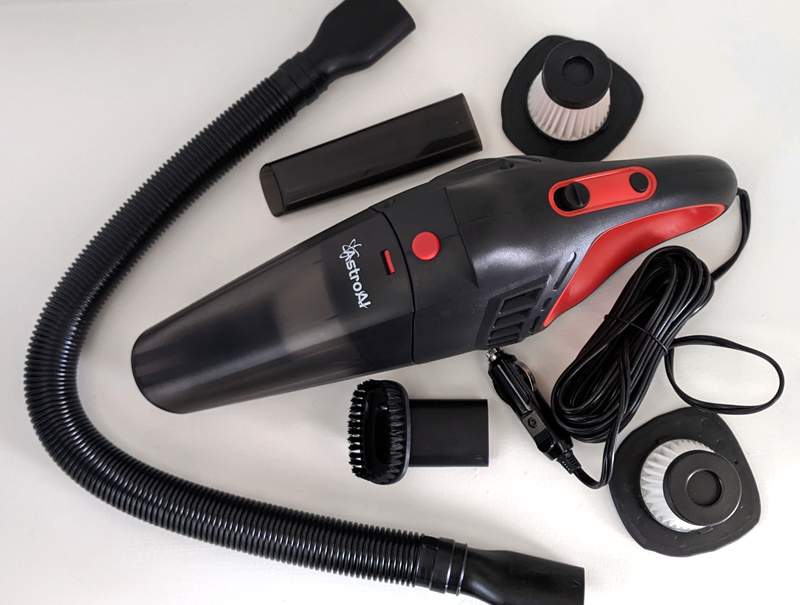 REVIEW – We go through a lot of hand vacuums in my house.  We get a new one just about every year because my wife wears them out, using them almost daily around the house.  We have a small dog that sheds a lot of hair!  So it gets everywhere.  Thank God he's so cute, so we don't mind.  But it takes a lot of work to deal with the hair. It even gets on the bottom of our shoes every day and therefore gets transferred to our cars. So keeping our cars cleaned is also a priority. The AstroAI portable car vacuum at $31.99 purports to help us with that task, so let's see how it measured up.
What is it?
The AstroAI is a lightweight portable hand vacuum that is designed exclusively to be used in a vehicle.
What's in the box?
AstroAI portable car vacuum, with filter
2 extra filters, washable
26 inch extension hose attachment
Crevice attachment
Brush attachment
Cleaning brush for the filter
User manual
Zippered, cloth carrying bag with handle
And here are the specifications:
model AHVC-JY801
Length: 15 inches
Weight: 2.7 lbs
Super wide-angle LED light
16 ft cord
Sound volume:  78DB
Suction power:  7200PA
Design
Having used many hand vacuums over the years, of all shapes and sizes, my first impression with this vacuum is that it is very light, and very plastic-y.  Now, I know that all hand vacuums are going to be made of plastic. But this one feels a little on the cheap side, especially the attachments. I won't know till later, but I wonder how this vacuum is going to hold up over the long term.
It has the same form factor of just about every other hand vacuum, with a removable nose that collects the debris and contains the removable filter. On the top, you'll find the power switch and the button to turn on the LED light. The LED light, which is quite good, faces the nose of the vacuum and sits at the top of the vacuum. That light illuminated the entire floorboard of the car when I was using it, so that was a pleasant surprise.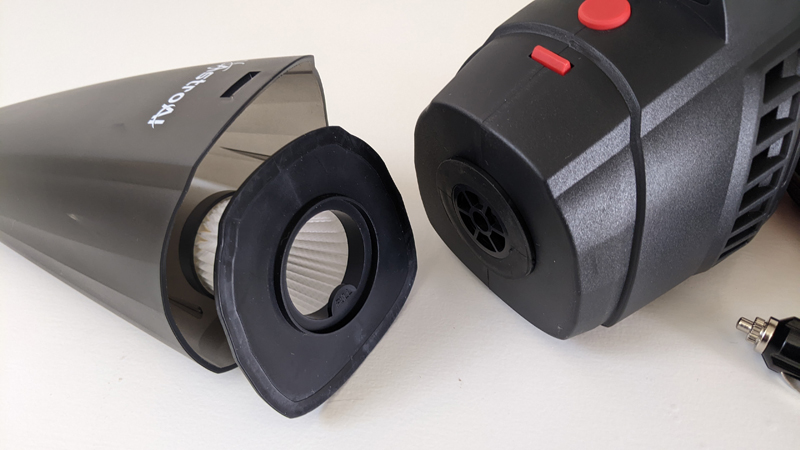 The attachments, the extension hose, crevice tool, and brush tool (it isn't powered or rotating, just a nylon brush), all connect to the nose of the vacuum, again, like most other hand vacuums. The power is provided by a 16 ft cord that extends from the back of the handle and plugs into the 12V (cigarette lighter) socket in your vehicle.  Because this hand vacuum was designed for a vehicle, you won't find any other way to power it except by using a 12v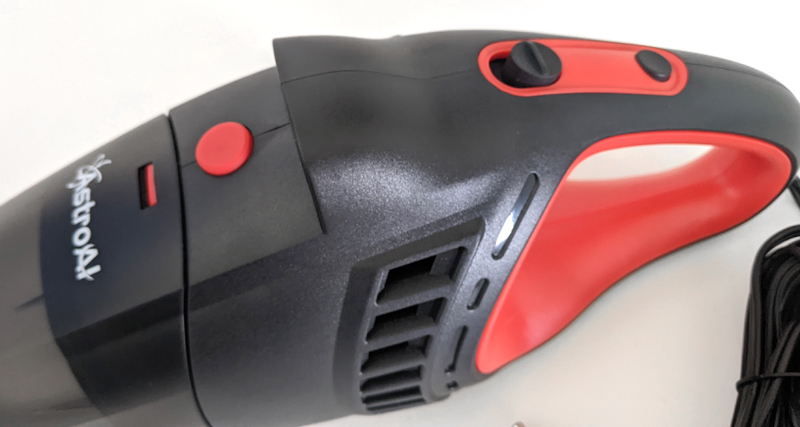 cigarette lighter socket.
Features and performance
Just approaching this from a practical standpoint, this is the first hand vacuum that I have used that was powered by a 12V socket. So that means you can't use this in the house because it does not have a battery.  That means this hand vacuum has a very narrow use case in that using it in a vehicle is your only choice, as long as it has a 12V adapter socket. The 16 ft cord would work with most small cars I imagine, but if our SUV did not have a 12V socket (which it does) in the back then I wouldn't be able to use the hand vacuum in the back of it because it won't reach. That's something to consider, especially if you have an SUV or a minivan.
(Here is a picture of the LED light in action. The lighting was awful in the floorboard of the car)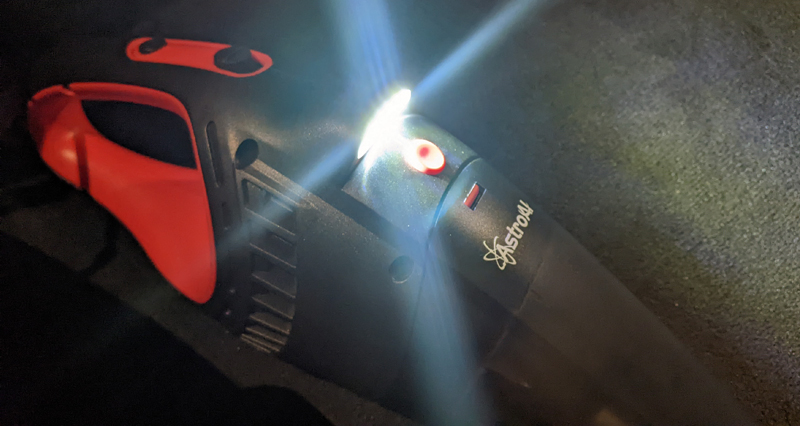 With the aforementioned dog hair (God love the little guy) all over our floorboards, I found that this was an issue. Hair is generally pretty tough to get up from floor mats regardless of what kind of vacuum you are using unless the suction is really strong.  And that is my first issue with the AstroAI.  The suction just isn't that strong. I have to go over the same spot many times to get the debris, and especially hair, off the floor. I tried using the extension hose and the suction suffered even more, so I quit using that attachment. The best attachment honestly is the crevice tool, so that is pretty much the only way I use the AstroAI now, is with the crevice tool attached.
Now, one of the biggest gripes I have with hand vacuums, in general, is that they run out of power too fast.  Even the good ones are going to give you a solid 10 min or so of power. So we never use the hand vacuum but for small jobs around the house.  But when you are vacuuming your car, you might need to go 15 to 30 min, depending on how dirty the car is. That's where AstroAI can help you.  Because it plugs up to power, it never runs out of juice.  So that was definitely a plus. Even though I had to go over the same spots over and over again, I didn't have to worry about running out of power.
Finally, the AstroAI comes with a canvas carrying case to hold everything, which is nice.  That means you can store it inside the garage or in a storage compartment in your vehicle.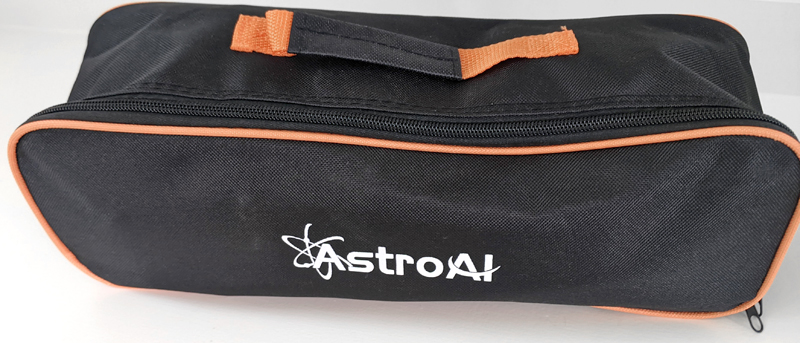 What I like
Very light and easy to use
It won't run out of power
Carrying case is handy
What I would change
The suction just isn't very powerful and it takes longer than expected to get the job done
Price is a little higher than I would expect for a vacuum with this kind of power
It feels a little cheap
Final thoughts
I can see where in certain situations this hand vacuum would be ideal. If you need quick access to a vacuum to get the spilled cheerios out of the car seat and you don't want to drag your upright vacuum out of the house, this will work great for you. And as long as a 16 ft cord is sufficient for getting to every place in your vehicle that it needs to get to, then this hand vacuum might be right for you. The LED is great and is pretty much a must if you are using it on floorboards and under seats. It does struggle with dog hair a bit and you'll have to put some additional elbow grease to work to get it all. And I do believe that the price is a little high considering the low level of power that you get.  But again, in certain use cases, this AstroAI could be a good fit for you as long as you know what you are getting.
Price: $31.99
Where to buy: Amazon
Source: The sample of this product was provided by AstroAI.