We use affiliate links. If you buy something through the links on this page, we may earn a commission at no cost to you. Learn more.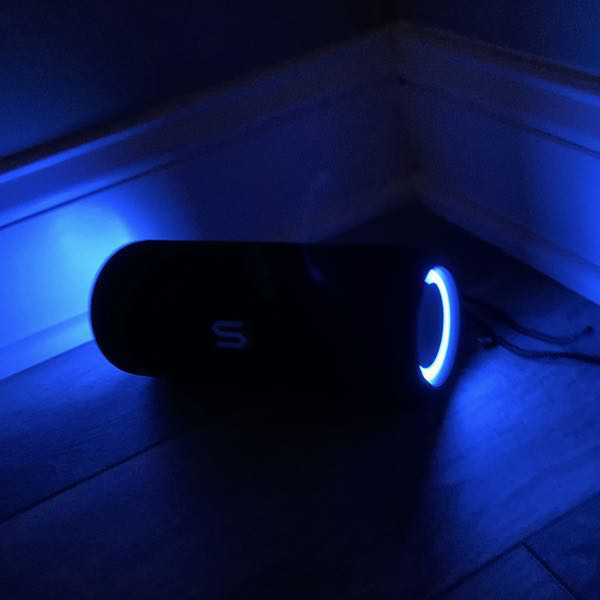 REVIEW – Gaze upon the pretty lights! The Soul Nation S-Storm Max is a portable Bluetooth speaker that promises big sound, resistance to the elements, and a variety of light displays to spice up your party. Let's fire up the party and see how it does. To the review!
What is it?
The Soul Nation S-Storm Max is a Bluetooth speaker, but it also includes multiple audio inputs (just in case). It's also got a variety of LED lighting features.
What's in the box?
Your purchase includes the Soul Nation S-Storm Max speaker, a lanyard, a carabiner, a USB-to-USB-C charging cord, and a 3.5mm aux cable.
Hardware specs
20W power output
IP66 water and dust proof
Up to 15 hours of continuous play
Can be paired with  a second device for wireless stereo
3 additional audio input options (Aux-in, MicroSD, and USB)
33 foot Bluetooth range
720 grams total weight (about 1.5 lbs)
Design and features
The Soul Nation S-Storm Max speaker measures 8″ tall and 3″ in diameter with a 1.5 pound weight. For reference, it's about the same size as the canister of my 28 ounce Yeti Rambler with the lid off.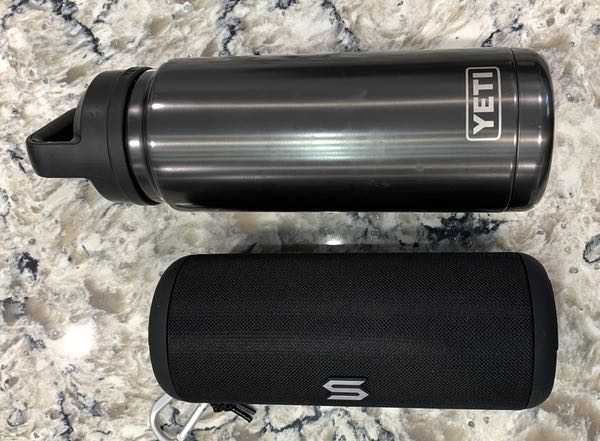 The Soul Nation S-Storm Max speaker has dual passive radiators (one on each end) for improved bass. It's designed so that you can stand it one end or lay it flat to take full advantage of the maximum thump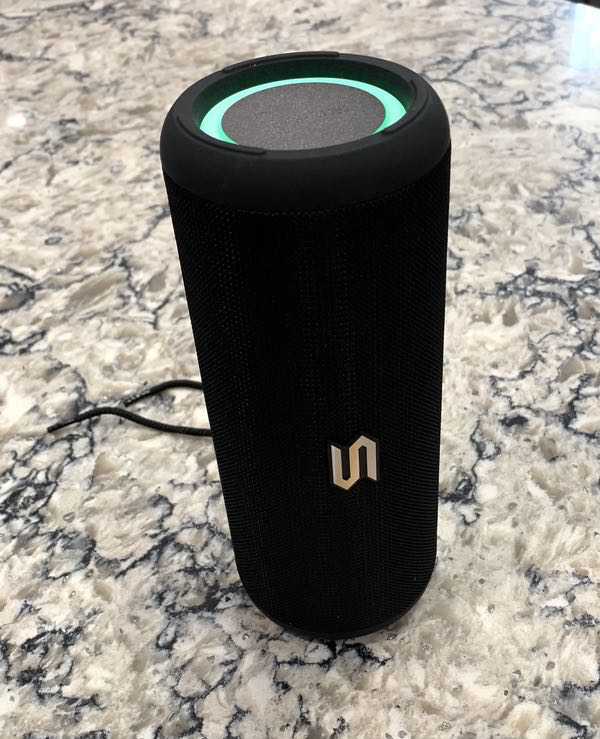 It does not have a stand to keep it stable in horizontal mode, but it comes with a lanyard looped through an anchor on the back side that will sorta keep it from rolling around.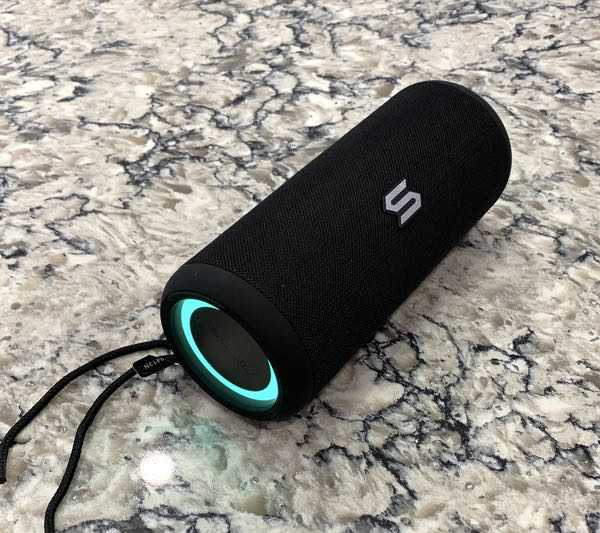 Your kit also comes with a carabiner that you can tie to that lanyard for hanging the speaker from things. Don't tie it to a pool float, though. The IP66 rating is good for protection from jets of water and splashing, but not full submersion.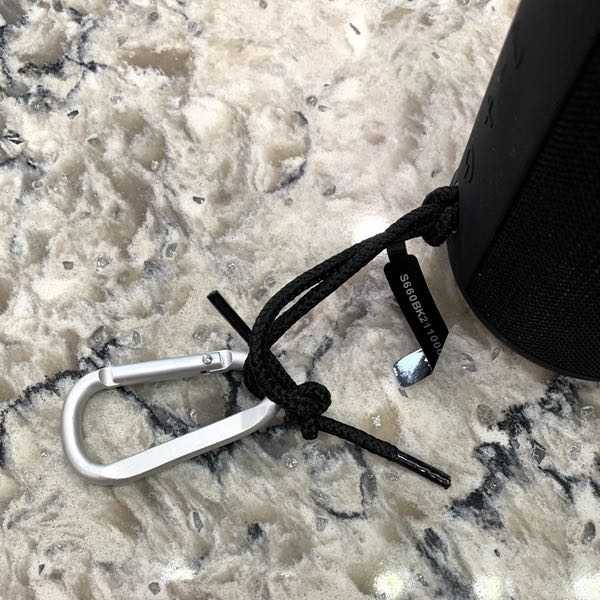 You'll find five control buttons on the back panel, all integrated into the rubber casing. They're big, easy to operate and have nice tactile feedback.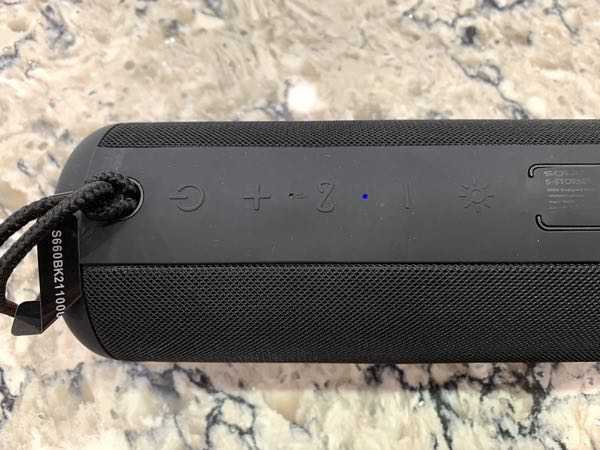 Each button supports multiple functions through some combination of tap, double-tap, or push and hold operation. I've laid out the functions for each button below. The first function is the single-tap operation.
Power/pause/play/bluetooth pairing
Volume up/next song
Call management/pairing to a second device
Volume down/previous song
Cycle through lighting controls
Next to the control panel is a rubber port. Pop it loose and you'll have access to multiple ports: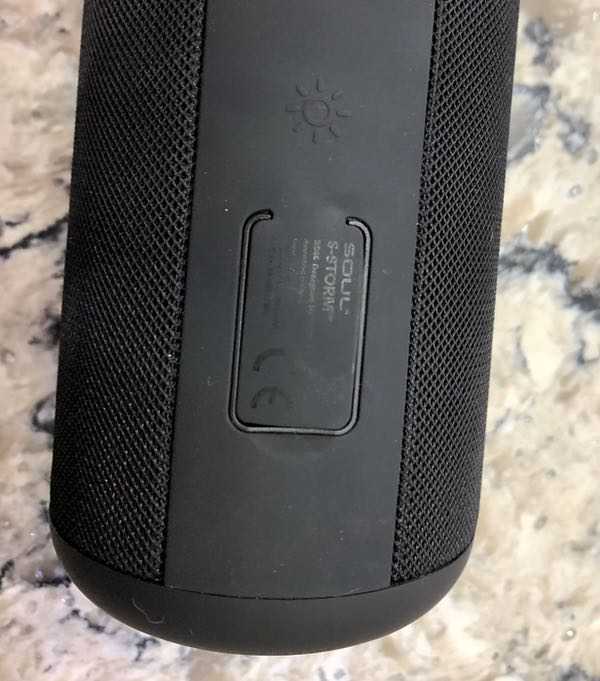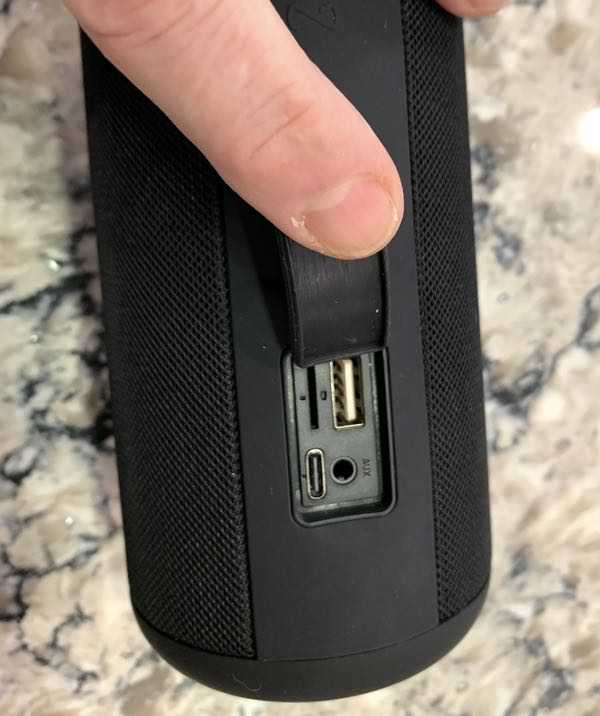 Soul Nation has you covered for input options here. You'll find a USB port, a MicroSD card port, a USB-C port (for charging), and a 1.5mm aux port. The Soul Storm S-Storm Max includes a USB-to-USB-C cable for charging and a 1.5mm aux cable if you really want to go old school.
The Soul Nation S-Storm Max speaker also includes customizable LED lighting on each end of the barrel. Pressing that light button repeatedly allows you to cycle through multiple lighting modes. The default is a pattern that cycles through the colors available (yellow, green, orange, pink, cyan, blue, etc.). You can choose an option that pulses the colors in sync with your music, choose a solid color, or no lighting at all.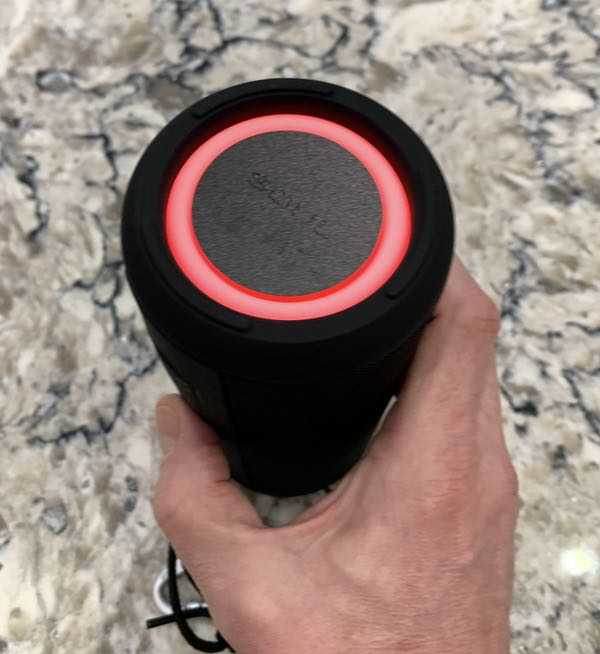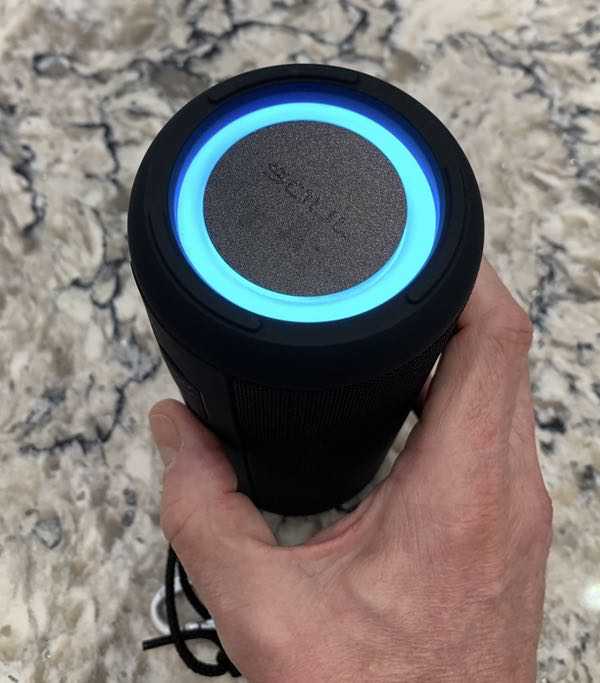 Performance
The Soul Nation S-Storm Max speaker is certainly a fun party accessory. Here's what it looks like when the lights are on…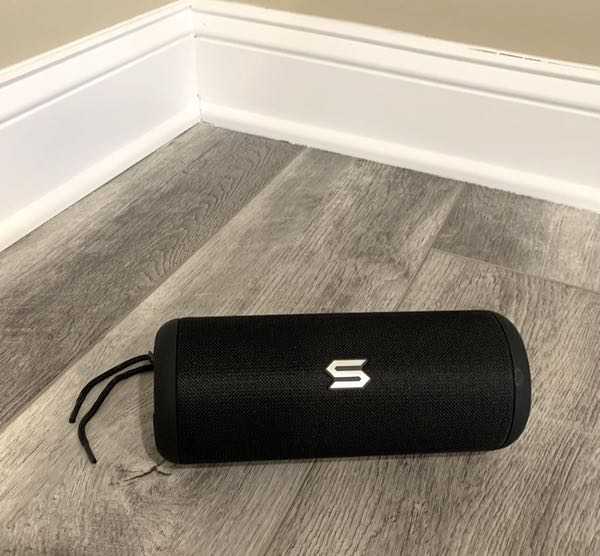 Kill the lights, and you get a bit of a bold light show display. The synchronization of the pulses to the music is particularly fun for parties.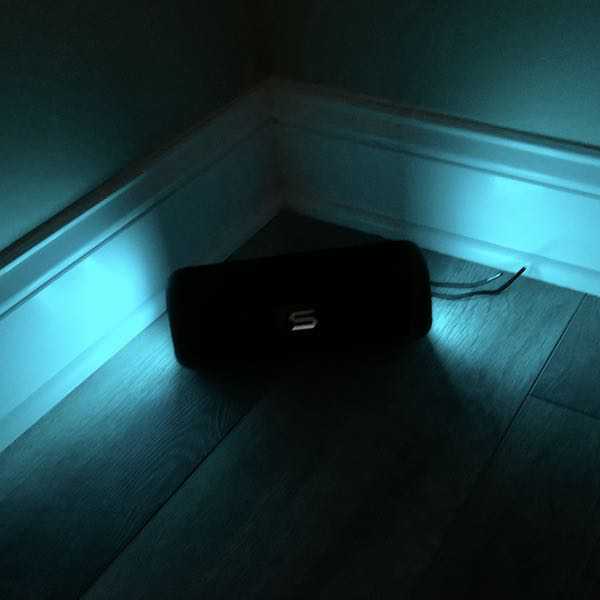 I've found that horizontal mode can lead to it rolling around if it gets bumped or kicked; the lanyard loop only goes so far. Standing it on one end is very stable but this will muffle one of the dual passive radiators and impact your bass output a little bit. I do wish it had some sort of kickstand if the horizontal position is the intended option.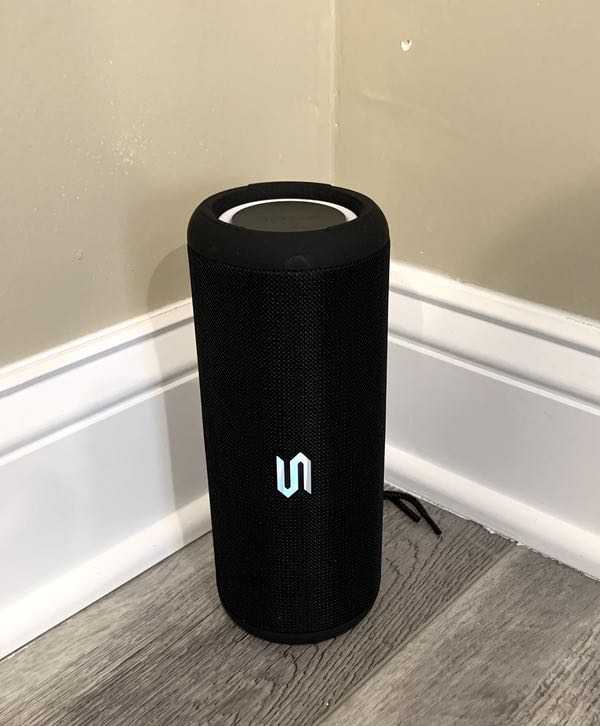 The sound is big, clean, and powerful. While audiophiles will probably notice that you don't get more nuanced dynamics in the sound playback, I found it to be just fine playing funk, rock, pop, and such. I noticed some difference in the bass output in the vertical position, but the dual outputs do a good job of masking that. We had some gatherings over the holidays and noticed that the speaker was able to project big, clean sound throughout the first floor of my house with no complaints. It will be great for deck parties, camping, and beach trips. Bonus points for the water and dust resistance.
Basic control functions work just fine and are easy to manipulate with those big & friendly buttons. There is a learning curve on leveraging the advanced features, however. I personally avoid them entirely and manage my music and volume from my phone.
Battery life is great. You'll get up to 15 hours of play time between charges which I confirmed in my testing.
What I like
Great big sound
Lighting effects are fun
Splash and dustproof for outdoor use
What needs to be improved
Some sort of kickstand would be nice to keep it from rolling off when used in horizontal mode
Advanced control management has a learning curve (keep your manual!)
Final thoughts
The Soul Nation S-Storm Max speaker brings big, clean sound and adds some well-placed bonus features like lighting effects and multiple input ports. It's a great party speaker and the additional water/dust resistance makes it ideal for outdoor activities. It's an overall solid performer.
Price: $89.99
Where to buy: Go get it at the Soul Nation S-Storm Max product page.
Source: The sample of this product was provided by Soul Nation.