We use affiliate links. If you buy something through the links on this page, we may earn a commission at no cost to you. Learn more.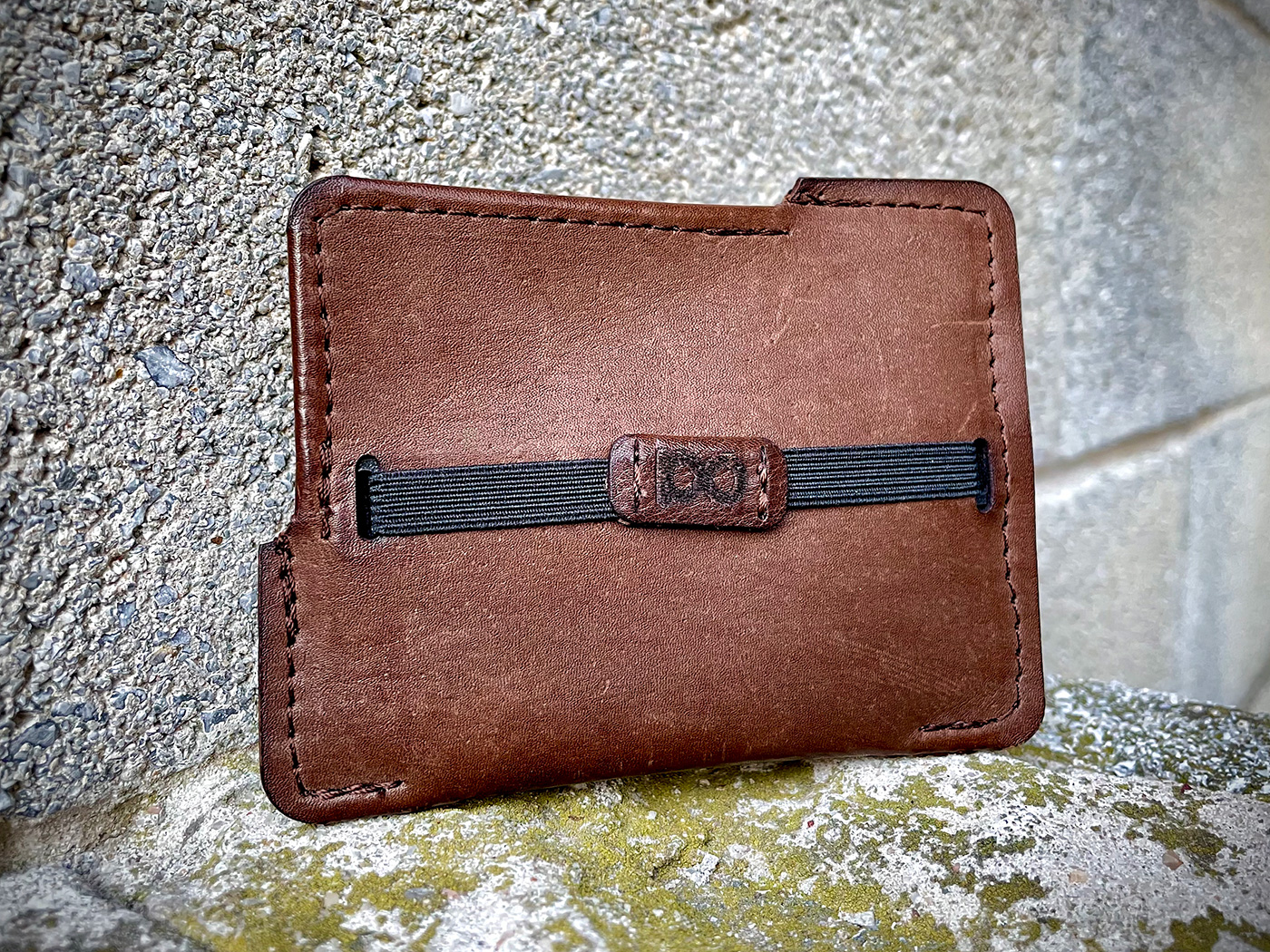 REVIEW – Featuring rugged full-grain kangaroo leather, slim profile, and customizable add-ons, The Kit Slim from Allegory Goods might just be the last wallet you'll ever need.
What is it?
The Kit Slim is a customizable wallet handmade from full-grain, sustainable kangaroo leather and designed to be easily carried in one's front pocket. It features 10 different add-ons — such as a zipper wallet or money clip — to customize either or both sides of the wallet at no extra cost.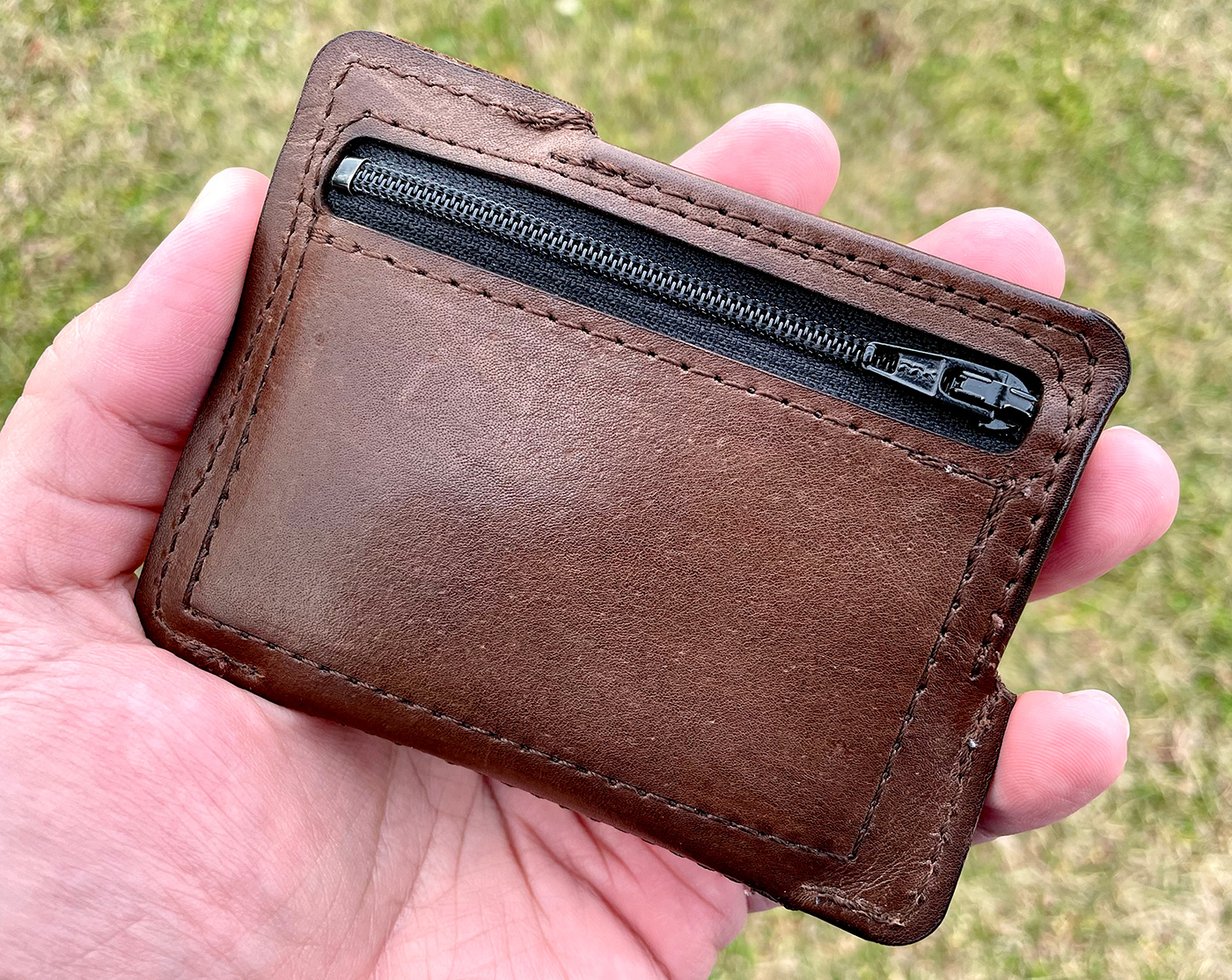 Hardware specs
Two custom pockets
Center compartment loads from the corner, locking contents in place
Made with full grain kangaroo leather – slim, strong, and one of the most sustainable leathers in the world.
Handmade in Chicago, guaranteed for life
Size: 4.4 x 3.75 inches
Weight: 3 oz.
Thickness: .07 -.15 inches depending on pocket customizations
Card Capacity: Center pocket can hold up to 40 business cards — additional card capacity depends on pocket customizations
Currency Compatibility: The center pocket requires bills to be folded twice. All Cash Pocket customization options for the front and back will hold any currency.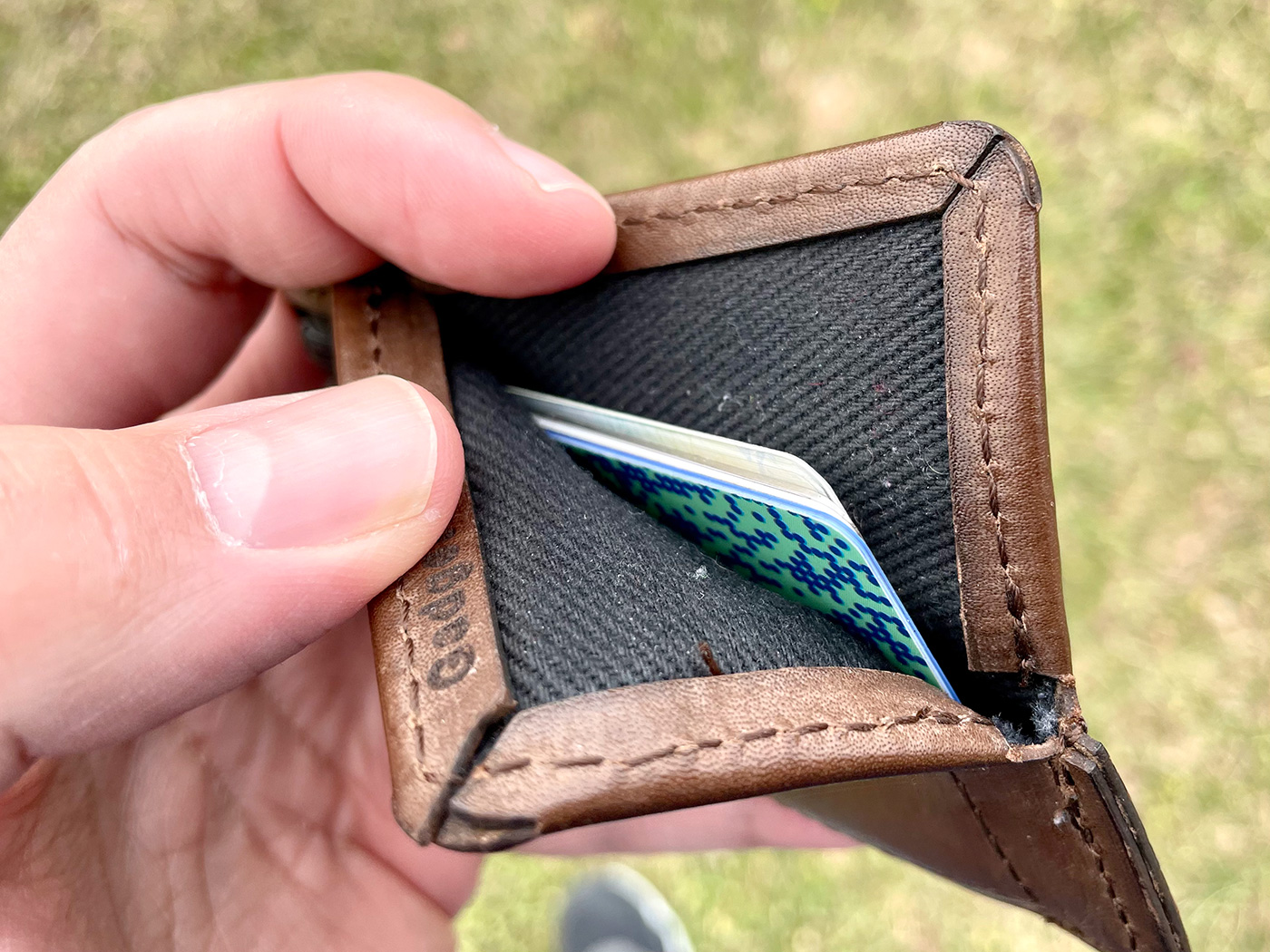 Design and features
While there is certainly no lack of slim front-pocket leather wallets on the market, Allegory Goods has made something unique with their Kit Slim wallet. They've taken a standard slim wallet and added the option of completely customizing both sides with useful attachments.
Now you don't have to play that annoying wishing game of "if only they made a wallet with both a money clip and an elastic strap." The Kit series is made to order.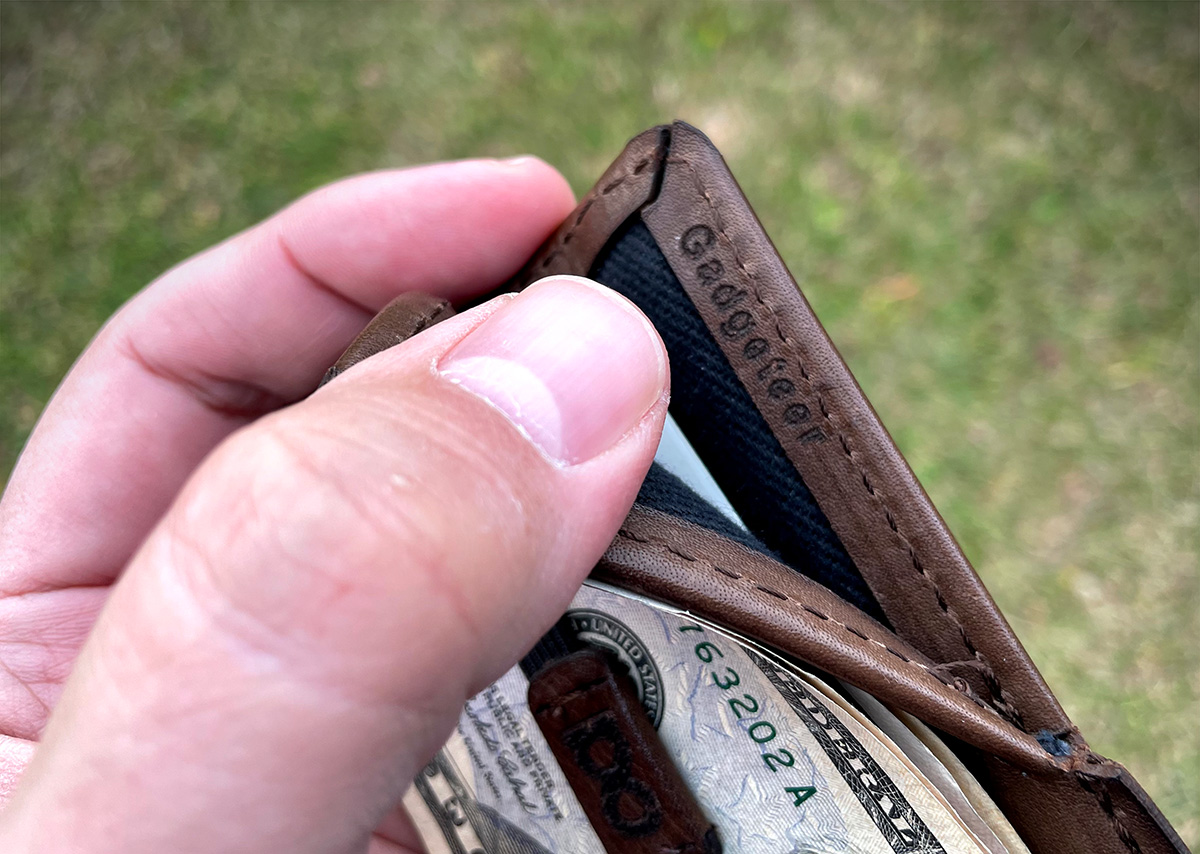 You can one option for each side of the wallet, in any combination of the below choices:
Card – Holds 3-4 cards.
Stretch – High capacity elastic card pocket, holds 6-8 cards.
Zipper* – A zippered coin pouch.
Keys – Key pockets with elastic loops, each loop holds two keys.
Clear – Clear vinyl pocket for credentials.
Shield – RFID protected card pocket that holds up to 3 cards.
Clip – Money clip with two attachment points.
Strap* – Elastic strap that holds cash, cards, or receipts.
Clip/Card Combo – A single money clip attachment point paired with a card pocket.
Key/Strap Combo – 2 Key pockets with elastic loops, and an elastic cash strap.
*These are the two I chose.
At no extra cost, you can get any combination of these options, stitched into both sides of the 100% kangaroo leather wallet. The main compartment opens from one corner, allowing just enough room to slip in a few cards. I carried 4-5 cards during my review time and was able to access them quickly and easily with very little chance of them falling out.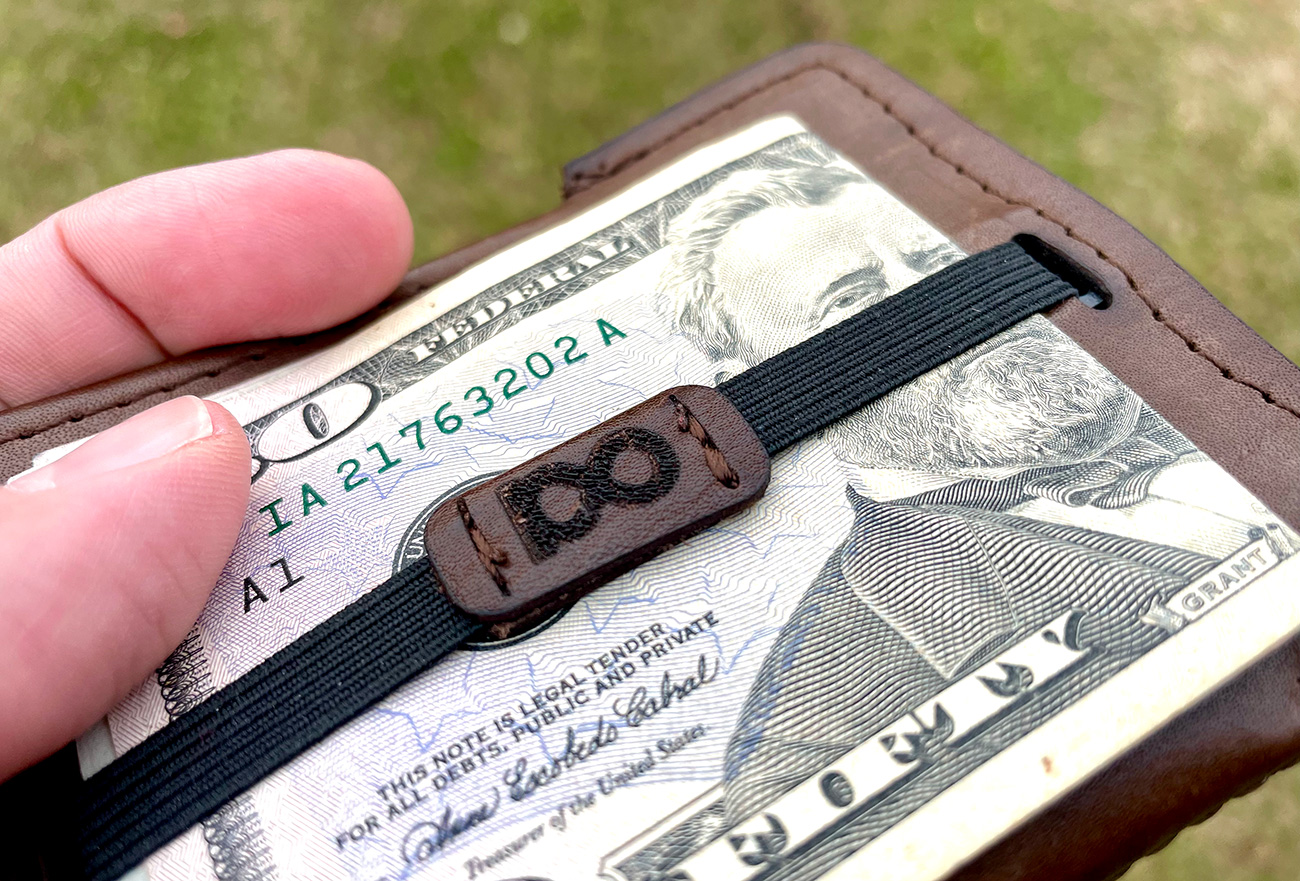 Apparently, that center compartment can expand to the thickness of 40 business cards, and it does expand quite a bit, I just never filled it to that extent since one of the sides on my wallet has a coin pouch, and too much volume would make that pouch very rather difficult to access. I only kept about 4-5 quarters in there, you certainly wouldn't be dumping a fistful of change.
In retrospect, I think either the Clip or Stretch pocket would have been more useful than the Pouch. I like the Strap that I had installed on the other side, it's handy for some once-folded cash and perhaps some stray receipts. I worry about the elastic getting too stretched out, though. I didn't lose any cash in my pockets or otherwise, I just have to wonder if after a year (or maybe less) of use, it would get stretched out enough to become unstable.
If I had to choose again, I think I would go with the Clip and the Card, since they're fully integrated into the wallet and have a very low threshold for wearing out. No elastic to worry about.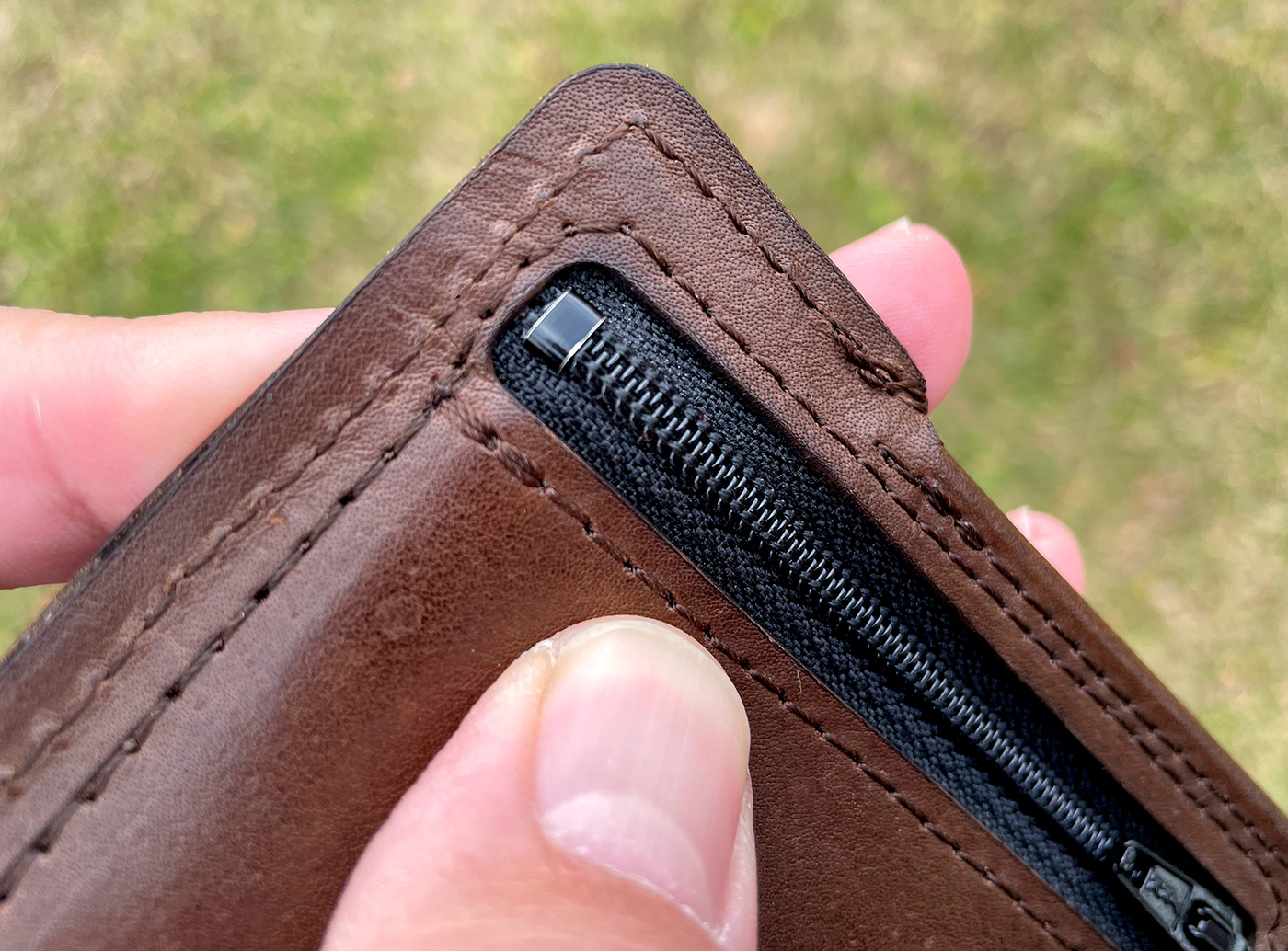 After about a month of daily carry, the wallet held up well, as expected. This was my first experience with kangaroo leather, which retains the durability and thinness of full grain cow leather, only it's much more sustainable. It is still animal leather, though, so if you're looking for something that didn't come from a living creature, you'll want to opt out of this one.
Overall, the wallet displays a level of ruggedness that will last you a lifetime. In fact, it's backed up by Allegory's lifetime warranty. I imagine that would include stretched-out elastic as well as frayed stitching or holes.
Provided you are satisfied with the customization choices that you made, this wallet could very well be the only one you'll need for the rest of your life. And while that's a phrase that gets thrown around way more often than it should … in this case, I think it's entirely accurate.
What I like
Very slim, slips into a front pocket with no problems
Customizable from a bevy of options
Sturdy, could very well last you the rest of your life
Kangaroo leather is strong, lightweight and sustainable
What needs to be improved
Final thoughts
The Kit Slim is indeed a rare treat. The customization options help give you an active role in its creation, and the material, construction and lifetime guarantee will help you to keep it in your every-day carry rotation for years to come. In all honesty, it's the closest thing to The Perfect Wallet I've ever come across.
Price: $79.00
Where to buy: The Kit Slim wallet must be customized and purchased directly from Allegory Goods.
Source: The sample of this product was provided by Allegory Handcrafted Goods Co.