We use affiliate links. If you buy something through the links on this page, we may earn a commission at no cost to you. Learn more.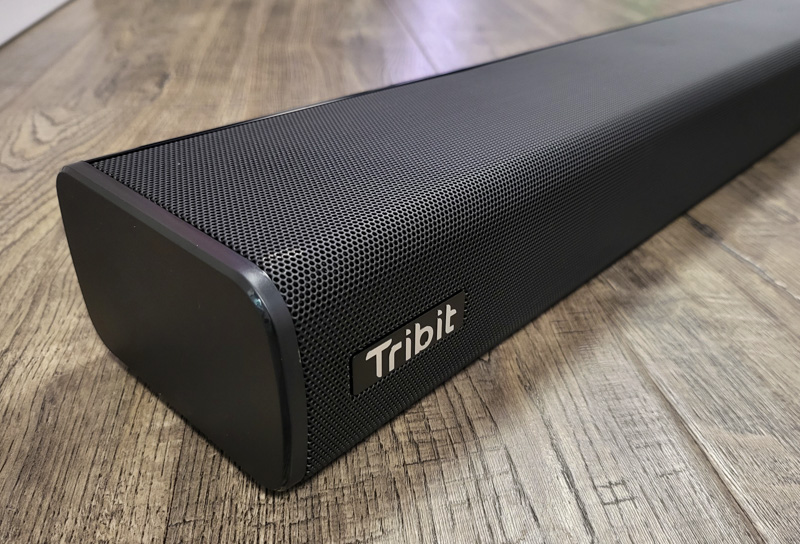 REVIEW – Like many of you, I've been suffering with the scourge of using the built-in speakers on a television in my house. Nearly all televisions have garbage speakers that are either tinny or too quiet or both. Many built-in TV speakers are also downward- or backward- firing so that the sound that's getting to you is bouncing off things in your room and muddling before it even reaches your ears. A quality soundbar can be a great addition to any television setup, but in the past I've used cheaper soundbars that required an additional remote for volume control and didn't sound good at all. Will the Tribit Soundbar upgrade the watching/listening experience? Let's find out together!
What is it?
The Tribit Soundbar is a soundbar speaker system with built in virtual surround sound. It has 6 total physical speakers, including 2 active subwoofers for better bass. It has an LCD display on the front to indicate volume levels and input selection, an IR remote control, and connection options including Bluetooth, optical audio, HDMI ARC, and 3.5mm/coax audio jacks.
What's in the box?

Remote Control (IR)
User Manual
2 x Mounting brackets with screws for wood/drywall
1 x Optical Cable
1 x HDMI Cable
1 x 120V Power Cable
Hardware specs
Drivers: 2 x 3″ subwoofers + 4 x 2.25″ Mid-tweeters
Connections: Bluetooth 5.0, HDMI (ARC), Digital Input, 3.5 mm audio, coax
Output Power: 2 x 25W + 50W
Dimensions (H x W x D): 37.2″ x 4.9″ x 2.9″  , 946mm x 125mm x 74.5mm
Weight: 8.5 lbs , 3875 g
Frequency Response: 50Hz – 20KHz
EQ Modes: Music, Movie, News, Game
Design and features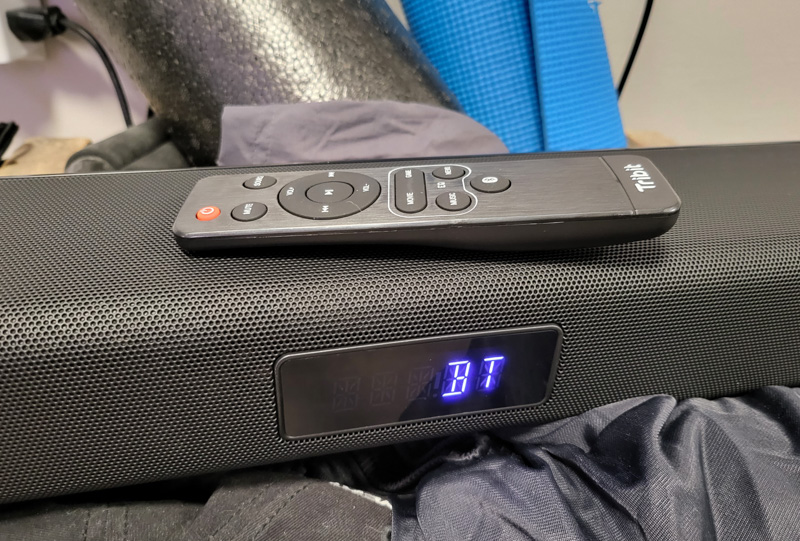 The Tribit soundbar is a quite wide (over 3 feet) soundbar, but it's fairly short and not too deep, so it can fit on most entertainment centers or be mounted below or above a television screen.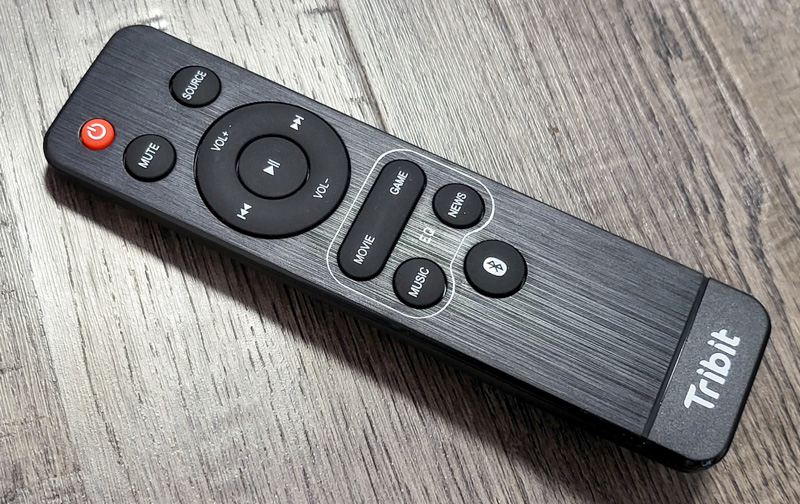 The remote worked as expected, but with HDMI ARC control thankfully I didn't need it since my TV controller also controlled the Tribit Soundbar volume. If you're using a different audio input method or frequently changing the equalizer though you'll want to keep it handy. It takes 2 x AAA batteries (not included in my review unit).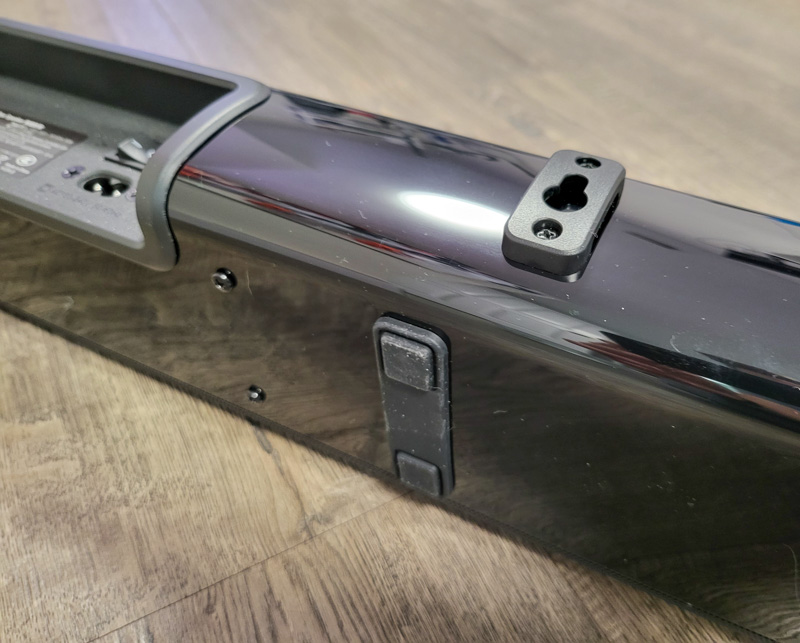 Mounting brackets are included in the box, and while I didn't need or use them, they looked like they would work great. You'd simply need to follow the instructions in the manual for mounting, there are included screws (including drywall anchors), and once the brackets are installed on a wall the soundbar slides right on.  There are rubber feet on the bottom as well, which worked great to keep it from sliding around.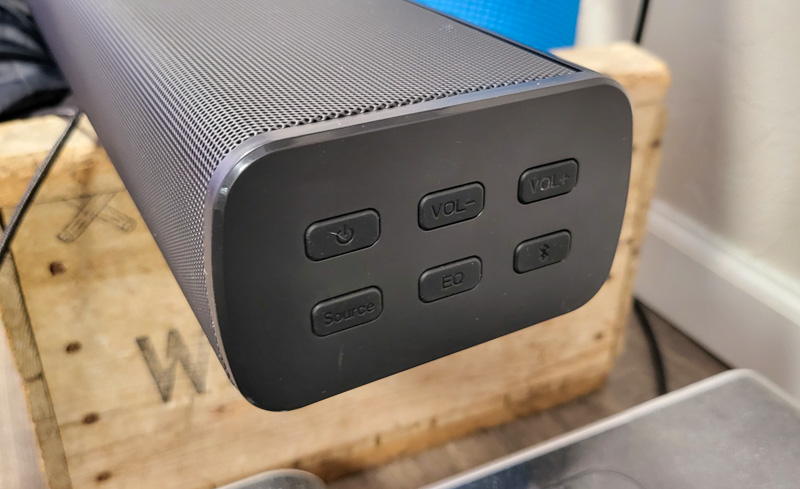 On the right side (if you're facing the front of the soundbar) there are physical buttons to turn the soundbar on and off, control volume, change equalizer presets, and select input sources. I like that they include these in case you lose the remote. Or, if you're like me and utilize the HDMI ARC connection to let the TV control the soundbar you won't need the remote very often but you might occasionally want to use the Bluetooth input to play something from your phone/tablet/computer.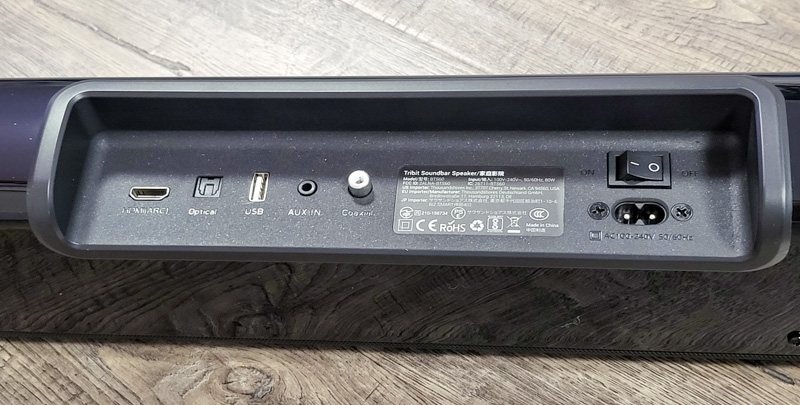 On the backside we have our various physical input connections, a power switch, and the AC power cable connection. Ports include HDMI with ARC, Optical, USB, Aux In (3.5mm), and Coaxial input.
Installation and setup
Installation is as simple as setting the Tribit Soundbar on your entertainment center or another flat surface. Alternately you can mount it on a wall above or below the television using the included brackets. You'll connect the cables that you need (for most people I imagine the HDMI ARC will be the best option – even our cheapest LCD TV in our guest room has an HDMI ARC port, which allows the TV itself to control the soundbar's volume in addition to carrying the audio data itself to play on the soundbar). I like that they include an HDMI cable and optical audio cable in the box, it's always annoying to have to order additional cables after buying something like this.
Once I had the Tribit Soundbar set up I had to try out the various connection options with movies, games, and music. It was MUCH better than the previous built in speakers. The bass has much more of a punch, dialogue is easier to hear, and music sounds a lot better. The device doesn't support any existing surround sound formats (like Dolby Atmos), but soundbars that do support this are much more expensive. The virtual surround that they advertise didn't sound much different to my ears than default stereo audio, but it doesn't seem to make it worse which can be a problem with some virtual surround implementations.
The various EQ modes are interesting, I found the Music and Movie modes to sound the best for most content. However, they all seem to emphasize and reduce certain portions of the sound range. In some music, when a bass line went up and down a scale, some of the notes would be much louder than others (on good headphones the same bass line would sound consistently loud across the scale). This is pretty common for speakers and soundbars that aren't designed for studio and/or audiophile use. A dedicated standalone subwoofer like many 2.1 systems have would probably handle the bass range better but would add wires and another speaker. I'm happy with what they've been able to do at this price range, but I would prefer an EQ mode that balanced the sound a bit better. That said, watching movies in Movie mode sounded great, I didn't notice the bass inconsistency nearly as much since most movie bass audio is right in the sweet spot for the Tribit soundbar (explosions and the like).
What I like
Decent bass without requiring a big standalone subwoofer
More than enough volume for a small to medium size room
What I'd change
More EQ modes (especially one with more balanced sound)
Splitting the speakers to 2x subwoofer, 2x mid-range, and 2x tweeter might improve sound quality instead of their 2 subs and 4 mid-range setup
Narrow range of bass emphasis on some EQ modes
Final thoughts
The Tribit Soundbar impressed me with better than expected sound quality at a fair price. The design looks great and it feels solid. It dramatically improved the sound on our TV without breaking the bank, which is exactly what I needed.
Price: $119.99 (on sale for $91.99 on Amazon after coupon at time of writing this review)
Where to buy: Tribit and Amazon
Source: The sample for this review was provided by Tribit.