We use affiliate links. If you buy something through the links on this page, we may earn a commission at no cost to you. Learn more.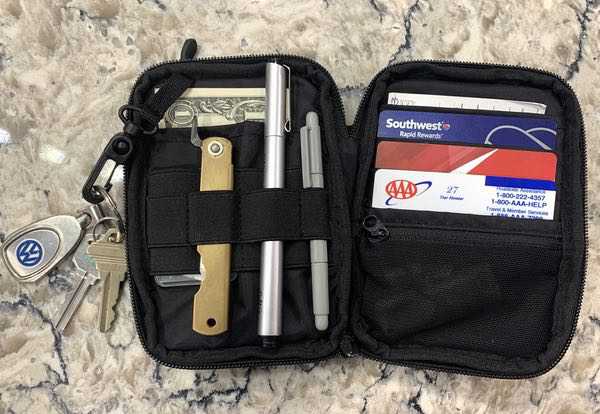 REVIEW – Is it a wallet? An EDC organizer? A multi-tool pouch? The Roaring Fire Picofire Pocket Pouch can be all of those things with elastic loops, pockets, and pouches to corral all of your bits and baubles. Let's get organized. To the review!
What is it?
The Roaring Fire Picofire Pocket Pouch is an EDC pocket organizer. Or a big wallet that holds more stuff. Or an accessory to manage all the small bits in your bag.
Hardware specs
6.3″ by 4.33″ by 1″
3.5 ounces
500D water-resistant nylon build
YKK Zippers
Design and features
The Picofire Pocket Pouch is a tough little guy, built to take a pounding. 500D nylon construction, YKK zippers, and reinforced stitching throughout make for a pouch that is water, abrasion, and tear-resistant. Even the zipper pulls have rubber tabs. It's a good build. I also like that they added a bit of velcro to the front face so you can customize it with your own patches.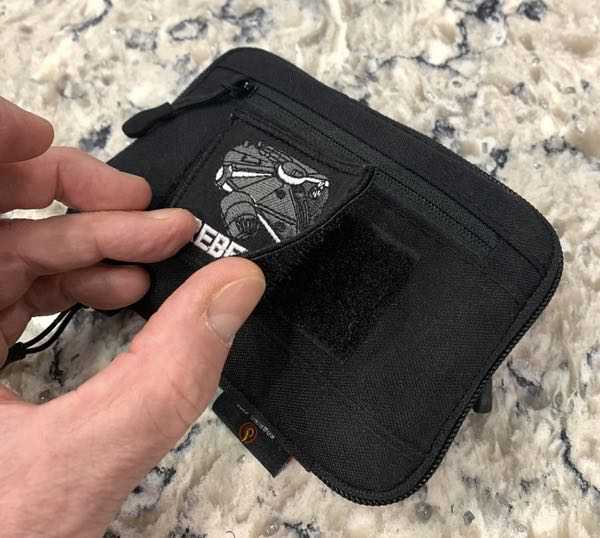 The pouch is bigger than a wallet but smaller than a dedicated organizer pouch that would be relegated to your bag. Here are some shots of the pouch compared to my wallet for reference. Yeah… I have a thing for Star Wars. Don't judge me.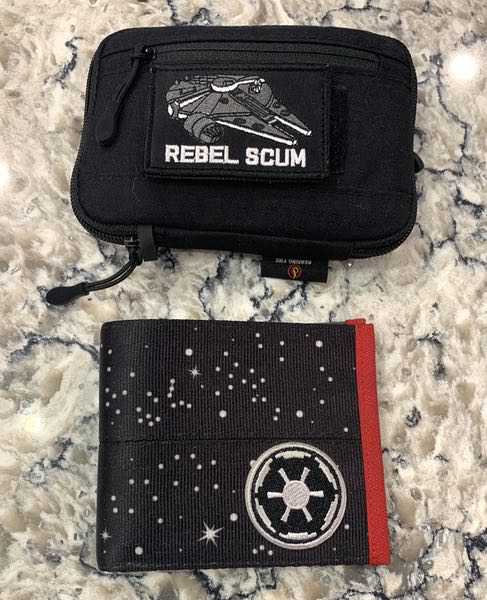 I find that the Roaring Fire Picofire Pocket Pouch is a little big for front-pocket carry with jeans. It works better in a jacket pocket or cargo pockets as a wallet replacement. You can always stash it in your bag of choice and keep those pockets free.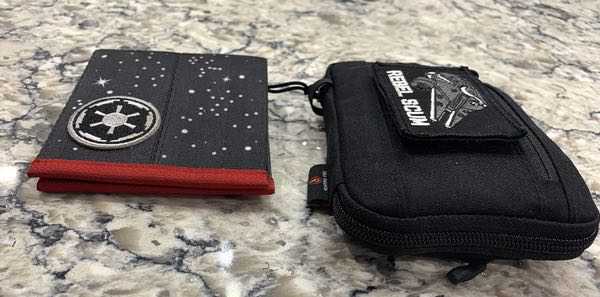 Speaking of pockets… you're going to find a whole bunch of 'em in this little fellow. The zip pocket on the front face is the right size for coins, cards, or maybe a couple of keys.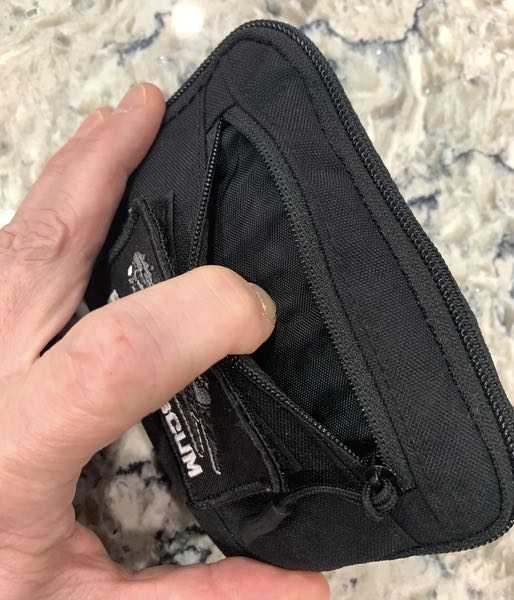 You'll find a matching pocket on the rear face as well. This is a good place for a work badge.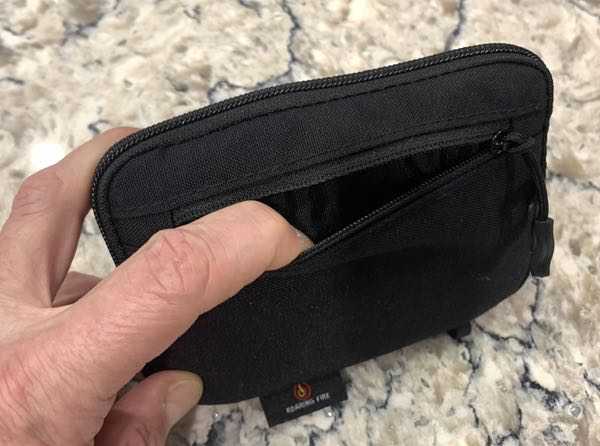 There's also a little fabric tab on the exterior that you could use to attach the pouch to a lanyard, a carabiner, or a chain (as the kids do). I like it for clipping it to a clip on my messenger bag.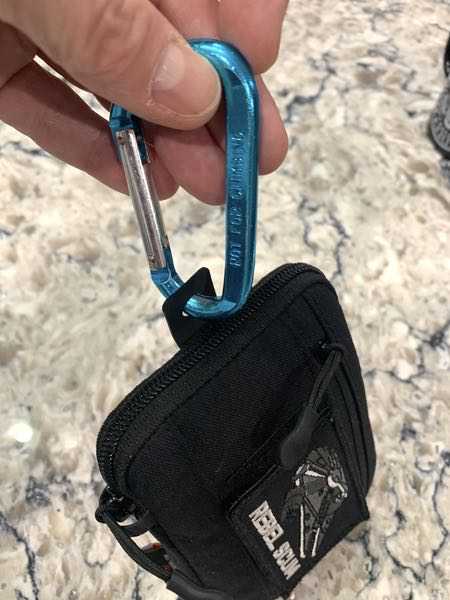 A YKK zipper runs around the perimeter of the bag, allowing you to open it like a book to get all those additional organizer components on the inside. And there are lots of options to customize your carry here.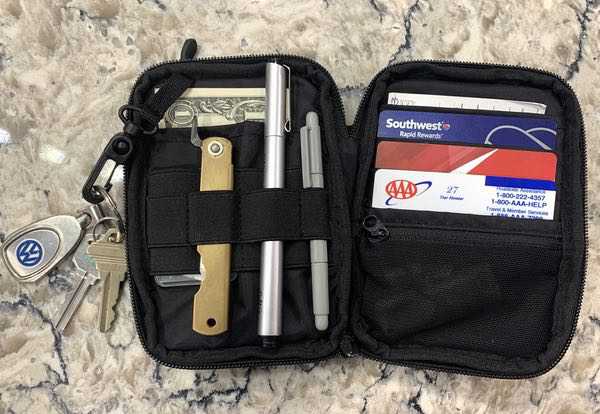 The right panel of the Roaring Fire Picofire Pocket Pouch features three card pockets that will hold multiple cards each along with a zippered mesh pocket for loose stuff. I have some coins and a thumb drive in this pocket.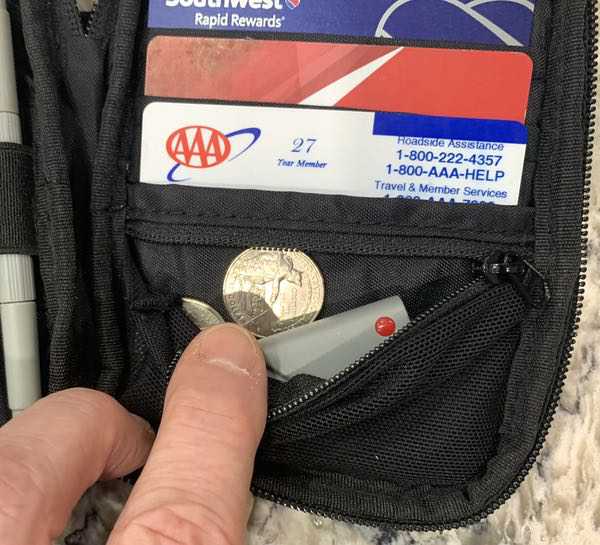 Those front pockets are backed by an additional pocket that runs the height of the organizer for bigger flat things. I have my vaccination card in here for reference. You could definitely stow a small notebook in here like a Field Notes notebook.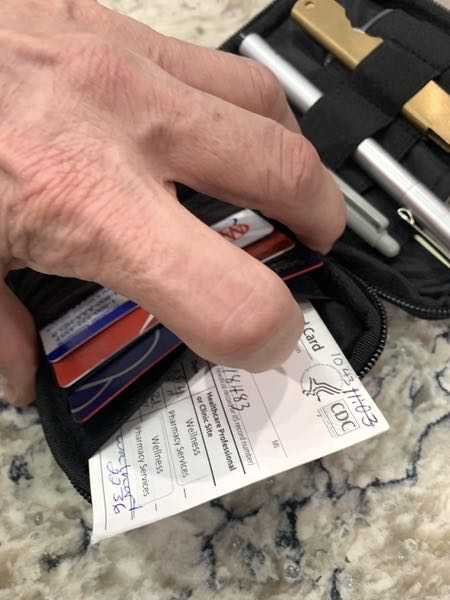 The left side of the pouch incorporates 2 tiers of elastic loops for tools and whatnot. The front set are smaller loops. I've got a pocketknife, a small multitool, and a pen strapped in here for reference.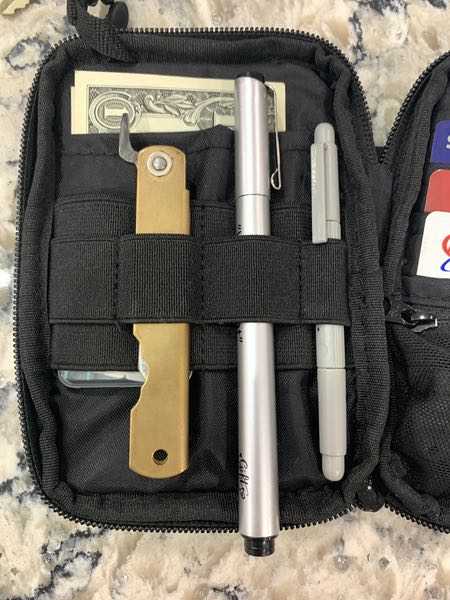 You have a second set of wider loops behind the first set for slightly bigger things. Maybe small flashlight, for example, or another tool. It's a nice addition because you can swap out different tools & gadgets to meet your needs, or if you want to stash a charging cable in here. There's also another long pouch like you find on the right side for more stuff. I have my cash stowed away back there along with some receipts.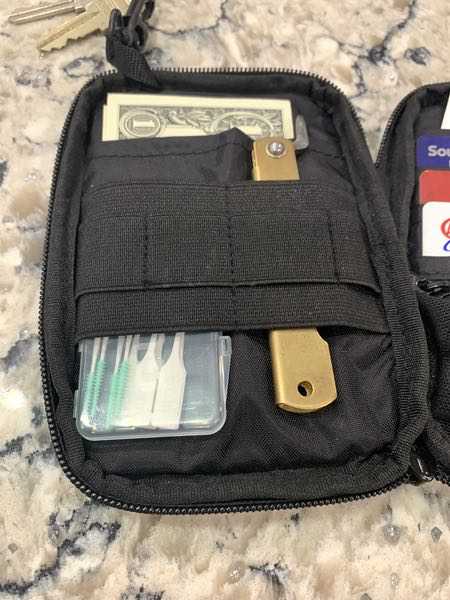 The Roaring Fire Picofire Pocket Pouch also has a burly key clip that attaches to the inside of the pouch on this side. I don't think that those chunky key fobs will work here, but a ring with a few keys will work just fine. I also like that you can mostly zip the pouch up and let the keys hang out like so: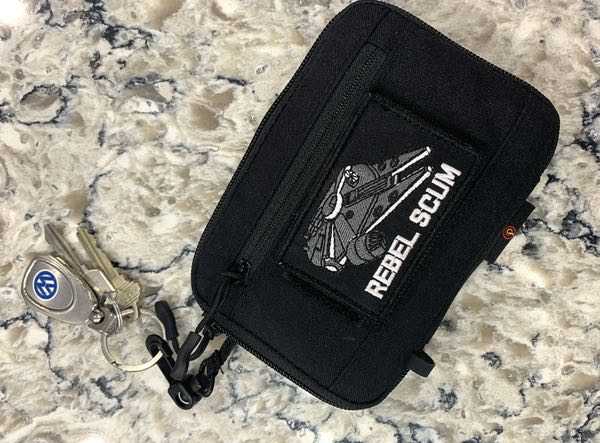 I love the flexibility this design affords the EDC fan. All in all, I count 3 zip pouches, 3 card pockets, 6 elastic loops, 2 deep pockets, and a key leash to work with. That's a lot of flexible spaces to play with!
I find that the Roaring Fire Picofire Pocket Pouch is a little too chonky for use as an on-body daily wallet, but I'm a front pocket guy. My personal favorite use case is as a replacement wallet that I keep in my messenger bag. It's still got my cash, cards, and whatnot along with extras like my pocketknife, but it fits perfectly in my small messenger bag so that I'm not cluttering up my pockets. It's also great as a mini tool organizer.
What I like
Tough build
Lots of spaces and places to organize the small bits
Flexible design serves many use cases
What needs to be improved
A little too chunky to replace a regular wallet unless you have big pockets (or like big wallets)
Final thoughts
The Roaring Fire Picofire Pocket Pouch has slid nicely into my EDC setup. I love the flexible (and accessible) design that fits multiple use cases. It will handle some bigger things your wallet won't, but it's not so big that it becomes a burden to carry. The build is excellent. You'll find yourself discovering multiple ways to incorporate this little fellow into your daily kit.
Price: $19.99
Where to buy: Go to the product page here to get it!
Source: The sample of this product was provided by Roaring Fire.