We use affiliate links. If you buy something through the links on this page, we may earn a commission at no cost to you. Learn more.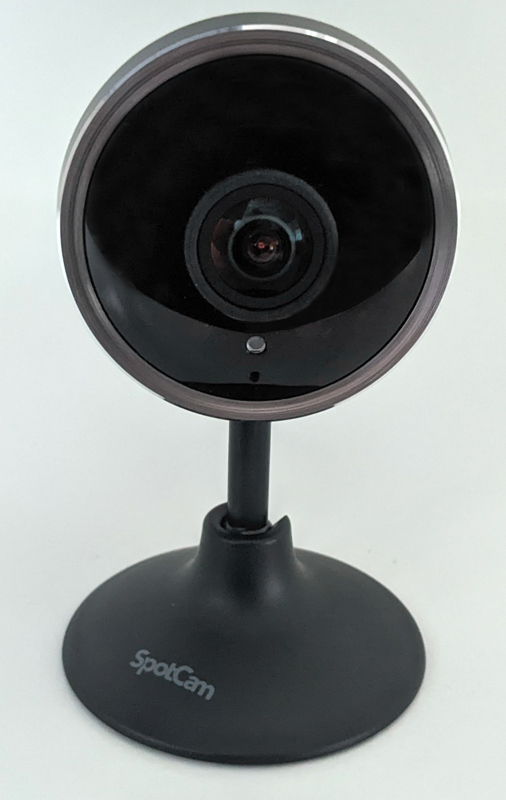 REVIEW – I have used SpotCam cameras in my house for a couple of years now, so I am always looking for their newest products to see if they could enhance my network or add some features I don't already have.  The SpotCam Pano 2 was of particular interest to me for a few features that I don't have in my current set of cameras.  Namely, fall detection and digital zoom tracking. So let's talk about my thoughts about the SpotCam Pano 2 wireless security camera.
What is it?
The SpotCam Pano 2 is a wireless HD security camera with free 24-hr cloud recording that has a human tracking feature, fall detection, digital zoom tracking, night vision, two-way audio, a siren alarm, and many other features.
What's in the box?
SpotCam Pano 2 camera
4 ft. 10 in. cord and power supply
Magnetic mount and screws
Quick start guide
Hardware specifications
Full HD 1080p camera that captures at 30 fps
Size: 6.5 x 6.3 x 2.1 inches
Weight: 12.7 oz
Viewing Angle:  180 degree fisheye
Image sensor:  5MP
Streaming:  H.264 encoding
Frequency band:  802.11 b/g/n on 2.4 GHz only
Siren alarm for varies types of detection
Human tracking feature
Fall detection feature
Digital Zoom tracking feature
Free 24-hr full-time continuous recording stored in the cloud
Google Assistant/Alexa/IFTTT integration
Design and installation
Like all SpotCams, you use the app to install the camera on your wireless network, and it worked the first time I tried it. You simply follow the prompts on the screen.  You can also use the SpotCam website to install it, but I find that using the app is the easiest method. The SpotCam Pano 2 requires a wired power connection so that will limit it somewhat where you will be able to place it. And it is not waterproof so you shouldn't use it outside. It comes with a flat non-skid base so that it won't move around on whatever surface you place it on.  The camera head sits atop a slender shaft that enables it to be rotated 360 degrees on the base. You can also fold the camera head and shaft down flat which would enable you to place it upright on a wall. Here are some pictures of that.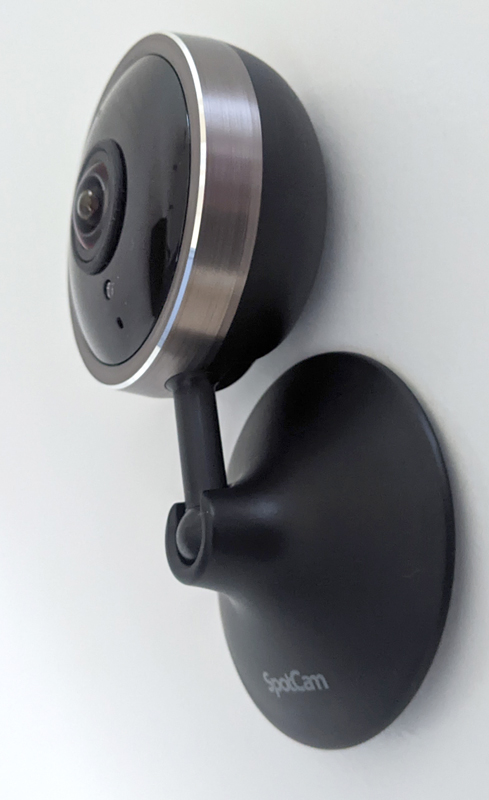 On the front of the SpotCam Pano 2 are the camera sensors and lens and microphone.  On the back, you'll find the micro-USB connection for power, the reset button, and the speaker.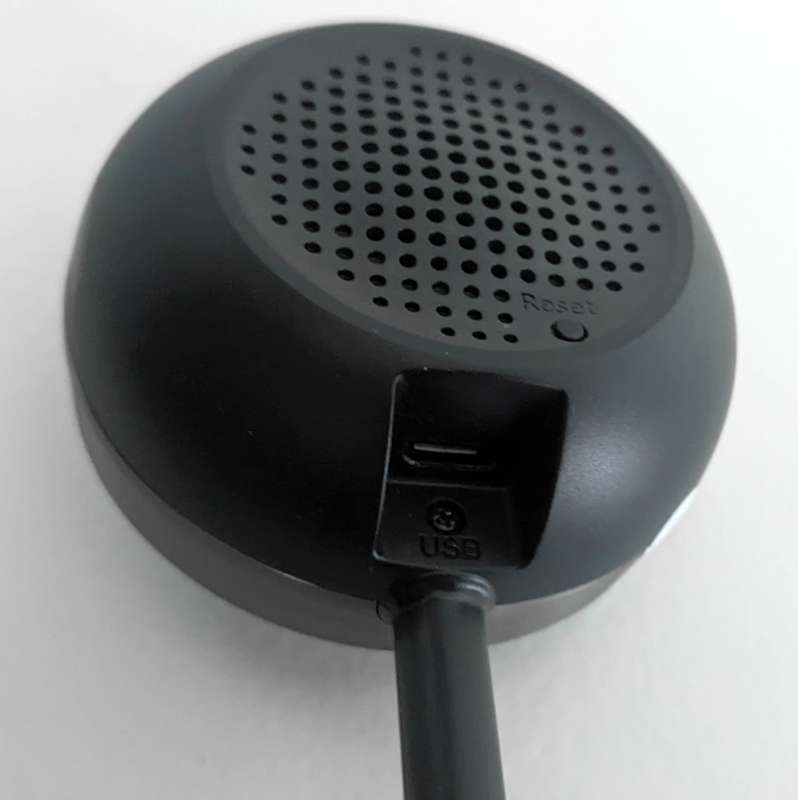 On the bottom of the base, you'll find the non-slip rubberized surface.  The Pano 2 also comes with a flat, round metal magnetic mount.  Basically, you attach the magnetic mount to whatever surface you want and then the base of the camera snaps magnetically onto the found mount.  That enables you to easily remove it from the surface if needed, but it will very strongly hold it in place. Here is a picture of that: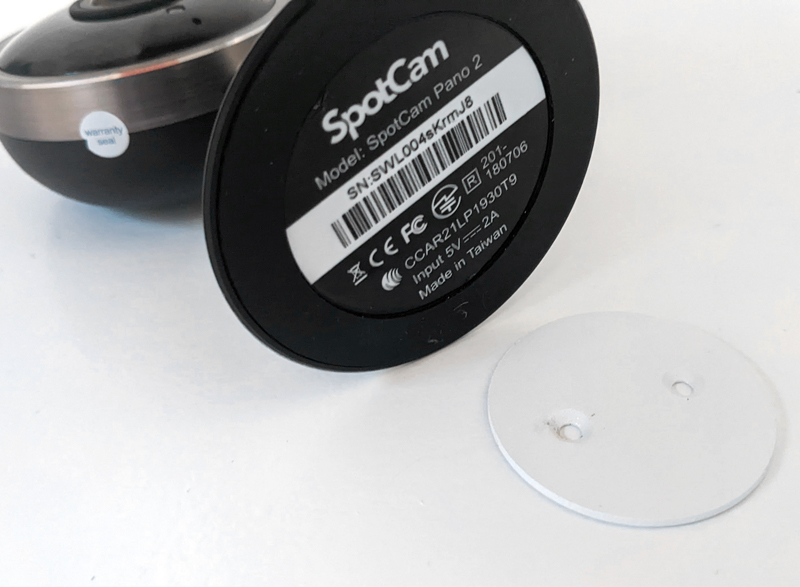 Features and performance
I have 4 SpotCam cameras of different types around my home, and all of them have some standard features that they come with, regardless of what type of camera it is.  The SpotCam Pano 2 also has these standard features, which are:
Motion, audio, and offline detection with email/app notifications
Motion mask (blocking parts of the image to avoid false notifications)
Built in two-way audio
Night vision
Flicker reduction
180 degree image rotation
HD/FHD 1080p image (Pano 2 has FHD)
Scheduled alert periods
Scheduled camera detection periods
Use the SpotCam app to install it and control all features
Premium features you can purchase for a monthly fee, like 3-day to 30-day cloud storage, baby crying detection, vehicle detection, missing object detection, pet detection, facial recognition, and more.
Some of my cameras are wireless, which means I have to charge them on a recurring basis, and some must be wired to power. Some of them are waterproof so you can use them outside, and some are not.  Some of them you can move around (pan/tilt) using the app and some are stationary. Some of them you can insert a micro SD card for unlimited local storage and some don't have that. Some can be mounted on a wall and some only sit on a surface. So you can find a camera that serves just about any need you have.
In general, all of the SpotCam products are solid middle-of-the-road cameras for your home or office, at good prices.  I wouldn't consider them top of the line, or bargain products either.  Just solid middle-of-the-road cameras that have pretty consistent performance. The Pano 2 continues that expectation and it comes with 2 of the premium features built-in: Human Detection & Fall Detection. It also includes a new feature that none of my SpotCams have: digital zoom tracking. Let's talk about these features.
Human/Fall Detection
Normally, with most SpotCams you have to pay $5.95 a month for Human Detection.  Basically, the camera only triggers a detection/notification if it sees a human moving in the picture. So it ignores animals for example. I tested this in many locations around the house and it works flawlessly. Fall detection is a little more tricky.  Again, you have to pay for the feature with most SpotCams, at $9.95 a month, so it's cool that it comes with the SpotCam Pano 2. There is a disclaimer that states this feature does not replace caregiving professionals and should only be used as an auxiliary tool for caregiving.  They also suggest that you make sure to avoid 'complicated backgrounds'.  I was skeptical that it would work in my living room, which is a very complicated background with many objects in the view.  But I tried it (see screenshot below).  When I pretended to fall on the living room floor about 5 feet away from the camera (see screenshot below) after 5 seconds of laying still it notified me that a human had fallen.  Pretty cool.  But when I repeated the exercise further away from the camera over by the kitchen (approx. 15 ft away) the fall detection never triggered.  I imagine the background was too busy. So this feature has limited usefulness but could be very useful in certain situations.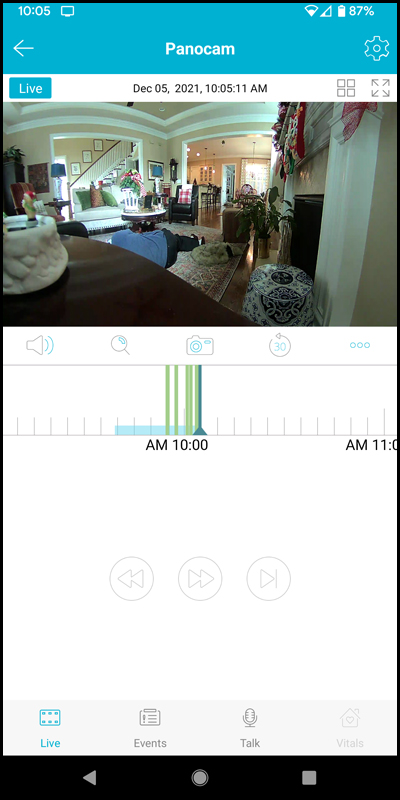 Digital Zoom Tracking
Now this feature is very cool.  I can't get this feature on any other SpotCam camera. When turned on, and movement is detected in the camera view, the camera will zoom in on the movement to see a more close-up picture of the person and follow you around. The SpotCam Pano 2 camera can't be rotated since it is stationary, but as a person is walking around the Pano 2 Digital Zoom will follow the movement and shows you a 'picture-in-a-picture' image in whatever corner of the camera view that you like.  This feature also works fantastic and I can see it being very valuable, for example, if someone breaks into your home and you need a closer picture of their face. Here is a screenshot: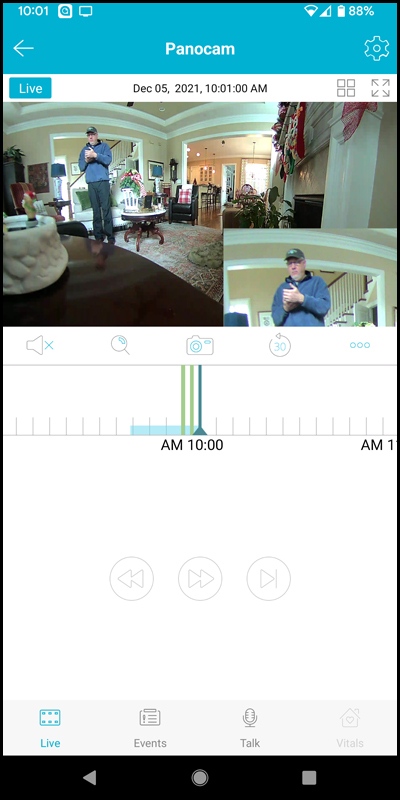 The Pano 2 camera has a 180-degree viewing angle, often referred to as 'fisheye', so it can capture quite a large viewing angle.  Because the Pano 2 camera is stationary and can't be rotated using the app like some of the other cameras, the 180-degree angle is great for capturing a large amount of area without the need to pan/tilt.  And like some of the other SpotCams, the Pano 2 has the Siren Alarm notification feature that is quite loud that can be used to provide an audible siren when it detects movement.
Finally, SpotCam improved their feature called "Motion Mask".  Basically, the camera's image can be divided up into blocks which you can then select so that the camera ignores whatever happens inside the blocks that you selected.  This is great if there is regular movement in the image that you don't want to be notified about, for example, if a flag is in the camera view and the flag is constantly moving in the breeze. You would want to exclude that kind of movement. The improvement comes because in all previous cameras that I have, the motion mask only divided the camera view into 6 blocks that I could choose. That wasn't enough blocks in my opinion so I gave SpotCam some feedback that there needed to be more blocks to choose from.   I would like to think they listened to me because with the Pano 2 I can choose between 16 blocks now!  Big improvement.  Here is a screenshot of what I am talking about: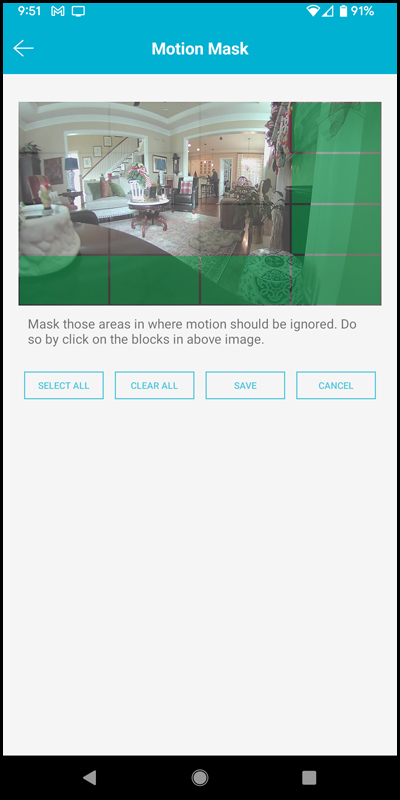 What I like
24-hr free cloud storage for life
Digital Zoom Tracking is fantastic
5MP Full HD camera image is great
Great price
Improved motion mask
What I would change
Built-in battery to allow it to be truly wireless
Final thoughts
The affordable price of $59.99 makes the SpotCam Pano 2 a great wireless security camera if you don't need a wireless connection and have a place to plug it up to power. The Digital Zoom Tracking feature is wonderful and works like a charm.  The included premium Human Tracking and Fall Tracking features also work well, although the Fall Detection feature will have to be carefully thought out when you place the camera. If I were going to replace some of the older SpotCams in my home, I would most definitely buy the Pano 2 in their place.  I highly recommend this camera.
Price: $59.99
Where to buy: SpotCam and Amazon
Source: The sample of this product was provided by SpotCam.